New York Mets:

Barry Zito
August, 23, 2013
Aug 23
7:12
AM ET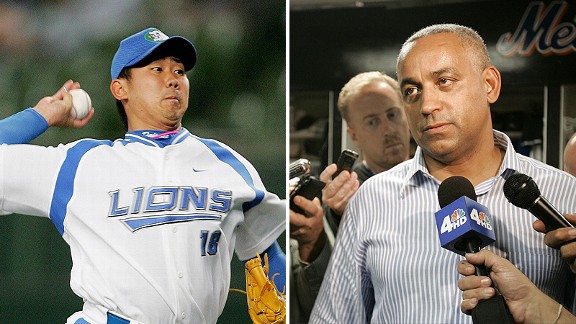 Getty Images, Associated PressOmar Minaya and the Mets put in an aggressive posting bid for Daisuke Matsuzaka back in 2006.
NEW YORK
FIRST PITCH:
A day after officially joining the organization,
Daisuke Matsuzaka
makes his Mets debut when he starts tonight's series opener against the
Detroit Tigers
at Citi Field.
Matsuzaka, now 32, nearly became a Met in his prime.
Former GM Omar Minaya on Thursday recalled the Mets finishing second to the
Boston Red Sox
in the posting bidding for Matsuzaka after the Japanese icon declared his intent to come to the United States during a November 2006 press conference at the Takanawa Prince Hotel in Tokyo.
Minaya remembered Mets officials feeling good about their chances of landing Matsuzaka after submitting a posting bid in the $35 million vicinity.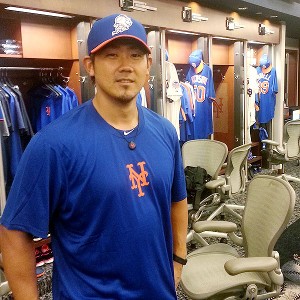 Courtesy of New York MetsDaisuke Matsuzaka stopped by Citi Field on Thursday's off-day.
The highest bid would give the major league team the exclusive right to negotiate with the pitcher. The posting fee goes to the Japanese ballclub, not the player.
At the time, the Mets' bid was poised to wildly surpass the highest figure ever submitted for a player posted from Japan. The record at the time: The
Seattle Mariners
had won the rights to negotiate with
Ichiro Suzuki
back in 2000 for a $13 million posting fee to the Orix Blue Wave.
However, the Mets lost out on Matsuzaka when the bids were unsealed and it was learned the Red Sox had submitted a whopping posting bid of $51.11 million to the Seibu Lions.
In subsequent negotiations, Matsuzaka received a $52 million contract over six years from Boston, making the Red Sox's total outlay to land him $103.11 million.
"We thought we had a good number at the time, but the bottom line is they were much higher than us," recalled Minaya, now a special assistant with the
San Diego Padres
. "After that season, we were kind of looking for that No. 1 guy. And the guys we were considering were Dice-K and [Barry] Zito at the time, too. Dice-K and him were the two best guys out there.
"At that time, I think the biggest [posting bid ever] was Ichiro -- not even $15 million. And we finished third with Ichiro. But the bottom line is we went up to the middle $30s -- or high $30s, I think it was -- with Dice-K. And we thought we had a good chance. The bottom line is they went up to the $50s.
"I had seen Dice-K a lot. I saw Dice-K in Japan. I saw Dice-K in Australia and in the Olympics. So I had a lot of history with him. And at the time he was a pretty good pitcher -- a very good pitcher.
"The question was: How much does he bring to the marketing side? At that time Boston felt he was going to bring them a lot of extra marketing, and that's why they went to that number."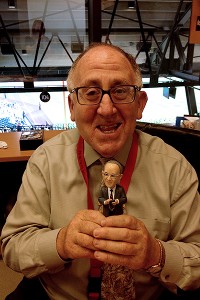 Courtesy of New York MetsTonight's game also features a Jay Horwitz bobblehead giveaway (here pictured with the real thing).
Now, Matsuzaka opposes right-hander
Doug Fister
(10-6, 3.63) in the 7:10 p.m. series opener. The night also includes a Jay Horwitz bobblehead giveaway for those buying special tickets. Third Eye Blind entertains with a postgame concert.
Matsuzaka likely will have a short outing, since he will work on short rest after throwing 85 pitches Monday for Triple-A Columbus.
Carlos Torres
, originally penciled in for the start, should piggyback Matsuzaka's outing.
Read the series Mets-Tigers preview
here
.
Friday's news reports:
•
Zack Wheeler
tells Marc Carig
in Newsday
he does not mind a team-imposed innings cap. The rookie noted his fastball velocity is now hovering in the lower-90s mph, which signals he is pitching deeper into a season than before and his energy is getting sapped. Wheeler's brother, Adam, was a flame-throwing Yankees farmhand before tearing a labrum and undergoing surgery that derailed his career. So Wheeler acutely understands the dangers of overwork.
Wheeler currently is at a combined 138 1/3 innings between the majors at minors this season. He logged 149 innings last year. A roughly 30-inning jump from the previous season generally is within the acceptable limit. So Wheeler may have 40 or so more innings left before a shutdown.
"Of course, I'm young and I want to pitch as long as I can," Wheeler tells Carig. "And with them sort of limiting innings and pitches and all that stuff, I think it will help me out down the road. I'm not mad about it, honestly.''
• The Mets dispatched
Greg Burke
to Triple-A Las Vegas
to clear a roster spot for Matsuzaka. Burke should return after the 51s complete their season and major league rosters have expanded.
Read more on Matsuzaka's signing in the
Post
,
Daily News
,
Star-Ledger
,
Record
,
Newsday
,
Times
,
Journal
and
MLB.com
.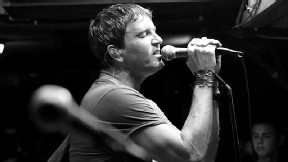 Paul Chesne/Michael Ochs Archives/Getty ImagesStephan Jenkins and Third Eye Blind perform postgame tonight at Citi Field.
•
Jason Heyward
underwent surgery Thursday in Atlanta on his jaw. He had two plates inserted -- one in each fractured area. Heyward was struck Wednesday by a 90 mph fastball from
Jonathon Niese
. Read more
in the Atlanta Journal-Constitution
.
•
John Buck
tells Jorge Castillo
in the Star-Ledger
he is embracing the role of mentoring
Travis d'Arnaud
. Buck generously made an effort to dine with d'Arnaud this summer when the rookie was in New York for a follow-up exam on his fractured foot. "I still have a responsibility to the Mets and to this team," Buck said. "Travis is my teammate. I have a lot of family members and stuff that think I'm crazy. But that's just who I am."
• Giancarlo Alvarado tossed 7 2/3 scoreless innings and
Zach Lutz
drove in three runs as Las Vegas beat Fresno, 5-0. Rob Whalen tossed seven scoreless innings and Kingsport blanked Bluefield, 7-0. Read the full minor league recap
here
.
• Former Mets minor league catcher
Landon Powell
, whose emotional story was documented in an E:60 piece, has
joined Furman University
as a volunteer assistant coach.
•
Jeremy Hefner
was shocked by the murder of an Australian man playing college baseball in Hefner's home state of Oklahoma, he
told the Daily News
.
•
From the bloggers:
Rising Apple
expects the Mets to be in contention in 2014. … John Delcos at
Mets Report
speculates about a potential
Jose Reyes
-Mets winter reunion.
BIRTHDAYS:
Julio Franco
turns 55. … Ed Hearn is 53. …
Prentice Redman
turns 34. …
Pat Strange
is 33.
TWEET OF THE DAY:
Harvey vs. Scherzer on Saturday? Sorry kid, we're not watching The Wiggles this weekend. #Mets

— Nick (@drsexington) August 22, 2013
YOU'RE UP: Would you prefer Daisuke Matsuzaka, Carlos Torres, Rafael Montero or Jacob deGrom getting starts down the stretch?
July, 10, 2013
Jul 10
1:39
AM ET
SAN FRANCISCO -- The Mets no longer are double-digit games under .500.
Hey, it's a start.
Daniel Murphy
delivered a tiebreaking sacrifice fly and
Marlon Byrd
followed later in the eighth with his seventh career grand slam as the
New York Mets
beat the freefalling
San Francisco Giants
10-6
on Tuesday night at AT&T Park.
With their third straight win, the Mets (39-48) have ascended to nine games under .500 for the first time since June 1.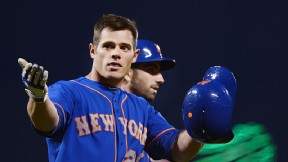 Kyle Terada/USA TODAY SportsAnthony Recker had a two-run homer and stood his ground in a plate collision.
Gee-pers:
Dillon Gee
surrendered five runs in seven innings and was unable to hold a 5-3 lead.
A half inning after the Mets left the bases loaded on consecutive strikeouts by
Josh Satin
and
Andrew Brown
against
Jose Mijares
,
Pablo Sandoval
's sacrifice fly evened the score at 5-5 in the bottom of the seventh.
Gee's line: 6.2 IP, 9 H, 5 R, 5 ER, 5 BB, 3 K. His five walks were his most since 2011, when he walked five once and twice issued a career-high six.
Train Reck:
Anthony Recker
has started to seriously chip away at
John Buck
's playing time.
Five innings after standing his ground in a plate collision, Recker delivered a two-run homer in the sixth against left-hander
Barry Zito
that handed the Mets a 5-3 lead.
Recker has now started four of the past eight games behind the plate. Four of his five homers this season have either tied the score or given the Mets the lead. The Mets are 6-1 in his past seven starts.
Buck is hitting .143 (8-for-56) in his past 15 games.
Recker also delivered a crushing blow to the Giants while behind the plate.
Marco Scutaro
attempted to score from first on Sandoval's two-out double into the left-field corner in the first. However, the Brown-to-
Omar Quintanilla
-to-Recker combination threw out Scutaro at the plate. Recker lowered his right shoulder and leveled Scutaro in the collision.
Recker did have one blemish Tuesday.
San Francisco opened the scoring in the second when Recker errantly threw the baseball into center field on a steal attempt with runners on the corners, allowing
Hunter Pence
to trot home. San Francisco took a 2-0 lead that inning when Murphy's throw home was high on
Guillermo Quiroz
's grounder to second base.
Brandon Belt
, who had advanced to third on the steal and E-2, scored on Murphy's misthrow.
What's next:
Zack Wheeler
faces the club that drafted him sixth overall in 2009. Wheeler (2-1, 4.29 ERA) opposes right-hander
Matt Cain
(5-5, 4.85) in Wednesday's 3:45 p.m. ET series finale. The Mets have not swept a series in San Francisco since 1994.
September, 25, 2012
9/25/12
8:18
AM ET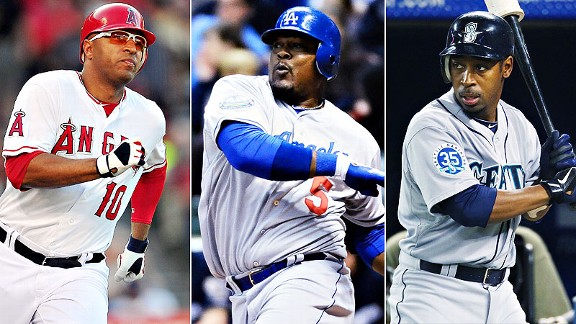 US Presswire
Vernon Wells, Juan Uribe and Chone Figgins (l to r) are among the bloated contracts around Major League Baseball.
The Mets' first task this offseason regarding
Jason Bay
, and for that matter
Johan Santana
, likely should be to see if any team has trade interest. A swap appears unlikely, though, even discounting the no-trade clause each possesses.
After all, Bay is hitting .155 with eight homers in 187 at-bats. And he is owed $19 million next season including a 2014 buyout, making it a toxic contract.
Similarly, Santana -- despite the June 1 no-hitter -- finishes the season on the DL after allowing six-plus runs in each of his final five starts. Santana is owed $31 million next season including a '14 buyout.
Still, if the Mets were to find another team with toxic contracts to swap, who is logical? With the help of reporters around baseball, here's a look …
THEY'VE GOT POTENTIAL
Angels: "
Oh, you've come to the right place," our friend who covers the Angels says. "The Angels have the deadest of dead weight --
Vernon Wells
. The Angels are paying Wells $21 million this year to be their fourth outfielder. They owe him $21 million more in 2013 and again in 2014."
Blue Jays:
Left fielder/first baseman
Adam Lind
(.240, 10 HR, 40 RBIs) is owed $5 million in 2013. With buyouts of option years, the minimum owed is $7 million. "He cleared waivers at one point this season and the Blue Jays would love to get rid of his contract -- even though it's unlikely that can happen," a team observer said.
Braves:
Second baseman
Dan Uggla
(.215, 19 HR, 73 RBIs) is owed $39 million over the next three seasons.
Cubs:
Alfonso Soriano
($18 million apiece in 2013 and '14) and
Carlos Marmol
($9.8 million next season) are the remaining sizable contracts.
Dodgers:
The Dodgers inherited
Carl Crawford
($102.5 million through 2017) and
Josh Beckett
($31.5 million through 2014) while acquiring
Adrian Gonzalez
, but both should contribute. The least-productive contract:
Juan Uribe
, who finally pinch hit Sunday after going unused for nearly a month. Uribe, with one year remaining, is still owed $8 million.
Mariners:
Left fielder
Chone Figgins
(.183, 2 HR, 11 RBIs) is owed $8 million next season. Center fielder
Franklin Gutierrez
(.258, 4 HR, 14 RBIs) is owed $7.5 million in 2013 with a buyout of the following season. Says one observer: "Gutierrez has been hurt or sick for most of his deal and might produce if ever healthy. Figgins is literally dead weight." Bay does live in the offseason in Seattle. And the combined $15.5 million owed to those two are close to Bay's $19 million.
Marlins:
Heath Bell
has two years, $18 million guaranteed remaining. He also has a $9 million option for 2015 based on games finished -- 55 the previous season or 100 combined in 2013 and '14. (The Mets have been down that route before.)
Pirates:
Clint Barmes
is signed for 2013 at $5.5 million. He's hitting .228/.266/.325 with eight homers.
Red Sox:
John Lackey
(12-12, 6.41 ERA) has two years left for a combined $30.5 million, with a 2015 club option at the major league minimum because of a preexisting elbow injury.
Twins:
Nick Blackburn
(4-9, 7.39 ERA) and middle infielder
Tsuyoshi Nishioka
-- both relegated to the minors -- are under contract for 2013 and "practically sunken cost." Blackburn is owed $5.5 million. Nishioka is owed $3.25 million including a 2014 buyout. The Twins likely would never trade
Joe Mauer
, despite him being owed $23 million annually through 2018.
Yankees:
Alex Rodriguez
to Flushing? Don't hold your breath. Still, A-Rod is owed $114 million over the next five seasons.
Mark Teixeira
and
CC Sabathia
could emerge as bad contracts, with $90 million over four seasons and $119 million over five seasons owed, respectively.
August, 2, 2012
8/02/12
6:30
PM ET
Recap
|
Box score
|
Photos
WHAT IT MEANS: Jason Bay
dropped a two-run single over shortstop and
Ronny Cedeño
had a two-run double that
Melky Cabrera
awkwardly played in left field as the Mets rode a four-run first inning to a 9-1 win Thursday afternoon against the Giants at AT&T Park.
The Mets, who won three of four games in San Francisco, had been 0-5-1 in their past six series. Their last series victory came July 5, when they won the rubber game of a three-game set with the Phillies at Citi Field.
Cedeño finished with five RBIs, matching his career high. In two starts this series at second base against southpaws, he drove in a combined seven runs. Cedeño staked the Mets to a 7-1 lead with a fifth-inning RBI single against
Shane Loux
, who had entered one batter earlier in relief of
Barry Zito
. Cedeño added a two-run double in the seventh.
Cedeño's other five-RBI game came April 22, 2008, with the Chicago Cubs against the Mets. He delivered a grand slam against
Jorge Sosa
in that game at Wrigley Field.
The last Met with a five-RBI game against the Giants? That was
Mike Piazza
in 2003. The only other Mets second baseman to drive in that many run against San Francisco?
Ron Hunt
in 1966, according to ESPN Stats & Information.
Chris Young
limited the Giants to one run on four hits while striking out four and matching a season high by working seven innings as the Mets improved to 5-3 on their NL West tour. Only a weekend stop in San Diego remains.
Young rebounded from an outing in Arizona in which he allowed six runs in four innings. He earned his first win since June 28.
WHAT'S NEXT: R.A Dickey
(14-2, 2.83 ERA) faces Padres left-hander
Clayton Richard
(7-11, 4.14) in Friday's 10:05 p.m. ET series opener at Petco Park.
Frank Francisco
is expected to be activated from the disabled list, pushing
Bobby Parnell
back to a setup role, and likely forcing
Elvin Ramirez
-- who pitched a scoreless eighth despite a leadoff walk -- to Triple-A Buffalo.
July, 30, 2012
7/30/12
10:00
AM ET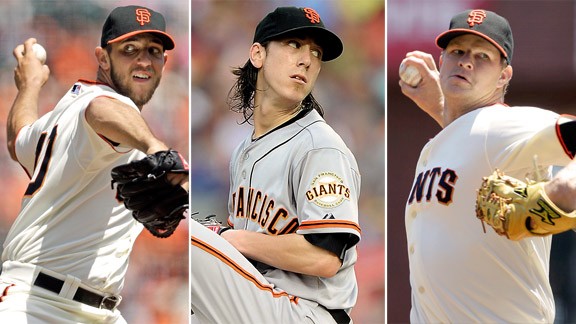 Associated Press/Getty Images
The Mets face (l to r) Madison Bumgarner, Tim Lincecum and Matt Cain during the opening three games of a series in San Francisco.
METS (49-53, third place/NL East) vs. SAN FRANCISCO GIANTS (55-46, first place/NL West)
Monday:
RHP
Jeremy Hefner
(1-4, 5.40) vs. LHP
Madison Bumgarner
(11-6, 3.10), 10:15 p.m. ET
Tuesday:
RHP
Matt Harvey
(1-0, 0.00) vs. RHP
Tim Lincecum
(4-11, 5.88), 10:15 p.m. ET
Wednesday:
LHP
Jon Niese
(7-5, 3.86) vs. RHP
Matt Cain
(10-3, 2.80), 10:15 p.m. ET
Thursday:
RHP
Chris Young
(2-5, 4.58) vs. LHP
Barry Zito
(8-7, 3.89), 3:45 p.m. ET
Giants short hops
• Infielder
Marco Scutaro
made his Giants debut Saturday, starting at third base. Scutaro was acquired from the Rockies for 23-year-old infielder
Charlie Culberson
. Scutaro, 36, hit .271 (102-for-377) with four homers and 30 RBIs in 95 games with Colorado. He last had manned third base in 2008 with Toronto. Scutaro had roughly $2 million remaining on his contract, which the Rockies are subsidizing. He took No. 19, pushing pitching coach
Dave Righetti
to No. 33.
Middle infielder
Emmanuel Burriss
was designated for assignment to clear the roster spot. He was hitting .214 with no homers in 131 at-bats.
Scutaro is being used at third base because NL All-Star starter
Pablo Sandoval
(.299, 8 HR, 33 RBIs) landed on the disabled list with a strained left hamstring. Sandoval suffered the injury while doing a split manning first base on a double play. It was Sandoval's third game appearing at first base this season.
• San Francisco TV station KPIX reports the Giants are poised to acquire
Hunter Pence
from the Phillies, but the San Francisco Chronicle did not corroborate the report.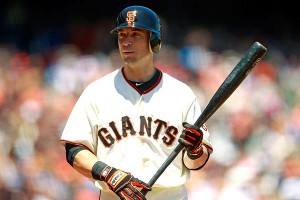 Cary Edmondson/US Presswire
Marco Scutaro made his Giants debut Saturday after being acquired from Colorado.

•
Aubrey Huff
(.150 in 60 at-bats) played Saturday for the first time since July 28. He missed 35 games with a sprained right knee, which he suffered jumping over the dugout railing to celebrate
Matt Cain's
perfect game. Huff will serve as a reserve first baseman/pinch hitter.
• Ex-Met
Angel Pagan
, who was shipped to San Francisco for
Andres Torres
and
Ramon Ramirez
, is hitting .218 (17-for-78) in July. Pagan was caught Sunday for only the fourth time in 21 steal attempts this season. He has started 92 of San Francisco's 101 games in center field.
• First baseman
Brandon Belt
went 1-for-3 Sunday, but is hitting .140 (8-for-57) with four RBIs in 21 games (13 starts) since July 3.
• After limiting Houston and Philadelphia to a combined two runs and 10 hits in 15 innings while striking out 17 and walking three in consecutive starts,
Tim Lincecum
was roughed up by San Diego last week. Lincecum allowed five runs in 4 2/3 innings, including homers by
Chase Headley
and
Jesus Guzman
.
• Cain's .214 opponent batting average ranked fourth in the National League entering Sunday, trailing only Washington's
Gio Gonzalez
(.197), San Diego's
Edinson Volquez
(.209) and Chicago's
Ryan Dempster
(.210).
• All-Star
Melky Cabrera's
.353 average ranks second in the NL, trailing only Pittsburgh's
Andrew McCutchen
(.368).
• The Dodgers completed a weekend sweep of the Giants with a 4-0 win Sunday to pull even in the NL West standings. The teams finish the season with a three-game series at Dodger Stadium from Oct. 1-3.
• A handful of Mets players noticed while watching on TV on Saturday that catcher
Buster Posey
is gun shy on plays at the plate after suffering last year's season-ending leg fracture. Posey stands in fair territory fielding outfield throws and tries to reach back toward the plate for the tag. The positioning added to the scoring damage against
Barry Zito
over the weekend.
•
Hector Sanchez
(left knee sprain) is likely to return from the DL on Thursday and catch Zito.
• Against Cincinnati on June 28,
Madison Bumgarner
became the fourth Giants pitcher age 22 or younger in the live-ball era to throw a shutout while allowing one hit or fewer, according to ESPN Stats & Information. The others:
Mike McCormick
in 1959,
Juan Marichal
in 1960 and Cain in 2006.
• With closer
Brian Wilson
out for season following elbow surgery,
Santiago Casilla
has 24 saves, which ranks third in the NL. However, Casilla has blown six chances, tied for the league high. That includes five blown saves in his past nine attempts.
• Left-handed reliever
Jeremy Affeldt
had an 8 1/3-inning scoreless streak and lefty batters were hitting only .136 against him this season before L.A. touched him for two runs Sunday.
•
Brad Penny
, who began the season with the Fukuoka Softbank Hawks in Japan, signed a minor league deal with San Francisco on May 18 and was promoted June 29. Working in relief, Penny has allowed nine runs (eight earned) on 15 hits and two walks in his past six appearances, spanning eight innings.
• Ex-Met
Joaquin Arias
, who had arrived in New York in a trade with Texas for
Jeff Francoeur
, is 3-for-his-last-45 with runners in scoring position.
• The Giants' AT&T Park will host the semifinals and finals of the World Baseball Classic during spring training.
Last series results
San Francisco won, 3-1, at Citi Field, April 20-23 (AP game recaps)
Giants 4, Mets 3 (10 innings):
Clay Hensley came in and escaped a two-on, none-out jam in the 10th to preserve the win. Hector Sanchez tagged out Kirk Nieuwenhuis to prevent the Mets from winning in the ninth, then singled home the go-ahead run off Frank Francisco in the 10th. San Francisco took a 3-0 lead in the third when Angel Pagan homered in his return to New York, Buster Posey hit an RBI double and Jon Niese threw a run-scoring wild pitch. New York's first two hits off Zito were homers, by Jason Bay in the fourth and Nieuwenhuis in the fifth. Bay reached on an infield hit to deep shortstop off Santiago Casilla leading off the ninth. Javier Lopez entered and retired pinch hitter Lucas Duda, then threw a wild pitch. Nieuwenhuis walked and Josh Thole singled to drive in the tying run.
More
Mets 5, Giants 4:
A high popup that started twisting in the wind turned the ninth inning into an adventure at Citi Field. In one of the craziest endings imaginable, Ruben Tejada scored the winning run on a throwing error by catcher Buster Posey and the Mets won after blowing a three-run lead moments earlier. Mike Pelfrey tossed eight terrific innings, outpitching Ryan Vogelsong and helping the Mets build a 4-1 cushion. Emmanuel Burriss hit an RBI single in the ninth, but New York appeared poised to lock up a fairly simple victory when Jon Rauch entered with two outs and got pinch hitter Brandon Belt to hit a high fly to shallow center. Tejada had trouble with it immediately, though, fighting to get under the ball behind shortstop as it swirled around in the wind. Rookie center fielder Kirk Nieuwenhuis came rushing in and overran the ball, which dropped behind him for a two-run double.
More
Giants 6, Mets 1
Giants 7, Mets 2:
Madison Bumgarner pitched seven neat innings, Pablo Sandoval homered to match a team mark set by Willie Mays and the Giants notched a doubleheader sweep. The Giants took the opener as Tim Lincecum posted his first win of the season. Sandoval hit a three-run homer in the first inning to back Bumgarner. He has a 16-game hitting streak, tying the San Francisco record at the start of a season set by Mays in 1960, STATS LLC said. Hector Sanchez later hit his first big league homer, a two-run shot. Bumgarner (3-1) allowed one run and three hits. He won his third straight start, a streak that began shortly before the 22-year-old lefty signed a $35.56 million, six-year contract. Both games were similar: Sandoval put San Francisco ahead for good in the first inning, the Giants supported their starter with two homers, and they got plenty of pitching. Nate Schierholtz and Buster Posey homered in the opener. Schierholtz had six hits during the day, including two triples. Battered in his first three starts, Lincecum (1-2) allowed one run in five innings and struck out eight. He also walked five and gave up four hits in lowering his ERA from 10.54 to 8.20.
More
April, 19, 2012
4/19/12
8:18
AM ET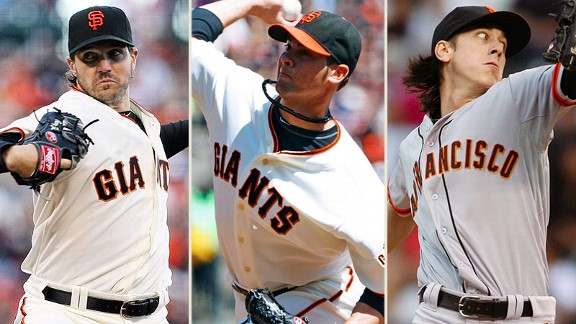 US Presswire
The Mets face (l to r) Barry Zito, Ryan Vogelsong and Tim Lincecum in the opening three games of the series.
METS (7-5, second place/NL East) vs. SAN FRANCISCO GIANTS (6-6, third place/NL West)
Friday:
LHP Jon Niese (2-0, 2.13) vs. LHP Barry Zito (1-0, 1.13), 7:10 p.m. ET
Saturday:
RHP Mike Pelfrey (0-0, 3.09) vs. RHP Ryan Vogelsong (0-1, 2.84), 1:10 p.m. ET
Sunday:
RHP Dillon Gee (1-1, 2.92) vs. RHP Tim Lincecum (0-2, 10.54), 1:10 p.m. ET
Monday:
LHP Johan Santana (0-2, 3.97) vs. LHP Madison Bumgarner (2-1, 3.63), 7:10 p.m. ET
Giants short hops
• After a 3-for-27 start to his Giants career, center fielder
Angel Pagan
had three multi-hit games -- and three triples -- in a four-game span through Tuesday. He looked particularly good facing Phillies ace
Roy Halladay
. Pagan, known for his lapses in the field and on the bases, has been mostly sound in that respect -- albeit with one costly miscue. Playing center field behind
Tim Lincecum
on Monday in the first inning with one out and none on, Pagan did not take charge on a fly ball by Philadelphia's
Placido Polanco
to right-center. He and right fielder
Melky Cabrera
both pulled off and the ball fell for a double that started a four-run rally. Pagan has batted leadoff in all but one of his starts this season. He was traded to San Francisco at the winter meetings in December for
Andres Torres
and
Ramon Ramirez
.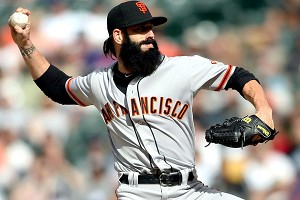 Chris Humphreys/US Presswire
Brian Wilson is expected to undergo Tommy John surgery and miss the remainder of the season.

• Closer
Brian Wilson's
season appears to have ended after an April 12 appearance in Denver because of a right elbow injury that is expected to require Tommy John surgery. Wilson has a second-degree sprain of the UCL, which has not completely torn off the bone. Still, he was expected to opt for the procedure. Wilson has sought opinions from Dr.
Lewis Yocum
in Los Angeles and then Dr.
James Andrews
in Birmingham, Ala., on Wednesday.
Santiago Casilla
handled the first closing opportunity and should get the bulk of the chances in Wilson's absence. Last season, when Wilson did not pitch over the final six weeks except for two appearances, the Giants were 9-for-9 in save conversions. Casilla recorded six. Ramirez, now with the Mets, handled the other three.
•
Barry Zito
tossed a four-hit shutout at Colorado in his first start of the season, then limited the Pittsburgh Pirates to three runs (two earned) in seven innings in his second start. Zito changed radically changed his delivery over winter while working with former major league pitcher
Tom House
. The mechanical changes involve more drive with Zito's legs as well as increased follow through.
Zito and
Matt Cain
, incidentally, attended a Sunday concert by Bay Area-spawned Train and were invited on stage, where they participated in performing "Save Me, San Francisco" and "Don't Stop Believin'."
• The Giants followed the major league trend of locking up young left-handed starting pitching, announcing this week the signing of
Madison Bumgarner
to a five-year extension, though 2017, with options for the following two seasons. Potentially worth as much as $70.5 million, it is the biggest contract ever given to a player with only one-plus years of major league service time. Bumgarner, 22, would not have been eligible for free agency until after the '16 season.
The Texas Rangers similarly locked up left-hander
Derek Holland
and the Mets signed
Jon Niese
-- both for five guaranteed years -- during spring training.
Two starts ago, Bumgarner took a no-hit bid into the sixth inning against the Rockies. The southpaw matched up against
Jamie Moyer
that start -- marking the third-largest age disparity between starting pitchers in MLB history, according to the Elias Sports Bureau.
Bumgarner's deal came two weeks after the signing of Cain by the Giants to an additional five years at $112.5 million on top of the right-hander's existing deal. After the two signings, the Giants made courtesy calls to representatives for Lincecum and catcher
Buster Posey
to say they are interested in extension discussions as well … after the season.
• Cain and Philadelphia's
Cliff Lee
had a scoreless duel into extra innings Wednesday. Lee logged 10 scoreless innings; Cain logged nine. San Francisco won, 1-0, in 11 innings on
Melky Cabrera's
RBI single against
Antonio Bastardo
.
• Posey, whose 2011 season ended with broken left leg suffered in a May 25 plate collision with the Marlins'
Scott Cousins
, now is playing through shingles on his left arm.
• Lincecum is not eligible for free agency until after the 2013 season. The team wanted a longer deal with him, but he only agreed to a two-year, $40.5 million contract. Lincecum has allowed more first-inning runs this season (nine) than he did during all of his 2011 starts (eight). He has allowed at least five earned runs in each of his three starts this season. Since his first start, Lincecum has reincorporated a slider that he had hoped to shelve because it taxes his arm. Lincecum's fastball velocity averaged only 90 mph in his third start, Monday opposite Halladay. His second outing, when he lasted only 2 1/3 innings at Colorado, was the shortest start of his career.
April, 18, 2012
4/18/12
6:27
PM ET
Kirk Nieuwenhuis is no stranger to the leadoff spot. He batted in the No. 1 slot 78 times in 94 games with Double-A Binghamton as recently as 2010, before a promotion to Buffalo.

With Andres Torres on the DL and Ruben Tejada given the day off, Nieuwenhuis found himself batting first for the first time as a major leaguer on Wednesday.

He had a career-high three hits and reached base four times in five plate appearances to lift his average to .375 in 11 games in the majors. Nieuwenhuis doubled twice and scored three times in the 14-6 loss to the Braves. He also stole his first base.

"I've done it before," Nieuwenhuis said about leading off. "It's still hitting. It's not really too big of an adjustment for me. You're just trying to get on base for the big boys."

With Tejada's on-base percentage having slipped to .326 after recording only one hit and no walks in 12 plate appearances over his final three starts of the trip, perhaps it makes sense to give Nieuwenhuis a shot at remaining in the leadoff spot.

Will Terry Collins do so?

"Umm, there's a shot," Collins said. "He did a nice job there. We just have to see."

Of course, Collins was offering no guarantee Nieuwenhuis would even be in Friday's lineup against the San Francisco Giants at Citi Field, although the manager seemed to indicate it made sense.

Originally, Collins said the righty-hitting Scott Hairston and Nieuwenhuis were in a strict platoon. But Nieuwenhuis (and Hairston too) started Sunday in Philadelphia against southpaw Cole Hamels.


July, 17, 2010
7/17/10
4:17
AM ET
One night after Tim Lincecum shut out the Mets, Barry Zito nearly duplicated the performance. Zito was pulled after eight scoreless innings. Closer Brian Wilson finished off San Francisco's 1-0 victory against Mets, who have been shut out in three of their past four games spanning the All-Star break.

Zito (8-4) picked up his first win in his last six starts. His 10 strikeouts matched his season high.

"The curveball he has, it looks like he's kind of coming back and mastering that. I think the other thing about it, too -- when you throw a lot of high fastballs and you flip that curve at the same height and it comes down there for a strike, it can be very tough," Jerry Manuel said. "… He did a good job. Either he did a good job [or] we made him look good. Something happened. It didn't go our way."
There are no games scheduled for today.