New York Mets:

Believe It Or Not
August, 16, 2013
8/16/13
11:43
AM ET
By
Mark Simon
| ESPNNewYork.com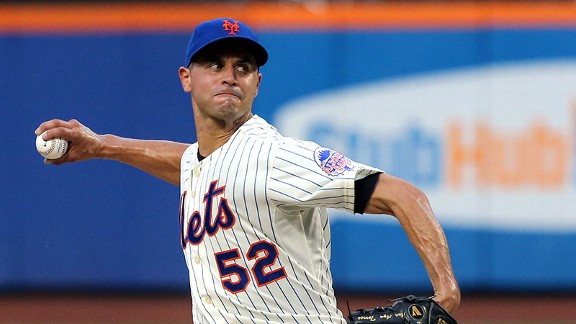 Anthony Gruppuso/USA TODAY SportsCarlos Torres has been more than solid as a Met. But do past struggles mean it's been an aberration?
This is the fourth piece in our series looking at Mets who have had recent runs of success. Our first three stories featured Juan Lagares, Ike Davis and Eric Young Jr. Today, we move to the mound and take a look at starter/reliever Carlos Torres.
Believe it ...
Torres has had two stretches in which he's looked
really
good. He allowed three earned runs in the first 28 2/3 innings after his recall. And in his past 10 innings, he's allowed just one run.
This is a carryover from the end of his time in Las Vegas, where he allowed three earned runs in his last 32 innings.
Torres has an excellent strikeout-to-walk ratio (33 to 7) and he's allowed home runs at a respectable rate (four in 41 2/3 innings).
Torres' offspeed stuff carried him through his strong start, a combo of a curve and slider (some may call the latter a cutter or a splitter). In his 17 relief appearances, those pitches have retired 59 hitters and yielded only 14 baserunners.
Torres also rates high in working out of jams. Opponents are 3-for-35 against him with runners on base in his relief appearances. He's also inherited eight baserunners, none of whom have scored against him.
Or Not
Torres had never had an extended stretch of major league success prior to this season. In 44 previous appearances with the Rockies and White Sox, he had a 5.97 ERA, with a poor strikeout-to-walk rate (77 to 52).
His rates of both called strikes and "chases" (hitters swinging at pitches out of the strike zone), particularly with his secondary stuff, were considerably lower than they've been this season. So his track record of success is limited.
Torres' off-speed stuff was vulnerable in the three games he started for the Mets, allowing 17 baserunners while netting 31 outs.
Torres has also been a little fortunate.
Omar Quintanilla
's leaping catch in extra innings saved a run and spared Torres a loss to the Dodgers a couple of days ago.
Opponents are 14-for-22 when hitting a line drive against Torres the reliever. Had a couple of those balls been hits (line drives are typically hits 70 to 75 percent of the time), Torres' numbers might look a little different.
Scout's Take
The scout we spoke to was impressed with what Torres had done this season, though he wasn't positive that would carry over to long-term success.
"Carlos Torres is a very interesting guy. He's a serviceable pitcher. He has good stuff, but not a lot of swing-and-miss stuff. He's a strike thrower with a good feel for what he's trying to do. He's a good guy to help you when there's a need or an injury. He's not an eighth-inning guy, but maybe a middle reliever or spot starter, who could do both. He has a good mix of off-speed stuff, but he's one of those guys, the more you use him, the more he gets overexposed."
August, 15, 2013
8/15/13
1:39
PM ET
By
Mark Simon
| ESPNNewYork.com
AP Photo/John MinchilloShould the Mets believe in the long-term prospects of Eric Young Jr.?
This is the third in a series of pieces that we're writing about Mets who have performed well recently, taking a closer look at their strengths and weaknesses, along with a scout's perspective on a longer-term outlook for that player. Our first two articles looked at Juan Lagares and Ike Davis. Today's piece focuses on Eric Young Jr.
Believe It ...
Young quickly became a fan favorite, the combination of his hot-hitting start and hustle winning fans over. He legitimately rates among the fastest players the Mets have had, alongside Mookie Wilson, Vince Coleman,
Esix Snead
,
Carlos Gomez
and
Jose Reyes
.
Young has 15 steals in 19 attempts and has taken the extra base (i.e. gone first to third or second to home on a single, or first to home on a double) on 68 percent of base hits, the highest rate of anyone currently on the team.
One of the things Young did in his first six weeks as a Met was to work deep counts and draw walks at a higher rate than he'd done in the past. His first-inning at-bats have become notable for their length. He's seen an average of 4.6 pitches per plate appearances and has a .375 on-base percentage in those game-opening turns.
Young's defense may not rate overwhelmingly high statistically, but he's made a number of notable plays, the kind the Mets weren't getting in left field until his arrival, including a recent game-saving catch against the
Colorado Rockies
.
... Or Not
Young's body of work prior to coming to the Mets suggested that some of his offensive numbers were Coors Field-inflated. He had a batting average barely above .200 outside of Colorado prior to joining the Mets.
When Young hits the ball in the air, he contributes little offensively, because of his limited power. He ranks among the bottom 20 in estimated distance on fly balls and line drives (256 feet).
During the slump that resulted in him getting a day off on Wednesday, Young got away from what was working for him and became more of a hacker. He has only three walks in 57 August plate appearances, a walk rate less than half of what it was in his first six weeks with the team.
Defensively, Young's value is that he turns batted balls into outs at a rate equal to an average left fielder. His other skills rate below average. He rates tied for worst in baseball with
Matt Holliday
in the component of Defensive Runs Saved that measures the deterrent value of an outfield arm.
Scout's Take
The scout we spoke to sounded higher on Lagares than he did Young, but thinks that Young is a more-than-competent role player.
"He's a very athletic player who brings a lot of energy on a daily basis. He makes the roster more athletic, which the Mets needed. He is a plus baserunner, very good and very aggressive. I would not want to be catching throws at first base with him running through the bag hard. He flies down the line
every time
on routine grounders. Scouts love that."
"He's a sparkplug with plus makeup. He has a lot of good intangibles, his good baseball genes from his father. (His weaknesses) are that most switch-hitters are not good breaking-ball hitters, and he falls into that category. His throwing is suspect at times. But I see him as a very serviceable super-utility player on a winning team."
What do you think of Eric Young Jr.? Share your thoughts in the comments
August, 14, 2013
8/14/13
12:00
PM ET
By
Mark Simon
| ESPNNewYork.com
Anthony Gruppuso/USA Today SportsShould the Mets believe in the long-term prospects of
Ike Davis
?
For the next three days, we're going to write about Mets who have performed well recently, taking a closer look at their strengths and weaknesses, then get a scout's perspective on a longer-term outlook for that player. Yesterday, we wrote about Juan Lagares Today's piece focuses on Ike Davis.
Believe It ...
Davis' overall body of work shows promise, though most of that came in the earliest stages of his career. In each of the last two spring trainings, Davis has impressed and flashes of that show up from time to time, like last season, when he clubbed 20 homers in 251 at-bats after the All-Star Break, and since his recall from Las Vegas, in which he has a .478 on-base percentage and a .920 OPS.
The biggest positive for Davis since his recall has been the drop in both his chase rate (how often he swings at pitches thrown out of the strike zone) and his miss rate (how often he misses on his swings).
We've noted those in the chart on the right.
Davis has also shown himself to be a competent, if not slightly above average defender at first base, based on advanced defensive metrics, though he's yet to be as good as his rookie season, when he had 10 Defensive Runs Saved.
... Or Not
Davis has had not one but two bad multi-month stretches, one in each of the last two seasons. Those have been highlighted by wild swings and misses, sometimes on pitches that look like they're going to hit him.
This recent run of success has been an odd one. His only homer during this stretch came against the Nationals in a game the Mets were winning 8-0 at the time. He does have nine doubles, but a bunch of those have been bloops rather than the potential long balls that fans grew used to seeing.
We utilize a video-review service that rates every batted ball as being either "hard-hit," "medium-hit," or "soft-hit" (several major league teams use either this service or others). Davis' rate of balls hit that were classified as "hard-hit" prior to his demotion was 14.9 percent.
With an increase in performance since his return, you'd expect that number to go up a little bit, but it's actually about the same, 14.5 percent. His season rate is 14.8 percent -- the same as
New York Yankees
reserve infielder
Jayson Nix
.
Scout's Take
The scout we spoke to acknowledged not having seen Davis much during this hot streak, but he wasn't sold on what he did see.
"Ike needs to reinvent himself as a hitter. I know he's not chasing as much lately. But my concern for him is that every pitch, whether he's taking it or at the point of contact, he never looks balanced. He can hit the ball on the screws and still look like he's early or late. I would not bet on him lasting on that. If he can keep doing what he's doing and have a 10-year career, God bless him."
What do you think of Ike Davis? Share your thoughts in the comments.
August, 13, 2013
8/13/13
3:24
PM ET
By
Mark Simon
| ESPNNewYork.com
Elsa/Getty ImagesShould the Mets believe in the long-term prospects of Juan Lagares?
For the next four days, we're going to write about Mets who have performed well recently, taking a closer look at their strengths and weaknesses, then get a scout's perspective on the longer-term outlook for that player. We lead off with centerfielder Juan Lagares.
Believe It ...
Lagares has a 2.7 WAR through 77 games (third-best among Mets position players), which was fueled almost entirely by his defense in his initial stint with the team, but has gradually had value added through his offense.
Since June 5, he's hitting nearly .300, with a little power, and hitting line drives with consistency. His numbers are highly similar against right-handed and left-handed pitching.
Lagares has 18 Defensive Runs Saved in a little over 500 innings and they've come in a variety of ways.
Lagares has been able to get to balls that others can't (including a homer-robbing catch against
Andrew McCutchen
that spikes his value slightly) and deter baserunners from advancing when he fields the ball.
Lagares has nine assists, seven of which have come on baserunners trying to advance a base. The component of Defensive Runs Saved that measures the value of deterring baserunners rates Lagares best among centerfielders.
... Or Not
Lagares still has a lot of holes in his swing, as evidenced by his 55 strikeouts and nine walks (only six unintentional).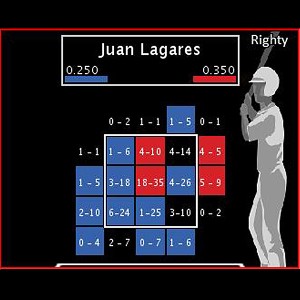 Juan Lagares' Hits/At-Bats by location.
Take a look at the heat map on the right, which features a lot more blue than red. Lagares gets the bulk of his hits on pitcher mistakes, those thrown to the center square.
The typical major leaguer gets about one-sixth of his hits in that area.
Lagares has gotten 18 of his 62 (nearly 30 percent), including 11 of his 29 (38 percent) since the All-Star Break.
Lagares' numbers are also boosted by a high success rate when hitting a ground ball, as the chart above shows. He's hitting nearly .300 when hitting a grounder, and though that's not impossible to maintain over a full season (or seasons), most hitters end up somewhere between .200 and .280.
Scout's Take
We talked to a major-league scout about four players for this series (Lagares,
Eric Young Jr.
,
Ike Davis
and
Carlos Torres
) and the scout had the most positive things to say about Lagares. Here's his all-around observation.
"I really like Juan. I've seen him for a number of years. The kid can play defense. He has very good instincts, does a very good job of positioning himself and getting reads on balls, hitting the cutoff man with his throws. I think he's making himself into a capable player in the big leagues.
"Offensively, he's coming along. The knock on him is he expands the strike zone and that's going to be a work in progress, but I'm optimistic. Those are things that can be learned, though learning the strike zone is very difficult to do. You have to learn your strengths, what your two–strike approach is? Can I shorten my swing and still get hits? He's shown the aptitude to make progress in those areas.
"I try to grade what a guy is on a winning team, a 90-win team. Juan is a very serviceable platoon player on a winning team, who can play all three positions and play them well. I'm not sure he's an everyday player on a winning team. I'd
love
to have him in the seventh inning on to be able to pinch-hit, pinch-run, or go in for defense. I can also start him vs. righties or lefties. He can be used on an NL roster in a lot of ways."
What do you think of Juan Lagares? Share your thoughts in the comments.