New York Mets:

Ben Baumer
May, 29, 2012
5/29/12
11:00
AM ET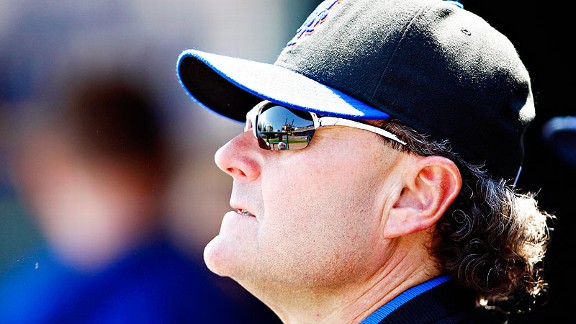 Leon Halip/US Presswire
When Rick Peterson arrived as pitching coach with the Mets, he spearheaded the development of a data-analysis system that aided in-game strategy.
Upon joining the Mets before the 2004 season as "CEO of pitching," to use
Fred Wilpon's
parlance,
Rick Peterson
sat down with GM
Jim Duquette
and chief operating officer
Jeff Wilpon
and discussed the computer-assisted game preparation he utilized with Oakland -- data-interpretation capabilities that
Paul DePodesta
had helped develop with the AL West club.
Rather than have the Mets buy a statistics service commercially available, Peterson advocated to buy the raw data from a company and then design an application in-house. Companies were willing to customize their services to the Mets' needs, but Peterson predicted to his new bosses that the team's analytic methods eventually would be peddled to other teams if the organization outsourced it.
Duquette and Wilpon were on board. And
Ben Baumer
, a young Mets statistical analyst, went to work writing the in-house program, incorporating Peterson's needs.
"He's absolutely just brilliant," said Peterson about Baumer, who now is leaving the Mets to teach at Smith College in Massachusetts. "Not only was he brilliant from a technical standpoint, but he had insight to go with it regarding things that I wanted to see, and had the creativeness as well. He was the total package. He was brilliant, smart, intellectual, creative. The key is to have user-friendly data for coaching staffs and managers. He had that knack. I worked with other people before him who were really smart, really intelligent, but they couldn't transition it to make it user-friendly. It's almost as if they couldn't see it through the eyes of baseball people necessarily. It was just pure data."
How sophisticated was the data the Mets had on their opponents during their 2006 run to within a game of the World Series?
"We certainly were totally prepared for anything that was going to happen in that ballgame," said Peterson, who now oversees minor league pitching for the Baltimore Orioles. "For example, let's say we brought in
Pedro Feliciano
to face a left-handed hitter for an opposing team in July or August. We knew if a left-hander came in to face that hitter, how many times would that manager pinch hit for that hitter -- and what were the game situations that he would pinch hit if he did pinch hit.
"Or, say we're playing the Phillies back in that day and they get to the pitcher's spot and we have a right-hander in there. Let's say we have Feliciano or (
Scott
)
Schoeneweis
ready in the bullpen and that they pinch hit
Matty Stairs
. We would have a record of if we bring in Schoeneweis or Pedro to face him, how many times would they not let Matty Stairs hit and they would bring in
Wes Helms
to hit, or whoever else was on their bench. It was all those types of things -- when a team hit-and-run, what count, what situation. When a team stole. Any event that happened in a game, we had predictive analysis of what the past history was."
Commercially available applications now have vast data that was not widely available then.
Peterson notes it's more than spray charts of where a batter places a ball and more than what a hitter does with an 82 mph slider down and away. PITCHf/x cameras installed in every ballpark measure the horizontal and vertical bend of every pitch. That can allow a coach to adjust where a pitcher stands on the rubber in order to make sure the path through the strike zone is least friendly to the hitter.
"In-depth" appears Tuesdays during the regular season
May, 29, 2012
5/29/12
6:26
AM ET
Ex-Met
Ty Wigginton
produced six RBIs, including a three-run homer in the ninth inning against
Manny Acosta
, and the Mets opened a stretch of eight straight series against opponents with winning records with an
8-4 loss to the Phillies
on Memorial Day at Citi Field.
Jeremy Hefner
(0-2, 6.17 ERA) makes his second major league start in Tuesday's 7:10 p.m. game, opposite Philadelphia right-hander
Joe Blanton
(2-2, 4.55).
Tuesday's news reports:
•
Justin Turner
suffered
what the team announced is a right-ankle sprain
. Turner jammed the leg on the first base bag during a rundown that ended the third inning. Turner's departure, coupled with
Ronny Cedeño's
unavailability because of continued calf issues, prompted
Terry Collins
to use
David Wright
at shortstop for the second time in Wright's professional career.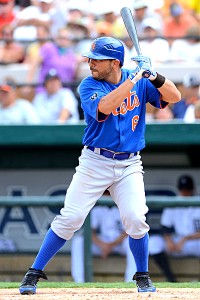 Mark Cunningham/MLB Photos/Getty Images
Omar Quintanilla should be the Mets' starting shortstop on Tuesday. He would be the fifth player to start at the position already this season, joining Ruben Tejada, Ronny Cedeño, Justin Turner and Jordany Valdespin. Only Jose Reyes and Tejada started for the Mets at shortstop last season.

The Mets will promote
Omar Quintanilla
and
Chris Schwinden
for Tuesday's game, with Quintanilla -- a former Rockie and Ranger -- expected to start at shortstop. To clear roster room, the Mets are expected to designate Acosta (11.86 ERA) for assignment and place Turner on the disabled list. Quintanilla fouled a ball off a foot Sunday, but played Monday for Triple-A Buffalo without issue. He was hitting .282 with six homers and 27 RBIs in 156 at-bats with the Bisons. Schwinden tossed 99 pitches for Buffalo on Sunday, but presumably would be asked to step in if Hefner
has a short outing today in his second major league start. Collins noted the Mets sure can use Thursday's day off, which comes after a stretch of 20 games in 20 days. Read more on the injury front and roster maneuvers in the
Post
,
Newsday
and
Star-Ledger
.
•
Josh Thole
(concussion)
caught five innings in an extended spring training game
Monday in Port St. Lucie, Fla.
Jason Bay
(rib) and
Ruben Tejada
(quadriceps) only batted in that game.
Miguel Batista
(oblique/back), meanwhile, is scheduled for a rehab start Tuesday with Double-A Binghamton, at Reading. Thole could advance to Buffalo quickly and be activated as soon as this weekend.
•
Jon Niese
walked five batters, three of whom scored, in Monday's loss. The Mets twice rallied from deficits in the defeat, getting game-tying two-run homers in consecutive innings from
Vinny Rottino
and
Scott Hairston
. Wright capped an 0-for-4 day by stranding the tying run at third base in the eighth with a groundout. He is now 0-for-his-last-14 as his average has slipped to .383. Read game recaps in the
Times
,
Post
,
Journal
,
Record
,
Star-Ledger
,
Newsday
and
Daily News
.
• Niese called his five walks "pretty embarrassing." Collins said he sent Niese out for the sixth, when
John Mayberry Jr.
delivered a two-run homer, because the southpaw had a 1-2-3 fifth as well as because Rottino had already tied the score with a homer, making pinch-hitting for Niese with two out and none aboard in the bottom of the fifth unnecessary. Read more in the
Post
and
Daily News
.
• Columnist
David Lennon
in Newsday
notes the Mets' depth continues to be tested with the depletion of shortstops. Writes Lennon:
We already knew depth would be an issue for the Mets. But it reached the crisis level Monday when David Wright was forced to play shortstop for six innings -- the most time he's spent there since his senior year at Hickory High. It's not often that teams run out of shortstops. But with Ruben Tejada still recovering in Port St. Lucie and Ronny Cedeño nursing a calf strain that initially was described as a more benign cramp, the Mets couldn't afford an injury to Justin Turner, who also happened to be their leadoff hitter on Memorial Day. So when Turner went down with what the Mets called an ankle sprain -- he looked to be in much more pain than that -- it was not the easiest blow to absorb, for Monday's game as well as the weeks ahead.
Columnist
Joel Sherman
in the Post
is skeptical the Mets can sustain their current level of play. Writes Sherman:
Nevertheless, if forced to speculate, I would still say the Mets are not ready to be six-month contenders. They continue to lack depth, notably beyond the main cogs in the rotation, but really everywhere. Injuries forced them to start a lineup yesterday -- Justin Turner leading off, Scott Hairston at cleanup -- more befitting St. Lucie in March than Citi Field in May.
Columnist
Kevin Kernan
in the Post
writes the Mets are "a team running on fumes."
Bill Madden
in the Daily News
and
Jeff Bradley
in the Star-Ledger
offer their takes as well.
• Mets statistical analyst
Ben Baumer
is
leaving the organization to teach mathematics
at Smith College in Massachusetts,
Sandy Alderson
confirmed to ESPNNewYork.com.
•
Andres Torres'
wife
Soannie
gave birth to the couple's second child
, daughter
Mia Carolina
, at 6:30 a.m. Monday at a hospital near Central Park. Torres, working on an hour of sleep, made it to Citi Field and delivered a pinch-hit double in the eighth that put him in position to be the potential tying run.
•
Jordany Valdespin
produced a three-run homer and
Dylan Owen
limited Columbus to one run and two hits in six innings as Triple-A Buffalo won, 7-1. Read Monday's full minor league recap
here
.
• The Mets will recognize
Carlos Beltran
with the
same type of understated video tribute
Friday when the Cardinals come to town that the organization did for
Jose Reyes
when he visited as an opponent last month for the first time since departing.
• Right-hander
Jack Egbert
recorded the final two outs of the top of the ninth inning in his first major league action since 2009 with the White Sox -- on a liner by
Freddy Galvis
and fly ball by
Brian Schneider
. Egbert, who hails from Rutherford and played at Rutgers, was acquired by the Mets in a late-September waiver claim in '09. He decided to stick with the organization as a minor league free agent after a 2010 season in which he did not pitch while rehabbing from Tommy John surgery. "Obviously, I got a few days to settle in here, which helps, instead of kind of running out there the first day," Egbert told
Mike Kerwick
in the Record
. "But after a while, you (want) to get out there. ... My last time up (with the White Sox) it seemed like everything was a hit. It was nice to catch somewhat of a break there on the first one, and then I kind of settled down, made a couple of better pitches to the second guy."
• The Mets conducted a late-day workout for prospective draft picks at Citi Field on Monday. Several Mets executives were on hand, including
Paul DePodesta
. The list of amateurs working out included Ole Miss signee
Stryker Trahan
,
he tweeted
. Trahan, from Lafayette, La., is
considered the top catching prospect
out of high school.
TRIVIA:
How many ex-Mets appeared in the game for Philadelphia in Monday's series opener?
Monday's answer:
Steve Carlton
had the most career losses against the Mets -- 36. Of course, he also had 30 wins in his 76 starts, during which he compiled a 3.12 ERA.
May, 28, 2012
5/28/12
12:27
PM ET
Ben Baumer, the Mets' statistical analyst, who has been praised for creating a state-of-the-art system in order for the team to prepare for upcoming opponents, will be leaving the organization to teach at Smith College, GM Sandy Alderson confirmed to ESPNNewYork.com.

Baumer recently had been pursuing a doctoral-level mathematics degree at the City University of New York while leading the Mets' statistical efforts.

Baumer joined the Mets in 2004. He has been credited with working with Rick Peterson to devise a state-of-the-art analytical system back then that now helps pitching coach Dan Warthen prepare for upcoming opponents.

"He'll probably be consulting with us," Alderson said. "Ben's made a big contribution -- not just in terms of a system that's been produced, but everyday availability and insights. He's done a great job for us, and I hope he continues in a consultant capacity. You know, he was getting his degree all this time, so he hasn't been working every day anyway."

Smith College's online fall course catalog lists Baumer as teaching "Calculus I" and "Statistics I: Introduction to Regression Analysis." The college, which admits only women as undergraduates, is located in Northampton, Mass.
February, 24, 2012
2/24/12
6:53
AM ET
After another pitchers and catchers workout day, a large Mets contingent will travel down I-95 to Palm Beach Gardens, Fla., for the 7 p.m. memorial service for
Gary Carter
. ESPN.com/ESPNNewYork.com should have details later today about how to watch the service on our site. It will be streamed online. The Mets also plan to watch free-agent left-hander
Scott Kazmir
throw today.
Friday's news reports:
• A helicopter landed on a field at the Mets' spring-training complex late Thursday afternoon and chief operating officer
Jeff Wilpon
, GM
Sandy Alderson
, manager
Terry Collins
and other front-office staff
boarded for a chartered trip to Miami
to watch
Jeremy Lin
and the Knicks lose to the Heat. A Miami aviation expert estimated the cost of the charter to be $3,000 per hour. Read more in
Newsday
and the
Post
.
• At a hearing inside U.S. District Judge
Jed S. Rakoff's
courtroom in Manhattan on Thursday, the judge decided to
ban three expert witnesses
-- two for the trustee suing
Fred Wilpon
and family, and one for the defense (coincidentally named
John Maine
). Rakoff also pledged to rule by March 5 whether to toss the case, whether to award $83 million pre-trial to trustee
Irving Picard
, or whether to allow the March 19 jury trial to proceed without any pretrial motions for summary judgment being granted.
Wrote
Anthony M. Destefano
in Newsday
:
In a three-hour hearing, Judge Jed Rakoff asked attorneys about the deposition given last year by financial expert Noreen Harrington, who at one time worked as a financial executive for Sterling Stamos, the investment arm of Fred Wilpon and Saul Katz's Sterling Equities business. ... In a deposition, Harrington stated that Katz became angered when she said in a 2004 meeting that Madoff's investment returns seemed too good to be true and might represent fictional numbers or the illegal stock market practice of "front running," an illegal trading strategy. ... While Rakoff didn't tip his hand on how he would rule on the summary judgment issues, he raised the possibility through questioning of the attorneys, particularly trustee counsel David Sheehan, that Harrington's testimony might signal to a jury willful blindness by the Sterling defendants to Madoff's fraud. Rakoff particularly asked about Harrington's claim that Katz became very angry with her when she raised questions about illegalities in Madoff's business.

Richard Sandomir
in the Times
picked up on the same exchange in court. Writes Sandomir:
Rakoff, who read aloud portions of Harrington's testimony, was curious about Katz's reaction when she cast doubt on Sterling Stamos investing in a fund that fed its clients' money to Madoff to invest. "Why get angry at that?" he asked Karen Wagner, the Mets' lead lawyer. He said Katz's reaction would have made more sense if he had asked her to come up with evidence to back her claims and she did not. "A reasonable juror could say that he got angry before he even asks for an explanation," Rakoff added. Katz said in his deposition that he did not remember the meeting. Harrington testified that when she asked to meet with Madoff, Katz said no. She did not follow up on her request and left Sterling Stamos soon after. "It's hard to see that the failure to give her that meeting can be taken as evidence of willful blindness," Rakoff said.
Read more in the
Journal
.
•
Jose Reyes
arrived at Marlins camp Thursday
. As for bench coach
Bob Geren
getting his No. 7 with the Mets, Reyes initially was unsure who Geren was. The shortstop then told
Ken Davidoff
in Newsday
: "I'm not there. They can do whatever they want to with number 7." Read more in the
Daily News
and
Post
.
• Upon returning to Mets camp,
Ike Davis
revealed that doctors had sent him to New York for more testing because they
discovered an infection in his lungs
. Davis was cleared to resume working out and does not need to take medication. He never noticed any symptoms from the medical issue.
•
Jason Bay
reported to Mets camp Thursday, two days ahead of the official position-player report date. Bay
pledged to stop tinkering with his swing
every time he does not have success, and said New Yorkers have not yet seen the real Bay. (Watch Bay video
here
.) Bay's contract vests at $17 million for 2014 if he has 600 plate appearances in 2013, or 500 apiece each of the next two seasons, perhaps setting up an awkward situation, as was the case with
Francisco Rodriguez's
55-games-finished vesting option. On Bay trying to rediscover the swing from his Pirates day,
Andy McCullough
writes
in the Star-Ledger
:
The 2011 season was, by most statistical measurements, the worst of Bay's nine-year career. He finished with career-lows in batting average (.245) and on-base plus slugging percentage (.703). In 212 games with the Mets, Bay's slugging percentage is .386. In 200 games with Boston, he slugged .534. ... Last August, hitting coach Dave Hudgens played dueling sets of video for Bay, a split-screen view of the 45 homers he hit with Boston and the 15 he had hit to that point with the Mets. Hudgens then ... forced the outfielder to relearn his old approach. So Bay did. He geared his entire approach to pull baseballs to left field. He straightened his back. He opened his stance. His hands rotated as a timing gesture before each pitch. The results were eye-opening. From April to August, Bay floundered along with a .660 OPS. After reverting to his old form, he scorched through the final month with a .954 OPS.
Read more in the
Journal
,
Post
,
Record
and
Newsday
.
• At Cardinals camp in Jupiter, Fla.,
Carlos Beltran
told the St. Louis Post-Dispatch he would follow through and
pay the roughly $10,000
for
Jon Niese's
nose job, as Beltran had pledged to do in July before being traded from the Mets to the San Francisco Giants. Read more in
Newsday
.
•
Johan Santana
threw his third bullpen session of spring training
-- 32 pitches. Afterward, Collins and the southpaw indicated he should be ready to throw batting practice toward the middle of next week, setting the southpaw up to pitch in the Mets' March 5 Grapefruit League opener against the Washington Nationals. Read more in the
Star-Ledger
.
•
Andy Martino
in the Daily News
talks to Santana about ailing Venezuelan President
Hugo Chavez
, who requires cancer treatments. "I hope he gets better," Santana told Martino. "He is a human being just like any one of us. I hope the best for him."
• After signing a minor league deal with the Los Angeles Angels, two-time ex-Met
Jason Isringhausen
reported to camp
much lighter than a year ago
, when he ended a season with the Amazin's inactive because of a herniated disc.
•
Andrew Keh
in the Times
profiles
Mike Nickeas
, who will be the backup catcher because of his defensive prowess if he proves he can hit at a minimally competent level. Writes Keh:
Nickeas spent the winter working out at Georgia Tech and e-mailing video of his swing to Dave Hudgens, the Mets' hitting coach. The two also had a continuing dialogue over the phone, with the aim of revamping Nickeas's swing and plate approach in time for spring training. "I'm removing all the inefficiencies from my swing, so I have more time to recognize pitches and see the ball," Nickeas said. "My goal is to be an extremely tough out. I don't want to be the guy they get to, put a couple of pitches in, and be done."
• Left-handed reliever
Tim Byrdak
, who began his Thursday by arriving at work with a platinum-blond-dyed goatee, worked with a drop-down delivery during a subsequent bullpen session. Byrdak told
Anthony DiComo
at MLB.com
that his arm slot typically rises as he gets closer to the season. He's starting lower this season than in the past before drifting upward, because he does not want his arm to be too high once Opening Day arrives. Byrdak last pitched sidearm in 1999. "I know it's going to go up," Byrdak told DiComo. "So if I go a little bit lower and I come up, I'm right where I want to be."
• Mets statistical analyst
Ben Baumer
reached the finals before losing to Angels assistant equipment manager
Shane Demmitt
in MLB Network's "Baseball IQ" baseball history/trivia show.
•
Jenrry Mejia
threw off a mound
for the first time since Tommy John surgery in May. Without revealing Mejia's future role,
Paul DePodesta
noted to ESPNNewYork.com the success the Texas Rangers have experienced by beginning pitchers' careers in the bullpen before moving them to the rotation -- at least suggesting the possibility Mejia works in relief for the Mets during the second half of the 2012 season, then potentially revisits starting in future seasons.
TRIVIA:
Reyes last season won the Mets' only National League batting title, but who had the best average for a season in franchise history among qualifiers?
(Thursday's answer:
Benny Agbayani
has appeared in the most games as a Met among Hawaiian-born players at 322.
Ron Darling
ranks second with 272 games as a Met, followed by
Sid Fernandez
at 255,
Carlos Diaz
at 58 and
Tyler Yates
at 21.)