June, 22, 2012
6/22/12
8:42
AM ET
After an off-day, the Mets open the Subway Series. Southpaws
Jon Niese
(4-3, 3.82 ERA) and
Andy Pettitte
(3-2, 2.77) match up in the opener.
Friday's news reports:
•
Frank Francisco
tells
Mike Puma
in the Post
about the Yankees: "I can't wait to strike out those chickens. I want to strike out the side against them. I've done it before." Francisco, pressed about the poultry reference, added: "I think I've said too much already."
• Read Subway Series previews in the
Record
,
Daily News
,
Post
and
Newsday
.
• During SNY's show determining the top Mets player in franchise history by position,
Tom Seaver
buzzed
Darryl Strawberry
with a zinger. Writes
Cody Derespina
in Newsday
:
But during a question and answer session with the Mets All-Time team, things got testy when SNY's Kevin Burkhardt posed an innocent enough question to Strawberry: "Who would have won a game between the '69 Mets and the '86 Mets, Seaver vs. [Dwight] Gooden?" During his answer, Strawberry took aim at Tom Seaver, the pitcher, saying he "would've loved to get a piece of that with my Louisville Slugger," drawing loud applause from the crowd in attendance. Seaver seemed to chuckle, but later appeared to take aim at Strawberry, the man. "You don't have any handcuffs on your hands, wrists there, do you?" Seaver said. The audience responded with hushed, nervous laughter as Seaver cracked up. For his part, Strawberry handled the incident quickly.
• Columnist
John Rowe
in the Record
, meanwhile, objects to the panel's selection of
Davey Johnson
over
Gil Hodges
as the all-time manager.
•
Ronny Cedeño
is
expected to rejoin the Mets
for Friday's Subway Series opener after a week-long rehab assignment with Triple-A Buffalo.
Ruben Tejada
(1-for-4, RBI) played a second straight game at shortstop with Buffalo on Thursday, and is expected to remain with the Bisons for a little longer. Read more in the
Record.
• Columnist
Bob Klapisch
in the Record
notes Citi Field likely will not be as homer-friendly to the Yankees as their Bronx bandbox. Writes Klapsich:
The Mets are wary of the Yankees, and rightly so -- they were swept in the Bronx two weeks ago, and suffered in silence as Johan Santana was crushed for four HRs. But the Mets have two factors working in their favor this time: First, their pitching has reached a surreal level of domination, having run through a stretch of 29 consecutive scoreless innings. And second, unlike the Stadium, hitting home runs in Citi Field is a different reality. It might even be enough to bust down the Yankees a rank, from machines to mere mortals.
• Columnist
John Harper
in the Daily News
has similar contrasting ballpark-dimension thoughts. Writes Harper:
Going deep may not be so easy this weekend, despite the new dimensions at Citi Field. Naturally, no one in the Mets organization is saying such a thing publicly. "It's the Yankees: They have enough power to make their ballpark look small and enough power to make our ballpark look small," David Wright said. "It's less about where they play the games than the lineup they run out. They can make a one-run lead a four-run lead real fast. It's hard to ask a pitching staff -- ours or anyone -- to hold a one-run lead for a whole game against them." Met radio voice Howie Rose, however, took some abuse from Yankee fans for showing his exasperation on the air at the time and dismissing at least a few of the eight home runs the Yankees hit in that series as cheapies. To which Rose responded: "If you don't like it, why are you listening to the Mets' broadcast? Go listen to your own broadcast."
• Right-hander
Zack Wheeler
and third baseman
Wilmer Flores
will
represent the Mets in the July 8 Futures Game
in Kansas City during the All-Star festivities. Read more in the
Star-Ledger
.
•
Andy McCullough
in the Star-Ledger
looks at
Daniel Murphy's
slump, which prompted
Terry Collins
to start
Jordany Valdespin
at second base in two of the three games in the sweep of the Baltimore Orioles. Writes McCullough:
For more than a month, that sensation has eluded Murphy. On May 16, he was hitting .336. Since then, he's hit .192, with little power behind it heading into the second leg of the Subway Series tonight. Murphy has the most plate appearances (281) of any player yet to hit a home run this season. His .655 on-base plus slugging percentage ranks ninth-worst among National League hitters qualified for the batting title heading into Thursday night's games. "Dan's mired in a slump," manager Terry Collins said last week. "And I never thought Dan Murphy ever got into a slump. He's such a good hitter."
•
Neil Best
in Newsday
explains the Mets' move this season to dynamic (floating) ticket pricing based on market conditions, which is designed to keep people buying tickets from the team when resellers such as StubHub have lower prices than the originally determined price on the ticket. Writes Best:
Even with their unexpected success, the Mets are averaging 27,515 in paid attendance, down from 28,390 last year at this point. And they are not above using gimmicks, such as a promotion for the Subway Series in which some prices were tied to the game-time temperature during this week's heat wave. But [executive VP Dave] Howard said the idea is working as intended, getting more people into the ballpark, generating revenue that otherwise might not have been realized and reflecting real-world forces. "The Mets fan will know,'' he said, "that they don't have to go to a secondary market source, because Mets.com is being priced based on the same factors.''
Read more on tickets
in the Times
.
• Prospect
Jeurys Familia
struggled and was knocked out in a five-run third inning by Norfolk in Triple-A action. Read Thursday's full minor league recap
here
.
•
R.A. Dickey
has not allowed an earned run in 42 2/3 innings, and can take the franchise record away from
Dwight Gooden
(49 innings) when the knuckleballer opposes
CC Sabathia
on Sunday.
Ebenezer Samuel
in the Daily News
gets Yankees reaction to their upcoming challenge. Team Dickey coverage
in the News
also includes the knuckleballer's Thursday book signing as well as
this article
on Dickey's one-time conflict with analyst
Bob Ojeda
.
•
David Waldstein
in the Times
notes the last pitcher to no-hit the Yankees in a complete-game effort was an original knuckleballer,
Hoyt Wilhelm
, on Sept. 20, 1958.
•
Raul Ibanez
, who played with Dickey in Seattle, tells
Kevin Kernan
in the Post
that Dickey really has taken the knuckleball to a different level in terms of controlling where the pitch is going. "Sometimes the catchers were moving in and then moving away and I said to my teammates, 'You know what? I think he's doing that on purpose,'" Ibanez said. "And they said, 'No, he's not, he can't control the knuckleball that way.' But I felt he was using it like a slider, like a changeup."
• Columnist
David Lennon
in Newsday
goes over some weekend storylines.
TRIVIA:
Who was the last Yankee other than
Derek Jeter
to start at shortstop in a regular-season game against the Mets?
Thursday's answer: Among current Yankees, Ibanez
has the most career homers at Citi Field -- five, as a member of the Phillies.
May, 28, 2012
5/28/12
7:16
AM ET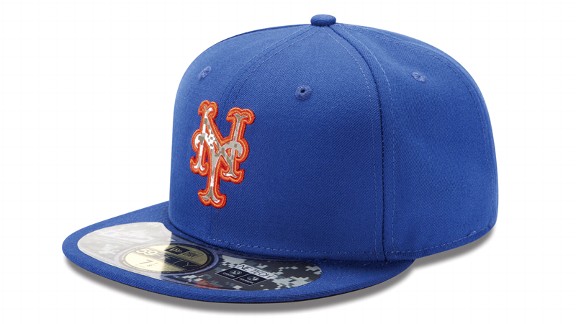 Courtesy of New Era
The Mets, along with the rest of baseball, will wear special caps on Memorial Day. This time, the team colors will remain and camouflage will fill the logo.
R.A. Dickey
,
Tim Byrdak
and
Frank Francisco
combined on the shutout as the Mets upped their scoreless streak to 26 innings and moved six games over .500 for the first time since July 18, 2010 with a
2-0 win Sunday against San Diego
. The Padres, who were shut out by
Johan Santana
the previous day, did not score after
Jesus Guzman's
first-inning sacrifice fly against
Dillon Gee
on Friday.
The scoreless streak is the longest by a Mets staff since going 35 innings from May 25-28, 2010 -- which came primarily during three straight shutouts of the Phillies. The franchise record, if you want to get greedy, is 42 straight scoreless innings from Sept. 23-28, 1969.
After consecutively facing the Pirates and Padres, the Mets now see a
major upgrade in competition
. The next eight series all come against teams with winning records: Philadelphia (25-24), St. Louis (26-22), at Washington (29-18), at the Yankees (26-21), at Tampa Bay (29-19), Cincinnati (27-20), Baltimore (29-19) and the Yankees again, at Citi Field. Then, finally, comes a reprieve at Wrigley Field against the Cubs, who currently own a 15-32 record, tied with Minnesota for worst in the majors.
Cole Hamels
(7-1, 2.17 ERA), who is tied with Dickey, St. Louis'
Lance Lynn
and Los Angeles'
Chris Capuano
for the National League lead in victories, opposes
Jon Niese
(3-2, 4.29) in Monday's 1:10 p.m. series opener against Philadelphia.
The Mets, along with the rest of Major League Baseball, will wear special Memorial Day caps today. In a departure from the previous four seasons, though, the caps will remain in Mets colors. Instead, the logo will be filled with camouflage.
Monday's news reports:
• The Mets' revival of Banner Day, which had been shelved after 1996, appeared a success.
Olivia Nuzzo
and
Stephanie Giangrande
, cousins from Brooklyn, were declared winners by a celebrity panel of
Dwight Gooden
,
Rusty Staub
,
Howie Rose
and
Evan Roberts
. They won a trip to next year's spring training for capturing
Mike Piazza's
homer in the first game in New York after 9/11. More than 300 banners were entered. Gooden then threw out the ceremonial first pitch and shook hands with Dickey before departing the field. View a photo gallery in the
Times
. Read more in
Newsday
and the
Daily News
.
• Dickey
fanned 10 Padres on Sunday
, becoming the first Met with consecutive double-digit strikeout games since
Pedro Martinez
from May 9-14, 2006. Umpire
Tim Tschida
, who has called major league games since 1986, including 13 of retired knuckleballer
Tim Wakefield's
appearances, told
Terry Collins
he had never seen a baseball move like Dickey's did Sunday, according to the manager. Byrdak, now on pace for 95 appearances, had another major contribution -- stranding a pair of runners inherited from Dickey in the eighth by retiring lefty hitters
Alexi Amarista
and
Will Venable
. Francisco had a 1-2-3 ninth and has now retired 12 straight batters. Lefty batters are now hitting .103 (3-for-29) against Byrdak this season. The players sang "Happy Birthday" to Collins in the clubhouse postgame. He turned 63 Sunday. Read game recaps in the
Times
,
Record
,
Star-Ledger
,
Newsday
,
Post
and
Daily News
.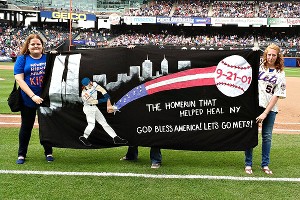 Courtesy of New York Mets
Cousins Olivia Nuzzo and Stephanie Giangrande show off the winning entry in the revival of Banner Day.

•
David Wright
was hitless for a third straight game as his average, which had climbed to .415 in Pittsburgh last week, slipped to .382. Columnist
Bill Madden
in the Daily News
, by the way, thinks it's going to take 10 years to get Wright signed -- although
Ryan Zimmerman's
six-year, $100 million extension on top of the $26 million that remained for two seasons when the Nats third baseman agreed to the new deal seems like the actual baseline. Madden also asserts Wright will need to be convinced the Mets are building a sustained winner. Writes Madden:
That's what's going to take -- a 10-year, Derek Jeter/Joey Votto-like contract. And, if Wright does decide go into free agency after the 2013 season, the Mets can probably kiss him goodbye. That's why this season is so imperative for them.
Wright, in case you missed it, is bending on his one-time claim to hold off on marriage and children until after his playing career. Wright told
Steve Serby
in the Post
in a Sunday Q&A: "You see the guys bring their kids into the clubhouse and kinda hang out with them in the clubhouse and stuff, and that's really cool. So, hopefully that's in the cards for me."
As for Wright's 0-for-10 "slump," read more in the
Post
,
Record
and
Daily News
.
•
Bob Ojeda
writes about the pain he went through as a major league pitcher
in the Times
. In a lengthy piece, Ojeda writes this about this medical intervention leading up to his start in Game 6 of the 1986 NLCS:
The team doctor was in Washington. I was in New York. The game was in Houston. So the team trainer called and told me to meet him at Shea Stadium. I went into the trainer's room, and he gave me two needles and two vials: one with a numbing agent and the other with cortisone. I stuffed them in my leather jacket, grabbed a cab over to La Guardia Airport and hopped the shuttle down to Washington. I met the doctor at the hotel, where he was attending a conference. He probed my elbow because, for the best result, he needed to hit the spot where it hurt most. ...
On Oct. 15, I went to the bullpen and started to throw. It was not going well. It felt like I had two sandbags stuffed in my elbow. I was in trouble, I remember thinking, but I figured I had to try. I gave up three runs in the first inning. Davey Johnson, the manager, stayed with me. A big deal. For him. For me. For my elbow, from which the sand had started, grain by grain, to run out. I went five innings. We won in 16. My left arm and I were going to the World Series.
•
Chris Young
will
move to Triple-A Buffalo
for his fourth minor league appearance since May 16, 2011 surgery to repair a torn anterior capsule in his right shoulder. Young is due to pitch on an extra day of rest Thursday, following starts by
Matt Harvey
on Tuesday and
Jenrry Mejia
on Wednesday and preceding a start by
Jeurys Familia
on Friday. Young's start will come in a 10:35 a.m. game against Columbus (Indians) and will be televised by MLB Network.
In three starts with Class A St. Lucie, Young went 1-0 with a 3.18 ERA. He allowed 17 hits and two walks while striking out seven in 17 innings. He did require nine days before his final Florida State League start, because of "dead arm" as well as the birth of a child, but apparently feels well enough to move to the higher level. Young has an opt-out in his contract on Friday. He has another opt-out on July 1 if he is not in the majors by then and wishes to declare free agency.
Chris Schwinden
,
Miguel Batista
and
Jeremy Hefner
have combined to go 1-2 with a 6.23 ERA in six starts in the rotation slot initially owned by
Mike Pelfrey
.
• Columnist
John Harper
in the Daily News
writes about the upcoming schedule:
Beating up on inferior opponents is a vital first step for any team that wants to be a contender. The Mets just won five of seven against the Pirates and the Padres to raise their record to 27-21, the first time they've been six games over .500 since July of 2010. But now we're about to find out if they can take the next crucial step in the evolution, as the schedule dares the Mets to prove they're for real over the next few weeks.
Columnist
Kevin Kernan
in the Post
also addresses the games ahead.
•
Ruben Tejada's
return from a right quadriceps strain is not going as smoothly as desired. Tejada experienced tenderness trying to run the bases in Port St. Lucie, Fla. Instead of a rehab game today, Tejada may be limited to grounders. Tejada's replacement at shortstop,
Ronny Cedeno
, sat Sunday with the same left calf issue -- officially labeled a cramp -- that forced him to depart Saturday's game.
Justin Turner
started at shortstop in the series finale against the Padres.
Josh Thole
(concussion) should play for the first time in an extended spring training game Monday. Batista (oblique/lower-back strain) is due for a rehab start Tuesday.
Pedro Beato
, on a rehab assignment after opening the season on the DL with a shoulder issue, made his first appearance for Triple-A Buffalo on Sunday after moving from St. Lucie. He retired two batters and issued a walk. Read more injury coverage in the
Star-Ledger
and
Daily News
.
Incidentally, when Thole returns, the Mets likely will have a
Mike Nickeas
or
Rob Johnson
issue to sort out in terms of whom to demote. Johnson does have a minor league option remaining though, so he -- like Nickeas -- does not need to be exposed to waivers if the Mets decide to go that route and retain Nickeas at the major league level as Thole's complement.
October, 21, 2011
10/21/11
9:00
AM ET
By
Mark Simon, ESPN Stats & Information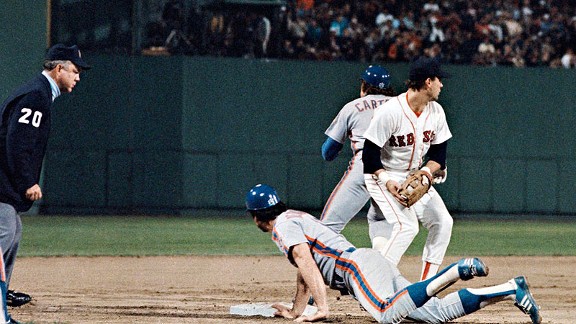 Rusty Kennedy/A.P. PhotoA botched rundown play played a major role in Game 3 of the 1986 World Series.
Over the next week, Mark Simon will reminisce here about the 1986 postseason. The 1986 Mets won the World Series in an exhilarating fashion. Here's a capsule look at Game 3 of the 1986 World Series, played on this date, 25 years ago.
Game 3: Mets 7, Red Sox 1
Down two games to none, the Mets were in desperate need of a momentum shift in the early part of Game 3 of the 1986 World Series. They got just what they needed for their biggest win of the season to this point.
The best thing that could happen for the Mets was that they never gave Red Sox fans a reason to cheer. Leadoff hitter
Len Dykstra
hit a 1-1 pitch from cocky Red Sox starter
Dennis "Oil Can" Boyd
(who'd said the day before the game that he would "master" the Mets) a couple of seats inside Fenway Park's right field foul line and the Pesky Pole for a home run.
It was the Mets' first extra-base hit of the series (the NBC telecast noted they were only the third team to go without one in the first two games, joining the 1926 Yankees and 1939 Reds). They'd add a bunch more.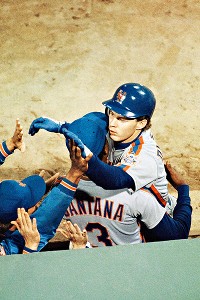 Ray Stubblebine/A.P. PhotoLen Dykstra's home run got the Mets offense going in a big way.
Wally Backman
and
Keith Hernandez
each followed with singles and
Gary Carter's
line-drive double to left center field made it 2-0, with runners still on second and third and nobody out.
After a
Darryl Strawberry
strikeout (his 17th in 29 postseason at-bats) came the game's most bizarre play, an 11-second sequence of significance.
Ray Knight
hit a ground ball to third and it looked like the Red Sox would squelch the Mets' rally.
Hernandez got stuck in a rundown when the throw came to home plate, and was retreating to third base as Carter was coming toward the same bag.
But the Red Sox completely messed things up.
Rich Gedman
tossed the ball to third baseman
Wade Boggs
, who was in front of the base and unable to make a play on Hernandez, who ducked around him and slid back into third base.
Carter was a step away from third, but turned and dashed back to second base at the last possible moment. Boggs made a short throw to shortstop
Spike Owen
, who was unable to do anything about Hernandez, so he chased Carter back to second.
Owen ran Carter back three-quarters of the way, but then stopped, turned and looked at Hernandez. That gave Carter just enough time to dive back into second base ahead of a late throw from Owen to second baseman
Marty Barrett
.
Instead of being an out away from getting out the inning with two men on base, Boyd had to deal with a bases-loaded situation.
He got flustered, and gave up a two-run single to center to designated hitter
Danny Heep
two pitches later. It was 4-0 after half-an inning and the Mets had all they would need.
It took starter
Bob Ojeda
, who was traded by the Red Sox to the Mets that offseason, seven pitches to get through a 1-2-3 first inning and his success in that frame carried through the next six.
Ojeda give up a run-scoring single to Barrett in the third, but with two men on base, struck out
Bill Buckner
on a high fastball (via NBC, Buckner was toughest in the majors to strike out in 1986, statistically) and got
Jim Rice
to ground out on the next pitch to end that scoring threat.
Buckner would get another shot as the tying run at the plate in the fifth inning, but Ojeda coaxed another ground out to end the inning.
Boyd settled down, but the Mets got to him again in the seventh inning. Carter singled in two more runs to make it 6-1 and an RBI hit from Knight in the eighth inning against reliever
Joe Sambito
completed the night's scoring.
Ojeda gave the Mets seven very good innings, the second time he'd won a big game for the Mets this postseason.
Turning Point
The turning point of this game actually took place the day before when manager
Davey Johnson
gave the team the day off rather than have them go through a between-games workout and media day at Fenway Park. Players said afterward that this move took much of the pressure off the team and made them a more relaxed group for Game 3.
What They Wrote
"When Dennis 'Oil Can' Boyd takes the mound, he likes to think of himself as Satchel Paige. But on Tuesday night, he looked more like a page out of Red Sox history."
-- Lisa Nehus Saxon, Los Angeles Daily News
"Call it whistling past the graveyard.
"Just as old elephants trundle off into the jungle to be all alone and lemmings hurl their little bodies en masse into the sea, left-handed pitchers with a death wish usually come to Fenway Park.
"Usually.
"But
Bobby Ojeda
, discarded less than a year ago by the Boston Red Sox, who thought that he would forever be haunted in this southpaw's chamber of horrors, a lefty's graveyard, returned to tame the beast."
- Fran Blinebury, Houston Chronicle
"The old place was so quiet you could hear the ghosts of
Babe Ruth
,
Tom Yawkey
and
Eddie Collins
walking about."
- Ray Sons, describing the late innings, Chicago Sun-Times
Quotes of the Day
"The only person who got mastered tonight was Boyd."
-- Len Dykstra
"He made a big mistake saying what he did. We wanted to stick it up his nose. We want him to pitch Game 7, too, so we can stick it up his nose then, too."
-- Darryl Strawberry
""I just screwed up. I heard the crowd roar when I first turned to second. I looked back. By the time I turned back, it was too late."
-- Spike Owen, describing the botched rundown.
"Those were the Mets you saw out there tonight. The real Mets."
-- Davey Johnson
For Further Reading/Viewing
"Batting Stance Guy"
Gar Ryness
was able to impersonate the stances of 14 members of the 1986 Mets in under a minute. You can check out his impressions
here
.
Stats To Remember
1-- Dykstra is the only leadoff hitter in postseason history to have a four-hit game, with one of those hits being a home run. Dykstra, who never had a five-hit game in his major league career, had four four-hit games in 1986, most on the Mets and tied for second-most in the NL behind Padres outfielder
Tony Gwynn's
five.
2-- The Mets have had four leadoff home runs in their postseason history. Dykstra's is the only one to come on the road. The other three were by
Tommie Agee
(1969 WS Game 3),
Wayne Garrett
(1973 WS Game 3), and
Jose Reyes
(2006 NLCS Game 6).
Despite their minimal postseason experience, comparative to some teams, the Mets four leadoff home runs are tied with the Indians for second-most in postseason history, trailing only the Yankees, who have six.
3-- Ojeda had five ROAD starts during the regular season in which he pitched at least seven innings and allowed one run or fewer, tying him with
Mike Scott
,
Rick Rhoden
, and
Tom Browning
for the most such starts in the NL.
October, 9, 2011
10/09/11
9:00
AM ET
By
Mark Simon, ESPN Stats & Information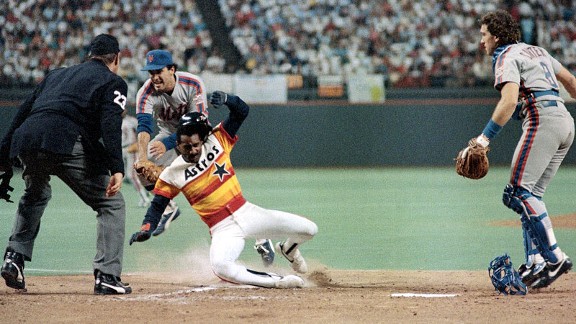 Mark Duncan/A.P. PhotoBob Ojeda tagging out Kevin Bass at home was one of the many pivotal plays in the 1986 postseason.
Over the next three weeks, Mark Simon will reminisce here about the 1986 postseason, which ended in a Mets championship. Here's a capsule look at Game 2 of the 1986 NLCS, played on this date, 25 years ago
Game 2: Mets 5, Astros 1
Trailing by a game after
losing Game 1
to
Mike Scott
, the Mets rebounded to beat a former Met, but it wasn't as easy as the final score indicated.
Nolan Ryan
retired the first 10 Mets hitters before the team broke through for two runs in the fourth inning on a
Gary Carter
RBI double and
Darryl Strawberry
sacrifice fly, and three runs in the fifth inning (an RBI single by
Wally Backman
and a two-run triple from
Keith Hernandez
).
Winning pitcher
Bob Ojeda
(who was 18-5 in the regular season) escaped trouble repeatedly. The Astros had at least one baserunner in every inning from the second through the seventh, but only managed one run. Ojeda pitched a complete-game 10-hitter to even the series at a game apiece.
Turning Point
With the game scoreless and the Astros threatening with runners on first and third and one out in the bottom of the second inning, Alan Ashby hit a chopper that Ojeda fielded on the run in front of home plate. He then tagged oncoming baserunner
Kevin Bass
to prevent the Astros from scoring first.
Media reports the following day also cited
Len Dykstra's
recovery from being knocked down by a Ryan pitch. Dykstra followed the brushback with a single that started a three-run rally.
What They Wrote
"The New York Mets finally found a pitch they could hit last night. In defiance of logic, legend and the Houston Astros, that pitch was Nolan Ryan's fastball."
-- Bruce Jenkins, San Francisco Chronicle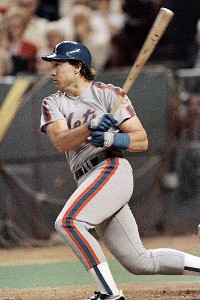 Carlos Osorio/AP PhotoGary Carter had a couple of big hits in the 1986 NLCS.
Quote of the Day
"I've never had that come up before tonight. It's usually easy to throw it to your catcher in that situation. But I saw him [Bass] out of the corner of my eye and decided the best option was just to go for him."
-- Ojeda in the Houston Chronicle, describing the play at the plate
Further Reading
Earlier this year, the blog "Amazin' Avenue" named Ojeda the 50 greatest Mets of all time, referring to him as the best pitcher the Mets had in their best season. Learn more about him
here
.
Stats To Remember
• Allowing 10 hits and one run, as Ojeda did, is very unusual, particularly in a postseason game. In fact, Ojeda is the last pitcher to allow at least 10 hits in a playoff game, while allowing one run or fewer. Eight pitchers did it before him, most notably Hall of Famers
Waite Hoyt
and
Don Drysdale
.
• Combining the regular season and postseason, Hernandez was 7-for-18 against Ryan in 1986. In all of the other seasons of his career, Hernandez was 4-for-32 against Ryan.
• Dykstra, Backman and Hernandez each had multi-hit games in the first-through-third spots in the batting order. That trio did that three times in the regular season, including twice in the last six weeks of the season.
April, 8, 2011
4/08/11
8:53
AM ET
Terry Collins
had this unintentionally naive line after the Phillies drubbed the Mets, 11-0, Thursday in regards to today's home opener. "We'll finally have some people cheering us instead of booing us," the manager said.
R.A. Dickey
draws the home opener as the Mets face the Washington Nationals. Read the series preview
here
.
On to Friday's news reports:
•
Francisco Rodriguez
said he is
unconcerned about the reception
he will receive from spectators at Citi Field. Rodriguez pitched once at the ballpark after the August incident with his girlfriend's father, then revealed he had a torn thumb ligament and was placed on the disqualified list and underwent surgery.
"Honestly, I'm not going to expect people to
throw me flowers and love me
, because I don't," Rodriguez tells the Record's
Steve Popper
. "Honestly I don't. The only way I can change that is getting the job done. That's what matters. I get my job done all the negativity is going to go away by itself. I hope they see and realize that I've been making a lot of changes in my life based on that, trying to get once again the love. It's been difficult for me because I try to get stability once again in my personal life and at work. It's a process that's going to take time, but I just want them to be patient and don't give up on me yet."
"I obviously
have no control
over what 40,000 people are gonna do," Rodriguez tells the Post's
Dan Martin
. "The only thing I can do is pitch. If I do that and I do it well, I think everything will be fine." ... K-Rod also speaks with
Newsday
about the topic.
• Dickey says
he feels honored
that the Mets adjusted their five-man rotation and held
Chris Capuano
out until Saturday in order to ensure the knuckleballer gets the start in the home opener. Read more reaction from Dickey in the
Times
,
Post
and
Daily News
.
• Read game stories from Thursday's drubbing in the
Times
,
Newsday
,
Daily News
,
Post
, and
Record
.
• Post columnist
Mike Vaccaro
offers this take
after listening to Collins praise his team for rallying from a seven-run deficit against
Joe Blanton
on Wednesday:
If that sounds furiously familiar, another Pollyanna manager peering through rose-tinted lenses, don't worry: Terry Collins is not Jerry Manuel, something that was evident within days of his taking over the team and within minutes of his first spring-training workout. Asked before the game if he was more impressed by the 7-0 deficit the Mets erased Wednesday night or more aggrieved they wound up losing the game anyway, Collins was quick to prove he gets it in a way Manuel never did, or could. "You like the fight to come back," Collins said. "But the final score is the final score."
• Newsday's
Neil Best
does a Q&A
with
Ron Darling
,
Keith Hernandez
and
Bob Ojeda
on the 2011 Mets. A sample:
Q: All three of you have been more optimistic than most about the 2011 Mets. Why?

Ojeda: "I think what all of us saw in spring training was a sense of non-entitlement, is the best way I can describe it. It was a sense of, we have work to do. Terry Collins turned out to be an excellent choice. Here is a guy who is very thankful to be back in the game. He set a tone that everybody is important to this ballclub. They've bought it and believe it."
Hernandez: "If everybody performs up to their potential in that lineup, this team is going to score runs, and it's a good defensive team. It's about the pitching. That's where the question marks lie. I said all spring David Wright had completely gotten back to his old self with the bat. He's gotten rid of that uppercut and he's swinging level."
• The Daily News reports Mets owners have
narrowed the groups of minority bidders
to eight, and hope to raise between $150 million and $200 million to pay off the MLB loan and steady operations.
• Daily News columnist
John Harper
notes the
bloom certainly came off the rose
with Wednesday and Thursday's performances by
Mike Pelfrey
and
Jon Niese
. Writes Harper:
Just in case the Mets were getting any crazy ideas about who's who in the NL East, the Phillies smacked them around the last two days as routinely as they brush their teeth. You didn't really expect some kind of sea change just because Terry Collins' crew roughed up Cole Hamels in the series opener, did you? Not that surrendering 21 runs the last two days kills all of the good vibe the Mets had created with their 3-1 start, as they return to New York for the home opener Friday at Citi Field against the Nationals.
BIRTHDAYS:
Hall of Famer
Gary Carter
turns 57. ...
Timo Perez
turns 36. ... Former top pick
Eddie Kunz
, who was traded to the San Diego Padres during the final week of spring training for first baseman
Allan Dykstra
, turns 25.
April, 3, 2011
4/03/11
7:46
AM ET
R.A. Dickey
opposes
Javier Vazquez
in the rubber game in Miami. The Mets will then fly to New York. A day later, they will bus to Philadelphia in advance of Tuesday's series opener at Citizens Bank Park.
Sunday's news reports:
• Dickey tells the Times'
David Waldstein
he
plans to climb Mount Kilimanjaro
in January, when he will fly to Tanzania. The expedition also should include former Twins teammate
Kevin Slowey
, bullpen catcher
Dave Racaniello
and Mets physical therapist
John Zajac
. Dickey's contract prevents rock-climbing, but Kilimanjaro supposedly is more of a gradual ascent. Writes Waldstein:
Ever since Dickey read "The Snows of Kilimanjaro" by Ernest Hemingway as an 11th grader in Tennessee, the snow-capped mountain on the border of Kenya and Tanzania in East Africa has captivated him. Now, with his recent success as a pitcher, he has the means and visibility to take on this latest challenge. The story by Hemingway, which depicts the agony of a failed writer suffering from gangrene as he and his wife await help at the foot of Kilimanjaro, is at the core of Dickey's interest in the mountain. But he was also intrigued by documentaries about Mount Everest and the feature film "K2," about climbing the second-highest peak in the world.
• Newsday's
David Lennon
focuses his game recap
on
David Wright
. Writes Lennon:
For better or worse, the fortunes of David Wright and the Mets are intertwined. There is no separating the two, even as the names change around him. Jose Reyes has one foot out the door. Carlos Beltran is playing on two bad knees. Jason Bay is on the disabled list. That leaves Wright with the Mets mostly on his shoulders, and last night at Sun Life Stadium, he proved capable of leading them to a tumultuous 6-4 victory over the Marlins in 10 innings.
• Post columnist
Mike Vaccaro
also
looks at Wright's role
, noting:
It isn't easy being the face of a franchise that's the butt of so much derision.
•
Andy McCullough
of the Star-Ledger notes
Francisco Rodriguez
threw a lot of curveballs
when the pitch called for a fastball during his blown save Saturday. "Surprising?" pitching coach
Dan Warthen
tells McCullough. "It was, a little bit. But I'm not worried."
• Read other game recaps in the
Record
,
Post
and
Daily News
.
• Lennon notes how a simple decision like pinch-hitting for
Francisco Rodriguez
after his blown save and using
Blaine Boyer
in the 10th inning has ramifications as far as
K-Rods $17.5 million vesting option for 2012
that is based on games finished.
• The Post's
Steve Serby
does a Q&A
with the '86 Mets in broadcasting --
Keith Hernandez
,
Ron Darling
and
Bob Ojeda
.
Q: Terry Collins? Ojeda: He let his players know, "I'm the firewall between you and the GM. I'm the firewall between you and a lot of the ire of the fans if that's gonna come our way." He went out of his way to talk to each and every guy. . . . Terry's door is open and his mind is open and his thought process is open. He's invested in each guy. It would make me feel like, "This manager's got my back." . . . I'm a Terry Collins fan. He just seems very legitimate to me. It's not an act. "Here's what I think, here's what I feel, you deal with it." I like that.
• Newsday takes a look at
Brad Emaus
winning the second-base job
. "He's not going to be
Orlando Hudson
when it comes to range," infield coach
Chip Hale
tells the newspaper. "He's average. But he turns a double play as well as anybody."
• Newsday columnist
Ken Davidoff
offers this about Saturday's win
:
Technically, the Mets endured only a two-game losing streak; they lost the final game of 2010 and the 2011 opener. But the organization endured so much pain in that time span -- and that's even counting the hiring of general manager Sandy Alderson on the positive side of the ledger -- that it might as well have been a 200-game slide.
• The Times has the
relevant exchange
between Yankees GM
Brian Cashman
and Warthen about
Pedro Feliciano's
overuse/abuse:
"He was abused," Cashman said. "It's a thin market when you're looking for lefties, and he's one of the better ones out there. But you don't typically go after a guy who's been used like that. The use pattern was abusive." Dan Warthen, the Mets' pitching coach, had a simple question when he learned of Cashman's remarks: "They didn't know that when they signed him?"
• Daily News columnist
Filip Bondy
writes
the joke's on the Yankees
in signing Feliciano, and for a change the Mets come out looking good at the expense of their crosstown rivals.
• As for Feliciano's actual injury, it's
behind his left shoulder
. "The concern is based on the MRI," Cashman said, according to the Post's
Brian Costello
. "The [Mets'] use pattern was abusive, but the MRI itself shows what he's got. That leads us to believe all of this is resolvable and it's not a major issue. It's just a timing issue."
•
Carlos Beltran
is due to sit Sunday.
Terry Collins
explains,
via the Daily News
: "What I want to do is, when I put him out there I want to make sure he can give me what I saw [Friday] night. I don't want to put him in a situation where he has trouble going after a ball because his knees were bothering him, or overdo it so that I lose him for a month. If I lose him for a couple of days, I'll buy that. I can handle that. But I want to make sure I pace myself to the point where I know that on a given day he's out there four days a week ... or five days a week. The one thing I don't want to do is push the envelope too early."
• Wright gave Collins two cigars to celebrate
his first managerial victory since 1999
, according to the Post's
Mike Puma
. That reminds me of the story of
Willie Randolph
having to wait until Game No. 6 for his first victory as Mets manager and to smoke a cigar he had to carry out each day for nearly a week. You may recall
Pedro Martinez's
gem on Opening Day in 2005 was spoiled when
Braden Looper
allowed two homers in the ninth. The Mets came back to Shea Stadium 1-5, and only because Beltran had a late two-run homer off
John Smoltz
and Pedro had a gem in a 2-1 win in the opening trip's finale.
BIRTHDAYS:
Catcher/outfielder
Hawk Taylor
, who played four season for the Mets in the 1960s, was born on this date in 1939.