New York Mets:

Bobby Geren
March, 7, 2014
Mar 7
12:18
PM ET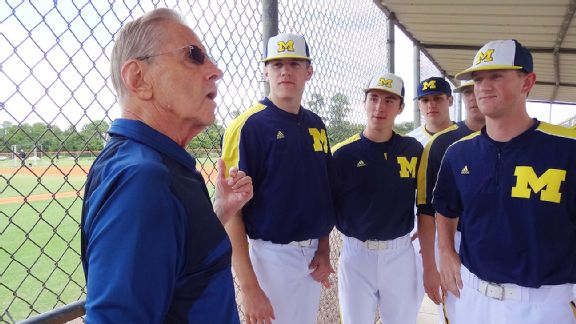 Adam RubinFred Wilpon, a big University of Michigan baseball booster, addresses Wolverines players before Friday's game against Princeton at the Mets' complex.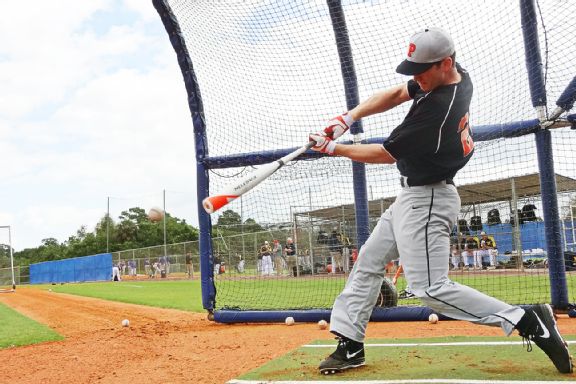 Adam RubinPrinceton senior Bobby Geren, son of Mets bench coach Bob Geren, takes BP Friday. Bobby's brother Brett also plays for the Tigers.
ABOUT THIS BLOG
Adam Rubin

Adam Rubin has covered the Mets since 2003. He's a graduate of Mepham High School on Long Island and the Wharton School of the University of Pennsylvania. He joined ESPNNewYork after spending 10 years at the New York Daily News.
Mark Simon

Mark Simon is ESPN Stats & Information's Baseball Research Specialist. One of several Mets historians working at ESPN, he joined the Worldwide Leader in 2002 after 6 1/2 years as a sports writer at the Trenton Times.
Email Mark » Follow Mark on Twitter »
AdamRubinESPN Adam Rubin
Las Vegas reliever Miguel Socolovich turns 28 today.
about 2 hours ago

AdamRubinESPN Adam Rubin
Morning Briefing: Say cheese? http://t.co/xklo72Jk2G #NYM #Mets
about 4 hours ago

AdamRubinESPN Adam Rubin
Minors 7.23.14: Whalen wins in return http://t.co/JfB4S03A2N #NYM #Mets
about 9 hours ago

AdamRubinESPN Adam Rubin
Series preview: Mets at Brewers http://t.co/4fiO1n58NG #NYM #Mets
about 12 hours ago

AdamRubinESPN Adam Rubin
Like Colon, Mejia & Familia nearly flawless http://t.co/U3gXljvsVV #NYM #Mets
about 12 hours ago

AdamRubinESPN Adam Rubin
Carlyle clears waivers, rejoins Vegas http://t.co/wRAKQK7f86 #NYM #Mets
about 13 hours ago

AdamRubinESPN Adam Rubin
Colon proves painful for Mariners http://t.co/Z2QZad9PRK #NYM #Mets
about 13 hours ago

AdamRubinESPN Adam Rubin
Grandy iffy for Thursday return http://t.co/TuVivdWzBF #NYM #Mets
about 14 hours ago

AdamRubinESPN Adam Rubin
Tejada dodges bullet after beaning http://t.co/DeZzHo40Tg #NYM #Mets
about 14 hours ago

AdamRubinESPN Adam Rubin
PCL web site has Buddy Carlyle clearing waivers and being outrighted to Triple-A Las Vegas. #mets
about 14 hours ago

AdamRubinESPN Adam Rubin
As TC said, there's no roster move coming today for Ruben Tejada. If something should go awry Thursday in Milwaukee, then there'd be call.
about 14 hours ago

AdamRubinESPN Adam Rubin
Ruben Tejada smiling, laughing in clubhouse. Said he never got a headache. Just stayed down because it was scary. Helmet had mark from ball.
about 15 hours ago

AdamRubinESPN Adam Rubin
Eric Campbell likely starts at shortstop regardless on Thursday, it would seem. TC said Tejada probably will need a day off.
about 15 hours ago

AdamRubinESPN Adam Rubin
Terry Collins unsure if Curtis Granderson will be available Thursday in Milwaukee. Still has some flu-like symptoms.
about 15 hours ago

AdamRubinESPN Adam Rubin
Ruben Tejada feels "pretty good," Terry Collins said. Doctors said no symptoms. Will travel with team. No call-up coming.
about 15 hours ago

AdamRubinESPN Adam Rubin
Rapid Reaction: Mets 3, Mariners 2 http://t.co/O14noVBgcU #NYM #Mets
about 15 hours ago

AdamRubinESPN Adam Rubin
Rapid Reaction: #Mets 3, #Mariners 2: http://t.co/q8NtI7bsHI
about 15 hours ago

AdamRubinESPN Adam Rubin
Final: #Mets 3, #Mariners 2
about 15 hours ago

AdamRubinESPN Adam Rubin
Corey Hart RBI single. Tying run at 2B with two outs.
about 15 hours ago

AdamRubinESPN Adam Rubin
Two outs.
about 15 hours ago
UPCOMING GAMES
| | W-L | HM | AW | STK | L10 |
| --- | --- | --- | --- | --- | --- |
| NYM | 48-53 | 25-23 | 23-30 | W2 | |
| MIL | 57-45 | 28-24 | 29-21 | W3 | |
| | W-L | HM | AW | STK | L10 |
| --- | --- | --- | --- | --- | --- |
| NYM | 48-53 | 25-23 | 23-30 | W2 | |
| MIL | 57-45 | 28-24 | 29-21 | W3 | |
| | W-L | HM | AW | STK | L10 |
| --- | --- | --- | --- | --- | --- |
| NYM | 48-53 | 25-23 | 23-30 | W2 | |
| MIL | 57-45 | 28-24 | 29-21 | W3 | |
Nike Men's New York Mets Neon Practice Black T-Shirt Shop »
BLOG ARCHIVE:
CATEGORIES:
JULY 2014
AUGUST 2014
SEPTEMBER 2014
Sun
Mon
Tue
Wed
Thu
Fri
Sat

1

SF
7:10 PM ET

2

SF
7:10 PM ET

3

SF
1:10 PM ET

4

SF
12:10 PM ET

5

@WSH
7:05 PM ET

6

@WSH
7:05 PM ET

7

@WSH
12:35 PM ET

8

@PHI
7:05 PM ET

9

@PHI
7:05 PM ET

10

@PHI
1:35 PM ET

11

@PHI
1:05 PM ET

12

WSH
7:10 PM ET

13

WSH
7:10 PM ET

14

WSH
7:10 PM ET

15

CHC
7:10 PM ET

16

CHC
7:10 PM ET

17

CHC
1:10 PM ET

18

CHC
12:10 PM ET

19

@OAK
10:05 PM ET

20

@OAK
3:35 PM ET

21

22

@LAD
10:10 PM ET

23

@LAD
9:10 PM ET

24

@LAD
4:10 PM ET

25

26

ATL
7:10 PM ET

27

ATL
7:10 PM ET

28

ATL
7:10 PM ET

29

PHI
7:10 PM ET

30

PHI
7:10 PM ET

31

PHI
1:10 PM ET

Sun
Mon
Tue
Wed
Thu
Fri
Sat

1

@MIA
1:10 PM ET

2

@MIA
7:10 PM ET

3

@MIA
7:10 PM ET

4

5

@CIN
7:10 PM ET

6

@CIN
4:10 PM ET

7

@CIN
1:10 PM ET

8

COL
7:10 PM ET

9

COL
7:10 PM ET

10

COL
7:10 PM ET

11

WSH
7:10 PM ET

12

WSH
7:10 PM ET

13

WSH
7:10 PM ET

14

WSH
1:10 PM ET

15

MIA
7:10 PM ET

16

MIA
7:10 PM ET

17

MIA
7:10 PM ET

18

19

@ATL
7:35 PM ET

20

@ATL
7:10 PM ET

21

@ATL
1:35 PM ET

22

23

@WSH
7:05 PM ET

24

@WSH
7:05 PM ET

25

@WSH
7:05 PM ET

26

HOU
7:10 PM ET

27

HOU
7:10 PM ET

28

HOU
1:10 PM ET

29

30
2014 NATIONAL LEAGUE EAST STANDINGS