New York Mets:

Bobby Jones
November, 19, 2014
Nov 19
12:00
PM ET
By
Mark Simon
| ESPNNewYork.com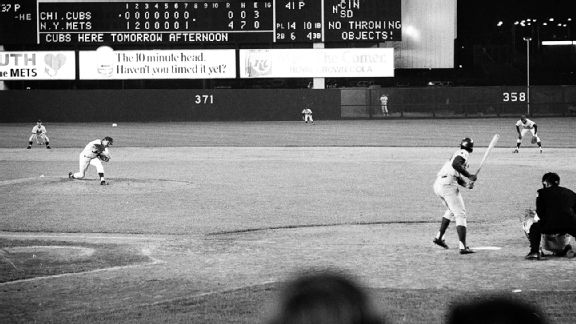 AP PhotoThe best-pitched game in Mets history was this near-perfecto
This is the third in a series of top 10 lists we will be generating on the Mets this month. We've previously covered the Mets most notable home runs (part 1|part 2) and best defensive players (part 1|part 2). Next up: the 10 greatest pitching performances in Mets history. We've combined regular season and postseason for this one and we've spaced out the results over two days. No. 6 through 10 ran Tuesday. Here are the top five.

Feel free to share your thoughts in the comments.
5. Jon Matlack vs. Reds (Oct. 7, 1973)
With the Mets down 1-0 to the Reds and having suffered a crushing loss in Game 1 of the LCS (Tom Seaver allowed home runs in the eighth and ninth inning to blow a 1-0 lead), the Mets were in desperation mode in Game 2.
They got a brilliant performance from Jon Matlack, who grabbed hold of a 1-0 fourth-inning lead and didn't let go. Matlack pitched a two-hit shutout, allowing only a pair of harmless singles to Andy Kosco and the Mets added insurance runs late to win 4-0.
How good was Matlack? The first four hitters in the Reds lineup -- Pete Rose, Joe Morgan, Tony Perez and Johnny Bench -- were a combined 0-for-16.
This was the first of three brilliant starts that postseason by Matlack, in which he allowed three unearned runs in 23 innings. The fourth (unfortunately for Mets fans) was a loss to the Athletics in Game 7 of the World Series.
Stat to know: Sixteen pitchers have thrown at least 15 postseason innings for the Mets. The lowest ERA among those hurlers is Jon Matlack's 1.40.
4. Bobby Jones vs. Giants (Oct. 8, 2000)
A brief moment of personal reminiscence here: I can remember watching Jones from the upper deck of Shea Stadium as he threw his warmup pitches prior to Game 4 of the NLDS, thinking "this looks like a guy who is 100 percent ready to go."
Jones confirmed my intuition when I talked with him about it a few years ago. His wife had a similar feeling the day before, when she told Bobby Valentine that Jones would pitch "the game of his life."
"You can imagine the electricity and the atmosphere at Shea that day," Jones said. "I had no idea what it was like. I was so locked in. I didn't hear another person say anything. I was so focused."
Jones rewarded Valentine's decision to start him by indeed pitching the best game of his life. He retired the side in order in every inning, but the fifth, and the only hit he allowed was a Jeff Kent double just over third baseman Robin Ventura's glove.
The end result was a 5-0, one-hit shutout ("a masterpiece" as ESPN's Jon Miller would call it) that put the Mets into the NLCS against the Cardinals.
Stat to know: Jones is one of six pitchers to throw a no-hitter or one-hit shutout in postseason play. He was the first since Jim Lonborg did so for the Red Sox against the Cardinals in Game 2 of the 1967 World Series.
3. Johan Santana vs. Cardinals (June 1, 2012)
I'm guessing the younger fans would like to see this game No. 1, given the historical significance attached to the Mets
finally
getting their first no-hitter. But I think this is its rightful place when put into a broader perspective.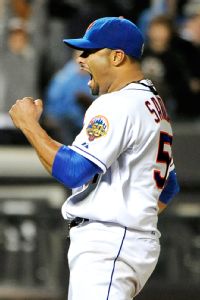 AP Photo/Kathy Kmonicek
Johan Santana had reason to celebrate.
Johan Santana was
really good
on this night, but he was also a bit fortunate. This wasn't the dominant Santana of a few years back. It was the post-injuries version that walked five hitters.
The Mets caught a break, the kind they hadn't caught in previous no-hit bids when Carlos Beltran's chalk-hitting line drive was ruled foul, though replay showed otherwise.
The most angst-ridden moment of this game came when Yadier Molina made a bid for the Cardinals' first hit with one out in the seventh inning. Mike Baxter, who grew up in Whitestone, N.Y. and had a full understanding of the significance of the no-hit bid, made a reaching catch and then crashed into the left-field wall, breaking his collarbone.
The gain for the pain was a place in Mets history
that will never be forgotte
n.
Santana had no really tough moments the rest of the way. He'd finish with his best pitch, a signature changeup that David Freese chased to end the 134-pitch game of glory.
Stat to know: The Mets went 8,019 games without a no-hitter. The Elias Sports Bureau reported that's the most by any team beforet recording its first no-hitter.
2. Tom Seaver vs. Padres (April 22, 1970)
Seaver tied a then-major-league record with his 19 strikeouts and set a record, still unbroken, by striking out 10 in a row to end the game. Seaver allowed only two hits, a home run by Al Ferrara in the second inning and a single by Dave Campbell in the fourth.
You could certainly make the case that this was the best pitching performance in Mets history. What hurts its case is that it came against a weak-hitting Padres team that finished 63-99.
Seaver acknowledged as much after the game.
New York Newsday's reporter
at the time described Seaver's reaction as 'blasé.'
Statistically speaking, according to the Bill James Game Score metric it actually ranked even with the No. 1 choice on the list.
Stat to know: This game was part of a streak spanning the 1969 and 1970 regular seasons in which Seaver went 16-0 with a 1.63 ERA over 18 starts. The 16 straight winning decisions is still a Mets record.

And the first start after the loss that ended the winning streak? How about a 15-strikeout, one-hitter against the Phillies that easily could have made this list as well.
1. Tom Seaver vs. Cubs (July 9, 1969)
The closest a Mets pitcher ever came to throwing a perfect game was this one against the Cubs in 1969 -- a game magnified by the Mets' sudden ascendancy to respectability and their chasing of the Cubs for the division lead.
Seaver noted in his 1970 book (co-authored by Dick Schaap, titled
The Perfect Game
) that he struggled warming up for this game and was dealing with a tight shoulder. Regardless, he retired the Cubs' first 25 hitters. But as often befell Mets pitchers in their quest for no-hit glory, a little-known player would be the spoiler. Centerfielder Jim Qualls would notch the 12th base hit of his major-league career, an uncatchable line-drive single to center field.
Seaver would finish with a one-hit shutout and the Mets' seventh win in a row. And they had the full attention of the Cubs and the baseball world after this game.
Stat to know: Six Mets have thrown multiple complete-game one-hitters (games lasting at least nine innings): They are Seaver (5), R.A. Dickey (3), Steve Trachsel, Matlack, Gary Gentry and David Cone (2 each).
August, 16, 2012
8/16/12
10:58
PM ET
By
Mark Simon
| ESPNNewYork.com
AP Photo/David KohlMatt Harvey had his best start in Wednesday's win.
For the third straight series, the Mets lost the first two games, than closed with a win. We look at the statistical highs and lows with the help of
Baseball-Reference.com
and other tools.
Harvey looks like an ace
Matt Harvey's
eight strikeouts gave him 34 in the first five games of his career.
The only Met with more through his first five appearances is
Dwight Gooden
with 36 in 1984.
Bill Pulsipher
slides down to third-most with 33.
Harvey also contributed with the bat, driving in two runs with a long double.
He's the third Mets pitcher with a multi-RBI game within the first five games of his career, joining
Julio Valera
(1990) and
Brian Bannister
(2006).
The Bruce is Loose
Jay Bruce
beat
Josh Edgin
and the Mets with his fourth career walk-off home run. Three of his walk-off home runs have come against current Mets pitchers, with the other two who allowed them being
Manny Acosta
with the Braves and
Tim Byrdak
with the Astros (a homer that clinched the NL Central for the 2010 Reds).
The Mets have allowed 13 walk-off home runs to the Reds, the second-most they've allowed to any team. They've allowed 16 to the Phillies.
This was the third time in Mets history that they lost when a walk-off homer broke a scoreless tie. The other two instances were against the Marlins (
Derrek Lee
) in 2000 and Brewers (
Corey Hart
) in 2010.
Young made viewers age
Chris Young
had one of the worst good outings in Mets history, allowing eight hits and four walks, but no runs in 5 2/3 innings.
Prior to Tuesday, 343 starting pitchers had allowed at least 12 baserunners in a game this season. Every one of them gave up at least one run. He was the first Mets pitcher with a 12-baserunner, no-runs start since
Bobby Jones
against the Braves in 1996.
The last starting pitcher to allow at least 12 baserunners but no runs against the Reds was a former Met, broadcaster
Bob Ojeda
, for the 1992 Dodgers. The last before him: another former Met and current broadcaster,
Orel Hershiser
, for the 1989 Dodgers.
The Reds left 14 men on base through the first seven innings of Monday's win without scoring a run. Elias noted that they were the first team to leave that many men on base without scoring in the first seven innings since the Senators against the Tigers in 1969.
The Thole Story
The Elias Sports Bureau noted that in Tuesday's loss,
Josh Thole
became the first catcher in Mets history to have three passed balls in one game.
Complete Effort
Mike Leake's
complete game was the first by a Reds pitcher against the Mets in Cincinnati since
Bill Gullickson
on July 4, 1987, the first against them in Cincinnati that featured four baserunners or fewer since
Mario Soto
threw one in 1982.
Tooting the Statistical 'Horn'
New York Islanders TV statistician
Eric Hornick
chimed in with these terrific nuggets on
R.A. Dickey's
loss on Wednesday.
He's the third Mets pitcher with a nine-strikeout, three-homer game, with the other two thrown by
Tom Seaver
(1972) and
Sid Fernandez
(1992) and the first Mets pitcher with a nine-strikeout, 10-hits allowed game since
Bobby Jones
in 1995.
In another note (running through the teams with the most baserunners in a 1-0 win), Eric also came up with what should be this blog post's philosophy: "As I've always said, 'if you can't be good, be historical.'"
June, 20, 2012
6/20/12
7:59
AM ET
After two less-than-stellar outings in the aftermath of his no-hitter,
Johan Santana
got back on track Tuesday. The southpaw followed
R.A. Dickey's
one-hit shutout by tossing six scoreless innings. Santana combined with
Bobby Parnell
,
Miguel Batista
and
Jon Rauch
on the
5-0 victory against the Orioles
-- the Mets' NL-leading eighth shutout. The Amazin's upped their scoreless streak to 22 innings. It's their third streak of at least that length this season. The season high was 28 consecutive scoreless innings, from May 25-28.
Tonight, the Mets send
Dillon Gee
(4-5, 4.43 ERA) to the mound aiming for the series sweep. Gee will oppose left-hander
Brian Matusz
(5-7, 4.94). While praising Dickey and Santana,
Terry Collins
added: "For us to have a big summer, we've got get Dillon and
Jon Niese
going."
A sweep would continue an interesting pattern for the Mets: getting swept by the Yankees, sweeping the Rays, then getting swept by the Reds.
Wednesday's news reports:
•
Lucas Duda
produced his team-leading 11th homer, a two-run shot in the sixth.
Jordany Valdespin
, manning left field a day after getting a start at second base, capped the scoring with a two-run single an inning later.
Omar Quintanilla
snapped an 0-for-16 drought with a seventh-inning single, but
Ike Davis
lost a nine-game hitting streak as his average sagged to .193.
Justin Turner
grounded out as a pinch hitter in his first plate appearance since returning from the DL. Turner may start at shortstop Wednesday, with Collins saying he expected to give Quintanilla the day off. Read game recaps in the
Post
,
Daily News
,
Times
,
Newsday
,
Star-Ledger
and
Record
.
• Columnist
John Harper
in the Daily News
suggests Dickey and Santana's success may force the Mets to be buyers at the trading deadline. Not reckless buyers who turn around and trade
Zack Wheeler
, but buyers nonetheless. Writes Harper:
If Santana is going to be dominant again, then he and Dickey are a tandem that would make the Mets awfully tough to beat if they ever did get into the postseason. Especially since Collins almost certainly would use Dickey on short rest at that point. "If we ever got there," Collins said Tuesday night, "we'd probably take advantage of that." The Mets have plenty of flaws, as they've demonstrated in recent weeks, and yet the idea of making a run at the postseason doesn't seem quite so far-fetched anymore, mostly because of what Dickey is doing. If you gave GM Sandy Alderson truth serum, he'd tell you he had no such thoughts when this season began, as he goes about trying to build the foundation for long-term contention in the future. And this isn't to say the Mets should do anything crazy at the trading deadline, such as dealing away a Matt Harvey or a Zack Wheeler for somebody such as Ryan Dempster or Matt Garza.
• Writes columnist
Jeff Bradley
in the Star-Ledger
about Santana's bounceback:
And so it took three starts for Johan Santana to get back to the business of hanging zeroes on the scoreboard and not pitches in the strike zone. Crisis averted. "He's back in his routine," Mets manager Terry Collins said after Santana threw six scoreless innings in the Mets' 5-0 victory over the Orioles tonight at Citi Field. "It was a big night. I think now he's back. I think now we'll see a lot of nights like tonight." Poor Collins had to be tossing and turning the last two and a half weeks. Not that he should have been harboring even an ounce of guilt for allowing Santana to throw the 134 pitches needed to finish his historic June 1 no-hitter.
•
Jason Bay
underwent an MRI and a second day of exams by doctors Tuesday as they try to gauge the extent of his most recent concussion.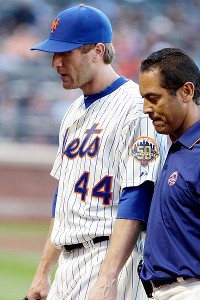 Frank Franklin II/Associated Press
Jason Bay underwent an MRI on Tuesday to try to determine the extent of Friday's concussion.

Orioles second baseman
Brian Roberts
can empathize with Bay. He returned last week after missing nearly 13 months with concussion-related issues. "I had migraine headaches for probably eight months, a lot of dizziness, a lot of balance problems," Roberts told
Tom Pedulla
in Newsday
. "Any time I needed to exert a lot of energy, I just couldn't do it." Read more in the
Times
.
•
Ruben Tejada
(quadriceps) went 0-for-4 while playing a second straight full game at shortstop for Class A St. Lucie. Tejada is expected to move to Triple-A Buffalo on Thursday.
Ronny Cedeño
made a fifth straight start for Buffalo on Tuesday, going 1-for-5 with an RBI. He is expected to be activated from the DL on Friday, for the Subway Series opener against the Yankees.
The returns of Tejada and Cedeño will set up interesting decisions for the Mets roster-wise. Quintanilla is out of options and must be exposed to waivers before being sent to Buffalo, and organization officials have been skeptical he would get through, perhaps preserving his spot. Valdespin, though, has started to pick up his play. (He is unlikely to start today against the southpaw Matusz.)
Vinny Rottino
also is on the 25-man roster. Read more on Valdespin in the
Post
and
Daily News
.
• The weekend matchups against the Yankees:
Friday:
LHP
Andy Pettitte
(3-2, 2.77 ERA) vs. Niese, 7:10 p.m.
Saturday:
RHP
Ivan Nova
(9-2, 4.32) vs.
Chris Young
(1-1, 3.06) 7:15 p.m., Fox
Sunday:
LHP
CC Sabathia
(9-3, 3.55) vs. Dickey (11-1, 2.00) 8:05 p.m., ESPN
•
Matt Harvey
limited Norfolk to one run on six hits and two walks while striking out seven in six innings and
Jenrry Mejia
contributed two scoreless relief innings in his third appearance since a conversion to relief as Buffalo beat the Tides, 6-1. First-round picks
Gavin Cecchini
(0-for-3, two walks) with Kingsport and
Kevin Plawecki
(0-for-4, HBP) with Brooklyn made their pro debuts. Read Tuesday's full minor league recap
here
.
•
David Wright
continues to
lead in NL voting at third base
for the July 10 All-Star Game in Kansas City. Wright (1,977,388) is ahead of San Francisco's
Pablo Sandoval
(1,612,497), Atlanta's
Chipper Jones
(1,547,221) and St. Louis'
David Freese
(1,540,085). No other Mets position player appears in the top five in voting at his spot in the infield or in the top 15 in the outfield. Collins will serve on NL manager
Tony La Russa's
staff. Dickey is the potential NL starter and should be in K.C. as well.
• Collins publicly declared he had
toyed with having Dickey start every fourth day
, with other Mets pitchers slotting around the knuckleballer. The manager eventually shelved the idea for the time being because it would disrupt the other starters' routines and potentially adversely affect their performances. And, at 37, Dickey isn't exactly a spring chicken anymore. Writes
Brian Costa
in the Journal
:
In theory, [Dickey] said he could regularly pitch on three days' rest. The question is how effective he would be. In 11 career starts with three or fewer days of rest, Dickey has a 5.74 ERA. And while he might not have to exert quite as much force as other pitchers, he does not possess a bionic arm. Pitching still takes a toll. He is still 37 years old. "It's a mental grind," Dickey said. "Not that I don't love the challenge of that. It's just all of it [together]. You feel it in your feet, your knees, your joints, your hips. I know I move around out there like an 18-year-old, but I'm not one." That's one reason Collins nixed the idea to use Dickey more often. The other is how it would affect the rest of the rotation. Starting pitchers are creatures of habit, and using Dickey every four days would make for a quirky schedule.
Read more in the
Post
,
Newsday
,
Record
and
Star-Ledger
.
•
Dan Martin
in the Post
notes Dickey is willing to share his knuckleball insights with serious pupils.
Frank Viola Jr.
, 28, the son of Savannah pitching coach/ex-Met
Frank Viola
, was a student during spring training, regularly watching Dickey's bullpen sessions. Martin notes Dickey also has helped 18-year-old
Stephen Orso
from Port Washington. "He got me to where now I can pinpoint my knuckleball better than my fastball," Orso told Martin. "Without him, I don't think my knuckleball would be where it is."
• Another Viola, Frank Jr.'s sister
Brittany
, will compete in the U.S. Olympic diving trials on Wednesday, looking for a spot in London, notes
Aimee Berg
in the
Journal
.
•
Andrew Keh
in the Times
traces Dickey's early pro days throwing the knuckleball in the minors. Keh writes about Dickey's July 24, 2005 debut as a full-time knuckleballer, with Triple-A Oklahoma City:
Instead of success that day at SBC Bricktown Ballpark in Oklahoma City, there was disaster. Over five and two-thirds excruciating innings, Dickey gave up 14 hits and 12 runs before Bobby Jones, who was managing the RedHawks at the time, went out to rescue him. "I remember that game very well," Jones, who now manages the Round Rock Express, the Rangers' current Class AAA affiliate, said in a telephone interview Tuesday. "We were just going to leave him in there, and we knew we were going to take a loss that day if he didn't have it.
"It wasn't pretty," Jones added with a laugh.
• Columnist
Mike Vaccaro
in the Post
salutes Dickey. Writes Vaccaro:
We wouldn't be nearly as amazed by this if he were a classical ace in the classical sense. Seaver, a vintage fireballer, probably had his best season as a Met in 1971, a year he pitched to a 1.76 ERA. That year he enjoyed a 13-game stretch in which he allowed 12 earned runs, threw 10 complete games (including a 10-inning, 1-0 loss) and had six games of double-digit strikeouts. The last 25 games of Gooden's storied 1985 season he went 18-1 with an ERA of 1.39. The first 22 games of Guidry's '78 season he started 15-1 with a 2.03 ERA and four shutouts, and struck out 18 Angels one night. In 1956, Don Newcombe went 13-1 in July and August and threw back-to-back-to-back shutouts at the Cubs, Braves and Pirates. Those were terrific pitchers at the top of their games, known for their high heat and their dominance. And yet Dickey's numbers certainly deserve a spot in the same paragraph.
• Columnist
Kevin Kernan
in the Post
praises the Dickey-Santana tandem.
• Stony Brook University's baseball team, which reached the College World Series, was honored before Tuesday's game at Citi Field. Read more in
Newsday
.
TRIVIA:
Cecchini
was born in Louisiana. Who was the last player to appear in the majors for the Mets who was born in that state?
Tuesday's answer: In Game 2 of the 1969 World Series,
Jeremy Koosman
tossed 8 2/3 innings and outdueled
Dave McNally
, who contributed a complete game for the Orioles.
June, 15, 2011
6/15/11
12:03
PM ET
By
Mark Simon
| ESPNNewYork.com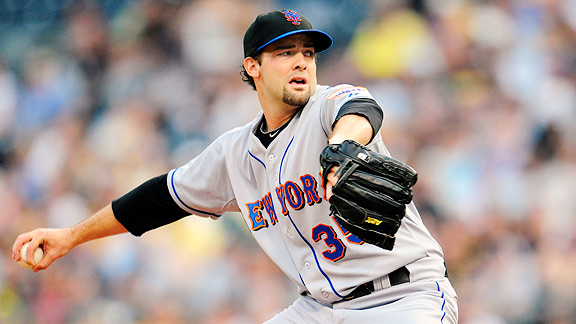 Jeanine Leech/Icon SMI Dillon Gee's early mound mastery has been one of the surprising stories of 2011.
Dillon Gee's
popularity is rising with each successive victory that he's able to add to his ledger, which stands at 7-0 this season heading into his Wednesday night start in Atlanta.
Gee's mark is the best among major league pitchers who are currently undefeated. One more win and he'd match
Dwight Gooden
as the only pitchers to start 8-0 for the Mets, with all eight wins coming as a starting pitcher. (Gooden did it in 1988.)
Gee is an interesting one to root for because he doesn't do anything that's particularly amazing. His fastball is 89-90 mph. His changeup is effective, but not dominant. He's a pitcher who seems built like a
Rick Reed
or
Bobby Jones
. Good, but not great. Consistent, but not dominant.
But just how much of a pitching whiz is Gee compared to his peers?
Let's answer that question in a statistical manner.
Run Prevention
Gee's ERA is 2.90, impressive for any year within the 2000s, but not quite as much in 2011, considering where Gee is pitching (pitcher-friendly Citi Field) and the caliber of other pitchers this season.
ERA+, a stat tracked on
Baseball-Reference.com
, measures how good a pitcher's ERA is, adjusting for the performance of his peers and the ballpark in which he pitches. A score of 100 means he's an average pitcher. The higher above 100, the better the pitcher is with regards to those factors (peer/park).
Gee rates a 121. That's
really
good. But is it elite?
No.
The top 13 pitchers with at least 50 innings pitched all score 150 or better. Currently injured Marlin
Josh Johnson
leads the majors with a 239.
Gee rates 32nd in the majors, tied with the likes of
Roy Oswalt
and
Randy Wolf
, which certainly isn't bad company. Being 32nd is good, but not great, which fits the Gee profile. It puts him among the top 25 percent of all pitchers.
Controllable Factors
Gee isn't a strikeout pitcher and that's reflected in both his strikeout rate (6.4 per 9 innings) and walk rate (2.9 per 9). Let's use that in conjunction with some other information.
According to the stats published on
Fangraphs.com
, Gee has yielded 64 fly balls this season and four of them have gone for home runs. That 16:1 fly ball/home run rate is far, far better than the typical major league pitcher, whose rate is typically around 10:1.
That is likely a product both of Gee's pitching style and the ballpark in which he pitches approximately half the time.
We can look at Gee's Expected Fielding Independent Pitching (xFIP), which looks at what a pitcher's ERA should be based on his strikeouts and walks, and a major league average fly ball:home run rate.
Gee's xFIP is 3.91 -- a jump of a full point from his current ERA. That's tied for 76th best in the major leagues. It's second-best on the Mets behind
Jon Niese's
3.52.
Sabermetricians will tell you that a pitcher whose gap between his ERA and xFIP is that great will likely see his ERA rise in the near future.
The other stat often cited in this regard is his batting average on balls in play (BABIP, meaning at-bats that end other than with a strikeout or home run). Gee's BABIP is .244, which ranks 18th in the majors and seventh in the National League.
Most major league pitchers will have a BABIP between .290 and .310, because their teams are able to convert batted balls into outs at around a 70 percent rate.
Digging a little deeper
BABIP and xFIP aren't definitive. They can provide a clue to performance, but require digging a little deeper. In doing so, we can find what Gee has done best this season.
Our data shows that Gee has allowed 29 line drives this season, a rate of one for every six batted balls. That's a good rate, within striking distance of that of
Roy Halladay
and
Cole Hamels
.
But with that, the line drives Gee's allowing are not your typical ones. We use a company that major league teams use, Inside Edge, which charts every pitch and every batted ball in every game.
They use "video scouts" to make judgments on whether balls are hard hit. It's a subjective rating, but the criteria are such that you and I would ideally make the same call if we saw every batted ball.
Of those 29 line drives, only 12 have been classified as "well-hit" by these video scouts. An average major league pitcher would have yielded 19 out of 29, seven more than Gee, whose well-hit rate ranks seventh-best in the bigs in 2011.
And the good thing about avoiding "well-hit" line drives is that softly hit liners tend to be outs more frequently. Gee's only allowed a hit on 15 of his 29 liners, pretty good considering that line drives go for hits about three-quarters of the time.
I don't know what Gee is doing to induce soft line-drive contact, but it's worth watching him more closely to see if both this and his winning ways can continue.
August, 18, 2010
8/18/10
9:00
AM ET
By
Mark Simon
| ESPNNewYork.com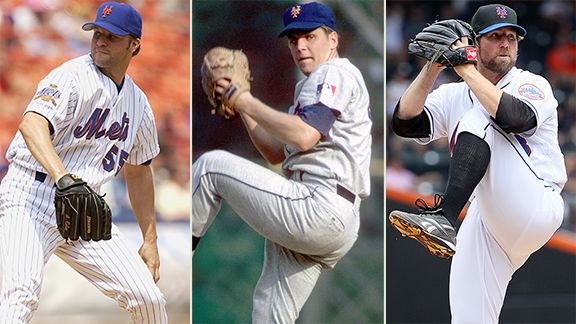 Getty Images
Shawn Estes (left), Tom Seaver (middle), and R.A. Dickey (right) are among those in Mets history who have flirted with a no-hitter, but had to settle for the next-best thing, a one-hitter.
"A Single in First Spoils No-Hitter" read the
New York Times
headline on June 23, 1962, the day after
Al Jackson
pitched the Mets first one-hitter against the Colt 45's (now known as the Astros), allowing nothing after
Joe Amalfitano's
single in the first game of a doubleheader.
That headline writer must have known something was in the fates that deemed that we'd still be talking about how the Mets have never thrown a no-hitter, 48 years later.
R.A. Dickey
, pitching tonight against the Astros, was the latest tease—throwing the Mets 35th one-hitter, a
Cole Hamels
single away from history, against the Phillies last Friday. Mets fans don't have much to celebrate these days (fans of other teams have celebrated 125 no-hitters since 1962), so it seems worthwhile to enjoy what are the best of the near-bests at this time.
In our attempt to be the "Ulti'met" team historian, we've armed ourselves with newspaper reports and internet accounts of all 35 games, supplemented those with a few audio and video tape airings, and studied up on the subject, in an effort to offer the most comprehensive descriptions and accounts possible. Follow along carefully -- there's a lot to detail.
First we must tell how the Mets would lose the second game of Jackson's doubleheader, 16-3, and something would happen in that one that hasn't happened in any game since. The baseball gods must have been laughing as Colts pitcher
Jim Golden
tripled twice in the rout (Golden was golden; he'd go 5-0 against the 120-loss Mets).
Since 1962 --
Pitcher multi-triple games:
1,
Mets no-hitters:
0.
The no-no is still verboten in Metville to this day.
Speaking of pitcher's hitting, four have been responsible for the only hit of a Mets one-hitter, most recently Hamels last Friday. The first of those moundsmen,
Ray Sadecki
would later pitch for the Mets. He'd bust
Jack Hamilton's
bid with a third-inning 20-foot bunt single along the third base line, perhaps the shortest hit in all the Mets one-hitters.
Ah, the bunt hit, forbidden by the unwritten rules of some from busting no-hitters, but welcomed early in the game when the thought of a no-hitter is not on anyone's mind, save for obsessive Mets fans like Dirk Lammers, who runs the website
Nonohitters.com
, which tracks Mets no-hit bids game-by game, sending alerts via Twitter when an opponent gets the first hit of the game.
Sometimes that doesn't take long.
Trot Nixon
of the Red Sox got a bunt hit in the first inning on July 15, 2001, the day of
Bobby Valentine's
1,000th major league managerial victory, a combined one-hitter for
Glendon Rusch
and
Armando Benitez
.
The lone hit was a push bunt between the mound and first base, one fielded by
Lenny Harris
, whose throw to covering second basemen
Edgardo Alfonzo
was late. It's a history mystery what might have happened had Rusch fielded the ball (he said afterwards he should have), but alas this no-hit bid turned out to be the 22nd one-hitter in team annals.
"I loved Glendon because of the attitude he brought to the park," Valentine said recently. "I wish he could have pitched for me every day. He was the perfect choice for my 1,000th win."
Just not perfect enough for a no-hitter.
Nor was
Bobby Jones
one-hit shutout of the Giants in Game 4 of the 2000 NLDS. Jones' wife Kristi told Valentine that her husband would pitch "the game of his life" that day. He did, and were it not for a fifth-inning line drive from
Jeff Kent
that just got over the glove of leaping third baseman
Robin Ventura
, it could've, would've, should've been a no-hitter.
"I wish Robin was 7-foot-4, so he could have caught it," Jones said a few years later. "But he saved me many a time."
Joe Morgan
, announcing the game for ESPN said after Jones got the final out : "I don't think I've ever seen a game pitched this well, other than a perfect game."
Others might beg to differ.
The Mets pitcher to come closest to a perfect game was
Tom Seaver
, whose bid lasted 8 1/3 innings on July 9, 1969, broken by a clean single to center from Cubs centerfielder
Jimmy Qualls
. When Qualls reached first base, who was there to greet him but Cubs coach
Joey Amalfitano
-- the same guy who had the only hit in
Al Jackson's
one-hitter in 1962.
Seaver would describe Qualls in his post-game press conference as "a sticky little hitter." That also seems an apt name for
David Eckstein
, who had the only hit in the first of two
Steve Trachsel
one-hitters as a Met, this one featuring the fewest strikeouts (one) against the Angels in 2003.
Trachsel's other Mets close call was broken up by someone with the fewest career hits of anyone to have the only hit in a Mets one-hitter: Rockies starter
Chun-hui Tsao
(the first of two career hits) in the sixth inning of a game in 2003.
Seaver's five one-hitters are the most in Mets history. His second was a 15-strikeout effort against the Phillies on May 15, 1970 that scores highest in Bill James Game Score metric (a 98) of any of the 198 games Seaver won as a Met.
It was the second time in a month that the Phillies fell victim to a 15 strikeout one-hitter, part of a two-year streak in which the Mets shut them out five times in a row (the 2010 squad would be envious).
Nolan Ryan
had the other, his best performance as a Met prior to being traded, beating future Hall of Famer (and past perfect-game vs the Mets-tosser) Jim Bunning.
It was also the second time in three days that the Mets came that close to a no-hitter.
Gary Gentry
pitched a one-hitter against the Cubs two days prior.
Hall of Famer
Ernie Banks
lined an eighth-inning single to left field, which may have been caught by left fielder
Dave Marshall
had wet grass not caused him to slip in his initial pursuit.
"I thought it would be caught," Banks, who'd hit his 500th homer the day before, told the media after the game, but Marshall was only able to nick the ball with his glove before it dropped in.
THAT one was close. So was
Dwight Gooden's
against the Cubs at Shea on September 7, 1984. Gooden had told Valentine, then the club's third base coach, that he'd no-hit the Cubs someday. Had third baseman
Ray Knight
been able to get
Keith Moreland's
slow roller in the fifth inning out of his glove, he might've kept Gooden's bid intact. Instead, there was no grip, no throw, and no no-no.
The glory days passed Gooden by, but for the Mets one-hitter, the best of times were the early 1970s, with the team netting eight of the 80 thrown in the majors from 1970 to 1974, and the 2000s, in which they had at least one one-hitter from 2000 to 2008.
Seaver and
Gary Gentry
each tossed one against the world-champion Pirates in 1971, the latter broken up by Hall of Famer
Roberto Clemente's
sixth-inning triple. Seaver would throw another vs the Padres on July 4, 1972.
Leron Lee
, father of Derrek, snapped that one with San Diego's only hit with one out in the ninth inning.
Seaver also had the Mets longest no-hit bid, against the Cubs in 1975 (halted by a
Joe Wallis
single with two outs in the ninth) but that doesn't make the list because the game would go extra-innings and the Mets would lose 1-0, the victims of four hits and a game-ending bases-loaded walk.
The last of Seaver's Mets one-hitters came against the Cubs on April 17, 1977. In the fifth inning, Mets catcher
John Stearns
thought Seaver had Cubs third baseman
Steve Ontiveros
struck out, but umpire
Andy Olsen
called the pitch a ball. On 3-2, Ontiveros hit a bloop to right field, for which
Ed Kranepool
dove, but missed by inches.
Seaver would get his no-hitter on June 16, 1978 -- a year and a day after being traded to the Reds. And we should note that in his last appearance for the Mets, he allowed no hits -- albeit in one inning pitched on the next-to-last day of the 1983 season.
Was one of Seaver's games the best Mets-pitched one-hitter?
The combo from
John Maine
(7 2/3 innings),
Willie Collazo
and
Carlos Muniz
against the Marlins on September 29, 2007 (the day before
Tom Glavine
gakked up the season), featured 14 strikeouts from Maine, and only a dink infield hit from Marlins catcher
Paul Hoover
. That one makes the most reasonable case among the most recent efforts.
Dickey's wasn't even the best this season.
Jonathon Niese
joined Seaver with the only one-baserunner, one-hitter earlier in the year against the Padres.
Niese and Dickey both make the list of unlikely one-hitter throwers, joining submariner
Terry Leach
, who threw a 10-inning one-hitter against the Phillies (ex-Mets coach
Luis Aguayo
had the only hit) in his second major league start on October 1, 1982, and not-so-well-liked
Aaron Heilman
, whose no-no attempt against the 2005 Marlins was broken up by an infield hit by current not-so-liked Met,
Luis Castillo
.
---
We break up this story on one-hitters to tell you that:
• The most Mets wins without a one-hitter:
Jerry Koosman
, 140
• The Mets have one-hit a soon-to-be World Series champ three times. We mentioned the two against the 1971 Pirates. The other -- a
Jae Seo
,
David Weathers
,
Armando Benitez
team effort against the 2003 Marlins, just before the beginning of a run in which the Marlins went 57-33 and won the wild card.
• Seven times, more than one pitcher has been required to complete a Mets one hitter. Current Mets analyst
Ron Darling
and
Jesse Orosco
paired on the first of those-- against the Pirates on April 17, 1985. The Mets enlisted the assistance of first baseman Keith Hernandez in that one-- his ninth-inning sac fly brought in the winning run.
• The Padres, who also have never thrown a no-hitter, have 24 one-hitters, including four against the Mets (one in each of four straight seasons from 1991 to 1994). The face of the Padres franchise,
Tony Gwynn
was the final out of a no-hitter by the Braves in 1991, but avoided any dubious distinction with a fourth-inning double, the only hit in a
David Cone
one-hitter for the Mets in 1988.
• This isn't the only thing the Mets haven't done. What's more likely to come first: A Mets no-hitter, or a Mets hitter homering three times in a game AT HOME? Neither has ever happened.
---
Seaver and Ryan are the two Mets who have pitched a one-hitter who are in the Hall of Fame, likely to be joined eventually by
Tom Glavine
and
Pedro Martinez
, who gets partial credit for lasting four innings in a one-hitter against the Rockies on July 12, 2008 (four relievers finished the deal).
We'll give an honorable mention to
Shawn Estes
, recently inducted into the Giants Wall of Fame. Estes threw a one-hitter for the Mets against the Brewers on April 26, 2002, beating the last Met to combine on one,
Glendon Rusch
, 1-0.
This bid was broken up by future ESPN baseball analyst
Eric Young's
seventh-inning single. That's not surprising given that Young hit .417 against Estes in the 36 at-bats in which they went head-to-head, though Estes got the last laugh by getting Young for the game's final out.
Estes couldn't win enough (his four wins as a Met are fewest among the one-hitter tossers), and the Mets don't always win one-hitters. They're 33-2 when they throw one, losing most recently to the Astros in 2006.
Cone and
Jeff Innis
lost their combined one-hitter to the Cardinals on September 14, 1991, but Cone would come back with a winning one-hitter against St. Louis in his next start (the only hit being a
Felix Jose
double to the warning track in left-center in the eighth inning).
"I wanted to treat these fans to something special," Cone told reporters afterwards.
Those 1991 Mets would tease fans by throwing three one-hitters in an 11-day span near season's end (
Pete Schourek
had the other against the Expos, broken up by current White Sox GM
Ken Williams
), but couldn't save the job of their skipper,
Bud Harrelson
, who would be fired a little more than a week later.
Harrelson held the Mets record for most one-hitters played in (of at least nine innings), with eight, until this year, when
Jose Reyes
surpassed him. Reyes also played in two rain-shortened one-hitters (by Glavine and
John Maine
) in 2007.
Reyes should remember the previously mentioned Trachsel one-hitter against the Angels well—it came the same day as his first big league grand slam.
That's a better memory than Mets legend
Darryl Strawberry
has of the one-hitter thrown against the Phillies by
Sid Fernandez
and
Roger McDowell
on May 11, 1985.
Strawberry tore ligaments in his thumb, preserving a then no-no with a third inning catch of a
Juan Samuel
fly ball, an injury that cost him 43 games, and may have made the difference in the Mets failing to beat out the Cardinals in the NL East race.
Strawberry came back from injury to help the Mets to the World Series title the next season.
Jon Matlack
came back from injury (a fractured skull suffered by being hit with a line drive) to nearly do so in 1973 (the Mets lost the World Series in seven games). But in lieu of a World Series, Matlack, who remembered throwing eight no-hitters in high school, threw one-hitters in both 1973 and 1974.
Matlack now works as the Tigers roving pitching instructor. Earlier this year, he tutored
Armando Galarraga
, not long before Galarraga threw his "imperfect game" against the Indians, so he can relate to what the Mets are going through in more ways than one.
"I think it's just bad luck," Matlack said, when asked for a former player's perspective on why we're celebrating Mets one-hitters instead of no-hitters. "The fates that go into it ... The baseball gods just haven't smiled on the Mets yet."
Maybe tonight.
June, 16, 2010
6/16/10
8:50
AM ET
By
Mark Simon
| ESPNNewYork.com
In looking back on
Jonathon Niese's
one-baserunner shutout last Thursday night, we thought it would be appropriate to survey those who follow the Mets most, and ask them "What is your all-time favorite Mets pitching performance?"
As you'll see below, one or two tend to stand out more than the rest. Feel free to share your thoughts in the conversation section.
Gary Cohen, Mets broadcaster, SNY
: I have witnessed countless outstanding pitching performances for and against the Mets, some resulting in Mets' wins, many others not. (See:
Darryl Kile
, 1993). I have seen a 15-strikeout game from
Al Leiter
, a 16-strikeout game from
Sid Fernandez
(a loss),
Ron Darling's
uber-clutch 1985 performance in St. Louis, and innumerable
Dwight Gooden
gems.
But considering the majesty of the moment, all others pale before
Bobby Jones'
one-hit, complete game, series clinching victory over the Giants in 2000. Left Dusty (Baker) in the dust.
John Coppinger, AKA: Metstradamus
:
Bobby Jones'
one-hitter from the 2000 playoffs against the Giants. Jones had been sent down to the minors earlier in the season to get his act together, and that October he pitches the best game of his life in as big a stage as you get. And the one hit was by
Jeff Kent
, so it gives me a valid reason to despise Jeff Kent (not that he cares).
Mark Kelly, Hope Is The Best of Things
: The most dominating performance I ever saw a Mets pitcher give was Bobby Jones in Game 4 of the 2000 NLDS. He breezed through the first 4 innings allowing no runners to reach base, though I was too busy worrying that the Mets would hold on to their 2-0 lead to grasp that.
I remember
Bobby Valentine
warming up pitchers, but Jones kept cruising. What made this game so memorable was the setting. Anytime a pitcher gives that kind of performance in the postseason, it's big.
Tim O'Shaughnessy, ESPN
(Tim designs the funky graphics you see on shows like
SportsCenter
and
Baseball Tonight
): In recent memory,
John Maine's
14-strikeout, one-hit bid in Game 161 in 2007. It left us with pride, hope and relief by almost extinguishing fear of an actual collapse. It was also the last hopeful moment before we constantly started questioning our faith in the team. That start temporarily masked what we were becoming.
Matt Silverman, Mets historian and author
:
Tom Seaver's
10-straight strikeouts in 1970. Though I was in kindergarten and probably didn't know about the game for five or seven years after it happened, Seaver's 2-1 gem was like an encore for his glorious '69 season.
He'd fanned nine through 5 2/3 innings, then fanned the last 10 Padres -- starting and ending with
Al Ferrera
, who'd homered off him in the second inning.
Jerry Grote
said he stopped putting down signs.
Seaver's 19 K's broke the club record of 15 ... set by
Nolan Ryan
five days earlier. In the 40 years since, despite the overall increase in strikeouts, no pitcher has matched Seaver's 10 straight K's.
Less than 15,000 saw it on a Wednesday April afternoon at Shea against a putrid Padres club, but it's the game I think of when I think of dominance on the mound by a Met.
Greg Prince, Faith and Fear in Flushing
:
Tom Seaver
hadn't given up a hit through two outs in the bottom of the ninth at Wrigley Field, September 24, 1975. Could this be it? It couldn't be because it was nothing-nothing, the Mets, per usual, not scoring for the best pitcher in the world.
Bob Murphy
seemed almost apologetic on the radio that nine no-hit innings in a scoreless game couldn't technically qualify as the first no-hitter in Mets history, even if Seaver could retire the next batter. And of course the next batter, a
Jimmy Qualls
stand-in named
Joe Wallis
, singled. And of course the Mets lost in extra innings. But two out in the ninth and Tom Seaver not having allowed a hit? I can't imagine a better place to be in any baseball game.
Shannon Shark, AKA Metspolice
: I will always admire and respect the way
Johan Santana
"manned up" in the next-to-last game of the 2008 season. Short rest off a high pitch count he decided "I can't trust you clowns. Give me the damn ball. I got this." and he did.
But my favorite pitching performance was Opening Day 1983. The Franchise,
Tom Seaver
, was back and after a memorable stroll down the right field line and six shutout innings, all was going to be OK in Flushing again.
Jason Fry, Faith and Fear in Flushing
:
Johan Santana
, Sept. 27, 2008 against the Marlins, a 2-0 win. A three-hit shutout in a do-or-die game. He threw 117 pitches, on three days rest, after throwing a career high of 125 in his last start. I was in the park (the last time I ever saw Shea) and didn't leave my seat for nine innings. We knew what Santana had done, what he was trying to do, and what it meant for the Mets if he couldn't do it.
Come the sixth inning or so, mindful of that pitch count, I was watching the bullpen door, willing it to stay closed. The entire crowd spent the ninth on its feet, roaring Santana's name, trying to shove him across the finish line.
But he didn't need our help -- we needed his. He threw an entire team, organization and terrified fan base on his back and kept us alive for one more game. We knew it, and it was amazing.
But we didn't know just how amazing -- we had no idea he'd pitched all of September with a torn meniscus in his left knee. He did the impossible, on one leg, when it mattered most.
---
Niese's effort didn't make anyone's list, but maybe it will someday. Two final notes from that contest:
1. The folks at
Baseball Info Solutions
calculate "expected hits" for selected pitching performances.
Expected hits are figured by taking each ball hit during a game, and calculating how often a ball hit of that type (fly ball, ground ball, line drive) at that speed, to that spot, is a base hit. Niese's game checked in at 3.2 expected hits.
For comparitive purposes, that ranked below
Roy Halladay's
perfect game (2.2 expected hits), but right in line with
Dallas Braden's
perfect (3.0 expected hits) and
Ubaldo Jimenez's
no-hitter (3.0 expected hits).
2. With Niese having had one baserunner shutout, the inevitable question would be. Is this something that could happen again?
It's not likely.
Since the Mets' inception in 1962, four pitchers have thrown
a pair
of shutouts (nine innings or more) in which they allowed no baserunners, or one baserunner.
The prestigious group, found via help from
Baseball-Reference.com
features:
Sandy Koufax
,
John Smiley
,
Mike Mussina
, and
Mark Buehrle
.
Mark Simon is a researcher for Baseball Tonight. Follow him on Twitter at @msimonespn or e-mail him at webgemscoreboard@gmail.com.
June, 10, 2010
6/10/10
10:25
PM ET
By
Mark Simon
| ESPNNewYork.com
A major cap-tip to Baseball-Reference.com for its assistance in this compilation.
1-
Jonathon Niese's
one-hitter marked the 23rd time a Mets pitcher has thrown a regular season complete game one-hitter of nine innings or more. The Mets also had one in Game 4 of the 2000 NLDS against the Giants from
Bobby Jones
.
2- Of those 23, only two other Mets pitchers threw accomplished the feat without allowing either a hit batsman or a walk --
Tom Seaver
against the Cubs in 1969 (his near-perfect game of 8 1/3 innings) and
Steve Trachsel
against the Rockies.
Niese and Seaver are the only pitchers in Mets history to throw a one-baserunner one-hitter (Trachsel's game also included a Mets error).
3- Technically speaking, it was the 34th one-hitter (complete game or combined) in Mets history (including the Jones' effort in the postseason). But that list includes two losses in which the Mets pitched only eight innings, and two wins in which the Mets pitched fewer than nine innings.
4- This was Niese's 18th major league game pitched. That's the fewest games pitched by any Met to throw a complete game one-hitter (nine innings or more).
Aaron Heilman
held the previous mark, getting a one-hitter in his 21st game, against the Marlins in 2005.
5- Since the Mets came into existence in 1962, Niese is one of only six pitchers to throw a complete game (nine innings or more), yielding one baserunner of fewer, within the first 18 games of his career.
Incredibly, the most recent was by
Mat Latos
, who got the win for the Padres in the first game of the doubleheader. He pitched a one-hitter against the Giants on May 13th in his 17th big league game.
6- Niese is the sixth Mets pitcher, age 23 or younger to throw a complete game one-hitter. The youngest on the list was 19-year-old
Dwight Gooden
(1984 vs Cubs). Others on the list:
Pete Schourek
,
Jon Matlack
,
Gary Gentry
, and
Nolan Ryan
.
7- By the Bill James metric, Game Score (which measures starts based on innings, runs allowed, hits allowed, strikeouts and walks), Niese finished with a game score of 91.
It marked the 40th time that a Mets starter pitched to a game score of 91 or better in a regular season game, the first since
Tom Glavine
scored a 92 with a two-hit, 11-strikeout shutout in 2005.
8- Of a much more trivial nature: Niese drew two walks, marking the 39th time in Mets history that a pitcher had a multi-walk game (the team record is three, shared by
Jay Hook in 1962
and
Jon Matlack in 1975
.
9- This was the third time in Mets history that they pitched a one-hitter against the Padres. The others were by Seaver in 1972 (a no-hitter broken up in the ninth inning) and David Cone in 1988.
10-
Chris Denorfia
, who had the Padres only hit, was born in Bristol, Connecticut, the home of ESPN.
Mark Simon is a researcher for Baseball Tonight. Follow him on Twitter at @msimonespn or e-mail him at webgemscoreboard@gmail.com.