New York Mets:

Bobby M. Jones
May, 11, 2014
5/11/14
10:25
PM ET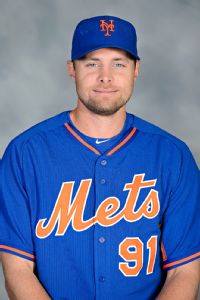 Courtesy of New York MetsShawn Teufel
NEW YORK -- Left-hander Shawn Teufel, the son of Mets third-base coach Tim Teufel, will pitch this season for the independent Rockland Boulders.
Teufel, 27, had been released from Mets minor-league camp during spring training.
A former 25th-round pick by the Tigers out of Liberty University, he went a combined 1-1 with a 3.80 ERA and four saves in 37 appearances as a sidearm reliever for four different Mets affiliates in 2013.
Ex-Met Bobby M. Jones is the pitching coach for the Boulders. Rockland's season opens May 23.
ABOUT THIS BLOG
Adam Rubin

Adam Rubin has covered the Mets since 2003. He's a graduate of Mepham High School on Long Island and the Wharton School of the University of Pennsylvania. He joined ESPNNewYork after spending 10 years at the New York Daily News.
Mark Simon

Mark Simon is ESPN Stats & Information's Baseball Research Specialist. One of several Mets historians working at ESPN, he joined the Worldwide Leader in 2002 after 6 1/2 years as a sports writer at the Trenton Times.
Email Mark » Follow Mark on Twitter »
AdamRubinESPN Adam Rubin
Is the original ESPN story from June of last season when new #Mets LH Alex Torres explains using a padded cap: http://t.co/h0Qbvfz4eU
29 minutes ago

AdamRubinESPN Adam Rubin
They both bat lefty, so not sure that'll work. RT @WGoldman29: So is it safe to say that Den Dekker will platoon with Harper.
about 9 hours ago

AdamRubinESPN Adam Rubin
Explanation from March 22: http://t.co/7aFMz9DdeW RT @Vbull4: Adam what happened to Dilson herrara for 2nd base is he injured?
about 9 hours ago

AdamRubinESPN Adam Rubin
Updated roster projection: http://t.co/LW2oaKuqfB RT @Qpelzel: Will Torres and/or Blevins make the team over Gilmartin and Alvarez?
about 9 hours ago

AdamRubinESPN Adam Rubin
http://t.co/hQMJmuITsf MT @DrostePeter: You don't think Matt Reynolds gets consideration over Danny Muno & maybe Ruben Tejada?
about 9 hours ago

msimonespn Mark Simon
Career heat map for Alex Torres ... Good numbers. http://t.co/DCkJofSPsN
about 10 hours ago

msimonespn Mark Simon
Hard not to like @JerryBlevins_13 or his heat map vs LHB from last season http://t.co/IneMGxRooE
about 10 hours ago

AdamRubinESPN Adam Rubin
Matt den Dekker, Nationals execs react to trade http://t.co/6eM9MdZACf #NYM #Mets
about 11 hours ago

AdamRubinESPN Adam Rubin
12,000 visits to the blog today just via clicks from my tweeted links ... and climbing. Thanks!
about 11 hours ago

AdamRubinESPN Adam Rubin
Here's Matt den Dekker and #Nats officials reaction to trade involving #Mets: http://t.co/bECIHtT83W
about 11 hours ago

AdamRubinESPN Adam Rubin
Rafael Montero pushing Dillon Gee for rotation spot http://t.co/nNhAGtz1JA #NYM #Mets
about 12 hours ago

AdamRubinESPN Adam Rubin
Mets' payroll rises with Jerry Blevins addition http://t.co/jzeGvI3tWT #NYM #Mets
about 12 hours ago

AdamRubinESPN Adam Rubin
Post-trades New York Mets roster projection http://t.co/XkbkFdogrQ #NYM #Mets
about 12 hours ago

AdamRubinESPN Adam Rubin
Mets 7, Marlins 1: Lucas Duda's day includes 5 RBIs http://t.co/iDefsleONY #NYM #Mets
about 12 hours ago

AdamRubinESPN Adam Rubin
Checked with Nats writer. Werth may be back in week but he, Span and McLouth should open season on DL. Den Dekker likely on until Werth back
about 12 hours ago

AdamRubinESPN Adam Rubin
Terry Collins: "I've got no problem putting Rafael Montero in the back end of that pen, late in the game."
about 12 hours ago

AdamRubinESPN Adam Rubin
That said, Terry Collins believes Rafael Montero can be a late-inning pen asset that the Mets desperately need, especially minus Vic Black.
about 12 hours ago

AdamRubinESPN Adam Rubin
Still, Rafael Montero is forcing a conversation about using him in the rotation, and potentially hastening Dillon Gee departure.
about 12 hours ago

AdamRubinESPN Adam Rubin
Summary of Gee/Montero: Reliable team source entering day figured it would be Gee in rotation, Montero in pen. Not sure that changed today.
about 12 hours ago

AdamRubinESPN Adam Rubin
Updated #Mets payroll calculator with Jerry Blevins' addition. (Still could dip back under $100M with Gee trade): http://t.co/7zQTPl1J44
about 12 hours ago
UPCOMING GAMES
| | W-L | HM | AW | STK | L10 |
| --- | --- | --- | --- | --- | --- |
| NYM | 17-11 | 11-3 | 6-8 | W3 | |
| WAS | 10-13 | 7-3 | 3-10 | L1 | |
| | W-L | HM | AW | STK | L10 |
| --- | --- | --- | --- | --- | --- |
| STL | 12-10 | 8-5 | 4-5 | W1 | |
| NYM | 17-11 | 11-3 | 6-8 | W3 | |
| | W-L | HM | AW | STK | L10 |
| --- | --- | --- | --- | --- | --- |
| NYM | 17-11 | 11-3 | 6-8 | W3 | |
| STL | 12-10 | 8-5 | 4-5 | W1 | |
BLOG ARCHIVE:
CATEGORIES:
MARCH 2015
APRIL 2015
MAY 2015
Sun
Mon
Tue
Wed
Thu
Fri
Sat

1

STL
1:10 PM ET

2

@STL
12:05 PM ET

3

@TEX
8:05 PM ET

4

@TEX
2:05 PM ET

5

6

7

8

9

10

11

12

13

14

15

16

17

18

19

20

21

22

23

24

25

26

27

28

29

30

Sun
Mon
Tue
Wed
Thu
Fri
Sat

1

2

3

4

5

6

7

8

9

10

11

12

13

14

15

16

17

18

19

20

21

22

23

24

25

26

27

28

29

30

31
2015 GRAPEFRUIT LEAGUE LEAGUE STANDINGS