New York Mets:

Boof Bonser
April, 20, 2011
4/20/11
9:58
AM ET
The moment a foul liner struck
Sean Ratliff
in his right eye while he stood in the on-deck circle on a back field in Jupiter, Fla., late in spring training -- nearly fully detaching his retina and breaking six facial bones -- the Mets' outfield prospect thought about the incident a few weeks earlier, when Braves minor league manager
Luis Salazar
was struck by a foul ball in the dugout and ultimately lost his left eye.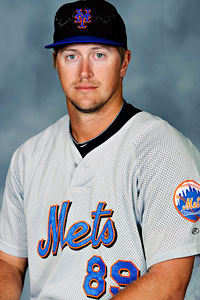 Courtesy of New York Mets
Sean Ratliff suffered a nearly fully detached retina and six facial fractures when struck by a foul ball late in spring training.

"I'm very blessed that it didn't happen that way," says Ratliff, a fourth-round pick in 2008 out of Stanford. "That was the first thing that went through my mind. I wasn't knocked out or anything. I was on the ground. I was like, 'You've got to be kidding me, this is going to happen to me too?'
"You don't wish something like what happened to Luis Salazar happening to anybody. I was scared for a little while there that I wasn't going to be able to see, or I wasn't going to play again. I'm still not completely out of the woods yet with returning, or being able to play. But God has blessed me with hopefully a second chance here."
Ratliff has undergone two surgeries so far. The first laser procedure did not hold because the retina was nearly fully torn. The second, more invasive procedure was performed last Tuesday at the University of Miami's renowned Bascom Palmer Eye Institute, where the 24-year-old Ratliff now travels once a week. For now, his right eye isn't functional for everyday activities, in part because the lens has been removed in order to try to secure the retina back in place.
"My right eye is pretty cloudy," Ratliff said. "I couldn't do anything with it right now. I can't drive. I can't really do anything. It's basically because there's no lens on my eye. They put me completely under. I think they took the lens off my eye and went in and took all the vitreous fluid out of my eye and put in like silicon oil and some other stuff. They lasered it down again to make sure the retina held flat with my eye. It's a far more invasive form of the same procedure, just to get my retina to stay flat.
"They're saying it'll come back along further through the rehab. Just given time, it will get back to as good as it can. In six months I go back in and have another surgery."
That means this baseball season is over before it started.
"That's more or less what it sounds like -- this year is kind of toast," Ratliff said. "They sounded pretty hopeful when I talked to them [Monday] that everything would be back to normal, or good-enough eyesight, to where I can hopefully keep playing. My vision in my right eye was at 20/60 [Monday], which was better than when they saw me after the surgery. So just hopefully it keeps progressing."
Before the incident, Ratliff had 20/15 vision in the eye while using a contact lens. He hopes once the prosthetic lens is inserted later this year, and with the help of a contact lens, he can get there again, although there is no guarantee.
"From what [the doctor] has told me, it's one of those things where it was a pretty severe injury," said Ratliff, who hit .317 with 16 homers and 50 RBIs in 281 at-bats with Double-A Binghamton after a mid-year promotion from Class A St. Lucie last year. "It's rare to have in guys my age because it's usually trauma-related. It's usually a heavy impact type of injury. … If everything goes the way it's supposed to, it'll go back to as close to normal as they can get it."
As for the facial fractures, doctors originally contemplated inserting plates. They opted against it, which turned out to be a good thing, according to Ratliff. It would have complicated the second surgery. The belief is that the bones will eventually heal on their own because of the high blood flow in that area of the body.
The ball that struck Ratliff came off the bat of Buffalo third baseman
Zach Lutz
.
"I've kept in touch with Zach quite a bit," Ratliff said. "He was pretty shaken up by the whole thing. I just kept telling him, 'There's nothing you can do about it. In baseball, it's one of those accidents, you don't ever want to see it, but at some point it's bound to happen. There's nothing you can do about it.' He just needs to keep playing and keep swinging the bat and do what he has to do and I'll get back on my horse when I get back on it."
Organization leaders
Average:
Sam Honeck, Savannah, .457; Kirk Nieuwenhuis, Buffalo, .349; Zach Lutz, Buffalo, .333; Jefry Marte, St. Lucie, .318; Justin Turner, Buffalo, .300; Matt den Dekker, St. Lucie, .294; Cory Vaughn, Savannah, .286; Kai Gronauer, Binghamton, .280; Josh Satin, Binghamton, .270; Albert Cordero, Savannah, .258.
Homers:
Brahiam Maldonado, Binghamton, 3; Jason Pridie, Buffalo, 3; Jason Bay, St. Lucie, 2; Javier Rodriguez, Savannah, 2; Josh Satin, Binghamton, 2.
RBI:
Sam Honeck, Savannah, 11; Josh Satin, Binghamton, 8; Cory Vaughn, Savannah, 7; Stefan Welch, St. Lucie, 7.
Steals:
Robbie Shields, Savannah, 5; Lorenzo Scott, Binghamton, 4; Jordany Valdespin, Binghamton, 4.
ERA:
Matt Harvey, St. Lucie, 0.00; Brad Holt, Binghamton, 0.00; Jeurys Familia, St. Lucie, 0.48; Mark Cohoon, Binghamton, 0.75; Robert Carson, Binghamton, 0.90; Jenrry Mejia, Buffalo, 0.98; Taylor Whitenton, Savannah, 1.74; Ryan Fraser, Savannah, 2.08; Yohan Almonte, Savannah, 2.25; Scott Moviel, St. Lucie, 2.70.
Wins:
Matt Harvey, St. Lucie, 3l; Nick Carr, St. Lucie, 2; Jose De La Torre, Buffalo, 2; Scott Moviel, St. Lucie, 2.
Saves:
Jeffrey Kaplan, St. Lucie, 5; John Lujan, Binghamton, 3, Nick Carr, St. Lucie, 2; Josh Edgin, Savannah, 2.
Strikeouts:
Matt Harvey, St. Lucie, 20; Jeurys Familia, St. Lucie, 17; Jenrry Mejia, Buffalo, 17; Greg Peavey, Savannah, 14; Chris Schwinden, Buffalo, 14.
Short hops
• Several Mets pitching prospects have continued their hot starts. That includes 2010 first-round pick
Matt Harvey
, who allowed an unearned run and no other damage while limiting Fort Myers to two hits in five innings Sunday. That performance ran Harvey's streak without allowing an earned run to open his career to 16 innings, during which he has struck out 20. Harvey was named Florida State League Pitcher of the Week. Teammate
Jeurys Familia
also is putting up numbers, with two runs (one earned) and six hits allowed in 18 2/3 innings spanning three starts.
• Outfielder
Kirk Nieuwenhuis
and Lutz are off to quick starts at Triple-A Buffalo. A third-round pick in 2008 out of Azusa Pacific, Nieuwenhuis extended his hitting streak to nine games by going 3-for-6 in Tuesday's doubleheader against Rochester. He is hitting .349, with a .451 on-base percentage. Lutz, a fifth-round pick in '07 who played for his father at Alvernia (Pa.) College, actually lost a seven-game hitting streak in Game 2 of the doubleheader when he was retired as a pinch-hitter. He is hitting .333 in 36 at-bats.
• Buffalo catcher
Dusty Ryan
, who got a late start to the season because of a concussion suffered when he was hit by a pitch late in spring training, needs surgery to repair meniscus cartilage. Ryan has twice before undergone the knee procedure since 2009. He sustained the re-injury blocking a baseball and is expected to miss two months. For the very short term,
Salomon Manriquez
will back up
Raul Chavez
with Buffalo in place of Ryan.
Ronny Paulino
(anemia) is expected to soon take his rehab assignment from Class A St. Lucie to the Bisons before being activated from the disabled list Tuesday, when the Mets open a series at Washington. Once Paulino is activated with the Mets,
Mike Nickeas
should head to Buffalo and handle the primary catching responsibilities.
• Outfielder
Fernando Martinez
should return from a right hamstring strain soon. Martinez, who hit .313 in four games for Buffalo before being shut down with the injury, has resumed hitting and is ready to start running.
• Right-hander
Chris Schwinden
, a 22
nd
-round pick in 2008 from Fresno Pacific University, had a positive Triple-A debut. After logging three innings over two relief appearances with Double-A Binghamton, Schwinden was promoted to the Bisons, who were short arms with
Pat Misch
promoted and
Boof Bonser
requiring Tommy John surgery. Schwinden proceeded to limit Pawtucket to one run on two hits and three walks while striking out nine in five innings. He received a no-decision in a 2-1, 10-inning loss. Farm director
Adam Wogan
said Schwinden had been stretched out during spring training, with the expectation he would step into Binghamton's rotation once
Josh Stinson
had a few starts in the Double-A rotation and was promoted to Buffalo. Stinson, it turned out, made his first 2011 start for Buffalo a day later to fill the other rotation void. He was charged with six runs in four innings and the loss at Pawtucket.
• Bonser underwent the ligament-replacement surgery in his right elbow Tuesday in New York.
• Misch, who was designated for assignment after pitching two innings in relief of
D.J. Carrasco
in Game 1 of Saturday's doubleheader in Atlanta, may find out if he has cleared waivers for a second time in three weeks on Wednesday. Misch has the right to declare free agency. But he already agreed once to report to Buffalo -- after failing to make the team out of spring training.
•
Michael Fisher
took off at the plate during first baseman
Allan Dykstra's
one-week stint on the disabled list for a sprained left ankle. A former sixth-round pick of the Atlanta Braves out of Georgia Tech who signed as a minor league free agent before the 2010 season, the 26-year-old Fisher stepped in at Double-A Binghamton and hit .389 with one homer and three RBIs in five games. Dykstra, acquired from the San Diego Padres at the end of spring training for right-handed reliever
Eddie Kunz
, returned from the DL on Monday. Fisher should still get at-bats, since he is capable of playing second base and even manned shortstop in college and early in his professional career.
•
John Lujan
has converted consecutive saves for Binghamton after the bullpen blew four straight opportunities.
• Blocked by a logjam of outfielders in Triple-A, even with Martinez temporarily on the disabled list, 31-year-old
Jesus Feliciano
is making the best of everyday playing time with Binghamton. Feliciano, who hit .339 with Buffalo last season and appeared in 54 games for the Mets in 2010, has consecutive multi-hit games out of the leadoff spot for
Wally Backman's
B-Mets.
• No offense to Paulino, but the development staff likely will not shed a tear when the catcher moves to Buffalo on his rehab tour, then the majors. Then,
Francisco Pena
and
Juan Centeno
will be able to get regular playing time again behind the plate with St. Lucie. Despite Paulino's presence, the 21-year-old Centeno nonetheless recorded consecutive walk-off RBIs, on Friday and Saturday. A solid catch-and-throw guy who is listed at 5-foot-9, 172 pounds, Wogan describes Centeno as an "intelligent catcher who works great with pitchers." Drafted in the 32
nd
round in 2007 out of Puerto Rico, Centeno finally took off offensively last year at Brooklyn, hitting .371 with one homer and 10 RBIs in 32 games. Pena, the son of former major league All-Star
Tony Pena
, should get the larger share of the starts at catcher for St. Lucie.
• St. Lucie's nine-game winning streak, which was snapped Monday, matched the longest in that Florida State League club's history.
• Tulane product
Sam Honeck
, who had a gruesome ankle injury last year in a plate collision while playing with Savannah, continues to tear up the South Atlantic League in his return to the Sand Gnats. The first baseman had a .500 average through 42 at-bats until finally being cooled off Tuesday, when Lexington held him hitless in four at-bats and snapped Honeck's eight-game hitting streak. Honeck's .457 average is tops in the SAL, leading runner-up
Chris Wallace
of Lexington (.409) and
Bryce Massanari
of Asheville (.405).
• Wogan suggested the numbers from sixth-round pick
Greg Peavey's
Monday outing with Savannah were a little misleading because of infield hits, bunts and flairs. Peavey did not have pinpoint command and was charged with two runs on seven hits in four innings for Savannah against Greenville. Peavey is 1-1 with a 3.86 ERA in three professional starts.
• 2010 New York-Penn League batting champ
Darrell Ceciliani
should be reactivated from the disabled list within days. He suffered a right hamstring strain with Savannah while approaching first base last Tuesday. In the interim,
Cory Vaughn
shifted from left field to center field, where he manned 14 games last season with Brooklyn. That has afforded
Alonzo Harris
-- who is learning left field this season to take advantage of his speed after primarily being a second baseman -- to regularly play for the past week in the outfield.
Joe Bonfe
, who served as Brooklyn's third baseman last season while hitting .326 in the New York-Penn League, got his first professional start in right field on Monday for the Sand Gnats.
Adam Rubin's farm report appears Wednesdays during the season
April, 14, 2011
4/14/11
6:11
PM ET
Right-hander Boof Bonser, who had to leave his first start for Triple-A Buffalo, will undergo Tommy John surgery next week and will miss the remainder of the season. Bonser was examined by team doctor David Altchek on Wednesday in New York.
April, 13, 2011
4/13/11
12:45
AM ET
The weight of a disastrous 2010 season had been lifted from right-hander
Brad Holt's
shoulders even before he threw his first pitch this year.
The 33
rd
overall pick in the draft three years ago out of UNC Wilmington, Holt went a combined 3-14 with an 8.34 ERA in 24 appearances (23 starts) between Double-A Binghamton and then Class A St. Lucie after a demotion last season. His control problems included 79 walks and 17 hit batters in 95 innings.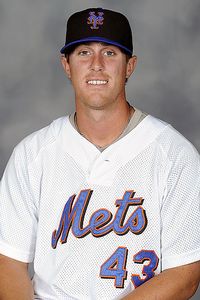 Courtesy of New York Mets
Brad Holt

But team officials swore Holt had started to make strides at the team's fall instructional league. Then, Holt's Arizona Fall League performance was positive enough that he actually was selected to the AFL's Rising Stars all-star game (although he eventually was scratched because of bone spurs in his right elbow that have since quieted).
By the time the 24-year-old Holt took the mound for his first 2011 start on Saturday at Akron -- at a site where he allowed five runs and recorded only one out last April before being pulled -- Holt's confidence mostly had been restored.
"I think the weight was kind of lifted more toward the end of instructs and in Arizona," Holt said. "Once I came into spring training I wasn't really too worried about the upcoming season. I felt really confident in being back on track and having whatever was causing the bad year to not be there."
Still, it did not hurt that Holt validated the renewed enthusiasm with a positive showing last weekend against Cleveland's Double-A affiliate. Holt limited Akron to three hits and two walks while striking out three in five scoreless innings. Rehabbing major league
Grady Sizemore
went 0-for-2 with a walk against Holt.
"My start there last year at the beginning of the season, it didn't go very well," Holt said. "I had that a little bit in the back of my head. But I was confident that nothing was going to change from the Fall League and spring training."
The problem in 2010?
"I think last year was just his command and just his maturity level on the mound," said
Mike Nickeas
, who caught Holt with Binghamton last season. "When something negative happened to him, he had a tendency to get down. From what I saw in the spring, and from what I hear from the guys who have spoken with him, he's made those adjustments and he's throwing the ball really well."
Holt acknowledged he even threw balls to the backstop last year. He labeled it a "mental year."
"I wasn't throwing strikes last year," Holt said. "Right now pitching in general is coming together for me. I'm learning when to use pitches, how to set up hitters the way I want. In order to do that, location is a huge part obviously. I think it's just using all four of my pitches. Now that I have the cutter, that's opened up a few more doors as far as how to attack a hitter. They stayed on me in spring training about using my changeup. It's become a really good pitch. My changeup has developed a lot. I used it a good bit in my start. I'm just mixing up my pitches and not staying so much fastball/curveball the whole time. I'm giving hitters more to look at."
Organization leaders
Average:
Sam Honeck, Savannah, .412; Jefry Marte, St. Lucie, .333; Kai Gronauer, Binghamton, .313; Fernando Martinez, Buffalo, .313; Ruben Tejada, Buffalo, .304; Zach Lutz, Buffalo, .300; Nick Evans, Buffalo, .294; Javier Rodriguez, Savannah, .278; Josh Satin, Binghamton .250; Raul Reyes, Binghamton, .238.
Homers:
Brahiam Maldonado, Binghamton, 2; Jason Pridie, Buffalo, 2; Javier Rodriguez, Savannah, 2.
RBI:
Stefan Welch, St. Lucie, 5; Brahiam Maldonado, Binghamton, 4; Jason Pridie, Buffalo, 4.
Steals:
Lorenzo Scott, Binghamton, 4; Jordany Valdespin, Binghamton, 4; Cesar Puello, St. Lucie, 2; Ruben Tejada, Buffalo, 2; Pedro Zapata, St. Lucie, 2.
ERA:
Robert Carson, Binghamton, 0.00; Jose De La Torre, Buffalo, 0.00; Jeurys Familia, St. Lucie, 0.00; Matt Harvey, St. Lucie, 0.00; Brad Holt, Binghamton, 0.00; Chase Huchingson, Savannah, 0.00; Jenrry Mejia, Buffalo, 0.00; Greg Peavey, Savannah, 0.00; Mark Cohoon, Binghamton, 1.80; Scott Moviel, St. Lucie, 1.80.
Wins:
Jose De La Torre, Buffalo, 2; Matt Harvey, St. Lucie, 2.
Saves:
Jeffrey Kaplan, St. Lucie, 3; Nick Carr, St. Lucie, 1; Ryota Igarashi, Buffalo, 1; John Lujan, Binghamton, 1.
Strikeouts:
Matt Harvey, St. Lucie, 17; Josh Stinson, Binghamton, 9; Dillon Gee, Buffalo, 8; Greg Peavey, Savannah, 8; Jeurys Familia, St. Lucie, 7.
Short hops
2010 draft picks
Matt Harvey
(first round, University of North Carolina) and
Greg Peavey
(sixth round, Oregon State University) have started off quickly in their first professional seasons with a combined 16 scoreless innings. Harvey, pitching for high-A St. Lucie, limited Palm Beach to five hits and two walks while striking out nine in his professional debut Thursday. He stranded five baserunners in his first two innings. Harvey then continued his dominance with six scoreless innings Tuesday at Fort Myers. He has 17 strikeouts in 11 professional innings. Peavey, pitching for low-A Savannah, touched 93 mph with his fastball while limiting West Virginia to two hits and one walk and striking out eight in five run-free innings. Peavey has a four-pitch arsenal (fastball, curveball, slider, changeup).
Erik Goeddel
, the other heralded right-hander selected in last June's draft (24
th
round), did not have as stellar a 2011 opening. The UCLA product, who was enticed to sign for $350,000 despite his later-round selection, allowed four runs in four innings for Savannah on Monday. Notable, however, was that Goeddel started the game. He was a reliever in college, and had not started since high school in 2007, before Tommy John surgery. Normally, using a prospect with a track record of relieving as a starter means the organization wants to ensure the pitcher gets innings to develop. But farm director
Adam Wogan
said Goeddel is going to get consideration to be a starter for his career because of a power fastball and developing changeup. …
Reese Havens
, the 22
nd
overall pick in 2008, who is the best internal candidate to ultimately emerge as second baseman, continues to work back from injury in Port St. Lucie. Havens had offseason surgery to remove an inch of a rib that was causing irritation. He missed much of last season with oblique issues. He is currently taking grounders, running and throwing at the organization's Florida complex, but the Mets are being cautious and having him refrain from swinging a bat. …
Jenrry Mejia
tossed six scoreless innings Friday against Triple-A Syracuse in his season debut. Bisons pitching coach
Ricky Bones
had Mejia establish his fastball command and utilize his curveball early in the game, then more so use his changeup later in the outing. Mejia next is scheduled to face Scranton/Wilkes-Barre, the Yankees' top affiliate, on Wednesday. … Right-hander
Boof Bonser
, who left his first start for Triple-A Buffalo with two out in the fourth inning after 59 pitches on Sunday, landed on the Bisons' disabled list with a right forearm strain. Bonser originally labeled the issue tightness and regardless does not expect to have an extended absence. … Buffalo's roster is about to get crowded. Right-handed reliever
Manny Acosta
, who cleared waivers, is expected to be activated Wednesday. Catcher
Dusty Ryan
and infielder
Luis Hernandez
should be activated days later. Acosta had not thrown off a mound during his week going through the designated-for-assignment process, so the Mets delayed activating him while he threw Saturday and Monday bullpen sessions. Hernandez, who was delayed at the start of spring training because he was returning from a broken foot suffered in September, played nine innings in an extended spring training game Monday. He is expected to assume the primary second-base role for the Bisons at
Justin Turner's
expense. Ryan, who appeared in 27 games for the Detroit Tigers between 2008 and '09, was delayed leaving Port St. Lucie because he was hit in the helmet with a pitch during a minor league spring-training game shortly before minor league teams broke camp. …
Lucas Duda
committed an error in right field and went 0-for-4 while batting third on Monday in his first Triple-A game of the season, after a demotion from the Mets. In a four-run fifth inning by Pawtucket,
Josh Reddick
sent a line drive in Duda's direction. Duda attempted an ill-advised slide to try to stop the ball, but it went under his leg and rolled to the wall for what was ruled a double and an error. Duda should see most of his action at the corner outfield spots, with more limited action at first base. His addition, with the presence of fellow prospects
Fernando Martinez
,
Kirk Nieuwenhuis
and
Nick Evans
also on the roster, means solid veterans
Jesus Feliciano
,
Valentino Pascucci
and
Russ Adams
may see drastic reductions in playing time -- or may not be all active. … Shortstop
Ruben Tejada
has reached base in each of his first six games with Buffalo. He was hitting .304 with three RBIs through 23 at-bats. … Right-hander
Tobi Stoner
has started throwing off a mound in Port St. Lucie and may be a few weeks away from pitching in an extended spring training game. Stoner underwent August surgery to remove bone spurs/chips from his pitching elbow, but a shoulder impingement was the issue that slowed him in spring training. Stoner, 26, made one appearance for the Mets last season and was removed from the 40-man roster during the offseason. …
Dillon Gee
, who may get a spot start for the Mets on Sunday in Atlanta, rebounded nicely from an Opening Day defeat. Gee allowed one run on three hits and two walks while striking out four in seven innings Tuesday against Triple-A Pawtucket. On Opening Day, Gee had been charged with seven runs (five earned) in 4 2/3 innings against Syracuse. … Right-hander
Dylan Owen
, moved from Binghamton to Buffalo because of an overworked Triple-A bullpen, allowed seven runs (two earned) in 1 1/3 innings in his first Bisons appearance. … First baseman
Allan Dykstra
-- who opened the Binghamton season 0-for-7 with two errors, including one throwing miscue that resulted in a 1-0 defeat for left-hander
Robert Carson
on Sunday -- landed on the disabled list with a sprained left ankle.
Michael Fisher
was added to the B-Mets' roster. Dykstra, who had not played above A-ball since being selected in the first round in 2008, was acquired from the San Diego Padres late in spring training for right-handed reliever
Eddie Kunz
.
Josh Satin
, who had been manning second base for the B-Mets in Havens' absence, can play first or second, depending whether B-Mets manager
Wally Backman
wants to use
Jose Coronado
at second or Fisher at first base. … German catcher
Kai Gronauer
produced his first Double-A homer on Monday, against Erie. Gronauer (.313) has drawn early positive reviews for handling a rotation that already had significant experience in the Eastern League in 2010. In fact, the first turn through the B-Mets' rotation,
Josh Stinson
, Carson,
Mark Cohoon
, Holt and
Brandon Moore
combined to limit opponents to four earned runs in 24 2/3 innings, for a 1.46 ERA. … After serving a three-game carryover suspension from 2010 for throwing behind a batter, left-hander
Eric Niesen
assumed his new role with Binghamton as a reliever. Niesen, who had made 74 starts over his first four professional seasons, had a solid introduction to the new role Sunday at Akron with a 1-2-3 inning with one strikeout. Niesen has abandoned the wind-up and is now using a quick slide step. … First baseman
Sam Honeck
, an 11
th
-round pick in 2009 from Tulane, is off to quick start with Savannah a year after a gruesome injury ended his season on May 5, 2010 with the Sand Gnats. Honeck had suffered a broken tibia and fibula and underwent surgery as the result of a plate collision at Delmarva. He spent a couple of days hospitalized, had screws inserted and was not cleared to resume playing until right before this year's spring training. Freakishly, Honeck's two brothers had the same compound leg fracture. One brother -- a professional golfer -- sustained those injuries in a car accident in Mexico just two weeks before Honeck's plate collision. … Right fielder
Javier Rodriguez
, a second-round pick in 2008 from Puerto Rico, had two homers in his first four games with Savannah. … Right-hander
Armando Rodriguez
is nursing an oblique strain but has resumed throwing. He could open his season in four or five weeks. Rodriguez, 23, went 8-9 with a 3.08 ERA in 27 starts with Savannah last season. … Right-hander
Jimmy Fuller
will miss the season following shoulder surgery. A 21
st
-round pick in 2008, Fuller went a combined 11-5 with a 2.19 ERA in 24 starts for Savannah and St. Lucie last season.
Adam Rubin's farm report appears Wednesdays during the season
March, 30, 2011
3/30/11
11:46
AM ET
After making the team, Rule 5 picks Brad Emaus and Pedro Beato will drop to more traditional numbers.

Emaus is switching from No. 68 to to No. 4.

Beato hopes to switch from No. 70 to No. 27, in part as a tribute to Juan Marichal. That isn't assured, though. Boof Bonser had that number, and with a decent chance he may be promoted from Triple-A Buffalo at some point this season, the Mets may want to keep the prepared number in reserve.

Beato lightheartedly said he has not provided an alternate number request, though.

"I'm not giving a second option," he said.
March, 18, 2011
3/18/11
8:13
AM ET

Starting Pitcher
New York Mets
2010 Season Stats

| | | | | | |
| --- | --- | --- | --- | --- | --- |
| GM | W | L | BB | K | ERA |
| 5 | 2 | 2 | 15 | 17 | 2.18 |
The Mets continued trimming their major league camp size Friday with eight matter-of-fact moves.
Dillon Gee
, who should headline the Triple-A rotation with Jenrry Mejia and Josh Stinson, was optioned. That makes what was abundantly obvious even more so: The major league starters should be
Mike Pelfrey
,
Jon Niese
,
R.A. Dickey
,
Chris Young
and
Chris Capuano
.
Among the players receiving word:
Taylor Tankersley
, whose son
Huck
was born at 12:20 a.m.
Tim Byrdak
has had the inside track for the left-handed relief specialist all along.
"Getting sent out is not even on my radar," a beaming Tankersley said.
The official list also includes: outfielder
Jason Pridie
, right-hander
Ryota Igarashi
, infielder
Russ Adams
, right-hander
Boof Bonser
and catchers
Dusty Ryan
and
Raul Chavez
.
March, 6, 2011
3/06/11
6:49
AM ET
Carlos Beltran
is poised to DH on Sunday as the Boston Red Sox come to Port St. Lucie. He is scheduled for two or three at-bats. And if his knees feel up to it,
Terry Collins
hopes Beltran will be back at DH on Monday for a couple of more ABs. Collins estimates Beltran will make his Grapefruit League right-field debut in seven to 10 days.
On to Sunday's news stories:
• Post columnist
Joel Sherman
is convinced
Jose Reyes
will
not be a Met in 2012
. The only question is whether Reyes is out at the trading deadline or as a free agent next offseason. Writes Sherman:
Mets GM Sandy Alderson said it is a decision that has yet to be made. But what else can he say? My owners do not have the money to pay Reyes market value. Or I do not prioritize what Reyes does best. Alderson's belief system is pretty clear. He thinks stolen bases are exciting, but not an efficient way to score runs. Yes, he obtained Rickey Henderson twice while serving as the A's GM. But it was the .400-plus on-base percentages of Henderson that seduced Alderson, not the thievery.
Sandy Alderson
, of course, values on-base percentage. And, as Sherman notes, Reyes' top year was .358 in 2008.
Rickey Henderson's
career
on-base percentage was .401.
A couple of potential issues: Alderson may have more autonomy than previous Mets executives, but a white-flag trade at the July 31 deadline would be a further drag on attendance in the second half, unless the Mets got an exciting young player already having broken into the majors back. And given the seemingly dire financial issues, can the Mets afford to do something that further drains attendance, ratings and revenue, even if it is prudent baseball-wise?
Then again, the new collective bargaining agreement appears as though it may change draft-pick compensation, with teams only getting a created sandwich pick between the first and second rounds -- and no longer getting the signing team's first-round pick. That means the Mets could lose Reyes as a free agent and only get a draft pick in the 31-40 range as compensation.
• Daily News columnist
Mike Lupica
makes the case for Mets owners, writing:
Bernie Madoff says the owners of the Mets had no idea what he was doing, and all over town people say who cares, the guy's a born liar? But if Madoff had said from prison that Fred Wilpon and Saul Katz knew it was a Ponzi scheme the whole time, it would have been treated like gospel.
•
Mike Piazza
was in Port St. Lucie on Saturday as hitting coach for Team Italy, which lost 8-1 to a collection of Mets top prospects. Piazza acknowledged thinking about buying into a baseball team at some point, although he suggested nothing is imminent, despite intimating he had been approached about buying into the Mets. Read more in the
Star-Ledger
,
Newsday
,
the Times
,
Record
and
Daily News
.
• While the bulk of the attention was on Piazza,
Frank Catalanotto
-- who made last year's Opening Day roster with the Mets -- also slipped into the complex as a Team Italy coach. Catalanotto, who hails from Smithtown, L.I., should be doing some broadcasting this year. He recalls with Newsday's
David Lennon
how as a player on the disabled list in 2004 with the Toronto Blue Jays, he
reluctantly did three innings in the radio booth
in Oakland after his manager gave permission. One member of the broadcast team had gotten sick, and the other announcer otherwise would have been solo.
•
Andy McCullough
of the Star-Ledger notes
Jason Isringhausen
faces a
test of his durability
when he is scheduled to pitch back-to-back days, on Monday and Tuesday. "Let's just do it," the three-time Tommy John surgery patient tells McCullough. "Let's do it and get it over with." Isringhausen proposed the increased workload, which was earlier than the Mets staff intended, and restated what he told the St. Louis Post-Dispatch: "If I don't make the team, I'm going home. That's all there is to it. I'm too old and I've been doing it too long to go to the minor leagues and do that kind of stuff." Pitching coach
Dan Warthen
tells McCullough about Izzy, who has 293 career saves: "He's probably a little short on velocity. But the curveball, cutter and changeup are all there."
• McCullough also
does a Q&A
with right-hander
Boof Bonser
. Bonser talks about his recovery from shoulder surgery as well as changing his legal name in 2001 as a top San Francisco Giants prospect from John Paul Bonser to Boof Bonser. He said he does not know the origin of his name -- only that his mother starting using Boof at a young age and it stuck. As for the legal change, he tells McCullough: "I figured why not? Everybody knew me as Boof, anyway. So I figured it was the right thing to do. My mom gave it to me. I just stuck with it and ran with it. Now here it is."
•
Ryota Igarashi
went on trips to Disney and to Jupiter with the Mets and was unused each time. In fact, he has been used only once in a Grapefruit League game. So it seems pretty clear that Igarashi will be opening the season at Triple-A Buffalo, despite being owed $1.75 million this season, in the second year of his Mets deal. (Igarashi had been removed from the 40-man roster and cleared waivers during the offseason because no other team wanted to take on responsibility for his salary.) Despite his
invisibility in camp
, Igarashi tells
David Waldstein
of The New York Times through interpreter
Mike Peters
: "As a competitor, obviously I would like to pitch. But the team is what is most important. If I get impatient and testy, that is not going to help me or the team. Whatever is best for the team, I am here to do." Collins tells Waldstein: "It's tough when you bring guys to games and they don't get in. I know he's not a typical second-year guy. He's a veteran pitcher. But he's going to get his shot."
• Post columnist
Kevin Kernan
catches up with
ex-Met
Chris "The Animal" Carter
at Tampa Bay Rays camp. Carter married
Emily
, a nurse he met while playing in the Cape Cod League, in late November. Of course, after signing, the Rays also added
Manny Ramirez
and
Johnny Damon
, giving him an uphill battle to be in the majors. Carter was in Venezuela when he learned the Mets had nontendered him in December. He did not foresee the move coming, because he was not yet arbitration-eligible like the other players dumped that day --
John Maine
and
Sean Green
. That means the Mets could have paid him a minimal amount at the major league level. Instead, they wanted the 40-man roster spot, and viewed him as one-dimensional, even though he hit .328 as a pinch hitter for the Mets last season. "I don't know what happened. I found out through a player, who looked online," Carter told Kernan. "Once I found out it wasn't going to be the Mets, I said, 'OK.' I just started working hard. I didn't expect it to happen. I loved playing for the Mets. I was surprised by it. It was completely unexpected. I didn't hear any rumors, but I didn't want to dwell on it too long. I had to move forward because I didn't have any plans."
•
Andy Martino
of the Daily News
recaps the Mets tenure
of Beltran, which enters its seventh and seemingly final year.
• The Post's
Dan Martin
looks into the progress
of
Josh Thole
behind the plate. Drafted out of high school as a catcher, Thole was primarily a first baseman in the minors his first two full professional seasons, until moving back to his original position in May 2008 at Class A St. Lucie. "When he first came up, I thought he was just OK behind the plate,"
Mike Pelfrey
tells Martin about Thole. "But when he came back last year, he wasn't the same guy."
•
Steve Popper
in the Bergen Record says
Oliver Perez's
time should be up
with the Mets. (It will be before April 1.) The problem with Perez being wild at 85 mph instead of 95 mph is that the batters have far more time to discern what pitch is coming, and whether it's a strike.
• In spite of missing more than two months of the season,
Jason Bay
feels fortunate
he's not experiencing the severity of the concussion symptoms plaguing Minnesota's
Justin Morneau
. "It's hard to imagine what Justin is going through right now. I'm sure he's wondering why he's still not ready," Bay says to the Record's
Bob Klapisch
. "That's the crazy thing about concussions; everyone is affected differently, everyone recovers on a different timetable. Obviously I'm glad to be here."
BIRTHDAYS:
No one who has appeared in a game for the Mets was born on March 6.
March, 3, 2011
3/03/11
5:41
PM ET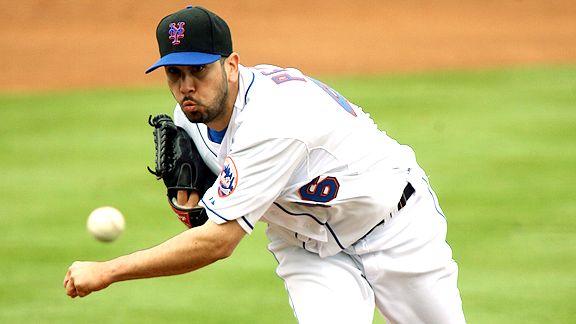 Marc Serota/Getty Images
Oliver Perez tossed two scoreless innings against the Cardinals, but his velocity averaged only 83-84 mph, not enough to regularly retire major league batters in-season.
The Mets snapped a three-game skid on Thursday with a 3-0 win against a Cardinals split squad that included
Matt Holliday
and plenty of reserves.
Oliver Perez
,
Francisco Rodriguez
,
Chris Capuano
,
Jason Isringhausen
,
Jenrry Mejia
,
Boof Bonser
and
Taylor Buchholz
combined on the shutout.
"The results speak for themselves,"
Terry Collins
said. "Our guys in the hunt for spots have really pitched well. … We haven't hit like I think we can yet, but we've certainly pitched very well."
Game details:
• Perez tossed two scoreless innings, allowing two hits and no walks, but his velocity averaged an insufficient 83-84 mph. Still, Collins deemed it a step up from Sunday's outing against the Braves, when Perez walked three straight to force in a run and surrendered four runs in two innings.
"I think what he did today was what we were hoping he would do, and that's he went after hitters and threw the ball in the strike zone," Collins said.
Collins said Perez was in no danger of being released with a poor outing Thursday, but the southpaw likely would have been reassigned to the bullpen competition if he bombed. Perez next should start a split-squad game either on Tuesday or next Thursday.
"If he would have had a tough day, I probably would have thought about the situation which we talked about when we came in here, and that is that situational lefty, because he does get left-handed hitters out," Collins said, alluding to Perez having retired all three left-handed batters he has faced in the Grapefruit League. "But he did what we asked him to do today and we're going to run him out there again [as a starter]."
Collins said the rotation competition -- in which
Chris Young
and Capuano appear in solid shape to emerge as the victors -- should be narrowed by late next week.
The manager had decided during Wednesday's game in Jupiter to make a late adjustment to his pitching order to allow Perez to start Thursday instead of Capuano. Collins reasoned that since Perez is accustomed to starting, he would have the best chance of succeeding if he pitched the first inning and could warm up like he's familiar. Perez did not know he would start until he arrived at the clubhouse Thursday morning.
"Major league pitchers are creatures of habit," Collins said. "And when you're a starting pitcher and you have a routine that you get ready for, perhaps it would have been easier for him to start the game. So that's why I asked
Danny
[
Warthen
] to switch it around and let him start this game, because obviously it was an important start for him."
Regardless, it's hard to foresee Perez not next getting reassigned to that lefty specialist competition, where Collins previously has declared
Tim Byrdak
on firm footing.
Frankly, it's doubtful Perez, operating at 85 mph with his fastball, really can hold down such a role either, meaning he's ultimately likely to get released.
"Is it going to be hard for him? Probably," Collins said about a lefty specialist role with mid-80s velocity. "He's going to have to move the ball around the strike zone. When he gets 3-2, sometimes he might have to pitch a little 'backwards.'"
That means, for example, throwing breaking balls or changeups in obvious fastball counts.
Perez originally came to the Mets from Pittsburgh with sagging velocity, and the Mets revised his mechanics, which allowed him to ramp up his fastball speed. Are there any mechanical adjustments now that could add to Perez's velocity, or is it simply whatever his arm strength allows will account for any increase?
"I don't really have an answer for that," Warthen said.
• Warthen confirmed K-Rod will get more action this spring training than the closer has preferred to get in the past. That's because Rodriguez has been relatively idle since August.
"He generally goes nine to 11 innings in a spring training," Warthen said. "We want to see that he gets somewhere in the 14, 15, even 16 innings."
• Bonser and Capuano required only 10 pitches combined for two scoreless innings.
"He's just been pounding the bottom of the zone, with good movement on his two-seamer," Warthen said about Bonser, who was the more efficient of the two, requiring only four pitches for a 1-2-3 frame.
Capuano elevated a pitch to the first batter he faced,
Allen Craig
, who smoked a shot over
Lucas Duda
in left field. But the ball was hit so hard, it bounced off the wall back to Duda, who threw out Craig trying to stretch the hit into a double.
"He keeps the ball down, sinks, changes speeds -- all the stuff that I've heard he does," Collins said about Capuano. "That's the kind of pitcher he is. Today he was right down in the zone all the time. He's going to get some groundballs."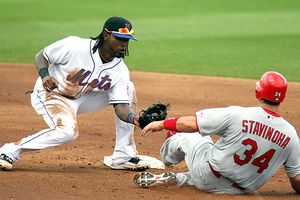 Marc Serota/Getty Images
Jose Reyes applies a tag to catch Nick Stavinoha of the Cardinals attempting to steal second base.

•
Jose Reyes
was at it again in the first inning Thursday. For the second straight start, Reyes reached base in the first inning and scored on a sacrifice fly by
David Wright
. The duo had done the same thing two days earlier against the Nationals in Viera.
This time, Reyes' speed forced a rushed, high throw by Cards third baseman
Matt Carpenter
, who was charged with an error. On an ensuing pitchout, catcher
Gerald Laird
could not hold onto
Jaime Garcia's
pitch, and Reyes advanced to second base when the ball squirted away. He moved to third base on
Willie Harris'
groundout to second, setting up the sacrifice fly by Wright.
"The other day David was mad in Viera because his fly ball wasn't very deep, and this guy still chews up the ground and gets an RBI for you," Collins said about Reyes. "Man, he's going to score a lot of runs. He's fun to watch. There's no question."
Said Wright: "Obviously you can't do that unless Jose gets on base. I think both times, actually, it was Willie Harris getting him over for me. That's the kind of baseball we have to play, especially at Citi Field. So far, so good."
• Isringhausen pitched a scoreless inning despite five of 13 pitches being strikes. He issued a walk and got three flyouts.
Before the outing, the former Cardinals closer Isringhausen told
Derrick Goold
of the St. Louis Post-Dispatch he would not go to the minors if he didn't make the Mets.
"I won't go. I'll go home," Isringhausen told Goold. "If I don't make it, then there's a reason I didn't make it and that will be good enough reason for me to go home."
Read Goold's full feature with Izzy
here
.
• Collins said he wants to have the second-base competition narrowed once the Mets return from a team off-day March 14.
Daniel Murphy
started at the position Thursday and went 1-for-3 with an RBI.
Brad Emaus
replaced him and walked in his lone plate appearance.
"Murph's as frustrated as anybody," Collins said. "He came to me today and said, 'Every time I play second base, I haven't got a double play yet. Everybody else gets a chance to turn a double play. I haven't.' I said, 'Well, you will.' Because everybody knows that's going to be the test for Dan. I'll tell you one thing: he's moving very good, for me. I watched him today. A lot of times today I just watched his footwork. When the ball's hit, I kept my eye on him a little bit to see how he reacted. He's moving good. His leg's not a question."
Justin Turner
, who has minor league options remaining and therefore is at a decided disadvantage, is scheduled to start at second base on Friday in Jupiter against the Marlins.
Luis Castillo
is expected to DH.
"It's one of my biggest decisions every day -- how to get those guys in there," Collins said. "… After that day off, we've got to have this narrowed down. We don't have time to keep running a guy out there every three days, or getting him one at-bat, because we split the game up."
• Friday's scheduled pitchers include
Chris Young
,
Pat Misch
,
D.J. Carrasco
,
Manny Acosta
and
Manny Alvarez
.
Acosta's velocity sat at 88 mph in his last appearance, leading one scout to wonder aloud if the reliever is hurt. However, Warthen said Acosta told him that he did not do much throwing in his native Panama during the offseason, and that partially accounts for the lower-than-expected velocity. Another factor: Acosta is working on his control. Warthen predicted the velocity would creep up Friday.
Acosta is out of options, so he must be exposed to waivers if he does not make the major league team.
• Scouts assigned to the Mets are not predicting much from the ballclub this season. Four of four surveyed picked the Nationals to finish ahead of the Mets.
December, 15, 2010
12/15/10
3:12
PM ET
Here is a look at the specific terms of the contracts for the three main imports so far signed by the Mets this offseason:

Right-hander D.J. Carrasco
Service time: 4 years, 141 days
2011: $1.2 million
2012: $1.2 million
Bonuses: $50,000 for 65 relief appearances; $50,000 for 75 relief appearances; $50,000 for 15 games started.

Catcher Ronny Paulino
Service time: 4 years, 112 days
2011: $1.35 million
Bonuses: $60,000 for 85 games started at catcher; $60,000 for 95 games started at catcher; $60,000 for 105 games started at catcher; $60,000 for 115 games started at catcher; $60,000 for 125 games started at catcher.

Right-hander Boof Bonser
Service time: 4 years, 81 days
Minor league contract for $15,000 per month
Major league value: $700,000
Invitation to spring training.
December, 8, 2010
12/08/10
4:57
PM ET

Relief Pitcher
Oakland Athletics
2010 Season Stats

| | | | | | |
| --- | --- | --- | --- | --- | --- |
| GM | W | L | BB | K | ERA |
| 15 | 1 | 0 | 8 | 17 | 6.12 |
Right-hander
Boof Bonser
has signed a minor league deal with the Mets and will receive an invite to spring training.
Bonser, 29, went 1-0 with a 6.12 ERA in 15 relief appearances with Boston and Oakland last season. He had a 5.59 ERA in Triple-A while making 14 appearances (13 starts).