New York Mets:

Brad Andress
November, 12, 2012
11/12/12
1:02
PM ET
The Mets have hired Jim Malone as strength and conditioning coordinator. Malone, 45, spent the past seven seasons in that role with San Diego. He was the Mets' strength and conditioning coach in 2002, under Bobby Valentine.

He also has served as a minor league coordinator with the Royals and Indians.

Malone succeeds Brad Andress, who was not retained.
October, 16, 2012
10/16/12
6:34
PM ET
Mets strength and conditioning coach Brad Andress will not return in 2013, a major league source told ESPNNewYork.com.

Andress had spent two seasons on the staff. He previously served in comparable roles with the Rockies and Tigers.
March, 13, 2012
3/13/12
4:49
PM ET
After
Terry Collins
lost two more players on Tuesday morning --
Ruben Tejada
to a groin strain and
Ronny Cedeno
to knee tendinitis -- the manager blurted in the clubhouse while scratching Tejada from the lineup: "Shocker. It's not serious. It doesn't have to be here. You need an aspirin, you're off for a day."
Four hours later, a more-analytical Collins had a lengthy discussion with media about the bevy of Mets injuries. Collins acknowledged even meeting with strength and conditioning coordinator
Brad Andress
, who is in his second season with the club, to see if there were any ideas he had. Andress has been in a comparable role with other major league teams for 20 years.
Here's what Collins had to say during his postgame news conference: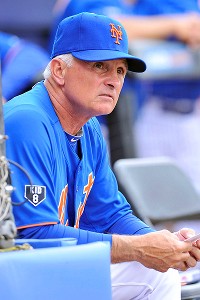 Brad Barr/US Presswire
Terry Collins has grown frustrated with the bevy of Mets injuries.

"Injuries are part of our game. The issue becomes: You're trying to get your team read, and it's pretty to get them out there when nagging little injuries are occurring. I just addressed it the other day to the entire unit about making sure when they get out there, they keep themselves good and warm and get themselves good and loose. You lose two guys in one morning workout. Again, nothing serious. And I know we have three weeks left. Three weeks from tomorrow we leave.
"So, yes, we have a lot of time left. I'm well aware of that. But it's about the whole process of executing the fundamentals that we came down here to work on. We have a baserunning drill coming up, because baserunning is a big factor. Guess who's going to not be in it? Not just one or two, but four won't be in that drill. That's the frustration part.
"Hey, look, I know they're going to be fine. I know they're going to come back, because we're going to rest them and we're going to get them ready. But there's a reason why we're down here this long. ... It throws off the whole scheme of what you have set up for spring training. We take a lot of pride -- I take a lot of pride -- in the scheduling side. I don't know how many other teams take infield; we take infield because I think it's an important phase of the game to throw to the bases. So we've got some baserunning things we do. We've got some stuff that you have to physically speed up as the game does. And now we've got to back guys off. So it throws off the entire schedule of spring training for us."
February, 7, 2011
2/07/11
6:53
PM ET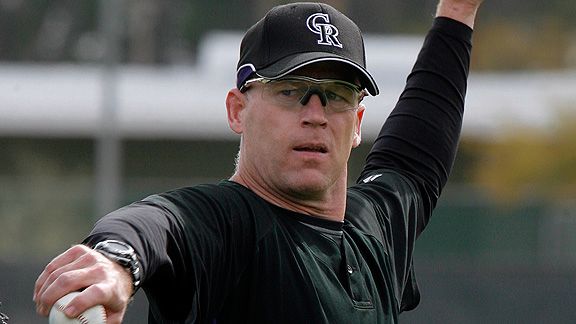 AP Photo/John Miller
Brad Andress throws batting practice for the Colorado Rockies during spring training in 2008.
Brad Andress
has been hired as Mets strength and conditioning coordinator, succeeding
Rick Slate
, who was not retained by the new front office. Here's Andress' bio, from the Mets release:
Andress, 48, served nine years, from 2000-08, with the Colorado Rockies as the strength coach and quality control administrator. In that role he monitored the players' year-round strength and conditioning programs and assisted Manager Clint Hurdle in all areas, including travel, scheduling and administrative duties.
Prior to joining the Rockies, Andress was the Detroit Tigers' strength and conditioning coordinator from 1990-99. The Elyria, Ohio, native worked under Bo Schembechler at the University of Michigan for four years as the strength and conditioning coach, including assisting the Wolverines 1989 NCAA Men's Basketball National Champions.
Andress, who graduated from Penn State with a B.A. in exercise physiology and received a Master's in exercise physiology from Michigan, spent the last two years in private business as a strength and conditioning consultant.
An offensive guard, Andress played four years under Joe Paterno at Penn State and was a member of the 1982 national championship team, which beat Georgia in the Sugar Bowl.
NBA
NHL
COLLEGE BASKETBALL
MLB
MLS