September, 1, 2014
9/01/14
1:18
AM ET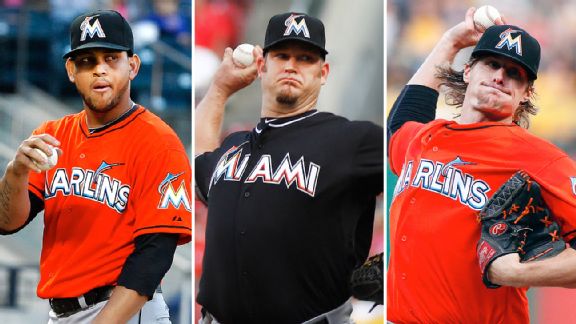 USA TODAY SportsThe Mets face Henderson Alvarez, Brad Penny and Tom Koehler in Miami.
METS (64-73, fourth place/NL East) vs. MIAMI MARLINS (66-69, third place/NL East)
Monday:
RHP
Zack Wheeler
(9-9, 3.44) vs. RHP
Henderson Alvarez
(10-6, 2.75), 1:10 p.m. ET
Tuesday:
LHP
Jonathon Niese
(7-10, 3.48) vs. RHP
Brad Penny
(1-0, 5.40), 7:10 p.m. ET
Wednesday:
RHP
Jacob deGrom
(7-6, 2.94) vs. RHP
Tom Koehler
(9-9, 3.79), 7:10 p.m. ET
Marlins short hops
•
Giancarlo Stanton
leads the National League with 33 homers and a career-high 98 RBIs.
Dan Uggla
was the last Marlin to drive in 100 runs, back in 2010 (105).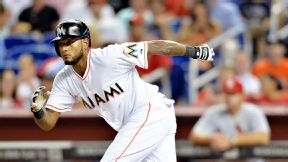 Steve Mitchell/USA TODAY SportsJordany Valdespin is back in the majors with Miami.
Stanton appears dissatisfied with the Marlins' commitment to winning, despite the team seemingly on an ascent. "Five months doesn't change five years," Stanton recently told Yahoo! "We've definitely done better than anyone thought we would do. At the same time, we're still not where we need to be to keep playing beyond the designed schedule. ... I want to be the only game on TV at the end of the day."
• After spending the first portion of the season at Triple-A, ex-Met
Jordany Valdespin
made his Marlins debut on July 19. He started 16 games in a three-week stretch, primarily at second base, but since has receded to a backup role, with
Donovan Solano
handling the position. Valdespin, 26, is hitting .228 with three homers and seven RBIs in 79 at-bats.
•
Brad Penny
went 48-42 with a 4.04 ERA with the Marlins from 2000 through '04, when he was the batterymate of current manager
Mike Redmond
. He had been out of the majors since 2012 until he was promoted on Aug. 9. Penny made starts that day and Aug. 14, but since has worked out of the bullpen. He will take Tuesday's start after a couple of turns for
Brad Hand
.
• The Marlins traded reliever
Chaz Roe
to the Yankees for cash on Sunday. Roe exclusively had pitched at Triple-A this season.
•
Garrett Jones
' 13 errors lead all MLB first basemen.
• Sunday's 1-0 loss to the Braves snapped a string of 60 straight games not being shut out, which had been the longest active streak in the majors. The Marlins last had been shut out on June 21, by
Jacob deGrom
and the Mets.
July, 11, 2014
7/11/14
7:30
AM ET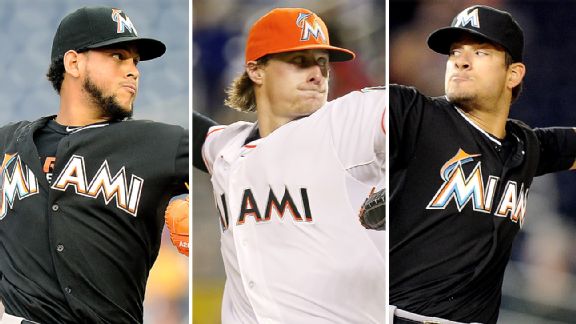 Getty ImagesBefore heading into the All-Star break, the Mets are due to face the Marlins' Henderson Alvarez, Tom Koehler and Brad Hand.
METS (42-50, fourth place/NL East) vs. MIAMI MARLINS (44-47, third place/NL East)
Friday:
RHP
Zack Wheeler
(4-8, 4.07) vs. RHP
Henderson Alvarez
(6-3, 2.27), 7:10 p.m. ET
Saturday:
RHP
Daisuke Matsuzaka
(3-3, 3.32) vs. RHP
Tom Koehler
(6-7, 3.98), 4:10 p.m. ET
Sunday:
RHP
Jacob deGrom
(2-5, 3.38) vs. LHP
Brad Hand
(0-1, 5.09), 1:10 p.m. ET
Marlins short hops
• Outfielder
Marcell Ozuna
has hit safely in 15 straight games, during which he has produced a .368 average (21-for-57) with three homers and eight RBIs. The hitting streak is one shy of matching his career high, produced last season. Ozuna's two-run homer against
Addison Reed
in the ninth inning on Tuesday gave Miami a 2-1 win at Arizona.
Of course, Ozuna had two outfield assists in the final two innings on June 20, during the last series against the Mets, in order to preserve a Miami win. He became the third player in Marlins history with two outfield assists at the plate in the same game, joining Joe Orsulak and
Emilio Bonifacio
. Like Orsulak, both of Ozuna's throws did not require a relay.
The 23-year-old Ozuna has 15 homers and 51 RBIs in 326 at-bats this season.
• Closer
Steve Cishek
blew only his third save in 23 chances Wednesday at Arizona. The Diamondbacks scored three runs in the bottom of the 10th, capped by
Paul Goldschmidt
's two-run double, in a 4-3 walk-off win. It marked the first time in Cishek's career that he failed to record at least one out in a save situation.
Associated Press, Getty ImagesChristian Yelich, Marcell Ozuna and Giancarlo Stanton form a standout young triumvirate for the Marlins in the outfield.
•
Giancarlo Stanton
went hitless in 11 at-bats in the D-backs series and is 3-for-24 on the Marlins' current road trip. Stanton is the lone Marlins All-Star selection, despite strong candidacies from right-hander
Henderson Alvarez
and third baseman
Casey McGehee
. Stanton finished fourth in fan balloting in the outfield at 3,753,961 votes. He missed a chance to start by finishing 305,785 votes behind No. 3
Yasiel Puig
.
Despite his recent slump, Stanton still leads the National League with 21 homers and 63 RBIs. His 4.9 WAR is second in the NL, trailing only Colorado's
Troy Tulowitzki
(5.7).
• Alvarez produced three hits Sunday against the
St. Louis Cardinals
. He is a career .269 hitter, with one homer and seven RBIs in 67 at-bats. On the mound, Alvarez is 4-0 with a 1.04 ERA since May 22. He has allowed only one home run during that nine-start span -- a solo shot by
Kolten Wong
on Sunday.
The Marlins have won Alvarez's last 10 starts, a franchise record. The previous record? The Marlins won nine straight starts by
Chris Hammond
back in 1993, their inaugural season, when they finished 64-98 overall.
Alvarez's 2.27 ERA ranks fourth in the league, trailing only St. Louis'
Adam Wainwright
(1.79), Cincinnati's
Johnny Cueto
(2.03) and L.A.'s
Josh Beckett
(2.26).
• McGehee's 112 hits are tied for the NL lead with the Mets'
Daniel Murphy
and Giants'
Hunter Pence
. The lone player in Marlins history to lead the league in hits at the All-Star break was
Luis Castillo
in 2002. McGehee and Stanton are the first Marlins teammates with 100 hits apiece before the All-Star break since
Hanley Ramirez
and
Jorge Cantu
in 2008.
After spending last year in Japan, the 31-year-old McGehee is hitting .320 with one homer and 53 RBIs in 350 at-bats this season. His 52 RBIs as a third baseman already are the most by a Marlin at that position since Cantu finished '08 with 70.
• Left-hander
Brad Hand
has made two starts since getting activated from the disabled list and entering the rotation July 3. He is winless in his past 14 appearances as a starter, the third-longest active streak in the majors, despite allowing only one unearned run in 6 1/3 innings on Tuesday at Arizona. His last win as a starter came July 7, 2011 against the
Houston Astros
.
Hand, who mostly has been ineffective while serving in long relief this season, had landed on the DL with a right ankle sprain.
• Two days after Hand returned from the DL, rookie
Andrew Heaney
was demoted to Triple-A New Orleans. Heaney had limited the Mets to one run in six innings in his major league debut on June 19, but had allowed 14 earned runs in 14 2/3 innings over his next three starts.
• Shortstop
Adeiny Hechavarria
(right triceps strain) returned from the disabled list on Sunday.
• Left fielder
Christian Yelich
is batting .356 (16-for-45) with one homer and five RBIs in 10 games since returning from the disabled list, where he had landed with a lower-back strain.
• After getting reinjured during the last Mets series,
Rafael Furcal
landed on the DL on June 22 with a left hamstring strain.
Derek Dietrich
initially took over at second base, but he landed on the DL on July 4 with a right wrist strain.
Donovan Solano
and
Ed Lucas
since have started at the position.
April, 25, 2014
4/25/14
9:15
AM ET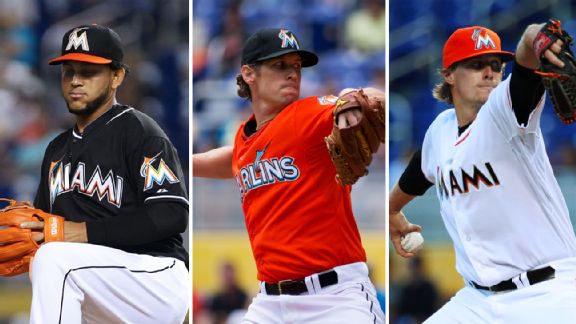 Getty ImagesThe Mets face Henderson Alvarez, Kevin Slowey and Tom Koehler this weekend at Citi Field.
METS (12-10, second place/NL East) vs. MIAMI MARLINS (10-12, fifth place/NL East)
Friday:
RHP
Zack Wheeler
(1-2, 4.63) vs. RHP
Henderson Alvarez
(1-2, 2.66), 7:10 p.m. ET
Saturday:
RHP
Jenrry Mejia
(3-0, 1.99) vs. RHP
Kevin Slowey
(0-0, 4.15), 7:10 p.m. ET
Sunday:
LHP
Dillon Gee
(1-1, 3.58) vs. RHP
Tom Koehler
(2-1, 2.13), 1:10 p.m. ET
Marlins short hops
•
Giancarlo Stanton
leads the National League with 27 RBIs. Among his six long balls, he has the longest homer in the majors this season: 484 feet, on April 4 against San Diego's
Eric Stults
(watch video
here
). Last Friday against Seattle's
Yoervis Medina
, Stanton belted his second career walk-off grand slam. The other came May 13, 2012 against the Mets'
Manny Acosta
.
Jeff Roberson/Associated PressChristian Yelich arrives at Citi Field with a 17-game hitting streak.
•
Christian Yelich
enters the series with a career-high 17-game hitting streak -- the longest active streak in the majors. Yelich, 22, also is 14-for-14 in steals attempts to begin his big-league career. That is a Marlins record, displacing
Edgar Renteria
, who began his career with 13 straight successful steals in 1996.
• The Marlins used free agency to bring in nearly an entirely new infield during the offseason: catcher
Jarrod Saltalamacchia
, first baseman
Garrett Jones
, shortstop
Rafael Furcal
and third baseman
Casey McGehee
.
Furcal (hamstring) has opened the season on the disabled list, although he has started a rehab assignment. He signed a one-year, $3.5 million contract on Dec. 5 after missing all of last season. Furcal underwent Tommy John surgery on March 15, 2013.
Adeiny Hechavarria
has started all 22 games at shortstop in Furcal's absence.
McGehee, who signed for one year, $1.1 million on Dec. 18, spent last season with Rakuten in Japan. He tied for second in that country's Pacific League in homers with 28. With that pennant-winning Japanese club, McGehee played alongside ex-Met
Kazuo Matsui
as well as current Yankee
Masahiro Tanaka
, who went 24-0 with a 1.27 ERA.
The Marlins signed Saltalamacchia away from the champion
Boston Red Sox
with a three-year, $21 million contract on Dec. 4.
Jones signed for two years, $7.75 million on Dec. 9 after spending the previous five seasons with the
Pittsburgh Pirates
.
• Closer
Steve Cishek
has converted a franchise-record 33 consecutive save attempts dating to June 8, 2013. It is the longest active streak in the majors. The previous Marlins record belonged to
Todd Jones
, who converted 27 straight saves in 2005. Last year's 94.4 save percentage tied Toronto's
Casey Janssen
for best in the majors.
• After opening the season working in long relief,
Kevin Slowey
replaced ineffective
Brad Hand
in the rotation last turn. Slowey had gone 1-6 with a 4.11 ERA in 14 first-half starts for Miami last season before being dispatched to the bullpen. He then suffered a season-ending forearm strain.
Hand had an 11.37 ERA while tossing a combined 6 1/3 innings in two starts against the
Washington Nationals
before getting bounced from the rotation last week.
• Stony Brook University product
Tom Koehler
has limited opponents to two runs or fewer and completed at least six innings in each of his four starts.
• Center fielder
Marcell Ozuna
's 2013 season ended July 22 when he suffered a torn thumb ligament on a diving play in the outfield. Ozuna is hitting .309 with three homers and 10 RBIs in 81 at-bats.
• Miami is tied for second in the NL with 98 runs scored.
• The Marlins are 1-8 on the road.
• Reliever
Carlos Marmol
was forced to depart Wednesday's game with a strained right hamstring.
March, 22, 2014
3/22/14
3:45
PM ET
JUPITER, Fla. --
Travis d'Arnaud
snapped an 0-for-21 drought with a two-run homer,
Wilmer Flores
went deep while producing four RBIs and
Bartolo Colon
even comically got into the act with his bat as the Mets beat the
Miami Marlins
, 10-2, Saturday at Roger Dean Stadium.
Colon surrendered a two-run homer in the fourth to
Garrett Jones
but no other damage. His final line: 6.2 IP, 5 H, 2 R, 2 ER, 0 BB, 3 K, 1 HR. He threw 83 pitches (65 strikes).
D'Arnaud's second-inning long ball against left-hander
Brad Hand
snapped his prolonged drought and opened the scoring.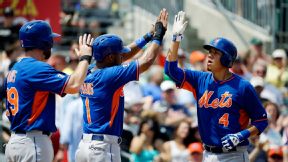 David Goldman/Associated PressWilmer Flores receives congratulations at the plate after belting a three-run homer. He finished with four RBIs.
Flores, who started his fourth spring-training game at shortstop, had a three-run shot against Hand two innings later for a 5-0 lead. Flores later had a run-scoring single to finish with four RBIs.
Ike Davis
added a two-run homer against
Steve Cishek
in the seventh as the Mets' posted their ninth and 10th runs. Davis, who missed more than two weeks of Grapefruit League games with ailing calves, is now 5-for-15 with two homers, four extra-base hits and two walks.
Hand had tossed five sharp innings in his last outing, in what became a combined no-hitter against the Yankees in Panama. Stony Brook University product
Tom Koehler
is expected to claim the fifth spot in Miami's rotation over Hand, who would head to the bullpen if he is not traded because he is out of options.
Colon officially batted for the first time as a Met, which generated plenty of fan interest. The portly pitcher struck out looking in his first at-bat, then sent a tapper back to the pitcher his next turn. Colon's contact with that pitch sent the Roger Dean Stadium crowd into a frenzy of mock cheers.
That was nothing compared to the reaction to Colon's next at-bat.
Colon produced a sixth-inning RBI single to left field on Henry Rodriguez's 93 mph fastball to give the Mets a 7-2 lead. Fortunately for Colon he did not have to exert himself.
Eric Young Jr.
followed with a ground-rule double, so Colon had no pressure reaching third base.
In his final at-bat, Colon hit a trickler down the third-base line that would have been an infield hit for nearly any runner. But Colon jogged to first base, almost determined not to get there, and narrowly was thrown out.
Colon, who reportedly worked so much on hitting in January with his impending move back to the NL that he developed blisters, is 1-for-29 at the plate since 2003.
"Really the ball found the bat. I really didn't do anything," Colon said through a team official. "Honestly, I was a little scared. I haven't done that in a while. Thankfully nothing happened."
The Mets stole four bases on the afternoon, with EY Jr. and
Chris Young
(3-for-3, walk) swiping two apiece.
What's next:
The Mets play their final split-squad games of the exhibition season Sunday.
Jenrry Mejia
opposes
Washington Nationals
right-hander
Tanner Roark
at 1:10 p.m. in Port St. Lucie (PIX11/WOR 710 AM).
John Lannan
opposes
Atlanta Braves
right-hander
Freddy Garcia
at 1:05 p.m. at ESPN Wide World of Sports at Disney (no Mets TV/radio).
March, 22, 2014
3/22/14
1:21
PM ET
Travis d'Arnaud
had been hitless in 21 straight at-bats and batting .125 (4-for-32) in Grapefruit League play. So hitting coach Dave Hudgens spent Friday working with the catcher.
After that day regrouping, d'Arnaud snapped that skid with a two-run homer in his first at-bat Saturday, against
Miami Marlins
left-hander
Brad Hand
.
"I'm seeing the ball well," d'Arnaud said. "I'm just over-swinging. Yesterday me and 'Hudgy' just worked on keeping my eye on the ball. If you keep your eye on the ball, you have a higher chance of succeeding than when you don't see the ball hit the bat."
Last year, d'Arnaud also was guilty of over-swinging, although that involved "wrapping" his bat at the start of his swing.
"This year I'm just pulling my head," d'Arnaud said. "That's all it is right now."
JUPITER, Fla. --
March, 10, 2014
3/10/14
4:22
PM ET
PORT ST. LUCIE, Fla. --
Bartolo Colon
surrendered three fourth-inning runs and the Mets whiffed at an early bases-loaded, no-out situation in an 11-1 loss to the
Miami Marlins
on Monday afternoon at Tradition Field.
Colon, making his Mets debut after being slowed by a calf injury early in camp, surrendered a two-run triple to
Ed Lucas
for the big blow after the teams had been scoreless through three innings.
"It was meaningful," Colon said through an interpreter about his four-inning Mets debut. "I was happy I was able to locate my pitches today and was able to pitch well."
Colon had plenty of extra work to do in the second inning. He twice had
Jake Marisnick
picked off first base, but ump Jerry Meals twice called Marisnick safe. (No video replay was in effect for this spring-training game.)
Reed Johnson
, at the plate at the time of those safe calls, then was mistakenly ruled safe by Meals after
David Wright
dove and fielded his grounder and fired to first base.
Colon, a master of adding and subtracting velocity from his fastball, said he pitched against the Marlins as he would during the regular season and was not guarded against the division opponent.
"I don't shy away from throwing what I'm going to throw normally," Colon said. "That's my pitch. I'm a fastball pitcher. That's what I'm going to use. I'm going to use my best pitch."
Asked if it was realistic to expect he could duplicate last year's 2.65 ERA with the
Oakland Athletics
, Colon said: "Whatever happened last year, it already happened. I'm focusing on this coming year."
Shortcoming:
Ruben Tejada
, who had three misplays and was charged with one error Friday, again had difficulty in the field. Tejada lost the baseball exchanging it from his glove to hand on a routine second-inning grounder by Marisnick for his second Grapefruit League error.
A half-inning later, Tejada did snap an 0-for-7 drought to begin exhibition play with a double down the left-field line against
Brad Hand
.
It's no secret the Mets would like to upgrade at shortstop. Probably not coincidentally, the
Seattle Mariners
again had two scouts at Monday's game.
Terry Collins has indicated
Wilmer Flores
will start a game at shortstop early this week, although it would appear unlikely Flores would demonstrate the requisite range to return to a regular role at that position.
Strike force:
The Mets set a franchise record with 1,384 strikeouts last season. They may break that record this season, and even threaten the MLB single-season record (1,535 by the
Houston Astros
, also in 2013).
That strikeout propensity was on display Monday. After loading the bases with none out in the first inning against Hand,
Curtis Granderson
,
Josh Satin
and
Travis d'Arnaud
consecutively struck out -- albeit Satin on a very borderline called third strike. Hand went on to strike out five straight batters before Tejada doubled in the second inning.
Monster shot:
Giancarlo Stanton
produced a monster two-run homer against left-handed prospect Jack Leathersich in the seventh inning, after belting a monster shot earlier in the at-bat that went foul.
Other deep thoughts:
Ryan Reid
surrendered a two-run homer to
Derek Dietrich
in a four-run, six-hit eighth against him.
What's next:
Expected Opening Day starter
Jonathon Niese
makes his 2014 Grapefruit League debut Tuesday against
Adam Wainwright
and the
St. Louis Cardinals
at 1:05 p.m. in Jupiter, Fla. Niese had been dispatched to New York on Feb. 26 for an MRI of his pitching shoulder.
April, 30, 2013
4/30/13
1:29
AM ET
Miami Marlins
, slugger
Giancarlo Stanton
has been placed on the disabled list. Stanton left Monday's game with a right hamstring strain after trying to beat out a ball in the infield in the 10th inning.
The Marlins also placed infielder
Joe Mahoney
(hamstring) on the DL after their 15-inning win.
Left-hander
Brad Hand
and outfielder Marcell Ozuna are due to join Miami on Tuesday.
After homering three times in the previous two games, Stanton was 0-for-5 Monday before departing.
MIAMI -- In a blow to the