New York Mets:

Brett Pill
July, 2, 2014
7/02/14
10:32
AM ET
ATLANTA -- 2012 first-round pick
Gavin Cecchini
had his attention divided on June 1, as Savannah hosted Rome in a South Atlantic League game.
Once
Dustin Pedroia
was ejected from a Red Sox game against the Rays at Fenway Park, Cecchini's 23-year-old brother
Garin
entered at third base in his major league debut.
"We had a game at the same time, and it was a day game," Cecchini said. "I had the clubbie going in and out, checking the stats and seeing if my brother got in. And once we found out he got in, I told him, 'Hey, let me know how he's doing, the play-by-play of what's going on.' Pedroia actually got thrown out of the game, and that's why Garin got to get in. Everything happens for a reason. It was awesome.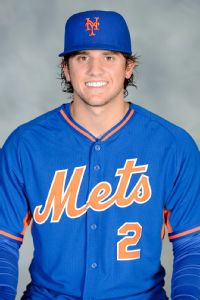 Courtesy of New York MetsGavin Cecchini
"It helps me realize just keep working hard and you'll be there soon. I can't wait to get up there and help the Mets win championships."
The 20-year-old Cecchini -- who was selected out of high school in Lake Charles, La., with the 12th overall pick two years ago -- hit .259 with three homers, 25 RBIs and seven steals in 228 at-bats for Savannah during the first half. He represented the Gnats in the South Atlantic League All-Star Game, then received word he was promoted to St. Lucie as he prepared to meet up with his low-A team for the season's second half.
"After the All-Star Game, me and my mom drove to Greenville," Cecchini said. "We were out to eat and coming back to the hotel and my manager called me and told us. So we literally had to drive five and a half hours back to Savannah, get in my apartment, pack my car up and stuff, and I was up until like 5 a.m. packing. And I wake up at like 6, had to go to the field, pack all that up and then drive five and a half hours over here [to Port St. Lucie]. And I was playing shortstop and hitting leadoff on an hour and a half of sleep."
Cecchini's baseball skills come as much from his mother
Raissa
as his father
Glenn
.
Raissa helped out head coach Glenn at Barbe High School during the brothers' prep playing days. He continues to coach there (and now with a Team USA squad as well), but she has mostly stepped away so that she can have more time to watch her sons' pro careers.
Garin currently is playing for Triple-A Pawtucket. He appeared in just the one game during two call-ups to the Red Sox.
"My mom actually throws the same amount of BP as my dad does in the offseason to both me and my brother," Cecchini said. "They've both been a huge part of my brother's and my success throughout the years. They've taught us everything. They're the reasons we're the players we are today."
Cecchini indicated one emphasis this season has been becoming more disciplined at the plate.
"This year I'm really trying, for the Mets' hitting philosophy, to be selective," Cecchini said. "I know right when I got drafted, and in high school all throughout my career, you could get away with swinging at pitches a little off the plate or on the corners and stuff. But now I'm really just trying to focus on getting my pitch. And if I don't get my pitch and they're not going to throw it to me, I'll just take my walk. That's one thing I'm really trying to work on, and I've been doing a way better job. And I'll keep working hard and keep getting better and better every single day at it."
Organization leaders
Average:
John Mora, GCL Mets, .423; Emmanuel Zabala, GCL Mets, .375; Matt Reynolds, Vegas, .362; Jairo Perez, St. Lucie, .358; T.J. Rivera, Binghamton, .338; Alfredo Reyes, GCL Mets, .324; Dilson Herrera, Binghamton, .312; Jeff McNeil, St. Lucie, .312; Kevin Plawecki, Vegas; .310; Jhoan Urena, Brooklyn, .308.
Homers:
Andrew Brown, Vegas, 14; Brian Burgamy, Binghamton, 13; Dustin Lawley, Binghamton, 13; Allan Dykstra, Vegas, 12.
RBIs:
Allan Dykstra, Vegas, 56; L.J. Mazzilli, St. Lucie, 52; T.J. Rivera, Binghamton, 49; Aderlin Rodriguez, St. Lucie, 48; Matt Clark, Binghamton, 46.
Steals:
Patrick Biondi, Savannah, 17; Jeff McNeil, St. Lucie, 15; Dilson Herrera, Binghamton, 15; L.J. Mazzilli, St. Lucie, 12; Stefan Sabol, Savannah, 11.
ERA:
Marcos Molina, Brooklyn, 0.47; Logan Taylor, GCL Mets, 0.82; Martires Arias, Kingsport, 0.84; Octavio Acosta, Brooklyn, 1.08; Kevin McGowan, St. Lucie, 2.20; Corey Oswalt, Brooklyn, 2.30; Steven Matz, Binghamton, 2.44; John Gant, Savannah, 2.57; Robert Gsellman, Savannah, 2.80; Darin Gorski, Vegas, 2.91.
Wins:
Gabriel Ynoa, Binghamton, 8; John Gant, Savannah, 7; Matt Koch, St. Lucie, 7; Greg Peavey, Vegas, 7.
Saves:
Chasen Bradford, Vegas, 12; Robert Coles, St. Lucie, 12; Randy Fontanez, Binghamton, 10; Vic Black, Vegas, 7.
Strikeouts:
Darin Gorski, Vegas, 87; Dario Alvarez, Savannah, 78; Matt Bowman, Binghamton, 77; Steven Matz, Binghamton, 75; Noah Syndergaard, Vegas, 74.
Short hops
• Right-hander
Gabriel Ynoa
will make his Double-A debut Thursday after receiving a promotion from St. Lucie. Ynoa, 21, had been 6-0 with 50 strikeouts and four walks in 57 1/3 innings since May 5 in the Florida State League.
•
Brandon Brosher
, who got off to a torrid start at the plate with Kingsport while being converted to catcher, suffered a broken right fibula. A 36th-round pick in 2013 out of high school in Florida, Brosher was hitting .387 with four homers and eight RBIs in seven games with the K-Mets.
• Left-hander
Joel Huertas
, the Mets' 16th-round pick out of high school in Puerto Rico, tweeted that he signed. That brings the total to at least 22 of 39 picks signed.
• The Mets have two candidates for batter of the month in the organization in June: Binghamton outfielder/third baseman
Dustin Lawley
hit .280 with seven homers and 18 RBIs for the month, then went deep twice more on July 1. St. Lucie outfielder
Eudy Pina
hit .375 with five homers and 21 RBIs in June, then drove in two more runs Tuesday.
• The B-Mets are 9-0 in the last nine appearances (eight starts) by right-hander
Tyler Pill
, after going 0-5 in his first five starts. Pill has a 2.73 ERA in his last 11 appearances. The brother of former San Francisco Giants infielder
Brett Pill
, Tyler can swing the bat, too. He has a four-game hitting streak. He is hitting .538 (7-for-13) with a double, homer and four RBIs this season. He had a pinch-hit single Saturday. Brett is tearing up the Korean Baseball Organization. He is hitting .320 with 13 homers and 40 RBIs in 178 at-bats with the Kia Tigers.
•
Matt Oberste
has driven in 10 runs over his past three games with Savannah while serving as designated hitting. Oberste, 22, is a seventh-round pick in 2013 out of the University of Oklahoma.
•
Jhoan Urena
has an 11-game hitting streak with Brooklyn. He became the second teenager in Cyclones history to have a double-digit-game hitting streak, joining
Alhaji Turay
(12 straight in 2002).
• Cyclones right-hander
Marcos Molina
has allowed one earned run in his first three starts, spanning 19 innings. He has limited opponents to seven hits and ranks third in the New York-Penn League with 20 strikeouts. Molina struck out the first seven batters he faced in Friday's start against Staten Island.
• Infielder
Robbie Shields
quietly retired earlier this season. He was a third-round pick in 2009 out of Florida Southern College. He had a career .243 average in six minor-league seasons.
• Catcher
Kevin Plawecki
is 1-for-15, albeit with a homer, since getting promoted to Las Vegas.
August, 8, 2012
8/08/12
9:30
AM ET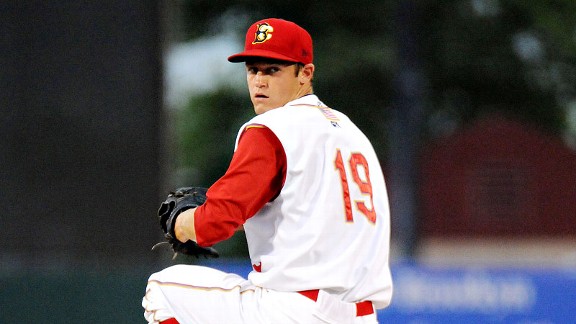 Courtesy of Brooklyn Cyclones
Brooklyn Cyclones right-hander Paul Sewald has tossed 19 2/3 scoreless innings as a professional.
Paul Sewald
and his 18-year-old brother
John
are separated by just enough age that they never played together in a sanctioned game.
"One game, when we didn't have enough guys in a summer-league game, because he was going to the same high school that I was going to, my coach asked if he would come just in case we didn't have enough players," Sewald recalled. "But some other players showed up, so we never actually got to play in the same game."
The brothers now have the distinction, though, of being selected in the same draft.
The Mets drafted Paul, a right-handed pitcher, in the 10
th
round as a senior out of the University of San Diego. John, a prep outfielder, went in the 34
th
round to the Orioles -- although the late selection mostly resulted from teams knowing he was seeking significant dollars to forgo playing for Arizona State.
"It was a great couple of days for us," the 22-year-old Sewald recalled. "My brother would have been drafted higher had it not been for his asking price. It would have been really cool to see my little brother drafted even higher than me. But, either way, it was great to see him drafted. We were trying to see if anyone ever had two brothers drafted in the same draft, because it doesn't really work that way. You have to be specific ages to be draft-eligible."
Brothers being selected in the same draft actually is not uncommon.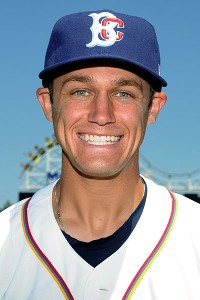 Courtesy of Brooklyn Cyclones
Paul Sewald

MLB officials reviewed data from the past four drafts for ESPNNewYork.com and believe the Sewalds are the only set of brothers selected this past June. During the previous three drafts, however, an average of six pairs of brothers were selected each year, including
Trent
and
Shane Boras
(sons of agent
Scott Boras
) last year and
Bryce
and
Bryan Harper
in 2010.
Sewald's pro experience so far could not have been scripted much better.
He is appearing in 30-second spots this week on MTV between 3:30 and 6 p.m. with Brooklyn teammates
Brandon Nimmo
,
Kevin Plawecki
and
Phillip Evans
, teaching baseball to host
Lenay Dunn
(photo
here
). On the mound, Sewald tossed two no-hit innings Tuesday to earn his third save as the Cyclones won at Lowell, 1-0. He has yet to allow a run in 19 2/3 professional innings. Opposing batters are hitting .171. Sewald has issued two walks and hit a batter while striking out 21.
Sewald throws a four-seam fastball that sits at 87-89 mph as well as a two-seam fastball, slider and changeup. Like the pitchers drafted by the Mets the previous year who logged big innings counts in college were handled, including
Cory Mazzoni
and
Tyler Pill
, Sewald is working in relief in Brooklyn to limit his innings. He should have a chance to earn a starting role in 2013 when he returns fresh. He has only entered at the start of innings, not with inherited runners.
"I don't have 'blow-away' velocity," Sewald said. "I have to hit the corners and stuff. I've been doing a really good job of that so far. That's what's been leading to my success."
Sewald's father
Mark
was drafted as a pitcher out of high school in 1979 in the 16
th
round by the Red Sox, then again after his junior year at Loyola Marymount, but opted for a job in the business world.
"His claim to fame was that he was drafted six picks ahead of
Orel Hershiser
," Sewald said, actually understanding the distance between the picks. (It was 24 picks ahead of Hershiser in '79.)
As for the brothers, they have combined to lead their alma mater, Bishop Gorman High, to seven straight state titles.
"My sophomore year was the first time in 52 years of school history that we won the baseball state title," Sewald said. "And then after that we've won six more in a row. So my brother or I have been on all seven."
Organization leaders
Average:
T.J. Rivera, St. Lucie, .324; Eric Campbell, Binghamton, .308; Cam Maron, Savannah, .304; Josh Satin, Buffalo, .295; Fred Lewis, Buffalo, .293; Alonzo Harris Jr., St. Lucie, .290; Josh Rodriguez, Buffalo, .285; Wilmer Flores, Binghamton, .281; Juan Lagares, Binghamton, .281.
Homers:
Aderlin Rodriguez, St. Lucie, 21; Cory Vaughn, St. Lucie, 18; Travis Taijeron, St. Lucie, 16; Matt den Dekker, Buffalo, 16.
RBI:
Aderlin Rodriguez, St. Lucie, 74; Wilmer Flores, Binghamton, 64; Matt den Dekker, Buffalo, 61; T.J. Rivera, St. Lucie, 60; Dustin Lawley, Savannah, 59.
Steals:
Alonzo Harris Jr., St. Lucie, 31; Juan Lagares, Binghamton, 20; Fred Lewis, Buffalo, 18; Matt den Dekker, Buffalo, 17; Richard Lucas, St. Lucie, 17.
ERA:
Hansel Robles, Brooklyn, 1.74; Tyler Pill, St. Lucie, 2.19; Rafael Montero, St. Lucie, 2.36; Luis Cessa, Brooklyn, 2.43; Gabriel Ynoa, Brooklyn, 2.45; Jacob deGrom, Savannah, 2.51; Rainy Lara, Brooklyn, 2.56; Michael Fulmer, Savannah, 2.58; Luis Mateo, Brooklyn, 2.79; Collin McHugh, Buffalo, 3.09.
Wins:
Rafael Montero, St. Lucie, 11; Zack Wheeler, Buffalo, 10; Gonzalez Germen, Binghamton, 10; Cory Mazzoni, Binghamton, 9; Tyler Pill, St. Lucie, 9.
Saves:
Fernando Cabrera, Buffalo, 19; T.J. Chism, Savannah, 16; Adam Kolarek, Binghamton, 16; Adrian Rosario, Binghamton, 14; Robert Carson, Buffalo, 10.
Strikeouts:
Zack Wheeler, Buffalo, 124; Collin McHugh, Buffalo, 122; Matt Harvey, Buffalo, 112; Rafael Montero, St. Lucie, 110; Tyler Pill, St. Lucie, 105.
Short hops
• The Mets should be well-represented in World Baseball Classic qualifying, which includes France, Israel, South Africa and Spain competing in Jupiter, Fla., from Sept. 19-23 and Canada, the Czech Republic, Germany and Great Britain competing in Regensburg, Germany, Sept. 20-24.
Rosters are not official, and September call-ups to the majors would trump the WBC, but the Israeli entry should include
Josh Satin
and potentially Binghamton right-hander
Jeff Kaplan
, who also is eligible for the Czech Republic squad. Canada has asked for permission to consider
Adam Loewen
. Other farmhands participating may include catcher
Kai Gronauer
(Germany) and left-hander
Hamilton Bennett
(Great Britain). Retired former Mets outfielder
Shawn Green
plans to represent Israel.
•
Lucas Duda
appears to be heating up with Buffalo. After going 3-for-25 in his first six games following a demotion, Duda has a five-game hitting streak during which he is hitting .471 (8-for-17) with two homers. Duda has started the past two games in left field, after manning first base for two games.
• Right-hander
Scott Patterson
allowed two runs on three hits in an inning in his Buffalo debut Monday, although he had not thrown off a mound for more than a week. Patterson, 33, had asked for his release from the Mariners organization. He had received a recruiting call during the offseason from
Terry Collins
, but opted to sign with Seattle over Baltimore and the Mets. Patterson had a 2.89 ERA and four saves in 26 relief appearances at Triple-A Tacoma, but was not being considered for a major league promotion with Seattle.
•
Zack Wheeler's
second Triple-A start is scheduled for Saturday against Scranton/Wilkes-Barre (Yankees) in Buffalo.
•
Kirk Nieuwenhuis
, who turned 25 Tuesday, will not undergo surgery and instead is in Port St. Lucie after suffering a torn plantar fascia in his right foot while running to first base in a Triple-A game.
• All indications are Buffalo will wait until after the season to decide whether to continue as a Mets affiliate or agree to a tie-in with the Blue Jays (or, far less likely, with the Pirates or Brewers).
June, 6, 2012
6/06/12
12:00
PM ET
Organization leaders
Average:
T.J. Rivera, Savannah, .327; Wilmer Flores, St. Lucie, .314; Matt den Dekker, Binghamton, .310; Eric Campbell, Binghamton, .304; Wilfredo Tovar, St. Lucie, .294; Jefry Marte, Binghamton, .293; Matt Tuiasosopo, Buffalo, .284; Travis Taijeron, Savannah, .284; Danny Muno, St. Luice, .283; Omar Quintanilla, Buffalo, .282.
Homers:
Valentino Pascucci, Buffalo, 12; Travis Taijeron, Savannah, 11; Cory Vaughn, St. Lucie, 10; Wilmer Flores, St. Lucie, 10; Aderlin Rodriguez, Savannah, 10.
RBI:
Valentino Pascucci, Buffalo, 40; Aderlin Rodriguez, Savannah, 40; Travis Taijeron, Savannah, 37; Wilmer Flores, St. Lucie, 35; Matt Tuiasosopo, Buffalo, 31.
Steals:
Alonzo Harris Jr., St. Lucie, 12; Luis Nieves, Savannah, 11; Wilfredo Tovar, St. Lucie, 11; Fred Lewis, Buffalo, 10; Cesar Puello, St. Lucie, 10.
ERA:
Zack Wheeler, Binghamton, 1.88; Collin McHugh, Binghamton, 2.17; Angel Cuan, St. Lucie, 2.40; Rafael Montero, Savannah, 2.43; Chris Schwinden, Buffalo, 2.59; Tyler Pill, St. Lucie, 2.68; Chase Huchingson, St. Lucie, 3.02; Cory Mazzoni, St. Lucie, 3.09; Matt Harvey, Buffalo, 3.69; Mark Cohoon, Binghamton, 3.92.
Wins:
Hamilton Bennett, St. Lucie, 5; Matt Harvey, Buffalo, 5; Chase Huchingson, St. Lucie, 5; Collin McHugh, Binghamton, 5, Yohan Almonte, St. Lucie, 5.
Saves:
Adrian Rosario, Binghamton, 12; Fernando Cabrera, Buffalo, 12; T.J. Chism, Savannah, 9; Adam Kolarek, St. Lucie, 8.
Strikeouts:
Matt Harvey, Buffalo, 61; Zack Wheeler, Binghamton, 60; Garrett Olson, Buffalo, 57; Tyler Pill, Savannah, 56; Jack Leathersich, St. Lucie, 54.
Short hops
•
Zack Wheeler
has won five straight starts with Double-A Binghamton. In his past two outings, the ex-Giants farmhand combined to limit New Britain and Reading to two runs and five hits while striking out 15 and walking two in 15 innings. "That's probably the best-pitched game against us this year," Reading manager
Dusty Wathan
told
Mike Drago
in the Reading Eagle
. "Obviously he's got an overpowering fastball, and he can command the ball to both sides of the plate. Tonight he threw the ball where he wanted to, and he did what he was supposed to do against us. You've gotta give him a lot of credit. … He looks like a big leaguer to me. For sure."
• Right-hander
Rob Whalen
, drafted by the Mets in the 12
th
round Tuesday out of high school in Haines City, Fla., actually has serious Mets ties. His entire family hails from Queens and are big Mets fans. Whalen lived in Pennsylvania until moving south for high school to maximize his chance of becoming a professional ballplayer. Whalen won The
Tom Seaver
Most Outstanding Pitcher award as an 8-year-old at a Mets-sponsored camp at Long Neck, N.Y., and recalled playing catch with then-Mets reliever
Scott Strickland
during the event. (View visual proof
here
.)
•
Paul DePodesta
offered high praise for Princeton right-hander
Matt Bowman
, the organization's 13
th
-round pick, who had wowed team officials at a pre-draft Mets workout. "He has a
Tim Lincecum
delivery," DePodesta said. "He's also a position player for Princeton. He's very athletic, a very good strike thrower. At our workout he actually was up to 95 mph, but pitching mainly 93-94 with plus life on his fastball. We like the athletic package and think he has some upside there when he concentrates on pitching full time. … He was a guy ever since he came to our workout that we've targeted. We were just trying to figure out the best time to call his name. He's a guy we were pretty intent on taking somewhere."
• Amateur scouting director
Tommy Tanous
watched Hawaii prep shortstop
Branden Kaupe
(fourth round) hit an inside-the-park homer while scouting one game. Tanous praised Kaupe's speed and said he can play anywhere in the infield, including the left side because of a strong arm.
• The Mets have raided the University of Arkansas for four high-round selections the past two drafts. The Mets' top two picks last year,
Brandon Nimmo
and
Michael Fulmer
, were Arkansas commitments. Tuesday the Mets drafted Razorbacks third baseman
Matt Reynolds
in the second round and grabbed Hogs commitment
Teddy Stankiewicz
, a high school right-hander from Fort Worth, with their other pick in that round. "We're thinking about hiring their recruiting coordinator. We love their players," DePodesta quipped, before adding: "Purely coincidence."
• Reliever
Jack Egbert
officially was designated for assignment Tuesday by the Mets to clear a 40-man roster spot for
Chris Young
, forcing the Rutgers product to be exposed to waivers. Still,
Terry Collins
believes the organization has a valuable piece provided Egbert clears and is able to return to Triple-A Buffalo's bullpen. "Two years ago, this guy, he almost made this team," Collins said about Egbert, who hails from Rutherford, N.J. "Then he hurt his elbow. I'm very impressed with his sinker. His arm strength is continuing to get better [post 2009 Tommy John surgery]. And
Wally
[
Backman
] told me, he said, 'Look, this guy can get groundballs.' I know we didn't use him very much, but there's a good chance he's going to be back."
• Right-hander
Brandon Moore
, who returned from a 50-game suspension resulting from being flagged for a "drug of abuse," has settled into Binghamton's bullpen after working as a starter pre-ban. Likely rusty, Moore has walked five, hit a batter and thrown a wild pitch while being charged with four runs in two appearances spanning 1 1/3 innings. He has a sharp slider and quality sinker when on. There is no room for Moore at this point in the B-Mets' rotation, which already has six members. Fellow right-hander
Scott Moviel
, who also returned from a 50-game suspension, remains in extended spring training. Catcher
Dock Doyle
, the third player to receive that ban late last year, has been released, a team official said. Doyle was a fifth-round pick in 2008 from Coastal Carolina.
April, 22, 2012
4/22/12
7:30
AM ET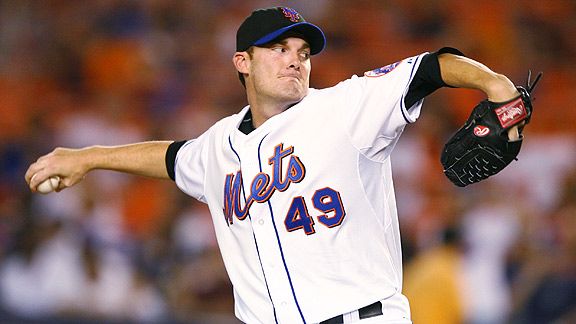 Al Bello/Getty Images
Philip Humber was the third overall pick in the 2004 draft, by the Mets. Here he pitches against the Nationals during the Mets' collapse in September 2007.
Bidding for his first complete game since last July 27, and the first by a Met against San Francisco since
Kenny Rogers
in 1999,
Mike Pelfrey
instead was pulled with his pitch count at 102 after eight innings. Then,
all heck broke loose in the ninth inning
as the Mets ultimately managed to claim a 5-4 victory against the Giants.
Closer
Frank Francisco
surrendered a leadoff single to
Buster Posey
, then a one-out walk to
Nate Schierholtz
and RBI single to
Emmanuel Burriss
that pulled the Giants within 4-2. Francisco then was given a quick hook by
Terry Collins
.
The Mets eventually were about to post the win, when
Jon Rauch
coaxed a fly ball to shallow center field from
Brandon Belt
. However,
Ruben Tejada
backtracked slowly and
Kirk Nieuwenhuis
, who should have taken charge from the get-go, overran the ball. It dropped beyond the center fielder for a game-tying two-run double -- reminiscent of the June 12, 2009 loss at Yankee Stadium in which
Luis Castillo
flubbed a would-be game-ending popup and
Francisco Rodriguez
suffered a hard-luck first blown save as a Met after 16 straight conversions.
Meanwhile, the Mets won it in the bottom half of the ninth after a pair of miscues by the Giants. With runners at first and second and one out,
Justin Turner
appeared poised to hit into an inning-ending double play to shortstop. However,
Aubrey Huff
-- just placed at second base for the first time in his 13-year career -- did not cover second base. The shortstop Burriss ultimately did not throw to first base in time to record even one out. (Huff was playing second base because
Ryan Theriot
had the flu and was unavailable, and the righty-hitting
Brett Pill
had been replaced as a pinch-hitter by the lefty-hitting Belt when Rauch replaced
Tim Byrdak
in the top half of the inning. Huff's first step instinctively was to first base on Turner's grounder.)
Still, San Francisco appeared poised to escape when Nieuwenhuis also seemed to hit into an inning-ending double play. But
Scott Hairston
clipped Posey's right leg on the force out at the plate. Posey's throw to first base to try to complete the double play was wide and sailed into the outfield, allowing Tejada to trot home from second base with the winning run.
Sunday's news reports:
•
David Wright's
streak of reaching base twice in each of his first 10 games of the season via hit, walk or hit by pitch -- the longest streak in the majors since 1999 -- ended Saturday with an 0-for-4 performance. Wright also had hit safely in each of his first 10 games. His average slipped to .439, which ranks second to the Dodgers'
Matt Kemp
(.474) in the major leagues.
• Read game recaps in the
Post
,
Star-Ledger
,
Times
,
Record
,
Daily News
and
Newsday
.
• Francisco, who has now surrendered runs in each of his past four appearances, remains stuck on the three saves he recorded during the season-opening series against Atlanta. Given he got the quick hook Saturday,
will he remain the closer
? After all, Rauch is near-perfect this season, with 8 1/3 scoreless innings, during which he has allowed only one walk and three hits, including what was scored a double on Nieuwenhuis' botched play. "I'm going to talk to Frankie tomorrow," Collins said after Saturday's win in a less-than-definitive response. "I don't like to do too much after the game is over. He's not happy with what happened, but I need him." Rauch had 11 saves last season with the Blue Jays, while Francisco had 17 as his teammate in Toronto. Read more in
Newsday
the
Post
,
Star-Ledger
,
Record
and
Daily News
.
• Posey, who required season-ending ankle surgery after a takeout play at the plate last year courtesy of the Marlins'
Scott Cousins
, found no issue with Hairston's slide. The catcher merely tried to briefly protest to plate umpire
Doug Eddings
that Hairston may have been out of the baseline when he made contact with Posey's right leg. Hairston wasn't, and even Posey admitted he was just arguing for the sake of doing so. "I just … I don't know," Posey told
Andrew Baggarly
at
CSNBayArea.com
. "There was so much going on. You're just trying to plead your case for what it's worth."
On Hairston's motivation, Posey added: "I think it's just going in hard."
Posey insisted to Baggarly that his complaint to Eddings was not because of heightened sensitivity after last year's May 25 play that ended his season. "No, it has to do with this game," Posey said. "We're trying to stay in the game. I would have reacted the same way regardless."
• Pelfrey now has a 2.29 ERA through three starts. He did not question his removal at 102 pitches, but noted pulling a pitcher on a high note -- Collins' stated motivation -- is for young pitchers, of which he may no longer qualify. Read more in the
Post
and
Newsday
.
•
Tim Lincecum
enters Sunday's start against
Dillon Gee
having struggled in his first three starts of the season. Lincecum, who has a 10.54 ERA, has seen a significant decrease in his fastball velocity this season. According to ESPN Stats & Information, Lincecum is averaging 90.2 mph this season, down a full 2 mph from last year's average. His maximum registered velocity so far in 2012 is 93.1 mph, versus 96.6 a season ago.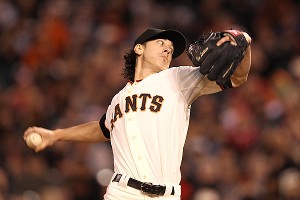 Ezra Shaw/Getty Images
Tim Lincecum has a 10.54 ERA through three starts this season.

In fact, of the six lowest average fastball readings for a start in Lincecum's career, three have occurred since last Sept. 25. The percentage of strikes he gets with his fastball has decreased every season since 2009 too -- from 64 percent that year to 58 percent this season.
According to ESPN researchers, Lincecum's Fielding Independent Pitching -- which neutralizes teammates' effect by considering strikeouts, walks, hit by pitches and home runs -- annually has slipped. He ranked first and then second in the NL in his two Cy Young seasons, 2008 and '09, at 2.59 and 2.34. In 2010, his FIP drifted upward to 3.15 (15th). In 2011, it was 3.17 (18th). So far this season, it's 3.36 (38th).
Lincecum downplayed the 2012 start to
Zach Berman
in the Times
, comparing it to August 2010, when he was 0-5 with a 7.82 ERA and then rebounded in September en route to a Giants championship. "You never try to panic over one game in the scheme of things, or even three games," Lincecum told Berman. "Hopefully, it's comparable to that and it's something I can learn to get out of quicker and not have it turn into what I did that month. It's just part of learning my body."
•
Philip Humber
became the
latest ex-Met to toss a no-hitter
. Actually, Humber tossed the 21st perfect game in major league history Saturday, at Seattle.
Humber originally was drafted by the Mets in the first round (third overall) out of Rice University in 2004. With
Justin Verlander
taken second overall by the Detroit Tigers in that draft, Mets officials desperately wanted to draft
Stephen Drew
, but the highest levels of the organization were worried about the cost, and the Mets instead selected Humber, whom they viewed as a signable and "safe pick." He received $3 million. Drew eventually went 15th overall to the Arizona Diamondbacks and signed for $4 million.
The following spring training, Mets officials were in awe when Humber snapped off a full-count curveball that froze
Miguel Cairo
for a strikeout in an intrasquad game on the eve of the Grapefruit League season.
Gary Carter
, who was slated to manage the Mets' Gulf Coast League team that upcoming season, walked by Humber's locker after the intrasquad game and proclaimed, "Fast track!"
April, 19, 2012
4/19/12
8:18
AM ET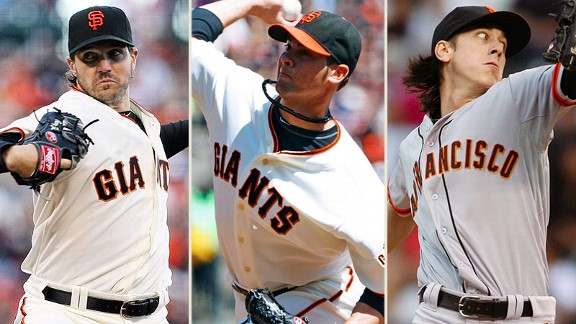 US Presswire
The Mets face (l to r) Barry Zito, Ryan Vogelsong and Tim Lincecum in the opening three games of the series.
METS (7-5, second place/NL East) vs. SAN FRANCISCO GIANTS (6-6, third place/NL West)
Friday:
LHP Jon Niese (2-0, 2.13) vs. LHP Barry Zito (1-0, 1.13), 7:10 p.m. ET
Saturday:
RHP Mike Pelfrey (0-0, 3.09) vs. RHP Ryan Vogelsong (0-1, 2.84), 1:10 p.m. ET
Sunday:
RHP Dillon Gee (1-1, 2.92) vs. RHP Tim Lincecum (0-2, 10.54), 1:10 p.m. ET
Monday:
LHP Johan Santana (0-2, 3.97) vs. LHP Madison Bumgarner (2-1, 3.63), 7:10 p.m. ET
Giants short hops
• After a 3-for-27 start to his Giants career, center fielder
Angel Pagan
had three multi-hit games -- and three triples -- in a four-game span through Tuesday. He looked particularly good facing Phillies ace
Roy Halladay
. Pagan, known for his lapses in the field and on the bases, has been mostly sound in that respect -- albeit with one costly miscue. Playing center field behind
Tim Lincecum
on Monday in the first inning with one out and none on, Pagan did not take charge on a fly ball by Philadelphia's
Placido Polanco
to right-center. He and right fielder
Melky Cabrera
both pulled off and the ball fell for a double that started a four-run rally. Pagan has batted leadoff in all but one of his starts this season. He was traded to San Francisco at the winter meetings in December for
Andres Torres
and
Ramon Ramirez
.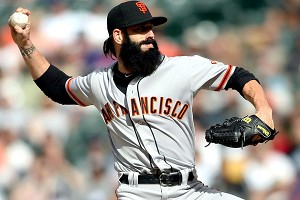 Chris Humphreys/US Presswire
Brian Wilson is expected to undergo Tommy John surgery and miss the remainder of the season.

• Closer
Brian Wilson's
season appears to have ended after an April 12 appearance in Denver because of a right elbow injury that is expected to require Tommy John surgery. Wilson has a second-degree sprain of the UCL, which has not completely torn off the bone. Still, he was expected to opt for the procedure. Wilson has sought opinions from Dr.
Lewis Yocum
in Los Angeles and then Dr.
James Andrews
in Birmingham, Ala., on Wednesday.
Santiago Casilla
handled the first closing opportunity and should get the bulk of the chances in Wilson's absence. Last season, when Wilson did not pitch over the final six weeks except for two appearances, the Giants were 9-for-9 in save conversions. Casilla recorded six. Ramirez, now with the Mets, handled the other three.
•
Barry Zito
tossed a four-hit shutout at Colorado in his first start of the season, then limited the Pittsburgh Pirates to three runs (two earned) in seven innings in his second start. Zito changed radically changed his delivery over winter while working with former major league pitcher
Tom House
. The mechanical changes involve more drive with Zito's legs as well as increased follow through.
Zito and
Matt Cain
, incidentally, attended a Sunday concert by Bay Area-spawned Train and were invited on stage, where they participated in performing "Save Me, San Francisco" and "Don't Stop Believin'."
• The Giants followed the major league trend of locking up young left-handed starting pitching, announcing this week the signing of
Madison Bumgarner
to a five-year extension, though 2017, with options for the following two seasons. Potentially worth as much as $70.5 million, it is the biggest contract ever given to a player with only one-plus years of major league service time. Bumgarner, 22, would not have been eligible for free agency until after the '16 season.
The Texas Rangers similarly locked up left-hander
Derek Holland
and the Mets signed
Jon Niese
-- both for five guaranteed years -- during spring training.
Two starts ago, Bumgarner took a no-hit bid into the sixth inning against the Rockies. The southpaw matched up against
Jamie Moyer
that start -- marking the third-largest age disparity between starting pitchers in MLB history, according to the Elias Sports Bureau.
Bumgarner's deal came two weeks after the signing of Cain by the Giants to an additional five years at $112.5 million on top of the right-hander's existing deal. After the two signings, the Giants made courtesy calls to representatives for Lincecum and catcher
Buster Posey
to say they are interested in extension discussions as well … after the season.
• Cain and Philadelphia's
Cliff Lee
had a scoreless duel into extra innings Wednesday. Lee logged 10 scoreless innings; Cain logged nine. San Francisco won, 1-0, in 11 innings on
Melky Cabrera's
RBI single against
Antonio Bastardo
.
• Posey, whose 2011 season ended with broken left leg suffered in a May 25 plate collision with the Marlins'
Scott Cousins
, now is playing through shingles on his left arm.
• Lincecum is not eligible for free agency until after the 2013 season. The team wanted a longer deal with him, but he only agreed to a two-year, $40.5 million contract. Lincecum has allowed more first-inning runs this season (nine) than he did during all of his 2011 starts (eight). He has allowed at least five earned runs in each of his three starts this season. Since his first start, Lincecum has reincorporated a slider that he had hoped to shelve because it taxes his arm. Lincecum's fastball velocity averaged only 90 mph in his third start, Monday opposite Halladay. His second outing, when he lasted only 2 1/3 innings at Colorado, was the shortest start of his career.
August, 10, 2011
8/10/11
11:12
AM ET
Right-hander
Tyler Pill
had a pair of guests in the Brooklyn Cyclones clubhouse last Thursday, on the night
Dillon Gee
was being honored and Gee's No. 20 joined the minor league team's ring of honor alongside the numbers worn by
Angel Pagan
,
Brian Bannister
and
Danny Garcia
.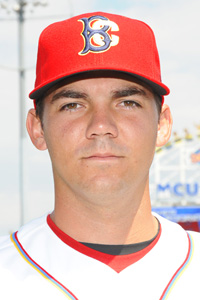 Courtesy of Brooklyn Cyclones
Tyler Pill

Justin Turner
visited Pill in the Cyclones clubhouse, and introduced Pill to Gee. Pill also had met with Turner as well as
Terry Collins
at Dodger Stadium, during the Mets' early July trip to L.A., after the draft. Turner played for at Cal State Fullerton with Pill's brother
Brett
.
Brett, a first baseman, went on to be drafted in the seventh round in 2006 by the San Francisco Giants. He is currently hitting .318 with 23 homers in 114 games for Triple-A Fresno. His 97 RBIs actually are tied with ex-Met
Mike Jacobs'
total for the Pacific Coast League lead. Turner was drafted in the same '06 seventh round by the Cincinnati Reds, two picks before Pill in fact (204
th
vs. 206
th
overall).
Pill one-upped both. He was selected by the Mets in the fourth round this June, after hitting .323 as an outfielder and posting a 7-1 record and 2.28 ERA in 17 appearances (15 starts) during his junior season at Fullerton. The Mets selected Pill as a pitcher. Pill's fastball sits between 89-92 mph. He also throws a curveball, changeup and cutter.
"He's tough. He doesn't get fazed," Turner said. "He's composed, I'd say similar to how Dillon is. Not a lot of stuff really gets to him."
So far, after a cameo in the Gulf Coast League, the 21-year-old Pill has made two scoreless one-inning appearances for Brooklyn. Like with other early round draft picks such as
Cory Mazzoni
(second round/NC State) and
Jack Leathersich
(fifth round/UMass Lowell), who logged major innings in college this season, the Mets are only having Pill toss roughly one inning every five days, piggybacking another starter.
Pill, as a batter in the Cape Cod League, recalled facing Leathersich twice -- striking out and then doubling.
For Pill, the No. 3-hole hitter at Fullerton, there has been an adjustment in not picking up a bat as a professional.
"It's a lot different," Pill said. "I'm used to playing every day and being out there and hitting. When you're a position player, you want to hit. So I have that 'want' to hit every day. I need to get over that.
"At Fullerton, I played outfield when I didn't pitch. I hit pretty well there. My freshman year was more of like a pinch-hit year. But my sophomore and junior years, I was the three-hole batter."
Because his brother played before him at Fullerton, Pill was around the program from a young age.
"He came to some camps at Fullerton," Turner said. "I remember watching him hit. He could really hit. And then I found out he was a pretty good pitcher after that."
Pill did get to face his brother and Turner when the duo returned to campus for the annual alumni game.
"I struck my brother out," Pill said. "I actually faced Justin, too. I faced him twice. I can't remember what he did the first at-bat. His second at-bat he got a hit off me. It was a single up the middle."
Having a brother precede him into pro baseball has been an asset.
"I've picked his brain quite a bit, even the years before my junior year when I got drafted," Pill said. "He just told me what to expect, just how different it was from college. He even told me from a pitcher's standpoint how it will be every five days for a rotation when I throw, how I'll be in the stands (charting teammates' pitches), just what to expect from the fans, coaches and the everyday life of minor league baseball."
Organization leaders
Average:
Juan Lagares, Binghamton, .350; Danny Muno, Brooklyn, .333; Josh Satin, Buffalo, .330; Julio Concepcion, Kingsport, .324; Richard Lucas, Brooklyn, .316; Greg Pron, Kingsport, .316; Cam Maron, Kingsport, .314; Pedro Zapata, St. Lucie, .312; Travis Taijeron, Brooklyn, .309; Luis Figueroa, Buffalo, .304.
Homers:
Brahiam Maldonado, Binghamton, 20; Valentino Pascucci, Buffalo, 17; Jordany Valdespin, Binghamton, 15; Allan Dykstra, Binghamton, 14.
RBI:
Valentino Pascucci, Buffalo, 78; Josh Satin, Buffalo, 71; Wilmer Flores, St. Lucie, 70; Aderlin Rodriguez, Savannah, 67; Allan Dykstra, Binghamton, 58.
Steals:
Jordany Valdespin, Binghamton, 33; Pedro Zapata, St. Lucie, 30; Matt den Dekker, Binghamton, 19; Darrell Ceciliani, Savannah, 17; Rafael Fernandez, Savannah, 16.
ERA:
Darin Gorski, St. Lucie, 2.39; Todd Weldon, Brooklyn, 2.53; Gabriel Ynoa, GCL Mets, 2.63; Bret Mitchell, Brooklyn, 2.84; Jeurys Familia, Binghamton, 3.12; Matt Harvey, Binghamton, 3.17; Angel Cuan, Savannah, 3.19; Ryan Fraser, Savannah, 3.30; Carlos Vazquez, Brooklyn, 3.45; Greg Peavey, St. Lucie, 3.46.
Wins:
Greg Peavey, St. Lucie, 11; Darin Gorski, St. Lucie, 10; Angel Cuan, Savannah, 9; Matt Harvey, Binghamton, 9; Brandon Moore, Binghamton, 9.
Saves:
Josh Edgin, St. Lucie, 22; Dale Thayer, Buffalo, 15; Hamilton Bennett, Savannah, 11; Jeffrey Kaplan, St. Lucie, 10.
Strikeouts:
Matt Harvey, Binghamton, 134; Darin Gorski, St. Lucie, 119; Chris Schwinden, Buffalo, 114; Collin McHugh, Binghamton, 110; Jeurys Familia, Binghamton, 106.
Short hops
• Brooklyn has six selections for Tuesday's New York-Penn League All-Star game in Lowell, Mass. -- infielders
Richard Lucas
and
Danny Muno
, outfielders
Travis Taijeron
and
Charley Thurber
, right-hander
Tyson Seng
and left-hander
T.J. Chism
. Taijeron, the organization's 18
th
-round pick out of Cal Poly Pomona, leads the league in slugging percentage at .566, 40 points more than runner-up
Jeff Malm
of Hudson Valley. Muno (eighth round/Fresno State) ranks third in the league in average at .333. Thurber (.293, 0 HR, 22 RBIs) is a 39
th
-round pick out of the University of Tennessee.
• Infielder
Josh Satin
upped his hitting streak to 15 games with Triple-A Buffalo on Tuesday. In 17 games since a promotion from Double-A Binghamton, Satin is hitting .353 with a homer and 11 RBIs in 68 at-bats.
• Infielder
Jordany Valdespin
was promoted from Binghamton to Buffalo.
• Right-hander
Zack Wheeler
, the sixth overall pick in the 2009 draft, who was acquired for
Carlos Beltran
, produced a solid second start with the St. Lucie Mets. Wheeler, who allowed four runs in four innings at Dunedin in his debut with the organization, tossed six scoreless innings Sunday at Charlotte. He allowed four hits, struck out seven, issued no walks and hit one batter. He also issued two wild pitches.
• Right-hander
Matt Harvey
, the Mets' first-round pick last year, notched his first Double-A win Thursday at Altoona. In his past two starts, Harvey has limited Eastern League opponents to one run and seven hits in 12 innings while striking out 14 and walking three. Harvey is approaching an innings limit after throwing 96 innings in college last year at North Carolina, but the organization believes he may squeak through the remainder of the season uninterrupted, without having to be capped.
• Second baseman
Reese Havens
homered Friday for the first time since returning July 20 from a month-long absence for a back injury. Havens, who played every other day when he returned from the disabled list to ease back and avoid re-injury, has upped the frequency of his playing time. He started all three weekend home games against Reading.
• Corner infielder
Zach Lutz
, who is on the 40-man roster, returned Saturday from a second concussion. Lutz has been hit with pitches in the head twice this season. In 41 games with Buffalo, he is hitting .303 with five homers and 15 RBIs in 145 at-bats.
• First baseman/DH
Valentino Pascucci
is tied for second in the International League with 78 RBIs. He trails Scranton/Wilkes-Barre's
Jorge Vazquez
, who has 82.
•
T.J. Rivera
, signed by the Mets on June 13 after going undrafted, made his Cyclones debut Sunday as a pinch-hitter at Staten Island. He then started at second base the following day. Rivera attended Lehman High School in the Bronx before playing collegiately at Troy University in Alabama. He hit .290 in 27 games with Kingsport before the reassignment to Coney Island.
• Savannah right-hander
Erik Goeddel
(2-2, 2.49 ERA) made his first Gnats appearance since May 23 on Sunday, tossing four scoreless innings at Charleston. Goeddel had been on the disabled list with a shoulder strain.
• Unheralded Binghamton right-hander
Collin McHugh
continues to open eyes. After briefly being bumped from the rotation by the return of
Jeurys Familia
from the disabled list, McHugh has regained a starting role. McHugh then picked up the win at Trenton on Tuesday, limiting the Thunder to one run in five innings. Instead,
Tobi Stoner
will piggyback starts, working a starter's length in relief.
•
Jason Botts
and
Bubba Bell
were activated from Buffalo's disabled list with
Ruben Tejada
and
Mike Baxter's
promotions to the majors.
Mike Nickeas'
demotion prompted fellow catcher
Dusty Ryan
to be bumped back from Buffalo to Binghamton. Nickeas is paired behind the plate with
Raul Chavez
with the Bisons.
• Savannah catcher
Albert Cordero
is hitting .352 with four homers and 21 RBIs in 142 second-half at-bats.
• Right-hander
Ryan Fraser
, a Memphis product, has made consecutive scoreless five-inning starts for the Sand Gnats.
•
Michael Fulmer
, the prep right-hander from Oklahoma taken 44
th
overall in the draft, made his pro debut Monday, walking three in two-thirds of an inning in the Gulf Coast League in a rain.
•
Chin-lung Hu
started consecutive weekend games at shortstop in the GCL, his first game action since being sent from Buffalo to the Mets' Florida complex in mid-June. Hu was charged with a throwing error in his first game back. Farm director
Adam Wogan
said Hu did have a shoulder impingement during his prolonged time away from games, and it was not just a yip-related absence. "He feels good now," Wogan said. Hu is switch-hitting in GCL games.
Adam Rubin's farm report appears Wednesdays during the regular season
June, 7, 2011
6/07/11
8:55
PM ET
Scouting director
Chad MacDonald
called Day 2 of the draft, which included the second through 30
th
rounds, "a good day for the New York Mets."
Said MacDonald: "Some things fell our way."
Among the tidbits: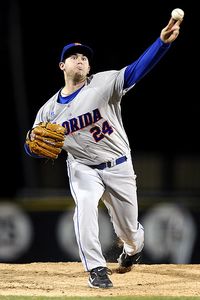 Richard C. Lewis/Icon SMI
University of Florida left-hander Alex Panteliodis (24) pitches against the University of Miami at Alex Rodriguez Park at Mark Light Field in March 2010.

• 22
nd
-round pick
Casey Turgeon
, a high school shortstop from Dunedin, Fla., is the brother of current Mets minor leaguer
Erik Turgeon
, a 25th-round pick in 2008 out of the University of Connecticut, who is 2-1 with a 4.85 ERA at Double-A Binghamton.
•
Justin Turner
, who knows
Tyler Pill's
brother and is a fellow Cal State Fullerton product, said the fourth-round pick can hit. And MacDonald and
Paul DePodesta
agree, noting Pill batted third for Fullerton. But the Mets see Pill solely as a pitcher. "The pitching only improves when you concentrate on it," MacDonald said. Turner knows Pill's older brother
Brett
, who also played for the Titans.
• Sixth-round pick
Joe Tuschak
, a high school center fielder from western Pennsylvania, worked out for the Mets at Citi Field the weekend before the draft. MacDonald says about the lefty-hitting Tuschak: "This guy can hit, and he's going to have power." The Mets say he also will be able to cover ground in center field.
• The jury is still out about whether left-hander
Jack Leathersich
, a fifth-round pick from UMass Lowell, will be a starter or reliever, according to the Mets. But MacDonald says he has a plus fastball and at times a plus curveball.
• MacDonald describes Fresno State shortstop
Danny Muno
, the eighth-round pick, as a "baseball player" who "can play anywhere on the diamond." He has even caught bullpens.
• The Mets drafted high school shortstop
Phillip Evans
in the 15
th
round as an athlete. He could even play catcher some day, but will stay at his natural position for now.
• Second-round pick
Cory Mazzoni
, a right-hander from N.C. State, has a plus fastball as well as slider, changeup and split, while third-round pick
Logan Verrett
of Baylor has a plus slider, sits at 90-92 mph with his fastball and "does it easy." MacDonald said all of the early college pitchers taken are strike-throwers.
• The Mets had a find with Virgin Islands native
Akeel Morris
in the 10
th
round last year, and went back to the island in the 28
th
round this year for right-hander
Jharel Cotton
. Actually, DePodesta said Morris wasn't an influence on selecting Cotton. He was pitching at Miami Dade Community College South, a couple of hours from Port St. Lucie. "I was lobbying for the trip to the Virgin Islands," DePodesta quipped.
• MacDonald said he did not expect several of the picks to fall to the Mets. He had Mazzoni tabbed as a first-round pick by someone and indicated he did not think Verrett would get to the third round. He also felt fortunate about Tuschak in the sixth. MacDonald added that ninth-round selection
Alex Panteliodis
, a left-handed pitcher from the University of Florida, was expected to go in the first three rounds in his mind. Panteliodis throws a "firm" 90-94 mph and was the Gators' Friday night starter as a freshman and a sophomore.