New York Mets:

Brian Roberts
June, 25, 2014
Jun 25
11:02
AM ET
PORT ST. LUCIE, Fla. --
L.J. Mazzilli
was born on Sept. 6, 1990, the year after his father
Lee Mazzilli's
major league career ended in the American League Championship Series with Toronto's loss to Oakland.
Still, L.J. eventually did enjoy the benefits of his father being in a major league uniform. Lee managed the Baltimore Orioles during the 2004 and part of the '05 seasons. So L.J., during his early teenage years, spent plenty of time in the clubhouse. He grew particularly close to then-Orioles second baseman
Brian Roberts
, who now is with the Yankees at the twilight of his career.
L.J., the Mets' fourth-round pick out of UConn in 2013, was part of last week's wave of promotions throughout the organization. He hit .292 with seven homers, 45 RBIs and 11 steals in 250 at-bats with Savannah and played in the South Atlantic League All-Star Game. He since has moved on to St. Lucie, where he is hitting .286 through six games and slugged his second homer in six Florida State League games on Tuesday night.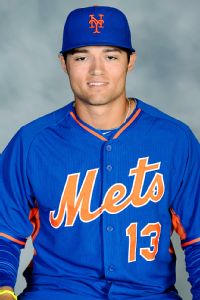 Courtesy of New York MetsL.J. Mazzilli
"That was the perfect year for any kid to be a manager's son," L.J. recalled about his days hanging out at Camden Yards. "I got there and I was bat boy and I lived with him for a year in Baltimore and I got to be around Brian Roberts, who is my favorite baseball player. He's the coolest guy on earth. And I got to be around
Miguel Tejada
,
Melvin Mora
, who was a cool dude,
Luis Matos
, who I loved. I would be out there shagging with him as a little kid in center field. It was just really cool to experience."
As for his particular affinity for Roberts, L.J. added: "He just took me under his wing. Every single day I would just hang out around him. He was an All-Star that year ['05]. And he was a little guy, a switch-hitting second baseman. And my dad gave him the starting nod for the first time in his career. He took him over
Jerry Hairston Jr.
that year and his hitting exploded.
"He and my dad had a really good connection. Every single day I would be around him. There would be days where my dad would have to go do something, because I was living with my dad, and he would just leave me with [Roberts], and I'd go to the field with him. He'd give me food and stuff like that. It was like he wasn't a major league baseball player. He was just awesome."
With Lee now a special advisor to Yankees chief operating officer
Lonn Trost
and around that ballclub, Roberts recently had the opportunity to ask for L.J.'s cell phone number.
"He sent me a text," L.J. said. "He's awesome."
L.J., whose average was in the .220s with Savannah into mid-May, had received a piece of advice from
Yogi Berra
through Lee about that time this season: "If you see it, hit it. If you don't see it, don't hit it," the 89-year-old Berra said.
The anecdote fanned through the media, even making a New York tabloid. L.J. said, in reality, the affect it had on his subsequent performance was considerably overblown.
"It was like headlines everywhere," L.J. said. "But it did help, though, because I was struggling and I was thinking about a lot of things. And the fact that it simplified thinking about the process of hitting -- if you see it, hit it; if you don't see it, don't hit it -- it was like, 'All right. It makes sense.'"
So what happened? L.J. suggested instruction from Savannah hitting coach
Valentino Pascucci
and one particular home run made all the difference.
"Something clicked. I hit a home run to dead-center in Savannah. It was the farthest ball I've ever hit. That's a pretty far poke," said L.J., referring to the 410-foot dimension in center at Historic Grayson Stadium, which also has a higher-than-average wall. "I didn't really gear up for it or anything. It was a one-motion, smooth swing. It was on time and through it.
"Pascucci, he helped me so much. Basically what he stresses is being on time. And then, when you're on time, just stay through it, no matter where it is, if it's in your 'box.' I got a middle-in fastball and I was thinking away and I was on time and smooth through the ball and all of a sudden it just clicked from there -- that's all it is, is being on time and staying through the baseball. If you've got two strikes, you've got to expand the zone a little bit. That was the big key."
Lee has seen his son play twice this year, double-dipping on official Yankees business while playing dad, too. He was there for Savannah's Opening Day and also a couple of weeks ago when the Gnats played at Charleston, the Yankees' affiliate in the South Atlantic League.
A second baseman for the bulk of his pro career, L.J. also did appear in 14 games at shortstop during the first half with the Gnats.
"Just to expand my versatility out there," he said. "I played short my whole life, until about my sophomore year of college. There was this kid
Nick Ahmed
[at UConn], who last year was the Gold Glove shortstop of all the minor leagues, so I had no chance in college then. But I definitely learned a lot from him."
L.J. said one lesson he has learned as a pro is that while it's a long year, every at-bat counts.
As L.J. spoke on Monday afternoon at Tradition Field, he was wearing a white bracelet on his left wrist that read: "
Fred L. Mazzilli Foundation
." Named for Lee's older brother, who passed away two years ago from lung cancer, the one-year-old foundation sponsors
free screening tests for lung cancer
at the New York Methodist Hospital.
"For just a first step it's amazing," L.J. said. "We're trying to keep going with that into the future."
Organization leaders
Average:
Emmanuel Zabala, GCL Mets, .467; Dionis Rodriguez, GCL Mets, .444; Brandon Brosher, Kingsport, .421; Matt Reynolds, Vegas, .359; Jairo Perez, St. Lucie, .359; Alfredo Reyes, GCL Mets, .353; Oswald Caraballo, Kingsport, .350; T.J. Rivera, Binghamton, .340; Kevin Plawecki, Vegas; .326; Jeff McNeil, St. Lucie, .319.
Homers:
Andrew Brown, Vegas, 13; Brian Burgamy, Binghamton, 13; Matt Clark, Binghamton, 10; Allan Dykstra, Vegas, 10; Kirk Nieuwenhuis, Vegas, 10.
RBIs:
Allan Dykstra, Vegas, 52; L.J. Mazzilli, St. Lucie, 51; T.J. Rivera, Binghamton, 49; Matt Clark, Binghamton, 46; Aderlin Rodriguez, St. Lucie, 46.
Steals:
Patrick Biondi, Savannah, 16; Jeff McNeil, St. Lucie, 15; Dilson Herrera, Binghamton, 15; L.J. Mazzilli, St. Lucie, 11; Stefan Sabol, Savannah, 10.
ERA:
Kevin Canelon, GCL Mets, 0.00; Corey Oswalt, Brooklyn, 0.00; Blake Taylor, GCL Mets, 0.00; Marcos Molina, Brooklyn, 0.69; Octavio Acosta, Brooklyn, 0.84; Martires Arias, Kingsport, 1.04; Yoryi Nuez, Kingsport, 1.69; Logan Taylor, GCL Mets, 1.80; John Gant, Savannah, 2.13; Kevin McGowan, Savannah, 2.39.
Wins:
Gabriel Ynoa, St. Lucie, 8; John Gant, Savannah, 7; Matt Koch, St. Lucie, 7.
Saves:
Chasen Bradford, Vegas, 12; Robert Coles, St. Lucie, 12; Randy Fontanez, Binghamton, 10; Vic Black, Vegas, 7; Jeff Walters, Vegas, 6; Beck Wheeler, St. Lucie, 6.
Strikeouts:
Darin Gorski, Vegas, 79; Dario Alvarez, Savannah, 70; Matt Bowman, Binghamton, 68; Noah Syndergaard, Vegas, 67; Steven Matz, Binghamton, 66.
Short hops
•
Brandon Brosher
is not letting a conversion to full-time catching affect his production at the plate. Brosher, an outfielder and first baseman in high school in Florida who did not begin catching until last fall's instructional league, has slugged four homers through his opening five games with Kingsport, although four of the starts have come as DH. He is hitting .421 with four homers and seven RBIs through 19 at-bats and was recognized as the season's first Appalachian League Player of the Week. In his lone start at catcher so far, Brosher did have one passed ball, and Kingsport's starter was charged with two wild pitches. The 19-year-old Brosher was a 36th-round pick in 2013. He had committed to Oral Roberts, but was enticed to go pro with a $167,500 signing bonus. The Mets believed he would grow into power, and it has come quicker than expected.
• Left-hander
Blake Taylor
, the player to be named in the
Ike Davis
deal with the Pittsburgh Pirates, made his organization debut Tuesday. After
Dillon Gee
handled the first two innings in a rehab start, Taylor entered and tossed four scoreless innings. He limited the Gulf Coast League Marlins to one hit and three walks while striking out seven in four innings. Taylor, 18, was drafted by the Pirates in the second round last year out of high school in Dana Point, Calif.
•
Noah Syndergaard
is not having an exceptional year for a top prospect. He is 6-4 with a 4.98 ERA in 13 starts for Las Vegas and twice has been injured. So why is he joining catcher
Kevin Plawecki
at the Futures Game at Target Field? A Mets official said Futures Game organizers select the players, not the individual clubs, although an organization can nix someone for health or other legitimate reasons. Plawecki, newly promoted, is due to join Las Vegas on Thursday.
May, 15, 2014
May 15
5:39
AM ET
Adam RubinJacob deGrom makes his major-league debut Thursday against the Yankees.
NEW YORK
FIRST PITCH:
The Subway Series finale originally was slated to pit
Dillon Gee
against
CC Sabathia
. Now, both are on the disabled list. And Mets-Yankees instead concludes with a pair of starting pitchers making their big-league debuts --
Jacob deGrom
versus right-hander Chase Whitley.
DeGrom (4-0, 2.58 ERA at Las Vegas) steps into the starting role because Gee
landed on the DL on Wednesday
with a right lat-muscle strain. The Mets, who weighed keeping Gee active and having him miss one start, now expect he will miss two starts and return from the DL when eligible.
Coming on the heels of
Rafael Montero
's start Wednesday, it will mark the first time in franchise history the Mets have used starting pitchers making their major-league debuts in consecutive games.
The last time an MLB team used debuting starting pitchers in consecutive games? The
Milwaukee Brewers
on Sept. 2-3, 2002, with
Ben Diggins
and
Dave Pember
, according to the Elias Sports Bureau.
The last time two debuting pitchers started opposite each other in an MLB game? Coincidentally, that involved Gee -- who pitched opposite Washington's
Yunesky Maya
on Sept. 7, 2010.
In the past 100 years, there have only been seven non-September instances of both starting pitchers making their big-league debuts, according to Elias.
Bobby Parnell
, who will miss the remainder of the season after undergoing Tommy John surgery, was transferred to the 60-day DL to clear a 40-man roster spot for deGrom.
Meanwhile, Thursday marks the final regular-season game for retiring
Derek Jeter
against the Mets.
As the Mets did with
Mariano Rivera
last season and
Chipper Jones
in 2012, they will have an afternoon ceremony in a conference room to present Jeter with a gift -- not on-field recognition before the first pitch. A clip from that ceremony likely will be played for fans pregame on the scoreboard.
The Mets are expected to present Jeter with artwork, as they did with Chipper.
Thursday's news reports:
Anthony Gruppuso/USA TODAY SportsRafael Montero allowed three runs in six innings in his major-league debut.
• Montero did a
solid job in his debut
, but
Masahiro Tanaka
tossed a four-hit shutout
and the Yankees snapped a six-game Subway Series losing streak with a
4-0 win Wednesday at Citi Field
. The Mets (19-20) dropped a game under .500.
Terry Collins suggested three shots the Mets hit on Wednesday would have been homers had the game been played in the Bronx, including David Wright's first-inning blast to the track with a runner on base.
The Mets had a pair of costly, ill-advised plays. With Tanaka on deck, a runner on first base and two outs, left fielder
Eric Young Jr.
decided to dive for a second-inning sinking liner off
Brian Roberts
' bat rather than concede a single and keep it in front of him. E.Y. Jr. played the ball into a run-scoring triple. On the basepaths,
Chris Young
tried to steal second with Tanaka holding the ball,
Lucas Duda
at the plate and the Mets trailing, 2-0. He easily was retired.
Montero's final line: 6 IP, 5 H, 3 R, 3 ER, 2 BB, 3 K, 2 HR. The second homer came after Montero was sent out for the sixth inning with his pitch count already at 97, on a solo shot by
Mark Teixeira
.
The unbeaten Tanaka -- the first 6-0 Yankees rookie starter since Whitey Ford in 1950 -- even produced a ninth-inning hit. Mets pitchers are now 0-for-64 at the plate this season. That futility matches the 1946
Cleveland Indians
for the second-worst hitless streak by pitchers in MLB history, according to Elias. The all-time record: 0-for-92 by Cleveland pitchers in 1914.
Given E.Y. Jr. and
Ruben Tejada'
s hot streaks ended -- they went a combined 1-for-7 Wednesday -- it appears likely they will find themselves on the bench for the Subway Series finale.
Read game recaps in the
Post
,
Daily News
,
Times
,
Star-Ledger
,
Record
,
Journal
,
Newsday
and at
MLB.com
.
• The Mets dumped
Kyle Farnsworth
a couple of days ahead of a deadline after which his $1 million contract for the season
would have become guaranteed
. Farnsworth, who notched a save as recently as Monday, had signed an "advanced consent" waiver. That allowed the Mets to drop him within 45 day of him joining the club on April 2 and only be responsible for the portion of the contract during which he was active -- about $250,000.
Farnsworth, who plans to refuse a minor-league assignment and become a free agent, was angry with the decision, calling it "sad" and describing himself as "very bitter."
One member of the organization described himself as "speechless" after learning of the move.
Josh Edgin
, who had a 4.97 ERA and had allowed 17 hits and 11 walks in 12 2/3 innings with Vegas, will be promoted and join
Scott Rice
as a left-hander in the bullpen.
Who's the closer? Terry Collins hasn't named one yet, but
Jeurys Familia
,
Jenrry Mejia
and
Daisuke Matsuzaka
would be candidates.
Read more in the
Record
,
Journal
,
Newsday
and at
MLB.com
.
•
Travis d'Arnaud
likely will
land on the seven-day concussion DL
before Thursday's game. D'Arnaud had been struck on the top of the head by Alfonso Soriano's backswing in the ninth inning Tuesday. D'Arnaud is continuing to undergo concussion tests.
Juan Centeno
, already on the 40-man roster, is expected to join the Mets on Thursday from Vegas. He was hitting .273 with one homer and 11 RBIs in 77 at-bats with the 51s. Read more in the
Star-Ledger
.
• Gee said there was no issue with his lat when he was pulled after 81 pitches from his last start. It only arose afterward and intensified during a bullpen session Tuesday in the Bronx. Read more in the
Post
,
Daily News
,
Journal
and
Newsday
.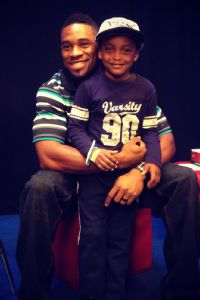 Win McNamee/Getty ImagesEric Young Jr. visited Kravis Children's Hospital on Wednesday.
• E.Y. Jr. visited Kravis Children's Hospital at Mt. Sinai before heading to Citi Field for the Subway Series on Wednesday. He appeared on the hospital's closed-circuit TV show and answered questions for kids who were too sick to come down to a studio. E.Y. Jr. took pictures and signed autographs for patients who were well enough to attend the live show in the hospital's lobby.
• Greg Peavey allowed three runs (two earned) in seven innings and Chasen Bradford notched his seventh save as Binghamton beat Altoona, 5-3. Peavey's success coincides with his wife and recently born son getting into town, writes Lynn Worthy
in the Binghamton Press & Sun-Bulletin
.
Before Savannah won two games from Greenville on Wednesday, outfield prospect Jared King -- who recently proposed to his girlfriend on the field -- landed on the DL with a fractured right fibula. King suffered the injury getting hit by a pitch on May 7. Read the full minor-league recap
here
.
• Shake Shack founder Danny Meyer disputed allegations from Duda and
Philadelphia Phillies
manager Ryne Sandberg that bad burgers gave them food poisoning.
"It's highly unlikely," Meyer
told the Post
. "If you're in a restaurant and one person says they got food poisoning from fish, you can say, 'Well, that was probably one bad fish.' But with hamburger meat, it's an entire batch. And we haven't heard of one other case of food poisoning. We don't know for sure a Shake Shake burger made them sick."
Daniel Barbarisi
in the Journal
reported fans at Citi Field on Wednesday did not seem dissuaded from buying Shake Shack food.
• Columnist Joel Sherman
in the Post
suggests there is pressure on both New York GMs because they are playing in divisions up for grabs because of mediocrity. Writes Sherman:
[Sandy] Alderson already made a significant move during this Subway Series by shifting Rafael Montero into the rotation and Jenrry Mejia into the pen. The Mets' long-shot chances this season could be about this: Can Alderson take some of that young pitching he has been diligently stockpiling the past four years and turn it into a July bat -- a Jose Bautista for mid-lineup heft or an Alexei Ramirez to solve shortstop, perhaps?
[Brian] Cashman faces a potentially more daunting issue because the Yanks have more age -- and thus more potential leaks -- and less farm system. At this moment, the Yankees look as if they need a sidekick for Masahiro Tanaka. So they might have to find out just how much a trade fronted by Gary Sanchez or John Ryan Murphy would bring. Does that get them into, for example, a Jeff Samardzija sweepstakes or do they have to lower their sights to the Bronson Arroyo/Jason Hammel level?
• Columnist David Lennon
in Newsday
suggests payroll still matters, as the Yankees demonstrated with their capacity to land Tanaka.
• Columnist Mike Vaccaro
in the Post
calls the rash of Tommy John surgeries to high-profile young pitchers "the dark cloud hovering in baseball's sky now."
• In a where-are-they-now look, Ken Belson
in the Times
notes
Dae-Sung Koo
-- of double-off-
Randy Johnson
-and-scoring-with-a-weighted-ball-in-his-pocket fame -- has been pitching in Australia.
• Jared Diamond
in the Journal
suggests the Subway Series still has juice. Writes Diamond:
According to the YES Network, Monday night's game at Yankee Stadium generated the highest ratings for a Subway Series telecast on a New York regional sports station since 2011, averaging 494,000 total viewers. On Tuesday, the Rangers' hockey game and the NBA playoffs siphoned off some viewers, but the Subway Series has re-established itself as a solid draw.
Even with the Brooklyn Nets' playoff game competing with baseball on Wednesday, the stations anticipated another potential bump with rookie pitcher Masahiro Tanaka on the mound for the Yankees.
• Mike Ozanian
at Forbes
opines about the value of the Mets if they were sold.
BIRTHDAYS:
Tyler Walker
, whose eight-year big-league career as a reliever began with the Mets in 2002, turns 38.
TWEETS OF THE DAY:
Fred Wilpon refuses to go see "Million Dollar Arm". (Still working out the punch line) #Mets

— David Brown (@DrBlogstein) May 15, 2014
YOU'RE UP: What gift should the Mets present to Derek Jeter?
May, 12, 2014
May 12
10:44
PM ET
NEW YORK -- True New Yorkers were celebrating Monday in the Bronx.
Lucas Duda
delivered a broken-bat, run-scoring single that plated
Eric Campbell
and evened the score, and
Chris Young
followed with a two-run homer later in the eighth inning as the
New York Mets
beat the
New York Yankees
9-7 before an announced crowd of 46,517 in the Bronx.
The Mets (18-19) slugged a season-high four home runs -- by
Travis d'Arnaud
,
Curtis Granderson
,
Eric Young Jr.
and C.Y. They won for only the third time in their past 11 games.
Kyle Farnsworth
got into a one-out jam in the ninth with runners on the corners, but
Brian McCann
grounded into a game-ending double play, initiated by a diving stop by Duda and turned at second base by
David Wright
because of the overshift.
Penned:
Jenrry Mejia
, reassigned to the bullpen before the game, made his 2014 relief debut and earned the win.
Christopher Pasatieri/Getty ImagesDerek Jeter and David Wright share a yuk at the end of the first inning.
Mejia inherited a runner on second with two outs in the seventh inning and the Mets trailing 7-6. He struck out
Alfonso Soriano
on three pitches.
Then, staked to a 9-7 lead after the Mets' three-run eighth, Mejia allowed a leadoff single to
Yangervis Solarte
.
Kelly Johnson
followed by grounding into a double play.
Brian Roberts
singled, but Mejia rallied by striking out
Brett Gardner
.
Not his day:
Bartolo Colon
surrendered a second-inning grand slam to Gardner and eventually was charged with seven runs (six earned) in 5 2/3 innings in a no-decision. In his eight starts, Colon has allowed seven or more runs three times. His ERA has ballooned to 5.84.
A half-inning after Granderson slugged a game-tying two-run homer, the Yankees scored three runs in the bottom of the sixth to take a 7-4 lead. The final run charged to Colon scored when d'Arnaud threw to second base on Gardner's steal attempt. The throw went into center field, allowing Roberts to trot home with an unearned run.
True New Yorker:
Granderson received a tame mixture of boos and cheers in his return to Yankee Stadium as a visitor -- although it's hard to tell which set of fans was offering which reaction.
The friendly confines of Yankee Stadium proved a welcome sight. Granderson launched a two-run homer in the sixth against
Hiroki Kuroda
that evened the score at 4.
During a pregame interview, Granderson said his "True New Yorker" statement -- made when he was introduced during the winter meetings -- was not something cooked up by marketing people to launch a campaign the Mets eventually would adopt during the 2014 season.
"It was something that I heard from people around the city," Granderson said. "It was me repeating what I had heard, what people said."
Granderson's original December quote: "A lot of the people I've met in New York have always said that true New Yorkers are Mets fans. So I'm excited to get a chance to see them all out there."
The Mets recently sent an email blast to fans touting that slogan with a request for them to sign a loyalty oath.
Sparkplug:
E.Y. Jr., who essentially had been benched once
Juan Lagares
returned from the disabled list on May 1, has made the most of back-to-back starts. He has produced consecutive three-hit games and scored twice and drove in two runs Monday.
E.Y. Jr. pulled the Mets within 7-6 with a two-run homer in the seventh against
Alfredo Aceves
, who had been speculated as the Thursday starter in place of
CC Sabathia
. Right-hander Chase Whitley could make his MLB debut in Thursday's Subway Series finale instead of Aceves.
E.Y.'s last homer came on Aug. 2, 2013.
With the Mets facing a left-hander Tuesday and the designated hitter in use, Terry Collins likely will be able to use all four of his primary outfielders, including E.Y. Jr., in the starting lineup.
Happy birthday:
Ex-Yankee/Met Yogi Berra celebrated his 89th birthday at the game.
What's next:
Zack Wheeler
(1-3, 4.35 ERA) opposes left-hander
Vidal Nuno
(1-0, 5.47) in Tuesday's 7:05 p.m. game in the Bronx.
September, 25, 2012
9/25/12
8:18
AM ET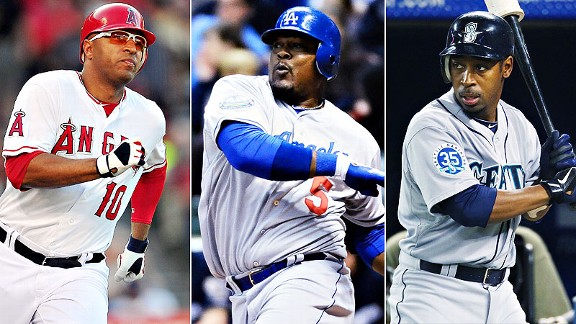 US Presswire
Vernon Wells, Juan Uribe and Chone Figgins (l to r) are among the bloated contracts around Major League Baseball.
The Mets' first task this offseason regarding
Jason Bay
, and for that matter
Johan Santana
, likely should be to see if any team has trade interest. A swap appears unlikely, though, even discounting the no-trade clause each possesses.
After all, Bay is hitting .155 with eight homers in 187 at-bats. And he is owed $19 million next season including a 2014 buyout, making it a toxic contract.
Similarly, Santana -- despite the June 1 no-hitter -- finishes the season on the DL after allowing six-plus runs in each of his final five starts. Santana is owed $31 million next season including a '14 buyout.
Still, if the Mets were to find another team with toxic contracts to swap, who is logical? With the help of reporters around baseball, here's a look …
THEY'VE GOT POTENTIAL
Angels: "
Oh, you've come to the right place," our friend who covers the Angels says. "The Angels have the deadest of dead weight --
Vernon Wells
. The Angels are paying Wells $21 million this year to be their fourth outfielder. They owe him $21 million more in 2013 and again in 2014."
Blue Jays:
Left fielder/first baseman
Adam Lind
(.240, 10 HR, 40 RBIs) is owed $5 million in 2013. With buyouts of option years, the minimum owed is $7 million. "He cleared waivers at one point this season and the Blue Jays would love to get rid of his contract -- even though it's unlikely that can happen," a team observer said.
Braves:
Second baseman
Dan Uggla
(.215, 19 HR, 73 RBIs) is owed $39 million over the next three seasons.
Cubs:
Alfonso Soriano
($18 million apiece in 2013 and '14) and
Carlos Marmol
($9.8 million next season) are the remaining sizable contracts.
Dodgers:
The Dodgers inherited
Carl Crawford
($102.5 million through 2017) and
Josh Beckett
($31.5 million through 2014) while acquiring
Adrian Gonzalez
, but both should contribute. The least-productive contract:
Juan Uribe
, who finally pinch hit Sunday after going unused for nearly a month. Uribe, with one year remaining, is still owed $8 million.
Mariners:
Left fielder
Chone Figgins
(.183, 2 HR, 11 RBIs) is owed $8 million next season. Center fielder
Franklin Gutierrez
(.258, 4 HR, 14 RBIs) is owed $7.5 million in 2013 with a buyout of the following season. Says one observer: "Gutierrez has been hurt or sick for most of his deal and might produce if ever healthy. Figgins is literally dead weight." Bay does live in the offseason in Seattle. And the combined $15.5 million owed to those two are close to Bay's $19 million.
Marlins:
Heath Bell
has two years, $18 million guaranteed remaining. He also has a $9 million option for 2015 based on games finished -- 55 the previous season or 100 combined in 2013 and '14. (The Mets have been down that route before.)
Pirates:
Clint Barmes
is signed for 2013 at $5.5 million. He's hitting .228/.266/.325 with eight homers.
Red Sox:
John Lackey
(12-12, 6.41 ERA) has two years left for a combined $30.5 million, with a 2015 club option at the major league minimum because of a preexisting elbow injury.
Twins:
Nick Blackburn
(4-9, 7.39 ERA) and middle infielder
Tsuyoshi Nishioka
-- both relegated to the minors -- are under contract for 2013 and "practically sunken cost." Blackburn is owed $5.5 million. Nishioka is owed $3.25 million including a 2014 buyout. The Twins likely would never trade
Joe Mauer
, despite him being owed $23 million annually through 2018.
Yankees:
Alex Rodriguez
to Flushing? Don't hold your breath. Still, A-Rod is owed $114 million over the next five seasons.
Mark Teixeira
and
CC Sabathia
could emerge as bad contracts, with $90 million over four seasons and $119 million over five seasons owed, respectively.
June, 20, 2012
6/20/12
7:59
AM ET
After two less-than-stellar outings in the aftermath of his no-hitter,
Johan Santana
got back on track Tuesday. The southpaw followed
R.A. Dickey's
one-hit shutout by tossing six scoreless innings. Santana combined with
Bobby Parnell
,
Miguel Batista
and
Jon Rauch
on the
5-0 victory against the Orioles
-- the Mets' NL-leading eighth shutout. The Amazin's upped their scoreless streak to 22 innings. It's their third streak of at least that length this season. The season high was 28 consecutive scoreless innings, from May 25-28.
Tonight, the Mets send
Dillon Gee
(4-5, 4.43 ERA) to the mound aiming for the series sweep. Gee will oppose left-hander
Brian Matusz
(5-7, 4.94). While praising Dickey and Santana,
Terry Collins
added: "For us to have a big summer, we've got get Dillon and
Jon Niese
going."
A sweep would continue an interesting pattern for the Mets: getting swept by the Yankees, sweeping the Rays, then getting swept by the Reds.
Wednesday's news reports:
•
Lucas Duda
produced his team-leading 11th homer, a two-run shot in the sixth.
Jordany Valdespin
, manning left field a day after getting a start at second base, capped the scoring with a two-run single an inning later.
Omar Quintanilla
snapped an 0-for-16 drought with a seventh-inning single, but
Ike Davis
lost a nine-game hitting streak as his average sagged to .193.
Justin Turner
grounded out as a pinch hitter in his first plate appearance since returning from the DL. Turner may start at shortstop Wednesday, with Collins saying he expected to give Quintanilla the day off. Read game recaps in the
Post
,
Daily News
,
Times
,
Newsday
,
Star-Ledger
and
Record
.
• Columnist
John Harper
in the Daily News
suggests Dickey and Santana's success may force the Mets to be buyers at the trading deadline. Not reckless buyers who turn around and trade
Zack Wheeler
, but buyers nonetheless. Writes Harper:
If Santana is going to be dominant again, then he and Dickey are a tandem that would make the Mets awfully tough to beat if they ever did get into the postseason. Especially since Collins almost certainly would use Dickey on short rest at that point. "If we ever got there," Collins said Tuesday night, "we'd probably take advantage of that." The Mets have plenty of flaws, as they've demonstrated in recent weeks, and yet the idea of making a run at the postseason doesn't seem quite so far-fetched anymore, mostly because of what Dickey is doing. If you gave GM Sandy Alderson truth serum, he'd tell you he had no such thoughts when this season began, as he goes about trying to build the foundation for long-term contention in the future. And this isn't to say the Mets should do anything crazy at the trading deadline, such as dealing away a Matt Harvey or a Zack Wheeler for somebody such as Ryan Dempster or Matt Garza.
• Writes columnist
Jeff Bradley
in the Star-Ledger
about Santana's bounceback:
And so it took three starts for Johan Santana to get back to the business of hanging zeroes on the scoreboard and not pitches in the strike zone. Crisis averted. "He's back in his routine," Mets manager Terry Collins said after Santana threw six scoreless innings in the Mets' 5-0 victory over the Orioles tonight at Citi Field. "It was a big night. I think now he's back. I think now we'll see a lot of nights like tonight." Poor Collins had to be tossing and turning the last two and a half weeks. Not that he should have been harboring even an ounce of guilt for allowing Santana to throw the 134 pitches needed to finish his historic June 1 no-hitter.
•
Jason Bay
underwent an MRI and a second day of exams by doctors Tuesday as they try to gauge the extent of his most recent concussion.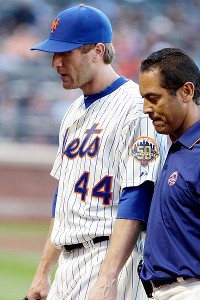 Frank Franklin II/Associated Press
Jason Bay underwent an MRI on Tuesday to try to determine the extent of Friday's concussion.

Orioles second baseman
Brian Roberts
can empathize with Bay. He returned last week after missing nearly 13 months with concussion-related issues. "I had migraine headaches for probably eight months, a lot of dizziness, a lot of balance problems," Roberts told
Tom Pedulla
in Newsday
. "Any time I needed to exert a lot of energy, I just couldn't do it." Read more in the
Times
.
•
Ruben Tejada
(quadriceps) went 0-for-4 while playing a second straight full game at shortstop for Class A St. Lucie. Tejada is expected to move to Triple-A Buffalo on Thursday.
Ronny Cedeño
made a fifth straight start for Buffalo on Tuesday, going 1-for-5 with an RBI. He is expected to be activated from the DL on Friday, for the Subway Series opener against the Yankees.
The returns of Tejada and Cedeño will set up interesting decisions for the Mets roster-wise. Quintanilla is out of options and must be exposed to waivers before being sent to Buffalo, and organization officials have been skeptical he would get through, perhaps preserving his spot. Valdespin, though, has started to pick up his play. (He is unlikely to start today against the southpaw Matusz.)
Vinny Rottino
also is on the 25-man roster. Read more on Valdespin in the
Post
and
Daily News
.
• The weekend matchups against the Yankees:
Friday:
LHP
Andy Pettitte
(3-2, 2.77 ERA) vs. Niese, 7:10 p.m.
Saturday:
RHP
Ivan Nova
(9-2, 4.32) vs.
Chris Young
(1-1, 3.06) 7:15 p.m., Fox
Sunday:
LHP
CC Sabathia
(9-3, 3.55) vs. Dickey (11-1, 2.00) 8:05 p.m., ESPN
•
Matt Harvey
limited Norfolk to one run on six hits and two walks while striking out seven in six innings and
Jenrry Mejia
contributed two scoreless relief innings in his third appearance since a conversion to relief as Buffalo beat the Tides, 6-1. First-round picks
Gavin Cecchini
(0-for-3, two walks) with Kingsport and
Kevin Plawecki
(0-for-4, HBP) with Brooklyn made their pro debuts. Read Tuesday's full minor league recap
here
.
•
David Wright
continues to
lead in NL voting at third base
for the July 10 All-Star Game in Kansas City. Wright (1,977,388) is ahead of San Francisco's
Pablo Sandoval
(1,612,497), Atlanta's
Chipper Jones
(1,547,221) and St. Louis'
David Freese
(1,540,085). No other Mets position player appears in the top five in voting at his spot in the infield or in the top 15 in the outfield. Collins will serve on NL manager
Tony La Russa's
staff. Dickey is the potential NL starter and should be in K.C. as well.
• Collins publicly declared he had
toyed with having Dickey start every fourth day
, with other Mets pitchers slotting around the knuckleballer. The manager eventually shelved the idea for the time being because it would disrupt the other starters' routines and potentially adversely affect their performances. And, at 37, Dickey isn't exactly a spring chicken anymore. Writes
Brian Costa
in the Journal
:
In theory, [Dickey] said he could regularly pitch on three days' rest. The question is how effective he would be. In 11 career starts with three or fewer days of rest, Dickey has a 5.74 ERA. And while he might not have to exert quite as much force as other pitchers, he does not possess a bionic arm. Pitching still takes a toll. He is still 37 years old. "It's a mental grind," Dickey said. "Not that I don't love the challenge of that. It's just all of it [together]. You feel it in your feet, your knees, your joints, your hips. I know I move around out there like an 18-year-old, but I'm not one." That's one reason Collins nixed the idea to use Dickey more often. The other is how it would affect the rest of the rotation. Starting pitchers are creatures of habit, and using Dickey every four days would make for a quirky schedule.
Read more in the
Post
,
Newsday
,
Record
and
Star-Ledger
.
•
Dan Martin
in the Post
notes Dickey is willing to share his knuckleball insights with serious pupils.
Frank Viola Jr.
, 28, the son of Savannah pitching coach/ex-Met
Frank Viola
, was a student during spring training, regularly watching Dickey's bullpen sessions. Martin notes Dickey also has helped 18-year-old
Stephen Orso
from Port Washington. "He got me to where now I can pinpoint my knuckleball better than my fastball," Orso told Martin. "Without him, I don't think my knuckleball would be where it is."
• Another Viola, Frank Jr.'s sister
Brittany
, will compete in the U.S. Olympic diving trials on Wednesday, looking for a spot in London, notes
Aimee Berg
in the
Journal
.
•
Andrew Keh
in the Times
traces Dickey's early pro days throwing the knuckleball in the minors. Keh writes about Dickey's July 24, 2005 debut as a full-time knuckleballer, with Triple-A Oklahoma City:
Instead of success that day at SBC Bricktown Ballpark in Oklahoma City, there was disaster. Over five and two-thirds excruciating innings, Dickey gave up 14 hits and 12 runs before Bobby Jones, who was managing the RedHawks at the time, went out to rescue him. "I remember that game very well," Jones, who now manages the Round Rock Express, the Rangers' current Class AAA affiliate, said in a telephone interview Tuesday. "We were just going to leave him in there, and we knew we were going to take a loss that day if he didn't have it.
"It wasn't pretty," Jones added with a laugh.
• Columnist
Mike Vaccaro
in the Post
salutes Dickey. Writes Vaccaro:
We wouldn't be nearly as amazed by this if he were a classical ace in the classical sense. Seaver, a vintage fireballer, probably had his best season as a Met in 1971, a year he pitched to a 1.76 ERA. That year he enjoyed a 13-game stretch in which he allowed 12 earned runs, threw 10 complete games (including a 10-inning, 1-0 loss) and had six games of double-digit strikeouts. The last 25 games of Gooden's storied 1985 season he went 18-1 with an ERA of 1.39. The first 22 games of Guidry's '78 season he started 15-1 with a 2.03 ERA and four shutouts, and struck out 18 Angels one night. In 1956, Don Newcombe went 13-1 in July and August and threw back-to-back-to-back shutouts at the Cubs, Braves and Pirates. Those were terrific pitchers at the top of their games, known for their high heat and their dominance. And yet Dickey's numbers certainly deserve a spot in the same paragraph.
• Columnist
Kevin Kernan
in the Post
praises the Dickey-Santana tandem.
• Stony Brook University's baseball team, which reached the College World Series, was honored before Tuesday's game at Citi Field. Read more in
Newsday
.
TRIVIA:
Cecchini
was born in Louisiana. Who was the last player to appear in the majors for the Mets who was born in that state?
Tuesday's answer: In Game 2 of the 1969 World Series,
Jeremy Koosman
tossed 8 2/3 innings and outdueled
Dave McNally
, who contributed a complete game for the Orioles.
June, 18, 2012
6/18/12
9:09
AM ET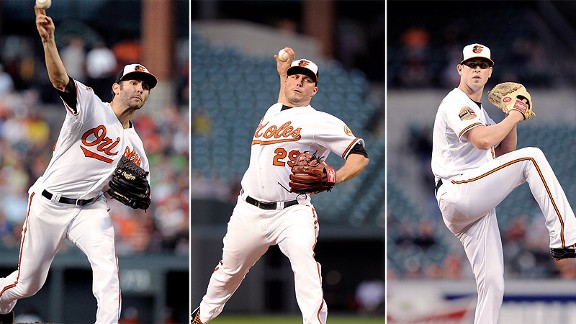 Getty Images
The Mets face (l to r) Jake Arrieta, Tommy Hunter and Brian Matusz during an interleague series against the Orioles.
METS (35-32, third place/NL East) vs. BALTIMORE ORIOLES (39-27, second place/AL East)
Monday:
RHP
R.A. Dickey
(10-1, 2.20) vs. RHP
Jake Arrieta
(3-8, 5.89), 7:10 p.m. ET
Tuesday:
LHP
Johan Santana
(4-3, 3.23) vs. RHP
Tommy Hunter
(3-3, 5.58), 7:10 p.m. ET
Wednesday:
RHP
Dillon Gee
(4-5, 4.43) vs. LHP
Brian Matusz
(5-7, 4.94), 7:10 p.m. ET
Orioles short hops
• Center fielder
Adam Jones
(.311, 18 HR, 39 RBIs) signed a six-year, $85.5 million extension through 2018 on May 27, on top of the $6.15 million owed this season, and is having a breakout season. Jones, 26, has started every game in 2012 and is the lone healthy player among Baltimore's top four outfielders. He had a 20-game hitting streak in May, which was tied for the longest in the majors this season until Cleveland's
Michael Brantley
reached 22 games Friday before having a streak snapped. It was the longest streak by an Oriole since
Brian Roberts
had a 20-game streak in 2005.
• Roberts was activated from the 60-day disabled list last Tuesday after missing nearly 13 months with the effects of concussions. He retook his second-base job, pushing
Robert Andino
-- who had started 56 games at the position -- to a utility role. Once the DH resumes for Baltimore, Andino will probably start five days a week, with significant time at third base, where he is the best fielder on the roster, as well as through spelling shortstop
J.J. Hardy
and Roberts.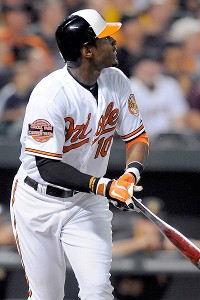 Gene Sweeney Jr./Baltimore Sun/Getty Images
Adam Jones signed a six-year, $85.5 million extension in May.

• The Orioles employ several ex-Mets. Backup catcher
Ronny Paulino
was promoted from Triple-A Norfolk on May 25, swapping spots with
Luis Exposito
. Paulino started for only the second time since the call-up Sunday.
Matt Wieters
started 19 of the previous 20 games. Sidearm reliever
Darren O'Day
(4-0, 1.72 ERA) was a Nov. 2 waiver claim from Texas.
Endy Chavez
, hitting only .162, landed on the DL after suffering a strained right hamstring last Tuesday against Pittsburgh. Reliever
Matt Lindstrom
also is on the DL with a torn ligament in his right middle finger. Another ex-Met,
Luis Ayala
, has been an effective bullpen arm.
• Baltimore acquired outfielder/first baseman
Steve Pearce
from the Yankees on June 2 for cash. Pearce has started six of the past seven games in left field, in a spot in which
Nolan Reimold
and Chavez saw heavy duty before injuries. Reimold has been sidelined since April 30 with a herniated disc in his neck, but now is beginning baseball activities.
• Right fielder
Nick Markakis
underwent June 1 surgery to address a hamate bone fracture in his right hand.
• Wieters was a first-time All-Star last season. He also became the first Orioles catcher to win a Gold Glove.
•
Jake Arrieta
, the Opening Day starter, was bumped to the bullpen after allowing nine runs in four innings against the Phillies on June 8. But Arrieta got a reprieve when
Brian Matusz's
scheduled start had to be pushed back two days because he bloodied and bruised his nose in a bunting drill while preparing for NL play. Given a second chance, Arrieta limited Pittsburgh to one run in seven innings while matching a season high with nine strikeouts to snap a personal six-game losing streak and earn another start. Arrieta has been erratic. Against the Phillies, he allowed six runs in the second inning, then struck out the side the following frame.
• Matusz had allowed nine runs (eight earned) in 7 2/3 innings over his past two starts, at Boston and Atlanta. His career interleague numbers: 0-6 with a 7.32 ERA.
• DH
Chris Davis
, who served as first baseman early in the season, spent the weekend starting in right field at Atlanta. Davis had not appeared at that position since playing two games at the beginning of his professional career in that spot in 2006, with Class A Spokane. He had played 52 career minor league games in left field.
•
Tommy Hunter
was acquired from Texas with Davis last July 30 for right-hander
Koji Uehara
.
• First baseman
Mark Reynolds
is hitting .341 with three homers and 10 RBIs in his past 13 games, lifting his average 40 points, to .238. Reynolds is one of seven major leaguers to have reached the 30-homer plateau each of the past three seasons. The others:
Miguel Cabrera
,
Prince Fielder
,
Ryan Howard
,
Albert Pujols
,
Mark Teixeira
and
Dan Uggla
. Reynolds has led his league in strikeouts the past four seasons with Arizona and Baltimore, with 204, 223, 211 and 196.
• Closer
Jim Johnson
ranks second in the majors with 20 saves (in 21 chances), trailing only
Chris Perez's
21 saves with Cleveland. Johnson was named MLB Delivery Man of the Month after going 9-for-9 in save conversions in May. His streak of 25 straight save conversions from Aug. 14, 2011 through June 2 was second-longest in franchise history, trailing only a 34-save streak by
Randy Myers
in 1997.
•
Dan Duquette
was hired as executive vice president in November. He had not been a major league executive since being fired by the Boston Red Sox in March 2002. Duquette acquired
Jason Hammel
(7-2) from Colorado with Lindstrom for
Jeremy Guthrie
and signed Taiwanese left-hander
Wei-Yin Chen
(7-2) to bolster the rotation.
• The Orioles have assembled a veteran cast in the minors:
Miguel Tejada
,
Jamie Moyer
,
Nate McLouth
,
Bill Hall
,
Dontrelle Willis
and
Joel Piñeiro
.
Last series results
Mets won, 3-0, at Camden Yards, June 11-13, 2010 (AP game recaps)
Mets 5, Orioles 1:
R.A. Dickey baffled the Orioles for seven innings and Chris Carter hit his first major league homer. Dickey (4-0) gave up one run and seven hits to win his fourth straight start. He had a career-high eight strikeouts, including Corey Patterson three times and Adam Jones twice. Carter hit a three-run shot in the fourth to stake the Mets to a 4-0 lead against Jeremy Guthrie (3-7). David Wright had three hits and two RBIs.
More
Mets 3, Orioles 1:
Jeff Francoeur homered to back a strong pitching performance by Hisanori Takahashi and the Mets, after going nearly 11 months without winning two straight on the road, finally broke through. Jose Reyes also homered for the Mets, who are now assured of winning the three-game series after going 0-7-2 away from home -- their longest series drought to start a season since 1983. Takahashi (5-2) gave up one run, six hits and a walk in seven innings.
More
Mets 11, Orioles 4:
David Wright hit two homers, Chris Carter and Jason Bay also connected, and the Mets amassed a season-high 18 hits. New York came to Camden Yards with a 9-18 record away from home, but now has earned its first three-game road sweep since September 2008, in Milwaukee. Bay entered in an 0-for-16 skid before going 4-for-4 and scoring four of New York's season-high 11 runs. Wright and Alex Cora each had three hits, and Carter hit his second homer in three games. Mike Pelfrey (9-1) gave up three runs, nine hits and three walks in six rocky innings but received enough offensive support to win his fifth straight decision.
More
June, 18, 2012
6/18/12
8:12
AM ET
After sweeping the Rays at the Trop, the Mets returned home and found themselves swept by the NL Central-leading Reds.
Chris Young
surrendered three fifth-inning runs (two earned) and
Cincinnati won Sunday's finale, 3-1
, at Citi Field. Reds starter
Johnny Cueto
, shaking off in-game dizziness, limited the Mets to a bases-loaded walk to Young in seven innings. The Mets went 3-for-18 with runners in scoring position during the series.
The last time Cincinnati swept the Mets: April 4-7, 2005 at Great American Ball Park, in the first series of the "New Mets," with
Willie Randolph
as manager as
Pedro Martinez
and
Carlos Beltran
also debuting.
Monday's news reports:
• Read game recaps in the
Times
,
Record
,
Newsday
,
Star-Ledger
,
Post
,
Daily News
and
Journal
.
•
Eli Manning
, with 14-month-old daughter
Ava
cradled in his left arm,
tossed the ceremonial first pitch
to
David Wright
before Sunday's game. Read more in the
Daily News
and
Times
.
•
R.A. Dickey
opposes Baltimore right-hander
Jake Arrieta
in the opener to an interleague series Monday night at Citi Field. Perhaps the better matchup is Dickey versus
Matt Cain
, who is starting for San Francisco tonight against the Los Angeles Angels. After all, both are strong candidates to start for the NL in the July 10 All-Star Game at Kansas City.
ESPN Stats & Information guru
Mark Simon
notes Dickey enters the start with an eight-game winning streak, 2.20 ERA and a streak of four straight starts without allowing an earned run. The knuckleballer's franchise-record 32 2/3-inning scoreless streak ended in the ninth inning at the Trop last Wednesday when
Wright committed an error,
Mike Nickeas
had a pair of passed balls and a groundout plated an unearned run. Cain, meanwhile, has a 2.18 ERA -- 0.59 in his past four starts -- as well as a seven-game winning streak.
Writes Simon in comparing the duo:
We'll use Bill James Game Score, which is a scale that rates starts usually on a 0-100 scoring, based on a pitcher's innings pitched, runs, hits, strikeouts and walks. Cain's perfecto is one of the rare starts in baseball history that surpassed 100. (He finished with a 101.) Dickey's one-hitter last Wednesday was a 95.
Dickey's average Game Score this season is a 64.7. He's had five straight starts with a Game Score of 74 or better, the first pitcher to do that since Chris Carpenter had six straight in 2005. The only other Mets pitchers to run off five straight starts of that nature were Tom Seaver in 1975 and Dwight Gooden in 1985. Of Dickey's 13 starts, 11 have rated above MLB average. (Average historically has been a Game Score of 49.)
Cain has Dickey beat in this area. His average game score thus far is a 66.8. He posted a Game Score of 96 in a start earlier this season and is the first pitcher with two starts in a season of 96 or better since Randy Johnson in 2002. (The only pitcher with three in the Live Ball Era was Nolan Ryan in 1990.) Cain has 10 starts out of 13 with a Game Score of 50 or higher, one fewer than Dickey.
The highest average game scores among NL starters:
Cain 66.8
Dickey 64.7
Gio Gonzalez
63.0
Ryan Dempster
62.4
Brandon Beachy
62.0
•
Jason Bay
, who stayed away from Citi Field during the weekend as he deals with concussion symptoms, may be
examined by doctors Monday
. After a July 23 concussion two years ago, which Bay suffered at Dodger Stadium, the left fielder missed the remainder of the season.
Terry Collins
said "anything's possible" when asked if Bay might miss the remainder of this season now too.
"We are going to follow the doctor's lead,''
Sandy Alderson
told
Kevin Kernan
in the Post
. "We certainly are not going to push to get him back if it is not medically indicated at this point, particularly with the fact that he has a history. We have to be cautious and make sure from a medical standpoint. It's a tough situation because he plays all out. He gives it everything he's got. The results have not been what he would like, what Mets fans would like, but it's really unfortunate that some people can't separate the effort from the results."
A fresh reminder of the gravity of concussions will be in the visitors' dugout during the upcoming series.
Brian Roberts
returned last week after missing nearly 13 months with the effects of concussions.
Eduardo A. Encina
in the Baltimore Sun
writes:
[Dr. Michael] Collins said Roberts' return is a major success story when it comes to concussions. When he first began working with Roberts, the goal wasn't a return to big leagues. It was making sure Roberts could live out his daily life without suffering from concussion symptoms -- among them the headaches, dizziness, nausea and fatigue that Roberts overcame during his recovery. "I think anybody who knows Brian knows how badly he wanted to get back to playing," said Collins, who played college baseball at Southern Maine. "But we didn't even think about that until months into it. It's a hard injury for someone to go through. Everyone thinks, well 13 months is a long time, but actually I've got to tell you, it's a good outcome. To get him back to playing, not every athlete that goes through what Brian went through gets back to playing. A lot of players who've gone through what he's gone through have had to hang them up. He persevered through it."
Read more on Bay in the
Daily News
,
Newsday
,
Record
and
Star-Ledger
.
•
Ruben Tejada
is scheduled to make a second attempt at a rehab assignment with Triple-A Buffalo on Monday night. His first try two weeks ago was abandoned when Tejada had a recurrence of trouble with the right quadriceps, which originally sent him to the DL.
Ronny Cedeño
(calf) has now played three rehab games with the Bisons, all manning shortstop. He went 1-for-4 Sunday and is now 2-for-11 with a walk and two strikeouts with the Triple-A club. Collins has estimated a midweek activation from the DL for Cedeño.
• Collins
had an easy explanation
for sending
Scott Hairston
to pinch hit for
Ike Davis
in the eighth inning Sunday against left-hander
Sean Marshall
with two men on base, even though Davis -- whose average has climbed to .194 thanks to an eight-game hitting streak -- has started to heat up. Hairston grounded out, but there is no question he mashes left-handed pitching. He is hitting .338 with seven homers in 74 at-bats against southpaws even after Sunday's unsuccessful matchup against Marshall. Davis similarly had been replaced for a pinch-hitter Friday, against nasty southpaw
Aroldis Chapman
. Read more in
Newsday
.
• Columnist
Mike Vaccaro
in the Post
reviews the all-time Mets team selected for SNY by a panel of experts, which included him. The winners:
Mike Piazza
, c
Keith Hernandez
, 1b
Edgardo Alfonzo
, 2b
Wright, 3b
Jose Reyes
, ss
Cleon Jones,
lf
Beltran, cf
Darryl Strawberry
, rf
Tom Seaver
, rhs
Jerry Koosman
, lhs
Roger McDowell
, rhr
Tug McGraw
, lhr
Davey Johnson
, manager
On Beltran, Vaccaro writes:
Oh, this is surely where we'll hear some backlash from backers of Mookie Wilson, Lenny Dykstra and Tommie Agee, but Beltran was the most complete everyday player the Mets ever had, his seven-year stats dwarf Dykstra's and Mookie's, and though Agee should be remembered fondly as a core member of the '69 Miracle boys, he had just three average to above-average seasons with the Mets.
The show will be televised Thursday night on SNY. Read more in the
Daily News
.
• Young, who has returned from surgery to repair a torn anterior capsule in his right shoulder, was pleased with exceeding 100 pitches in back-to-back starts while working on standard rest in Sunday's outing. Young actually was tagged with his first loss since June 14, 2009. Of course, he has made only 11 major league starts over the past three seasons. Read more in the
Star-Ledger
and
Post
.
• Right-hander
Collin McHugh
, a sleeper but legitimate prospect scouts compare with
Dillon Gee
, was promoted from Double-A Binghamton to Buffalo and will make his Triple-A debut Monday for the Bisons at Norfolk. In 30 Double-A appearances (28 starts) over roughly a calendar year, McHugh went 13-7 with a 2.68 ERA. He takes the rotation spot of
now-reliever
Jenrry Mejia
. "He was legitimately our best starter, most consistent starter in the second half of the season last year,"
Wally Backman
, who managed McHugh in Double-A last season, told
Mike Harrington
in the Buffalo News
. "And that was with a couple other big boys there too [
Matt Harvey
and
Jeurys Familia
]. He knows how to pitch. He's not a power guy, but he can sink it, he can cut it, make the ball do things."
• Mejia had a rough second appearance since a move to the bullpen as Pawtucket beat Buffalo, 6-1. He faced five batters and allowed two hits, a walk and hit a batter. Mejia also had a wild pitch. "Command was definitely an issue," Backman told Harrington. Read Sunday's full minor league recap
here
.
• The Brooklyn Cyclones open their season tonight at Coney Island against the Staten Island Yankees. The roster includes 2011 first-round pick
Brandon Nimmo
, a high school outfielder from Wyoming, as well as this month's supplemental first-round pick, Purdue catcher
Kevin Plawecki
. Read more in the
Daily News
.
• Seaver discussed
Johan Santana's
no-hitter with
Stephen Hayes
in
Newsday
.
•
Mark Hale
in the Post
notes
Daniel Murphy's
power has been absent all season as well as the second baseman's recent overall production. Murphy is hitting .148 since June 4 with no walks and two extra-base hits in 50 plate appearances. His average has slipped to .274 as well. Writes Hale:
Murphy's last homer was back on last July 16 -- he has gone 338 at-bats and 364 plate appearances since going deep, which is absolutely staggering. "Just not centering the ball enough," Murphy said.
TRIVIA:
Who were the Game 1 starters when the Mets faced the Orioles in the 1969 World Series?
Sunday's answer: The last Met to start an All-Star Game:
Dwight Gooden
, in 1988. Gooden started opposite the AL's
Frank Viola
at Riverfront Stadium in Cincinnati.