New York Mets:

Brittany Viola
August, 9, 2012
8/09/12
6:40
AM ET
Chris Young
surrendered first-inning homers to
Jose Reyes
and
Giancarlo Stanton
, then a second two-run shot in the fifth to Stanton, and the Mets lost their ninth straight home game, 13-0 to the Marlins on Wednesday.
The Mets, who again dropped to a season-worst five games under .500, last won at Citi Field on July 7. Their home losing streak is the longest since they also lost nine straight in the final days of
Art Howe
in 2004, at Shea Stadium. The franchise record is a 15-game home losing streak in 2002, in the final days of
Bobby Valentine
.
The Mets suffered their most lopsided shutout defeat since losing to the Yankees, 15-0, on June 14, 2009, in a game in which
Johan Santana
was thumped for nine runs in three innings in the Bronx. It was the second-largest home shutout defeat in franchise history, trailing only a 16-0 loss to the Braves on July 2, 1999 that included infielder
Matt Franco
surrendering a homer to
Gerald Williams
and a crowd of 51,979 mostly remaining on hand for postgame fireworks.
"When you get beat like this tonight, it's one of those games you just check off the calendar and get ready for tomorrow,"
Terry Collins
said.
The Mets dropped a season-high 10½ games off the NL wild-card pace.
As for the nine-game home skid, Collins said: "You remember last year we didn't play good at home. It was a huge concern of mine last year, due to the fact the ballpark was so big, and the kind of game we played, where we ran the bases and we didn't have a lot of power. And we just didn't play good here. Right now, you know, the ballpark is reconfigured. We had confidence playing here the first half. Right now there's nothing we do that's right. So this is when you cinch up your belt, reach inside, find out what you're made of, find out who wants to compete the last 50 games at the end of the season, because those are the guys you're going to want on the team."
The Mets try to avoid getting swept in a 12:10 p.m. matinee today as
R.A. Dickey
(14-3, 2.82 ERA) opposes right-hander
Josh Johnson
(7-7, 3.85).
Thursday's news reports:
• Despite playing with a sore right hand, Reyes delivered a game-opening homer to extend his career-high hitting streak to 26 games, the longest in the majors this season, and the longest by a player after leaving the Mets, topping
Jeff Kent's
25-game streak with the Astros in 2004. It also is the longest streak by a reigning batting champion since
Joe DiMaggio
ultimately posted a record-setting 56-gamer in 1941. Reyes matched
Emilio Bonifacio
(2011) for the second-longest streak in Marlins history. He trails only
Luis Castillo's
35-game streak in 2002.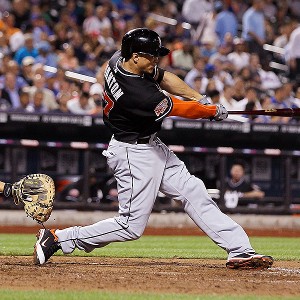 Jim McIsaac/Getty Images
Giancarlo Stanton crushed two homers Wednesday, in his second game since returning from knee surgery.

Stanton (4-for-5, 4 RBIs) joined
Alex Rodriguez
as the only players in MLB history with three 20-plus homer seasons before turning 23, according to the Elias Sports Bureau.
Garrett Olson
was charged with four runs while recording only one out in relief in his Mets debut. Olson is not a true lefty specialist -- lefties hit .270 against him in Triple-A, with righties hitting .272. So the Mets eventually could promote converted sidearm lefty
C.J. Nitkowski
, who is making a comeback at age 39. Nitkowski allowed three hits and a walk in in 1 2/3 innings Tuesday night with Buffalo at Lehigh Valley. In two Triple-A appearances since a promotion from Binghamton, lefties have two hits and one strikeout in seven plate appearances against him.
Young surrendered seven runs in 4 1/3 innings as his ERA swelled to 4.87.
"Maybe that's part of coming off the surgery," Young said, referring to his procedure to repair a torn anterior capsule on May 16, 2011. "It just some nights takes a little bit longer to get loose. Tonight it did."
Read game recaps in the
Post
,
Star-Ledger
,
Newsday
,
Miami Herald
and
Daily News
.
• Marlins manager
Ozzie Guillen
told
Joe Capozzi
in the Palm Beach Post
that Stanton will get Thursday's matinee off, since the slugger was just activated from the DL on Tuesday after recovering from July 8 arthroscopic surgery on his right knee. Meanwhile, Guillen plans to restore ex-Met
Heath Bell
to the closer's role, writes
Clark Spencer
in the Miami Herald
. Bell has tossed nine scoreless innings spanning 10 relief appearances since the All-Star break, allowing three hits and three walks while striking out eight.
• Santana
threw a bullpen session Wednesday
at Citi Field and reiterated he is prepared to return from the disabled list to face the Braves on Saturday. Collins again suggested the Mets may give Santana extra rest at points in September to avoid any question about the southpaw's health come spring training 2013.
Against the Braves,
Matt Harvey
will oppose left-hander
Paul Maholm
in Friday's series opener, followed by Santana against right-hander
Kris Medlen
, then
Jon Niese
opposite right-hander
Ben Sheets
on Sunday. Read more on Santana in the
Post
,
Record
,
Daily News
and
Newsday
.
•
Brian Costa
in the Journal
chronicles the fall of
Jason Bay
, who is now a platoon player -- meaning he may only start Friday against Maholm during the remainder of the homestand. Writes Costa:
What happened to Jason Bay? "There's really no answer," [hitting coach Dave] Hudgens said. "There is no answer." Plenty of players have seen their production decline as they age. Some lose bat speed. Some cannot overcome the effects of injuries. And Bay, who will turn 34 next month, has had his share of ailments. But baseball has never seen an erosion of ability quite like this. For the first seven years of his career, Bay compiled a .519 slugging percentage, the 21st-best mark in the majors over that span (minimum 1,000 games played). But in 2½ years with the Mets, through Tuesday, Bay has slugged .371. Among players who slugged .500 or better in their first seven major-league seasons, it is the largest decline in history over seasons eight through 10, according to Stats LLC. In other words, no player who has displayed so much power in his first seven years has ever produced so little over the following three.
Although
Mike Baxter
and
Jordany Valdespin
started at the corner outfield spots Wednesday with Bay sitting, Collins predicted
Lucas Duda
would see at-bats in the not-too-distant future in left field. Duda, after a 3-for-25 start upon his demotion to Triple-A, since is hitting .381 (8-for-21) with two homers -- although he was hitless in four at-bats while drawing two walks Tuesday with the Bisons. Read more in the
Post
.
•
Tim Byrdak
continued to weigh whether to proceed with surgery to repair a torn anterior capsule in his pitching shoulder, a procedure that Santana and Young each underwent in the past two years. Either way, Byrdak's career is endangered, since he turns 39 this offseason. Collins has taken responsibility for Byrdak's extreme usage contributing to the shoulder injury, although the manager noted Byrdak relished the frequent appearances. Writes
Andrew Keh
in the Times
:
Stephen Fealy, an orthopedic surgeon at the Hospital for Special Surgery in Manhattan, said there was a danger associated with trusting competitive athletes to evaluate their health. He likened pitchers to long-distance runners, who can ignore, willfully or not, physical warning signs. "They get the runner's high, the serotonin and endorphins kick in, and they feel fine," Fealy said. "The next day, they are down with a stress fracture." Fealy said the medical field was still playing catch-up as it tried to study the demands of the sport.
It is accepted that there is a certain amount of uncertainty attached to even the most widely accepted pitch counts and innings limits. Bradford Parsons, an assistant professor of orthopedics at the Mount Sinai School of Medicine, agreed, and said it was even hazier for relievers because most medical studies focused on starters who pitched in a controlled setting, with consistent rest and regular, finely tuned schedules. "With relief pitchers, it's even less known what the right number of pitches they can throw day-to-day is and how many days they can go without a day off," Parsons said. "I think that's why certain injuries can be frequent in relievers -- that data is even more arbitrarily set."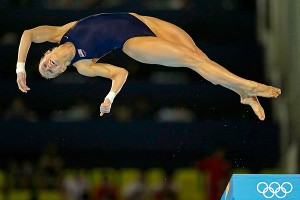 Charlie Riedel/Associated Press
Olympian Brittany Viola advanced to this morning's 10-meter platform diving semifinals before being eliminated.

• Savannah pitching coach
Frank Viola
watched in person in London as his daughter
Brittany
advanced past the preliminary round Wednesday in 10-meter platform diving at the Olympics. She placed 14th in the opening round. The top 18 advanced to this morning's semifinals. She then failed to qualify for the finals.
"I'm a nervous wreck," the ex-Met Viola told the Associated Press before the competition began. "It's a lot easier going out for Game 7 knowing you have the ball in your hand and you're in control. In the stands, you're a parent and have no control."
• Right-hander
Tyler Pill
, the Mets' fourth-round pick in 2011, was named the Florida State League player of the month. Pill went 5-0 with a 1.55 ERA in July.
Right-handers
Luis Mateo
,
Hansel Robles
and
Gabriel Ynoa
and left-hander
John Mincone
have been selected to participate in Tuesday's New York-Penn League All-Star Game at Mahoning Valley. Ynoa, who turned 19 on May 26, is the youngest starting pitcher in Cyclones history. Mincone graduated from Half Hollow Hills East High School on Long Island.
MLB announced the suspension of right-hander
Nicolas Debora
of the Dominican Summer League Mets for 50 games for a positive test for metabolites of Stanozolol, a performance-enhancing drug.
Lehigh Valley beat Buffalo, 5-4 in 12 innings, when
Fernando Cabrera
tossed a game-ending wild pitch in his third inning of relief. Starter
Jeurys Familia
surrendered four runs, but only one earned, on five hits and two walks while striking out seven in six innings. Read Wednesday's full minor league recap
here
.
•
Ike Davis
, whose charitable efforts now can be followed on Twitter (
@theikedavis
), is hosting a philanthropic event Sept. 9 at 7 p.m. at City Winery (155 Varick St.). Country music singer
Lee Brice
will perform. The event benefits research into childhood cancer. Davis lost close friend
Mike Lio
to Ewing's sarcoma on the eve of the first baseman's major league career.
The Johan Santana Foundation holds a charity event tonight at Del Posto on W. 10th Ave. to increase awareness about melanoma and to raise money for a sports complex in his Tovar, Venezuela, hometown. The event is sold out, but you can bid on items online
here
.
The Mets welcomed youth from Tuesday's Children and the Cory Lidle Foundation to Citi Field on Wednesday. Read more in the
Post
and
Daily News
.
TRIVIA:
Who has the longest hitting streak in Mets history?
Wednesday's answer: Reyes started 20 games as the No. 3 hitter for the Mets in 2010, under
Jerry Manuel
.
August, 1, 2012
8/01/12
9:20
AM ET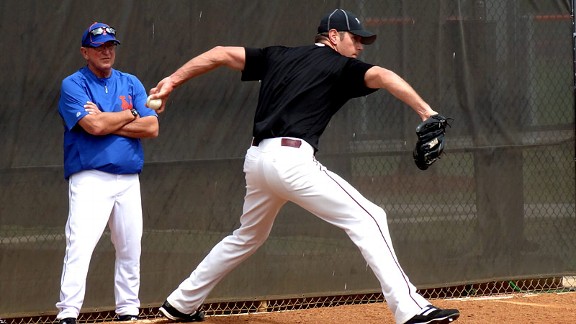 Adam Rubin
Sidearm left-hander C.J. Nitkowski auditioned for the Mets in March, but did not sign until this month.
Ex-Cub
Jeff Stevens
greeted new teammate
C.J. Nitkowski
at Double-A Binghamton with relief at being able to pass the torch as oldest player on the Eastern League club.
"Man, I was the oldest player until you got here," Stevens told the 39-year-old Nitkowski.
"How old are you?" Nitkowski asked.
"'I'm 28," replied Stevens, who since has been promoted to Triple-A Buffalo.
Said Nitkowski: "To be honest with you, when I first got here, everybody was really young and looked in really good shape. I haven't been around professional guys in a long time. They all looked kind of big to me. From playing in Asia the last four years, and being around the high school kids the last four years that I've been training with, to get here, I was taken aback for a second. But it only takes a couple of days, and then things feel back to normal."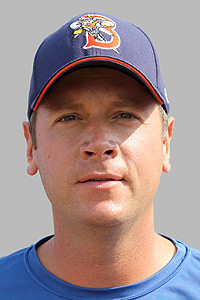 Courtesy of Binghamton Mets
C.J. Nitkowski

Nitkowski auditioned for the Mets in spring training, but the organization did not sign him. He struggled to even get tryouts with other major league clubs. So he spent the first half of the season as a volunteer coach at an Atlanta high school along with fellow former major league pitcher
Paul Byrd
. Nitkowski would throw a few times a week with a neighbor, who happened to be a former University of Hartford catcher. And when he reached out to
J.P. Ricciardi
again in recent weeks, the Mets finally opted to sign him and assign him to the B-Mets.
Now Nitkowski is a Double-A player for the first time since 1995, a year after he was drafted in the first round out of St. John's by the Cincinnati Reds.
So far, Nitkowski -- who now sports a sidearm delivery -- has made four relief appearances with Binghamton. In three innings, he has allowed one hit and two walks while striking out six. He had spent 2007 through 2010 pitching in Japan and South Korea, the final two of those years in the latter country as an overhand-throwing starting pitcher.
"I have all the confidence in the world I can be a lefty-on-lefty guy right now," he said. "But you don't want to just do one thing. You want to make sure they have confidence in you if they bring a pinch-hitter in or turn a switch-hitter around. The righty stuff, I'm still working on right now. The changeup is actually there. They really like the changeup a lot. It's got to be on the plate a little more, be more consistent with it. The breaking ball is definitely there. And I've got enough movement on my fastball."
Nitkowski acknowledged, "I'm not lighting up the radar gun anymore." But he figures a mid-80s mph fastball is more than enough. He has watched and studied
Pedro Feliciano
,
Clay Rapada
and
Javier Lopez
have success in recent years with the dropdown style and without eye-popping velocity. Nitkowski even sought tutoring from former Mets pitching coach
Rick Peterson
early last year because of Peterson's success in converting Feliciano to a sidearm delivery with the Mets.
"There were a couple of times it would be real easy to say, 'Hey, look, I'm not going to get any workouts,'" Nitkowski said. "I'm watching and seeing all the reports that so-and-so is looking for a lefty. So I had my agent call and say, 'Can we just get a workout?' No. Not even a workout. It would shock me. I understand they hear my name and probably think I'm joking. But I knew where I was and I went off of what J.P. told me in February, where he was honest with me. He thought there was something there worth looking at. The timing just wasn't right.
"So I kept pursuing it. But there were times where I was like, 'Maybe it's not going to happen.' I texted J.P. a couple of weeks ago to check in. Right before I did that, I was starting to make plans to maybe go to independent ball. I was thinking I'd go to independent ball for a month and maybe strike lightning in a bottle, and if not be done with it."
The fact that the Mets have faded from the wild-card race hurts Nitkowski's chances of appearing in the majors this season for the first time since 2005. After all, there is no need to call up a 39-year-old in September if the team is not in contention.
Still, Nitkowski believes this experience remains worthwhile.
"The goal for me was to come here and test it -- find a place where professional hitters were to test this sidearm out," he said. "So, for me, this way I don't have to go into full-time baseball retirement without wondering, 'Would I have had a chance? Was it good enough?'
"I'll be able to get my answer here."
Organization leaders
Average:
T.J. Rivera, St. Lucie, .322; Eric Campbell, Binghamton, .315; Cam Maron, Savannah, .295; Fred Lewis, Buffalo, .292; Josh Rodriguez, Buffalo, .288; Josh Satin, Buffalo, .287; Wilmer Flores, Binghamton, .286; Juan Lagares, Binghamton, .284; Maikis De La Cruz, Kingsport, .282.
Homers:
Aderlin Rodriguez, Savannah, 18; Cory Vaughn, St. Lucie, 17; Travis Taijeron, St. Lucie, 16; Matt den Dekker, Buffalo, 15; Valentino Pascucci, Buffalo, 14.
RBI:
Aderlin Rodriguez, Savannah, 71; Wilmer Flores, Binghamton, 61; Dustin Lawley, Savannah, 58; T.J. Rivera, St. Lucie, 58.
Steals:
Alonzo Harris Jr., St. Lucie, 28; Fred Lewis, Buffalo, 18; Juan Lagares, Binghamton, 17; Matt den Dekker, Buffalo, 16; Cory Vaughn, St. Lucie, 16.
ERA:
Hansel Robles, Brooklyn, 2.04; Luis Mateo, Brooklyn, 2.08; Tyler Pill, St. Lucie, 2.35; Michael Fulmer, Savannah, 2.51; Rafael Montero, St. Lucie, 2.52; Rainy Lairy, Brooklyn, 2.72; Luis Cessa, Brooklyn, 2.78; Gabriel Ynoa, Brooklyn, 2.79; Collin McHugh, Buffalo, 2.95; Cory Mazzoni, Binghamton, 3.24.
Wins:
Zack Wheeler, Binghamton, 10; Gonzalez Germen, Binghamton, 10; Rafael Montero, St. Lucie, 10; Cory Mazzoni, Binghamton, 9; Tyler Pill, St. Lucie, 8.
Saves:
Fernando Cabrera, Buffalo, 18; T.J. Chism, Savannah, 16; Adam Kolarek, Binghamton, 16; Adrian Rosario, Binghamton, 14; Robert Carson, Buffalo, 10.
Strikeouts:
Zack Wheeler, Binghamton, 117; Collin McHugh, Buffalo, 114; Matt Harvey, Buffalo, 112; Rafael Montero, St. Lucie, 105; Tyler Pill, St. Lucie, 95.
Short hops
• Savannah pitching coach
Frank Viola
will be excused to head to London this weekend, with minor league pitching coordinator
Ron Romanick
temporarily filling Viola's role with the Gnats. Viola's Olympian daughter
Brittany
is due to compete in the 10-meter platform diving event Aug. 8 and 9.
•
Bradley Marquez
, the Mets' 16
th
-round pick in 2011, is due to head to Texas Tech in coming days. Part of Marquez's signing arrangement allows him to continue to play college football. Marquez, a 19-year-old center fielder, is hitting .269 (7-for-26) in eight games with Kingsport. Marquez is a wide receiver from Odessa, Texas.
•
Jenrry Mejia
, reverting to a rotation role despite ultimately projecting as a reliever, tossed 57 pitches in three innings in his first start with Buffalo since June 9. Facing Indianapolis, Mejia allowed one run on four hits, three walks and a wild pitch while striking out three.
•
Lucas Duda
has started four games in right field and one game in left field since a demotion to Buffalo. He is hitting .143 (3-for-21) with one RBI in five games.
Kirk Nieuwenhuis
is 2-for-5 with a double and three strikeouts since joining the Bisons.
• Right-hander
Logan Verrett
, last year's third-round pick from Baylor, made his Florida State League debut Sunday with St. Lucie. Verrett limited Lakeland to two runs in 6 1/3 innings in a no-decision. He had posted a 3.06 ERA in 11 starts with Savannah.
• Left-hander
Steven Matz
, the Long Island native whose first pro appearance was delayed until this season because of a slow recovery from Tommy John surgery, has made three straight scoreless starts for Kingsport. Matz has limited opponents to five hits and eight walks while striking out 23 in 18 innings during that span.
Matz, from Stony Brook, isn't the only Long Island product with a sizable scoreless streak intact. Reliever
John Mincone
has allowed only one run in 20 2/3 innings with the Brooklyn Cyclones this season. Mincone, who graduated from Half Hollow Hills East High School, has tossed 17 1/3 straight scoreless innings. Mincone, who turned 23 last week, originally was drafted by the Cubs in the 11
th
round in 2009, but ultimately was released. He pitched in the independent Frontier League last season.
•
Miguel Batista
, who was released by the Mets and signed a minor league deal with the Braves, made his Triple-A Gwinnett debut Saturday at Charlotte. Batista, 41, allowed two runs on five hits and two walks while striking out three in a 65-pitch effort spanning five innings.
• Right-handed reliever
Erik Turgeon
, released from Binghamton with a 7.40 ERA, signed with the Pirates and has been assigned to high-A Brandeton. A University of Connecticut product, the Mets originally drafted Turgeon in the 25
th
round in 2008.
• B-Mets infielder
Michael Fisher
retired.
• Left-handed reliever
Robert Carson
made his Triple-A debut Friday. He recorded his first International League save two days later. St. Lucie closer
Adam Kolarek
, an 11
th
-round pick in 2010 out of the University of Maryland, moved to Binghamton and earned his first Double-A save Tuesday.
Adam Rubin's farm report appears Wednesdays during the regular season
July, 29, 2012
7/29/12
7:01
AM ET
PHOENIX --
Ike Davis
slugged three solo homers, but
Chris Young
surrendered six runs in four innings and the
Mets lost to the Diamondbacks, 6-3
, Saturday at Chase Field.
Davis went 4-for-4 with a single and the three homers. His 13 total bases are tied for the second most in a game in franchise history, according to ESPN Stats & Information. The record-holder:
Edgardo Alfonzo
, with 16 total bases, on three homers, a double and two singles, in 1999. Davis' 13 total bases matched performances by
Darryl Strawberry
(1985),
Claudell Washington
(1980) and
Jim Hickman
(1965).
Since 2006, the Mets now are 1-2 when they have a player produce a three-homer game. The rest of baseball is 51-4 during that span, according to ESPN Stats & Information. The Mets also lost a three-homer game by
Jose Reyes
in 2006.
In today's series finale, the Mets turn to
R.A. Dickey
(13-2, 2.97 ERA). The knuckleballer opposes left-hander
Joe Saunders
(5-6, 3.51) as the Mets try to claim a split of the four-game series before moving on to San Francisco and then San Diego.
Sunday's news reports:
• Columnist
Joel Sherman
in the Post
projects the Mets will sign
David Wright
to an extension this offseason. The Mets have a team option on Wright at $16 million for 2013 right now. Writes Sherman:
In fact, I was surprised how confident Mets officials sounded that they would find common ground this offseason and retain Wright long term. Wright's return to elite status this year means the Mets have to expect to pay well north of the six-year, $100 million extension Washington gave to Ryan Zimmerman in February, when the third baseman still had two years at $26 million remaining on his previous deal. Wright is due $16 million next year, and the Mets do not want all the tension that would come from Wright playing in his walk year, since their intention is to retain him anyway.
The Mets' confidence probably has something to do with feeling a bit more financially secure post-Madoff. Also, after letting Jose Reyes go, there is pressure to commit long term to a homegrown, beloved face of the franchise. In addition, the Mets think they have a strong relationship with Wright's representatives at ACES, which has a reputation for getting strong deals, but also for not dragging matters out when they feel their clients want a certain location and a beneficial contract can be completed -- and Wright has never hidden his desire to be a career-long Met.
• Davis' three-homer game came on the day he
paid tribute to a childhood friend
,
Mike Lio
, who died of Ewing's sarcoma in 2009, shortly before the first baseman made his major league debut.
Meanwhile, Davis' family recently remained concerned about the extent of Davis' latent but suspected case of valley fever, even if the first baseman minimized the issue. Writes
Andrew Keh
in the Times
:
Those back in Arizona had their concerns. There were cautionary tales, like that of Conor Jackson, who was picked by the Diamondbacks in the first round of the 2003 draft and quickly rose to the majors before being struck by the illness in 2009, when he lost 30 pounds and had his career derailed. After The New York Times published an article last month about Jackson, who has been playing this year in Class AAA, Davis's mother, Millie, reached out to him with questions about his recovery. Two weeks ago, they connected for a 20-minute phone conversation. "I think she was familiar with my case and how bad I got it, so I think that was in the back of her mind," said Jackson, whose message to Millie Davis was direct: "I reassured her. I said, 'Listen, if he's playing, and he feels good enough to play, then he's fine.'" Jackson added, "When you have a situation that arises like this, baseball's fourth in line of your problems or worries at that time."
• Young allowed six runs in four innings against the Diamondbacks. He indicated the
problem solely was pitch location
. Read game recaps in the
Star-Ledger
,
Times
,
Newsday
,
Record
,
Post
and
Daily News
.
•
Frank Francisco's
planned appearance with Double-A Binghamton on Saturday was scrapped when the closer
felt uncomfortable on his left side
. Francisco is rehabbing from a strained left oblique, so the setback signals that it is unlikely the closer will be activated Monday in San Francisco, which appeared the intent. Told by reporters about Francisco's setback after managing Saturday's major league game,
Terry Collins
said he had bad news of his own to share. But, the manager added, he was in no mood to do so after the loss. Collins then downplayed the gravity of the impending announcement before reporters left the visiting manager's office at Chase Field. Stay tuned.
•
Scott Hairston
said he is unfazed by the widespread interest from teams who would like to acquire him at the trade deadline. The bottom line, rightly or wrongly, is that
Sandy Alderson
wants to keep the 2012 team as competitive as possible, so it's unlikely Hairstson gets dealt before Tuesday's deadline, unless a team makes a substantial offer. Hairston is signed at $1.1 million for this season, then is eligible for free agency. He told ESPNNewYork.com the Mets have not broached the topic of a contract extension with him.
"I do want stability," Hairston told
Andy McCullough
in the Star-Ledger
. "I want to at least have a season where I don't have to worry about where I'm going to be the next year. So I don't know what the Mets are going to decide. They haven't really came to me and talked to me about next year. It's just one of those things. I just have to keep playing. I know things are going to work out. I'm not too worried about it. I just want to keep my focus on my job here. Everything else will take care of itself."
•
Jason Bay
went 0-for-4 with two strikeouts Saturday and is now hitless in his past 19 at-bats. With the Mets facing a southpaw today, it's likely Bay will remain in the lineup.
Mike Puma
in the Post
reports
Mike Baxter
is poised to take over left-field duty against right-handed pitching, leaving Bay only to face southpaws, if Bay's production does not pick up in the next week. Read more on Bay in
Newsday
.
• Baxter should be back Monday in San Francisco after completing his rehab assignment with Triple-A Buffalo. He doubled and played a full game in left field while going 1-for-4 Saturday with the Bisons. "I'm just so excited to get back out there and play again,'' Baxter told
Kevin Kernan
in the Post
. "What took the longest to heal was the separated collarbone. The ribs and the cartilage and all that other stuff was pretty good in terms of healing and getting back into baseball shape, but the collarbone slowed everything down."
• 2012 first-round pick
Gavin Cecchini
produced his first professional homer, a grand slam that opened a five-run lead, and Kingsport beat Bristol, 9-5. Read Saturday's full minor league recap
here
.
• Savannah pitching coach
Frank Viola
, who remains the Mets' last 20-game winner, had joined Twitter. You can follow Viola at
@FrankViola16
. His daughter
Brittany
is a diving competitor at the London Olympics. Follow her at
@BrittanyViola
.
•
Josh Thole
said he is prepared to catch
Matt Harvey's
second major league start, opposite Giants right-hander
Tim Lincecum
on Tuesday in San Francisco.
Rob Johnson
, who was Harvey's batterymate at Buffalo, was promoted last week along with the 2010 first-round pick and handled Harvey's major league debut. "I've seen enough of him," Thole told
Anthony Rieber
in Newsday
. "... I watched him the other night and have a pretty good feel of what he likes to do."
• Left-handed reliever
C.J. Nitkowski
, who is attempting a comeback with the Binghamton Mets at age 39, will appear in a movie to be released next year about
Jackie Robinson
. Writes
Tyler Kepner
in the Times
:
C. J. Nitkowski made the big time this summer, without even really trying. He will play the role of Dutch Leonard, a pitcher for the 1947 Philadelphia Phillies, in the movie "42," about Jackie Robinson, to be released next April. He got the part through a connection in the youth baseball league he helps coach in Georgia. "The fact that I have a name and I'm not just 'Baseball Pitcher,' I guess that's a big deal for actors, to get that," said Nitkowski, a former major league reliever. "It's not my profession, so I didn't get too worked up about it, but people go to battle to get those roles."
TRIVIA:
At which university did
Jeremy Hefner
pitch?
Saturday's answer: Francisco,
Bobby Parnell
,
Ramon Ramirez
and
Jon Rauch
have earned saves for the Mets this season.
July, 27, 2012
7/27/12
2:58
PM ET
Matt Harvey's second major league start will be against a marquee name.

Harvey is scheduled to face Tim Lincecum (4-11, 5.88 ERA) on Tuesday in San Francisco.

The other matchups:

Jeremy Hefner vs. LHP Madison Bumgarner on Monday
Jon Niese vs. RHP Matt Cain on Wednesday
Chris Young vs. LHP Barry Zito on Thursday.

• Talk about consistency: The Mets enter game No. 100 on Friday night at 48-51. Their records at 100 games the past three seasons: 50-50, 51-49 and 49-51.

• First base coach Tom Goodwin turned 44 today.

• The Mets released right-handed reliever Erik Turgeon from Double-A Binghamton. He was 1-3 with a 7.40 ERA in 17 relief appearances.

• Frank Viola's daughter Brittany is scheduled to compete for Team USA at Olympics on Aug. 8-9 in women's 10-meter platform diving.
PHOENIX --
June, 25, 2012
6/25/12
7:48
AM ET
R.A. Dickey's
streak without allowing an earned run ended at 44 2/3 innings when
Mark Teixeira
had a sacrifice fly in the third inning and
Nick Swisher
belted a three-run homer later in the frame. The Mets did rally in the sixth to even the score at 5 and take Dickey off the hook, but
Miguel Batista
surrendered a tiebreaking eighth-inning solo homer to
Robinson Cano
as the
Yankees beat the Mets, 6-5
, in Sunday's Subway Series rubber game before a Citi Field-record crowd of 42,364.
"Not bad for a bunch of chickens," Swisher
crowed afterward
.
Dickey's streak was the second longest in franchise history without allowing an earned run, narrowly shy of
Dwight Gooden's
franchise-record 49 innings in 1985. The knuckleballer's streak without allowing an earned run was the longest in the majors since
Orel Hershiser
posted his MLB-record 59-inning streak without allowing
any
runs in '88. (Hershiser was Dickey's pitching coach with the Rangers when Dickey went from conventional pitcher to committing full time to the knuckleball.)
According to Elias, Dickey had held opposing batters without an extra-base hit in 105 consecutive at-bats before Swisher's long ball, the longest streak in the majors this season. Dickey also was charged with his first wild pitch this season.
The Mets completed a stretch of eight straight series against teams with winning records -- versus the Phillies, Cardinals, Nationals, Yankees, Rays, Reds, Orioles and Yankees again -- with a 12-13 record (including 1-5 against their Bronx rivals).
The Amazin's now open a three-game series at Wrigley Field at 8:05 p.m. Monday, with
Johan Santana
(5-3, 3.00 ERA) opposing left-hander
Travis Wood
(1-3, 4.14). The Cubs are an MLB-worst 24-48.
Monday's news reports:
• Read game recaps in the
Post
,
Star-Ledger
,
Record
,
Times
,
Newsday
,
Daily News
and
Journal
.
•
Frank Francisco
landed on the disabled list
before Sunday's series finale with a left oblique strain. The Mets also demoted
Jordany Valdespin
, freeing roster spots for the returns of shortstop
Ruben Tejada
and reliever
Ramon Ramirez
from the disabled list.
Terry Collins
had indicated
Bobby Parnell
would get the first crack at closing in Francisco's absence Sunday, but the opportunity did not materialize. Valdespin's playing time would have been minimal with the number of middle infielders active -- Tejada,
Ronny Cedeño
,
Daniel Murphy
,
Justin Turner
and
Omar Quintanilla
. Quintanilla is out of options, and team officials had been concerned they would lose him off waivers if they tried to get him through in order to attempt to send him to Triple-A Buffalo. Read more in
Newsday
, the
Post
,
Record
and
Star-Ledger
.
• Tejada went 2-for-4 with two RBIs and committed a throwing error in his return. Read more in the
Post
,
Record
and
Star-Ledger
.
• In
obvious need of a second-lefty
in the bullpen to pair with
Tim Byrdak
, which was made even clearer after Cano took Batista deep, the Mets designated for assignment
Vinny Rottino
postgame and called up ex-Padre
Justin Hampson
. Writes columnist
Mike Vaccaro
in the Post
about
Terry Collins'
own regret in hindsight for not using Byrdak to face Cano:
These are the torturous tests you endure sometimes as a manager. We already know how many headaches and how much heartburn the Mets' bullpen has given Terry Collins -- and anyone else with a remote interest in the team's fortunes. We already knew they have only one left-handed arm, Tim Byrdak's, in that bullpen. And we already knew they were playing a man down, since Frank Francisco was placed on the disabled list early last night. We all know that. And Terry Collins knows that. We can get irrational about managers sometimes, so it's best to think about them the way you think about commercial airline pilots if you happen to have a fear of flying: The man in the cockpit doesn't want to crash, either.
Read more from columnist
John Harper
in the
Daily News
.
As for external assistance,
Buster Olney
tweeted: "Mets need bullpen help, but there aren't many sellers now, so they'll probably wait until the All-Star break before they dig into the market."
•
Little Jerry Seinfeld
will lead a long life, at least by poultry standards. The chicken -- purchased by a clubhouse attendant in Chinatown for $8 at Byrdak's request for a gag, after Francisco called the Yankees "chickens" -- was
presented to Farm Sanctuary of Watkins Glen, N.Y.
, in a pregame ceremony Sunday outside the clubhouse. Even
Jerry Seinfeld
seemed to embrace the ridiculousness. As the Mets rallied Sunday night, the devout-Mets-fan Seinfeld
tweeted
: "Yes! @mets #rallychicken comes through!!"
Francisco, by the way, maintained he own a chicken farm in his native Dominican Republic.
David Waldstein
of the Times reported
via Twitter
that Francisco raises fighting chickens. Read more in the
Post
,
Daily News
,
Journal
and
Newsday
.
• Dickey, whose ERA rose to 2.31 although he remained 11-1,
said about his knuckleball
Sunday: "It was coming out kind of wobbly a little bit and I kept searching for it through the innings."
Writes columnist
Steve Politi
in the Star-Ledger
:
They don't sing country songs about knuckleball pitchers, but R.A. Dickey sure sounded like he writing a couple stanzas as he reflected on pitching like an actual human being again. "I was going to live and die with my girl," he said. "She'd been nice so far. That's just the way of it, you know?" Well, that she left him last night, of all nights, was downright cruel. This was a nationally televised game. This was the largest crowd in Citi Field history. This was against the hated Yankees. But even if Dickey had controlled her over his previous five starts like no pitcher in baseball history, there is no pitch in the sport as fickle as a knuckleball, relying on whims and winds to sneak past batters.
Writes columnist
Bob Klapisch
in the Record
about the hyped Dickey-
CC Sabathia
matchup:
How did his best pitch suddenly become so vulnerable? The answer speak to the volatility of the pitch itself, especially at the speeds Dickey throws it. He's got an 80-mph freak of nature on his hands, and make no mistake the butterfly effect of Dickey's knuckleball has turned him an All-Star this year. But try to squeeze even an extra mile or two out of the pitch, overthrow it by just a little, and the ball loses its mystery. And that seemed to be what sabotaged Dickey over the next four innings -- a clear case of too much adrenaline, too much arm-speed, which kept him to doing all the little things that's previously made his knuckleball a nightmare for hitters. "You have to remember that throwing the knuckleball properly is like a symphony of micro-movements -- the back, the legs, the arm," Jim Bouton was saying over the weekend. "All of it has to be perfect. That's the thing about a knuckleball. You can be a little off with your fastball; it comes in at 89 instead of 92. But a knuckleball that's a little off turns into a home run."
Read more about Dickey's outing in the
Times
,
Newsday
,
Daily News
and
Post
.
• The three-game series drew a combined attendance of 124,677. The Mets had been averaging 28,279 per game entering the series. (It's fair to note that the season average includes midweek/bad-weather games earlier in the year, whereas the Yankees series fell during a time attendance would naturally be higher anyway -- although not as high, obviously, had the Bombers not been visiting Queens.)
ESPN's
Jayson Stark
notes the Subway Series, and other natural rivalries, now are slated to be reduced to four games a season -- two apiece in each ballpark -- rather than the six games a season that has been the norm.
•
Ike Davis
was out of the starting lineup for a second straight day with a suspected case of food poisoning, which he believes is related to bad oysters. Davis pinch hit for Turner with two out in the ninth and
Lucas Duda
on first base. Yankees closer
Rafael Soriano
retired Davis on flyout to right field.
• The two-week program to prepare
Jenrry Mejia
at Triple-A Buffalo for major league bullpen readiness is now complete, Bisons manager
Wally Backman
said, via broacaster
Ben Wagner's
tweet. However, that does not mean Mejia will be an imminent call-up. Mejia has struggled in the role, allowing seven runs (six earned) on nine hits, three walks and a hit batter in four innings spanning five appearances since the June 15 conversion. "When you have that natural cutter like he's got, you've got to be able to command it," Collins told reporters Sunday. "And Wally said right now everything's in the middle."
•
Matt Harvey
allowed two runs in five innings in a no-decision with Buffalo, while
Robert Carson
recorded a five-out save for Binghamton and
Cam Maron's
South Atlantic League hitting streak ended at 16 games. Read the full minor league
here
.
• Dickey's knuckleball likely will pave the way for
others to follow in his footsteps
. There are only two minor leaguers throwing the pitch right now -- Double-A Akron's
Steven Wright
(Cleveland Indians) and Class A Boise's
Joe Zeller
(Chicago Cubs).
•
Brittany Viola
, the daughter of
Frank Viola
, qualified for the Olympics in diving by winning the 10-meter platform competition at the U.S. trials. The ex-Met currently serves as the pitching coach for the organization's Class A Savannah affiliate. Read more in the
Miami Herald
and
Newsday
.
• With
David Wright
and Dickey likely representatives already and Santana at only 5-3, it seems unlikely the southpaw would make the All-Star squad. Regardless, GM
Sandy Alderson
told
Mark Hale
in the Post
that the team would not stand in the way of Santana participating if selected, even though Santana missed last season with shoulder surgery. (New MLB guidelines make it tougher for players to wriggle free if selected anyway. They must be injured or excused, per the new CBA.)
TRIVIA:
Who hit the homers for the Mets in a Sept. 25, 2004 game against the Cubs at Shea Stadium that dealt a critical blow to Chicago's postseason aspirations?
Sunday's answer:
Jon Rauch
was tied with Houston's
Fernando Rodriguez
for the MLB lead in losses by a reliever, with seven.
June, 20, 2012
6/20/12
7:59
AM ET
After two less-than-stellar outings in the aftermath of his no-hitter,
Johan Santana
got back on track Tuesday. The southpaw followed
R.A. Dickey's
one-hit shutout by tossing six scoreless innings. Santana combined with
Bobby Parnell
,
Miguel Batista
and
Jon Rauch
on the
5-0 victory against the Orioles
-- the Mets' NL-leading eighth shutout. The Amazin's upped their scoreless streak to 22 innings. It's their third streak of at least that length this season. The season high was 28 consecutive scoreless innings, from May 25-28.
Tonight, the Mets send
Dillon Gee
(4-5, 4.43 ERA) to the mound aiming for the series sweep. Gee will oppose left-hander
Brian Matusz
(5-7, 4.94). While praising Dickey and Santana,
Terry Collins
added: "For us to have a big summer, we've got get Dillon and
Jon Niese
going."
A sweep would continue an interesting pattern for the Mets: getting swept by the Yankees, sweeping the Rays, then getting swept by the Reds.
Wednesday's news reports:
•
Lucas Duda
produced his team-leading 11th homer, a two-run shot in the sixth.
Jordany Valdespin
, manning left field a day after getting a start at second base, capped the scoring with a two-run single an inning later.
Omar Quintanilla
snapped an 0-for-16 drought with a seventh-inning single, but
Ike Davis
lost a nine-game hitting streak as his average sagged to .193.
Justin Turner
grounded out as a pinch hitter in his first plate appearance since returning from the DL. Turner may start at shortstop Wednesday, with Collins saying he expected to give Quintanilla the day off. Read game recaps in the
Post
,
Daily News
,
Times
,
Newsday
,
Star-Ledger
and
Record
.
• Columnist
John Harper
in the Daily News
suggests Dickey and Santana's success may force the Mets to be buyers at the trading deadline. Not reckless buyers who turn around and trade
Zack Wheeler
, but buyers nonetheless. Writes Harper:
If Santana is going to be dominant again, then he and Dickey are a tandem that would make the Mets awfully tough to beat if they ever did get into the postseason. Especially since Collins almost certainly would use Dickey on short rest at that point. "If we ever got there," Collins said Tuesday night, "we'd probably take advantage of that." The Mets have plenty of flaws, as they've demonstrated in recent weeks, and yet the idea of making a run at the postseason doesn't seem quite so far-fetched anymore, mostly because of what Dickey is doing. If you gave GM Sandy Alderson truth serum, he'd tell you he had no such thoughts when this season began, as he goes about trying to build the foundation for long-term contention in the future. And this isn't to say the Mets should do anything crazy at the trading deadline, such as dealing away a Matt Harvey or a Zack Wheeler for somebody such as Ryan Dempster or Matt Garza.
• Writes columnist
Jeff Bradley
in the Star-Ledger
about Santana's bounceback:
And so it took three starts for Johan Santana to get back to the business of hanging zeroes on the scoreboard and not pitches in the strike zone. Crisis averted. "He's back in his routine," Mets manager Terry Collins said after Santana threw six scoreless innings in the Mets' 5-0 victory over the Orioles tonight at Citi Field. "It was a big night. I think now he's back. I think now we'll see a lot of nights like tonight." Poor Collins had to be tossing and turning the last two and a half weeks. Not that he should have been harboring even an ounce of guilt for allowing Santana to throw the 134 pitches needed to finish his historic June 1 no-hitter.
•
Jason Bay
underwent an MRI and a second day of exams by doctors Tuesday as they try to gauge the extent of his most recent concussion.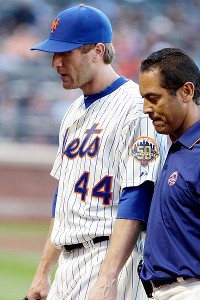 Frank Franklin II/Associated Press
Jason Bay underwent an MRI on Tuesday to try to determine the extent of Friday's concussion.

Orioles second baseman
Brian Roberts
can empathize with Bay. He returned last week after missing nearly 13 months with concussion-related issues. "I had migraine headaches for probably eight months, a lot of dizziness, a lot of balance problems," Roberts told
Tom Pedulla
in Newsday
. "Any time I needed to exert a lot of energy, I just couldn't do it." Read more in the
Times
.
•
Ruben Tejada
(quadriceps) went 0-for-4 while playing a second straight full game at shortstop for Class A St. Lucie. Tejada is expected to move to Triple-A Buffalo on Thursday.
Ronny Cedeño
made a fifth straight start for Buffalo on Tuesday, going 1-for-5 with an RBI. He is expected to be activated from the DL on Friday, for the Subway Series opener against the Yankees.
The returns of Tejada and Cedeño will set up interesting decisions for the Mets roster-wise. Quintanilla is out of options and must be exposed to waivers before being sent to Buffalo, and organization officials have been skeptical he would get through, perhaps preserving his spot. Valdespin, though, has started to pick up his play. (He is unlikely to start today against the southpaw Matusz.)
Vinny Rottino
also is on the 25-man roster. Read more on Valdespin in the
Post
and
Daily News
.
• The weekend matchups against the Yankees:
Friday:
LHP
Andy Pettitte
(3-2, 2.77 ERA) vs. Niese, 7:10 p.m.
Saturday:
RHP
Ivan Nova
(9-2, 4.32) vs.
Chris Young
(1-1, 3.06) 7:15 p.m., Fox
Sunday:
LHP
CC Sabathia
(9-3, 3.55) vs. Dickey (11-1, 2.00) 8:05 p.m., ESPN
•
Matt Harvey
limited Norfolk to one run on six hits and two walks while striking out seven in six innings and
Jenrry Mejia
contributed two scoreless relief innings in his third appearance since a conversion to relief as Buffalo beat the Tides, 6-1. First-round picks
Gavin Cecchini
(0-for-3, two walks) with Kingsport and
Kevin Plawecki
(0-for-4, HBP) with Brooklyn made their pro debuts. Read Tuesday's full minor league recap
here
.
•
David Wright
continues to
lead in NL voting at third base
for the July 10 All-Star Game in Kansas City. Wright (1,977,388) is ahead of San Francisco's
Pablo Sandoval
(1,612,497), Atlanta's
Chipper Jones
(1,547,221) and St. Louis'
David Freese
(1,540,085). No other Mets position player appears in the top five in voting at his spot in the infield or in the top 15 in the outfield. Collins will serve on NL manager
Tony La Russa's
staff. Dickey is the potential NL starter and should be in K.C. as well.
• Collins publicly declared he had
toyed with having Dickey start every fourth day
, with other Mets pitchers slotting around the knuckleballer. The manager eventually shelved the idea for the time being because it would disrupt the other starters' routines and potentially adversely affect their performances. And, at 37, Dickey isn't exactly a spring chicken anymore. Writes
Brian Costa
in the Journal
:
In theory, [Dickey] said he could regularly pitch on three days' rest. The question is how effective he would be. In 11 career starts with three or fewer days of rest, Dickey has a 5.74 ERA. And while he might not have to exert quite as much force as other pitchers, he does not possess a bionic arm. Pitching still takes a toll. He is still 37 years old. "It's a mental grind," Dickey said. "Not that I don't love the challenge of that. It's just all of it [together]. You feel it in your feet, your knees, your joints, your hips. I know I move around out there like an 18-year-old, but I'm not one." That's one reason Collins nixed the idea to use Dickey more often. The other is how it would affect the rest of the rotation. Starting pitchers are creatures of habit, and using Dickey every four days would make for a quirky schedule.
Read more in the
Post
,
Newsday
,
Record
and
Star-Ledger
.
•
Dan Martin
in the Post
notes Dickey is willing to share his knuckleball insights with serious pupils.
Frank Viola Jr.
, 28, the son of Savannah pitching coach/ex-Met
Frank Viola
, was a student during spring training, regularly watching Dickey's bullpen sessions. Martin notes Dickey also has helped 18-year-old
Stephen Orso
from Port Washington. "He got me to where now I can pinpoint my knuckleball better than my fastball," Orso told Martin. "Without him, I don't think my knuckleball would be where it is."
• Another Viola, Frank Jr.'s sister
Brittany
, will compete in the U.S. Olympic diving trials on Wednesday, looking for a spot in London, notes
Aimee Berg
in the
Journal
.
•
Andrew Keh
in the Times
traces Dickey's early pro days throwing the knuckleball in the minors. Keh writes about Dickey's July 24, 2005 debut as a full-time knuckleballer, with Triple-A Oklahoma City:
Instead of success that day at SBC Bricktown Ballpark in Oklahoma City, there was disaster. Over five and two-thirds excruciating innings, Dickey gave up 14 hits and 12 runs before Bobby Jones, who was managing the RedHawks at the time, went out to rescue him. "I remember that game very well," Jones, who now manages the Round Rock Express, the Rangers' current Class AAA affiliate, said in a telephone interview Tuesday. "We were just going to leave him in there, and we knew we were going to take a loss that day if he didn't have it.
"It wasn't pretty," Jones added with a laugh.
• Columnist
Mike Vaccaro
in the Post
salutes Dickey. Writes Vaccaro:
We wouldn't be nearly as amazed by this if he were a classical ace in the classical sense. Seaver, a vintage fireballer, probably had his best season as a Met in 1971, a year he pitched to a 1.76 ERA. That year he enjoyed a 13-game stretch in which he allowed 12 earned runs, threw 10 complete games (including a 10-inning, 1-0 loss) and had six games of double-digit strikeouts. The last 25 games of Gooden's storied 1985 season he went 18-1 with an ERA of 1.39. The first 22 games of Guidry's '78 season he started 15-1 with a 2.03 ERA and four shutouts, and struck out 18 Angels one night. In 1956, Don Newcombe went 13-1 in July and August and threw back-to-back-to-back shutouts at the Cubs, Braves and Pirates. Those were terrific pitchers at the top of their games, known for their high heat and their dominance. And yet Dickey's numbers certainly deserve a spot in the same paragraph.
• Columnist
Kevin Kernan
in the Post
praises the Dickey-Santana tandem.
• Stony Brook University's baseball team, which reached the College World Series, was honored before Tuesday's game at Citi Field. Read more in
Newsday
.
TRIVIA:
Cecchini
was born in Louisiana. Who was the last player to appear in the majors for the Mets who was born in that state?
Tuesday's answer: In Game 2 of the 1969 World Series,
Jeremy Koosman
tossed 8 2/3 innings and outdueled
Dave McNally
, who contributed a complete game for the Orioles.
March, 3, 2012
3/03/12
6:35
AM ET
The Mets play their second straight day of intrasquad games, this time with the regulars, on Saturday.
Terry Collins
plans to have the infield play together on one side, meaning
Ruben Tejada
and
Daniel Murphy
get to work together in the middle infield
. The starting outfield --
Jason Bay
,
Andres Torres
and
Lucas Duda
-- as well as
Josh Thole
are scheduled to play for the other intrasquad team.
Today's scheduled pitchers:
R.A. Dickey
,
Pedro Beato
,
D.J. Carrasco
,
Fernando Cabrera
,
Chris Schwinden
,
Josh Stinson
,
Armando Rodriguez
and
Jon Rauch
.
Saturday's news reports:
• The Mets'
future was on display during Friday's intrasquad game
, with
Kirk Nieuwenhuis
belting a two-run homer off
Daniel Herrera
and
Matt Harvey
and
Jeurys Familia
each logging a pair of innings. Actually, Harvey's outing was cut short one out shy of its intended length because skin tore off his right thumb when he delivered a pitch. Harvey still plans to pitch in Monday night's Grapefruit League opener against the Washington Nationals, piggybacking after
Dillon Gee
starts the exhibition opener. Gee also logged two innings in Friday's intrasquad game.
"I love him,"
Wally Backman
, who managed Double-A Binghamton last season, said about Familia to
Mike Puma
in the Post
. "He's a power pitcher that has now developed three quality pitches. His changeup was a work in progress last year, and it will be a work in progress this year. But he's a power guy that sits at 94-95 [mph] and when he gets in trouble he's got 97-98."
Backman similarly had high praises for the pitching prospects in major league camp --
Jenrry Mejia
, Familia and Harvey -- plus
Zack Wheeler
, who is on the minor league side, to columnist
John Harper
in the Daily News
. "You put them together with Wheeler and a couple of more young guys who are coming fast and it reminds me of the '80s when
Doc
[
Gooden
], [
Ron
]
Darling
and [
Sid
]
Fernandez
all came up together," Backman said. "If these guys stay healthy, I think they could have the same kind of impact."
Read more in the
Star-Ledger
,
Record
and
Newsday
.
• The Fielding Bible
projects the Mets to have the third-worst fielding
in the majors this season. Former hitting coach
Howard Johnson
took a harmless jab after seeing that stat. Johnson tweeted from his account
@20HoJo
: "live by stats die by stats."
• To combat the defensive shortcomings,
Terry Collins
plans on the Mets taking plenty of infield practice during camp, as teams did on a regular basis before regular-season games until a couple of decades ago. During Friday morning's infield work,
Ike Davis
tried to keep the mood light, shouting nicknames at players. Writes
David Lennon
in
Newsday
:
"Rabbit" is shortstop Ruben Tejada, also referred to as "Nio." Ronny Cedeno is "Captain Ron," derived from Kurt Russell's title character in the movie. "Forrest," his nickname for Daniel Murphy, well, that's one in which Davis seems particularly proud. "Remember when Forrest Gump had those two things on his knees?" Davis said. "Murph was almost going to have to wear two braces this year." When Davis first yelled out the nickname on Field 4, his teammates began cracking up. Even Murphy -- in the middle of scooping a ground ball -- couldn't help but smile. He made the play, too.

• Left-handed prospect
Robert Carson
, who was added to the 40-man roster during the offseason, is
out with a strained intercostal muscle
on his left side. Side-muscle strains typically take a while to heal, meaning Carson's limited time in big league camp probably will include only rehab before he is dispatched to the minors. Read more in the
Star-Ledger
.
•
Frank Viola
, who will serve as Savannah's pitching coach this season after serving in that capacity with Brooklyn last year, is not the only athlete in his family. Writes
Peter Botte
in the Daily News
:
Viola said he might have to take a few personal days in August because he hopes to be in London to watch his 24-year-old daughter Brittany in the Olympics. Brittany Viola was a two-time NCAA champion in platform diving at Miami and she will compete in the Olympic trials in Washington in June. She was an alternate on the U.S. diving team in 2008.
• Torres discusses his attention deficit hyperactivity disorder (ADHD) and upcoming movie about the subject
in the Daily News
. The documentary is titled "Gigante." Said Torres to the newspaper: "I'm excited about the movie, proud to be a part of it. A lot of kids, people need to understand that we have to try to help them with this. It's a tough condition. You struggle and you have trouble with focus. And it was the same thing for me, and a big reason why it took me so long to get to the big leagues. It's not easy, especially playing this game every day. But I finally learned this was something that could be corrected. Now, people come up to me -- kids, too -- and thank me for talking about this. I always say I'm happy to do it. Because it's very important. And because it's made me who I am."
TRIVIA:
Who has the worst single-season batting average in franchise history while also having at least 500 plate appearances?
(Friday's answer:
Tom Seaver
and
Dwight Gooden
won the Cy Young while representing the Mets. Seaver actually won it three times while in Flushing.)