New York Mets:

Bronson Arroyo
May, 23, 2014
May 23
9:41
AM ET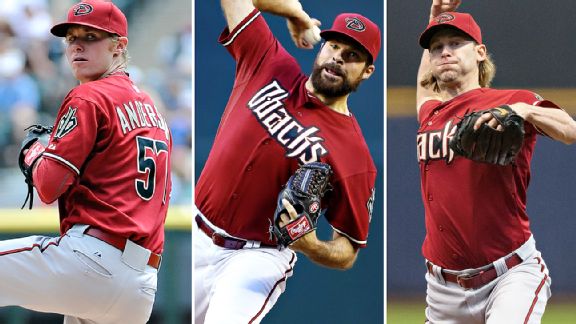 Getty ImagesThe Mets are due to face Chase Anderson, Josh Collmenter and Bronson Arroyo this weekend.
METS (21-25, fourth place/NL East) vs. ARIZONA DIAMONDBACKS (18-31, fifth place/NL West)
Friday:
RHP
Bartolo Colon
(3-5, 5.34) vs. RHP
Chase Anderson
(2-0, 5.06), 7:10 p.m. ET
Saturday:
RHP
Zack Wheeler
(1-4, 4.53) vs. RHP
Josh Collmenter
(2-2, 4.02), 4:10 p.m. ET
Sunday:
RHP
Rafael Montero
(0-2, 6.97) vs. RHP
Bronson Arroyo
(4-3, 4.45), 1:10 p.m. ET
Diamondbacks short hops
• Tony La Russa, who is due to be inducted into the Hall of Fame on July 27, was hired as the team's chief baseball officer last Saturday. He last was affiliated with a team in 2011, when he managed the
St. Louis Cardinals
to a World Series title. La Russa more recently worked with commissioner Bud Selig, including on implementing the new instant-replay and plate-collision guidelines. La Russa has final say on all baseball matters, which means longtime GM Kevin Towers has been stripped of considerable power.
Rick Scuteri/USA TODAY SportsTony La Russa has taken over as D-backs chief baseball officer.
"Until I really get more time to sit down with Tony to really find out structure, process, reporting and job responsibilities, I'm taking the high road and looking at this as hopefully a good thing for the organization," Towers told Arizona Sports 98.7 FM. "I certainly don't want to be a pseudo-GM. The front office role will be new to him, and I'm hoping I can help him in ways too, like with the daily calendar and what's important come June and July."
• Right-hander
Chase Anderson
's third major-league start comes against the Mets. He debuted May 11, limiting the
Chicago White Sox
to one run on two hits and a walk while striking out six in 5 1/3 innings. Bullpen coach Mel Stottlemyre Jr. told the Arizona Republic that Anderson has the best changeup in their system. The 26-year-old Anderson, a ninth-round pick in 2009 from the University of Oklahoma, had been 4-2 with a 0.69 ERA and 0.718 WHIP in six starts at Double-A Mobile. He logged only 205 1/3 innings from 2011 through '13 because of elbow troubles, which also prompted the organization to convert him to a reliever to close last season in Triple-A. Anderson had a 6.52 ERA in 13 relief appearances and reverted to starting this year.
• The Mets are seeing the reigning co-NL Players of the Week in consecutive series.
Yasiel Puig
has departed with the
Los Angeles Dodgers
, but fellow winner
A.J. Pollock
now arrives at Citi Field with the D-backs. Pollock, a center fielder, hit .500 (11-for-22) with two homers last week.
• Left fielder
Mark Trumbo
, who was acquired during the offseason from the
Los Angeles Angels
, has been sidelined since April 21 with a stress fracture in his left foot. Trumbo had been hitting .210 with seven homers and 19 RBIs in 81 at-bats. Righty-hitting
Cody Ross
primarily has played the position in Trumbo's absence, with lefty-hitting rookie
Ender Inciarte
also seeing some action in left field.
•
Didi Gregorius
, the expendable shortstop for the D-backs, is hitting .296 with three homers, 20 RBIs and a .386 on-base percentage in 186 at-bats with Triple-A Reno.
Chris Owings
, who beat out Gregorius for the D-backs' shortstop job, is hitting .275 with two homers and seven RBIs in 142 at-bats. Gregorius has appeared in 30 games at second base and 18 games at shortstop in the Pacific Coast League this season as the D-backs try to increase his versatility in case they retain him.
• Ex-Met
Oliver Perez
has a 1.26 ERA and 16 strikeouts in 14 1/3 innings over his past 15 appearances.
• First baseman
Paul Goldschmidt
's 33 RBIs rank fifth in the National League. His .315 average is 10th. Goldschmidt hit a 437-foot homer against
Shaun Marcum
last season at Citi Field.
• After opening the season in the bullpen,
Josh Collmenter
entered the rotation April 14 to face the Mets in Phoenix. He allowed three runs in four innings. Collmenter swapped roles with
Randall Delgado
, who had allowed nine runs in 7 1/3 innings over a pair of early season starts.
•
Bronson Arroyo
signed a two-year, $23.5 million contract with the D-backs on Feb. 7. The deal includes an $11 million team option for 2016 or $4.5 million buyout. Arroyo, 37, has reached the 200-inning plateau eight of the past nine years. The exception: 2011 with the Cincinnati Reds, when he was one inning shy. The Mets battered Arroyo for nine runs in 3 1/3 innings on April 15 at Chase Field.
Kirk Nieuwenhuis
delivered a two-run homer.
• Second baseman
Aaron Hill
returned Wednesday after missing three games with a sore shoulder.
• Third baseman
Martin Prado
departed Sunday's game with a blurry left eye, but was prescribed medicine and did not miss a start.
April, 16, 2014
Apr 16
12:29
AM ET
PHOENIX -- The
New York Mets
are back where they started the season: .500.
Jenrry Mejia
tossed five scoreless innings before departing with a blister issue, and
Kirk Nieuwenhuis
homered and drove in three runs in his return to the big leagues as the Mets routed the
Arizona Diamondbacks
9-0 Tuesday night at Chase Field.
The Mets evened their record at 7-7 after failing in their five previous attempts this season to move to .500.
Christian Petersen/Getty ImagesJenrry Mejia tossed five scoreless innings before departing with a blister issue.
Mejia departed with his pitch count only at 77 and the Mets leading by nine runs, because he had torn a blister on the tip of his middle finger. Blisters have been a recurring problem for Mejia.
At the plate, the Mets aggressively jumped on D-backs starter
Bronson Arroyo
. They took a 3-0 lead six batters and 14 pitches into the game, when Nieuwenhuis produced an RBI single in his first big-league at-bat since last July 26. Nieuwenhuis had been bypassed for a September call-up.
Nieuwenhuis (3-for-5) also opened the scoring in a six-run fourth against Arroyo with a two-run homer. That was the 21st homer surrendered by Arizona pitchers this season, matching the Mets staff for the most long balls allowed in the majors.
Arroyo was charged with nine runs on 10 hits and a walk in 3 1/3 innings.
In center field, Nieuwenhuis did his best impression of slick-fielding
Juan Lagares
, the player he replaced on the roster.
In the fifth, Nieuwenhuis lunged headfirst in right-center to take away a hit from
Mark Trumbo
. Nieuwenhuis also ran down
A.J. Pollock
's drive to the track in right-center to end the seventh.
Mejia retired the first nine D-backs batters, until issuing a leadoff walk to
Gerardo Parra
in the fourth. He kept a no-hit bid intact until one out in that frame, when
Paul Goldschmidt
singled down the third-base line.
Gonzalez Germen
added three scoreless relief innings.
Guess who?
Oliver Perez
faced the Mets for the first time since being released by the club in spring training in 2011. Perez, who signed a two-year, $4.25 million with the D-backs, tossed two scoreless innings with four strikeouts. The lone baserunner against him came on a one-out single by Nieuwenhuis in the southpaw's second inning of relief.
Perez had only faced the Mets twice before: in 2003 with the
San Diego Padres
and 2004 with the
Pittsburgh Pirates
.
What's next:
The Mets attempt to sweep the series at Chase Field at 3:40 p.m. ET Wednesday.
Dillon Gee
(0-0, 5.03 ERA) opposes right-hander
Brandon McCarthy
(0-2, 7.78). The Mets last produced sweeps in Phoenix in 2005 and 2006, when they went 4-0 against the D-backs in consecutive seasons.
April, 14, 2014
Apr 14
9:00
AM ET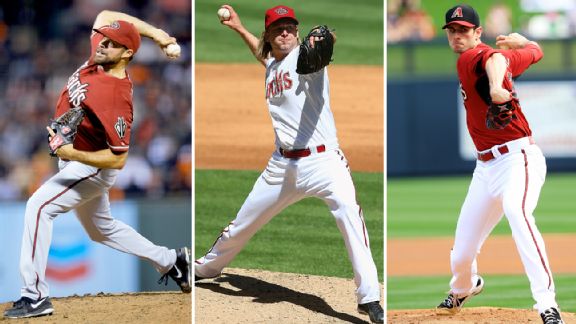 Getty ImagesThe Mets face Josh Collmenter, Bronson Arroyo and Brandon McCarthy during a series against the Diamondbacks at Chase Field.
METS (5-7, fourth place/NL East) at ARIZONA DIAMONDBACKS (4-11, fifth place/NL West)
Monday:
RHP
Zack Wheeler
(0-2, 5.73) vs. RHP
Josh Collmenter
(0-0, 2.25), 9:40 p.m. ET
Tuesday:
RHP
Jenrry Mejia
(1-0, 4.09) vs. RHP
Bronson Arroyo
(1-0, 4.82), 9:40 p.m. ET
Wednesday:
RHP
Dillon Gee
(0-0, 5.03) vs. RHP
Brandon McCarthy
(0-2, 7.78), 3:40 p.m. ET
Diamondbacks short hops
• After allowing nine runs in 7 1/3 innings in two starts,
Randall Delgado
has been reassigned to the bullpen.
Josh Collmenter
steps into the slot Monday against the Mets.
Collmenter made 49 relief appearances for the D-backs last season. He last started on Sept. 30, 2012. Collmenter had a four-inning save Wednesday, so he is reasonably stretched out for the starting duty.
Delgado, who began wearing glasses last year, incidentally has dropped using them because of comfort -- although it leaves his vision less than perfect.
•
Bronson Arroyo
signed a two-year, $23.5 million contract with the D-backs on Feb. 7. The deal includes an $11 million team option for 2016 or $4.5 million buyout. Arroyo, 37, has combined to log only 9 1/3 innings over two starts. He has reached the 200-inning plateau eight of the past nine years. The exception: 2011 with the
Cincinnati Reds
, when he was one inning shy.
Christian Petersen/Getty ImagesOffseason acquisition Mark Trumbo leads the majors in homers and RBIs.
•
Mark Trumbo
leads the majors in homers (six) and RBIs (18). The left fielder was acquired from the
Los Angeles Angels
on Dec. 10 as part of a three-team trade that landed left-hander
Tyler Skaggs
back in Anaheim. Trumbo homered in four straight games April 3-6.
• Ex-Met
Oliver Perez
signed a two-year, $4.25 million deal with the D-backs on March 10. He has allowed six runs (five earned) on four hits, four walks and a hit batter in seven appearances spanning 5 1/3 innings.
• The D-backs signed veteran left-hander
Randy Wolf
on a minor-league deal Friday for pitching depth. Arizona lost 2013 NL All-Star
Patrick Corbin
for this season due to an elbow ligament tear that required Tommy John surgery. The D-backs have an MLB-worst 5.95 ERA. They also have allowed 20 homers. Only the Mets, with 21, have allowed more homers in the majors.
Wolf asked for his release from the
Seattle Mariners
last month after declining to sign an agreement that would have allowed the club to release him during the season's first 45 days without being responsible for his remaining salary.
John Lannan
agreed to sign that type of stipulation with the Mets.
• Outfielder
Cody Ross
, who suffered a dislocated right hip last August against the Mets, is a week into a rehab assignment with Triple-A Reno and may return during this series.
• Two-time Gold Glove-winning outfielder
Gerardo Parra
has a .340 average (36-for-106) in 31 career games against the Mets.
•
Didi Gregorius
, who was made available in trade talks by the D-backs, instead ended up in Triple-A, where he is now splitting time between shortstop and second base. Gregorius, who was born in Amsterdam, is hitting .357 with one homer, four RBIs and five walks in 11 games with Reno.
Chris Owings
, who won the big-league shortstop job, is hitting .295 with a .340 on-base percentage after going 2-for-3 with a walk Sunday as the
Los Angeles Dodgers
completed a sweep in Phoenix.
•
Addison Reed
, who had a career-high 40 saves for the
Chicago White Sox
last season, was acquired on Dec. 13 for third baseman
Matt Davidson
. That has pushed incumbent closer/ex-Met
J.J. Putz
to a setup role.
• First baseman
Paul Goldschmidt
finished second in 2013 NL MVP voting after hitting .302 with 36 doubles, 36 homers and 125 RBIs. Goldschmidt is hitting .317 with two homers and nine RBIs so far this season.
December, 2, 2013
12/02/13
8:42
AM ET
A Mets official downplayed the team's interest in
Bronson Arroyo
, now suggesting a meeting may or may not take place with the free-agent pitcher.
The team insider characterized the Mets' actual interest in Arroyo as "not super high."
ESPNNewYork.com, relying on a source familiar with the contact between the parties, reported Saturday that Sandy Alderson had reached out to Arroyo's agent on Wednesday to try to set up a face-to-face meeting between Mets brass and Arroyo at the pitcher's Tampa, Fla., home this week or in Orlando, Fla., during next week's winter meetings.
November, 30, 2013
11/30/13
5:22
PM ET
New York Mets
general manager Sandy Alderson plans to meet with right-hander
Bronson Arroyo
at the free-agent pitcher's Tampa, Fla., home during the upcoming week, a baseball source told ESPNNewYork.com.
Read the full news story
here
.
NEW YORK --
November, 5, 2013
11/05/13
10:00
AM ET
By
Mark Simon
| ESPNNewYork.com
Andy Lyons/Getty ImagesShin-Soo Choo would give the Mets the offensive punch they lacked in 2012.
With free agency upon us, here's a ranking of the 10 players whose combination of skills and cost best fit what the Mets are looking for.
1. Shin-Soo Choo, OF
A few weeks ago,
Matt Meyers laid out an articulate case for why not to sign Choo
. Here's the argument for signing him: The Mets had a .236/.306/.366 slashline (batting average/on-base percentage/slugging percentage) against right-handed pitching. Those ranked 28th, 24th and 28th in the majors respectively. But for one exception (2011), Choo has been a ferocious hitter against right-handers. His slashline against them over the last five seasons is .311/.416/.521 with a large chunk of that coming in Cleveland (as opposed to hitter-favorable Cincinnati).
A typical team will get about 70 percent of its plate appearances against righties (as the Mets did in 2013). The Mets need to improve their performance against that 70 percent. Choo would do that in a big way.
2. Stephen Drew, SS
Drew is the best shortstop in this free-agent market, one that does not contain a lot of offensive-minded players at the position. Drew is a two-to-three Wins Above Replacement player (when healthy) at a position in which the Mets are just trying to get back to neutral. He too plays a role in solving the struggles against right-handers, brings an adequate glove, and has shown a willingness to work a walk that would fit well within this team's plan.
3. Carlos Beltran, RF
We're not saying this is likely, because it isn't, but of all the players in free agency, Beltran would fit the Mets idea of following the "Red Sox model" best -- a well-experienced player with a history of quality production who would be gettable on a short-term deal. Granted this is not the Beltran of 2006 to 2008, but it's a player who looks like he still has 130 to 140 games left in the tank for the next couple of seasons.
4. Curtis Granderson, OF
What you're buying in Granderson is a seven-year track record from 2006 to 2012 rather than the one hindered by injuries and limited to 61 games last season. It would be foolish to think that Granderson could replicate the 40-homer seasons (2011 and 2012) from Yankee Stadium's bandbox ballpark in Citi Field, but 25 homers over 500 at-bats seems realistic given his pre-Yankee history.
5. Marlon Byrd, OF
This might be the most tepid endorsement of Byrd that you'll read. There are two reasons for a lack of enthusiasm. 1) His success rate when hitting a ground ball was extraordinarily high, particularly given his history, and a return to his usual rate could mean about a 20-point dip in batting average. 2) Byrd is one of a number of Mets with ugly Citi Field numbers -- a .249/.297/.415 slashline last season and only seven home runs in Flushing. His monster home runs may have made it look like he relished hitting in Citi Field. He didn't.
That said, Byrd is a good defender and he's well liked by Mets management. And he can hit, though to what degree 2012 is repeatable, we don't know.
The key to understand with Byrd is this: In an ideal world, he's the second-best bat the team adds this winter. If he's the best, that would be a reason to be nervous about the Mets 2014 hopes.
6. Nelson Cruz, RF
Cruz strikes us as Byrd like with comparable strikeout/walk numbers and little more power, though how much of that power was enhanced by PEDS is a good subject for discussion.
The risk with Cruz is that the expectation in getting him would be that he'd be a 30-homer guy. But given the difficulties of right-handers hitting for power in Citi Field (see our Marlon Byrd note), we'd take the under. We put Byrd ahead of Cruz because Byrd is more of a known player at this point and a better defender.
7. Jhonny Peralta, SS
We stacked the two Biogenesis players together, as the concerns with Peralta would be similar to those of Cruz: Can he replicate his past performance without PEDs? That said, there is a
big
drop-off after Peralta on the shortstop market (the next-best option might be
Nick Punto
).
If you're wondering why we rated Drew ahead of Peralta, there are a few reasons:
a) Drew's left-handed bat is needed more than Peralta's right-handed bat.
b) Drew rates better defensively.
c) Though Peralta hits more homers, Drew offsets that with an advantage by hitting doubles and triples.
d) Drew rates slightly better as a baserunner.
8. Bronson Arroyo, RHP
Despite an astronomical home-run rate, Arroyo is a survivor and a winner, mainly because he doesn't walk anyone (1.5 per 9 innings over the last two seasons). And his high-3s ERA should come down a bit given 15 to 18 starts at Citi Field instead of Great American Ball Park. He's pitched 199 innings or more nine years running, so any health concerns are minimized, and he pitched in Boston, so New York wouldn't scare him. The worry spot would be his age (36), which would likely limit how many years the Mets would offer him.
9. David Murphy, OF
Murphy looms as a potential free-agent bargain. He hit only .220 with 13 home runs in 142 games with the Rangers last season, but that belies his .283/.346/.449, track record of the previous five seasons. If Murphy can fix what troubled him, he'd provide value as an outfielder in either left or right. He's one with a good glove and decent speed who can play either corner outfield spot, either as an everyday guy or in a platoon.
10. J.P. Howell, LHP
The Mets left-handed specialists are currently
Josh Edgin
and
Scott Rice
and this free-agent class provides room for an upgrade. Howell is the best of a lot that includes
Javier Lopez
,
Boone Logan
and
Scott Downs
because he can get right-handed hitters out with a reasonable amount of success as well.
November, 2, 2013
11/02/13
9:07
AM ET
Bronson Arroyo
said the right-hander would be receptive to overtures from the Mets.
"Bronson is an East Coast guy and would definitely consider the Mets," Terry Bross told the Post. "But we're going to take our time with this."
The Mets need to add two starting pitchers this offseason -- ideally one who can fit in the upper half of the rotation and eat innings.
Arroyo, who will turn 37 during spring training, has averaged 211 innings a season since 2005. In fact, his 1,895 2/3 innings since 2005 rank third in the majors, trailing only
CC Sabathia
(1,999 1/3) and
Dan Haren
(1,927 2/3).
Agents generally do not disqualify teams at this early stage and limit the pool of bidders, so take it with a grain of salt. But the agent for free-agent
October, 1, 2013
10/01/13
1:50
PM ET
By
Mark Simon
| ESPNNewYork.com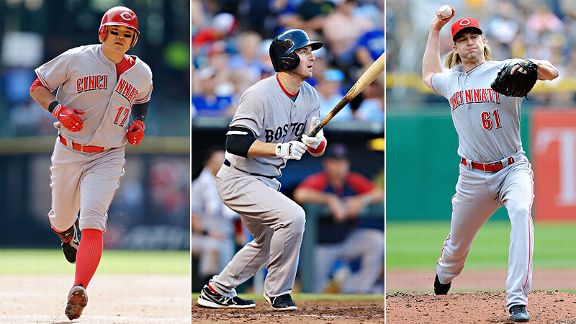 Getty ImagesPlayers who could be of value to the Mets: Shin-Soo Choo, Stephen Drew, Bronson Arroyo.
When putting together a list of the priorities for the Mets in this offseason's free-agent market, you must be realistic.
To think that the team is going to land anyone with a nine-figure salary is a longshot (no matter what
Sandy Alderson says
), so cross
Robinson Cano
and
Jacoby Ellsbury
off any wish-lists.
Logic would also dictate that pitchers for whom the market might provide a four-year commitment comparable to the one
Edwin Jackson
got last winter (four years, $52 million) are not what this front office is looking for, so scratch off
Matt Garza
and
Ricky Nolasco
(and probably
Ubaldo Jimenez
,
Tim Lincecum
and
Ervin Santana
). We also left out a few pitchers with strong preferences for specific teams or markets--
A.J. Burnett
(Pirates),
Dan Haren
(West Coast),
Tim Hudson
(Braves) and
Hiroki Kuroda
(Yankees/Japan).
But there are players who would be good fits for this team, which most likely will be shopping for multiple outfielders, a shortstop, both starting pitchers and relievers, and maybe a backup catcher.
What is below is a list arranged alphabetically, rather than by rank, of 20 targets that we deemed realistic based on educated guesses and available information. When the World Series concludes, these players will be on the market for the Mets to pursue.
September, 25, 2013
9/25/13
8:01
AM ET
NEW YORK
FIRST PITCH:
The Mets have all but knocked the
Cincinnati Reds
into the wild-card game. The Amazin's also may have helped ensure the
Pittsburgh Pirates
host their first postseason game since 1992.
Rookie
Michael Wacha
came within one out of a no-hitter as the
St. Louis Cardinals
beat the
Washington Nationals
, 2-0, Tuesday night. Meanwhile, the Pirates beat the
Chicago Cubs
, 8-2.
That leaves the NL Central standings with four games remaining as:
St. Louis, 93-65, --
Pittsburgh, 91-67, 2 GB
Cincinnati 90-68, 3 GB
If the Pirates and Reds end up tied, the better head-to-head record would host the wild-card game. The season series is tied, 8-8, entering the final weekend -- when those teams play head to head in Cincy for three games.
The Mets, meanwhile, have won four of five on their final road trip entering today's 12:35 p.m. series finale.
If the season ended right now, the Mets (72-85) would pick 10th in the draft, but that is tenuous. The Amazin's have the same record as the
San Francisco Giants
,
Philadelphia Phillies
and
Toronto Blue Jays
.
Ties are resolved by going back to 2012 winning percentage, with the poorer record picking first.
So the order would be No. 9 Toronto (.451 winning percentage in 2012), No. 10 Mets (.457), No. 11 Philadelphia (.500) and No. 12 San Francisco (.580).
That is not entirely accurate, either, though.
Because the Jays failed to sign the No. 10 overall pick a year ago, they get an extra pick at No. 11 pick this year. So the actual order right now is No. 9 Toronto, No. 10 Mets, No. 11 Toronto, No. 12 Philadelphia, No. 13 San Francisco.
The top 10 picks in the draft are protected -- even if the team signs a premium free agent who has received a qualifying offer from his former club.
Daisuke Matsuzaka
(2-3, 5.52), in what should be his final Mets start, now opposes
Mat Latos
(14-6, 3.23) this afternoon.
The Reds moved up Latos a day so he can line up to pitch in Tuesday's wild-card game on an extra day of rest. Latos just told the Cincinnati Enquirer he has been
pitching with an abdominal strain
for three months.
The Mets are 40-40 on the road entering their final game away from Citi Field.
Wednesday's news reports:
•
Daniel Murphy
produced a three-run homer in a four-run second inning against
Mike Leake
and the
Mets beat the Reds, 4-2
, Tuesday at Great American Ball Park.
Jonathon Niese
allowed two runs in seven innings to even his record at 8-8.
Terry Collins indicated it remained undetermined whether Niese would start Sunday's season finale against the
Milwaukee Brewers
or call it a season, but the southpaw
indicated he wanted to make that start
.
Vic Black
, who may be the primary setup man to
Bobby Parnell
next season, or the closer if Parnell has a slow recovery from herniated disk surgery,
earned his first major league save
. Collins described himself on Tuesday as "worried" about Parnell.
Juan Lagares
recorded his 13th outfield assist, passing
Tsuyoshi Shinjo
's 2001 total for the franchise rookie record.
Read recaps in the
Post
,
Daily News
,
Times
,
Star-Ledger
,
Record
,
Newsday
and
MLB.com
.
Al Behrman/Associated PressBronson Arroyo is a free agent this offseason.
•
Shin-Soo Choo
says he is
not thinking about his upcoming free agency
.
• Mike Puma
in the Post
suggests the Mets will pursue right-hander
Bronson Arroyo
this offseason in free agency.
"There's going to be some ballclubs, maybe like the Mets, that have that nice mix of young arms, but need somebody to kind of anchor a rotation with 200 innings, so it's going to be a very interesting offseason for me," Arroyo told Puma.
Sandy Alderson has given conflicting statements on how aggressively he will pursue a pricy starting pitcher.
•
Jordany Valdespin
has
completed his 50-game suspension
related to Biogenesis. The Mets shifted
Josh Edgin
(rib) to the 60-day DL to return Valdespin to the 40-man roster.
It would appear unlikely Valdespin is with the organization at the start of the season, but the Mets have the 40-man roster room to retain him for now.
The Mets will need to shift
Ruben Tejada
to the 60-day DL on Thursday, when Double-A outfielder
Cesar Puello
has completed his suspension.
•
Jeurys Familia
will
pitch in the Arizona Fall League
.
•
From the bloggers …
Rising Apple
debates the merits of an extension for Collins.
BIRTHDAYS:
Reliever
David Weathers
turns 44. … Infielder
Argenis Reyes
is 31.
TWEET OF THE DAY:
Hate day games during school especially when there is only 5 games left #Mets

— Bobby Oldfield (@snoopbobbybob10) September 25, 2013
YOU'RE UP: Would you like to see Bronson Arroyo as a Met?
August, 14, 2012
8/14/12
10:05
AM ET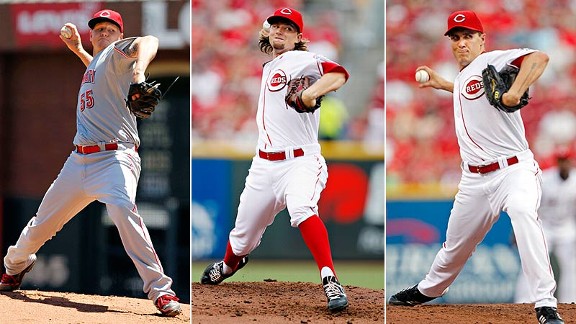 US Presswire
The Mets face (l to r) Mat Latos, Mike Leake and Homer Bailey during a midweek series at Great American Ball Park.
METS (55-60, third place/NL East) vs. CINCINNATI REDS (69-46, first place/NL Central)
Tuesday:
RHP
Chris Young
(3-6, 4.87) vs. RHP
Mat Latos
(10-3, 3.81), 7:10 p.m. ET
Wednesday:
RHP
R.A. Dickey
(15-3, 2.72) vs. RHP
Mike Leake
(4-7, 4.51), 7:10 p.m. ET
Thursday:
RHP
Matt Harvey
(1-3, 3.63) vs. RHP
Homer Bailey
(10-7, 4.08), 7:10 p.m. ET
Reds short hops
•
Joey Votto
(.342, 14 HR, 49 RBIs) underwent arthroscopic left knee surgery July 17 to repair torn meniscus cartilage. He originally suffered the injury June 29, sliding into third base against San Francisco. Votto further injured the knee sliding last Wednesday while working toward a return and had a second, brief procedure two days later to remove floating cartilage. Votto is expected to return before the end of the month. Cincinnati is 19-8 since Votto became sidelined.
• Rutgers product
Todd Frazier
has manned either first or third base the past 13 games. Third baseman
Scott Rolen
(back) missed a fourth straight game Sunday because of back spasms. Minus Votto and Rolen, either ex-Met
Miguel Cairo
mans first and Frazier third, or Frazier mans first and fellow ex-Met
Wilson Valdez
handles the hot corner.
• Slumping right fielder
Jay Bruce
was hitless in 13 at-bats before producing a two-run homer Sunday. He had sat the previous two games because of a lack of production. Despite 22 homers this season, Sunday's long ball was Bruce's lone long ball in August. He is hitting .223 (21-for-94) since the All-Star break. Bruce, an All-Star, nonetheless has joined
Frank Robinson
as the only players in Reds history to reach the 20-homer plateau in each of their first five seasons in the majors.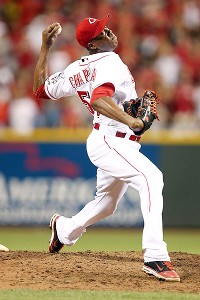 Andy Lyons/Getty Images
Aroldis Chapman has surrendered only one earned run against National League foes this season.

• Left-hander
Aroldis Chapman
, named to his first All-Star team this season, is a Cy Young candidate along with fellow closer
Craig Kimbrel
of the Braves. Chapman registered 103 mph with his fastball multiple times during the weekend and has a historic strikeout rate.
Chapman was named MLB's Delivery Man of the Month for July after going 13-for-13 in converting save chances while striking out 31, allowing six hits and walking two in 14 1/3 scoreless innings. The 13 saves fell one shy of the franchise record for any month, set by
Jeff Shaw
in September 1997.
Chapman has converted 20 straight save chances, the longest streak by a Red since
Rob Dibble
in 1991 tied
John Franco's
single-season franchise record by converting 23 straight. Ex-Red
Francisco Cordero
converted 29 straight spanning the 2008 and '09 seasons. Chapman has a 0.17 ERA against NL teams this season. The Mets tallied an unearned run against him May 17, while Pittsburgh is the lone NL team to produce an earned run. The flame-throwing southpaw allowed seven earned runs in interleague play.
• The Reds acquired
Jonathan Broxton
from the Royals at the trading deadline for right-hander
Juan Carlos Sulbaran
and left-hander
Donnie Joseph
. Broxton had a 2.27 ERA and 23 saves in 27 chances with Kansas City, but has surrendered four runs in four innings spanning five appearances since the deal.
• Catcher
Devon Mesoraco
returned from a seven-day concussion DL stint Thursday. He has appealed a three-game suspension for bumping ump
Chad Fairchild
on July 30, the day he suffered the concussion.
Dioner Navarro
was demoted.
• Second baseman
Brandon Phillips
missed five games last week with a strained left calf, but is hitting .347 (34-for-98) since the All-Star break.
• Cincinnati has used only five starting pitchers this season --
Bronson Arroyo
,
Homer Bailey
,
Johnny Cueto
,
Mat Latos
and
Mike Leake
. That's a modern franchise record. The last major league team that used five starting pitchers wire-to-wire was the 2003 Seattle Mariners, also with
Bryan Price
as pitching coach. Cincinnati's streak is expected to end Aug. 18 with a day-night doubleheader.
• The Reds are an MLB-best 22-8 since the All-Star break.
Last series results
Cincinnati won, 3-0, at Citi Field, June 15-17 (AP game recaps)
Reds 7, Mets 3:
Jay Bruce hit an inside-the-park homer that left Jason Bay with another concussion and Bronson Arroyo notched his first victory in 5½ weeks. Brandon Phillips added a two-run shot. Reds slugger Joey Votto and Mets star David Wright were both hit by pitches, but neither led to any trouble. Arroyo (3-4) was pulled in the seventh, having allowed Kirk Nieuwenhuis' third homer in two games and a two-run drive by Scott Hairston.
More
Reds 4, Mets 1:
Homer Bailey pitched out of trouble for eight innings and Jay Bruce hit a three-run homer. David Wright hit two of four Mets drives that were caught within steps of the wall. One night after Joey Votto and Wright were both hit by pitches, this time it was Bruce and Lucas Duda. But again, no trouble ensued. Bailey was hit hard by the Mets twice last year in his only previous outings against them. This time he allowed six hits and one walk while striking out three to improve to 4-1 in his last six starts. Aroldis Chapman tossed a hitless ninth for his eighth save. Jon Niese (4-3) made one big mistake to Bruce during seven otherwise effective innings. He struck out seven and walked one.
More
Reds 3, Mets 1:
Second baseman Brandon Phillips made a between-the-legs flip to start a flashy double play and also hit a tiebreaking single, leading Johnny Cueto and the Reds to a sweep and their sixth straight win. Cueto (8-3) overcame an early bout of dizziness and struck out a season-high eight in seven innings. He also doubled for the first extra-base hit of his career. The only run against Cueto came when he issued a bases-loaded walk to Chris Young. Sean Marshall got four outs for his ninth save in 10 chances. It was 3-1 in the sixth when Lucas Duda led off with a single and Ike Davis followed with a hard grounder up the middle that Phillips backhanded. While in full stride, the All-Star tossed the ball with his bare hand between his legs to shortstop Zack Cozart, who made the relay. Phillips' single capped a three-run rally in the fifth, helped by Duda's wild throw from right.
More
June, 15, 2012
6/15/12
10:00
AM ET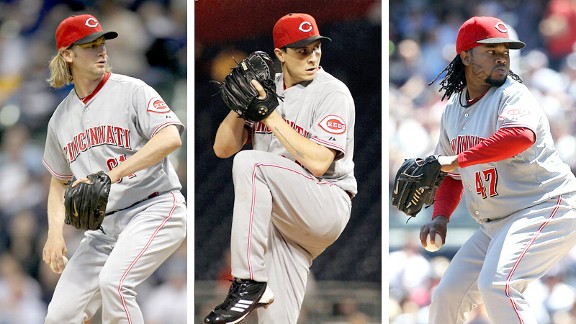 Getty ImagesThe Mets face (l to r) right-handers Bronson Arroyo, Homer Bailey and Johnny Cueto this weekend at Citi Field.
METS (35-29, second place/NL East) vs. CINCINNATI REDS (35-27, first place/NL Central)
Friday:
RHP
Dillon Gee
(4-4, 4.42) vs. RHP
Bronson Arroyo
(2-4, 3.79), 7:10 p.m. ET
Saturday:
LHP
Jon Niese
(4-2, 3.69) vs. RHP
Homer Bailey
(4-4, 4.35), 7:15 p.m. ET
Sunday:
RHP
Chris Young
(1-0, 3.38) vs. RHP
Johnny Cueto
(7-3, 2.46), 1:10 p.m. ET
Reds short hops
•
Scott Rolen
is scheduled for a weekend rehab assignment with Triple-A Louisville before being activated Monday. He has been on the DL since May 12 with a left shoulder strain. Rutgers product
Todd Frazier
has started 26 of 31 games at third base in Rolen's absence, with sporadic appearances otherwise by ex-Met
Miguel Cairo
. Frazier's seven homers already are the fourth-most by a Reds rookie third baseman, trailing only
Grady Hatton
(14, 1946),
Chris Sabo
(11, 1988) and
Edwin Encarnacion
(eight, 2005).
• Closer
Aroldis Chapman
(seven saves) allowed his first earned run since last Sept. 10 when he surrendered consecutive doubles to Pittsburgh's
Clint Barmes
and
Michael McKenry
last Thursday. The outing also snapped a club-record eight straight appearances of one-plus innings without allowing a hit, topping
Danny Graves'
previous franchise record (seven in 2001). The 24 appearances without an earned run allowed to open the season topped
John Hudek's
franchise record (18 games in 1998).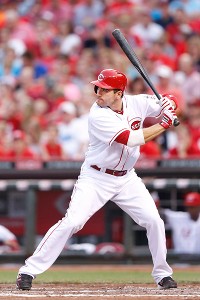 Joe Robbins/Getty ImagesJoey Votto is one point off the lead for the top batting average in the National League.
• Manager
Dusty Baker
turns 63 Friday.
•
Joey Votto's
.362 average ranks second in the National League, one point behind San Francisco's
Melky Cabrera
and one point ahead of Philadelphia's
Carlos Ruiz
.
David Wright
is fourth at .358. Votto signed a 10-year extension on April 4 that locks him up through 2023.
•
Chris Heisey
left Thursday afternoon's game in the fifth inning with a groin strain. Heisey had taken over in center field for
Drew Stubbs
. Stubbs has been sidelined since straining an oblique swinging on June 5, although he has remained on the active roster.
• Rookie catcher
Devin Mesoraco
, who shares duties with
Ryan Hanigan
, also was pulled from the series finale against the Indians with discomfort on his side, potentially related to dehydration.
• Second baseman
Brandon Phillips
signed a six-year, $72.5 million contract on April 10. He went 3-for-5 with a homer and four RBIs Thursday. Phillips has four straight multi-hit games and 20 RBIs in his past 17 appearances.
• Shortstop
Zack Cozart
returned to the lineup Thursday after missing two games with flu-like symptoms.
• The Reds are one of only three teams to use only five starting pitchers this season. The others: the Mariners and Marlins. It marks the longest streak for the Reds without using a sixth starter since 1992, when
Keith Brown
broke the streak in Game No. 80, after Cincinnati exclusively used
Jose Rijo
,
Tom Browning
,
Tim Belcher
,
Greg Swindell
and
Chris Hammond
before that.
• Ex-Red
Barry Larkin
will be inducted into the Hall of Fame on July 22.
•
Bronson Arroyo
leads all NL pitchers in starts (213) and innings (1,362 1/3) since he joined the Reds in 2006. He has three complete games and five other eight-inning appearances in 12 starts against the Mets.
Last series results
Mets split 1-1 at Citi Field, May 16-17, 2012 (AP game recaps)
Reds 6, Mets 3:
Todd Frazier had a big audience -- and a big night in front of it. The former Rutgers player homered twice in front of about three dozen friends and family members and Brandon Phillips hit a tying single off Jon Rauch in the eighth. Pinch hitter Jay Bruce drove in the go-ahead run on a sacrifice fly one out after the Reds put together three straight hits off Rauch (3-2), ending with Phillips' single. Rauch retired Chris Heisey on a popup before left-hander Tim Byrdak came on to face the lefty-hitting Bruce. After that, D.J. Carrasco entered and gave up Frazier's second homer on his first pitch. Carrasco was designated for assignment after the game.
More
Mets 9, Reds 4:
David Wright lined his second double of the game, a tiebreaking drive in the eighth inning that raised his major league-leading average to .411, and the Mets scored nine unanswered runs to top the Reds. Ronny Cedeño's three-run homer capped a five-run eighth against Logan Ondrusek (3-1), a burst that began with a neatly placed bunt single by backup catcher Rob Johnson with one out. Wright was up next and, after his shot down the left-field line was inches foul, sent a one-hopper off the wall in center for a 5-4 lead. Playing despite a cold that had him sniffling, he went 2-for-2, drew three walks, scored three runs and stole a base.
More