New York Mets:

C.B. Bucknor
September, 29, 2013
9/29/13
4:06
PM ET
NEW YORK -- To borrow Howie Rose's signature phrase: Put 2013 in the books.
On
Mike Piazza
Day at Citi Field (and by proclamation in New York City), the Mets scored two runs in the eighth inning -- including the tiebreaker on a run-scoring trickler by
Eric Young Jr.
– and beat the
Milwaukee Brewers
, 3-2, in Sunday's season finale at Citi Field before. The announced crowd paid crowd: 41,891, the third sellout of the season.
The Mets completed the season with a 74-88 record (33-48 at home).
The Mets secured at least a share of third place with the
Philadelphia Phillies
, snapping a string of four straight fourth-place finishes.
The final home attendance: 2,135,657, which likely will rank 21st in MLB. It marked a 4.8 percent decrease from 2012.
In his final 2012 start,
Jonathon Niese
allowed two runs in six innings. He received a no-decision when the Mets evened the score on an E-2 in the eighth. Niese finished 8-8 with a 3.71 ERA.
Both of the runs against Niese came in the fourth inning.
Actually, Niese appeared to get
Sean Halton
to ground into an inning-ending double play that inning with runners on the corners, which would have kept Milwaukee off the scoreboard. Instead, first-base ump C.B. Bucknor ruled Halton safe and the first of the two runs scored. Terry Collins argued to no avail. (Next year the manager will have replay challenges.)
Stolen-base champ:
Young won the NL stolen base crown with 46. He entered the final day tied with
Jean Segura
, who was out of Milwaukee's lineup nursing a cranky hamstring.
Young singled in his at-bat, stole second on the next pitch, then swiped third base, too. He tagged up and scored on David Wright's shallow fly ball for the Mets' opening run.
Although Young's first eight steals this season came as a part-time player with the
Colorado Rockies
, he officially became the second player in Mets history to win an NL steals crown.
Jose Reyes
captured the NL honor in 2005, '06 and '07.
Golden arms:
Young and
Juan Lagares
each threw out runners at the plate in the fourth inning. Lagares extended his franchise rookie record for outfield assists to 15. That finished four shy of the overall Mets outfield assist record -- 19 by Rusty Staub in 1974.
Sizzlin':
Daniel Murphy
finished the season on an 11-game hitting streak.
What's next:
Golf, rest, whatever. The Mets' next regular-season game is March 31 against the
Washington Nationals
at Citi Field. Collins is due a press conference as soon as Monday to announce a two-year extension with a team option for 2016.
July, 31, 2012
7/31/12
2:12
AM ET
WHAT IT MEANS:
Scott Hairston
may remain a Met beyond the 4 p.m. ET trade deadline. That's undoubtedly fine with his teammates.
Hairston tied the score with a two-run homer in the eighth against
Sergio Romo
. Then, a half-inning after the Mets blew a two-run lead in the ninth, Hairston went deep again. His tiebreaking solo homer against
Santiago Casilla
in what became a two-run 10
th
lifted the Mets to
an 8-7 win against the Giants
on Monday night at AT&T Park.
It was Hairston's sixth career two-homer game, and his second as a Met. He also homered twice last July 31 in a 3-2 loss at Washington.
A day after
Terry Collins
suggested teams in playoff contention undoubtedly ought to covet Hairston and
Justin Turner
, it was precisely that duo who rallied the Mets.
After Hairston's two-run homer against Romo evened the score at 4, the lightly used Turner followed with his first hit in 11 days -- a pinch-hit RBI double -- as the Mets scored four runs in the eighth to take a 6-4 lead.
The Mets ultimately won for only the third time in 45 games when trailing after seven innings.
HELP WANTED:
Won't you save them
Frank Francisco
?
Asked to protect a two-run lead after a late rally by his teammates,
Bobby Parnell
again failed to close the door in the ninth.
Parnell surrendered a run and was pulled by Collins with the tying run at third base. Rookie
Josh Edgin
then entered the high-pressure situation with one out and coaxed
Nate Schierholtz
into a grounder to first.
However,
Ike Davis
couldn't handle it and the tying run scored. (It was very generously ruled a double, although Davis appeared poised to field it, freeze the runner at third and get an out at first.)
Edgin escaped a loss. Ultimately confronted with the bases loaded, two outs and a full count, he got a called third strike on
Marco Scutaro
on a backdoor cutter to force extra innings.
It officially was the first blown save of Edgin's career, although that's not exactly fair. It actually was a testament to the manager's faith in Edgin that the rookie remained in for the duration of the ninth, since
Manny Acosta
had warmed in the bullpen.
Acosta did protect a two-run lead in the 10
th
, despite issuing two walks and surrendering a run. He notched his ninth career major league save and first since last Sept. 24, with the Mets against the Phillies. Edgin notched his first major league win.
Francisco, by the way, is due to pitch for Double-A Binghamton on Tuesday and Wednesday before the Mets consider activating him from the DL.
E-4:
Filling in for
Daniel Murphy
at second base,
Ronny Cedeño
delivered a two-run double in the fourth inning that staked the Mets to a 2-1 lead. Two innings later, however, Cedeño muffed a would-be inning-ending double-play grounder, allowing the tiebreaking run to score.
Ryan Theriot
followed with a seeing-eye RBI single that chased
Jeremy Hefner
as the Giants took a 4-2 lead in the sixth.
There's little doubt Hefner will continue in the rotation until
Johan Santana
returns from the disabled list. Had Cedeño successfully initiated the double play, rather than muffing
Aubrey Huff's
grounder and having to settle for only the out at second, Hefner would have completed the sixth inning with the score tied at 2.
The worst part: Huff injured himself and had to deliberately limp up the first-base line on his grounder to Cedeño, so any sort of clean play would have resulted in a double play.
Matt Cain
had to pinch-run for Huff.
OUCH: Andres Torres
appeared to jam his right hand/wrist falling to the ground after getting tangled with Giants pitcher
Madison Bumgarner
on an infield single in the fifth inning, during a bang-bang play at first base. Trainer
Ray Ramirez
visited Torres, and the ex-Giant remained in the game at that point. He departed later amid the defensive maneuverings, so it was unclear if the injury was an issue.
Angel Pagan
, for whom Torres was traded, also departed midgame without immediate explanation.
BAY WATCH: Jason Bay
snapped an 0-for-23 drought with a two-out single off the right-field wall in the sixth. Bay ended his hitless streak one shy of matching his career high, produced last season with the Mets.
WELCOME BACK: Mike Baxter
singled against Casilla as a pinch hitter in the 10
th
, in his first major league at-bat since separating his right shoulder on the June 1 catch that preserved Santana's no-hit bid.
NOT AGAIN:
The same umpiring crew that gave the Mets fits in Atlanta again had Collins on the field disputing a call.
In the fourth,
David Wright
singled. Hairston then sent a grounder to third base. Theriot, covering second, dropped Scutaro's throw, but ump
Dale Scott
ruled he held the ball long enough and lost the ball on the transfer -- a debatable call.
That's the inning Cedeño followed with the two-run double, so arguably it could have been a bigger inning.
It was Scott who gave
Jordany Valdespin
credit for a catch in left field, which was then overruled by his crewmates, during a game at Turner Field that opened the second half. A day later in Atlanta,
Dan Warthen
erupted at plate umpire
C.B. Bucknor
over the strike zone afforded Santana. Bucknor again was behind the plate Monday night.
WHAT'S NEXT: Matt Harvey
, coming off a major league debut in Phoenix in which he tossed 5 1/3 scoreless innings, opposes
Tim Lincecum
(4-11, 5.88 ERA) Tuesday at 10:15 p.m. ET.
July, 16, 2012
7/16/12
5:58
AM ET
ATLANTA --
Johan Santana
did not get a pair of third strike calls he wanted in what became a six-run fifth inning and the Mets were swept at Turner Field
with a 6-1 loss Sunday
.
All eyes now turn on Monday's off-day to Buffalo, where
Matt Harvey
will state his case while pitching for the Bisons against Triple-A Toledo at 7:05 p.m. in an SNY-televised game. Mets brass will attend to gauge whether the 2010 first-round pick is ready to make his major league debut Saturday against the Los Angeles Dodgers at Citi Field. Otherwise, the start appears poised to go to
Miguel Batista
.
Jason Bay
also could complete a rehab assignment with Buffalo and be activated for Tuesday's series opener against Washington.
Monday's news reports:
• Pitching coach
Dan Warthen
purposely got himself ejected
for challenging plate umpire
C.B. Bucknor's
strike zone during a visit to see Santana in the decisive fifth inning.
• A scout who has watched
Zack Wheeler
pitch twice this season said he is
equipped to face major league hitters
now. Still,
Terry Collins
was resolute Sunday in dismissing the Double-A phenom as a consideration for Saturday's start against L.A., saying Harvey is the consideration for a call-up. Read more in
Newsday
, the
Star-Ledger
and
Record
.
• Bay
went 2-for-4 with a walk and steal
and played nine innings in left field for Buffalo on Sunday. Meanwhile,
Mike Baxter
had a two-hit, two-RBI performance with Class A St. Lucie
in his first rehab game
since dislocating his right collarbone on a no-hitter-saving catch June 1 at Citi Field. Read more in
Newsday
.
•
Lucas Duda
is due to get a
strained left hamstring examined
in New York today. Collins did not believe Duda was a DL candidate. Read more in the
Post
.
•
Chris Young
,
R.A. Dickey
and Santana allowed five or more runs apiece as the Mets were swept out of Atlanta. Collins, whose team had ridden solid starting pitching to be six games over .500 at the All-Star break, said of the starters' consecutive struggles: "It was shocking. And I know that starting pitching will be back, because those guys are too good. ... It's just one of those things, I guess, coming out of the break, the rust and everything else that was involved. We've got to pick it up." Santana was charged with six runs in five innings. Collins said he normally would have let Santana continue anyway, because the bullpen was overtaxed in the series. But Collins opted to remove Santana at 95 pitches because he knew the southpaw needs to come back on standard rest Friday against the Dodgers at Citi Field.
Collins said specifically about Santana, despite a 5.67 ERA in seven starts since his no-hitter: "I think he's going to be just fine."
Read Sunday's game recaps in the
Times
,
Newsday
,
Journal
,
Star-Ledger
,
Post
,
Record
and
Daily News
.
• Columnist
Joel Sherman
in the Post
believes the fat lady is loosening her vocal chords. Writes Sherman:
The beginning of the end looks like this: You fight the umps with as much fervor as the opponents. You get shut down by a reclamation project who has not pitched in the majors in nearly two calendar years. Your strength becomes a weakness. And your weakness remains same as it ever was. The Mets exhibited plenty of tenacity and fortitude at times of crisis in the first half. But if you think you have seen this movie before, you are correct. Everyone remembers the epic, late-season crash and burns of 2007-08 -- the beginnings of the end for the Omar Minaya administration. But over the last three seasons, 2009-11, the Mets were 136-130 (.511) in the first halves of seasons, but 90-130 (.409) in the second halves. Only Pittsburgh (.347) and Seattle (.406) have been worse in that span.
•
Mike Harrington
in the Buffalo News
discusses the Triple-A Bisons' looming decision whether to align with the Blue Jays or remain affiliated with the Mets when the current player-development agreement expires after this season. Binghamton, the Mets' Double-A affiliate, reportedly will re-up with the Mets. Harrington believes the Bisons will dump the Mets for the Jays. He does not fault the Mets entirely for plummeting attendance in Buffalo, but writes:
Since the turn of the century, numbers have continued to drop. From 9,976 per game in 2000, the figure slipped all the way to 8,027 in 2009 when the Mets fielded their disgracefully 56-87 debut team in Buffalo. The average bumped up slightly to 8,219 per game in 2010, but dipped to an all-time low of 7,784 in 2011 and the total ticket count of 521,530 was the lowest in the ballpark's 24 seasons. Things have really dropped off this year, with an average of just 6,659 per date and a ticket count of 292,997 that leaves the team in danger of not reaching a half-million. The Bisons are on pace for their lowest total since 1986 at War Memorial Stadium -- two years before they moved downtown.
While the Mets have provided some good marketing and broadcast opportunities, this is an American League town and folks don't think the Amazins tried hard enough to put a winner in here until this year, when it might have been too late.
• The Mets have a difficult task in
trying to right their ship against the Nationals
, who have an NL-best 51-35 record. Said
David Wright
about Washington: "It's not surprising to me. You just know they had so many good pieces that you knew with their starting pitching that they could go out there and dominate. And that's the name of the game -- starting pitching. They have it. Probably Nos. 1 through 5 it would be tough to put anybody in the National League up against them right now, with the way their starters are pitching, 1 through 5."
•
Dustin Martin
had a pair of two-run triples as Binghamton beat Erie, 13-3. Read Sunday's minor league recap
here
.
TRIVIA:
Immediately before relocating to Washington, in which city did the Montreal Expos also play regular-season games?
Sunday's answer: Joining Collins (twice) and now Warthen,
Frank Francisco
,
D.J. Carrasco
and
Ike Davis
are the Mets players to have been ejected this season.
July, 15, 2012
7/15/12
5:11
PM ET
ATLANTA -- By the time
Dan Warthen
came to the mound to chat with
Johan Santana
on Sunday afternoon at Turner Field, the pitching coach had resolved to get ejected.
In comments echoed by
Josh Thole
, Warthen said Santana indisputably should have had called third strikes on
Paul Janish
and
Michael Bourn
in what became a six-run fifth inning. So the pitching coach went to the mound to visit Santana intentionally trying to get ejected by plate umpire
C.B. Bucknor
.
"I intended to talk to the umpire. Yes," Warthen said after the Mets lost to the Braves, 6-1. "... I didn't intend to be in the game after that. When I left the dugout, I felt that I was leaving. It was time."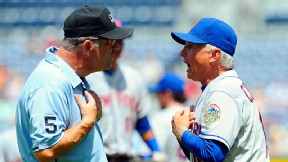 Dale Zanine/US Presswire
Terry Collins takes up the argument with crew chief Dale Scott after pitching coach Dan Warthen was ejected in the fifth inning.

Warthen did not mince words -- suggesting the strike zone was not equivalent for Santana and Braves starter
Ben Sheets
.
"I thought it was a much wider strike zone for Mr. Sheets," Warthen said. "I thought Santana made some good pitches both on Janish and on Bourn, didn't get the calls. They were strikes for the other team and they were not strikes for us. Those are huge pitches, and at that point in time it had been going on, it had been building a little bit. We had enough.
"[Bucknor] asked whether or not I was questioning balls and strikes. And I never really answered him. I had a little quip about that. I'd rather not say what that quip was. He took it as an affirmative and so he ejected me."
Said Thole about Warthen: "He came out pretty calm, but somebody had to go."
Terry Collins
, who came onto the field after Warthen's ejection, took up a conversation with crew chief
Dale Scott
. Collins was not permitted to argue balls and strikes, and said Scott warned him: "You're on thin ice."
To which Collins responded: "I'm just telling you what the perception is."
Warthen said the calls changed what had been a scoreless game. Bourn's ensuing one-out RBI double plated
Matt Diaz
to open the scoring, while advancing Janish -- who ultimately had walked -- to third. At that point, Warthen visited the mound and was ejected.
Martin Prado
followed with a sacrifice fly,
Jason Heyward
had an RBI single and
Freddie Freeman
delivered a three-run homer later in the frame as Atlanta grabbed a 6-0 lead en route to the sweep.
"The inning's over. If Janish is out and Bourn is out, the inning is totally over," Warthen said. "And the pitches he threw to those guys, [Bucknor] called much worse pitches on our guys. To me, and even on the [computerized plotting of balls in strikes] coming in here after the game, they both had them as strikes.
July, 15, 2012
7/15/12
4:15
PM ET
WHAT IT MEANS: The Mets opened the second half by getting swept in a three-game series in Atlanta, capped by a 6-1 defeat Sunday afternoon.

Pitching coach Dan Warthen was ejected by plate umpire C.B. Bucknor over the strike zone after Michael Bourn's RBI double gave Atlanta a 1-0 lead during what became a six-run fifth inning by the Braves against Johan Santana. Santana also jawed with Bucknor, as the southpaw left the field following an inning that included a three-run homer by Freddie Freeman.

Since Santana's June 1 no-hitter, he is 3-4 with a 5.67 ERA in seven starts.

Santana had surrendered seven runs and 13 hits in 4 2/3 innings against the Cubs in his final first-half start, in an outing in which he twisted his right ankle. He has now allowed six-plus runs in consecutive starts for the first time since April 2000 -- in the third and fourth appearances of his major league career.

Ramon Ramirez replaced Santana for the sixth inning. Santana's final line: 5 IP, 8 H, 6 R, 6 ER, 2 BB, 3 K.

Ben Sheets, in his first major league action since July 19, 2010, limited the Mets to two hits and a walk in six scoreless innings.

The Mets went swept for the fourth time this season (also by Houston, the Yankees and Cincinnati). They dropped to 46-43 -- 6½ games behind the first-place Nationals, who won at Miami. Atlanta occupies second place in the division, at 49-39.

WHAT'S NEXT: The Mets spend an off-day in D.C. before opening a three-game series at Washington. Jon Niese (7-4, 3.73 ERA) will oppose left-hander Ross Detwiler (4-3, 3.43) in Tuesday's series opener. Jason Bay could return from the disabled list for that game. He went 2-for-4, walked and stole a base while playing left field for nine innings with Triple-A Buffalo on Sunday at Pawtucket.
July, 14, 2012
7/14/12
8:29
PM ET
ATLANTA -- After reviewing the play himself, ejected
Terry Collins
said the reversed fifth-inning call that took away a catch from left fielder
Jordany Valdespin
was correct.
Collins added that it also was proper to allow
Martin Prado
to be positioned at second base afterward, since Prado had achieved that base and only scampered back toward first, where
Ike Davis
tagged him, when umpire
Dale Scott
initially -- and incorrectly -- signaled Valdespin had made the catch.
"It was the right call," Collins said.
Scott, also the crew chief, spoke with a pool reporter after the Braves' 8-7 win. He said: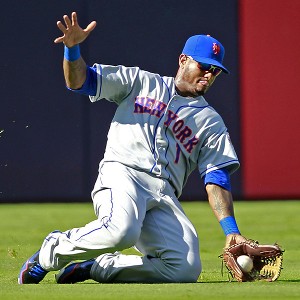 John Bazemore/Associated Press
Jordany Valdespin initially was awarded a catch on Jason Heyward's shot to left field. But after umpires conferred, it was ruled correctly as a single.

"His body was between me and him, so I never had any evidence that he didn't catch the ball. But I never had a good look at it. I called it a catch. Immediately, I saw my partners
Bill Miller
and
Dan Iassogna
coming at me, as we're instructed to do when we have something that's completely different from what happened. We got together as a crew. We definitely had the ball bouncing. That's no catch, and any time that we correct an error like that, we can put the runners wherever we think they should have gone. And that's exactly what we did.
"The runner from first [Prado] had gone to second base. If that call had been called correctly from the get-go, there's no way he's out. It wasn't like [Prado] was holding up or anything anyway. But the point is he gets second, the ... batter [
Jason Heyward
] gets first. Case closed. The play's over. Terry, of course, came out and argued, as he should. That's what he's supposed to do, and he was good about it. He understood. In fact, he said during the argument, 'I know you got the play right, I'm just frustrated.'"
Freddie Freeman
followed with two outs with a tiebreaking two-run double that gave Atlanta a 5-3 lead.
Davis also said the umps ultimately called the play correctly. But he was upset that there was not a similar conference to reverse a call the previous half-inning when Valdespin was ruled out at first by ump
C.B. Bucknor
after bunting -- a decision that similarly was incorrect.
"If you miss a call at first, and he clearly beats it, and you can't reverse that when everyone sees he's safe, it's a weird scenario," Davis said. "I don't know how you reverse calls versus you don't reverse calls. That's the whole replay thing, which I don't want to get into."
July, 14, 2012
7/14/12
7:37
PM ET
WHAT IT MEANS: Bob Geren, managing after Terry Collins' ejection, asked Bobby Parnell to convert a five-out save, which included inheriting two runners in the eighth.

Parnell, working with a two-run cushion, allowed both to score, on RBI singles by Michael Bourn and Martin Prado. He then surrendered an RBI single to Jason Heyward past a diving Ronny Cedeño at shortstop as the Braves rallied for an 8-7 win with a three-run eighth.

Geren had removed Ruben Tejada at shortstop for Cedeño on the double-switch on which Parnell was inserted.

Parnell suffered his first blown save in three chances in Frank Francisco's absence with an oblique injury that recently had a setback.

The last five-plus-out save by a Met remains by Francisco Rodriguez against the Phillies on Aug. 7, 2010.

The Mets fell to 46-42.

MEN IN BLUE: A reversed call in the fifth inning opened the door for the Braves to take a 5-3 lead.

Left fielder Jordany Valdespin initially was ruled to have caught a fifth-inning fly ball off the bat of Heyward. Runner Martin Prado, who had believed the ball bounced and proceeded toward second base, was doubled off first to end the inning.

However, after huddling, the umpires reversed the call -- correctly, since the ball actually had short-hopped the sliding Valdespin. Not wanting to penalize Prado for accurately seeing the ball drop, even though he was tagged out, Prado was placed on second base, while Heyward was awarded first base.

After Collins argued, and was ejected for the second time this season, Dickey retired Chipper Jones on a groundball for the second out as both runners advanced. Freddie Freeman followed with a tiebreaking two-run double to right-center.

Dickey, who departed for a pinch hitter the following half-inning, has now allowed five earned runs apiece in three of his past four starts. His lone two outings this season in which he failed to complete six innings have come at Turner Field.

Collins' other ejection this season came April 11 against Washington, by Larry Vanover while disputing the strike zone.

Valdespin actually was in the middle of two disputed calls in the fifth. Leading off the top half of that inning, he incorrectly was ruled out by first base ump C.B. Bucknor. On a bunt play, Valdespin actually had beaten right-hander Tommy Hanson's throw to first.

CHARMED: Dickey departed trailing 5-3, but ended up in a position to win a half-inning later. Justin Turner, who pinch hit for Dickey, as well as Tejada and Valdespin delivered RBI singles as the Mets took a 6-5 lead in the sixth. Tejada added another run-scoring single in the eighth for a two-run cushion.

The eighth-inning comeback instead resulted in a no-decision.

Since losing in rainy Atlanta on April 18, Dickey nonetheless has won 10 straight decisions, trailing only a streak of 16 winning decisions by Tom Seaver that spanned the 1969 and '70 seasons, and a 14-decision winning streak by Dwight Gooden in 1985.

Dickey has failed to complete six innings only twice this season -- both times at Turner Field.

Knuckleball predecessor Phil Niekro attended Saturday's game.

INSIDE EDGE: Josh Edgin made his second major league appearance, and had resounding success while protecting a 6-5 lead. The rookie left-hander struck out three in the frame. The lone batter who reached, Matt Diaz, came on a semi-intentional walk. In two appearances, Edgin has now struck out five of the six lefty hitters he has faced. The other, Freeman, doubled Friday.

WHAT'S NEXT: Johan Santana's first start of the second half, delayed to rest a cranky right ankle, is on tap as the Mets try to avoid the sweep. Santana opposes Ben Sheets, who is making his first major league start in two years, in Sunday's 1:35 p.m. finale. Shortstop Paul Janish, acquired from Reds during Saturday's game for right-hander Todd Redmond, is likely to make his Braves debut.
May, 7, 2012
5/07/12
10:10
PM ET


WHAT IT MEANS: Omir Santos … again?

Phillies closer Jonathan Papelbon, who had not allowed a hit in the last 18 at-bats against him entering the series, surrendered a one-out walk to Ike Davis, two-out double to Mike Nickeas, then a three-run homer to pinch hitter Jordany Valdespin in the top of the ninth inning to lift the Mets to a 5-2 win Monday at Citizens Bank Park.

It was Valdespin's first major league hit. He is due to start at shortstop Tuesday in place of injured Ruben Tejada.

Papelbon, of course, served up the infamous two-run homer on May 23, 2009 to Santos at Fenway Park in a blown save.

GAMER: Ex-Met Ty Wigginton knocked Josh Thole from the game in the bottom of the eighth on a play at the plate. Thole took a jolt to the head from Wigginton's left shoulder. He walked off under his own power, but seemingly will need to be monitored for a concussion. Thole held onto the ball, preserving the 2-2 score. Tim Byrdak recorded the final out of the eighth to strand the go-ahead run at third base with a strikeout.

Wigginton has a history of hard-nosed plate collisions. As a Met in 2003 in San Juan, he locked his arms and struck Montreal Expos catcher Michael Barrett, jarring a ball loose.

In the six weeks after he was traded from the Mets to the Pirates in the Kris Benson deal at the July 2004 deadline, Wigginton broke Koyie Hill's ankle and bruised St. Louis catcher Yadier Molina in jarring home-plate collisions while playing for the Pittsburgh Pirates.

DRIVEN: David Wright pulled the Mets even at 2 with a two-out, two-run double in the sixth against Roy Halladay. It was the 740th and 741st RBIs of Wright's Mets career, extending his franchise record.

HALLADAY SPREE: Halladay's streak of winning eight straight starts against the Mets ended with a no-decision. Barely.

In the bottom of the seventh, in an inning in which Halladay departed for a pinch hitter with the score tied at 2, the Phillies loaded the bases with one out against Bobby Parnell. Parnell then induced a groundball to Daniel Murphy, who initiated a 4-6-3 inning-ending double-play attempt.

First base ump Alan Porter ruled Hunter Pence had beaten the relay throw from Justin Turner, seemingly allowing Juan Pierre -- who walked as the pinch hitter for Halladay -- to score the go-ahead run. Terry Collins got halfway to first base to argue the call when Pence then was ruled out.

The out call came from second base ump Ron Kulpa, who ruled Shane Victorino had left the base line to interfere with Turner.

It's not the first time at Citizens Bank Park an interference call affected a game late.

Back on Aug. 29, 2007, during a four-game sweep of the Mets by the Phillies, the third game ended with Marlon Anderson called by umpire C.B. Bucknor for an illegal takeout slide against second baseman Tadahito Iguchi.

Halladay, who received a no-decision, fell short of matching Juan Marichal and Sandy Koufax for the fourth-longest streak all time of consecutive starts with a win against the Mets. They both had wins in nine straight starts. Only Larry Jackson (13 straight), Don Drysdale (12) and Bob Friend (10) have longer streaks.

Coming off an outing against Atlanta in which he surrendered eight runs, Halladay had limited the Mets to one hit entering the sixth. Then, in that inning, he issued a two-out walk to Andres Torres and single to Kirk Nieuwenhuis preceding Wright's game-tying double.

FIVE AND DIVE: Jon Niese limited the Phillies to two runs, but the southpaw walked four and departed Monday's game having logged 101 pitches in five innings. He received a no-decision. It was the most pitches in a five-inning-or-less outing by a Mets starter since Chris Capuano went 4 2/3 innings in a 103-pitch outing at St. Louis last Sept. 22.

WHAT'S NEXT: Miguel Batista steps into the rotation slot that Chris Schwinden occupied for two unsuccessful turns. And this is not a make-or-break start for the 41-year-old Batista, according to Collins. "He's going to get a few chances to show us what he can do," Collins said. The manager added that Batista is not a placeholder for Chris Young, although it certainly seems that's the case. Young, working back from May 16, 2011 surgery to repair a torn anterior capsule in his right shoulder, is scheduled to throw 75 pitches Thursday for Class A St. Lucie in his first official minor league game.