New York Mets:

Casey Stern
February, 18, 2014
Feb 18
6:32
AM ET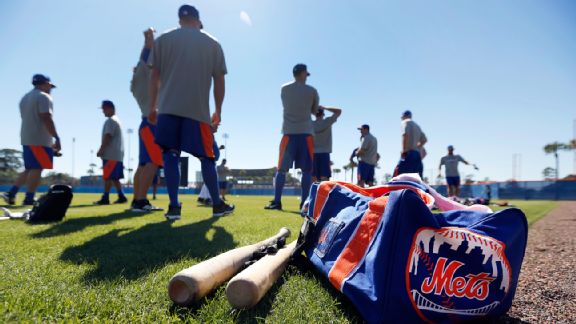 Jeff Roberson/Associated PressMonday marked the first official workout for pitchers and catchers in Port St. Lucie.
PORT ST. LUCIE, Fla.
FIRST PITCH:
The first official pitchers and catchers workout is in the books. Now, it's on to Day 2 Tuesday morning at the Mets' spring-training complex in Port St. Lucie.
Position players officially report Thursday, with the first full-squad workout Saturday, although most of those players already are here as well.
Tuesday's news reports:
• Terry Collins
could not find enough superlatives
to describe Noah Syndergaard's bullpen session on the day pitchers and catchers staged their first official workout.
Mike Puma
in the Post
had a team official estimate Syndergaard's 2014 innings cap at 145, which may mean five-inning outings with Las Vegas. Syndergaard threw 124 2/3 innings last season, including the Double-A playoffs and the Futures Game, and 30-inning jumps from the previous year are customary. So 155 innings is probably the extreme limit.
Read more on Syndergaard in the
Daily News
,
Journal
,
Star-Ledger
,
Record
,
Newsday
and
MLB.com
.
•
Ruben Tejada
says he did not pay attention to the Mets' pursuit of a shortstop during the offseason. Tejada spent
eight weeks at a nutrition, conditioning and agility camp
in Plymouth, Mich.
Writes columnist Ken Davidoff
in the Post
about the Tejada versus free-agent
Stephen Drew
debate:
Look, let's not elevate Drew to some elite status. The Red Sox loved having him as part of their title-winning team last year, yet they aren't knocking down walls to retain him, even after Ryan Dempster's de facto retirement left them with an extra $13.25 million to spend. The Yankees might possess baseball's worst second base-shortstop-third base trio -- unless Derek Jeter can a) return to his 2012 production level and b) clone that version of himself twice -- and really aren't in on Drew at this juncture.
Furthermore, some Mets officials want to get another look at Tejada, who doesn't turn 25 until October and who owns a .338 career minor-league on-base percentage -- quite acceptable for a shortstop with a good glove -- and put up a .345 OBP in 877 plate appearances in 2011 and 2012.
(For whatever it's worth, The Boston Globe's Pete Abraham reports the
Boston Red Sox
have not given out Drew's number and have left his former locker open at camp in Fort Myers, Fla.)
Read more on Tejada in
Newsday
, the
Daily News
,
Record
and
Star-Ledger
.
• Collins is open to considering
Jenrry Mejia
for a bullpen role
if the right-hander does not win the fifth-starter's competition, which includes
Daisuke Matsuzaka
and
John Lannan
. Read more in the
Post
.
• The Mets reportedly signed lefty reliever
Dana Eveland
to a minor-league deal that does
not include an invite to big-league camp
.
•
Chris Young
prefers playing center field
to a corner outfield spot.
Overall, the outfield corps is blessed with speed and fielding prowess, writes Seth Livingstone
in Newsday
.
Columnist Bill Madden
in the Daily News
discusses the potential outfield alignment.
Read more in the
Star-Ledger
.
• Casey Stern and WOR
have ceased negotiations
on him becoming the pregame and postgame radio host.
Meanwhile, Howie Rose and Josh Lewin already have been confirmed as the in-game announcers. Rose tells Neil Best
in Newsday
about the public support for his continuing in the role: "It's obviously very heartwarming and very flattering. It's nice to know I've made a connection over all these years. I think Mets fans know that given my background, we're rather kindred spirits."
•
Jeremy Hefner
tossed a baseball for the first time
since undergoing Tommy John surgery Aug. 28.
• Outfield prospect Cory Vaughn plays with an insulin pump in his left, back pocket because
he is a Type 1 diabetic
.
• Tim Rohan
in the Times
speaks with left-handed prospect
Steven Matz
from Long Isand, who took more than two full years to pitch in an official minor-league game after undergoing Tommy John surgery on May 18, 2010. It's a cautionary tale for those expecting
Matt Harvey
to definitely return full throttle no later than the start of the 2015 season.
• Heavily used lefty
Scott Rice
tells Mike Vorkunov
in the Star-Ledger
he is recharged and ready for 2014.
•
Taylor Teagarden
, who is expected to lose the backup catcher job to
Anthony Recker
and head to Las Vegas, is profiled
in Newsday
.
• Check out a spring-training photo album
in Newsday
.
•
From the bloggers …
The Eddie Kranepool Society
critiques Jeff Wilpon's Q&A. …
Mets Police
thinks Collins already has told you five things about the 2014 Mets, including the starting first baseman and the Opening Day starter. … John Delcos at
Mets Report
believes the Mets need to pick a role for Mejia and stick with it.
BIRTHDAYS:
Left-hander
Shawn Estes
, whose retribution attempt at Shea Stadium missed
Roger Clemens
, turns 41. … Seton Hall product
John Valentin
is 47. …
Kevin Tapani
, traded by the Mets in the deal that brought Frank Viola to Flushing, is 50. … Jeff McKnight turns 51.
TWEET OF THE DAY:
#Mets @cgrand3 talks with trainer Ray Ramirez at #SpringTraining. pic.twitter.com/OCPb8wo07X

— New York Mets (@Mets) February 16, 2014
YOU'RE UP: How would you rank the career potentials of Matt Harvey, Zack Wheeler and Noah Syndergaard?
February, 17, 2014
Feb 17
3:15
PM ET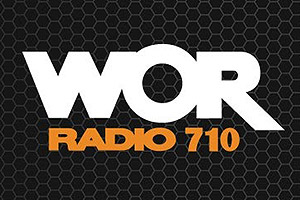 PORT ST. LUCIE, Fla. -- After amicable negotiations over the course of several weeks with Casey Stern for its pregame and postgame Mets radio duties, WOR is now looking in another direction for a host, industry sources told ESPNNewYork.com.
Stern will remain with SiriusXM, where he serves as a popular host of "Inside Pitch."
WOR is keeping the Mets' in-game broadcasting team intact with the move from WFAN, as Howie Rose and Josh Lewin continue in that role.
February, 14, 2014
Feb 14
6:27
AM ET
Howard Smith/USA TODAY SportsTerry Collins is scheduled to address the media on Friday in Port St. Lucie.
PORT ST. LUCIE, Fla.
FIRST PITCH:
Terry Collins, now MLB's oldest manager at 64, gives his beginning of spring training state-of-the-Mets address at 11:30 a.m. Friday. So stay tuned for updates via Twitter and the blog around then.
Collins is sure to discuss his plan to get
Ike Davis
90 or so at-bats during spring training, roughly double last Grapefruit League season's total. He also will be asked to explain if
Eric Young Jr.
continues to be his favorite for the leadoff spot, and if that means
Juan Lagares
' playing time will be diminished to get EY Jr. in the lineup.
Will
Lucas Duda
play the outfield? Will
Wilmer Flores
see time at first base?
The fifth-starter's race should come up, too. As will how strongly the Mets will consider a prospect such as Jeff Walters, Jack Leathersich or even Rafael Montero for the bullpen.
Oh, and will
Matt Harvey
toss a baseball on Feb. 22, the four-month anniversary of his Tommy John surgery?
Friday's news reports:
• Sandy Alderson clearly does not want to publicly rule out Harvey pitching this season and agitate the ace, but it seems pretty likely Harvey -- who underwent Tommy John surgery -- will not appear in the majors in 2014. Alderson, trying to shape the dialogue and discourage reporters from dwelling on Harvey,
insisted the ace ought not be a storyline
. Read more in the
Star-Ledger
.
• Alderson
weighed in on other topics Thursday
, too. That included labeling the signing of
Stephen Drew
or any other significant player the rest of the offseason "unlikely." The GM also suggested three viable options exist for a resolution with Davis and Duda: Both could end up on the team. Both could end up gone. Or one could end up in the minors. Alderson went on to say that the payroll, which is roughly $87 million, is unrestrained by banks and where he thought it would end up when the offseason began. Read more in the
Journal
,
Daily News
,
Newsday
,
Star-Ledger
and
MLB.com
.
•
David Wright
is clearly a loyal guy. He
took a glass-half-full approach Thursday
to the Mets having an un-New York-worthy payroll and suggested the team is "100 percent" better than last year. Wright did say Thursday that he is "envious" of Derek Jeter's winning accomplishments. Wright, now age 31, is starting to feel his own mortality -- feeling like he has blinked and 10 years of his career have gone by. Read more in the
Times
,
Post
,
Daily News
,
Newsday
,
Star-Ledger
and
MLB.com
.
• WOR 710 AM confirmed ESPNNewYork.com's previous report that Howie Rose and Josh Lewin will remain the radio team with the switch on the dial from WFAN. Read more in
Newsday
, the
Times
,
Post
,
Daily News
,
Star-Ledger
and
MLB.com
.
The station will air 15 exhibition games: Feb. 28 and March 2, 3, 5, 9, 11, 14, 15, 16, 17, 22, 23 and 26 as well as March 28 and 29 in Montreal against the
Toronto Blue Jays
.
• Ex-Met Jim Fregosi, a longtime MLB manager, has been
taken off life support at a Miami hospital
after suffering a massive stroke while on a cruise. He then passed away early Friday morning,
according to Tracy Ringolsby
. Fregosi, 71, infamously was traded by the Angels to the Mets for a package including Nolan Ryan on Dec. 10, 1971. Read more in the
Post
and
Daily News
.
• Matt Koch, the organization's third-round pick in 2012 out of Louisville, who was struck in the head with a liner last August while pitching for low-Savannah, has been cleared for 2014 pitching after being examined by team doctors in New York. Koch had been hospitalized for three days after the incident. He went 6-4 with a 4.70 ERA in 18 appearances (15 starts) for the Gnats last season.
• Fred Kerber
in the Post
profiles 2011 first-round pick Brandon Nimmo as well as former Purdue catcher Kevin Plawecki, a supplemental first-round pick the following year. Both will be in big-league camp. "I told my dad, 'If it feels this good to get called to big league spring training, I can't wait to get the call up to the big leagues,'" Nimmo said. "I'm going there to learn. I'll keep my ears open, my mouth shut."
•
From the bloggers …
The Eddie Kranepool Society
asks: How does a Mets fan react to Jeter's retirement announcement? … John Delcos at
Mets Report
writes that each Mets starter has a significant question. …
Rising Apple
suggests any GM's public comments need to be taken with a grain of salt. …
Blogging Mets
picks
Travis d'Arnaud
as its key player.
BIRTHDAYS:
Former Mets catcher
Kelly Stinnett
turns 44.
TWEET OF THE DAY:
"@Munz16: Don't have a valentine, any takers? #novalentine" quit begging

— Robbie Shields (@_RobbieShields) February 14, 2014
YOU'RE UP: What's the truth with the Mets having an $87 million payroll? The owners don't provide the flexibility? Alderson doesn't want to spend? Or banks or some other external constraint is being applied?
February, 13, 2014
Feb 13
6:32
AM ET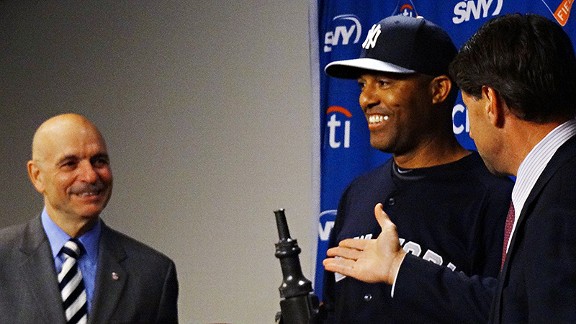 Adam RubinFire commissioner Salvatore Cassano and Jeff Wilpon presented Mariano Rivera with gifts before a Subway Series game last May.
PORT ST. LUCIE, Fla.
FIRST PITCH:
Mariano Rivera
threw out the ceremonial first pitch at Citi Field and was presented with fire-department-themed gifts, including a hose nozzle, by the Mets and fire commissioner Salvatore Cassano.
Chipper Jones
received three-dimensional artwork depicting him batting in Queens.
So it's time to ask: With
Derek Jeter
announcing this is his final season before retiring, what should the Mets present him when the Subway Series comes to Citi Field on May 14 and 15?
Here's one suggestion, via @JonDianora on Twitter, who obviously reads the gossip pages: "A to-go bag with a few signed baseballs from
David Wright
and Mets jersey and a letter saying thank you for your services."
On the field in Port St. Lucie, the Mets continue voluntary workouts Thursday. Pitchers and catchers officially report Saturday, with physicals Sunday and the first formal workout Monday.
Thursday's news reports: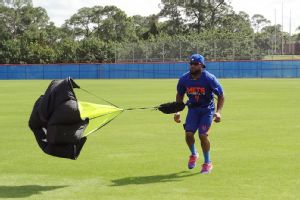 Adam RubinEric Young Jr does extra work, running with the resistance of a parachute, Wednesday in Port St. Lucie.
• The Mets added 35-year-old
Jose Valverde
on a minor-league contract
Wednesday. He joins
Kyle Farnsworth
as veterans in camp with closing experience who are trying to resurrect their careers in the bullpen. "We were looking for a veteran presence in the bullpen, he does have some experience closing, but this is not a move to displace
Bobby Parnell
," Sandy Alderson told Kristie Ackert
in the Daily News
about Valverde. "We signed him to a minor-league contract, and we'll see how he throws in spring training." Read more in the
Post
,
Times
,
Journal
,
Newsday
,
Star-Ledger
and
MLB.com
.
• With Jeter
announcing his intention to retire
at the end of the season, Wright
remembered playing with him
in the World Baseball Classic and
Matt Harvey
spoke about
his respect for Jeter
, too. Jeter, by the way, has a .368 average with 13 homers, 43 RBIs and 19 steals in 84 career games against the Mets. Read more in the
Daily News
.
•
Lucas Duda
discussed his
eight weeks at fitness camp in Michigan
, his friendship with
Ike Davis
and his receptiveness to playing outfield upon arriving at camp Wednesday. Will Duda be the first baseman? A backup who dabbles in the outfield? Or at Triple-A Las Vegas? That is to be determined. Read more in the
Post
and
Newsday
.
• Sirius/XM's Casey Stern is expected to
emerge as the pregame and postgame host
for WOR's Mets radio broadcasts. Howie Rose and Josh Lewin will soon be announced as the in-game team, continuing their work together, as they did at WFAN.
• Fifth-starter candidate
John Lannan
says he is
fully recovered from the knee surgery
he underwent last August. Lannan, originally from Long Beach on Long Island, arrived at camp Wednesday.
•
From the bloggers …
John Delcos at
Mets Report
analyzes the bullpen after the Valverde signing.
BIRTHDAYS:
Former Mets catcher
Mike Nickeas
, who departed with
R.A. Dickey
and
Josh Thole
in the December 2012 trade with the
Toronto Blue Jays
, turns 31.
TWEET OF THE DAY:
@sugarfreeCV tried to tell you

— Zack Wheeler (@Wheelerpro45) February 12, 2014
YOU'RE UP: Are Jose Valverde and Kyle Farnsworth enough to make you feel OK about the bullpen?
February, 12, 2014
Feb 12
7:20
AM ET
PORT ST. LUCIE, Fla. -- SiriusXM baseball host Casey Stern is the leading -- and probably likely -- candidate to host WOR's pregame and postgame show, multiple sources told ESPNNewYork.com.

Stern would replace Ed Coleman in that role. Coleman is remaining with WFAN and will continue to report on the Mets for that station.

Stern hosts "Inside Pitch" on MLB Network Radio as well as an NFL show.

He hails from Long Island and often tweets about his beloved Islanders as well as the Mets.

The sources have expected Stern to be hired for the role for a while, but prolonged and continuing negotiations caused the sources to hedge.