New York Mets:

Casey Weathers
July, 2, 2014
Jul 2
11:51
PM ET
SALT LAKE 10, LAS VEGAS 9:
Salt Lake, trailing 9-7, rallied for three runs in the ninth against
Ryan Reid
.
Luis Martinez
delivered a two-out, two-run double to give the Bees the 10-9 lead. Las Vegas had built a 7-3 lead after two innings.
Josh Satin
went 2-for-3 with two walks, a double, two RBIs and a run scored. Vegas right-hander
Giancarlo Alvarado
pitched 4 2/3 innings and allowed seven runs on eight hits and three walks.
Box
BINGHAMTON at NEW BRITAIN (ppd.):
The game will be made up as part of a 5:05 p.m. doubleheader Thursday.
ST. LUCIE 7, CHARLOTTE 6:
St. Lucie stunned Charlotte by erasing a ninth-inning deficit for the second straight night. Trailing 6-5,
Eudy Pina
led off with a single against
Casey
Gomez
Weathers
.
Gilbert Gomez
followed with a double to place two in scoring position. With
L.J. Mazzilli
at the plate, Weathers threw a wild pitch that evened the score. After Mazzilli grounded out, catcher
Maxx Tissenbaum
failed to reel in a high fastball. It went off his glove and to the backstop. Gomez, who had advanced to third on the original wild pitch, slid safely into the plate on the passed ball for a 7-6 lead.
T.J. Chism
tossed a perfect bottom half with two strikeouts to notch the save.
Robert Coles
worked a scoreless seventh and eighth and earned the win. The Stone Crabs had jumped on Mets starter
Matt Koch
with three second-inning runs. However, the Mets responded with four runs in the third.
Leonel Santiago
walked two batters and committed an error to load the bases. Mazzilli followed with a two-run double. With two outs,
Gavin Cecchini
laced a two-run single to put the Mets up 4-3.
Maikis De La Cruz
made it 5-3 in the fourth when he scored from third on a wild pitch from
Kevin Brandt
. All told, the Mets scored two runs on wild pitches and the decisive run on a passed ball. The Stone Crabs tied the score at 5 on Tissenbaum's two-run single against Koch in the fifth. They grabbed a 6-5 lead in the sixth on a two-out RBI single by
Patrick Leonard
against
Julian Hilario
.
Box

Leroux
SAVANNAH 7, CHARLESTON 4:
Jon Leroux
doubled and scored on
Jorge Rivero's
groundout as the Gnats snapped a 4-all tie in the sixth en route to their sixth straight victory. Earlier, the Gnats twice had taken two-run leads only to watch the Dogs re-tie the score. In the fifth,
Champ Stuart
laced his second homer of the season -- a two-run shot. He finished 2-for-3 with a walk, stolen base, two runs scored and two RBIs. Gnats starter
John Gant
fought his way through seven innings, tying a career-high with 10 strikeouts to earn his eighth win. After allowing four runs, Gant now has a 2.79 ERA.
Box
HUDSON VALLEY 1, BROOKLYN 0 (suspended):
The game was suspended with two outs in the top of the second. It will be completed on Monday at 6 p.m. Hudson Valley scored a second-inning run on three throwing errors in the frame -- one by third baseman
Jhoan Urena
and two by second baseman
Will Fulmer
-- before the game was halted.
Box
GCL METS at GCL NATIONALS (ppd.)
Compiled with team reports
June, 17, 2014
Jun 17
12:22
AM ET
OKLAHOMA CITY 5, LAS VEGAS 1: Noah Syndergaard
, returning from a disabled list stint for a sprained left shoulder, allowed four runs on seven hits and a walk in a four-inning, 73-pitch effort. Manager
Wally Backman
was ejected and proceeded to rip his lineup card to shreds in front of the umpire. Las Vegas' lone run came on
Josh Satin's
two-run RBI single in the ninth.
Travis d'Arnaud
went 1-for-4 as his Pacific Coast League average slipped to .394.
Box
ST. LUCIE 6, CHARLOTTE 2:
St. Lucie picked up where it left off before the Florida State League All-Star break -- with a win. The Mets' fourth straight victory kept them a half-game behind victorious Fort Myers for first place in the South Division. The Mets (39-29) have two games remaining in the first half, both against Charlotte.
Steven Matz
struck out six Crabs in six innings in Monday's victory. He gave up six hits and two earned runs. Matz threw a season-high 103 pitches and earned his fourth win.
Paul Sewald
contributed 1 2/3 scoreless innings with four strikeouts for his fourth hold.
Randy Fontanez
retired all four batters he faced to pick up his 10th save. The Mets scored three runs in the second.
Cam Maron
delivered a two-out RBI single against
Leonel Santiago
. After
Maikis De La Cruz
singled,
Eudy Pina's
two-run double made it 3-0. The Crabs scored both of their runs in the fourth. After loading the bases,
Kes Carter
singled to plate
Leonardo Reginatto
.
Jonathan Quinonez
followed with an RBI groundout to cut the Mets' lead to 3-2.
Aderlin Rodriguez
got a run back in the bottom half. He drew a leadoff walk and moved to second on a bloop hit by De La Cruz. Quinonez bobbled the ball in shallow right and Rodriguez took off to third. Quinonez's bad throw skipped away from third and Rodriguez came home. De La Cruz drove in
Brandon Nimmo
with a single in the sixth to make it 5-2. Nimmo capped off the scoring when he doubled against
Casey Weathers
in the seventh to plate
T.J. Rivera
. Nimmo went 2-for-3 with a triple, double, walk, RBI and two runs scored.
Box
STATEN ISLAND 7, BROOKLYN 2:
Staten Island broke a 2-all tie with four unearned runs against
Gaither Bumgardner
over the seventh and eighth innings. Right-fielder
Michael Bernal
had two errors and first baseman
Jeff Diehl
also committed an error during that late meltdown.
Box
Compiled with team reports
April, 27, 2012
4/27/12
6:21
AM ET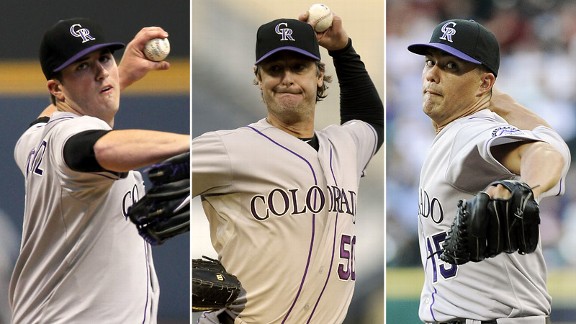 Getty Images/Associated Press
The Mets face (l to r) Drew Pomeranz, ageless Jamie Moyer and Jeremy Guthrie this weekend at Coors Field.
METS (11-8, third place/NL East) vs. COLORADO ROCKIES (9-9, third place/NL West)
Friday:
RHP Chris Schwinden (2-2, 2.05 at Triple-A Buffalo) vs. LHP Drew Pomeranz (0-1, 6.75), 8:40 p.m. ET
Saturday:
RHP Dillon Gee (1-2, 5.21) vs. RHP Jeremy Guthrie (2-1, 5.92), 8:10 p.m. ET
Sunday:
LHP Johan Santana (0-2, 3.00) vs. LHP Jamie Moyer (1-2, 2.28), 3:10 p.m. ET
Rockies short hops
• With an April 17 victory against the San Diego Padres,
Jamie Moyer
became the oldest pitcher to win a major league game, at 49 years, 151 days. The victory, the 268
th
of his career, tied
Jim Palmer
for 34
th
all time. Next up:
Mike Mussina
and
Burleigh Grimes
at 270. Moyer actually has been Colorado's best starting pitcher so far this season, despite the 1-2 record. He is the only Rockie to complete at least five innings in each of his starts. He received a no-decision in his last start despite limiting the Pittsburgh Pirates to one run in six innings at PNC Park. Moyer missed last season after undergoing Tommy John surgery, which he only intended to have in order to throw batting practice to his children. But he felt so good while rehabbing, he opted to make a comeback. Moyer needs two strikeouts to match
Luis Tiant
for 36
th
all time, with 2,416.
• Left fielder
Carlos Gonzalez
produced his first two homers of the season Tuesday at Pittsburgh, off
Kevin Correia
and
Tony Watson
. Gonzalez had been weakened by a battle with strep throat that caused him to miss three games. He is just starting to regain his strength.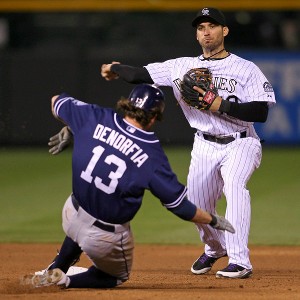 Chris Humphreys/US Presswire
Marco Scutaro has needed to readjust to second base after primarily playing shortstop with the Red Sox in recent seasons.

• The Dec. 16 signing of former Minnesota Twin
Michael Cuddyer
to a three-year, $31.5 million contract marked the first time the organization had opened the purse strings for a major free-agent acquisition since 2000. That year, Colorado signed
Mike Hampton
and
Denny Neagle
. (The Hampton signing gave the Mets the compensatory draft pick they used to select
David Wright
38
th
overall in June '01). Cuddyer, who grew up with Wright in Norfolk, Va., has been the Rockies' most productive hitter so far with a .303 average, two homers and 11 RBIs in 66 at-bats. A first-time All-Star last season in the American League, Cuddyer has taken over the right-field role held by
Seth Smith
and
Ryan Spilborghs
in 2011.
• The Rockies acquired
Marco Scutaro
from the Boston Red Sox on Jan. 21 for right-hander
Clayton Mortensen
. Scutaro started 102 games at shortstop and two games at second base last season, but is being asked to play the latter position with the Rockies. He initially looked shaky, but has progressed since the start of the season.
• Two-time reigning Gold Glove winner
Troy Tulowitzki
already has matched last season's error total with six. On a wet day, he airmailed two throws for errors. Three days later, Tulowitzki then had a second two-error day. Teammate
Jason Giambi
played fielding highlights for Tulowitzki to try to settle the Rockies' shaken shortstop. The six errors are one shy of
Starlin Castro's
NL-leading total with the Chicago Cubs. Tulowitzki has this to fall back on: He is a lifetime .328 hitter with seven homers and 15 RBIs in 116 at-bats against the Mets.
• The Rockies are targeting 110 starts for 38-year-old
Todd Helton
at first base this season. Helton does not play day games after starting night games. Giambi is the primary alternative. Helton's 1,318 RBIs are the most in Rockies franchise history. He and Wright are the only two active players who lead their organizations in most runs driven in. Helton and
R.A. Dickey
were baseball teammates at the University of Tennessee.
• Closer
Rafael Betancourt
is 6-for-6 in save conversions.
Matt Belisle
(1.23 ERA) is now the primary setup man.
Rex Brothers
(4.05 ERA) began the season in that role, but is now more likely to handle the seventh.
• Left-hander
Drew Pomeranz
was the centerpiece prospect returned in last July's trade of
Ubaldo Jimenez
to the Cleveland Indians. The 23-year-old southpaw was the fifth overall pick in the 2010 draft, out of the University of Mississippi. The Mets then selected
Matt Harvey
seventh overall. With the Rockies not needing a fifth starter the first time through the rotation, Pomeranz began the season with a start with Double-A Tulsa to keep his innings count in check. Friday's outing will mark his seventh career major league start.
•
Jeremy Guthrie
was acquired at the start of spring training from the Baltimore Orioles for
Jason Hammel
and
Matt Lindstrom
.
• With center fielder
Dexter Fowler
struggling (.222), lefty-hitting
Tyler Colvin
has chipped away at some of his playing time. Colvin was acquired from the Cubs with infielder
D.J. LeMahieu
on Dec. 8 for
Ian Stewart
and
Casey Weathers
.
• Right-hander
Juan Nicasio
, whom the Mets will not face, is an inspirational story. He is coming back from a broken neck, which he suffered on a line drive off the bat of Washington's
Ian Desmond
last Aug. 5.
• Defensive-oriented third baseman
Chris Nelson
is hitting .224.
•
Jorge De La Rosa
, returning from Tommy John surgery, is due to pitch in an extended spring training game Friday.
Matchups
Schwinden vs. Rockies (career: never faced)
Gee vs. Rockies (career: never faced)
Santana vs. Rockies (career: 2-0, 0.00 ERA)

Troy Tulowitzki .429, 2 K, 7 PA
Todd Helton .333, 3 PA
Marco Scutaro .250, 1 RBI, 3 K, 12 PA
Carlos Gonzalez .250, 1 K, 4 PA
Jason Giambi .227, 1 HR, 4 RBI, 1 BB, 7 K, 23 PA
Dexter Fowler .200, 2 BB, 3 K, 7 PA
Ramon Hernandez .190, 1 RBI, 1 BB, 4 K, 22 PA
Michael Cuddyer .000, 1 BB, 1 K, 3 PA
Pomeranz vs. Mets (career: never faced)
Guthrie vs. Mets (career: 0-2, 4.73 ERA)
David Wright .500, 2 RBI, 1 K, 6 PA
Scott Hairston .333, 3 PA
Ike Davis .333, 2 K, 3 PA
Daniel Murphy .000, 1 RBI, 3 PA
Ruben Tejada .000, 1 K, 3 PA
Moyer vs. Mets (career: 10-6, 3.94 ERA)
Daniel Murphy .500, 1 HR, 2 RBI, 1 BB, 6 PA
David Wright .415, 4 HR, 14 RBI, 1 BB, 3 K, 56 PA
Scott Hairston .000, 2 BB, 11 PA
Ike Davis .000, 1 BB, 3 PA
Last series results
Mets won, 2-1, at Coors Field, May 9-12, 2011 (AP game recaps)
Rockies 2, Mets 1:
Chris Capuano was stellar on the mound and shoddy at the plate. Capuano (2-4) made one key mistake in 6 2/3 strong innings, hanging an 81 mph slider to Chris Iannetta, who broke a tie in the seventh inning with a low liner that just cleared the left-field fence. The pitcher's performance at the plate, though, left something to be desired. He struck out three times, including once with the bases loaded in the sixth. That's simply the way the night went for the Mets, who left 10 runners on base and dropped to 0-5 against Colorado this season including a four-game sweep at Citi Field last month. Once again, they struggled to come up with the timely hit. New York is 1-for-16 with runners in scoring position over the last two games.
Mets 4, Rockies 3:
Mike Pelfrey hit a tiebreaking, two-run double and limited the Rockies to three solo homers. Ike Davis left in the fifth inning after he strained his left calf when he appeared to trip over third baseman David Wright's foot as the two closed in on a pop up by the Rockies' Troy Tulowitzki. Wright hung on to the ball near the mound for the second out of the fourth inning as Davis tumbled to the ground. Davis bounced up quickly but was limping noticeably. He remained in the game for the final out of the inning, then was replaced. The Mets had lost all five of their games to the Rockies this season but finally put together a couple of rallies against their new nemesis to counter home runs by Troy Tulowitzki, Seth Smith and Carlos Gonzalez. Despite the trio of long balls he served up, Pelfrey (3-3) allowed six hits over 6 2/3 innings and improved to 6-2 lifetime against the Rockies, who have lost seven of nine but remain atop the NL West. Pelfrey's outing was cut short by a nearly hour-long rain delay in the seventh inning.
Mets 9, Rockies 5:
Carlos Beltran hit a career-high three homers and drove in six runs to help the Mets beat Ubaldo Jimenez in a game delayed more than two hours by rain. Beltran homered from both sides of the plate and reached all parts of the ballpark with his three two-run homers: straightaway center in the first, deep left in the seventh and into the right-field seats in the ninth. The switch-hitting outfielder became the eighth Mets player to hit three in a game, and first since Jose Reyes on Aug. 15, 2006, at Philadelphia. Reyes hit a two-run single in the fourth that chased Jimenez (0-3) and kept the Rockies' ace searching for his elusive first win of the season. He lasted just 3 2/3 innings in his shortest stint of the season, surrendering five runs and three hits while walking six. Relying on his curveball, Jon Niese (2-4) was solid for 6 1/3 innings while allowing solo homers to Jonathan Herrera and Todd Helton.