New York Mets:

Cesar Izturis
December, 10, 2013
12/10/13
7:00
PM ET
LAKE BUENA VISTA, Fla. -- The Mets met with Peter and Ed Greenberg on Tuesday, a source told ESPNNewYork.com. That group represents backup infielder
Cesar Izturis
, right-hander
Freddy Garcia
and
Johan Santana
.
December, 3, 2012
12/03/12
2:51
PM ET
NASHVILLE, Tenn. -- With the Mets in need of a backup infielder to replace free agent
August, 17, 2012
8/17/12
9:30
AM ET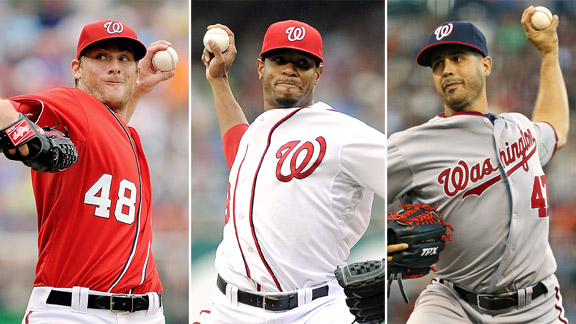 Getty Images
The Mets face (l to r) Ross Detwiler, Edwin Jackson and Gio Gonzalez this weekend in D.C.
METS (56-62, third place/NL East) vs. WASHINGTON NATIONALS (73-45, first place/NL East)
Friday:
LHP
Johan Santana
(6-8, 4.58) vs. LHP
Ross Detwiler
(6-5, 3.18), 7:05 p.m. ET
Saturday:
LHP
Jon Niese
(9-6, 3.67) vs. RHP
Edwin Jackson
(7-7, 3.74), 7:05 p.m. ET
Sunday:
RHP
Jeremy Hefner
(2-4, 4.76) vs. LHP
Gio Gonzalez
(15-6, 3.29), 1:35 p.m. ET
Nats short hops
•
Jayson Werth
returned to the outfield Aug. 2, nearly three months after fracturing his left wrist on a catch attempt against the Phillies. His return was interrupted for one game with a sore ankle, and he has hobbled a little bit since reentering the lineup Tuesday. Manager
Davey Johnson
primarily has used Werth in right field and
Bryce Harper
in center field, but flips them on occasion to try to get Harper a semi-breather.
• The slumping Harper is hitting .141 (9-for-64) with one homer and three RBIs in his past 17 games (16 starts). Teams are throwing a lot of breaking balls down and away.
• Shortstop
Ian Desmond
, who has missed four weeks with torn oblique, should be activated from the disabled list for Friday's series opener. Desmond hit in a simulated game Thursday and will not require a minor league rehab assignment.
Danny Espinosa
has been capably filling in for Desmond at shortstop, and will now slide back to second base.
Steve Lombardozzi
(15-for-30 in his past seven games) should head from second base to the bench. Johnson will try to find ways to get Lombardozzi in the lineup. The 23-year-old rookie learned how to play left field this season.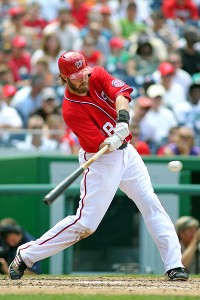 Rob Leiter/Getty Images
Jayson Werth returned from a fractured wrist Aug. 2.

• The Mets do not face
Stephen Strasburg
this weekend, but his innings limit -- set at 180 -- has been a hot topic. Strasburg (14-5, 2.91 ERA) currently sits at 139 1/3 innings. After former Braves and Orioles pitching coach
Leo Mazzone
criticized the decision to shut down Strasburg later this season, citing how the Braves had success despite heavy workloads for pitchers, agent
Scott Boras
called in to ESPN's "Mike & Mike" show to counter that argument. Boras noted that
Steve Avery
, whom he also represented, had faded from the majors before his 30
th
birthday after logging 667 1/3 innings over his first three full major league seasons, with the Braves under Mazzone.
•
Tyler Clippard
remains the Nats' primary closer, even with
Drew Storen
having returned after missing the first 3½ months of season following elbow surgery. Storen (5.79 ERA) has been erratic. He allowed four runs while recording only one out in a 6-1 loss at San Francisco on Tuesday. Johnson may try to find an occasional closing opportunity for Storen, but with an important game on the line, it will remain Clippard's responsibility.
• Former Mets farmhand
Jesus Flores
wilted in a starting role behind the plate and has thrown out only six of 51 would-be base stealers this season. So the Nats acquired catcher
Kurt Suzuki
from the Athletics for minor league catcher
David Freitas
on Aug. 3 and optioned
Sandy Leon
to Triple-A Syracuse. Suzuki starts roughly two of every three games. Washington needed the veteran help because none of Flores' sidekicks, including
Jhonathan Solano
and Leon, had major league experience.
• Three days after Suzuki's acquisition, infielder
Cesar Izturis
was claimed off waivers from the Brewers, with
Mark DeRosa
landing on the DL with an abdominal strain. Izturis, acquired primarily for depth with Desmond out, is in at least slight danger of being a roster casualty Friday with Desmond expected to be activated. Still, with rosters expanding Sept. 1, Izturis appears more likely to survive, with rookie first baseman/outfielder
Tyler Moore
(.281, 6 HR, 19 RBIs) instead optioned to Syracuse until rosters expand.
• Third baseman
Ryan Zimmerman
has been on a prolonged hot streak since receiving a cortisone shot in his right shoulder. Zimmerman is hitting .346 with 13 homers and 44 RBIs and has a .417 on-base percentage in 48 games since June 24.
•
Michael Morse
(.300, 11 HR, 40 RBIs) returned to lineup Wednesday after missing one game with a thumb injury. Morse officially has a 12-game hitting streak, during which he is hitting .320 with three homers and eight RBIs, although it just as easily could have been 23 games. The Phillies successfully appealed to MLB to have an Aug. 2 play, which initially was ruled a hit, switched to an error on shortstop
Jimmy Rollins
.
• Left-hander
Ross Detwiler
, the sixth overall pick in the 2007 draft, out of high school in Missouri, is beginning to justify that selection after the Nats early this season vacillated between using him and
Chien-Ming Wang
in a starting role. Wang made a rehab appearance for Double-A Harrisburg on Thursday, but is unlikely to regain a rotation spot, or return before rosters expand.
• The Nats released
Rick Ankiel
and
Xavier Nady
in a three-day span at the end of July. Ankiel remains a free agent, while Nady has signed with the Giants and is playing at Triple-A Fresno.
Last series results
Washington won, 3-0, at Citi Field, July 23-25 (AP game recaps)
Nats 8, Mets 2 (10 innings):
Bryce Harper homered his first time up in New York, then hit a tiebreaking single to key a six-run burst in the 10
th
. Shortstop Ruben Tejada's error on a potential double-play ball set up the big 10th. Ryan Zimmerman hit a three-run double and Michael Morse added a two-run homer as the Nationals broke away. The six runs tied the most the Mets had ever allowed in an extra inning. Never before had they lost consecutive extra-inning games by at least five runs.
More
Nats 5, Mets 2:
Adam LaRoche hit a tiebreaking homer and the Nationals handed R.A. Dickey his first loss in three months behind Gio Gonzalez's seven crisp innings. Gonzalez (13-5) gave up only two singles in a rematch of All-Star pitchers, five days after New York hit him hard to back Dickey during his 13th win. Dickey (13-2) allowed five consecutive hits in the sixth, ending his 11-game winning streak.
More
Nats 5, Mets 2:
Stephen Strasburg struck out 11 in seven innings, Michael Morse and Danny Espinosa hit consecutive homers and the Nats completed a sweep. Adam LaRoche hit a two-run homer for a second straight day, and Espinosa doubled and scored on one of the Mets' two errors in the Nationals' fifth win in a row. Other than allowing Ike Davis' blistering line drive into the right-field stands on the first pitch of the second inning and Daniel Murphy's single in the next at-bat, Strasburg allowed only Josh Thole's ground-rule double in the fifth and Jordany Valdespin's single in the sixth. Strasburg reached double digits in strikeouts for the fourth time this season and seventh of his young career, striking out David Wright three times.
More
May, 13, 2012
5/13/12
9:30
PM ET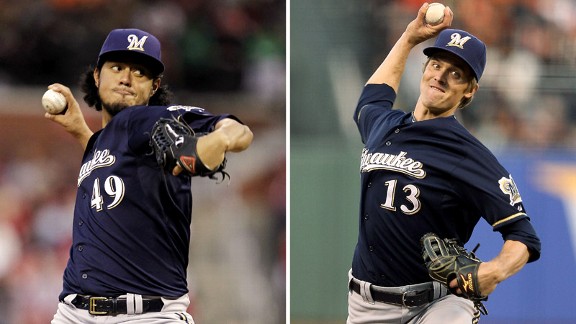 Associated Press/Getty Images
The Mets face Yovani Gallardo and Zack Greinke during a two-game miniseries at Citi Field.
METS (19-15, third place/NL East) vs. MILWAUKEE BREWERS (15-19, fourth place/NL Central)
Monday:
RHP Miguel Batista (0-1, 5.89) vs. RHP Yovani Gallardo (2-3, 5.35), 7:10 p.m. ET
Tuesday:
RHP Dillon Gee (2-2, 4.78) vs. RHP Zack Greinke (3-1, 3.35), 7:10 p.m. ET
Brewers short hops
• 2011 MVP
Ryan Braun
has nine homers since April 21, the most in the National League since that date. St. Louis'
Carlos Beltran
, who again went deep Sunday, is second during that span with eight long balls. Braun successfully contested a 50-game suspension for a positive drug test by challenging the chain of custody of his sample. He has received mixed fan reaction on the road this season -- vociferous booing, for instance, in Atlanta and a rather tame response in San Francisco.
•
Rickie Weeks
suffered a painfully bruised left hand/wrist injury when he was hit by a 96 mph fastball from Cubs reliever
Lendy Castillo
in the 13
th
inning Friday -- the second time he was plunked in that game. X-rays were negative, but the Brewers are waiting for swelling to subside to retest him for a possible hairline fracture. Weeks is not on the DL, but may miss both games of the Mets series.
Edwin Maysonet
started at second base Saturday in Weeks' place and belted a grand slam after an intentional walk to
Travis Ishikawa
.
Brooks Conrad
manned second base Sunday with Maysonet at shortstop so that
Cesar Izturis
could have a day off, but the Mets may see Maysonet both games at second base.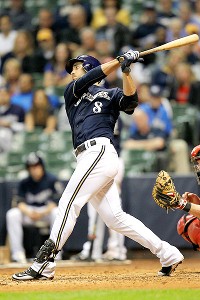 Mike McGinnis/Getty Images
Ryan Braun has received a mixed reaction from fans on the road since successfully combatting a suspension.

• The Brewers actually are without three-quarters of their original infield. The other two absentees are not returning this season.
Mat Gamel
, the successor to
Prince Fielder
at first base, was lost for the season with a torn ACL. Shortstop
Alex Gonzalez
also is out for the season after suffering the identical injury. Ishikawa and
Taylor Green
, with limited Conrad, now are sharing first base. Milwaukee recently spoke with unsigned
Derrek Lee
, but could not reach terms on a contract. The defensively oriented Izturis has taken over at shortstop.
• Closer
John Axford's
streak of consecutive saves ended Friday at 49 with a blown save against the Cubs. Axford was not around after that game to discuss his outing. His wife
Nicole
unexpectedly had gone into labor, and he left this playful note for reporters: "I put my wife into contractions with my performance tonight! The streak is over so now you can talk about it. The luck I've had in the past didn't show up tonight! All I can do is start another streak and keep my head up! Cliché ... cliché ... cliché ... another cliché. Gotta go! Love, Ax."
•
Francisco Rodriguez
is 0-3 with a 5.28 ERA through 17 appearances, but his numbers actually have been skewed by three bad outings; otherwise, he largely has produced in an eighth-inning role, albeit with his familiar tendency to allow baserunners. K-Rod produced his first save as a Brewer on April 10 at Wrigley Field. He had been offered arbitration last offseason with Milwaukee trying to get draft-pick compensation for him signing elsewhere. But with the closer market congested, Rodriguez accepted the arbitration offer and returned for this season for a guaranteed $8 million.
• The Brewers signed
Aramis Ramirez
to a three-year, $36 deal as a free agent to succeed Fielder in the cleanup spot, but the ex-Cub is hitting only .230 with two homers and 19 RBIs through 126 at-bats.
• Milwaukee brass has tabled extension talks with
Zack Greinke
, who is due to be a free agent after the season. The shelving of talks came shortly after
Matt Cain
signed a five-year, $112 million extension to remain with the San Francisco Giants. Greinke, who formerly acted as his own representative, has hired agent
Casey Close
to handle the negotiations.
• GM
Doug Melvin
and manager
Ron Roenicke
received contract extensions last week. Melvin, who also gained the title president of baseball operations, was extended through 2015. Roenicke's deal now goes through '14, with a team option for the following season.
• Ex-Met
Carlos Gomez
has landed on the disabled list with a hamstring strain. He is due to begin a rehab assignment Wednesday with Class A Wisconsin. Lefty hitters
Norichika Aoki
and
Nyjer Morgan
have shared center-field duties -- with Aoki starting against southpaws and the struggling Morgan (.200, no RBIs) against righties. Aoki joined the Brewers from the Tokyo Yakult Swallows, where he was a .329 career hitter and won Central League batting titles in 2005, '07 and '10.
•
Yovani Gallardo's
season totals look a whole lot better if you subtract a pair of starts against the Cardinals. He is 0-2 with a 22.24 ERA (14 ER in 5.2 IP) against St. Louis this season. Against others, he is 2-1 with a 2.45 ERA.
• Catcher
Jonathan Lucroy
was batting .333 as a catcher (29-for-87) before going hitless Sunday in four at-bats. That average matched
Carlos Ruiz's
for tops in the NL at that position. Overally, Lucroy now is hitting .326.
• Milwaukee has bunted in a run an MLB-leading five times this season.
Matchups
Batista vs. Brewers (career: 1-0, 2.72 ERA)

Jonathan Lucroy .500, 1 RBI, 2 PA
Rickie Weeks .333, 1 BB, 1 K, 8 PA
Travis Ishikawa .333, 1 RBI, 1 BB, 1 K, 4 PA
Cesar Izturis .222, 1 HR, 2 RBI, 1 BB, 1 K, 28 PA
Aramis Ramirez .143, 2 BB, 16 PA
Ryan Braun .000, 2 K, 4 PA
Brooks Conrad .000, 1 PA
Gee vs. Brewers (career: 0-1, 3.00 ERA)

Corey Hart .333, 3 PA
Rickie Weeks .250, 2 K, 4 PA
Jonathan Lucroy .000, 1 RBI, 3 PA
Ryan Braun .000, 1 BB, 3 PA
Aramis Ramirez .000, 1 K, 3 PA
Nyjer Morgan .000, 3 PA
Gallardo vs. Mets (career: 2-2, 3.47 ERA)
Lucas Duda .500, 2 HR, 3 RBI, 2 K, 6 PA
Mike Nickeas .500, 1 K, 2 PA
Scott Hairston .333, 2 RBI, 1 K, 6 PA
Ronny Cedeno .300, 2 HR, 4 RBI, 1 BB, 3 K, 11 PA
David Wright .214, 1 HR, 2 RBI, 2 BB, 7 K, 16 PA
Daniel Murphy .167, 1 RBI, 3 K, 6 PA
Justin Turner .167, 2 K, 6 PA
Andres Torres .000, 1 BB, 1 K, 8 PA
Ike Davis .000, 2 BB, 2 K, 6 PA
Greinke vs. Mets (career: 0-1, 6.43 ERA)
Ronny Cedeno .300, 1 RBI, 2 K, 10 PA
Scott Hairston .000, 1 K, 3 PA
Rob Johnson .000, 2 PA
Last series results
Milwaukee won, 3-0, at Citi Field, Aug. 19-21, 2011 (AP game recaps)
Brewers 6, Mets 1:
The Mets became the first team in major league history to lose the opening game in their first 10 homestands of a season, STATS LLC said. Prince Fielder hit a pair of RBI singles and later confronted Mets reliever Tim Byrdak in a late dustup that caused the benches and bullpens to empty. Shaun Marcum pitched the Brewers to their 20th win in 23 games. They closed out this testy victory at 12:51 a.m. Fielder already was 2-for-2 with two walks when he came up in the eighth. Byrdak's first pitch was a fastball at Fielder's chest that backed him away from the plate. Fielder grounded out on the next pitch, then took a sudden right turn after hitting first base, curling back to intercept Byrdak on the way to the dugout. Terry Collins, Josh Thole and plate umpire Angel Campos intervened to prevent any escalation. Order was quickly restored. Brewers reliever Frankie De La Cruz plunked Mike Baxter in the ninth, without incident. Ryan Braun wasn't around at the end. He looked at strike three in the third inning, loitered in the batter's box and was eventually ejected by Campos. Marcum (11-3) improved to 4-0 in nine starts since losing at Yankee Stadium on June 29. He allowed one run in seven innings.
Brewers 11, Mets 9:
Prince Fielder hit a long home run early and a key single in the ninth inning, spoiling the Mets' chances of a win against former closer Francisco Rodriguez. Casey McGehee followed Fielder's tying hit with a two-run single off Manny Acosta, capping a four-run rally. The Brewers blew a late 7-1 lead, but came back after Angel Pagan hit a two-run homer off Rodriguez (5-2) in the eighth. Mets reliever Jason Isringhausen (3-3) couldn't get an out in the ninth and left after a bases-loaded walk. Fielder, Ryan Braun and Yuniesky Betancourt all homered for the Brewers, who have won eight of their last nine games. John Axford pitched the ninth for his 37th save.
Brewers 6, Mets 2:
Prince Fielder drove in the go-ahead run on a botched potential double-play grounder in the eighth and Yovani Gallardo shut down the Mets for seven innings, leading Milwaukee to its first series sweep in New York. Casey McGehee homered off R.A. Dickey in the fourth and Ryan Braun had three hits, an RBI and scored twice after stealing bases for the Brewers. Gallardo (14-8) gave up six hits in the finale to match a career high for wins.