As if things weren't going bad enough for the Mets, they have to worry about an extra bat in the Diamondbacks lineup.
Diamondbacks pitcher Dan Haren, though in a recent slump, is still having what could turn out to be a pretty historic season for pitchers at the plate.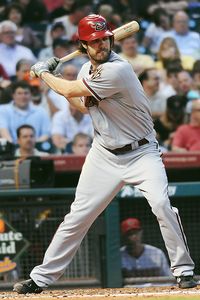 Kirk Sides/Icon SMI
Diamondbacks starter Dan Haren has been stellar at the plate throughout 2010.
Haren is currently hitting .377 with a home run and seven RBI in 53 at-bats this season. The last player whose primary position was pitcher who hit that high over a full season (minimum 50 AB) was a fellow by the name of Carl Scheib for the 1951 Phillies.
How do you get Haren out? Good luck. He's shown to be adept at hitting both fastballs and (a rarity for a pitcher) breaking balls. And if you're not careful with two strikes he'll burn you -- to the tune of a .308 batting average (the typical pitcher hits .085 with two strikes).
Haren, a .227 career hitter, was actually hitting as high as .444 as of a couple of weeks ago, but he's hitless in his last eight at-bats. He's also hitless in eight career at-bats vs the Mets. The all-time record for batting average by a pitcher is .433 by Hall of Famer Walter Johnson in 1925.
---
There's a weird coincidence going related to the fast starts and parallel struggles of Mets starter Mike Pelfrey and Yankees starter Phil Hughes.
Mike Pelfrey and Phil Hughes
Since 3 R, 9 H Game at Orioles
Hughes pitched in Baltimore on June 8, allowing three runs and nine hits over six innings in a 12-7 Yankees win. Five days later, Pelfrey had an identical line -- three runs and nine hits over six innings in an 11-4 win.
Call it the Camden Yards Jinx, but both pitchers have had major issues since then. Combining each pitchers numbers since their Camden Yards starts and the results are ugly -- 54 earned runs in 64 innings. And each is now the victim of a rout, Pelfrey by the Diamondbacks, Hughes by the Angels, in his last start.
---
The reported signing of Chad Cordero, a longtime Omar Minaya favorite, to a minor league deal, qualifies as one of those "If you can't beat him, get him," moves.
Cordero was one of the biggest pests the Mets dealt with in the middle of the last decade. He saved 13 games in 14 opportunities against them (92.9 save percentage ranks fifth against the Mets all-time) didn't allow a run against them in his first 12 2/3 innings, and didn't allow an earned run against them in his first 18 2/3 innings.
Cordero had a 1.76 ERA in 30 2/3 innings of work against the Mets. Of course, his main worry will be getting out batters for them, not against them, now.
For those curious, the ultimate Mets "if you can't beat him, get him" is likely longtime closer and former Red John Franco, whose 0.69 ERA is the best all-time against the Mets (minimum 30 innings pitched).