New York Mets:

Chad MacDonald
November, 3, 2011
11/03/11
2:45
PM ET
Chad MacDonald, who oversaw amateur scouting and the draft in conjunction with Paul DePodesta, only spent roughly 12 months with the Mets organization. So his legacy will be the 2011 draft that included taking high school outfielder Brandon Nimmo 13th overall, then prep right-hander Michael Fulmer out of Oklahoma with the 44th overall selection.

MacDonald is leaving the Mets to join his former Arizona boss, Josh Byrnes, with the San Diego Padres. MacDonald will be vice president and assistant GM.

The Mets will fill MacDonald's draft role with Tommy Tanous, a scout for the organization last season who has ties to J.P. Ricciardi from Toronto.

Speaking with ESPNNewYork.com on Thursday, MacDonald expressed satisfaction with his lone draft with the Mets.

"I felt good on two fronts," MacDonald said. "One, the players. And, two, the process. I think the process of being open to scouting all players -- geographically, high school, college -- and being able to take some risks in taking some high upside guys. We did that with Nimmo and Fulmer, and we took high school guys we liked and college guys we liked. And now I think our staff, which is geared up and ready for 2012 -- one of the better staffs in baseballs -- knows all (amateur) players are in play. So when you show up at the ballpark, if anything they know the Mets have a chance to draft and sign any of those players. I think that will bode well for the Mets organization for years to come."

Nimmo, 18, hit .211 with two homers and four RBIs in a combined 10 games between the Gulf Coast League and Kingsport.

What's the impression of Nimmo now compared to draft time?

"I said at the draft he's an impact player, impact person -- a center fielder with speed, who can hit and who is going to have power," MacDonald said. "Wherever the new walls are in New York, he's going to run through them for the Mets. The Mets fans are going to cheer for Brandon for a lot of years to come."

Several lower-tier picks had solid pro debuts, including right-hander Jack Leathersich (fifth round) and infielder Danny Muno (eighth round) with Brooklyn.

Asked if there was anyone who really stood out in the Mets system after signing, beyond the first few rounds, MacDonald said: "Those two guys, and then even the high school kid (shortstop Phillip) Evans (15th round), who we were able to give some money to, really improved in instructional league.

"We signed like seven young high school arms, which this organization hadn't done before. We hope we hit on all seven of them. Odds are that's not going to happen, but each one of those guys brings something to the table that says, 'This guy is going to be a major league starting pitcher.' They're all young. They all have the ingredients -- size, arm strength, arm action, delivery. Some of them you're just waiting for the velocity to come. Others you're waiting for the breaking ball to come. But (Matt) Budgell (10th), and (Craig) Missigman (37th), and (John) Gant (21st), and (Robert) Gsellman (13th), and (Christian) Montgomery (11th), I'm telling you what, that's the way to do it. And I think that's the way the Mets will continue to do it even after I'm gone."
November, 1, 2011
11/01/11
9:23
PM ET
Chad MacDonald, who oversaw amateur scouting for the Mets this past season, may leave the organization, ESPN.com's Keith Law reports. MacDonald has drawn interest from the San Diego Padres and Los Angeles Angels. MacDonald worked for Josh Byrnes and Jerry Dipoto with the Diamondbacks before joining the Mets.
July, 20, 2011
7/20/11
11:30
AM ET
Amateur scouting director
Chad MacDonald
predicts the best has yet to come from seventh-round pick
Cole Frenzel
, a first baseman from the University of Arizona.
Several factors, MacDonald suggests, point to that conclusion.
The 21-year-old Frenzel hails from Dickinson, N.D., a climate that limited his ability to play year-round. Frenzel also missed much of his freshman season in college after breaking the hamate bone at the base of his right hand while fouling off a fastball against Long Beach State in his second collegiate game, limiting his development time.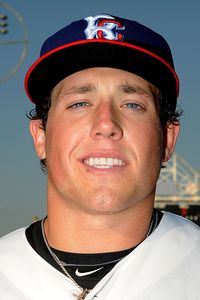 Courtesy of Brooklyn Cyclones
Cole Frenzel

Of course, it also was attractive to the organization that Frenzel had a .461 on-base percentage in the Pacific-10 Conference this season -- 35 points better than No. 2-ranked
Danny Pulfer
of Oregon, who became a 19
th
-round pick of the Arizona Diamondbacks.
"We thought he was trending upward," MacDonald said.
Frenzel, who bats left-handed and throws right-handed, is hitting .297 (11-for-37) with seven RBIs through 10 professional games as a Brooklyn Cyclone.
As is the case with still-unsigned first-round pick
Brandon Nimmo
, who hails from Wyoming, climate certainly restricted Frenzel from playing baseball year-round in North Dakota.
"Obviously you couldn't go outside pretty much from the fall all the way until the spring," Frenzel said. "I would hit indoors. We had a college baseball team there (NAIA Dickinson State), and they would have cages in the gymnasium. I'd go hit there with my dad all the time -- twice a week in my off-time -- play catch, take groundballs. I didn't do much baseball throughout the winter and fall because I played football and hockey. But I'd still make time to hit just to stay in shape a little bit. We used wood bats in high school, too. So that helped out.
"The weather, I mean, winters get cold up there. You get 30-below-zero like nothing."
Frenzel played inside linebacker and fullback/tailback in football and forward in hockey during high school. He had opportunities to play junior hockey and was also recruited by Division II college programs, but his father
Doug
and brother
Tyler
played college baseball -- Tyler at the University of North Dakota. Baseball seemed like the most promising path.
"Once I got into eighth grade, freshman year of high school, that's when I realized I'm going to do hockey all summer or I'm going to play baseball," Frenzel said. "Hockey would have turned into year-round. My dad played college baseball. My brother did too. I still loved baseball. And I was a little better at baseball. It was my best chance in athletics."
Frenzel, because of his date of birth, actually was eligible for the draft this year, after his sophomore season at Arizona. Typically, a player at a four-year program is not eligible until after his junior season. Armed with the leverage of being able to be drafted for two more years, Frenzel received a $200,000 signing bonus, according to Baseball America -- the highest for that round this year.
MacDonald said he believes Frenzel will grow into power, too.
"I try to keep it simple and put the barrel on the ball," Frenzel said. "I try to hit for average. Power usually comes."
Organization leaders
Average:
Juan Lagares, St. Lucie, .337; Julio Concepcion, Kingsport, .333; Josh Satin, Binghamton, .322; Richard Lucas, Brooklyn, .317; Pedro Zapata, St. Lucie, .316; Brandon Brown, Brooklyn, .310; Cam Maron, Kingsport, .304; Jordany Valdespin, Binghamton, .299; Cory Vaughn, St. Lucie, .292; Jeff Glenn, Kingsport, .292.
Homers:
Brahiam Maldonado, Binghamton, 15; Valentino Pascucci, Buffalo, 13.
RBI:
Valentino Pascucci, Buffalo, 61; Wilmer Flores, St. Lucie, 60; Josh Satin, Binghamton, 59; Aderlin Rodriguez, Savannah, 58; Brahiam Maldonado, Binghamton, 47.
Steals:
Jordany Valdespin, Binghamton, 29; Pedro Zapata, St. Lucie, 27; Matt den Dekker, Binghamton, 16; Rafael Fernandez, Savannah, 14.
ERA:
Darin Gorski, St. Lucie, 2.03; Carlos Vazquez, Brooklyn, 2.43; Jeurys Familia, Binghamton, 2.63; Taylor Whitenton, Savannah, 2.71; Eduardo Aldama, Brooklyn, 2.81; Gabriel Ynoa, GCL Mets, 3.00; Todd Weldon, Brooklyn, 3.09; Greg Peavey, St. Lucie, 3.18; Chris Schwinden, Buffalo, 3.21; Ryan Fraser, Savannah, 3.26.
Wins:
Darin Gorski, St. Lucie, 10; Greg Peavey, St. Lucie, 9; Angel Cuan, Savannah, 8; Matt Harvey, Binghamton, 8; Brandon Moore, Binghamton, 7.
Saves:
Josh Edgin, St. Lucie, 20; Jeffrey Kaplan, St. Lucie, 10; Dale Thayer, Buffalo, 9.
Strikeouts:
Matt Harvey, Binghamton, 115; Darin Gorski, St. Lucie, 107; Jeurys Familia, Binghamton, 100; Chris Schwinden, Buffalo, 93; Taylor Whitenton, Savannah, 87.
Short hops
• Right-hander
Chris Schwinden
tossed a perfect inning at Salt Lake City, requiring only seven pitches, in the Triple-A All-Star Game as Buffalo's lone representative last Wednesday. Schwinden retired Albuquerque's
Trayvon Robinson
, Reno's
Collin Cowgill
and Sacramento's
Anthony Recker
on groundouts. It marked the fourth straight year a Bison has tossed a scoreless relief inning in the All-Star Game, with Schwinden joining
Rich Rundles
(2008),
Nelson Figueroa
(2009) and
Pat Misch
(2010) in continuing that streak. Schwinden (6-4, 3.31 ERA) then opened the second half by suffering his first loss in eight starts. He allowed four runs while lasting a season-low 4 1/3 innings at Rochester.
• St. Lucie left-hander
Darin Gorski
improved to 10-0 on Monday against Clearwater. That win total is more impressive because Gorski did not enter the Florida State League team's rotation until April 27, after making five relief appearances. Gorski's 10 wins are tied for third in minor league baseball, trailing only the 11 victories by
Julio Rodriguez
(Class A Clearwater/Phillies) and
Craig Westcott
(Class A San Jose/Giants).
• Buffalo center fielder
Kirk Nieuwenhuis
underwent season-ending shoulder surgery on his left, non-throwing shoulder to repair the labrum.
• Third-base prospect
Zach Lutz's
hard-luck season injury-wise continued Tuesday when he was hit with a fastball in the head by Syracuse's
Chien-Ming Wang
in the first inning and later experienced concussion symptoms that sent him to the hospital. Lutz remained in the game until
Michael Fisher
replaced him in the bottom of the third. Lutz already has suffered a concussion this season after getting hit with a curveball in the head on June 24 against Norfolk.
• Left-hander
Gustavo Chacin
is scheduled to make his Buffalo debut Wednesday, with fellow newcomer
Miguel Batista
starting the other game of a doubleheader at Syracuse. Chacin, 30, was released by the Houston Astros after going 3-6 with a 5.13 ERA in 18 relief appearances at Triple-A Oklahoma City. He allowed 81 hits and 24 walks in 66 2/3 innings. The right-handed Batista, 40, was released by the St. Louis Cardinals after a June 21 appearance against Philadelphia in which he walked consecutive batters with the bases loaded to force in runs. After two relief appearances with the Bisons, Batista made his first minor league start in 11 years on Thursday, tossing 3 2/3 scoreless innings while building his pitch count to 64.
Jack Egbert
, returning from Tommy John surgery this season, will move to the Double-A rotation to clear room with the Bisons.
• The Mets signed a pair of position players for the upper levels of the organization. Outfielder
Fernando Perez
, a Columbia University product and published poet, was assigned to Buffalo. Infielder
Niuman Romero
joined Binghamton. Perez, 28, hit .238 with three homers and 20 RBIs and had 17 steals in 19 attempts in 76 games with Triple-A Iowa in the Chicago Cubs organization. Perez once scored the game-winning run by tagging up on a shallow fly ball in Game 2 in the 2008 American League Championship Series for Tampa Bay against Boston. Romero, 26, hit .239 in 34 games in the Eastern League with Reading in the Phillies organization. He also appeared briefly in the Blue Jays minor league system this season.
• Romero has started his first three games at shortstop with the B-Mets, prompting middle infielder
Jordany Valdespin
to man second base. Valdespin, who has 27 errors this season, should return to shortstop, however, with 2008 first-round pick
Reese Havens
activated from the disabled list following a back injury that has sidelined the second baseman since June 23.
• A pair of the Mets' more highly regarded prospects found themselves on the disabled list. Outfielder
Fernando Martinez
was placed on the Buffalo DL with a left hip flexor injury, while right-hander
Jeurys Familia
had been shut down with the B-Mets with a shoulder impingement, but has resumed throwing. Familia had been given more than two weeks off between starts before returning to the rotation July 4. Familia is 2-2 with a 3.38 ERA in Double-A this season. B-Mets left-hander
Roy Merritt
also landed on the DL with a bruised shin.
• Familia had been one of three B-Mets selections to last Wednesday's Eastern League All-Star Game in Manchester, N.H., but was unable to attend.
Josh Satin
(0-for-1, walk) and Valdespin (0-for-2) started for the East, which lost, 8-3.
• Satin has now reached base in 43 straight games with the B-Mets. His .322 average ranks fifth in the Eastern League, while his .421 on-base percentage trails only Portland's
Alex Hassan
(.430).
• Buffalo designated hitter/first baseman
Valentino Pascucci
was named the International League hitter of the week. In five games since the All-Star break, Pascucci is hitting .381 with three homers and 11 RBIs.
•
Jose De La Torre
made his first Buffalo appearance since May 3 on Tuesday, recording four outs but issuing three walks. The right-handed reliever had been out with a shoulder strain.
• St. Lucie, and rehabbing
David Wright
, faced
Tim Teufel's
son
Shawn
on Saturday. The 25-year-old southpaw, a 25th-round pick last year out of Liberty University by the Detroit Tigers, suffered his first career Florida State League loss. He allowed three runs on five hits and a walk in five innings and now sports a 2.50 ERA in the league in 36 innings (14 appearances/two starts).
• Right-hander
Brad Holt
, the 33
rd
overall pick in 2008, who was bounced from the rotation to bullpen because of wildness, had a recent run of success out of the B-Mets pen. Holt retired 16 straight batters until the streak ended Monday when he allowed three runs in an inning. Still, Holt has not allowed a walk in his past four appearances spanning six innings. He had walked 50 through 67 innings this season.
• 2010 first-round pick
Matt Harvey
allowed two runs on five hits and two walks while striking out nine in five innings Monday at Portland. He is 0-2 with a 7.64 ERA through four Double-A starts.
• Thirteenth-round pick
Robert Gsellman
, a high school right-hander from California, made his professional debut Monday with a scoreless inning, with two strikeouts and two walks, in the Gulf Coast League. The Mets also signed ninth-round pick from
Alex Panteliodis
, a left-hander from the University of Florida. Panteliodis arrived with a hip injury the organization was aware of and will not pitch until next season.
Adam Rubin's farm report appears Wednesdays during the regular season
June, 7, 2011
6/07/11
8:55
PM ET
Scouting director
Chad MacDonald
called Day 2 of the draft, which included the second through 30
th
rounds, "a good day for the New York Mets."
Said MacDonald: "Some things fell our way."
Among the tidbits: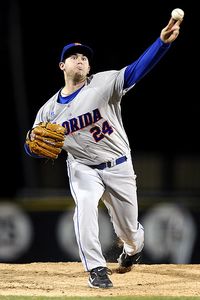 Richard C. Lewis/Icon SMI
University of Florida left-hander Alex Panteliodis (24) pitches against the University of Miami at Alex Rodriguez Park at Mark Light Field in March 2010.

• 22
nd
-round pick
Casey Turgeon
, a high school shortstop from Dunedin, Fla., is the brother of current Mets minor leaguer
Erik Turgeon
, a 25th-round pick in 2008 out of the University of Connecticut, who is 2-1 with a 4.85 ERA at Double-A Binghamton.
•
Justin Turner
, who knows
Tyler Pill's
brother and is a fellow Cal State Fullerton product, said the fourth-round pick can hit. And MacDonald and
Paul DePodesta
agree, noting Pill batted third for Fullerton. But the Mets see Pill solely as a pitcher. "The pitching only improves when you concentrate on it," MacDonald said. Turner knows Pill's older brother
Brett
, who also played for the Titans.
• Sixth-round pick
Joe Tuschak
, a high school center fielder from western Pennsylvania, worked out for the Mets at Citi Field the weekend before the draft. MacDonald says about the lefty-hitting Tuschak: "This guy can hit, and he's going to have power." The Mets say he also will be able to cover ground in center field.
• The jury is still out about whether left-hander
Jack Leathersich
, a fifth-round pick from UMass Lowell, will be a starter or reliever, according to the Mets. But MacDonald says he has a plus fastball and at times a plus curveball.
• MacDonald describes Fresno State shortstop
Danny Muno
, the eighth-round pick, as a "baseball player" who "can play anywhere on the diamond." He has even caught bullpens.
• The Mets drafted high school shortstop
Phillip Evans
in the 15
th
round as an athlete. He could even play catcher some day, but will stay at his natural position for now.
• Second-round pick
Cory Mazzoni
, a right-hander from N.C. State, has a plus fastball as well as slider, changeup and split, while third-round pick
Logan Verrett
of Baylor has a plus slider, sits at 90-92 mph with his fastball and "does it easy." MacDonald said all of the early college pitchers taken are strike-throwers.
• The Mets had a find with Virgin Islands native
Akeel Morris
in the 10
th
round last year, and went back to the island in the 28
th
round this year for right-hander
Jharel Cotton
. Actually, DePodesta said Morris wasn't an influence on selecting Cotton. He was pitching at Miami Dade Community College South, a couple of hours from Port St. Lucie. "I was lobbying for the trip to the Virgin Islands," DePodesta quipped.
• MacDonald said he did not expect several of the picks to fall to the Mets. He had Mazzoni tabbed as a first-round pick by someone and indicated he did not think Verrett would get to the third round. He also felt fortunate about Tuschak in the sixth. MacDonald added that ninth-round selection
Alex Panteliodis
, a left-handed pitcher from the University of Florida, was expected to go in the first three rounds in his mind. Panteliodis throws a "firm" 90-94 mph and was the Gators' Friday night starter as a freshman and a sophomore.
June, 7, 2011
6/07/11
1:17
AM ET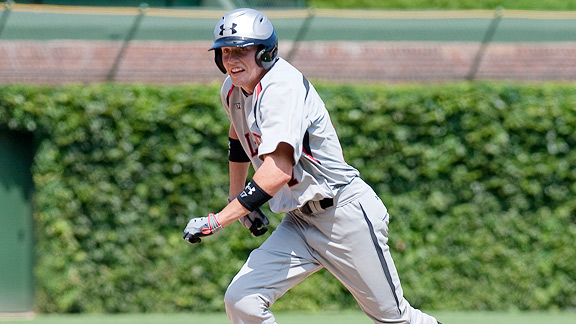 Damen Jackson/Icon SMI
Nimmo was named MVP of the 2010 Under Armour All-American Game at Wrigley Field.
Finding the first pick of the
Sandy Alderson
era as general manager took the New York Mets to a state that had never produced a first-round pick. Or a second-, third-, fourth- or fifth-round pick, for that matter. And to a state that does not even sponsor high school baseball.
Yet after listening to 18-year-old Wyoming native
Brandon Nimmo
speak for 10 minutes on Monday night, this much became clear: whatever the outfielder's baseball skills, Nimmo already has the personality to thrive in New York.
Acting as polished as
David Wright
ever has in front of his locker at Citi Field, Nimmo offered the tale of his discovery by scouts with a combination of eloquence and confidence.
Had his American Legion coach not been invited to help coach an all-star tournament in North Carolina last June and lobbied for Nimmo's inclusion, and had Nimmo not parlayed success there into an invitation to Wrigley Field for another showcase in which he ultimately was named MVP, Nimmo might have remained under the radar and be headed to a local university. But as a result of that exposure, when Nimmo's Legion team spent time in Arizona this spring,
90
scouts flocked to one of his workouts. And Nimmo knew things had become serious.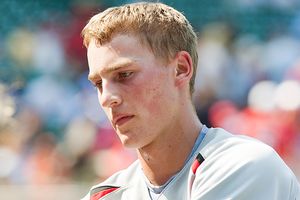 Damen Jackson/Icon SMI
Brandon Nimmo

"I know there are disadvantages to playing in Wyoming," Nimmo said. "I do not get to play year-round. I barely get to play for six months out of the year. That is a disadvantage that I know of. The advantage that I've got over most kids that are in these cold-weather states is that my dad, fortunately, built a barn for me to work in every day. That's how I've tried to stay polished and in the mix with the guys from the warmer states -- just by going out and working in the barn every day and just trying to make the swing good.
"The arm strength, you can't go out and long toss when it's 30 below zero. So that is tough to keep your arm going. But I haven't known any different. So I don't know if they're making it out to be more than they should be. I just know that this is the path that I took. This is the path that I was given. And I've tried to make the most of it."
The nitty-gritty of the draft gets underway Tuesday, but the Mets had two picks Monday night. They took Nimmo 13
th
overall, then Oklahoma prep right-hander
Michael Fulmer
with the 44
th
overall pick, as compensation for losing
Pedro Feliciano
as a free agent to the Yankees. That the Mets went with two high school players, rather than go the college route given the immediate needs at the major league level, demonstrated a lot about the organization's long-haul approach.
"I think it really says two things," said VP
Paul DePodesta
, the former Los Angeles Dodgers GM, who is overseeing the draft. "I think the first is that we're looking for impact. … We are looking for guys, not ones who can just get here, but who can get here and make a difference, because that's the way we're going to win 95 games, 100 games. We're going to need guys who can come in here and make an impact. That's certainly one part of it. The other part is this is a long-term plan. We're not necessarily looking for quick fixes. We hopefully plan on being here for a while. We're really trying to do this right. Sometimes that does take a while. We're not going to take a guy just because he might be the quickest mover to the big leagues."
DePodesta added, referring to Nimmo and Fulmer, that they could "move pretty fast as far as high school kids are concerned."
Wyoming's previous best as far as the draft was a sixth-round pick in 1966 by the Philadelphia Phillies,
Michael Beaver
. His career ended three years later in low-A Walla Walla.
"I guess I do take some pride in that, that I'm representing Wyoming, and showing that great things can come out of Wyoming," Nimmo said. "I hope that it opens up doors for people from Wyoming. … All these people are saying, 'You can't do this. You can't that. You haven't faced the good pitching.' It's weird to think about it, that this isn't supposed to happen. I'm not supposed to be picked here. I'm not supposed to do this, do that. It gives you a little bit of something to feed off of -- 'Well, no one expects anything from me, so I'm just going to go and do my best and try to prove I have something to offer.'"
Scouting director
Chad MacDonald
called the well-spoken and glib Nimmo an "impact player, impact person."
DePodesta said Nimmo ranked No. 1 in his graduating class. (Insert joke here about how many actually are in the graduating class.)
"This is a really well-grounded and well-rounded individual," DePodesta said. "It's certainly had an impact on our decision-making."
Nimmo oozed confidence, but displayed not a trace of cockiness, on Monday.
"I'm not going to lie to you, at The Tournament of Stars, that was basically the first time I had seen 90 mph consistently," Nimmo said, referring to the North Carolina showcase that his coach sneaked him into. "… It didn't overwhelm me.
"I faced great pitchers, All-Americans, in the Under Armour All-American Game [at Wrigley Field] and I never felt overwhelmed by it. I always felt like my hands were quick enough. I have a picture here at home that my dad printed off. It's actually me breaking a bat, but it's on a 97 mph fastball, and it's off the end on an inside pitch. It's reassures myself that my hands are quick enough to get to the inside pitch on a 97 mph fastball, and I'm not even as strong as I'm going to be. I have a lot of confidence in myself."
Nimmo received a call from Wright on Monday night.
Wright undoubtedly was a little too bored, and a little too benevolent perhaps as well, given he has been labeled by his employers no superstar and all. But Wright, who is idle for three more weeks with a stress fracture in his lower back, spent the evening in the Mets' draft room, and placed a congratulatory call to both of the Mets' selections.
"Brings back some cool memories," Wright explained. "Seems like a great guy and sounds very excited."
"That's almost a dream-come-true right in itself, you know?" Nimmo said about the call from Wright.
June, 6, 2011
6/06/11
9:03
PM ET
Here are comments from VP Paul DePodesta and scouting director Chad MacDonald on the selection of Wyoming high school outfielder Brandon Nimmo ...

What attracted you to Nimmo, and how did you make an evaluation given he may not have seen the same caliber/quantity of play as other candidates?

MacDonald: "Athletic. Good body. Speed/head combo. Stays in the middle of the field. Really good swing. There's a finish to it. Power is coming. A middle-of-the-field guy that can hit with power. That's what we like."

DePodesta: "Just to talk about the Wyoming piece of it, this has really become a year-long process. It's not something where we just scout guys in the spring. Fortunately, our staff here saw a lot of this guy last summer. He played in the Under Armour game in Chicago, was actually the MVP of that game. We saw him this spring in Phoenix when his team made a spring trip there for a week or so in early April, and then got to see him in almost every game he played through the course of this spring. So we've actually seen a lot of this player, seen him against some different competition. And we've always seen him do the same thing. I think he has an advanced feel for the strike zone. He is an effective hitter. I think he has the chance to not only hit, but hit for power, as Chad said, and feel comfortable that he's going to compete well against more consistent competition -- although I will say when we went out there to Cheyenne, they play some pretty good baseball there. I think if you dropped their game in South Carolina or Louisiana or Arizona you wouldn't have really been able to tell a difference in terms of the caliber of the high school play up there."

Were you intent on an outfielder the whole time, or was it best player on the board?

DePodesta: "We were certainly focused on best player on the board. I think we were ideally looking for a position player. This draft was certainly deep in college pitching, but we felt there were only a few potential impact bats. If we were going to get one of them, we had to take him up high. There are some other bats still left on the board that we like, so we'll see how it plays out through the course of the rest of today and tomorrow. But we felt like if we were going to get a guy like this that had the chance to hit near the top or in the middle of a lineup, we needed to take him right away. So that's what we did."

Can you talk more about the scouting effort, and how many times you saw Nimmo?

DePodesta: "For me, personally, I ran out there the day before Mother's Day. I got up early in the morning in San Diego, flew to Denver, drove up there, saw a doubleheader, and flew back the first flight the next morning to get home on Mother's Day. I remember when I was leaving on the trip, my wife, at the time, said, 'This one better be worth it.' Fortunately, it was."

MacDonald: "We made a conscious effort once we knew he was a guy in the mix, and early on, we covered just about every game. And it was a unique schedule, both because of the location where he played, the weather and mostly because they played on the weekends, so there's really no midweek games. We had guys at every game. Even this past weekend we had two guys fly out from New York to sit on him this weekend. So we scouted him. We scouted him good. Probably eight or 10 different scouts over the course of the year. We are really happy with the process."

What is it like for you being in charge of a draft again?

DePodesta: "It's pretty special. It gets pretty emotional when everybody is in there, I think if you had a chance to be in the room when we called out the name. And everybody in the room was able to surround Jim Reeves, our scout in the Northwest, who is responsible for Nimmo's area. Jim has been with the organization for about 25 years. For him to be able to be in the room and have everybody around him and congratulating him on our first-round selection, I think, is pretty special. We're going to take a lot of pride not only in Brandon but in the next 50 guys we're going to take over the next two and a half days. We'll certainly be emotionally invested in this draft and in these players' futures with our organization."

Is he more of a project because of the talent he's been exposed to?

DePodesta: "I don't think it's unlike most high school players. Most of those guys are going to need more consistent, good pitching in order to continue to get better. That's why most high school players will start their careers in the Gulf Coast League for that reason. I don't think he's any different than those guys. We do think he has some advanced skills. We're hopeful he can move along. But like with any high school player, this certainly isn't without risk. But as we went into this, to be quite frank with you, we weren't interested in making what we thought was the safest pick. We were interested in making the pick that we thought had the chance to make the most impact. So obviously the way we went, it certainly is going to be a process. The baseball draft isn't like the NFL or the NBA where you get some immediate gratification out of the picks. Even the best guys often take three, four years to get to the big leagues. I suspect he'll follow that path. We think the reward at the end will be well worth it."

He's committed to Arkansas. What about signability?

MacDonald: "We know this: He's passionate about playing. He told us he wanted to play and start his career. ... We'll let the negotiations play out, and we're confident he'll be a New York Met."
December, 7, 2010
12/07/10
7:07
PM ET
The Mets officially announced the hirings of Chad MacDonald as scouting director and Dick Scott as minor league field coordinator.

Here's the official team release:

The New York Mets today named Chad MacDonald Amateur Scouting Director and Dick Scott Minor League Field Coordinator.

MacDonald, 40, was the Director of International Scouting for the Arizona Diamondbacks for the previous two years. His responsibilities included scouting amateur players in Latin America, Europe and Asia. MacDonald also scouted players for the First-Year Player Draft. From 2006-2008, he was the Assistant Director of Scouting for the Diamondbacks.

Prior to joining Arizona, MacDonald spent six years as a scout, including three seasons (2003-2005) with the Los Angles Angels and three years (2000-2002) with the Cleveland Indians. He was named Topps' Scout of the Month during the 2001 and 2005 seasons.

Scott, 48, spent last season as the Houston Astros' Minor League Field Coordinator. Scott was the Toronto Blue Jays' Director of Player Development from 2001-2009. A former infielder, Scott began his coaching career as a minor league manager in the Oakland Athletics organization in 1991. He was named the 1994 Minor League Manager of the Year by USA Today Baseball Weekly. Scott also earned Arizona League Manager of the Year honors in 1991, and was the Northwest League Manager of the Year in 1992 and California League Manager of the Year in 1994.

Scott was originally drafted in the 17th round of the 1981 draft and played 10 seasons in the Yankees and Athletics organizations, appearing in three regular season games with the 1989 World Champion Oakland Athletics.

December, 4, 2010
12/04/10
7:14
PM ET
Chad MacDonald, who has been director of international scouting for the Arizona Diamondbacks for the past two years, will be named the next scouting director of the Mets.

MacDonald was hired by Arizona under former GM Josh Byrnes, with whom he also worked in Cleveland. He served as assistant scouting director under Mike Rizzo there, and then Tom Allison, after Rizzo left for Washington.

A native Texan, he broke into the business with the Rangers.

Here is MacDonald's bio from the 2010 Diamondbacks media guide:

"MacDonald oversees the scouting of amateur players in Latin America, Europe and Asia and also contributes to amateur scouting for the June First-Year Player Draft each year. Prior to joining the D-backs, MacDonald spent three seasons (2003-05) with the Los Angeles Angels and another three years (2000-02) as a scout with the Cleveland Indians. He left his mark on both organizations after being named Topps' Scout of the Month during the 2001 and 2005 seasons. MacDonald played baseball, football and basketball at Arlington-Lamar High School in Arlington, Texas, before concentrating solely on baseball at Hardin-Simmons University in Abilene, Texas, and Winthrop University in Rock Hill, S.C. He and his wife, Julie, reside in Chandler with their children, Caden and Cort."
December, 4, 2010
12/04/10
5:21
PM ET
ESPN's Keith Law tweets:

"Heard Mets' candidates for scouting director include Tommy Allison, his former assistant Chad MacDonald and Phillies scout Darrell Conner."

The hiring will succeed Rudy Terrasas as Paul DePodesta's deputy overseeing the draft.