New York Mets:

Charlie Haeger
May, 26, 2013
May 26
9:13
PM ET
LAS VEGAS 13, SALT LAKE 9:
Omar Quintanilla
had a three-run homer and
Josh Satin
and
Kirk Nieuwenhuis
had solo shots as Las Vegas (23-25) pounded out 16 hits. Six starters had multi-hit games:
Collin Cowgill
(2-for-5), Satin (2-for-4, 1 BB, 2 RBIs),
Wilmer Flores
(2-for-4, 1 RBI),
Jamie Hoffmann
(2-for-4, 1 BB), Quintanilla (4-for-4, 3 RBIs) and
Francisco Pena
(2-for-5, 2 RBIs). 51s starter
D.J. Mitchell
allowed four runs in 2 2/3 innings. Ex-major leaguer
Kip Wells
surrendered the homers to Satin and Nieuwenhuis.
Zach Lutz
departed in the fourth with an oblique injury.
Box

Montero
BINGHAMTON 5, PORTLAND 0:
Rafael Montero
,
Chase Huchingson
and
Jack Leathersich
combined on a four-hit shutout.
Allan Dykstra
and
Darrell Ceciliani
homered in a three-run eighth to chase knuckleballer
Charlie Haeger
. The B-Mets had opened the scoring in the first when
Josh Rodriguez
singled, advanced to second on a hit by pitch and scored two wild pitches later. Rodriguez (1-for-3, 1 BB) also scored in the third on a wild pitch. Montero (5-3) allowed four hits and two walks while striking out a season-high eight in six innings. It was Montero's first start with the B-Mets (28-22) since returning from a spot start with Las Vegas. He escaped a first-inning jam with two runners in scoring position and none out.
Box

Taijeron
ST. LUCIE 8, BRADENTON 2:
Travis Taijeron
went 2-for-4 and drove in four runs, including a two-run single in the fifth that gave St. Lucie a 5-2 lead.
Rylan Sandoval
(2-for-3, 2 BB) drove in the go-ahead run earlier in the frame. Sandoval also scored twice Sunday. Starter
Matt Bowman
improved to 3-0 with a 2.33 ERA since a promotion from Savannah. He allowed two runs on eight hits and a walk while striking out six in seven innings. Bowman is 7-0 in nine starts between the two Class A levels this season.
Hamilton Bennett
and
Ryan Fraser
contributed no-hit relief innings for St. Lucie (28-20).
Box
AUGUSTA 3, SAVANNAH 1 (12 innings):
In his second inning of relief,
Hunter Carnavale
surrendered two runs in the 12th, including the tiebreaking run on
Joseph Rapp's
RBI

Carnevale
single. The Gnats had rallied to tie the score at 1 in the eighth when
Kevin Plawecki
plated
Yucarybert De La Cruz
with a line-drive single to center. Savannah starter
Luis Cessa
allowed one run on seven hits and two walks while striking out seven in 6 2/3 innings in a hard-luck no-decision. After a scoreless ninth from
Bret Mitchell
(1.17 ERA), the Gnats (28-20) nearly posted a walk-off win in the bottom half. Augusta's
Mason McVay
hit
Cole Frenzel
with a pitch. Frenzel then departed for pinch runner
Eudy Pina
. After a walk to
Stefan Sabol
, Augusta inserted closer
Tyler Mizenko
. He proceeded to load the bases with none out on
Nelfi Zapata's
single. But neither
Phillip Evans
nor Yucarybert De La Cruz could produce the game-winning RBI. Each instead forced runners out at home with groundballs. Mizenko then coaxed an inning-ending groundout from
Maikis De La Cruz
.
Jayce Boyd
went 3-for-5 with a walk in the loss to improve his on-base percentage to .430, ranked third in the South Atlantic League.
Box
Compiled from team reports
February, 20, 2012
2/20/12
6:15
PM ET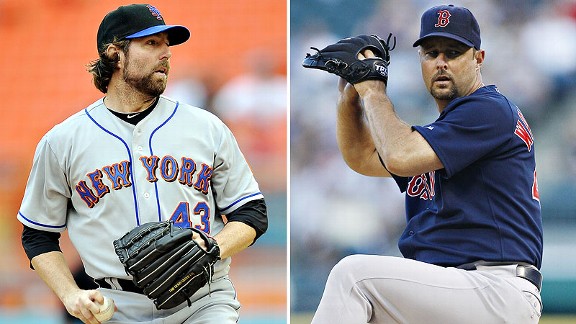 US Presswire
With the retirement of Tim Wakefield (right), R.A. Dickey (left) will be the lone knuckleballer in the majors in 2012.
R.A. Dickey
appreciated fellow knuckleballer
Tim Wakefield
mentioning him in the former Boston Red Sox pitcher's retirement speech. But now that Wakefield has hung up his cleats, Dickey is feeling, well, kind of isolated.
"For a period there were four, with [
Tom
]
Candiotti
, [
Phil
]
Niekro
, [
Charlie
]
Hough
and Wake," Dickey said about the major league knuckleballers clan. "It's fairly lonely I think. I feel a little bit of loneliness. I think you'd have to say, just by what we've all seen, that it's a dying art. One more died, what, two days ago? There's one left in the big leagues. My hope is that somebody is going to see the real value and want to keep doing it."
Dickey said he could not name another knuckleballer on the horizon for a major league career. The only other currently competing at a high level is
Charlie Haeger
, but he pitched last season in the minors and is poised to miss this season following elbow surgery. Haeger last pitched in the majors in 2010, with nine appearances for the Los Angeles Dodgers, including a start against the Mets that season.
"I don't know outside of him if there's anybody else even tinkering with it," Dickey said.
Dickey had a knuckleball convention with Wakefield, Niekro and Hough at a Lake Lanier resort outside Atlanta in November. He sensed then that Wakefield might retire, which became official in recent days.
"I sent him a message. I said, 'I don't know whether to congratulate you or be sad,'" Dickey said. "That's really how I felt. I'm sure he's torn, obviously. I had a feeling that if it wasn't going to be with Boston, that he was going to hang it up. We had that little thing where it was Phil, Charlie, myself and Tim down in Atlanta. And we kind of talked about it pretty candidly. I felt like that would be the way that it would end up. I'm sad because I want him around. It's fun to be able to watch somebody who does what you do. At least sometimes, in the past, it has leant me some things that I've needed to see. And now I've got to go to the film and watch him pitch instead of getting to see him throw a bullpen, which I used to do."
Dickey said he tutored one independent-ball pitcher who visited his Nashville hometown this offseason. He also had parents of a couple of high school pitchers contact him.
A documentary about knuckleballers, which includes super-slow-motion footage of Dickey's pitching, is scheduled to debut at the Tribeca Film Festival in mid-April, according to Dickey.
Said Dickey: "My thought has always been, 'Why don't you take a guy that you were going to release anyway and give him just a shot, right here?' … Let me stick you in extended spring [training] and see if something comes of it -- a guy that's got a good makeup, maybe. Of course that seems logical. Baseball doesn't always operate logically.
"It's usually a pitch born of desperation, you know? I mean, really. And a lot of times people's egos might get caught up in it, thinking they have more to offer than they really have. It's kind of your last-ditch effort to hold onto a dream. I certainly view it that way. And it's hard to do. It's taken me five years of really committing to it to just produce what you've seen the last two years. So there's a lot of adversity that comes with it."
August, 17, 2011
8/17/11
11:42
AM ET
Binghamton Mets manager
Wally Backman
joined the organization last year, after
Juan Lagares
already had moved from shortstop to outfield. And Backman said it is undetectable that Lagares really is a relative novice experience-wise in the new position.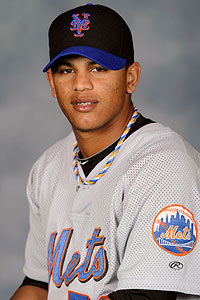 Courtesy of New York Mets
Juan Lagares

"I couldn't tell a bit," Backman said. "He can play in the outfield in the big leagues. I mean, defensively his skills are good enough to play in the big leagues.
"He's a 22-year-old kid who can play all three outfield positions. He's got speed. He's a good outfielder. He throws to the right bases. And he can swing the bat a little bit."
Lagares was leading the Florida State League in batting with a .339 average when he was promoted to the Double-A B-Mets on July 23. In 20 Eastern League games, he is hitting .414 with two homers and 15 RBIs.
One scout who recently watched Lagares compared him body-type-wise to
Raul Mondesi
.
"Compact," the scout said. "Short, hitter's legs."
Backman said there's a smoothness to Lagares at the plate.
"He has a very 'quiet' approach," the manager said. "He has a knack for getting the barrel on the ball. He looks like he's a real good hitter. I mean, if you just watch him, you say, 'This kid is going to be able to hit.' He's got a lot of infield hits, which is why he's up to .400 right now. But so be it. He's driven in some big runs. My impression of him, having him for a couple of weeks, is I like him. I like what I've seen so far."
Signed in 2006 out of the Dominican Republic, Lagares committed 40 errors in 82 games at shortstop the following season with Savannah, and had a .911 fielding percentage.
"My first year it's a lot of errors," Lagares said. "After that, I felt good."
Still, in 2009, the organization moved him to the outfield, where he has shown an aptitude. Lagares said line drives were initially challenging, but the transition was relatively smooth.
"In the beginning, it was not that easy," Lagares said. "But with time I learned how to play outfield comfortably."
Injuries really have slowed Lagares more than anything in his career. He suffered a broken right ankle on July 28, 2010 while playing for St. Lucie, but did not require surgery. Lagares actually played two weeks in pain after initially getting hurt holding up at third base on a teammate's hit. He eventually had to be shut down after he ran in pain to first base on a strikeout that eluded the catcher.
The previous season, Lagares was limited to 47 games by a wrist injury. In 2008, the start to his season was delayed by an arm issue.
A team official recently said Lagares' 2010 ankle issue might not be completely healed yet and might be suppressing his steal totals -- 10 this season between the two levels, compared with 25 a year ago before being shut down.
But, Lagares said: "It's over. I feel 100 percent."
Organization leaders
Average:
Juan Lagares, Binghamton, .355; Danny Muno, Brooklyn, .341; Josh Satin, Buffalo, .331; Greg Pron, Kingsport, .328; Julio Concepcion, Kingsport, .320; Dustin Lawley, Kingsport, .317; Pedro Zapata, St. Lucie, .312; Richard Lucas, Brooklyn, .309; Travis Taijeron, Brooklyn, .303; Cam Maron, Kingsport, .302.
Homers:
Brahiam Maldonado, Binghamton, 22; Valentino Pascucci, Buffalo, 18; Jordany Valdespin, Buffalo, 15; Allan Dykstra, Binghamton, 15; Stefan Welch, St. Lucie, 15.
RBI:
Valentino Pascucci, Buffalo, 82; Wilmer Flores, St. Lucie, 75; Josh Satin, Buffalo, 72; Aderlin Rodriguez, Savannah, 68; Juan Lagares, Binghamton, 64.
Steals:
Jordany Valdespin, Buffalo, 33; Pedro Zapata, St. Lucie, 30; Matt den Dekker, Binghamton, 21; Darrell Ceciliani, Savannah, 19; Rafael Fernandez, Savannah, 17.
ERA:
Darin Gorski, St. Lucie, 2.27; Todd Weldon, Brooklyn, 2.56; Taylor Whitenton, Savannah, 2.81; Jeurys Familia, Binghamton, 2.97; Angel Cuan, Savannah, 3.08; Gabriel Ynoa, GCL Mets, 3.13; Matt Harvey, Binghamton, 3.36; Greg Peavey, St. Lucie, 3.37; Marcos Camarena, Brooklyn, 3.40; Ryan Fraser, Savannah, 3.43.
Wins:
Greg Peavey, St. Lucie, 11; Darin Gorski, St. Lucie, 11; Matt Harvey, Binghamton, 11; Angel Cuan, Savannah, 10; Brandon Moore, Binghamton, 9.
Saves:
Josh Edgin, St. Lucie, 24; Dale Thayer, Buffalo, 16; Hamilton Bennett, Savannah, 12; Jeffrey Kaplan, St. Lucie, 10.
Strikeouts:
Matt Harvey, Binghamton, 146; Darin Gorski, St. Lucie, 125; Chris Schwinden, Buffalo, 118; Collin McHugh, Binghamton, 114; Jeurys Familia, Binghamton, 113.
Short hops
• Oft-injured outfielder
Fernando Martinez
landed on the disabled Tuesday with Triple-A Buffalo with a left wrist strain. It is the third time Martinez has landed on the disabled list this season. He also had stints for a left hip flexor strain (July 16-30) and right hamstring strain (April 13-23). Scouts say the 22-year-old Martinez typically labors when running, the result of an arthritic knee and other nagging ailments. Martinez does have a minor league option remaining, meaning he can be sent to Buffalo again in 2012 without being exposed to waivers provided the organization decides to keep him on the 40-man roster and he does not make the Opening Day roster.
• Binghamton will play at Fenway Park at 1:05 p.m. ET on Saturday against Portland, the Double-A affiliate of the Boston Red Sox. It is part of a Sox affiliate doubleheader in which Triple-A Pawtucket and Syracuse also meet. Right-hander
Collin McHugh
starts at the classic ballpark for the B-Mets opposite Portland knuckleballer
Charlie Haeger
, who has appeared in 34 major league games (10 starts). Haeger's MLB experience includes an April 27, 2010 start for the Los Angeles Dodgers against the Mets at Citi Field, during which Haeger allowed five runs in four innings.
• The Mets signed Odessa, Texas, prep shortstop/wide receiver
Bradley Marquez
-- their 16th-round pick -- for a reported $325,000 … and with a catch. Marquez also will play college football at Texas Tech. Mets VP
Paul DePodesta
explains: "He'll play football this fall and then report to us when the school year is over. And he'll likely play football again in the fall of 2012. After that it's a little more fluid in terms of how much time he spends with us versus football."
• Through one week in Triple-A, middle infielder
Jordany Valdespin
is hitting .179 (5-for-28) with one RBI, two caught stealings and three errors. He has started five games at shortstop and two games at second base. Valdespin is 1-for-his-last-18.
• In his last 10 games, Buffalo reliever
John Lujan
is 2-1 with a save and 0.73 ERA. He has tossed 10 2/3 straight scoreless innings.
• Brooklyn's representatives in the New York-Penn League All-Star Game on Tuesday in Lowell, Mass., came out on the winning side as the National League beat the American League, 7-3. Cyclones shortstop
Danny Muno
came off the bench to go 1-for-2 with a double and two RBIs. Third baseman
Richard Lucas
was 0-for-2 and right fielder
Charley Thurber
went 0-for-4 with a run scored.
T.J. Chism
and
Todd Weldon
combined to record the final four outs for the NL, striking out three without allowing any baserunners.
Travis Taijeron
, who was selected, went unused.
•
Rylan Sandoval
, who was signed by the Mets last year after going undrafted out of Long Beach State, has been named Florida State League player of the week. Sandoval hit .524 (11-for-21) with three homers, 11 RBIs and five walks from Aug. 8-14. Sandoval, who turned 24 last Wednesday, actually was drafted by the Mets in the 30
th
round in 2007, but did not sign.
• St. Lucie outfielder
Cory Vaughn
returned to the lineup Tuesday after missing five days with a bruised heel. Vaughn is hitting .130 in August. His average has dipped to .234 in 44 games since a promotion from Savannah to the Florida State League.
• Buffalo corner infielder
Zach Lutz
is hitting .314 with three homers in 10 games since returning from the disabled list for a second concussion. Lutz is a probable September call-up.
• Right fielder
Raul Reyes
, who may have been on the brink of getting released earlier this season, is on a tear with Binghamton. Reyes was hitting .165 entering June. Since July 31, he is hitting .477 (21-for-44) with four homers and 12 RBIs. Reyes also has 11 outfield assists this season, three shy of teammate
Brahiam Maldonado's
team-high total.
• Maldonado produced his 22
nd
homer Sunday against Richmond, establishing a new career high. Maldonado combined to go deep 21 times last season between St. Lucie and Binghamton.
• The Mets are thin in terms of catching prospects in the minors, but Savannah's
Albert Cordero
is opening eyes. Cordero, a 21-year-old Venezuelan, has a strong throwing arm. He also is hitting .426 with two homers and 10 RBIs in 14 games this month. One talent evaluator also believes St. Lucie backup
Juan Centeno
has potential.
• First-round pick
Brandon Nimmo
is expected to make his professional debut later this week in the Gulf Coast League.
Adam Rubin's farm report appears Wednesdays during the regular season