New York Mets:

Charlie Hough
April, 12, 2012
4/12/12
4:09
PM ET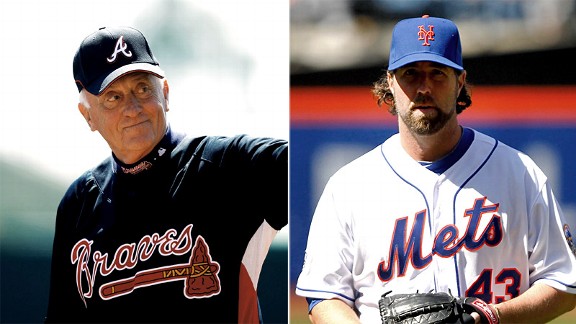 Getty Images/US Presswire
Phil Niekro and R.A. Dickey will be featured in the soon-to-be-screened documentary "Knuckleball."
On April 21, the documentary "Knuckleball," which features
R.A. Dickey
and past knuckleballers, will be available to
view at a free screening at Battery Park City
.
Tim Wakefield
,
Jim Bouton
and Dickey will be on hand for a pitching clinic beginning at 6 p.m. At 8:15 p.m., the Tribeca Film Festival-included movie will be screened.
Dickey -- who faces
Cliff Lee
in Friday's series opener in Philadelphia -- in November gathered with fellow knuckleballers
Phil Niekro
,
Charlie Hough
and Wakefield for camaraderie and to film part of the documentary at Lake Lanier resort outside of Atlanta.
"It was great. We got to know each other a little bit better, played a little golf. He can hit a golf ball a long way. I know that," Niekro said about Dickey. "I'm really looking forward to the documentary coming out, because we all got interviewed for about a half-hour or 45 minutes. And no one really knows what everybody else said. It will be interesting to see how we all have different ideas about the knuckleball, how we threw it and stuff like that."
The 73-year-old Niekro recalled Dickey driving from Nashville to visit him for an offseason knuckleball tutorial a few offseasons ago. They worked indoors at a local batting cage. The ex-Yankee Niekro, who still stops by Atlanta Braves spring training, said he particularly enjoys engaging those who already have a feel for the pitch, as opposed to novices.
"Especially those that have a pretty good idea what they're doing and they may just need a little polish on it, or something like that," he said. "The tough ones are the guys that just say, 'Teach me how to throw a knuckleball.' 'You've got a couple of years?' I really get interested in the guys that want to do it when they make a commitment."
Niekro came to watch Dickey pitch at Turner Field last season. Dickey lost 1-0 to
Tim Hudson
in that Sept. 17 game against the Braves.
February, 20, 2012
2/20/12
6:15
PM ET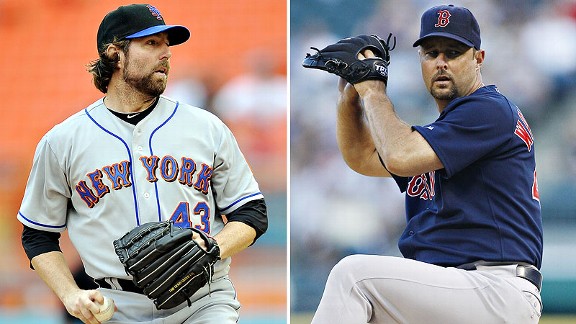 US Presswire
With the retirement of Tim Wakefield (right), R.A. Dickey (left) will be the lone knuckleballer in the majors in 2012.
R.A. Dickey
appreciated fellow knuckleballer
Tim Wakefield
mentioning him in the former Boston Red Sox pitcher's retirement speech. But now that Wakefield has hung up his cleats, Dickey is feeling, well, kind of isolated.
"For a period there were four, with [
Tom
]
Candiotti
, [
Phil
]
Niekro
, [
Charlie
]
Hough
and Wake," Dickey said about the major league knuckleballers clan. "It's fairly lonely I think. I feel a little bit of loneliness. I think you'd have to say, just by what we've all seen, that it's a dying art. One more died, what, two days ago? There's one left in the big leagues. My hope is that somebody is going to see the real value and want to keep doing it."
Dickey said he could not name another knuckleballer on the horizon for a major league career. The only other currently competing at a high level is
Charlie Haeger
, but he pitched last season in the minors and is poised to miss this season following elbow surgery. Haeger last pitched in the majors in 2010, with nine appearances for the Los Angeles Dodgers, including a start against the Mets that season.
"I don't know outside of him if there's anybody else even tinkering with it," Dickey said.
Dickey had a knuckleball convention with Wakefield, Niekro and Hough at a Lake Lanier resort outside Atlanta in November. He sensed then that Wakefield might retire, which became official in recent days.
"I sent him a message. I said, 'I don't know whether to congratulate you or be sad,'" Dickey said. "That's really how I felt. I'm sure he's torn, obviously. I had a feeling that if it wasn't going to be with Boston, that he was going to hang it up. We had that little thing where it was Phil, Charlie, myself and Tim down in Atlanta. And we kind of talked about it pretty candidly. I felt like that would be the way that it would end up. I'm sad because I want him around. It's fun to be able to watch somebody who does what you do. At least sometimes, in the past, it has leant me some things that I've needed to see. And now I've got to go to the film and watch him pitch instead of getting to see him throw a bullpen, which I used to do."
Dickey said he tutored one independent-ball pitcher who visited his Nashville hometown this offseason. He also had parents of a couple of high school pitchers contact him.
A documentary about knuckleballers, which includes super-slow-motion footage of Dickey's pitching, is scheduled to debut at the Tribeca Film Festival in mid-April, according to Dickey.
Said Dickey: "My thought has always been, 'Why don't you take a guy that you were going to release anyway and give him just a shot, right here?' … Let me stick you in extended spring [training] and see if something comes of it -- a guy that's got a good makeup, maybe. Of course that seems logical. Baseball doesn't always operate logically.
"It's usually a pitch born of desperation, you know? I mean, really. And a lot of times people's egos might get caught up in it, thinking they have more to offer than they really have. It's kind of your last-ditch effort to hold onto a dream. I certainly view it that way. And it's hard to do. It's taken me five years of really committing to it to just produce what you've seen the last two years. So there's a lot of adversity that comes with it."
November, 10, 2011
11/10/11
11:03
PM ET
R.A. Dickey just got the chance to spend time with three fellow knuckleballers -- Phil Niekro, Charlie Hough and Tim Wakefield -- at Lake Lanier Resort near Atlanta.

Tweeted Dickey: "Over 700 wins between them, when you add me in you have a few more. ... Four knuckleballers together telling knuckleball stories. It was incredible."
June, 23, 2010
6/23/10
11:50
AM ET
The 5-0 record that R.A. Dickey takes into his start with the Tigers tonight is rarified air for a knuckleball-throwing starting pitcher.
With the help of
Baseball-Reference.com
and the "
Knuckleball Headquarters
" website, we checked win streaks to start a season for nine of the most prominent knuckleballers we knew.
That would be:
Tom Candiotti
,
Charlie Hough
,
Joe Niekro
,
Phil Niekro
,
Steve Sparks
,
Dennis Springer
,
Tim Wakefield
,
Hoyt Wilhelm
, and
Wilbur Wood
.
That's far from an encyclopedic list, but it's a good starting point for us.
Do you know how many of those pitchers ever had a season in which they began 5-0 as a starting pitcher?
Just one. That was Wilhelm in 1959, a run that the Yankee-hating Mets fan will be glad to know included three wins (and back-to-back shutouts) against the Bronx Bombers.
Hall of Famer Phil Niekro never did it. His best start was 4-0 in 1984, one matched by his brother Joe in 1986. Joe's knuckler is said to be the one that most resembles Dickey's because both threw the pitch at a speed of around 80-miles-per-hour.
The best start for Wakefield's knuckler was also 4-0 in his first season with the Red Sox, 1995. Wakefield actually ran off 10 straight wins in one stretch that season. His second-longest win streak at any point was six, done four times, but not since 2002.
Dickey can reach six both overall and to start the year, if he can find a way past a tough Tigers lineup tonight.
The way Dickey's season has gone bears a strong resemblance to that of Wakefield's first year, 1992, even though Dickey isn't making his major league debut this year.
Both pitchers started the season off well for their respective Triple-A affiliates in Buffalo (Dickey had a one-hitter) in which he retired 27 straight hitters, and then both arrived in the majors to provide a strong, significant impact.
In Wakefield's case, that included pitching two superb games against a reeling Mets team in August, to knock them into oblivion and propel the Pirates to a second straight NL East title and near-miss of a World Series berth.
In Dickey's case, he's hoping his impact is as significant
for
the Mets, instead of against them. And surely he'd take a level of success anything close to what Wakefield has done.
For more on tonight's game, check out
our TMI blog
on Jose Reyes recent efforts to spark the Mets.
Mark Simon is a researcher for Baseball Tonight. Follow him on Twitter at @msimonespn or e-mail him at webgemscoreboard@gmail.com.