New York Mets:

Charlie Manuel
August, 25, 2013
8/25/13
8:19
PM ET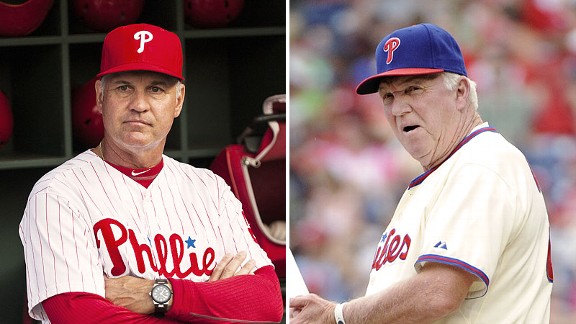 USA TODAY SportsRyne Sandberg has replaced Charlie Manuel as Phillies manager.
METS (58-70, third place/NL East) vs. PHILADELPHIA PHILLIES (59-71, third place/NL East)
Monday:
RHP
Zack Wheeler
(6-2, 3.49) vs. LHP
Cliff Lee
(10-6, 3.16), 7:10 p.m. ET
Tuesday:
LHP
Jonathon Niese
(5-6, 4.03) vs. RHP
Kyle Kendrick
(10-10, 4.51), 7:10 p.m. ET
Wednesday:
RHP
Daisuke Matsuzaka
(0-1, 9.00) vs. LHP
Cole Hamels
(5-13, 3.62), 7:10 p.m. ET
Thursday:
RHP
Matt Harvey
(9-5, 2.27) vs. RHP
Ethan Martin
(2-2, 6.33), 1:10 p.m. ET
Phillies short hops
• The Phillies fired manager Charlie Manuel on Aug. 16 and named former
Chicago Cubs
star Ryne Sandberg the interim manager. Sandberg most recently served as Philadelphia's third-base coach. He previously managed the organization's Triple-A Lehigh Valley affiliate for two seasons.
Manuel, 69, began managing the club in 2005 and compiled a 780-636 record. He has the most wins in franchise history, and managed the Phillies' 2008 World Series title team. Manuel's firing came four days after he earned his 1,000th career win, combined with a 2½-season stint managing the
Cleveland Indians
.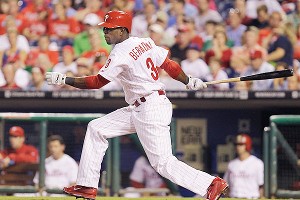 Laurence Kesterson/Associated PressEx-Nat Roger Bernadina signed with the Phillies last week.
•
Ryan Howard
appears done for the season after undergoing left knee surgery on July 10. Although Howard has resumed baseball activities, Sandberg indicated it would not be productive to try to get the first baseman in major league shape by the season's conclusion.
Michael Young
primarily has played first base minus Howard.
• Rookie
Ethan Martin
, the 15th overall pick in the 2008 draft, was acquired at last year's trade deadline in the deal that sent
Shane Victorino
to the
Los Angeles Dodgers
. Martin has a 6.33 ERA in five major league starts. He is coming off an outing Saturday against the
Arizona Diamondbacks
in which he was knocked out after recording only two outs. Martin surrendered three hits, including a homer to
Martin Prado
, and walked three.
That game ended up lasting 18 innings. Its length prompted scheduled Sunday starter
Tyler Cloyd
to pitch five innings in relief Saturday, which then prompted the Phillies to bring back
Roy Halladay
early from the disabled list to start Sunday. Halladay had planned to pitch in another minor league rehab game after recovering from right shoulder surgery. The Phillies also used outfielder
Casper Wells
and infielder
John McDonald
as relief pitchers in the 18-inning game.
• Wells was claimed off waivers from the
Chicago White Sox
on Aug. 8.
• The Phillies signed outfielder
Roger Bernadina
on Wednesday and optioned
Michael Martinez
to Triple-A Lehigh Valley. Bernadina had batted .178 with two homers and six RBIs in 85 games with the
Washington Nationals
this season.
• The Phillies have won two straight series, after winning only one other series since the All-Star break.
•
Darin Ruf
has a National League-high nine homers in August. His long ball total is the most by a Phillies rookie in a calendar month since Howard had 10 in September 2005.
•
John Lannan
will undergo left-knee surgery. Fellow starting pitcher
Jonathan Pettibone
also is expected to miss the remainder of the season, with rotator-cuff inflammation.
•
Domonic Brown
departed Saturday's game with right heel soreness. He then pinch hit on Sunday. Brown recently missed 11 games with a concussion.
•
Jimmy Rollins
needs two homers for 200 in his career.
August, 17, 2013
8/17/13
5:32
AM ET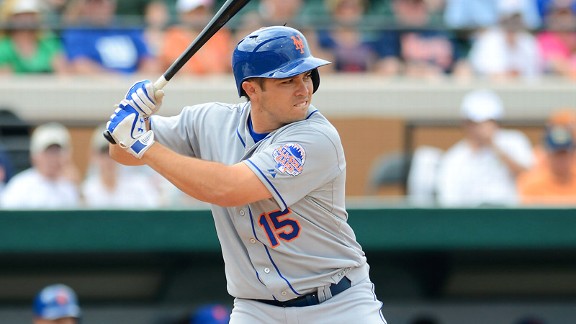 Mark Cunningham/MLB Photos/Getty ImagesTravis d'Arnaud is set to make his major league debut tonight.
SAN DIEGO
FIRST PITCH:
Travis d'Arnaud Day!
With wife Brooke Buck going into labor and
John Buck
leaving the team, the prized catching prospect d'Arnaud is
due to make his major league debut
at 8:40 p.m. ET today as the Mets look to make it three straight wins against the
San Diego Padres
.
D'Arnaud hit .400 (8-for-20) with one homer, four RBIs and nine walks in seven games since rejoining Triple-A Las Vegas. He had broken the first metatarsal in his left foot on a foul ball while catching for the 51s on April 17.
Sandy Alderson suggested d'Arnaud could remain in the big leagues after Buck's three-day paternity leave expires if the prospect performs well during the cameo.
"We're all excited to see Travis," Terry Collins said. "Like a lot of these guys, there's a huge buildup taking place. Some of the reports are pretty impressive when you hear about it. So I'm anxious to see him play. Of course, he's got confidence off the charts. After he came back [from the broken foot], he's done very, very well. He's swinging the bat great. We're going to take a look at him."
D'Arnaud is due to catch
Jenrry Mejia
tonight. Mejia (1-2, 2.22 ERA) opposes right-hander
Edinson Volquez
(8-10, 5.80), who has the highest ERA among NL qualifiers.
Zack Wheeler
raved late Friday about d'Arnaud's ability to make a borderline pitch look like a strike.
"He receives it unbelievably," Wheeler said. "We really didn't get to throw all that much to each other [in Las Vegas]. I think it was three or four times, or something like that. But between that and what I saw in spring training, he can make a pitch at the bottom of the knee caps look like it's on the top of the knee caps. It helps you out. He's just a good catcher."
Saturday's news reports:
•
Jeremy Hefner
plans to see another doctor Monday to
determine if he will require Tommy John surgery
. If the procedure is necessary of repair an MCL tear in his right elbow, Hefner may miss most or all of 2014. Read more in
Newsday
.
•
Marlon Byrd
,
Ike Davis
and
Daniel Murphy
homered as the
Mets beat San Diego, 5-2
, Friday night. Byrd produced his 19th long ball, one shy of matching his career high, which he achieved in 2009 with the
Texas Rangers
.
Anthony Recker
, whose playing time is above to nosedive with d'Arnaud's arrival,
went 3-for-3 with a walk
in the victory.
Jonathon Niese
limited San Diego to one run
while logging 111 pitches in six innings.
Read game recaps in the
Post
,
Daily News
,
Times
,
Star-Ledger
,
Newsday
and
MLB.com
.
•
Wilmer Flores
tested his right ankle running Friday afternoon and
likely is to return to the starting lineup
tonight.
• Read more on d'Arnaud's arrival in the
Post
,
Daily News
,
Times
,
Newsday
and
Star-Ledger
.
• Collins
expressed his sympathy
after the firing of Phillies manager Charlie Manuel. The two played together at Triple-A Albuquerque in 1975. Collins is in the final year of his own deal.
A Mets insider affirmed to ESPNNewYork.com that nothing about Collins' fate would be announced until after the season, although internally the decision is tentatively resolved. Collins widely is expected to return for 2014. Read more on Manuel's ouster at
ESPN.com
.
• Jared Diamond
in the Journal
profiles
Juan Lagares
, whose 10 outfield assists already are two shy of
matching the Mets' rookie record
, set by
Tsuyoshi Shinjo
in 2001. Writes Diamond:
Right fielder Marlon Byrd compared him to 10-time Gold Glover Andruw Jones, who was famous for playing an extremely shallow center field. Because Lagares has such impressive natural instincts going back on fly balls, he is able to play shallow and still retrieve long flies with ease.
"Juan plays more shallow than any other center fielder in baseball," Byrd said. "So when he's closing on balls in front of him, he's already up closer than everyone else."
• Noah Syndergaard, who arrived with d'Arnaud and Class A outfielder Wuilmer Becerra in the
R.A. Dickey
trade,
continues to dominate Double-A
. Syndergaard tossed five scoreless innings and struck out 10 as Binghamton beat New Britain, 1-0.
"I wasn't really tallying the strikeouts I had, I was just pitching. … I just feel like I had all my pitches going for me tonight," Syndergaard
told the Binghamton Press & Sun-Bulletin
. "It's a lot of fun to pitch when you've got the fastball, curveball, and changeup going for you."
Also Friday: Jeyckol De Leon had four hits and three RBIs as Kingsport beat Bristol, 11-4. James Roche homered for the second straight day as Brooklyn beat Vermont, 6-4. Read the full minor league recap
here
.
•
From the bloggers ...
Faith and Fear
thinks about rookies, strikeouts and pitch counts.
BIRTHDAYS:
Right-hander Skip Lockwood was born on this date in 1946.
TWEET OF THE DAY:
@AdamRubinESPN Its been so long i think the baby has already hit puberty

— James Schumann (@JTSchumann) August 16, 2013
YOU'RE UP: Has your opinion of the R.A. Dickey for Travis d'Arnaud and Noah Syndergaard trade changed since last December?
August, 16, 2013
8/16/13
7:44
PM ET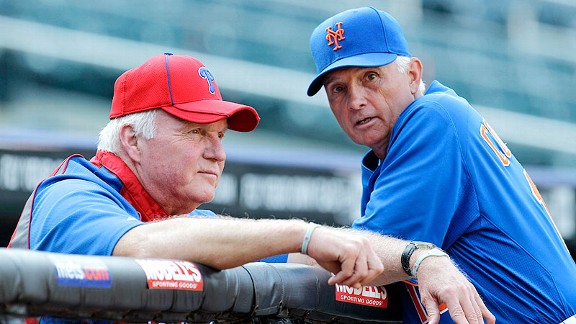 Kathy Willens/Associated PressTerry Collins and fired Phillies manager Charlie Manuel were Triple-A teammates.
SAN DIEGO --- Terry Collins said fired
Philadelphia Phillies
manager Charlie Manuel had a sharp intellect that was masked by his pronounced country accent. Manuel was replaced on an interim bases by Ryne Sandberg as Phillies manager on Friday.
"Charlie and I were teammates," Collins said, referring to their time with Triple-A Albuquerque. "He's one of my really closest friends. And I know he loved managing. And I know he loved managing in Philadelphia. And I feel terrible for him today.
"If you've been around Charlie, just because he's got that little accent to his vocabulary, he's one of the real sharp guys going, and is a tremendous talent evaluator. Again, masqueraded behind that country bumpkin stuff, he's real sharp. And I feel terrible for him today because, obviously, with what their success has been in recent years, he's had a lot to do with that.
"I'll tell you one thing about Charlie, he didn't mince words. He didn't try to be politically correct at any time. He said what was on his mind, and said it bluntly. I think, to be honest, some guys were offended by some things he said. But, for the most part, you knew where he stood on everything. The same way as a player. I mean, he was exactly the same way as a player. So I feel bad for him. I know it's tough for [GM] Ruben [Amaro]. But we all have things we've got to get through right now."
Collins, of course, is in the final year of his own contract. The expectation is he will be invited back for 2014.
Still, a team insider reiterated Friday to ESPNNewYork.com that while the organization has a good sense of what it plans for Collins, it will not cement any decision until after the season. With 43 games remaining, the Mets do not want to publicly resolve Collins is returning and then have an unforeseen clubhouse drama or some other event force a change in direction.
July, 18, 2013
7/18/13
4:29
PM ET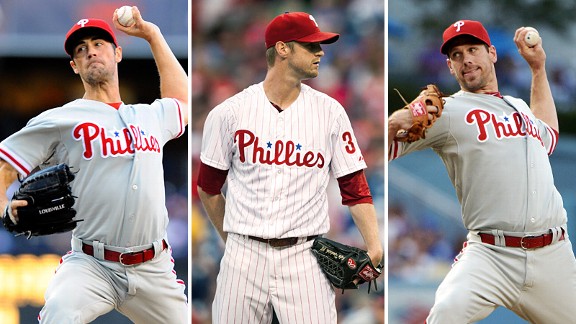 USA TODAY SportsThe Mets face Cole Hamels (Saturday), Kyle Kendrick (Friday) and Cliff Lee (Sunday) in the second-half-opening series.
METS (41-50, fourth place/NL East) vs. PHILADELPHIA PHILLIES (48-48, third place/NL East)
Friday:
RHP
Jeremy Hefner
(4-6, 3.33) vs. RHP
Kyle Kendrick
(8-6, 3.68), 7:10 p.m. ET
Saturday:
RHP
Zack Wheeler
(3-1, 3.54) vs. LHP
Cole Hamels
(4-11, 4.05), 1:10 p.m. ET
Sunday:
RHP
Matt Harvey
(7-2, 2.35) vs. LHP
Cliff Lee
(10-3, 2.86), 1:10 p.m. ET
Phillies short hops
• The Phillies are 6-3 but averaging only 3.6 runs a game since losing
Ryan Howard
to left knee surgery. The debridement surgery is expected to cost Howard six to eight weeks. Rookie
Darin Ruf
has handled first base in Howard's absence. Ruf slugged 38 homers last season with Double-A Reading. He has reached base safely in 18 straight games at the major league level.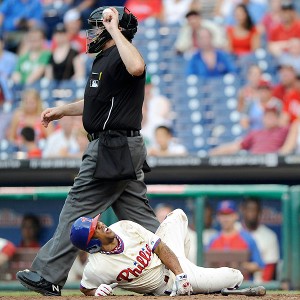 Michael Perez/Associated PressBen Revere suffered a broken right ankle on foul ball while batting.
• Center fielder
Ben Revere
underwent surgery Tuesday for a broken right ankle and also is expected to miss six to eight weeks. It is a big blow to the offense. Revere, the team's leadoff hitter, had been hitting .305 with 22 steals. Revere suffered the injury fouling a ball off the foot. He had two screws inserted.
GM Ruben Amaro has said the Phillies will shop for a fill-in center fielder.
John Mayberry Jr
. has handled the position the past two games. Prospect
Cesar Hernandez
has moved from second base to center field in the minors to provide another option.
• First-time All-Star
Domonic Brown
is third in the National League with 23 homers, trailing Colorado's
Carlos Gonzalez
(25) and Pittsburgh's
Pedro Alvarez
(24). Brown's 67 RBIs rank fourth.
•
Cole Hamels
has a 1.57 ERA with 19 strikeouts and one walk in his last three starts.
•
Cliff Lee
is the only active left-hander to pitch in four All-Star Games.
• The Phillies could be buyers or sellers depending upon the direction their season takes before July 31. They reached .500 on Sunday for the first time since June 7, when they were 31-31. Before the first-half-closing win, they had spent only five days at or above .500 this season. They have won five of their past six series.
Potentially on the block if things go south: centerpiece players
Chase Utley
,
Jonathan Papelbon
,
Carlos Ruiz
and Lee as well as
Delmon Young
and
Michael Young
. Utley and Ruiz are eligible for free agency after the season. Lee is owed a combined $50 million in 2014 and '15, and also has a $12.5 million buyout owed if a $27.5 million club option for 2016 is not exercised. Papelbon is signed at $13 million a season through 2015. He also has a vesting option at that amount for 2016.
•
Kyle Kendrick
limited the
Washington Nationals
to one run in seven innings in a win in his last start, despite four errors committed by his fielders, including three by Utley.
• Since June 17, Papelbon has five blown saves in 12 chances. Manager Charlie Manuel told SiriusXM that Papelbon was dealing with occasional hip soreness. Papelbon nonetheless has reached 20 saves for the eighth straight season. That is the longest active streak in the majors and the eighth-longest in major league history.
Mariano Rivera
holds the record with 15 straight 20-plus save seasons, from 1997-2011.
•
Jimmy Rollins
has gone 156 at-bats without a homer.
• Infielder
John McDonald
was acquired from the
Cleveland Indians
on June 27 for a player to be named or cash.
• Backup catcher
Erik Kratz
was activated from the disabled list Sunday after missing 4½ weeks with a left knee injury.
• Manuel has 995 career wins. He is due to become the 59th manager in major league history to reach the 1,000-win plateau. There are seven active managers at that level: Dusty Baker, Bruce Bochy, Terry Francona, Davey Johnson, Jim Leyland, Mike Scioscia and Buck Showalter.
April, 28, 2013
4/28/13
4:05
PM ET
WHAT IT MEANS:
Jonathon Niese
showed no effects from the comebacker that struck him in the right leg. The lack of support came from teammates.
Scott Atchison
allowed a pair of runners inherited from Niese to score in the seventh inning and the
Philadelphia Phillies
ultimately swept the light-hitting Mets with a 5-1 win Sunday afternoon at Citi Field.
The Mets (10-13) completed their homestand by dropping three games under .500. Philadelphia has won nine of the past 10 games between the teams.
Niese took a scoreless effort into the fifth, when he surrendered a solo homer to
Freddy Galvis
that evened the score at 1. The southpaw departed with that score intact after surrendering consecutive two-out singles in the seventh to
Laynce Nix
and
Jimmy Rollins
.
With Niese's pitch count at 117, Terry Collins summoned Atchison. Phillies manager Charlie Manuel countered by inserting
Ryan Howard
as a pinch hitter for
Kevin Frandsen
.
Howard responded with a two-run double that gave Philadelphia a 3-1 lead.
Chase Utley
added an RBI single. And the Phillies had a three-run cushion.
Niese could have been out of the inning with no damage and the score still tied at 1. Although it was a challenging catch,
John Buck
was charged with an error for dropping a foul pop from Nix near the Phillies' dugout, which prolonged that at-bat.
The Mets mustered only three hits in the game anyway.
WHOOPS:
David Wright
's errorless streak ended at 77 games when he flubbed a grounder from
Carlos Ruiz
in the first inning while transferring the baseball from his glove to throwing hand. The now-over streak is the longest in franchise history for a third baseman.
Wright's error, preceded by a throwing error by Niese and a walk, had loaded the bases with two outs. But Niese escaped by getting
Domonic Brown
to tap a ball a foot in front of the plate.
Wright -- restored to the No. 3 slot after two games at cleanup -- then staked the Mets to a 1-0 lead in the bottom of the first with a single that plated
Ruben Tejada
, who had doubled.
COLE CASE:
Cole Hamels
limited the Mets to one run and two hits and departed after six innings with his pitch count at 111. Despite matching a career high with six walks, Hamels earned his first 2013 win courtesy of the three-run seventh by the Phillies.
WHAT'S NEXT:
The Mets and Marlins match their young phenoms as
Matt Harvey
and
Jose Fernandez
face off Monday at 7:10 p.m. in Miami. Harvey is bidding for the third 5-0 April in franchise history. He would join
Pedro Martinez
(2006) and Dwight Gooden (1988). The Mets are 5-0 in Harvey starts and 5-13 otherwise.
April, 25, 2013
4/25/13
7:13
PM ET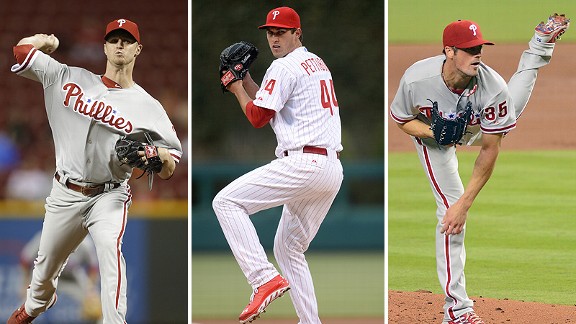 Associated Press/USA TODAY Sports
The Mets face (l to r) Kyle Kendrick, Jonathon Pettibone and Cole Hamels this weekend at Citi Field.
METS (10-10, second place/NL East) vs. PHILADELPHIA PHILLIES (9-14, fourth place/NL East)
Friday:
RHP
Dillon Gee
(1-3, 5.95) vs. RHP
Kyle Kendrick
(1-1, 3.28), 7:10 p.m. ET
Saturday:
RHP
Shaun Marcum
(0-0, -.--) vs. RHP
Jonathan Pettibone
(0-0, 3.38), 1:05 p.m. ET
Sunday:
LHP
Jonathon Niese
(2-1, 3.81) vs. LHP
Cole Hamels
(0-3, 5.40), 1:10 p.m. ET
Phillies short hops
•
Jonathan Pettibone
is making his second major league start Saturday. He is the son of right-hander Jay Pettibone, who started four games -- all losses -- for the
Minnesota Twins
in 1983, on a team that included Tim Teufel and Frank Viola. The younger Pettibone debuted Monday against the
Pittsburgh Pirates
and accomplished something his father failed to do: participate in a win. Pettibone, 22, limited the Pirates to a pair of solo homers and four other hits in 5 1/3 innings while striking out six and walking none. The Phillies won, 3-2.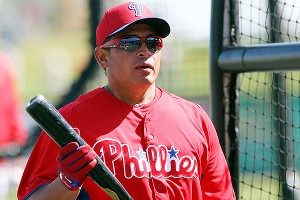 Kim Klement/USA TODAY Sports
Carlos Ruiz is due to be activated Sunday after serving a season-opening 25-game suspension.

•
Carlos Ruiz
is eligible to be activated Sunday after completing a 25-game suspension for testing positive for a banned amphetamine. Ruiz's tune-up for activation was slowed because he was hit on his left wrist with a pitch in an extended spring training game last Friday. X-rays were negative.
Erik Kratz
and
Humberto Quintero
have handled the catching in Ruiz's absence.
•
Delmon Young
, who signed for a guaranteed $750,000 and incentives on Jan. 22, has started a rehab assignment and is due to join the Phillies within weeks -- although not for this Mets series. He underwent right ankle surgery during the offseason. Young is the projected right fielder, although he must get acclimated. He had not played in a game there since 2007 until rehab games this week.
John Mayberry Jr
. has produced with Young out.
• The Phillies, who are struggling on offense, went four full games without a walk until
Chase Utley
got a free pass on April 19. How rare is that? In the NL, the last teams to have gone four straight games without a walk were the 2009
Arizona Diamondbacks
, 1976 Montreal Expos, 1952 New York Giants and 1935
Chicago Cubs
.
• Utley already has four errors.
•
Ryan Howard
homered for only the second time this season on Wednesday, against
Wandy Rodriguez
. In that game, Charlie Manuel split up Utley and Howard in the lineup so opposing managers could not insert one lefty specialist to face both without seeing a righty batter in between.
• This is the deepest Cole Hamels has gone into a season without a win since 2009, when it took the southpaw until his fifth start on May 8 for a victory.
• Manuel is in the final year of a contract. He told ESPN's Jayson Stark: "I plan to keep managing -- unless I decide all of a sudden I don't want to do it."
Said GM Ruben Amaro about the subject: "Honestly, I don't think about his situation at all. I don't think the players give two craps about it. I don't think it's even a factor, not with our guys … I don't know if a contract for the manager should be a motivating factor for any player. They should be motivated by winning. That's it."
• Center fielder
Ben Revere
is battling a nagging quadriceps injury. After Revere started every previous game this season, ex-Mets farmhand
Ezequiel Carrera
instead was inserted in the lineup Thursday afternoon.
• The Phillies have lost three in a row (with Hamels,
Roy Halladay
and
Cliff Lee
pitching) and eight of 11.
• Since surrendering seven runs in four innings against the Mets on April 8, Halladay is 2-0 with a 1.71 ERA in three starts. He has allowed eight hits in 21 innings over that span.
• At 9-14, the Phillies are in the midst of their worst start since 2006.
April, 12, 2013
4/12/13
6:01
AM ET
FIRST PITCH:
After an off-day that included trips to the Mall of America and a Minnesota Wild game while dodging snowflakes, the Mets get back to work Friday with an interleague series against the Twins -- weather-permitting.
The
forecast for tonight
calls for a low of 28 degrees and 30 percent chance of snow in Minneapolis.
Approximately five inches of snow fell Thursday.
Jonathon Niese
(1-0, 2.13 ERA) is scheduled to face ex-Phillie
Vance Worley
in the series opener.
Read the series preview
here
.
Friday's news reports:
• Anthony Rieber
in Newsday
notes
Matt Harvey
has plenty of friends on the NHL's Rangers, including Brian Boyle and Henrik Lundquist. Harvey has sought fashion advice from Lundquist. "I saw what he did the other day," Boyle told Rieber about Harvey. "Nine strikeouts, one earned? I think it's cool to kind of follow him. He's a humble guy. I hope he turns into a superstar. You really do root for a guy like that."
• Andrew Keh
in the Times
gets the Phillies to rave about Harvey.
Said Philadelphia manager Charlie Manuel: "He's got a little bit of style like Seaver. He's a drop-and-drive guy. He gets a lot of torque from his backside pitching off the rubber. He's got a chance to be real good."
Said
Laynce Nix
to Keh: "He's throwing stuff that a closer comes out of the bullpen and throws for one inning. But he's doing it for a game."
•
Zach Lutz
belted a grand slam and Las Vegas routed Sacramento. Read the full minor league recap
here
.
• Neil Best
in Newsday
writes about a night with SNY commentator/Sacred Heart athletic director/former major league manager Bobby Valentine.
• Read more about the frigid Minnesota weather in the
Daily News
.
• Mark Bowman
at MLB.com
notes
David Wright
,
B.J. Upton
and
Ryan Zimmerman
were all members of the same travel team in Norfolk, Va., while in high school. And now they're in the same division. "David talks a good game," Upton said. "But we can get in Dave's dome pretty easy. Ryan is pretty stoic."
• Terry Collins has used four different leadoff hitters in the past five games, notes Jorge Castillo in the
Star-Ledger
.
•
Ike Davis
was born in Minnesota while his father Ron played for the Twins, notes Mike Puma
in the Post
. Mike Kerwick
in the Record
, meanwhile, addresses Davis' slow start.
• Collins is not a fan of interleague play. Read more in the
Post
.
•
From the bloggers
… To
Mets Police
, Thursday was the day the Mets fan base lost its mind.
BIRTHDAYS:
Paul LoDuca turns 41. …
D.J. Carrasco
, whose last pitch in the majors came a day after he plunked
Ryan Braun
, turns 36. … Former Mets infielder/Brooklyn Cyclones product
Danny Garcia
is 33.
TWEET OF THE DAY:
The mall of America was too much for this guy. @joshedgin37 twitter.com/MattHarvey33/s…

— Matt Harvey (@MattHarvey33) April 11, 2013
YOU'RE UP: Should the Mets be playing an interleague game in Minnesota in early April?
May, 10, 2012
5/10/12
3:36
AM ET
The Mets produced their MLB-leading 11th comeback win,
rallying for a 10-6 victory Wednesday night
, to sweep a three-game series in Philly for the first time since June 2006. They moved five games over .500 for the first time since July 19, 2010.
"We came in and got them at the right time and took advantage of playing hard,"
Terry Collins
said. "If something happened, there was a mistake, we capitalized on it. It was a great trip for us. We'll enjoy it for a while and get ready for this weekend."
Thursday's news reports:
• An excerpt from my column on the sweep:
Inside a jubilant visitors' clubhouse at Citizens Bank Park, third baseman David Wright struggled to recall the New York Mets' last three-game sweep in Philly. And if he could not come up with the date, surely none of his teammates could, either. After all, Wright is the only active player to have been a Met the last time it happened. "I was trying to remember that. In 2006, maybe?" Wright asked after the Mets posted their third straight come-from-behind victory to sweep the Phillies with a 10-6 victory Wednesday night. Yes, June 15, 2006 -- before Adam Wainwright's curveball, and "Team to Beat," and the collapse, and the second collapse, and three losing seasons, and Bernard Madoff and, well, you get the point. (You would think Wright would have had a fighting chance at recalling it, too, since he homered in each game of that series.) Wednesday's victory moved the Mets five games over .500 for the first time since July 19, 2010.
Read the full analysis
here
.
• The win came despite
Dillon Gee
being charged with four runs on 10 hits in 5 2/3 innings. "I was not good -- probably, by far, the worst I've felt all year," Gee said. "I just had zero command. I was behind to everyone and I had no command of the curveball. It's tough to pitch like that." Read game recaps in the
Times
,
Record
,
Star-Ledger
,
Newsday
,
Daily News
and
Post
.
• Phillies manager
Charlie Manuel
called a team meeting after getting swept by the Mets. Writes
Matt Gelb
in the
Philadelphia Inquirer
:
The room was quiet now because Charlie Manuel had already delivered a loud message to his beaten team. Many of the Phillies had dressed, left their clubhouse and ventured into the wet darkness. Still in his full uniform, Cliff Lee sat with Roy Halladay and Chad Qualls. Joe Savery packed his bags for Allentown. Jimmy Rollins hopped onto a table and broke the silence. "You don't have to whisper," he said. "It's not the end of the world." Fates are not decided after 32 baseball games, but Manuel decided an intervention was required. All he had to do was watch Wednesday's 10-6 defeat to New York - 2 hours, 56 minutes of baseball that made him seethe. "And usually," Manuel said, "I stay pretty cool."
• Columnist
Ken Davidoff
in the Post
notes the Mets' success had a lot to do with what the Phillies did not do. Writes Davidoff:
The Phillies of 2007-11 strolled the ballpark with an arrogance, an expectation that they would win each night. The current Phillies are exemplifying that such arrogance comes from talent, rather than the talent resulting from attitude of any kind. Because these five-time defending National League East champions, playing without their injured stars Ryan Howard and Chase Utley, simply aren't very good.
•
Jenrry Mejia
allowed two runs in five innings for Class A St. Lucie at Brevard County on Wednesday morning
in his first official minor league game
since undergoing Tommy John surgery on May 16, 2011. Pitching coach
Dan Warthen
told
Andy McCullough
in the Star-Ledger
the intention is to get Mejia three more minor league starts. After that, team brass will decide whether to use Mejia as a reliever or a starter the remainder of the season. Warthen has been on the record saying he believes Mejia's future is as a reliever because a violent delivery could leave him susceptible to injury.
Sandy Alderson
indicated what the Mets' needs are will play a role in how to use Mejia. "We're just trying to get him back to a competitive level, at a representative number of pitches, and commanding all of his assortment of pitches," Alderson told McCullough. "Once we get to that point, assuming he's pitching five or six innings a game in a starting role, he can perform either role for us."
Paul DePodesta
told ESPNNewYork.com during spring training to look at how the Texas Rangers have developed pitchers in explaining Mejia's future role. That seemed to suggest even back in March that Mejia could contribute at the major league level this season in the bullpen, then revert to a starting role next year if the organization wants to switch him back.
Chris Young
follows Mejia in St. Lucie's starting rotation Thursday. Young, who also underwent surgery last May 16, to repair a torn anterior capsule in his right shoulder, will be starting in a minor league game for the first time since that procedure. He is scheduled to throw roughly 75 pitches.
•
Brian Costa
in the Journal
takes a look at the newly created "taxi squad" for 2012. Under old MLB guidelines, a player potentially replacing an injured major league player could not be in the clubhouse actively participating with teammates until a formal DL move was made. So players were quietly flown in and stayed at the hotel until the team decided whether to DL the injured player. Now, the secrecy and isolation is gone, and the call-up can be in the clubhouse and participate in pregame workouts with the team in uniform at the stadium for up to 24 hours before either being activated or returning to the minors.
Rob Johnson
technically was on the taxi squad and in the clubhouse until
Josh Thole
was placed on the DL on Tuesday. Last month, during the Mets' first trip to Philly,
Josh Satin
was at Citizens Bank Park for a day, then shipped back to Buffalo when the Mets decided
David Wright
did not need a DL trip for his fractured right pinkie. Placing a player on the taxi squad also allows the Triple-A team to add a player; in the past, while the potential call-up waited in limbo, the minor league squad was forced to play shorthanded because the player still counted against its roster until activated by the parent club.
"It's lonely,"
R.A. Dickey
told Costa about the old system, when the player was hidden at the hotel. "Nobody there would talk to you. You get a random call at random times, 'Hey, we're not going to activate you tonight. Just spend the night. We might activate you tomorrow. Beeeeeep.' It's really bizarre. You feel like an MI-6 agent."
Satin told Costa that Wright apologized to him for having to fly to Philly only to return to Triple-A without being activated. Said Satin: "David said, 'I'm really sorry I made you come out here.' I said, 'Honestly, there's nothing to be sorry about.' There's plenty of worse things to do than sit in a big-league clubhouse and watch the Mets play the Phillies."
•
Jeurys Familia
limited Triple-A Gwinnett to one run in six innings and Buffalo won, 4-1, Wednesday. Read the full minor league recap
here
.
•
Ronny Cedeno
, on the DL with a left side muscle strain, played nine innings in an extended spring training game Wednesday. He is expected back this weekend in Miami, although
Collins
did not commit to a Friday return because he wants to see the middle infielder compete against higher-level pitching.
• Collins believes the spate of left-handed starting pitching the Mets have seen this season
is a coincidence
, not teams manipulating their rotation to line up against his club. Read more
in the Times
.
•
Andres Torres
is using a lighter bat than when he played for the Giants,
the Daily News notes
.
TRIVIA:
Shane Victorino
nearly played an
Andres Torres
sinking liner into an inside-the-park homer Wednesday, although Torres stopped at third. Which players have multiple inside-the-park homers while playing for the Mets?
Wednesday's answer: Ex-Met
Omir Santos
made his major league debut with the Baltimore Orioles on Sept. 5, 2008.
March, 22, 2011
3/22/11
11:35
AM ET
Phillies manager
Charlie Manuel
apparently wasn't too pleased with having to scratch
Luis Castillo
from Tuesday's lineup over a miscommunication over the second baseman's ETA.
Asked if he would have been in camp earlier, Manuel is quoted by ESPN's
Jayson Stark
: "If it was me? I'd have been here two days ago. But it's not me."
Castillo did arrive a day early for Mets position-player reporting, but that did not sit well with
Terry Collins
, either. Collins thought Castillo should have been there earlier, like other position players, if he really wanted to demonstrate he wanted to earn the second-base job.
Read Stark's news story
here
.
May, 13, 2010
5/13/10
5:56
PM ET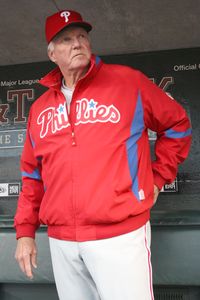 Phillies manager Charlie Manuel redirected sign-stealing attention to the Mets.
Jerry Manuel
continued to yuck it up about the Phillies' alleged sign stealing, and how Phillies counterpart
Charlie Manuel
suggested the Mets ought to be the ones investigated because of their solid home record.
"Tell him we hit .220 at home," the Mets skipper playfully said. "So we need to stop stealing signs if that's what we're doing."
Told the Mets, who are 14-8 at Citi Field, actually are hitting .267 at home (as opposed to .214 on the road) he added:
"Oh, we are? We're killing it then."
The Phillies were accused by the Colorado Rockies of stealing signs via binoculars in the visitors' bullpen at Coors Field.
"I watch coaches. I watch players. I watch managers," the Mets skipper said. "I try to pick up everything I can. I just don't use binoculars to do it. I just watch the game."
As for Charlie Manuel's dig at the Mets, the Mets manager replied: "He just likes to put some spice in the rivalry."
NO FLIP:
Asked if he might consider restoring
Jose Reyes
to the leadoff spot and moving
Angel Pagan
to third, Manuel replied with a resounding no. The manager's logic: If the approach should be the same in either slot, why would it matter so much? Reyes enters the Marlins series hitting .228 in 127 at-bats overall since returning from the disabled list.
"I'm a little stubborn with that," Manuel acknowledged. "… If I put Pagan third and Reyes leadoff, if Reyes got hot and Pagan didn't handle the third spot, could I flip Reyes back to third? That would be a question. And, I think, if you do that, then you're saying there is a difference in (hitting) first and third."
LEASH LENGTHENING:
Left-hander
Oliver Perez
is not pitching for his rotation spot when he opposes the Marlins on Friday, Manuel insisted. Asked specifically about the possibility of reassigning Perez to the bullpen, the manager said: "I'm not even thinking about that."
ON LEAVE:
The Mets expect catcher
Henry Blanco
to be away from the team for the full seven days allowed on bereavement leave. Blanco is in Venezuela with his ailing mother. Blanco does not have to be reactivated until Monday in Atlanta.
Josh Thole
is expected to remain with the Mets through the weekend.
Rod Barajas
-- despite still dealing with a left index finger bruise from a botched pitchout -- has caught exclusively since Monday, with Thole yet to appear.
ON THE MEND:
Right-handed reliever
Ryota Igarashi
threw a bullpen session for pitching coach
Dan Warthen
at Sun Life Stadium before the Mets-Marlins opener and should be ready to begin a minor league rehab assignment. Igarashi has been on the disabled list since April 21 with a left hamstring strain. This marked his third time throwing off a mound since beginning that process Monday.
"I feel like since I've had that time off, my arm feels a lot looser, more relaxed," Igarashi said through an interpreter.
Manuel expects
Carlos Beltran
, who began running this week, to visit the Mets in Miami this weekend, too.
ONE LINER: Jeff Francoeur
popped into the dugout before Thursday's opener and remembered the dugouts in Miami are not protected from the field. "What's Ike going to do without a railing?" Francoeur deadpanned in front of rookie first baseman
Ike Davis
. Davis, of course, has flipped over the railing three times already in his young career to catch foul balls.
SECOND THOUGHT:
Because slugging second baseman
Dan Uggla
is 1-for-19 in his career against Johan Santana, Marlins manager
Fredi Gonzalez
chose to start ex-Cardinal
Brian Barden
at the position instead Thursday. Of course, Uggla's one hit off Santana happens to be a homer.