New York Mets:

Chase Whitley
May, 15, 2014
May 15
10:16
PM ET
NEW YORK --
Jacob deGrom
had a stellar big league debut, yet with the
Mets
' bats familiarly silent, the 25-year-old right-hander came away with a loss.
Alfonso Soriano
's two-out, run-scoring double to left-center against deGrom in the seventh broke a scoreless tie, and the
Yankees
beat the Mets 1-0 Thursday before an announced crowd of 40,133 to earn a split of the four-game Subway Series.
After producing a combined 21 runs in a pair of wins in the Bronx, the Mets (19-21) returned to Citi Field and were shut out for two straight days. Combined with consecutive shutouts May 6-7 in Miami, the Mets have been blanked four times in their past nine games.
The Mets mustered only three hits in a combined shutout effort by debuting
Chase Whitley
,
Dellin Betances
,
Adam Warren
and
David Robertson
. DeGrom, a former college shortstop and .176 career minor league hitter, had one of those hits. Betances and Warren combined to strike out seven straight Mets during the sixth through eighth innings. The seven straight K's by the Mets matched a franchise record, last done Aug. 11, 2010, against the
Colorado Rockies
, according to the Elias Sports Bureau.
Robertson retired
David Wright
on a groundout to shortstop to strand runners on the corners and end the eighth en route to a four-out save.
Kathy Willens/Associated PressFirst-base coach Tom Goodwin congratulates Jacob deGrom after the rookie produced a hit in his first big league at-bat -- and the first hit by a Mets pitcher this season.
DeGrom's line: 7 IP, 4 H, 1 R, 1 ER, 2 BB, 6 K. He threw 91 pitches (57 strikes).
DeGrom became the first debuting starting pitcher in franchise history to be charged with a loss in a game in which he logged at least seven innings and limited the opponent to one run.
The last debuting MLB starting pitcher to get charged with a loss in a game in which he tossed at least seven innings and limited the opponent to one run was
Jimmy Haynes
with the
Baltimore Orioles
against Boston on Sept. 13, 1995.
Pitching in a scoreless game in the seventh, deGrom had a streak of 11 straight batters retired snapped when he walked
Mark Teixeira
with one out. Next, with the Mets again playing an overshift against
Brian McCann
, the Mets attempted an inning-ending 4-5-3 double play. But Wright, attempting the turn at second base, made a low and offline throw to first base, and
Lucas Duda
was unable to scoop it.
With McCann safe and the inning prolonged, Soriano followed with the decisive triple.
Duda and Wright had turned a nifty 3-5-3 double play on McCann to end Monday's game in the Bronx.
It's a hit:
In his first big league plate appearance, the former college shortstop deGrom snapped an 0-for-64 drought by Mets pitchers. That was the longest futility streak to begin a season by a pitching staff in MLB history and had tied the 1946
Cleveland Indians
for the second-longest drought ever, regardless of point in the season. The 1914 Indians, who went 0-for-92, remain the record holders.
DeGrom also delivered a sacrifice bunt in his second and final plate appearance. That placed runners at second and third with two outs in the fifth against Whitley, who was making his big league debut for the Yankees. Manager Joe Girardi inserted reliever Betances to face
Eric Young Jr
, who grounded out to third base to strand the two baserunners as the game continued in a scoreless tie.
Farewell, Jeets:
The Mets played a video tribute to retiring
Derek Jeter
before his 88th and final regular-season Subway Series game.
Jeter then went 0-for-4. That included sending a shot back at deGrom in the third inning with two runners aboard and one out. DeGrom snared the liner and doubled
Brett Gardner
off first base to escape the jam.
Jeter's final career regular-season statistics against the Mets: .364 (131-for-360) with 13 homers and 44 RBIs. Jeter has a higher career average against only the
Pittsburgh Pirates
(.417 in 36 at-bats) and
Colorado Rockies
(.368 in 34 at-bats).
Among players with 100 career at-bats against the Mets, only Rico Carty (.380) and Don Slaught (.376) had higher averages.
Welcome back:
Newly promoted
Josh Edgin
tossed only one pitch in his season debut. After inheriting runners on the corners and two outs in the eighth, he coaxed a flyout to left field from
Jacoby Ellsbury
.
What's next:
The Mets head to Washington D.C. for a weekend series against the
Washington Nationals
.
Jonathon Niese
(2-2, 2.17 ERA) opposes right-hander
Tanner Roark
(2-1, 3.65) in Friday's 7:05 p.m. series opener.
Bryce Harper
,
Ryan Zimmerman
and
Adam LaRoche
are all on the DL for the Nats.
May, 15, 2014
May 15
5:39
AM ET
Adam RubinJacob deGrom makes his major-league debut Thursday against the Yankees.
NEW YORK
FIRST PITCH:
The Subway Series finale originally was slated to pit
Dillon Gee
against
CC Sabathia
. Now, both are on the disabled list. And Mets-Yankees instead concludes with a pair of starting pitchers making their big-league debuts --
Jacob deGrom
versus right-hander Chase Whitley.
DeGrom (4-0, 2.58 ERA at Las Vegas) steps into the starting role because Gee
landed on the DL on Wednesday
with a right lat-muscle strain. The Mets, who weighed keeping Gee active and having him miss one start, now expect he will miss two starts and return from the DL when eligible.
Coming on the heels of
Rafael Montero
's start Wednesday, it will mark the first time in franchise history the Mets have used starting pitchers making their major-league debuts in consecutive games.
The last time an MLB team used debuting starting pitchers in consecutive games? The
Milwaukee Brewers
on Sept. 2-3, 2002, with
Ben Diggins
and
Dave Pember
, according to the Elias Sports Bureau.
The last time two debuting pitchers started opposite each other in an MLB game? Coincidentally, that involved Gee -- who pitched opposite Washington's
Yunesky Maya
on Sept. 7, 2010.
In the past 100 years, there have only been seven non-September instances of both starting pitchers making their big-league debuts, according to Elias.
Bobby Parnell
, who will miss the remainder of the season after undergoing Tommy John surgery, was transferred to the 60-day DL to clear a 40-man roster spot for deGrom.
Meanwhile, Thursday marks the final regular-season game for retiring
Derek Jeter
against the Mets.
As the Mets did with
Mariano Rivera
last season and
Chipper Jones
in 2012, they will have an afternoon ceremony in a conference room to present Jeter with a gift -- not on-field recognition before the first pitch. A clip from that ceremony likely will be played for fans pregame on the scoreboard.
The Mets are expected to present Jeter with artwork, as they did with Chipper.
Thursday's news reports:
Anthony Gruppuso/USA TODAY SportsRafael Montero allowed three runs in six innings in his major-league debut.
• Montero did a
solid job in his debut
, but
Masahiro Tanaka
tossed a four-hit shutout
and the Yankees snapped a six-game Subway Series losing streak with a
4-0 win Wednesday at Citi Field
. The Mets (19-20) dropped a game under .500.
Terry Collins suggested three shots the Mets hit on Wednesday would have been homers had the game been played in the Bronx, including David Wright's first-inning blast to the track with a runner on base.
The Mets had a pair of costly, ill-advised plays. With Tanaka on deck, a runner on first base and two outs, left fielder
Eric Young Jr.
decided to dive for a second-inning sinking liner off
Brian Roberts
' bat rather than concede a single and keep it in front of him. E.Y. Jr. played the ball into a run-scoring triple. On the basepaths,
Chris Young
tried to steal second with Tanaka holding the ball,
Lucas Duda
at the plate and the Mets trailing, 2-0. He easily was retired.
Montero's final line: 6 IP, 5 H, 3 R, 3 ER, 2 BB, 3 K, 2 HR. The second homer came after Montero was sent out for the sixth inning with his pitch count already at 97, on a solo shot by
Mark Teixeira
.
The unbeaten Tanaka -- the first 6-0 Yankees rookie starter since Whitey Ford in 1950 -- even produced a ninth-inning hit. Mets pitchers are now 0-for-64 at the plate this season. That futility matches the 1946
Cleveland Indians
for the second-worst hitless streak by pitchers in MLB history, according to Elias. The all-time record: 0-for-92 by Cleveland pitchers in 1914.
Given E.Y. Jr. and
Ruben Tejada'
s hot streaks ended -- they went a combined 1-for-7 Wednesday -- it appears likely they will find themselves on the bench for the Subway Series finale.
Read game recaps in the
Post
,
Daily News
,
Times
,
Star-Ledger
,
Record
,
Journal
,
Newsday
and at
MLB.com
.
• The Mets dumped
Kyle Farnsworth
a couple of days ahead of a deadline after which his $1 million contract for the season
would have become guaranteed
. Farnsworth, who notched a save as recently as Monday, had signed an "advanced consent" waiver. That allowed the Mets to drop him within 45 day of him joining the club on April 2 and only be responsible for the portion of the contract during which he was active -- about $250,000.
Farnsworth, who plans to refuse a minor-league assignment and become a free agent, was angry with the decision, calling it "sad" and describing himself as "very bitter."
One member of the organization described himself as "speechless" after learning of the move.
Josh Edgin
, who had a 4.97 ERA and had allowed 17 hits and 11 walks in 12 2/3 innings with Vegas, will be promoted and join
Scott Rice
as a left-hander in the bullpen.
Who's the closer? Terry Collins hasn't named one yet, but
Jeurys Familia
,
Jenrry Mejia
and
Daisuke Matsuzaka
would be candidates.
Read more in the
Record
,
Journal
,
Newsday
and at
MLB.com
.
•
Travis d'Arnaud
likely will
land on the seven-day concussion DL
before Thursday's game. D'Arnaud had been struck on the top of the head by Alfonso Soriano's backswing in the ninth inning Tuesday. D'Arnaud is continuing to undergo concussion tests.
Juan Centeno
, already on the 40-man roster, is expected to join the Mets on Thursday from Vegas. He was hitting .273 with one homer and 11 RBIs in 77 at-bats with the 51s. Read more in the
Star-Ledger
.
• Gee said there was no issue with his lat when he was pulled after 81 pitches from his last start. It only arose afterward and intensified during a bullpen session Tuesday in the Bronx. Read more in the
Post
,
Daily News
,
Journal
and
Newsday
.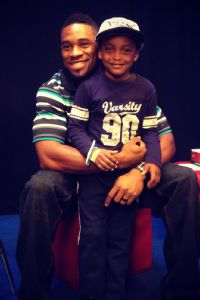 Win McNamee/Getty ImagesEric Young Jr. visited Kravis Children's Hospital on Wednesday.
• E.Y. Jr. visited Kravis Children's Hospital at Mt. Sinai before heading to Citi Field for the Subway Series on Wednesday. He appeared on the hospital's closed-circuit TV show and answered questions for kids who were too sick to come down to a studio. E.Y. Jr. took pictures and signed autographs for patients who were well enough to attend the live show in the hospital's lobby.
• Greg Peavey allowed three runs (two earned) in seven innings and Chasen Bradford notched his seventh save as Binghamton beat Altoona, 5-3. Peavey's success coincides with his wife and recently born son getting into town, writes Lynn Worthy
in the Binghamton Press & Sun-Bulletin
.
Before Savannah won two games from Greenville on Wednesday, outfield prospect Jared King -- who recently proposed to his girlfriend on the field -- landed on the DL with a fractured right fibula. King suffered the injury getting hit by a pitch on May 7. Read the full minor-league recap
here
.
• Shake Shack founder Danny Meyer disputed allegations from Duda and
Philadelphia Phillies
manager Ryne Sandberg that bad burgers gave them food poisoning.
"It's highly unlikely," Meyer
told the Post
. "If you're in a restaurant and one person says they got food poisoning from fish, you can say, 'Well, that was probably one bad fish.' But with hamburger meat, it's an entire batch. And we haven't heard of one other case of food poisoning. We don't know for sure a Shake Shake burger made them sick."
Daniel Barbarisi
in the Journal
reported fans at Citi Field on Wednesday did not seem dissuaded from buying Shake Shack food.
• Columnist Joel Sherman
in the Post
suggests there is pressure on both New York GMs because they are playing in divisions up for grabs because of mediocrity. Writes Sherman:
[Sandy] Alderson already made a significant move during this Subway Series by shifting Rafael Montero into the rotation and Jenrry Mejia into the pen. The Mets' long-shot chances this season could be about this: Can Alderson take some of that young pitching he has been diligently stockpiling the past four years and turn it into a July bat -- a Jose Bautista for mid-lineup heft or an Alexei Ramirez to solve shortstop, perhaps?
[Brian] Cashman faces a potentially more daunting issue because the Yanks have more age -- and thus more potential leaks -- and less farm system. At this moment, the Yankees look as if they need a sidekick for Masahiro Tanaka. So they might have to find out just how much a trade fronted by Gary Sanchez or John Ryan Murphy would bring. Does that get them into, for example, a Jeff Samardzija sweepstakes or do they have to lower their sights to the Bronson Arroyo/Jason Hammel level?
• Columnist David Lennon
in Newsday
suggests payroll still matters, as the Yankees demonstrated with their capacity to land Tanaka.
• Columnist Mike Vaccaro
in the Post
calls the rash of Tommy John surgeries to high-profile young pitchers "the dark cloud hovering in baseball's sky now."
• In a where-are-they-now look, Ken Belson
in the Times
notes
Dae-Sung Koo
-- of double-off-
Randy Johnson
-and-scoring-with-a-weighted-ball-in-his-pocket fame -- has been pitching in Australia.
• Jared Diamond
in the Journal
suggests the Subway Series still has juice. Writes Diamond:
According to the YES Network, Monday night's game at Yankee Stadium generated the highest ratings for a Subway Series telecast on a New York regional sports station since 2011, averaging 494,000 total viewers. On Tuesday, the Rangers' hockey game and the NBA playoffs siphoned off some viewers, but the Subway Series has re-established itself as a solid draw.
Even with the Brooklyn Nets' playoff game competing with baseball on Wednesday, the stations anticipated another potential bump with rookie pitcher Masahiro Tanaka on the mound for the Yankees.
• Mike Ozanian
at Forbes
opines about the value of the Mets if they were sold.
BIRTHDAYS:
Tyler Walker
, whose eight-year big-league career as a reliever began with the Mets in 2002, turns 38.
TWEETS OF THE DAY:
Fred Wilpon refuses to go see "Million Dollar Arm". (Still working out the punch line) #Mets

— David Brown (@DrBlogstein) May 15, 2014
YOU'RE UP: What gift should the Mets present to Derek Jeter?
May, 12, 2014
May 12
10:44
PM ET
NEW YORK -- True New Yorkers were celebrating Monday in the Bronx.
Lucas Duda
delivered a broken-bat, run-scoring single that plated
Eric Campbell
and evened the score, and
Chris Young
followed with a two-run homer later in the eighth inning as the
New York Mets
beat the
New York Yankees
9-7 before an announced crowd of 46,517 in the Bronx.
The Mets (18-19) slugged a season-high four home runs -- by
Travis d'Arnaud
,
Curtis Granderson
,
Eric Young Jr.
and C.Y. They won for only the third time in their past 11 games.
Kyle Farnsworth
got into a one-out jam in the ninth with runners on the corners, but
Brian McCann
grounded into a game-ending double play, initiated by a diving stop by Duda and turned at second base by
David Wright
because of the overshift.
Penned:
Jenrry Mejia
, reassigned to the bullpen before the game, made his 2014 relief debut and earned the win.
Christopher Pasatieri/Getty ImagesDerek Jeter and David Wright share a yuk at the end of the first inning.
Mejia inherited a runner on second with two outs in the seventh inning and the Mets trailing 7-6. He struck out
Alfonso Soriano
on three pitches.
Then, staked to a 9-7 lead after the Mets' three-run eighth, Mejia allowed a leadoff single to
Yangervis Solarte
.
Kelly Johnson
followed by grounding into a double play.
Brian Roberts
singled, but Mejia rallied by striking out
Brett Gardner
.
Not his day:
Bartolo Colon
surrendered a second-inning grand slam to Gardner and eventually was charged with seven runs (six earned) in 5 2/3 innings in a no-decision. In his eight starts, Colon has allowed seven or more runs three times. His ERA has ballooned to 5.84.
A half-inning after Granderson slugged a game-tying two-run homer, the Yankees scored three runs in the bottom of the sixth to take a 7-4 lead. The final run charged to Colon scored when d'Arnaud threw to second base on Gardner's steal attempt. The throw went into center field, allowing Roberts to trot home with an unearned run.
True New Yorker:
Granderson received a tame mixture of boos and cheers in his return to Yankee Stadium as a visitor -- although it's hard to tell which set of fans was offering which reaction.
The friendly confines of Yankee Stadium proved a welcome sight. Granderson launched a two-run homer in the sixth against
Hiroki Kuroda
that evened the score at 4.
During a pregame interview, Granderson said his "True New Yorker" statement -- made when he was introduced during the winter meetings -- was not something cooked up by marketing people to launch a campaign the Mets eventually would adopt during the 2014 season.
"It was something that I heard from people around the city," Granderson said. "It was me repeating what I had heard, what people said."
Granderson's original December quote: "A lot of the people I've met in New York have always said that true New Yorkers are Mets fans. So I'm excited to get a chance to see them all out there."
The Mets recently sent an email blast to fans touting that slogan with a request for them to sign a loyalty oath.
Sparkplug:
E.Y. Jr., who essentially had been benched once
Juan Lagares
returned from the disabled list on May 1, has made the most of back-to-back starts. He has produced consecutive three-hit games and scored twice and drove in two runs Monday.
E.Y. Jr. pulled the Mets within 7-6 with a two-run homer in the seventh against
Alfredo Aceves
, who had been speculated as the Thursday starter in place of
CC Sabathia
. Right-hander Chase Whitley could make his MLB debut in Thursday's Subway Series finale instead of Aceves.
E.Y.'s last homer came on Aug. 2, 2013.
With the Mets facing a left-hander Tuesday and the designated hitter in use, Terry Collins likely will be able to use all four of his primary outfielders, including E.Y. Jr., in the starting lineup.
Happy birthday:
Ex-Yankee/Met Yogi Berra celebrated his 89th birthday at the game.
What's next:
Zack Wheeler
(1-3, 4.35 ERA) opposes left-hander
Vidal Nuno
(1-0, 5.47) in Tuesday's 7:05 p.m. game in the Bronx.