New York Mets:

Chris Christie
June, 19, 2013
6/19/13
5:44
AM ET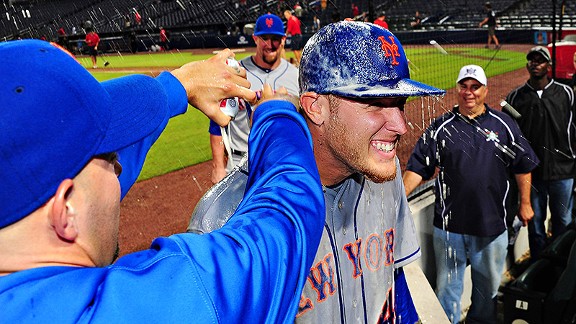 Scott Cunningham/Getty ImagesZack Wheeler's teammates doused him with beverages after his first major league win.
ATLANTA
FIRST PITCH:
The Mets may rival the
Miami Marlins
for futility in 2013, but
Matt Harvey
and
Zack Wheeler
-- 1A and 1B – offer the hope to fans of better days to come.
"They're going to enjoy watching these two guys for a long time," Terry Collins said after Harvey and Wheeler earned the victories in a doubleheader sweep at Turner Field on Tuesday. "They're going to be around and they're going to be in the same rotation. You've got two guys that can win some baseball games for you."
Wednesday's news reports:
• Harvey took a no-hit bid into the seventh inning of Game 1 and the Mets narrowly
held on for a 4-3 win
thanks to
Bobby Parnell
's four-out save. Wheeler, despite walking five batters, then tossed six scoreless innings in the nightcap as the Mets
swept Atlanta with a 6-1 victory
. Harvey
believed a no-hitter was attainable
until
Jason Heyward
produced a leadoff infield single up the first-base line in the seventh. Wheeler
described himself as amped up early
for his major league debut.
Writes columnist Bob Klapisch
in the Record
:
Listen hard enough and you could almost pick up the dog-whistle message after the Mets had finished sweeping the Braves on Tuesday: The suffering is over. Matt Harvey and Zack Wheeler did more than offer a beta version of better times ahead. This was chicken soup for Flushing's battered soul.
It almost wouldn't have mattered how the franchise's two best pitching prospects fared -- the fact that Harvey and Wheeler were on display, exploding the radar gun in the high 90s, served as its own medicine. But the day turned out better than that for the Mets. Much better, in fact.
Writes columnist John Harper
in the Daily News
:
At the very least, Super Tuesday was a showcase of dazzling pitching talent for Mets fans to savor, and, who knows, it may come to be remembered as the start of something big. There are miles to go to make that happen, and with the Mets, you know there is bound to be more misfortune along the way.
Still, it was quite the 10 hours or so.
Writes Brian Costa
in the Journal
:
Matt Harvey in the day game. Zack Wheeler in the night game. A legitimate ace and a potential ace, both out of the Mets' farm system, together in a doubleheader loaded with intrigue. Harvey chased a no-hitter. Wheeler made a stellar big-league debut.
Awful as they may be, the Mets deserved to stop and enjoy this. And if you've suffered through the sorry spectacle that is Mets baseball recently, how could you not? It was a proud day for an organization that hasn't had many of them.
Read game recaps in the
Post
,
Daily News
,
Star-Ledger
,
Record
,
Newsday
,
Times
,
Journal
and
MLB.com
as well as columnist Mike Vaccaro's take
in the Post
and columnist David Lennon's take
in Newsday
.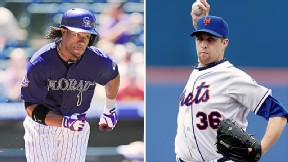 Getty ImagesThe Mets acquired Eric Young Jr. from Colorado for Collin McHugh.
• In a
flurry of late-night maneuvers
, the Mets traded right-hander
Collin McHugh
to the
Colorado Rockies
for second baseman/outfielder
Eric Young Jr
., promoted outfielder/first baseman
Andrew Brown
from Triple-A Las Vegas and designated
Collin Cowgill
for assignment. The Mets also are expected to place
Scott Atchison
(groin) on the disabled list today. Atchison
had just been activated from the DL
on Tuesday morning, when
Justin Turner
landed on the DL
with a strained intercostal muscle on his left side.
The final move Tuesday night involved sending Wheeler back to Triple-A Las Vegas, which is playing in Tucson, Ariz., through Friday. Wheeler will return in time for Tuesday's start against the
Chicago White Sox
in the Windy City.
Read more in the
Star-Ledger
,
Newsday
,
Daily News
and
MLB.com
.
• Straight-talking New Jersey governor Chris Christie told schoolchildren
about his affection for the Mets
while saying they "stink" and are "awful." Read more in the
Star-Ledger
.
• First-round pick Dominic Smith is
imminently signing with the Mets
. Newsday reported the deal will be worth $2.6 million -- about $200,000 below slot.
• Ex-Met
Fernando Martinez
has been traded
by the
Houston Astros
to the Yankees.
• Asked if New York hosting the All-Star game should factor into whether Harvey should start the spectacle,
San Francisco Giants
/NL manager Bruce Bochy told SiriusXM:
"Well, it would play a part in it, sure. … That could play a part in my decision. These are things [Giants pitching coach] Dave Righetti and I will talk about, but I think it should play a part, to be honest. Now, I also believe that whoever deserves to go, whoever deserves to start that game should get that. But all things even, then I think you look at something like that -- a guy that's in his hometown pitching."
• Some Mets fans took offense to a Braves announcer hoping on air that Harvey would strain an oblique Tuesday. Watch the YouTube clip
here
.
• Dustin Lawley produced a game-tying two-run homer in the seventh, then had a walk-off RBI double two innings later as St. Lucie beat Charlotte, 7-6. Read the full minor league recap
here
.
• Dwight Gooden has taken notice of the attention Wheeler's debut received. "It's been incredible the way that people have been so eager to see him -- if that excitement is channeled right it could really help him," Gooden told Roger Rubin
in the Daily News
.
• Michael Salfino
in the Journal
chronicles the Mets' history of late-inning collapses at Turner Field.
•
From the bloggers …
Faith and Fear
notes Wheeler is the first Met born in the 1990s and examines the debuts of other decade-'firsters' in franchise history.
BIRTHDAYS:
McHugh, who was traded to the Rockies last night, turns 26. …
Bruce Chen
, now with the Royals, turns 36. …
Claudio Vargas
is 35.
TWEET OF THE DAY:
Excited to now be apart of the @Mets family. Can't wait to meet/play with my new teammates, and play in NY!

— Eric Young Jr (@EYJr) June 19, 2013
YOU'RE UP: Do you like the acquisition of Eric Young Jr.?
June, 18, 2013
6/18/13
2:04
PM ET

ATLANTA -- During a Tuesday visit to Samsel Upper Elementary School in Parlin, N.J., Gov. Chris Christie pledged his allegiance to the Mets while acknowledging the team stinks.

After noting he roots for the NBA's Knicks, Christie said: "My favorite baseball team is the New York Mets," which was met with a mixed reaction from the schoolchildren.

"See, now, these are probably Yankees fans, right, that are booing," Christie continued. "Are those Yankees fans that are booing?

"OK, here's what I don't understand about Yankees fans: The Mets stink. We're awful. And the Yankees are usually really good. So why do you boo us? You should feel badly for us. We root for this awful team that never wins and yet the Yankees fans boo us. I don't understand that."

Christie, for the record, also roots for the Dallas Cowboys and New York Rangers.
April, 2, 2013
4/02/13
7:39
AM ET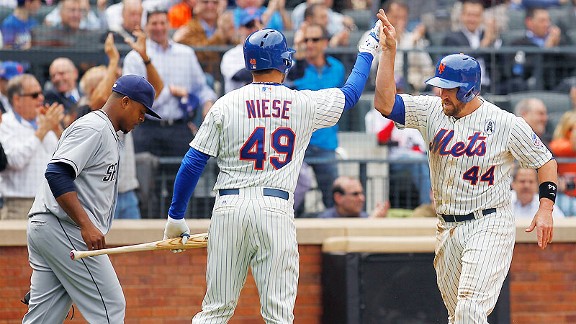 Mike Stobe/Getty Images
Jonathon Niese, who reached base in all three of his plate appearances, greets John Buck after the catcher scored Monday.
FIRST PITCH:
The Mets produced their first double-digit scoring output on Opening Day in 19 years behind a grand slam from
Collin Cowgill
and
beat the Padres, 11-2, Monday
at Citi Field.
Six Mets had two-hit games, including newcomers
Marlon Byrd
,
John Buck
and Cowgill, plus pitcher
Jonathon Niese
.
The Mets improved their Opening Day winning percentage to an MLB-best .654 (34-18).
Terry Collins thought winning on Day 1 was
important to try to establish credibility
with fans.
The Mets take today off, then send
Matt Harvey
to the mound Wednesday night against Padres left-hander
Clayton Richard
.
A pair of intended members of the Mets' rotation will have important events during today's off-day, though.
Johan Santana
undergoes surgery to repair a torn anterior capsule in his left shoulder for the second time.
In Port St. Lucie,
Shaun Marcum
will throw in a controlled game in which he tosses 75 pitches, spread evenly over five innings.
Marcum suffered from a shoulder impingement and neck discomfort during spring training, although he officially was placed on the DL by the team with biceps tendinitis. The Mets hope to activate Marcum for Sunday's homestand finale against the
Miami Marlins
. Otherwise,
Aaron Laffey
is a candidate to be called up from Triple-A Las Vegas and make the start.
Tuesday's news reports:
• Read game recaps in the
Times
,
Daily News
Record
,
Star-Ledger
,
Newsday
and
MLB.com
.
• Cowgill became the first Met to
hit a grand slam in his debut with the franchise
. Read more in the
Star-Ledger
,
Post
and
Times
.
• Niese became the 22
nd
different Mets pitcher to start on Opening Day. In addition to reaching base in all three of his plate appearances, the southpaw
limited the Padres to two runs in 6 2/3 innings
to earn the win. Read more in the
Post
and
Newsday
.
•
Ruben Tejada
, after hitting .096 in spring training,
drove in the first run of the season
with a second-inning double off
Edinson Volquez
that scored Buck from first base. Read more in
Newsday
and the
Post
.
•
David Wright
continued his streak of producing at least one hit in every Opening Day game in which he has participated. He also stole two bases Monday. Wright was introduced by Howie Rose during the pregame ceremony as the fourth captain in franchise history. Read more in the
Record
,
Post
and
Newsday
.
• Former Long Island Ducks left-hander
Scott Rice
made his major league debut
with a perfect ninth that included two strikeouts. Rice (31 years, 192 days old) became the second-oldest U.S.-born player to make his major league debut with the Mets. Only Shawn Gilbert (32 years, 82 days) in 1997 was older. Read more in the
Record
,
Daily News
,
Post
and
Newsday
.
• Overall, the retooled bullpen tossed 2 1/3 scoreless innings, notes Jorge Castillo in the
Star-Ledger
.
•
Frank Francisco
(elbow),
Jenrry Mejia
(forearm), Marcum and Santana officially were
placed on the disabled list
.
• The Mets generously announced Monday's crowd as a sellout of 41,053, despite pockets of empty seats visible. The team said another 1,000 tickets -- not counted in the attendance total -- were given away to those affected by Hurricane Sandy. Read more in
Newsday
.
• Dwight Gooden, who attended the Mets opener, told Neil Best
in Newsday
: "I'm not sold on the bullpen yet, but I like the starting pitching. And the offense, I think, can be average. It's going to be a long shot this year, obviously. A lot of things need to go their way. They have to be healthy, some guys have to play better than expectations. And you have to hope for injuries from the other teams in the division, unfortunately."
• New Jersey Governor Chris Christie, a devout Mets fan, attended Monday's Mets-Padres game, notes Mike Lupica
in the Daily News
.
• Columnist Steve Politi
in the Star-Ledger
and Mike Vaccaro
in the Post
say Day 1 gave Mets fans hope. Johnette Howard
at ESPNNewYork.com
, Tyler Kepner
in the Times
and Tim Smith
in the Daily News
also review the positive day.
•
Ike Davis
went 0-for-5 with four strikeouts. "The streak continues," Davis told Mike Puma
in the Post
. "Maybe I'm nervous or jitters or swinging too hard. I still have never gotten a hit on Opening Day."
•
From the bloggers
…
Faith and Fear in Flushing
frames Opening Day as the other side of
"to be continued...
" … Shannon from
Mets Police
congratulates the Mets on announcing a sold-out stadium, but is befuddled by the pictures of empty seats he took.
BIRTHDAYS:
Hisanori Takahashi
turns 38. … Al Weis was born on Long Island on this date in 1938.
TWEET OF THE DAY:
I wonder if @adamrubinespn still thinks we're only getting 66 W's this year?

— Real Edwin (@thereal_edwin) April 1, 2013
YOU'RE UP: Does your opinion of the Mets' potential change because of their Opening Day showing?
March, 8, 2013
3/08/13
6:37
AM ET
PORT ST. LUCIE, Fla.
FIRST PITCH:
The Mets make their longest bus trip so far this spring -- more than two hours to Lakeland, Fla.
Dillon Gee
,
Bobby Parnell
,
LaTroy Hawkins
and Cory Mazzoni are due to face the
Detroit Tigers
.
Max Scherzer
and
Phil Coke
pitch for Detroit.
Friday's news reports:
•
Matt Harvey
tossed 4 1/3 no-hit innings
and the
Mets beat the Marlins, 4-1
, Thursday at Tradition Field.
Pedro Feliciano
retired the two batters he faced
-- both lefties -- during the victory, although his fastball velocity was 82-84 mph.
Justin Turner
appeared in the outfield
in a game for the first time since 2006. Matt den Dekker,
who has power
in addition to a solid glove, homered.
Read more on Harvey in the
Daily News
,
Record
,
Post
,
Newsday
and
MLB.com
.
•
Frank Francisco
plans to throw from a mound Saturday
for the first time since reporting to camp with elbow inflammation. Read more in the
Post
and
Star-Ledger
.
•
Jenrry Mejia
(thyroid) is
due to return to camp Friday
. He has been cleared to resume baseball.
Daniel Murphy
(side muscle) is due to swing against a coach.
Kirk Nieuwenhuis
(knee) ran on a submerged treadmill Thursday.
•
Zack Wheeler
threw off a mound Thursday
for the first time since straining his right oblique eight days earlier. Read more in
Newsday
and the
Daily News
.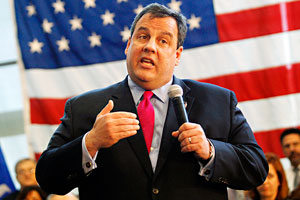 Jessica Kourkounis/Getty Images
New Jersey Gov. Chris Christie likes the Mets' growing young nucleus.

• New Jersey governor Chris Christie plans to be at Citi Field on April 1 as the Mets face the
San Diego Padres
.
"I'll be there on Opening Day," Christie told SiriusXM's Mad Dog Radio channel,
according to the Star-Ledger
. "I like our young pitching. I think our young pitching has a lot of potential. I love
Ike Davis
and
David Wright
, obviously. And I like Daniel Murphy. So I think we've got some pieces. [Travis] d'Arnaud, the rookie catcher, I think we'll see him by midseason.
"But, let's face it, the outfield is challenged. But I think the Mets will have a lot of payroll come off after this year, and I think next year you'll see them get a lot more aggressive about upgrading the outfield and upgrading the bench. And when you have young pitchers like Matt Harvey and Zack Wheeler and Jon Niese, I think that's a pretty good core to move forward with."
•
Mariano Rivera
plans on Saturday to announce his retirement at season's end. Rivera notched his 500
th
career save at Citi Field.
"I have the distinct honor to tell my kids and grandkids one day that I got a walk-off hit against him,'' Wright told reporters, referring to a May 19, 2006 hit. "Obviously that's one of the highlights for me. And for as passionate as New York fans are about the Subway Series, to deliver a walk-off hit against the greatest closer in the game will definitely be a good story for my kids and grandkids one day. It went over Johnny Damon's head in center field."
Read more in the
Post
.
• Marc Carig
in Newsday
discusses Greg Burke's decision to become a submarine-style reliever a year ago.
• Columnist Ken Davidoff
in the Post
suggests the bullpen will determine the difference between the Mets being "mediocre and awful."
• Anthony DiComo
at MLB.com
profiles
Jordany Valdespin
.
•
From the bloggers
… Shannon from
Mets Police
is not a fan of the World Baseball Classic, but wonders: Who is the bigger fool -- the fool, or the fool who buys the fool's jersey? …
The Eddie Kranepool Society
selects its favorites for the 25-man roster. …
Metsmerized
wants no part of any K-Rod reunion.
BIRTHDAYS:
Left-hander Willard Hunter, who pitched for the '62 Mets, was born on this date in 1934.
TWEET OF THE DAY:
In 1962,catcher Harry Chiti was traded for himself. My question is who got the better of the deal?

— Jay Horwitz (@Jay_HorwitzPR) March 7, 2013
YOU'RE UP: When Frank Francisco returns, should he automatically take over the closer's role from Bobby Parnell?
January, 18, 2012
1/18/12
11:29
AM ET
New Jersey Governor
Chris Christie
famously wouldn't run for president, but he will campaign for the Mets GM job if
Sandy Alderson
wants to step to the side.
Christie, whom we are assuming is a Mets fan, made his statements
here
on MSNBC's
Morning Joe
. He was half-joking.
April, 4, 2011
4/04/11
4:41
PM ET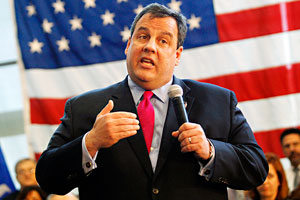 Jessica Kourkounis/Getty Images
New Jersey Gov. Chris Christie is not on the bandwagon just yet after a 2-1 start to the season.

New Jersey Gov.
Chris Christie
does not have high hopes for the Mets this season.
"It smells like an 81-81, this a kissing your sister team," Christie said at a press conference in Trenton, according to the Star-Ledger. "There will be moments when they'll be really good, and we're going to feel momentarily excited. And then there are going to be seven- or eight-game losing streaks where we're not going to want to turn the TV on."
The newspaper also quotes Christie -- a Mets fan -- saying the team's mediocrity would help him focus on getting Republicans elected.
"Another depressing September and October for me, which will probably give me more time to campaign. I'll be going to less Mets games," Christie said, according to the Star-Ledger. "It might be bad news for the Democrats."
NBA
NHL
COLLEGE BASKETBALL
MLB
NBA
NHL
COLLEGE BASKETBALL
MLB
MLS
NBA
NHL
COLLEGE BASKETBALL
MLB