New York Mets:

Chris Denorfia
July, 20, 2014
Jul 20
7:19
PM ET
SAN DIEGO -- At least they weren't no-hit!
The Mets, who stormed into the All-Star break by winning eight of 10 games on their homestand, got tripped up in San Diego to open the second half. In his fifth major league start, eephus-throwing Cuban defector
Odrisamer Despaigne
held the Mets hitless until
Daniel Murphy
's two-out double in the eighth and the Padres ultimately won, 2-1, in Sunday's rubber game at Petco Park.
David Wright
followed Murphy's double with a game-tying RBI single on Despaigne's 123rd and final pitch, snapping an 0-for-11 drought to begin the second half.
However,
Seth Smith
produced a walk-off win for San Diego with a two-out run-scoring infield single against
Josh Edgin
in the bottom of the ninth. Edgin stumbled trying to field the trickler and could not get the ball to first base in time.
Edgin had inherited the winning run on third base with two outs from
Vic Black
, who hurt himself. Black had issued a leadoff walk to
Carlos Quentin
, then had a fielding error on
Alexi Amarista
's sac-bunt attempt to place two on with none out.
The Mets (46-52), who fancy themselves part of the NL East race, fell eight games back of the victorious
Washington Nationals
and
Atlanta Braves
.
Jack Roth/USA TODAY SportsOdrisamer Despaigne held the Mets hitless until Daniel Murphy's two-out double in the eighth.
The Padres, who have played 7,264 games in franchise history, remain the only MLB team without a no-hitter. They had a chance to win the game in the eighth after a leadoff triple by
Will Venable
against
Jeurys Familia
, but
Chris Denorfia
struck out and
Chris Nelson
followed an intentional walk by grounding into an inning-ending double play.
The Mets last were no-hit by Houston's
Darryl Kile
in 1993. They have been no-hit six times in franchise history. The other pitchers to accomplish the feat against the Amazin's: Sandy Koufax (1962), Jim Bunning (1964), Bob Moose (1969), Bill Stoneman (1972) and Ed Halicki (1975).
The Mets had loaded the bases on a hit batter and two walks in the seventh, but
Ruben Tejada
hit a comebacker to Despaigne as the right-hander wriggled free.
Zack Wheeler
departed after Tejada's groundout with the Mets trailing 1-0. Wheeler has now completed six innings and allowed one run in four straight starts. He has sliced his ERA to 3.78.
Yasmani Grandal
reached for a low-and-away pitch and hooked it over the right-center wall to lead off the bottom of the fourth against Wheeler for the lone damage against him. It was Grandal's second straight game with a solo shot to open the scoring.
The Mets also were held hitless two outs into the eighth inning on April 18 against the Braves. After seven no-hit innings by
Aaron Harang
, Wright produced a two-out single in the eighth against reliever
Luis Avilan
that day for the lone hit in a 6-0 loss at Citi Field.
The Mets had been held hitless into the fifth inning Saturday against
Tyson Ross
.
Despaigne had allowed four runs on five hits and five walks in four innings against Las Vegas in his Triple-A debut on May 27.
What's next:
The Mets visit Seattle for the first time since 2005.
Jonathon Niese
(5-4, 2.96 ERA) returns from the disabled list to start the series opener opposite left-hander
Roenis Elias
(7-8, 4.54) at 10:10 pm. ET.
Monday marks the 10-year anniversary of Wright's July 21, 2004 major league debut -- an 0-for-4 performance against the Montreal Expos at Shea Stadium.
August, 16, 2013
8/16/13
1:13
AM ET
SAN DIEGO -- The Mets are not in Dodger Stadium anymore. Thankfully.
Marlon Byrd
cleared right fielder
Chris Denorfia
's head with an eighth-inning shot for a tiebreaking two-run double against
Luke Gregerson
and the Mets beat the
San Diego Padres
, 4-1, in Thursday's series opener at Petco Park.
Zack Wheeler
set career highs with 12 strikeouts and 115 pitches and departed after six innings with the score tied at 1 in a no-decision.
The pitch count was his highest total ever in a pro game. The strikeout total matched the most ever. Wheeler also recorded 12 Ks as a
San Francisco Giants
farmhand on May 29, 2011, with Class A San Jose against Stockton.
The last time a Met recorded that many strikeouts in one of his first 11 career games? Dwight Gooden, who had 14 Ks in his ninth career game, back in 1984.
Wheeler got help from teammates.
Eric Young Jr.
reached over the wall to swat a would-be homer from former Mets farmhand
Rene Rivera
back into the park. Rivera ended up with a one-out triple, but was stranded at third base in the third inning when Wheeler consecutively struck out opposing pitcher
Tyson Ross
and
Will Venable
.
In the fifth, center fielder
Juan Lagares
recorded his 10th outfield assist. Lagares threw out Ross trying to score from second base on a single to end the inning and preserve a 1-all tie.
The lone run surrendered by Wheeler came on a bases-loaded sacrifice fly by
Jaff Decker
in the fourth.
Wheeler's line: 6 IP, 7 H, 1 R, 1 ER, 1 BB, 12 K.
Young and Lagares, incidentally, both are struggling at the plate. Lagares is hitless in his last 13 at-bats. Young is 3-for-26 on the road trip.
Lucky break:
Good thing there is no instant replay yet for base calls. An apparent botched call by first-base ump Brian Knight allowed the Mets to take a 1-0 lead in the fourth.
With two outs and
Daniel Murphy
at second,
Josh Satin
hit a routine grounder to shortstop. Knight ruled
Yonder Alonso
pulled his foot off the bag, giving Satin an infield single. Murphy scored all the way from second base. Replays suggested Alonso had successfully kept his foot on the base while receiving the throw.
Taking the ninth:
Gonzalez Germen
earned his first major league save by recording the final six outs. He handled the closing role with
LaTroy Hawkins
(groin) unavailable.
John Buck
had delivered a solo homer in the top of the ninth to give Germen a three-run cushion.
The last Met to have a two-inning save in a tight ballgame (not logging three-plus innings to finish a rout)?
Aaron Heilman
in 2008. Germen had four saves this season with Triple-A Las Vegas.
What's next:
Jonathon Niese
(4-6, 4.45 ERA) makes his second start since returning from the disabled list. Niese opposes right-hander
Ian Kennedy
(4-8, 4.97) at 10:10 p.m. ET Friday.
July, 25, 2013
7/25/13
7:17
AM ET
NEW YORK
FIRST PITCH:
Zack Wheeler
, who tossed six scoreless innings in his major league debut at Turner Field in Atlanta, albeit with five walks, gets another crack at the Braves in an early start this afternoon.
Wheeler (3-1, 3.58 ERA) opposes rookie left-hander
Alex Wood
(0-2, 2.45) as the Mets look to salvage a split of the four-game series. First pitch: 12:10 p.m.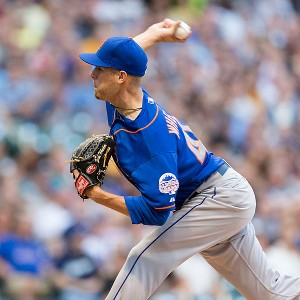 Tom Lynn/Getty ImagesZack Wheeler pitches on turn, despite recently dealing with a blister issue.
The Mets earlier this week debated delaying Wheeler's start a day to allow a blister to further heal, but ultimately decided it was a nonissue and kept him on regular rest. Wheeler has dealt with blister issues throughout his pro career -- both as a
San Francisco Giants
farmhand and with the Mets.
Wood steps in for fellow southpaw
Paul Maholm
, who landed on the disabled list on the eve of the series with a bruised wrist.
With the Mets facing a left-hander,
Josh Satin
should start at first base and
Juan Lagares
in center field.
Justin Turner
also is due for his first start since returning from the disabled list.
Terry Collins planned for Turner to be used at a middle-infield position, but Turner might start at third base if
David Wright
needs a day for a sore back/neck. Wright inadvertently
hit himself with the shattered bat during his own swing
in the fourth inning Wednesday night.
Thursday's news reports:
• The
Texas Rangers
are scouting
Marlon Byrd
among a bevy of outfield options, writes
CBSSports.com
.
Alex Rios
of the
Chicago White Sox
appears Texas' primary target, according to the report. Writes Jon Heyman:
Ideally, Texas would have loved to make a run at young Marlins superstar Giancarlo Stanton, Hunter Pence (a local, being a U-T Arlington product) or perhaps Michael Cuddyer, but with those three apparently unavailable at the moment, the Rangers are surveying a market that's heavy on far lesser talents. Pence would seem to have the best chance to be traded of those three, and Texas would target him if he becomes free. Nolan Ryan is said to be a fan.
Seattle, which has Raul Ibanez, Kendrys Morales and Michael Morse, isn't ready to trade anybody yet. And most believe they'll ultimately keep at least Ibanez and Morales now that they are showing decent signs of life. …
The Rangers reportedly have looked at Norichika Aoki, as well, and Danny Knobler reported they are scouting Marlon Byrd, their former player. Other outfielders who could go in trades include Justin Ruggiano, Chris Denorfia, Nate Schierholtz and Alejandro De Aza.
• Tim Hudson suffered a
gruesome fracture of his right ankle
when he was stepped on while covering first base by runner
Eric Young Jr
. on Wednesday night. Hudson had taken a scoreless effort into the eighth inning when the injury occurred.
"I saw them get tangled up,"
Dan Uggla
told the Atlanta Journal-Constitution
. "I was just hoping he Charley-horsed him or something. I didn't see the extent of it. Once I saw Huddy's reaction, I was like, 'Oh, no. This isn't good.' …
"He was kind of in disbelief, obviously in a lot of pain. You could see just the thoughts going through his head, 'This can't be happening. … This is unbelievable.' That sort of thing. I know he was in a lot of pain."
Young
expressed remorse for what happened
.
"I'm hustling down the line like I always do, going for the base," Young said. "I saw his foot, as I'm going for the base, right there in the middle, as I came down, I knew I didn't get any of the base. I know I got all of his foot. I pretty much knew it was probably broke right as I did it, and that's why I sprinted right back to him and tried to console him as much as I could and apologize.
"I was able to see Tim before they took him to the hospital. He told me it wasn't my fault, just one of those freak plays that happened."
Read more on the injury and reaction in the
Post
and
Daily News
.
•
Evan Gattis
, Uggla and
Andrelton Simmons
all homered against
Jeremy Hefner
as the
Braves beat the Mets, 8-2
at Citi Field. Hefner surrendered six runs (five earned) in 4 1/3 innings. He became the first Mets pitcher to allow three homers in a home game this season. Hefner
has allowed 13 earned runs in 6 1/3 innings
over his past two starts.
Daniel Murphy
had two doubles, but also committed two errors.
Columnist John Harper
in the Daily News
summarizes the night.
Read game recaps in the
Post
,
Newsday
,
Star-Ledger
,
Record
,
Times
and
MLB.com
.
• Read more on Wright's status after getting struck with his own bat in the
Star-Ledger
and
Daily News
.
•
Lucas Duda
and Travis d'Arnaud returned to game action for the first time Wednesday, in the same Gulf Coast League game. D'Arnaud went 1-for-3 and caught five innings in his first official action since fracturing the first metatarsal in his left foot on April 17 with Triple-A Las Vegas.
Duda, who landed on the DL with an intercostal muscle strain on his left side after a June 21 game, went 0-for-2 with a walk. He played five innings in left field. It would have been far more noteworthy because of the implications for
Ike Davis
if Duda had played first base, but that was not the case. Read more in the
Post
.
•
Jonathon Niese
, on the DL with a shoulder issue, is
ready to pitch in a Gulf Coast League game
this weekend or shortly thereafter. He likely will need multiple rehab starts before returning, so rejoining the Mets in mid-August is most likely. Read more in the
Star-Ledger
.
•
Jenrry Mejia
joined the Mets in advance of Friday's start opposite
Jordan Zimmermann
in Game 1 of a doubleheader at Nationals Park.
Matt Harvey
opposes
Ross Ohlendorf
in the nightcap that day. The other matchups that series:
Dillon Gee
versus
Dan Haren
on Saturday and
Carlos Torres
versus
Taylor Jordan
on Sunday.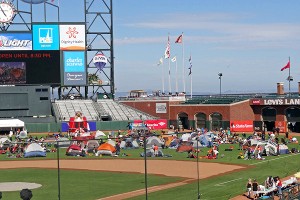 Adam RubinThe San Francisco Giants annually host a sleepover for fans on the night of a day game at AT&T Park.
Mejia told Jorge Castillo
in the Star-Ledger
that he has bone spurs in his right elbow that will need to be surgically removed during the offseason. Doctors proposed removing them during spring training when the issue first flared up, but Mejia preferred taking anti-inflammatory medication to get through the discomfort and to deal with it after the season. Read more in the
Journal
and
Record
.
• Matching an event annually staged at San Francisco's A&T Park, the Mets will host a sleepover for fans at Citi Field on Aug. 10. Unlike with the Giants, it will not occur the night of a home day game. Tickets, which range $175-$200 per person and include admission to the Sept. 28 game against the
Milwaukee Brewers
, go on sale at 10 a.m. today at
Mets.com/sleepover
. The Mets also announced PR man Jay Horwitz bobblehead day will be held Aug. 23. There's also a Third Eye Blind concert after that game against the
Detroit Tigers
.
• Columnist Larry Brooks
in the Post
suggests the Mets are laying the groundwork for a brighter future.
• Mark Cohoon became the all-time innings-pitched leader in Binghamton history and closer Jeff Walters matched Jerrod Riggan's B-Mets single-season record with save No. 28 in a 6-3 win against Reading. Read the minor league recap
here
.
BIRTHDAYS:
Billy Wagner, now spending time with his alpacas, turns 42. … Where's Mota? Guillermo Mota is celebrating his 40th birthday.
TWEET OF THE DAY:
Join me at Mets Social Media Night Aug. 23 @ Citi Field & receive my Bobblehead. For tix visit http://t.co/TcCIqXZaAZ http://t.co/x5n8fXXm65

— Jay Horwitz (@Jay_HorwitzPR) July 24, 2013
YOU'RE UP: Should the Mets hold onto Marlon Byrd unless overwhelmed by a trade offer?
March, 31, 2013
3/31/13
10:15
AM ET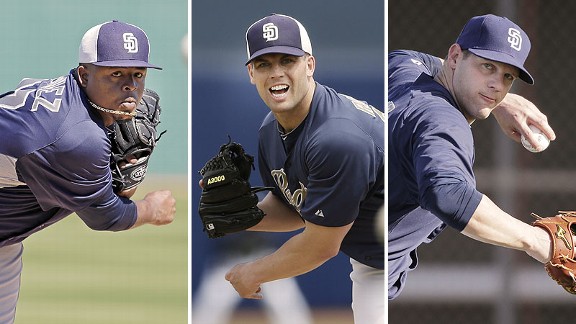 Associated Press
The Mets face (l to r) Edinson Volquez, Clayton Richard and Eric Stults during the season-opening series.
METS (74-88, fourth place/NL East) vs. SAN DIEGO PADRES (76-86, fourth place/NL West)
Monday:
LHP
Jonathon Niese
(13-9, 3.40) vs. RHP
Edinson Volquez
(11-11, 4.14), 1:10 p.m. ET
Wednesday:
RHP
Matt Harvey
(3-5, 2.73) vs. LHP
Clayton Richard
(14-14, 3.99), 7:10 p.m. ET
Thursday:
RHP
Dillon Gee
(6-7, 4.10) vs. LHP
Eric Stults
(8-3, 2.92), 1:10 p.m. ET
Padres short hops
•
Chase Headley
, who finished fifth in NL MVP balloting last season and won the NL's Gold Glove at third base, will open the season on the DL with a fractured tip of his left thumb.
Logan Forsythe
, who was due to fill in, is dealing with plantar fasciitis. So
Cody Ransom
is the Opening Day starter.
Ransom, 37, signed a minor league contract with San Diego in December. He hit a combined .220 with 11 homers and 42 RBIs in 246 at-bats with the
Arizona Diamondbacks
and
Milwaukee Brewers
last season. In 2008, Ransom became the first player in Yankees history to homer in his first two plate appearances with the club.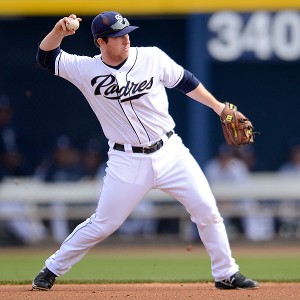 Andy Hayt/San Diego Padres/Getty Images
Jedd Gyorko, who had 30 homers in the minors last season, makes his major league debut against the Mets.

• Volquez will make his third straight Opening Day start, which includes 2011 with the
Cincinnati Reds
. Volquez made three World Baseball Classic appearances for the victorious Dominican Republic, including notching the win against the Netherlands in the semifinals. He walked six in his final Cactus League start, but nonetheless limited the Cincinnati Reds to one run and two hits in five-plus innings.
• Rookie Jedd Gyorko, a second-round pick in 2010 from West Virginia University, will make his major league debut on Opening Day. He hit a combined .311 with 30 homers and 100 RBIs in 2012 between Double-A San Antonio and Triple-A Tucson. The righty-hitting Gyorko will move to third base in place of Ransom, and lefty-hitting
Alexi Amarista
should start at second base, Wednesday against Harvey. The diminutive Amarista has picked up the nickname "Little Ninja."
•
Carlos Quentin
, who had two surgeries on his right knee last year, missed more than two weeks of spring training because of soreness but returned to Cactus League action Tuesday. He is poised to start in left field.
• After dropping a season-worst 22 games under .500 on June 29, the Padres produced a 48-36 record to close last season.
• First baseman
Yonder Alonso
set a Padres rookie record with 39 doubles last season, passing Benito Santiago's former mark (33 in 1987).
• Shortstop
Everth Cabrera
became the first Padre to lead the NL in steals when he produced 44 in 2012. He was 59 for 63 in steal attempts between Triple-A and the majors. His 24 straight successful steals in the majors set a franchise record to start a season. Cabrera is the reigning Nicaraguan Pro Sports Athlete of the Year.
• The Mets reportedly turned down a swap of
Daniel Murphy
for right-handed reliever
Luke Gregerson
last year.
• Right fielder
Chris Denorfia
twice has represented Italy in the World Baseball Classic. He hit .381 in five games in this month's tournament for Mike Piazza's squad.
• Center fielder
Cameron Maybin
hit .198 in his first 71 games and .286 over his final 76 games last season.
• Richard logged 218 2/3 innings last season, which ranked fourth in the NL. He also allowed an NL-high 31 homers.
• Closer
Huston Street
converted 23 of 24 save chances last season (95.8 percent). The only better conversion percentages in franchise history:
Rod Beck
(100 percent, 2003) and
Trevor Hoffman
(98.1 percent, 1998). Street signed a two-year, $14 million extension last July that includes a $7 million team option for 2015.
• A waiver claim last May from the
Chicago White Sox
, Stults went 7-1 with a 2.79 ERA in his final 10 starts last season.
• San Diego's projected Opening Day lineup:
Denorfia, rf
Cabrera, ss
Quentin, lf
Alonso, 1b
Gyorko, 2b
Nick Hundley
, c
Ransom, 3b
Maybin, cf
Volquez, rhp
April, 24, 2012
4/24/12
7:38
PM ET
Newly promoted Zach Lutz played baseball at Alvernia (Pa.) University for his father, Yogi, before the Mets drafted him in the fifth round in 2007.

Now, Lutz has joined exclusive company -- the group of major leaguers from Division III programs.

According to Pat Coleman of D3Sports.com, Opening Day rosters included these players from D-III schools:

Catcher Anthony Recker (Alvernia), Athletics
Outfielder Chris Denorfia (Wheaton, Mass.), Padres
Outfielder Chris Heisey (Messiah), Reds
Pitcher Cole Kimball (Centenary), Nationals
Pitcher Joe Nathan (Stony Brook), Rangers
Pitcher Joe Paterson (Linfield), Diamondbacks
Pitcher Jordan Zimmermann (UW-Stevens Point), Nationals

In addition to Lutz, Charlie Furbush, (St. Joe, Maine), is now up with the Mariners.

Stony Brook, located on Long Island, was moving from D-III to D-I during Nathan's tenure there.
June, 10, 2010
6/10/10
10:25
PM ET
By
Mark Simon
| ESPNNewYork.com
A major cap-tip to Baseball-Reference.com for its assistance in this compilation.
1-
Jonathon Niese's
one-hitter marked the 23rd time a Mets pitcher has thrown a regular season complete game one-hitter of nine innings or more. The Mets also had one in Game 4 of the 2000 NLDS against the Giants from
Bobby Jones
.
2- Of those 23, only two other Mets pitchers threw accomplished the feat without allowing either a hit batsman or a walk --
Tom Seaver
against the Cubs in 1969 (his near-perfect game of 8 1/3 innings) and
Steve Trachsel
against the Rockies.
Niese and Seaver are the only pitchers in Mets history to throw a one-baserunner one-hitter (Trachsel's game also included a Mets error).
3- Technically speaking, it was the 34th one-hitter (complete game or combined) in Mets history (including the Jones' effort in the postseason). But that list includes two losses in which the Mets pitched only eight innings, and two wins in which the Mets pitched fewer than nine innings.
4- This was Niese's 18th major league game pitched. That's the fewest games pitched by any Met to throw a complete game one-hitter (nine innings or more).
Aaron Heilman
held the previous mark, getting a one-hitter in his 21st game, against the Marlins in 2005.
5- Since the Mets came into existence in 1962, Niese is one of only six pitchers to throw a complete game (nine innings or more), yielding one baserunner of fewer, within the first 18 games of his career.
Incredibly, the most recent was by
Mat Latos
, who got the win for the Padres in the first game of the doubleheader. He pitched a one-hitter against the Giants on May 13th in his 17th big league game.
6- Niese is the sixth Mets pitcher, age 23 or younger to throw a complete game one-hitter. The youngest on the list was 19-year-old
Dwight Gooden
(1984 vs Cubs). Others on the list:
Pete Schourek
,
Jon Matlack
,
Gary Gentry
, and
Nolan Ryan
.
7- By the Bill James metric, Game Score (which measures starts based on innings, runs allowed, hits allowed, strikeouts and walks), Niese finished with a game score of 91.
It marked the 40th time that a Mets starter pitched to a game score of 91 or better in a regular season game, the first since
Tom Glavine
scored a 92 with a two-hit, 11-strikeout shutout in 2005.
8- Of a much more trivial nature: Niese drew two walks, marking the 39th time in Mets history that a pitcher had a multi-walk game (the team record is three, shared by
Jay Hook in 1962
and
Jon Matlack in 1975
.
9- This was the third time in Mets history that they pitched a one-hitter against the Padres. The others were by Seaver in 1972 (a no-hitter broken up in the ninth inning) and David Cone in 1988.
10-
Chris Denorfia
, who had the Padres only hit, was born in Bristol, Connecticut, the home of ESPN.
Mark Simon is a researcher for Baseball Tonight. Follow him on Twitter at @msimonespn or e-mail him at webgemscoreboard@gmail.com.