New York Mets:

Chris Hatcher
June, 21, 2014
6/21/14
6:48
PM ET
MIAMI --
Jacob deGrom
officially has a major league win to his credit.
In his eighth major league start, deGrom tossed a career-high-matching seven innings and the Mets beat the
Miami Marlins
4-0 on Saturday.
DeGrom (7 IP, 5 H, 3 BB, 7 K) recorded his final out by retiring
Jeff Baker
on a lineout to right field on pitch No. 97 to strand two runners in the seventh.
Jeurys Familia
and
Jenrry Mejia
handled the final six outs to secure deGrom's first career victory.
The Mets have a 2.83 team ERA over their past 30 games.
The teams have
combined
to score 10 runs through three games of the series (Mets 1-0, Marlins 3-2, Mets 4-0).
Stony Brook University product
Tom Koehler
retired the first 11 batters he faced, until
David Wright
produced a two-out single in the fourth.
After a walk to
Lucas Duda
advanced Wright to second base, the captain scored on
Chris Young
's bloop single (although Duda was tagged out between second and third base). Wright (3-for-4) added an RBI single in the sixth as the Mets took a 2-0 lead.
Since going 2-for-39 in a 12-game stretch, Wright now has a six-game hitting streak.
Duda belted a two-run homer in the ninth against
Chris Hatcher
, which plated Wright.
Ouch:
The Marlins lost two infielders Saturday. Shortstop
Adeiny Hechavarria
was a pregame scratch due to right elbow soreness. Second baseman
Rafael Furcal
departed with left hamstring cramping after failing to beat out a double-play grounder that ended the third inning.
What's next:
Jonathon Niese
(3-4, 2.67 ERA) opposes rookie right-hander
Anthony DeSclafani
(1-1, 5.60) in Sunday's 1:10 p.m. series finale. DeSclafani grew up in Howell, N.J.
March, 2, 2013
3/02/13
6:13
PM ET
PORT ST. LUCIE, Fla. – A half-inning after being charged with two errors while manning second base,
Brian Bixler
delivered a game-tying two-run homer in the bottom of the eighth. That score held as the Mets and
Miami Marlins
played to an 8-8, nine-inning tie Saturday at Tradition Field.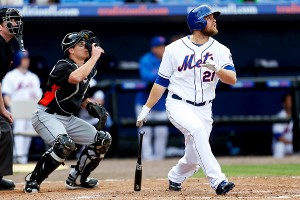 Chris Trotman/Getty Images
Lucas Duda homers in the sixth inning.

Game tidbits:
DUDE!
After a slow start to Grapefruit League play with an adjusted stance,
Lucas Duda
had a leadoff double to left-center in the fifth against right-hander
Chris Hatcher
. Duda then homered against left-hander
Mike Dunn
the following inning.
Duda had been held out of action earlier in the week to regroup after striking out in six of his first seven Grapefruit League at-bats.
"I salute him, the fact that he finally said, 'Look, I'm not ready to play,'" Collins said about a conversation earlier this week. "He would have gone out there and gone out there and gone out there had we not addressed it.
"For him, today he might walk in that locker room and say, 'Yeah, I think I'm going to be OK.'"
Collins particularly was enthused by Duda's opposite-field double.
"That, to me, is one of the big hits he got," Collins said. "We all know he's got the power. The home run was just added. But that ball to left-center field, if he can continue to do that, he's going to be dangerous."
HARVEY SHOW:
Matt Harvey
allowed a leadoff homer to Chris Yelich but no other damage in 2 2/3 innings.
OUCH:
Prospect
Hansel Robles
surrendered five runs in 1 2/3 innings to lift his Grapefruit League ERA to 17.18.
February, 26, 2013
2/26/13
5:01
PM ET
JUPITER, Fla. -- Terry Collins said
Jenrry Mejia
needs to rediscover what happened to the natural cutting action on his fastball -- the movement that once had been compared to the action on Mariano Rivera's cutter.
Mejia surrendered five runs, including a grand slam to
Casey Kotchman
, while lasting only an inning in his first 2013 Grapefruit League action. The Mets ultimately lost to the Marlins, 7-5, Tuesday afternoon at Roger Dean Stadium.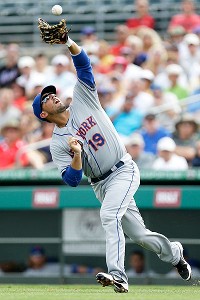 Julio Cortez/Associated Press
Zach Lutz, playing first base, tracks down a pop-up from Giancarlo Stanton during Tuesday's loss to the Marlins.

"I haven't been around him much except for the first year," Collins said, referring to 2011, when Collins oversaw the farm system. "I don't know if with the elbow injury, the Tommy John, there are any mechanical changes that have occurred because of that. I don't know."
Collins said Mejia was prepared for Tuesday's outing, noting the right-hander actually pitched in two games -- not one -- at the team's Dominican academy while his visa issue was being resolved.
Collins added that Mejia ought to have an urgency to perform (although, it's worth noting, Mejia would not be a candidate to break camp with the Mets unless a starting pitcher is unavailable).
"Because he has been throwing every day, he certainly should be ready," Collins said. "… It's a little different when you're a 10-year veteran and you know how to get ready. It's another thing when you're somebody who is trying to impress the manager. … He just threw way too many balls in the middle of the plate."
Collins, like Dan Warthen and Wally Backman previously, suggested he can see Mejia's career role being in the bullpen, even if he is a starting pitcher now.
"Jenrry, maybe, his best slot is going to be coming out of that bullpen," Collins said. "He's got a great arm. If he can regain the cutter that he had three years ago, that's a pretty dynamic situation."
Game tidbits:
MR. PERFECT:
Right-handed prospect Cory Mazzoni tossed three perfect innings in relief of Mejia, including coaxing
Giancarlo Stanton
into a pop out. Mazzoni, a second-round pick from NC State in 2011, has now tossed five scoreless innings in Grapefruit League play, allowing only one hit and no walks.
"He's been everything I heard about him," Collins said. "This winter I had some people tell me, 'Wait until you see [Rafael] Montero and Mazzoni."
WE MEET AGAIN:
Ex-Met
Jon Rauch
tossed a scoreless inning against his former employer. He consecutively retired
Zach Lutz
,
Brian Bixler
and
Landon Powell
.
TWO DEEP:
Hansel Robles
surrendered sixth-inning solo homers to Stanton and
Matt Downs
as Miami built a 7-2 lead.
HOW THEY SCORED:
The Mets produced three runs in the eighth against right-hander
Chris Hatcher
. Travis d'Arnaud contributed a bases-loaded sacrifice fly.
Wilfredo Tovar
added an RBI single.