New York Mets:

Chris Leible
April, 14, 2013
Apr 14
8:39
AM ET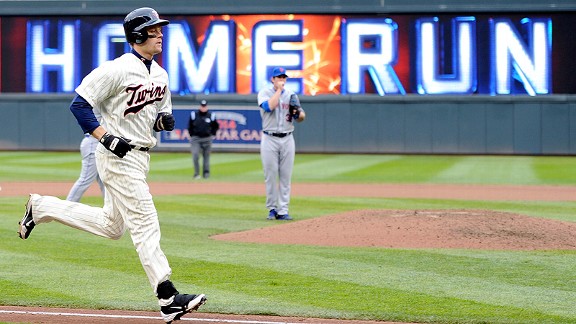 Hannah Foslien/Getty Images
Justin Morneau trots around the bases after breaking up Matt Harvey's no-hit bid with two outs in the seventh with a homer.
MINNEAPOLIS
FIRST PITCH:
The forecast is for a
90 percent chance of freezing rain
throughout the day.
Dillon Gee
opposes
Kevin Correia
this afternoon at 2:10 p.m. ET if the game proceeds, as the Mets aim for a series sweep of the
Minnesota Twins
.
If the game is postponed, conceivably the Mets could bump
Aaron Laffey
-- who is scheduled for Tuesday in Colorado -- all the way until Friday and continue with a four-man rotation.
Sunday's news reports:
•
Matt Harvey
took a no-hit bid two outs into the seventh inning
, when
Justin Morneau
homered off the right-field foul pole. The
Mets ultimately won, 4-2
, against the Twins on Saturday at Target Field. Read game recaps in the
Post
,
Star-Ledger
,
Newsday
,
Daily News
,
Times
and
Record
.
• Sandy Alderson tells Matt Balasis at
Metsmerized Online
that there have not been "any conversations" with the
Miami Marlins
regarding
Giancarlo Stanton
since early in spring training. The GM added that he is not trading
John Buck
at the deadline and suggested the Mets can find a way to get Travis d'Arnaud and Buck on the field at the same time if Buck continues to produce.
• Left-hander Steven Matz limited Rome to an unearned run in five innings and Jayce Boyd belted a three-run homer as Savannah won, 8-6. Read the full minor league recap
here
.
• It's been
cold this trip
. Read more in the
Star-Ledger
,
Post
,
Newsday
,
Daily News
and
Record
.
• Agent Chris Leible
tweeted
that
Jose Reyes
appreciated receiving a supportive call from Terry Collins on Sunday regarding an ankle injury that will sideline the
Toronto Blue Jays
shortstop for three months.
• The Mets have homered in their first 11 games, the longest streak to open a season since Tampa Bay went deep in 12 straight in 2007. Read more in
Newsday
.
• Kristie Ackert
in the Daily News
talks with reliever
Scott Atchison
about his daughter Callie, who was born with the genetic-disorder thrombocytopenia-absent radius syndrome (TAR). She experienced low platelet levels and is missing a set of bones in her forearms.
"She figures out how to do things," Atchison told Ackert. "We worried she would have trouble with writing, coloring, cutting when she went to school, but she has found a way. It may not be the way I would do it, but she finds a way.
"And she has never let this slow her down. She loves school. The teacher said she is the one who is friends with both the girls and the boys. She just finished her first season of T-ball, and she loves soccer. As a parent, I think we worried about what she might miss out on or might not be able to do, but she doesn't. She just shows us how she is going to do it."
• Cody Derespina
in Newsday
statistically addresses whether
Ike Davis
should be facing lefty pitching.
• Jonathan Lehman
in the Post
writes about Double-A right-hander Rafael Montero.
•
From the bloggers
…
Faith and Fear
says "Amen!" after the Third Day of Harvey. … At
Mets Police
, Shannon loves Harvey but worries about both the manager's enthusiasm for no-hitters and the specter of dynamic ticket pricing. …
Rising Apple
offers a statistics-driven piece that attempts to debunk the claim that Ike Davis has already "failed to become a franchise cornerstone."
BIRTHDAYS:
Mike Bomback, who went 10-8 with a 4.09 ERA for the Mets 23 years ago, was born on this date in 1953.
TWEET OF THE DAY:
Morneau got lucky... We need to come up with a nickname for this kid... He's the real deal... Matt "THE REAL DEAL" Harvey !!! @mattharvey33

— Dwight Gooden (@DocGooden16) April 13, 2013
YOU'RE UP: Are you surprised by the Mets' 7-4 start? Or should it be taken with a grain of salt because the series wins have come against the Padres, Marlins and Twins?
December, 14, 2011
12/14/11
2:56
PM ET
At the winter meetings last week, an employee from another organization painted a grim prognosis for
Johan Santana
contributing to the Mets.
I did not dismiss it at the time, but
Terry Collins
-- really a straight shooter -- has been optimistic about Santana being able to contribute, saying he had spoken to the southpaw, who felt good.
Yet the reality is that Santana is a "question mark," just as
Sandy Alderson
acknowledged Tuesday
.
Mark Prior
and
Chien-Ming Wang
also underwent shoulder surgery for a torn anterior capsule. It didn't end well for Prior, and a diminished Wang took exactly two years to return to the majors.
Still, I've reasoned, if the Mets truly thought Santana was a lost cause, they would have to be more aggressive adding a capable starting pitcher, no? That would make a lot more sense than signing
Jon Rauch
for $3.5 million.
In light of Alderson's Tuesday comments, I checked back with the person who offered the prediction a week ago, based on specific information, about Santana.
The person replied: "That info is not really new. Mets downplaying of course. Never know with the shoulder. You can throw great, appear 100 percent, but then can't recover to throw again. [
Jake
]
Peavy
and [
Mark
]
Mulder
are great examples. Resiliency and durability complete unknowns post-shoulder op. Major setbacks and retirement common."
So, Mets fans, hold your breath during spring training. A Santana-less rotation, rather than just a diminished Santana, could be downright scary. Right now it would be
R.A. Dickey
,
Jon Niese
,
Mike Pelfrey
,
Dillon Gee
and a mystery. The candidates could include right-hander
Jeremy Hefner
and left-hander
Garrett Olson
, both of whom were recently acquired.
Santana's velocity dipped from 90 mph to 86-88 mph in his final couple of rehab starts.
Santana, by the way, is owed $24 million in 2012, then $25.5 million in 2013. He also would be owed a $5.5 million buyout of his 2014 option. That's a large percentage of the Mets' shrinking payroll.
ESPNNewYork.com reported in April that Santana's contract is not insured.
UPDATE:
Chris Leible
, an agent for Santana, tweeted: "@johansantana is currently in the midst of his offseason conditioning in prep for spring training. He expects to be ready for #openingday"
November, 13, 2011
11/13/11
6:56
PM ET
If you're a Mets fan and want to preserve your sanity this offseason, here's a bit of advice: Assume Jose Reyes will sign elsewhere and that Ruben Tejada is your 2012 Opening Day shortstop. That should allow you to withstand every report suggesting Reyes imminently is out the door without getting worked up.

Amid the latest report Reyes is on the verge of signing with the Miami Marlins, Chris Leible, who is one of Reyes' agents, and the godfather to two of Reyes' children, tweeted: "Won a softball dh today, clinched 1st seed (22-2) Enjoying the #nfl. Not much else going on #verynormalsunday."

And Leible is an honest man, which affirms there is no imminent move with Reyes.

Of course, it should be noted, Leible is an enormous University of Miami fan. And perhaps he can swing by Coral Gables more often if he had a prominent client in South Florida.
June, 18, 2011
6/18/11
9:05
AM ET
The Mets returned home and lost to the Angels, 4-3, to slip two games under .500.
Saturday's news reports:
• It may be a long shot, but the Mets want to
move one of their full-season minor league affiliates to Long Island
, Newsday reports. The Mets offered a statement that read: "The level of classification of the Mets-affiliated minor league team for the new ballpark is not yet determined, but it would be a full-season club. The provisions and terms of the response are not being made public." The ballpark would be at Mitchel Field, and would be part of the project to build a replacement for Nassau Coliseum, which needs voter approval, and is hardly a given. The owners of the independent Atlantic League's Long Island Ducks also bid. That league wants to put another team in Nassau County.
• Fox's
Ken Rosenthal
reports
Jose Reyes
met with agent
Scott Boras
about a
possible representation switch
. If that materialized, Reyes would be going after straight dollars, and he is likely playing elsewhere in 2012. Still, it's hard to believe Reyes would walk away from longtime agents
Peter
and
Ed Greenberg
and
Chris Leible
. Leible actually is the godfather to one of Reyes' children. The Greenbergs did lose
Rafael Soriano
to Boras last year. The original report stated Boras met last offseason with Reyes in the Dominican Republic, then again during the Mets' visit to Colorado -- and I did see Boras at Coors Field then -- but that part of the report has since disappeared.
• ESPNNewYork.com correspondent
Mike Mazzeo
writes: Hall of Fame catcher
Gary Carter
was
rushed to the emergency room on Thursday night
after experiencing a "serious coughing attack" and having "shooting pains in his back," his daughter,
Kimmy Bloemers
, wrote on a private family website Friday. During Friday's game against the Angels, the Mets placed a huge get-well card for Carter in the Jackie Robinson Rotunda at Citi Field so fans could sign it before it is sent to the Hall of Fame catcher.
•
Francisco Rodriguez
did not get to face his former team Friday night, but says it
will be no big deal
when he does pitch against the Angels.
• Read game stories in the
Star-Ledger
,
Times
,
Daily News
,
Newsday
,
Post
and
Record
.
•
Irving Picard
filed his response
opposing the request of Mets owners to try to move the $1 billion-plus lawsuit out of banruptcy court, Newsday's
Anthony M. Destefano
reports. Writes Destaefano:
Irving Picard, the trustee trying to clean up the financial mess left by Madoff's massive Ponzi scheme, said in filings Friday in federal district court that the Wilpons and their partners in Sterling Equities are trying to do an end run around the bankruptcy court because they aren't happy with the way the case is going. Picard called the move to get the case transferred to Manhattan federal court a "transparent attempt at forum shopping" that has no merit, according to the trustee's filings.
BIRTHDAYS:
Ex-Mets outfielder
Dave Schneck
turns 62. ... Former catcher
Sandy Alomar Jr.
turns 45. Sandy Jr. was 3-for-22 for the 2007 Mets, in his 20th and final major league season. Coincidentally, Alomar's father
Sandy Sr.
also had 22 at-bats for the Mets. He was 0-for-22 in 1967.
-Mark Simon
NBA
NHL
COLLEGE BASKETBALL
COLLEGE FOOTBALL
NBA
NHL
COLLEGE BASKETBALL
NFL