New York Mets:

Chris Rock
August, 23, 2014
8/23/14
5:30
AM ET
Matt Marton/USA TODAY SportsJacob deGrom returns Saturday night at Dodger Stadium after a DL stint for rotator-cuff tendinitis.
NEW YORK
FIRST PITCH:
Jacob deGrom
's NL Rookie of the Year bid, sidetracked by his DL stint, resumes Saturday as the Mets continue their series with the
Los Angeles Dodgers
.
DeGrom, who missed two starts with rotator-cuff tendinitis, has been activated and will face
Zack Greinke
and his balky elbow in the 9:10 p.m. ET game.
The Mets demoted
Rafael Montero
to Las Vegas after Friday's game to clear the roster spot for deGrom. Montero made his first major league relief appearance in the series opener at Dodger Stadium. He surrendered a walk and run-scoring double to
A.J. Ellis
while recording one out.
Saturday's news reports:
•
Wilmer Flores
committed two errors
in a 6-2 loss to the Dodgers
on Friday. Flores' latter error, which came on a two-out throw to first base on
Adrian Gonzalez
''s grounder in the seventh, led to three unearned runs scoring and a 5-1 deficit. Flores earlier had suffered a cut to the back of his throwing hand getting spiked by
Scott Van Slyke
, but Terry Collins said the issue was not serious and X-rays were negative. The Mets originally were charged with four errors, but a scoring change spared
David Wright
an E-5.
Read game recaps in the
Post
,
Daily News
,
Star-Ledger
and at
MLB.com
.
• Mets farmhand Manuel Hilario lost consciousness and suffered a seizure as the result of getting kneed in the head while sliding into second base while playing for the Gulf Coast League Mets on Friday. Hilario was transported by helicopter to a hospital. The Mets reported later in the day that Hilario was in good spirits and may be discharged Saturday. The game against the Nationals in Viera, Fla., was suspended in the fourth inning after the serious injury.
"The coaches were out there and they were yelling to call 9-1-1," Nats pitcher Matt DeRosier
told MiLB.com
. "They said he pretty much had a concussion, but it was such a bad concussion that it made him have a seizure. I think he may have lost feelings in his legs -- it was really scary.
"It was a nice, aggressive slide. He hit the ground really quickly, his helmet flew off, it was pretty instant. His head hit the ground, and after his head hit the ground, he was out. He wasn't moving at all. He locked up and started seizing for about 20 seconds. Everybody was around him, and one of our coaches went to the fire station -- he drove a golf cart and got the situation under control. [Hilario] was out for 10 minutes, just unconscious."
• The Mets plan to work out Cubans Roberto Carlos, a 28-year-old shortstop, and Pavel Quesada, a 25-year-old third baseman, on Wednesday at their complex in the Dominican Republic, Mike Puma reports
in the Post
.
•
Bartolo Colon
rejoined the Mets and was activated from bereavement leave before Friday's game.
Gonzalez Germen
was demoted to Vegas to open the roster spot. Colon, whose mother passed away Monday, is due to pitch Sunday against the Dodgers. He is expected to return to the Dominican Republic after that start for his mother's funeral.
Rich Gagnon/Getty ImagesGarrett Richards' knee injury means the Angels ideally need to acquire a quality starting pitcher.
• With the
Los Angeles Angels
losing
Garrett Richards
for the season due to a torn patellar tendon in his left knee that was surgically repaired Friday, there is speculation the AL West club could be a trading partner for the Mets. Colon, though, as of Friday morning reportedly had not yet been placed on waivers.
Jonathon Niese
reportedly cleared waivers earlier this month and is eligible to be traded to any team as a result.
Writes Bill Shakin
in the Los Angeles Times
:
The Mets could let Colon go on waivers, sticking the Angels with the entire $12.5 million bill. Of course, since every other team knows the Angels need a starter, all it would take is one team to claim him and block the Angels from getting him. The Oakland Athletics probably would want to keep Colon out of Anaheim -- and, by having the best record in the American League, the Angels get last priority in claiming National League players.
However, if the Mets or any other team decided to engage in discussions about trading a pitcher, the Angels' perilously thin farm system could become an issue. The Angels traded five of their better prospects -- from a system already ranked as the worst in baseball -- to acquire relievers Huston Street and Joe Thatcher.
• Phil Mushnick
in the Post
labels current spot starter Steve Gelbs the "heir apparent" to Kevin Burkhardt as Mets field reporter on SNY. Writes Mushnick:
Steve Gelbs, heir apparent to Fox-bound Kevin Burkhardt as SNY's Mets games rover, has been both relaxed and useful. From Oakland, he reported that because the stadium doubles as the Raiders' field, the pitching mound sits on a large, haul-away pallet. Neat.
• The Las Vegas 51s announced their in-house awards for the season.
Matt den Dekker
was named the "Mayor's Trophy" winner in a vote by fans.
Andrew Brown
was named Most Valuable Player. Logan Verrett was named Most Valuable Pitcher.
Brandon Allen
received the Community Service Award.
• Noah Syndergaard was charged with six runs (five earned) in six innings and Matt Reynolds went 4-for-4 with a walk for Las Vegas 8-7, 11-inning win against New Orleans. Danny Muno had a walk-off RBI single. Dilson Herrera drove in four runs and Jayce Boyd had a three-run homer as Binghamton beat Akron, 12-3. Read the full minor-league recap
here
.
• Binghamton, which clinched a playoff berth on its off-day Thursday, did the traditional clubhouse celebration after winning Friday's game. Watch a short video clip captured by Herrera
here
.
• Marc Carig
in Newsday
looks into who closes in 2015 --
Jenrry Mejia
or
Bobby Parnell
.
"When Bobby Parnell comes back, he will be pitching during his rehab as if he's the closer, because that's … certainly in our plan when he gets back," Collins said. "… There's nothing etched in stone because certainly somebody can stand up and show up and say 'OK, I'm going to take that job.' And when Bobby's ready, we've got a nice problem on our hands. But looking that far ahead, we certainly can't have any idea who is the guy pitching in the ninth."
• The Mets are plus-147 in getting the benefit of strike calls this season, fifth-best in the majors, because of their catchers' ability to frame pitches, Jeff Sullivan writes
at Foxsports.com
.
• So Chris Rock is a Mets fan, right? After all, he leads that "Let's Go Mets!" chant at Citi Field and once professed as much to David Letterman. Well, Rock was shown catching a foul ball and admirably giving it to a young fan at Yankee Stadium this week. And he was wearing a
Yankees
cap at the time. Watch the video evidence
at Mets Police
.
• Everett Merrill
at Baseball America
chronicles Brooklyn's positive attendance track record.
• Jared Diamond
in the Journal
looks at innings caps.
BIRTHDAYS:
Julio Franco
turns 56. ... Ed Hearn is 54. ...
Prentice Redman
is 35. ...
Pat Strange
is 34. ...
Raul Casanova
is 42.
TWEET OF THE DAY:
Yesterday #Mystere threw the first pitch at the @LasVegas51s game! We think it was a home run! pic.twitter.com/riO7w6JnaS

— Cirque du Soleil (@Cirque) August 22, 2014
YOU'RE UP: Should the Mets call up Matt Reynolds to play shortstop in September?
July, 10, 2013
7/10/13
8:10
PM ET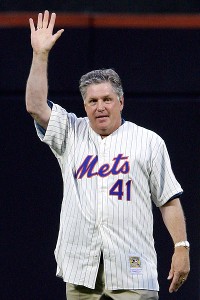 Frank Franklin II/Associated PressTom Seaver will throw out the ceremonial first pitch before Tuesday's All-Star Game.
SAN FRANCISCO -- There will be no shortage of VIPs at the All-Star Game at Citi Field, including The Franchise.
Tom Seaver will throw out the ceremonial first pitch at Citi Field before Tuesday's All-Star Game, the first in Queens since the 1964 game in the Mets' inaugural season at Shea Stadium.
Other celebs:
• Hall of Famer Frank Robinson, retired manager Tony La Russa and ex-Mets Dwight Gooden, Ed Charles, Ed Kranepool, Art Shamsky and Barry Lyons will attend the MLB All-Star 5K & Fun Run benefiting Sandy Relief on Saturday at Brooklyn's Prospect Park.
• Mike Piazza as well as Chris Rock, Kevin James, George Lopez, Ashanti, Miss America 2013 Mallory Hagan and Jennie Finch will participate in Sunday's softball game.
• Pitbull will perform prior to the Home Run Derby on Monday at Citi Field.
• American Idol winner Candice Glover will perform the national anthem and Marc Anthony will sing "God Bless America" during the seventh inning stretch at Tuesday's All-Star Game.
July, 2, 2013
7/02/13
7:15
PM ET
NEW YORK -- Mets fans Chris Rock and Kevin James will be two of the celebrities that will play in the Taco Bell Legends & Celebrity Softball Game at Citi Field on July 14, according to a press release. The game will be televised at approximately 10:30 p.m. on July 15, following the Home Run Derby.
Other celebrities slated to play include actor George Lopez, singer/actress Ashanti, Miss America 2013 Mallory Hagan, TV host AJ Calloway, ESPN analyst and Olympic Gold medalist Jennie Finch, former Jets quarterback Boomer Esiason, radio host Craig Carton, singer/actor Chord Overstreet, actor James Denton, comedian Gary Valentine and Wounded Warrior Amputee softball player Josh Wege.
Former MLB greats that will participate include Mets catcher Mike Piazza, Mets and Yankees outfielder
Rickey Henderson
, Mets closer
John Franco
, Yankees outfielder
Bernie Williams
, Mets and Yankees pitcher Dwight Gooden, Mets and Yankees outfielder Darryl Strawberry, Expos outfielder Andre Dawson, A's pitcher Rollie Fingers, Red Sox outfielder Fred Lynn, Cardinals shortstop Ozzie Smith and White Sox first baseman
Frank Thomas
.
The Legends & Celebrity game will be preceded by the All-Star Futures Game, which starts at 2 p.m.
April, 1, 2011
4/01/11
8:12
AM ET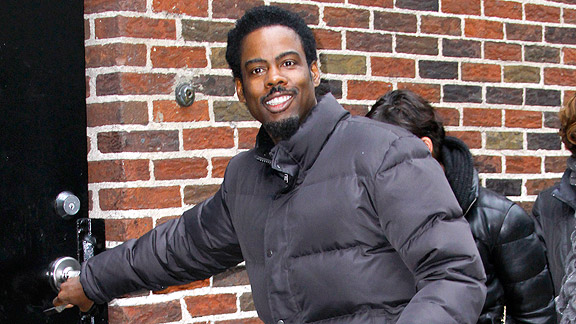 Donna Ward/Getty Images
Chris Rock, a Mets fan, unloaded on his favorite baseball club while a guest with David Letterman.
Chris Rock
made the Mets his personal punching bag during a visit to
David Letterman's
show as baseball season gets started. You may remember Rock is really a Mets fan, and once recorded a "Let's Go Mets!" chant to play on the scoreboard.
"I'm a Met fan, Dave," Rock says. "I appreciate the Yankees. Don't get me wrong. But, you know, they've got all the money. It's like rooting for
Steve Jobs
to hit the Lotto or something. I can't go there. [
CC
]
Sabathia's
kids, they live around the corner. They play. But I'm a Met fan.
"My team's broke, Dave. Some teams don't have a cleanup hitter. Some teams don't have a closer, or a good pitcher. My team has no money, Dave."
"What happened to the money?" Letterman asks. "Where did that go?"
"
Bernie Madoff
and the Mets ... I don't know Dave," Rock continues. "I didn't go to school, Dave. How am I supposed to know this? I'm just some lonely comedian. But they are broke, Dave."
"Do you have season tickets?" Letterman says.
"Dave ... they don't have tickets no more, Dave," Rock says.
"Really? No more tickets?"
"No more tickets. Tickets cost money. They're on paper. They have no paper, Dave. ... A dog licks your hand, and you show the spit, and they let you in."
"A dog actually licks your hand?"
"Yes. They have no money Dave. Do you understand what I'm trying to say?"
"Now I understand," Letterman says.
"Dave, this year, second base is a manhole cover, Dave."
"Really? Oh my god."
"For the whole year. The whole year. Between every inning, they use the other teams' gloves."
"And you say the problem is what again?"
"They've got no money. ... No catcher's mask this year. They just get an ugly guy already. The Yankees have got bat day. The Mets have got bring a bat day. 'Here you go
Jose Reyes
. My daddy gave me this for Christmas. Maybe you can use this.'"