New York Mets:

Cleon Jones
June, 18, 2012
6/18/12
8:12
AM ET
After sweeping the Rays at the Trop, the Mets returned home and found themselves swept by the NL Central-leading Reds.
Chris Young
surrendered three fifth-inning runs (two earned) and
Cincinnati won Sunday's finale, 3-1
, at Citi Field. Reds starter
Johnny Cueto
, shaking off in-game dizziness, limited the Mets to a bases-loaded walk to Young in seven innings. The Mets went 3-for-18 with runners in scoring position during the series.
The last time Cincinnati swept the Mets: April 4-7, 2005 at Great American Ball Park, in the first series of the "New Mets," with
Willie Randolph
as manager as
Pedro Martinez
and
Carlos Beltran
also debuting.
Monday's news reports:
• Read game recaps in the
Times
,
Record
,
Newsday
,
Star-Ledger
,
Post
,
Daily News
and
Journal
.
•
Eli Manning
, with 14-month-old daughter
Ava
cradled in his left arm,
tossed the ceremonial first pitch
to
David Wright
before Sunday's game. Read more in the
Daily News
and
Times
.
•
R.A. Dickey
opposes Baltimore right-hander
Jake Arrieta
in the opener to an interleague series Monday night at Citi Field. Perhaps the better matchup is Dickey versus
Matt Cain
, who is starting for San Francisco tonight against the Los Angeles Angels. After all, both are strong candidates to start for the NL in the July 10 All-Star Game at Kansas City.
ESPN Stats & Information guru
Mark Simon
notes Dickey enters the start with an eight-game winning streak, 2.20 ERA and a streak of four straight starts without allowing an earned run. The knuckleballer's franchise-record 32 2/3-inning scoreless streak ended in the ninth inning at the Trop last Wednesday when
Wright committed an error,
Mike Nickeas
had a pair of passed balls and a groundout plated an unearned run. Cain, meanwhile, has a 2.18 ERA -- 0.59 in his past four starts -- as well as a seven-game winning streak.
Writes Simon in comparing the duo:
We'll use Bill James Game Score, which is a scale that rates starts usually on a 0-100 scoring, based on a pitcher's innings pitched, runs, hits, strikeouts and walks. Cain's perfecto is one of the rare starts in baseball history that surpassed 100. (He finished with a 101.) Dickey's one-hitter last Wednesday was a 95.
Dickey's average Game Score this season is a 64.7. He's had five straight starts with a Game Score of 74 or better, the first pitcher to do that since Chris Carpenter had six straight in 2005. The only other Mets pitchers to run off five straight starts of that nature were Tom Seaver in 1975 and Dwight Gooden in 1985. Of Dickey's 13 starts, 11 have rated above MLB average. (Average historically has been a Game Score of 49.)
Cain has Dickey beat in this area. His average game score thus far is a 66.8. He posted a Game Score of 96 in a start earlier this season and is the first pitcher with two starts in a season of 96 or better since Randy Johnson in 2002. (The only pitcher with three in the Live Ball Era was Nolan Ryan in 1990.) Cain has 10 starts out of 13 with a Game Score of 50 or higher, one fewer than Dickey.
The highest average game scores among NL starters:
Cain 66.8
Dickey 64.7
Gio Gonzalez
63.0
Ryan Dempster
62.4
Brandon Beachy
62.0
•
Jason Bay
, who stayed away from Citi Field during the weekend as he deals with concussion symptoms, may be
examined by doctors Monday
. After a July 23 concussion two years ago, which Bay suffered at Dodger Stadium, the left fielder missed the remainder of the season.
Terry Collins
said "anything's possible" when asked if Bay might miss the remainder of this season now too.
"We are going to follow the doctor's lead,''
Sandy Alderson
told
Kevin Kernan
in the Post
. "We certainly are not going to push to get him back if it is not medically indicated at this point, particularly with the fact that he has a history. We have to be cautious and make sure from a medical standpoint. It's a tough situation because he plays all out. He gives it everything he's got. The results have not been what he would like, what Mets fans would like, but it's really unfortunate that some people can't separate the effort from the results."
A fresh reminder of the gravity of concussions will be in the visitors' dugout during the upcoming series.
Brian Roberts
returned last week after missing nearly 13 months with the effects of concussions.
Eduardo A. Encina
in the Baltimore Sun
writes:
[Dr. Michael] Collins said Roberts' return is a major success story when it comes to concussions. When he first began working with Roberts, the goal wasn't a return to big leagues. It was making sure Roberts could live out his daily life without suffering from concussion symptoms -- among them the headaches, dizziness, nausea and fatigue that Roberts overcame during his recovery. "I think anybody who knows Brian knows how badly he wanted to get back to playing," said Collins, who played college baseball at Southern Maine. "But we didn't even think about that until months into it. It's a hard injury for someone to go through. Everyone thinks, well 13 months is a long time, but actually I've got to tell you, it's a good outcome. To get him back to playing, not every athlete that goes through what Brian went through gets back to playing. A lot of players who've gone through what he's gone through have had to hang them up. He persevered through it."
Read more on Bay in the
Daily News
,
Newsday
,
Record
and
Star-Ledger
.
•
Ruben Tejada
is scheduled to make a second attempt at a rehab assignment with Triple-A Buffalo on Monday night. His first try two weeks ago was abandoned when Tejada had a recurrence of trouble with the right quadriceps, which originally sent him to the DL.
Ronny Cedeño
(calf) has now played three rehab games with the Bisons, all manning shortstop. He went 1-for-4 Sunday and is now 2-for-11 with a walk and two strikeouts with the Triple-A club. Collins has estimated a midweek activation from the DL for Cedeño.
• Collins
had an easy explanation
for sending
Scott Hairston
to pinch hit for
Ike Davis
in the eighth inning Sunday against left-hander
Sean Marshall
with two men on base, even though Davis -- whose average has climbed to .194 thanks to an eight-game hitting streak -- has started to heat up. Hairston grounded out, but there is no question he mashes left-handed pitching. He is hitting .338 with seven homers in 74 at-bats against southpaws even after Sunday's unsuccessful matchup against Marshall. Davis similarly had been replaced for a pinch-hitter Friday, against nasty southpaw
Aroldis Chapman
. Read more in
Newsday
.
• Columnist
Mike Vaccaro
in the Post
reviews the all-time Mets team selected for SNY by a panel of experts, which included him. The winners:
Mike Piazza
, c
Keith Hernandez
, 1b
Edgardo Alfonzo
, 2b
Wright, 3b
Jose Reyes
, ss
Cleon Jones,
lf
Beltran, cf
Darryl Strawberry
, rf
Tom Seaver
, rhs
Jerry Koosman
, lhs
Roger McDowell
, rhr
Tug McGraw
, lhr
Davey Johnson
, manager
On Beltran, Vaccaro writes:
Oh, this is surely where we'll hear some backlash from backers of Mookie Wilson, Lenny Dykstra and Tommie Agee, but Beltran was the most complete everyday player the Mets ever had, his seven-year stats dwarf Dykstra's and Mookie's, and though Agee should be remembered fondly as a core member of the '69 Miracle boys, he had just three average to above-average seasons with the Mets.
The show will be televised Thursday night on SNY. Read more in the
Daily News
.
• Young, who has returned from surgery to repair a torn anterior capsule in his right shoulder, was pleased with exceeding 100 pitches in back-to-back starts while working on standard rest in Sunday's outing. Young actually was tagged with his first loss since June 14, 2009. Of course, he has made only 11 major league starts over the past three seasons. Read more in the
Star-Ledger
and
Post
.
• Right-hander
Collin McHugh
, a sleeper but legitimate prospect scouts compare with
Dillon Gee
, was promoted from Double-A Binghamton to Buffalo and will make his Triple-A debut Monday for the Bisons at Norfolk. In 30 Double-A appearances (28 starts) over roughly a calendar year, McHugh went 13-7 with a 2.68 ERA. He takes the rotation spot of
now-reliever
Jenrry Mejia
. "He was legitimately our best starter, most consistent starter in the second half of the season last year,"
Wally Backman
, who managed McHugh in Double-A last season, told
Mike Harrington
in the Buffalo News
. "And that was with a couple other big boys there too [
Matt Harvey
and
Jeurys Familia
]. He knows how to pitch. He's not a power guy, but he can sink it, he can cut it, make the ball do things."
• Mejia had a rough second appearance since a move to the bullpen as Pawtucket beat Buffalo, 6-1. He faced five batters and allowed two hits, a walk and hit a batter. Mejia also had a wild pitch. "Command was definitely an issue," Backman told Harrington. Read Sunday's full minor league recap
here
.
• The Brooklyn Cyclones open their season tonight at Coney Island against the Staten Island Yankees. The roster includes 2011 first-round pick
Brandon Nimmo
, a high school outfielder from Wyoming, as well as this month's supplemental first-round pick, Purdue catcher
Kevin Plawecki
. Read more in the
Daily News
.
• Seaver discussed
Johan Santana's
no-hitter with
Stephen Hayes
in
Newsday
.
•
Mark Hale
in the Post
notes
Daniel Murphy's
power has been absent all season as well as the second baseman's recent overall production. Murphy is hitting .148 since June 4 with no walks and two extra-base hits in 50 plate appearances. His average has slipped to .274 as well. Writes Hale:
Murphy's last homer was back on last July 16 -- he has gone 338 at-bats and 364 plate appearances since going deep, which is absolutely staggering. "Just not centering the ball enough," Murphy said.
TRIVIA:
Who were the Game 1 starters when the Mets faced the Orioles in the 1969 World Series?
Sunday's answer: The last Met to start an All-Star Game:
Dwight Gooden
, in 1988. Gooden started opposite the AL's
Frank Viola
at Riverfront Stadium in Cincinnati.
May, 24, 2012
5/24/12
9:00
AM ET
By
Mark Simon, ESPN Stats & Information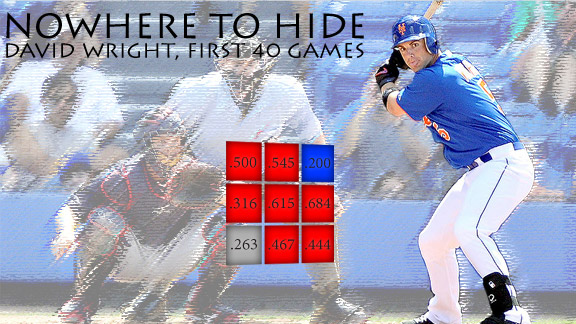 US Presswire/Brad Barr; Photo Illustration by Trevor Ebaugh, ESPN Stats & InformationDavid Wright has a high batting average in just about every area of the strike zone.
Through 40 games,
David Wright
is hitting .399 with four home runs, 26 RBIs and a 1.099 OPS.
It is one of the best 40-game stretches in Mets history, though there are a few that surpass it. With the help of the Elias Sports Bureau and Mets historian
Greg Prince
, we remember a half-dozen of the other top 40s in Mets history:
Frank Thomas, 1962
The Mets were terrible but lovable in their early days, and thanks to playing in a Polo Ground ballpark where cheap home runs were commonplace, they had an immediate star with a hitter who tallied impressive numbers in his first 40 games of 1962.
Thomas hit .333 with 13 home runs and 31 RBIs in his inaugural 40 as a Met, setting a standard for others to follow.
Cleon Jones, 1969
Jones hit .378 with seven home runs, 32 RBIs, and 32 runs scored in his first 40 games. The start would launch Jones to set a Mets record with a .340 batting average, a mark that would last for multiple decades.
The year would end well for Jones as well. He would catch the final out of the World Series.
Keith Hernandez and Gary Carter, 1985
We list Hernandez and Carter together because they are forever linked by a championship in 1986. But a year earlier, the two closed the season with a pair of amazing runs.
Hernandez's final 40 games of 1985 were marked by a series of huge hits. He hit .354 and reached base 74 times via hit, walk or error as the Mets fell just shy of the NL East title.
The big moments included a game-winning, ninth-inning home run in San Francisco against the Giants and a walk-off hit on Sept.12 against the Cardinals that put the Mets in first place against their then archrivals.
Carter matched Hernandez for big hits and then some.
Over the 40 games he played from Aug. 23 to the next-to-last day of the regular season, he hit .325 with 15 home runs, 38 RBIs and a 1.048 OPS. He had 15 go-ahead RBIs in that stretch, four more than any other player in the majors over that time period.
Darryl Strawberry, 1990
Strawberry struggled to hit in the first 40 games of the 1990 season, and was hitting just .230 with five home runs coming into a May 26 matchup with the Padres.
A Strawberry eighth-inning home run against Calvin Schiraldi was the finishing touch for the Mets offense in an 11-0 win over the Padres and started arguably the best barrage in Mets history.
Over the 40-game stretch from May 26 to July 14, 1990, Strawberry hit .372, with 18 home runs and 42 RBIs. He had as many home runs in that stretch as he did strikeouts. No Met hit more in a 40-game span than this one.
John Olerud, 1998
On July 11, 1998, Olerud went 4-for-4 with a pair of home runs in an 8-4 win over the Expos. This would begin his most torrid 40-game stretch as a Met, one in which he hit .408 with 10 home runs, 29 RBIs and a 1.148 OPS.
Olerud would carry his hot streak all the way through to the end of the season, as the Mets fell one game shy of the NL wild card. He'd finish the season with a Mets-record .354 batting average.
Mike Piazza, 2000
Piazza seemingly had a bunch of of these 40-game bursts in each of his first four seasons with the Mets. You can take your pick from a couple that look alike.
We'll look at one from the NL pennant-winning 2000 season.
On April 14, 2000, Piazza went 5-for-6 with two home runs and four RBI in a 12-inning win in Pittsburgh.
That started a tear that lasted beyond 40 contests, but at the point at which we cut it off, Piazza had a .383 batting average, 12 doubles, 14 home runs, 33 RBIs and a 1.254 OPS.
The most memorable of his hits would be a game-winning home run against Padres reliever
Trevor Hoffman
, though two days after this stretch concluded, he'd hit a grand slam against
Roger Clemens
.