New York Mets:

Clint Barmes
September, 25, 2012
9/25/12
8:18
AM ET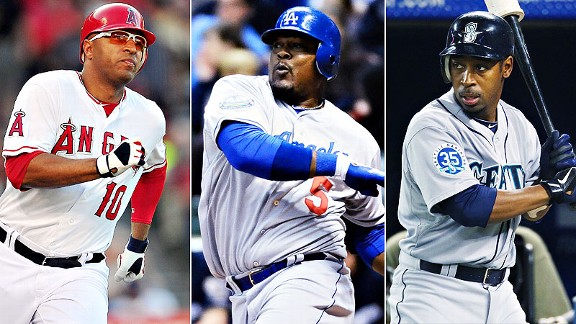 US Presswire
Vernon Wells, Juan Uribe and Chone Figgins (l to r) are among the bloated contracts around Major League Baseball.
The Mets' first task this offseason regarding
Jason Bay
, and for that matter
Johan Santana
, likely should be to see if any team has trade interest. A swap appears unlikely, though, even discounting the no-trade clause each possesses.
After all, Bay is hitting .155 with eight homers in 187 at-bats. And he is owed $19 million next season including a 2014 buyout, making it a toxic contract.
Similarly, Santana -- despite the June 1 no-hitter -- finishes the season on the DL after allowing six-plus runs in each of his final five starts. Santana is owed $31 million next season including a '14 buyout.
Still, if the Mets were to find another team with toxic contracts to swap, who is logical? With the help of reporters around baseball, here's a look …
THEY'VE GOT POTENTIAL
Angels: "
Oh, you've come to the right place," our friend who covers the Angels says. "The Angels have the deadest of dead weight --
Vernon Wells
. The Angels are paying Wells $21 million this year to be their fourth outfielder. They owe him $21 million more in 2013 and again in 2014."
Blue Jays:
Left fielder/first baseman
Adam Lind
(.240, 10 HR, 40 RBIs) is owed $5 million in 2013. With buyouts of option years, the minimum owed is $7 million. "He cleared waivers at one point this season and the Blue Jays would love to get rid of his contract -- even though it's unlikely that can happen," a team observer said.
Braves:
Second baseman
Dan Uggla
(.215, 19 HR, 73 RBIs) is owed $39 million over the next three seasons.
Cubs:
Alfonso Soriano
($18 million apiece in 2013 and '14) and
Carlos Marmol
($9.8 million next season) are the remaining sizable contracts.
Dodgers:
The Dodgers inherited
Carl Crawford
($102.5 million through 2017) and
Josh Beckett
($31.5 million through 2014) while acquiring
Adrian Gonzalez
, but both should contribute. The least-productive contract:
Juan Uribe
, who finally pinch hit Sunday after going unused for nearly a month. Uribe, with one year remaining, is still owed $8 million.
Mariners:
Left fielder
Chone Figgins
(.183, 2 HR, 11 RBIs) is owed $8 million next season. Center fielder
Franklin Gutierrez
(.258, 4 HR, 14 RBIs) is owed $7.5 million in 2013 with a buyout of the following season. Says one observer: "Gutierrez has been hurt or sick for most of his deal and might produce if ever healthy. Figgins is literally dead weight." Bay does live in the offseason in Seattle. And the combined $15.5 million owed to those two are close to Bay's $19 million.
Marlins:
Heath Bell
has two years, $18 million guaranteed remaining. He also has a $9 million option for 2015 based on games finished -- 55 the previous season or 100 combined in 2013 and '14. (The Mets have been down that route before.)
Pirates:
Clint Barmes
is signed for 2013 at $5.5 million. He's hitting .228/.266/.325 with eight homers.
Red Sox:
John Lackey
(12-12, 6.41 ERA) has two years left for a combined $30.5 million, with a 2015 club option at the major league minimum because of a preexisting elbow injury.
Twins:
Nick Blackburn
(4-9, 7.39 ERA) and middle infielder
Tsuyoshi Nishioka
-- both relegated to the minors -- are under contract for 2013 and "practically sunken cost." Blackburn is owed $5.5 million. Nishioka is owed $3.25 million including a 2014 buyout. The Twins likely would never trade
Joe Mauer
, despite him being owed $23 million annually through 2018.
Yankees:
Alex Rodriguez
to Flushing? Don't hold your breath. Still, A-Rod is owed $114 million over the next five seasons.
Mark Teixeira
and
CC Sabathia
could emerge as bad contracts, with $90 million over four seasons and $119 million over five seasons owed, respectively.
May, 23, 2012
5/23/12
2:55
PM ET
WHAT IT MEANS: The Mets split a six-game road trip to Toronto and Pittsburgh with a 3-1 rubber-game victory against the Pirates on Wednesday afternoon along the shores of the Allegheny River.

Frank Francisco produced a 1-2-3 inning for a save for the second straight day.

HOW NICE: Coming off an outing in Toronto to open the road trip in which he matched a career high by allowing eight runs, Jon Niese took a scoreless effort into the sixth inning. He then allowed a leadoff double by Josh Harrison and one-out RBI single by Andrew McCutchen that pulled the Pirates within 3-1. Niese held the line there that frame, though, coaxing a 6-4-3 double play from Neil Walker.

Niese departed with two out and two runners aboard in the eighth after walking Gorkys Hernandez. Bobby Parnell entered to face McCutchen, and catcher Rob Johnson tried to catch Hernandez straying too far off first base. Johnson's snap pickoff attempt was missed by first baseman Ike Davis, and an E-3 was charged as both runners advanced.

Parnell made it immaterial by striking out McCutchen on a 98 mph fastball to strand the two runners in scoring position and preserve a two-run lead.

Niese's final line: 7.2 IP, 5 H, 1 R, 1 ER, 2 BB, 5 K. It was his longest outing since also going 7 2/3 innings on Aug. 11, 2011 against the San Diego Padres.

PIRATE CASTAWAY: The Pirates declined a $3 million option on Ronny Cedeno last offseason and instead signed Clint Barmes to serve as their shortstop. Cedeno then settled for a $1.1 million contract and backup role with the Mets. He got a little payback against his former club this week. Cedeno went 5-for-10 during the three-game series while manning shortstop in place of soon-to-be-returning Ruben Tejada. Tejada (quadriceps) appeared in his first extended spring training game Tuesday.

MR. .400: David Wright briefly dipped under .400 after being retired in his first two at-bats Wednesday. Wright then delivered an RBI double against Charlie Morton in the fifth inning that staked the Mets to a 3-0 lead. But after striking out in his fourth AB to finish 1-for-4, Wright's average ended the trip at .399.

It's the first time Wright completed a day under .400 since May 14.

Kirk Nieuwenhuis had preceded Wright's fifth-inning at-bat with a sacrifice fly. The Mets had opened the scoring in the first inning on Lucas Duda's RBI single.

IT'S A HIT: Davis, who entered the day mired in a 2-for-33 rut, singled in his first at-bat. He finished 1-for-4, striking out on a pitch in the dirt and well out of the strike zone in his final plate appearance.

WHAT'S NEXT: The Mets return to Citi Field for an 11-game homestand during which they face San Diego, Philadelphia and Carlos Beltran's St. Louis Cardinals. Jeremy Hefner (0-1, 2.25 ERA), after two quality relief appearances, makes his first major league start in Thursday's series opener against the Padres, opposite left-hander Eric Stults (0-0, 2.70). Hefner takes the slot formerly held by Miguel Batista, who landed on the DL on Sunday with a lower back or oblique strain.
May, 22, 2012
5/22/12
6:00
AM ET
PITTSBURGH --
Mike Baxter
and
Kirk Nieuwenhuis
had a communications gaffe on an eighth-inning fly ball, resulting in a three-base error, and
Clint Barmes
followed with a game-deciding sacrifice fly as the Pittsburgh Pirates rallied from a four-run deficit to
beat the Mets, 5-4
, Monday at PNC Park.
According to the Elias Sports Bureau, it was Pittsburgh's biggest come-from-behind victory since June 1, 2009, also against the Mets -- when a five-run lead for the Amazin's turned into an 8-5 loss that included five straight batters reaching against
J.J. Putz
in a five-run eighth. Putz made only one more appearance as a Met, also in that series, before undergoing season-ending elbow surgery.
The Pirates' string of 160 straight games trailing by four-plus runs without a comeback victory was the second-longest in MLB history, according to Elias. Only the the Washington Senators, who had 178 straight losses when they trailed by four-plus runs from 1906 to 1910, had a longer drought.
Tuesday's news reports:
•
Johan Santana
could not hold a four-run lead
. He surrendered a game-tying two-run homer to No. 8 hitter
Michael McKenry
in the seventh. His record stands at 1-2 after nine starts this season.
• Read game recaps in the
Post
,
Record
,
Star-Ledger
,
Newsday
,
Times
and
Daily News
.
•
Josh Thole
and
Jason Bay
have
headed to Florida to ramp up activity
, while
Ruben Tejada
could be the first of trio to return from the disabled list -- as soon as next weekend. Thole, cleared for baseball activities two weeks after suffering a concussion, is aiming to appear in a minor league game for the first time May 28. Tejada (quadriceps) has been running in Port St. Lucie. He could be in a minor league rehab game as soon as Wednesday. Bay (fractured rib) is due to start taking batting practice from coaches that day, and soon thereafter may advance to minor league action, initially as a DH. Read more in the
Star-Ledger
.
•
Andres Torres
is 1-for-his-last-29.
Terry Collins
plans to
sit him Tuesday and start Nieuwenhuis in center
, with Baxter in left field.
•
Ike Davis
sat against another left-hander
,
Erik Bedard
, but entered Monday for defense in the sixth inning and eventually struck out in both of his ensuing at-bats. Davis is now hitting .161. A demotion may be looming, potentially coinciding with the return of a player from the DL. Collins met with Davis in the visiting manager's office at PNC Park before Monday's game. Read more in the
Journal
,
Post
,
Newsday
,
Times
and
Daily News
.
•
Vinny Rottino
rejoined the Mets on Monday
from Triple-A Buffalo and made his first major league start at first base.
Chris Schwinden
was optioned back to the Bisons. With
Miguel Batista
landing on the DL,
Jeremy Hefner
has been confirmed as Thursday's starter
against the San Diego Padres at Citi Field.
•
Terry Collins
expressed appreciation for umpire
Brian Knight
acknowledging missing Saturday night's call
, when Baxter was ruled out at second base in Toronto.
•
Michael Salfino
in the Journal
tries to reconcile the Mets' winning record with their run differential. He notes a few lopsided losses skew the results somewhat, but counters that the Mets have been outslugged with homers by a wide margin. Writes Salfino:
In the standings, they look like a contender. Entering Monday, they were a surprising 22-19. But on the stat sheet -- and we're not talking doctorate-level statistics here -- they look overmatched. They've been outscored by 31 runs, the fifth-worst mark in baseball. Even the 15-25 Colorado Rockies (minus-27) have been better. The Mets are on pace to finish 87-75 while being outscored by 122 runs. This would be a rather historic achievement: All-time, the worst run differential by a winning team belonged to the 1905 Detroit Tigers (minus-90), who went 79-74. The Mets' current record is about five games better than what's expected from a team with that poor of a run differential, according to Baseball-Reference.com.
• Salfino also notes
in the Journal
that the Mets bullpen has protected leads for
R.A. Dickey
remarkably well -- in 21 of 22 games in which the knuckleballer has left in a position to win during his Mets career. According to the article, the bullpen has failed to hold 14 of 50 potential wins for Santana during his Mets career.
• Pitching coach
Dan Warthen
wants
Jon Niese
to prepare more for unfamiliar opponents,
Mike Puma
writes
in the Post
. "He's had a couple of poor games against teams he doesn't know very well," Warthen told Puma. "A couple of us talked to him the other day and told him he could do a little bit better with the studying of hitters."
TRIVIA:
Who holds the record for career runs scored in a Mets uniform?
Monday's answer: The yellow bridge spanning the Allegheny River adjacent to PNC Park is named for the late
Roberto Clemente
.
May, 21, 2012
5/21/12
11:00
AM ET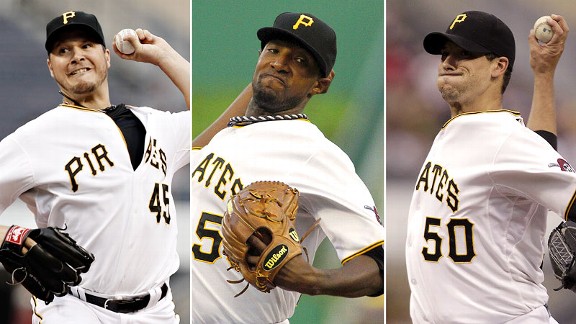 Getty Images/Associated Press
The Mets face (l to r) Erik Bedard, James McDonald and Charlie Morton in Pittsburgh.
METS (22-19, third place/NL East) vs. PITTSBURGH PIRATES (19-22, third place/NL Central)
Monday:
LHP Johan Santana (1-2, 2.89) vs. LHP Erik Bedard (2-5, 3.07), 7:05 p.m. ET
Tuesday:
RHP R.A. Dickey (5-1, 3.76) vs. RHP James McDonald (3-2, 2.68), 7:05 p.m. ET
Wednesday:
LHP Jon Niese (2-2, 4.85) vs. RHP Charlie Morton (2-4, 4.35), 12:35 p.m. ET
Pirates short hops
• Manager
Clint Hurdle
benched outfielder/leadoff hitter
Jose Tabata
on Friday for lack of hustle on a groundball the previous day. Tabata also had misplayed two fly balls that gam. "He didn't get out of the box," Hurdle told the team's web site. "We saw it happen. We've seen it happen a couple of times. They understand when that happens something else also happens: You're gonna sit over there with me and watch. We had a talk. Jose said he 'lost the moment.' Fine, then get down the line. That didn't happen, and that's not part of our identity. That's not what we're creating here."
• Center fielder
Andrew McCutchen
went 0-for-4 with three strikeouts Sunday. In the six previous days, McCutchen had hit a sizzling .381 (8-for-21) with four homers, seven RBIs and six runs scored. He had two multi-homer games in a three-game span, becoming only the second Pirate in the past 25 years to accomplish that, according to the Elias Sports Bureau. The other:
Pedro Alvarez
, who homered twice in consecutive games in July 2010.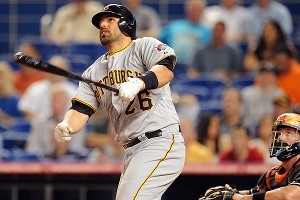 Steve Mitchell/US Presswire
Ex-Met Rod Barajas, who actually was awarded to the Dodgers on a waiver claim while the Mets were in Pittsburgh in 2010, signed a one-year deal with the Pirates as a free agent.

• Alvarez is RBI-less in his past six games, and is hitting .106 (5-for-47) in his past 15 games. Still, his seven homers trail the MLB leaders among third baseman --
Adrian Beltre
,
Miguel Cabrera
and
David Freese
-- by only one.
• Ex-Mets catcher
Rod Barajas
signed a one-year, $4 million deal with the Pirates during the offseason. He homered Sunday against Detroit's
Max Scherzer
, his fourth long ball this season, but is hitting only .220 this season. Barajas has thrown out only two of 18 would-be stealers.
• Right-hander
James McDonald
had a no-hit bid through five innings in his most recent start, against the Washington Nationals. Ex-Mets farmhand
Jesus Flores
broke it up with a sixth-inning double.
• Left-hander
Erik Bedard
allowed four runs in six innings against the Nats on Wednesday. Bedard had been forced from a May 9 start after one-plus innings with back spasms and received extra rest before last week's start. He has one career start against the Mets: on June 16, 2006 at Shea Stadium, when he allowed three runs in six innings during an interleague series while playing for the Baltimore Orioles.
Chris Woodward
had an RBI groudout and
Jose Reyes
had a two-run double against Bedard in Baltimore's 6-3 win.
• Closer
Joel Hanrahan
is 9-for-10 in save chances. He has a 90.7 percent success rate since the beginning of the 2011 season. The only NL closer with 40 opportunities and a better save-conversion percentage during that span: Milwaukee's
John Axford
(94.5 percent). Hanrahan already ranks eighth on the Pirates' all-time saves list with 55. Next up:
Bill Landrum
with 56.
• Shortstop
Clint Barmes
played for Hurdle with the Colorado Rockies. He signed a two-year, $10.5 million deal as a free agent to succeed current Met
Ronny Cedeno
as shortstop in Pittsburgh.
• The Pirates have used righty-hitting
Casey McGehee
(.198) and lefty-hitting
Garrett Jones
(.231) at first base this season.
•
Nate McLouth
(.143 overall) is 0-for-13 as a pinch hitter this season in his second tour of duty with the Pirates.
• Detroit Tigers ace
Justin Verlander
came within two outs of a no-hitter against the Pirates on Friday.
Josh Harrison
, who has been starting on the left side of the infield against left-handed pitching, broke up Verlander's bid for his third career no-hitter with a single to center.
• Set-up man
Jason Grilli
landed on the bereavement list Sunday. Southpaw
Jeff Locke
temporarily has been promoted from Triple-A Indianapolis to work in long relief. Locke will not be used as a second lefty specialist to complement
Tony Watson
.
• Ex-Met
Nick Evans
is hitting .197 with two homers and nine RBIs in 71 at-bats at Triple-A Indianapolis. He signed with the Pirates as a minor league free agent during the offseason. Evans has been sidelined since April 30 and is on the International League disabled list.
Matchups
Santana vs. Pirates (career: 2-2, 1.96 ERA)

Pedro Alvarez .667, 3 PA
Jose Tabata .333, 1 HR, 1 RBI, 1 K, 3 PA
Rod Barajas .286, 2 BB, 2 K, 9 PA
Casey McGehee .200, 3 K, 10 PA
Nate McLouth .133, 1 HR, 2 RBI, 2 BB, 2 K, 17 PA
Andrew McCutchen .000, 3 K, 4 PA
Garrett Jones .000, 1 K, 3 PA
Neil Walker .000, 1 K, 3 PA
Clint Barmes .000, 3 PA
Dickey vs. Pirates (career: 1-2, 2.78 ERA)

Josh Harrison .571, 1 RBI, 1 BB, 8 PA
Garrett Jones .400, 1 RBI, 1 K, 10 PA
Jose Tabata .333, 1 BB, 1 K, 11 PA
Andrew McCutchen .222, 2 BB, 4 K, 12 PA
Rod Barajas .143, 2 RBI, 1 K, 7 PA
Neil Walker .111, 2 RBI, 1 BB, 2 K, 10 PA
Casey McGehee .100, 1 HR, 1 RBI, 2 K, 10 PA
Pedro Alvarez .000, 1 BB, 4 PA
Nate McLouth .000, 3 PA
Clint Barmes .000, 1 RBI, 3 PA
Niese vs. Pirates (career: 1-0, 2.45 ERA)

Jose Tabata 1.000, 3 PA
Nate McLouth .667, 1 RBI, 4 PA
Rod Barajas .667, 1 HR, 1 RBI, 3 PA
Andrew McCutchen .667, 3 PA
Neil Walker .333, 1 RBI, 3 PA
Clint Barmes .222, 1 HR, 3 RBI, 2 K, 10 PA
Casey McGehee .200, 1 K, 5 PA
Pedro Alvarez .000, 1 K, 2 PA
Garrett Jones .000, 2 PA
Bedard vs. Mets (career: 1-0, 4.50 ERA)
David Wright .500, 1 BB, 3 PA
Scott Hairston .300, 1 K, 10 PA
Rob Johnson .000, 1 K, 3 PA
McDonald vs. Mets (career: 1-1, 3.49 ERA)
Ike Davis .500, 1 BB, 7 PA
Daniel Murphy .500, 1 RBI, 1 K, 6 PA
David Wright .333, 1 HR, 4 RBI, 1 BB, 1 K, 8 PA
Andres Torres .200, 1 BB, 1 K, 6 PA
Lucas Duda .000, 6 PA
Justin Turner .000, 3 PA
Ronny Cedeno .000, 1 K, 3 PA
Rob Johnson .000, 1 PA
Scott Hairston .000, 1 K, 1 PA
Morton vs. Mets (career: 0-1, 4.76 ERA)
Lucas Duda .500, 3 RBI, 4 PA
Ike Davis .500, 1 BB, 3 PA
Justin Turner .400, 2 RBI, 7 PA
Daniel Murphy .286, 7 PA
Andres Torres .167, 1 BB, 1 K, 7 PA
David Wright .000, 4 PA
Scott Hairston .000, 3 PA
Last series results
Mets won, 2-1, at PNC Park, June 10-12, 2011 (AP game recaps)
Mets 8, Pirates 1:
Dillon Gee remained undefeated, Jose Reyes homered among his three hits and the Mets won for the fifth time in six. Gee became the first Mets' rookie starter to improve to 7-0. New York has won all nine of his starts. He allowed one run and eight hits in a career-high eight innings with no walks and five strikeouts. Gee won his fifth straight outing and is the majors' first rookie starter to open 7-0 since 2006, when Jered Weaver started 9-0 for the Los Angeles Angels. Gee has allowed one earned run or less in three of his past five starts and has allowed only one run over his past two outings combined. Reyes and Josh Thole went 3-for-5, and Angel Pagan had two hits and scored twice. The Pirates' Charlie Morton had his worst start of the season, though he was the victim of some infield hits, shoddy defense and bad bounces. Morton (6-3) lasted a season-low four-plus innings, allowing seven runs (six earned) and nine hits.
Pirates 3, Mets 2:
James McDonald allowed two runs in six effective innings and Andrew McCutchen hit a two-run double. Jose Tabata and Josh Harrison each had two hits and scored a run. Garrett Jones had an RBI double among his two hits for Pittsburgh. Baseball's leading hitter, Jose Reyes, had two hits and Ruben Tejada and Carlos Beltran each also had two hits for the Mets. McDonald (4-4) allowed eight hits and three walks. Tim Wood pitched a scoreless seventh, Jose Veras struck out Ronny Paulino looking with runners on second and third to end the eighth and Joel Hanrahan worked a perfect ninth for his 16th save in as many opportunities.
Mets 7, Pirates 0:
Chris Capuano pitched seven innings and Jose Reyes homered in the rubber-game win. Capuano (5-6) allowed three hits and two walks with five strikeouts to win consecutive starts for the first time since April 2007. Reyes had three hits for his majors-leading 33rd multi-hit game. He homered two pitches after pinch-hitter Scott Hairston also did in the ninth. David Murphy and Angel Pagan went 2-for-4 and Carlos Beltran had a two-run single. Kevin Correia (8-5) unraveled late after being perfect through 4 2/3. He missed on a chance to tie for the majors' lead in victories.