New York Mets:

Clint Hurdle
September, 25, 2012
9/25/12
5:58
AM ET
Ike Davis
belted two long balls to
reach the 30-homer plateau
and produced a career-high five RBIs as the
Mets beat the Pirates, 6-2
, Monday night.
Jenrry Mejia
, despite a high pitch count, contributed five scoreless innings to
notch his first major league win
. After opening the second half 4-24 at Citi Field, the Mets have now won four straight at their home ballpark, albeit against Miami and the plummeting Pirates.
Now,
Collin McHugh
makes his first start in two weeks. McHugh (0-2, 3.86 ERA) opposes left-hander
Wandy Rodriguez
(11-13, 3.76) at 7:10 tonight.
Tuesday's news reports:
• Post beat writer
Mike Puma
reports the Mets have resolved to have
Jason Bay
on next year's Opening Day roster
should they be unable to trade him.
• Read game recaps in the
Record
,
Post
,
Star-Ledger
,
Times
,
Newsday
and
Daily News
.
•
Jeurys Familia
and Mejia both may be in the major league bullpen next season, but
Paul DePodesta
tells
Andy McCullough
in the Star-Ledger
the starter-versus-relief debate continues in the organization. Writes McCullough:
Both appear more likely to work as relievers down the road. But the Mets intend to keep the dialogue open in regard to the duo, a pair of 22-year-olds who are among their top pitching prospects. "It could be debated for years to come, to be frank," said Paul DePodesta, the team's vice president for scouting and player development. "Because it may partly depend on major-league team need." ... When discussing the two pitchers, DePodesta often references the Texas Rangers. Texas turned C.J. Wilson, once a closer, into an All-Star starter. Alexi Ogando vacillates between both roles. A similar experiment with Neftali Feliz this season garnered worse results: Feliz required Tommy John surgery. Even so, DePodesta said, "the Rangers have shown over and over again that it can be done," he said.
Read more in the
Record
.
• Despite nothing at stake during the final nine games of the season, the
Mets have so far not shut down
unavailable
Frank Francisco
-- reasoning that he only has tendinitis in his right elbow and is not at risk for further injury once it calms.
•
Justin Turner
, whose at-bat total is way down this season,
intends to play winter ball
with Escogido in the Dominican Republic.
•
Adam Loewen
's two-run homer helped lift Canada to an 11-1 win in Regensburg, Germany, over the host country to
qualify for the World Baseball Classic
, which will be held during spring training.
• Can the Pirates produce their first winning season in 20 years? Well, after Monday's loss, they're three games under .500 with nine games remaining.
"We still haven't printed the T-shirts," manager Clint Hurdle quipped to
Peter Botte
in the Daily News
. "That's funny, come on. No, we still haven't banged the drum or gotten the gavel out and said this is what we need to do. Everybody in this building is aware of it, so that would be a good finish. It would take seven wins to get to 82, and we have [nine] games left. We've all gotten through some kind of schooling to be able to do the numbers. It's not a rallying cry, but it is in front of us.
"It's been challenging because of what we were about to accomplish the first three-fifths of the season, the position we put ourselves in. But we let our identity slip from us. We haven't finished how we wanted to. I'm not trying to find a moral victory in a lot of things, but I do know we are headed in the right direction. We just have to sustain what we have on a more consistent level."
TRIVIA:
David Wright
is two hits shy of matching
Ed Kranepool
for the franchise's career hits record at 1,418. Which three active players lead their franchise's in career hits?
Monday's answer: During the Pirates' last winning season, in 1992,
Doug Drabek
led the team in victories. Drabek, whose son
Kyle Drabek
now pitches for the
Toronto Blue Jays
, went 15-11 with a 2.77 ERA and had 10 complete games in 34 starts for the '92 Bucs.
May, 21, 2012
5/21/12
11:00
AM ET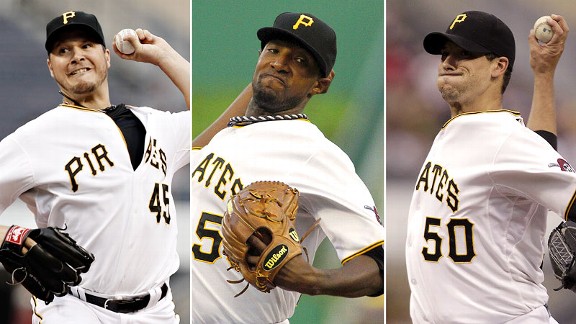 Getty Images/Associated Press
The Mets face (l to r) Erik Bedard, James McDonald and Charlie Morton in Pittsburgh.
METS (22-19, third place/NL East) vs. PITTSBURGH PIRATES (19-22, third place/NL Central)
Monday:
LHP Johan Santana (1-2, 2.89) vs. LHP Erik Bedard (2-5, 3.07), 7:05 p.m. ET
Tuesday:
RHP R.A. Dickey (5-1, 3.76) vs. RHP James McDonald (3-2, 2.68), 7:05 p.m. ET
Wednesday:
LHP Jon Niese (2-2, 4.85) vs. RHP Charlie Morton (2-4, 4.35), 12:35 p.m. ET
Pirates short hops
• Manager
Clint Hurdle
benched outfielder/leadoff hitter
Jose Tabata
on Friday for lack of hustle on a groundball the previous day. Tabata also had misplayed two fly balls that gam. "He didn't get out of the box," Hurdle told the team's web site. "We saw it happen. We've seen it happen a couple of times. They understand when that happens something else also happens: You're gonna sit over there with me and watch. We had a talk. Jose said he 'lost the moment.' Fine, then get down the line. That didn't happen, and that's not part of our identity. That's not what we're creating here."
• Center fielder
Andrew McCutchen
went 0-for-4 with three strikeouts Sunday. In the six previous days, McCutchen had hit a sizzling .381 (8-for-21) with four homers, seven RBIs and six runs scored. He had two multi-homer games in a three-game span, becoming only the second Pirate in the past 25 years to accomplish that, according to the Elias Sports Bureau. The other:
Pedro Alvarez
, who homered twice in consecutive games in July 2010.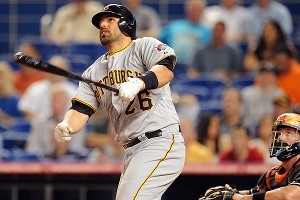 Steve Mitchell/US Presswire
Ex-Met Rod Barajas, who actually was awarded to the Dodgers on a waiver claim while the Mets were in Pittsburgh in 2010, signed a one-year deal with the Pirates as a free agent.

• Alvarez is RBI-less in his past six games, and is hitting .106 (5-for-47) in his past 15 games. Still, his seven homers trail the MLB leaders among third baseman --
Adrian Beltre
,
Miguel Cabrera
and
David Freese
-- by only one.
• Ex-Mets catcher
Rod Barajas
signed a one-year, $4 million deal with the Pirates during the offseason. He homered Sunday against Detroit's
Max Scherzer
, his fourth long ball this season, but is hitting only .220 this season. Barajas has thrown out only two of 18 would-be stealers.
• Right-hander
James McDonald
had a no-hit bid through five innings in his most recent start, against the Washington Nationals. Ex-Mets farmhand
Jesus Flores
broke it up with a sixth-inning double.
• Left-hander
Erik Bedard
allowed four runs in six innings against the Nats on Wednesday. Bedard had been forced from a May 9 start after one-plus innings with back spasms and received extra rest before last week's start. He has one career start against the Mets: on June 16, 2006 at Shea Stadium, when he allowed three runs in six innings during an interleague series while playing for the Baltimore Orioles.
Chris Woodward
had an RBI groudout and
Jose Reyes
had a two-run double against Bedard in Baltimore's 6-3 win.
• Closer
Joel Hanrahan
is 9-for-10 in save chances. He has a 90.7 percent success rate since the beginning of the 2011 season. The only NL closer with 40 opportunities and a better save-conversion percentage during that span: Milwaukee's
John Axford
(94.5 percent). Hanrahan already ranks eighth on the Pirates' all-time saves list with 55. Next up:
Bill Landrum
with 56.
• Shortstop
Clint Barmes
played for Hurdle with the Colorado Rockies. He signed a two-year, $10.5 million deal as a free agent to succeed current Met
Ronny Cedeno
as shortstop in Pittsburgh.
• The Pirates have used righty-hitting
Casey McGehee
(.198) and lefty-hitting
Garrett Jones
(.231) at first base this season.
•
Nate McLouth
(.143 overall) is 0-for-13 as a pinch hitter this season in his second tour of duty with the Pirates.
• Detroit Tigers ace
Justin Verlander
came within two outs of a no-hitter against the Pirates on Friday.
Josh Harrison
, who has been starting on the left side of the infield against left-handed pitching, broke up Verlander's bid for his third career no-hitter with a single to center.
• Set-up man
Jason Grilli
landed on the bereavement list Sunday. Southpaw
Jeff Locke
temporarily has been promoted from Triple-A Indianapolis to work in long relief. Locke will not be used as a second lefty specialist to complement
Tony Watson
.
• Ex-Met
Nick Evans
is hitting .197 with two homers and nine RBIs in 71 at-bats at Triple-A Indianapolis. He signed with the Pirates as a minor league free agent during the offseason. Evans has been sidelined since April 30 and is on the International League disabled list.
Matchups
Santana vs. Pirates (career: 2-2, 1.96 ERA)

Pedro Alvarez .667, 3 PA
Jose Tabata .333, 1 HR, 1 RBI, 1 K, 3 PA
Rod Barajas .286, 2 BB, 2 K, 9 PA
Casey McGehee .200, 3 K, 10 PA
Nate McLouth .133, 1 HR, 2 RBI, 2 BB, 2 K, 17 PA
Andrew McCutchen .000, 3 K, 4 PA
Garrett Jones .000, 1 K, 3 PA
Neil Walker .000, 1 K, 3 PA
Clint Barmes .000, 3 PA
Dickey vs. Pirates (career: 1-2, 2.78 ERA)

Josh Harrison .571, 1 RBI, 1 BB, 8 PA
Garrett Jones .400, 1 RBI, 1 K, 10 PA
Jose Tabata .333, 1 BB, 1 K, 11 PA
Andrew McCutchen .222, 2 BB, 4 K, 12 PA
Rod Barajas .143, 2 RBI, 1 K, 7 PA
Neil Walker .111, 2 RBI, 1 BB, 2 K, 10 PA
Casey McGehee .100, 1 HR, 1 RBI, 2 K, 10 PA
Pedro Alvarez .000, 1 BB, 4 PA
Nate McLouth .000, 3 PA
Clint Barmes .000, 1 RBI, 3 PA
Niese vs. Pirates (career: 1-0, 2.45 ERA)

Jose Tabata 1.000, 3 PA
Nate McLouth .667, 1 RBI, 4 PA
Rod Barajas .667, 1 HR, 1 RBI, 3 PA
Andrew McCutchen .667, 3 PA
Neil Walker .333, 1 RBI, 3 PA
Clint Barmes .222, 1 HR, 3 RBI, 2 K, 10 PA
Casey McGehee .200, 1 K, 5 PA
Pedro Alvarez .000, 1 K, 2 PA
Garrett Jones .000, 2 PA
Bedard vs. Mets (career: 1-0, 4.50 ERA)
David Wright .500, 1 BB, 3 PA
Scott Hairston .300, 1 K, 10 PA
Rob Johnson .000, 1 K, 3 PA
McDonald vs. Mets (career: 1-1, 3.49 ERA)
Ike Davis .500, 1 BB, 7 PA
Daniel Murphy .500, 1 RBI, 1 K, 6 PA
David Wright .333, 1 HR, 4 RBI, 1 BB, 1 K, 8 PA
Andres Torres .200, 1 BB, 1 K, 6 PA
Lucas Duda .000, 6 PA
Justin Turner .000, 3 PA
Ronny Cedeno .000, 1 K, 3 PA
Rob Johnson .000, 1 PA
Scott Hairston .000, 1 K, 1 PA
Morton vs. Mets (career: 0-1, 4.76 ERA)
Lucas Duda .500, 3 RBI, 4 PA
Ike Davis .500, 1 BB, 3 PA
Justin Turner .400, 2 RBI, 7 PA
Daniel Murphy .286, 7 PA
Andres Torres .167, 1 BB, 1 K, 7 PA
David Wright .000, 4 PA
Scott Hairston .000, 3 PA
Last series results
Mets won, 2-1, at PNC Park, June 10-12, 2011 (AP game recaps)
Mets 8, Pirates 1:
Dillon Gee remained undefeated, Jose Reyes homered among his three hits and the Mets won for the fifth time in six. Gee became the first Mets' rookie starter to improve to 7-0. New York has won all nine of his starts. He allowed one run and eight hits in a career-high eight innings with no walks and five strikeouts. Gee won his fifth straight outing and is the majors' first rookie starter to open 7-0 since 2006, when Jered Weaver started 9-0 for the Los Angeles Angels. Gee has allowed one earned run or less in three of his past five starts and has allowed only one run over his past two outings combined. Reyes and Josh Thole went 3-for-5, and Angel Pagan had two hits and scored twice. The Pirates' Charlie Morton had his worst start of the season, though he was the victim of some infield hits, shoddy defense and bad bounces. Morton (6-3) lasted a season-low four-plus innings, allowing seven runs (six earned) and nine hits.
Pirates 3, Mets 2:
James McDonald allowed two runs in six effective innings and Andrew McCutchen hit a two-run double. Jose Tabata and Josh Harrison each had two hits and scored a run. Garrett Jones had an RBI double among his two hits for Pittsburgh. Baseball's leading hitter, Jose Reyes, had two hits and Ruben Tejada and Carlos Beltran each also had two hits for the Mets. McDonald (4-4) allowed eight hits and three walks. Tim Wood pitched a scoreless seventh, Jose Veras struck out Ronny Paulino looking with runners on second and third to end the eighth and Joel Hanrahan worked a perfect ninth for his 16th save in as many opportunities.
Mets 7, Pirates 0:
Chris Capuano pitched seven innings and Jose Reyes homered in the rubber-game win. Capuano (5-6) allowed three hits and two walks with five strikeouts to win consecutive starts for the first time since April 2007. Reyes had three hits for his majors-leading 33rd multi-hit game. He homered two pitches after pinch-hitter Scott Hairston also did in the ninth. David Murphy and Angel Pagan went 2-for-4 and Carlos Beltran had a two-run single. Kevin Correia (8-5) unraveled late after being perfect through 4 2/3. He missed on a chance to tie for the majors' lead in victories.
June, 13, 2011
6/13/11
8:57
AM ET
Despite
Kevin Correia
retiring the first 14 Mets, until
Jason Bay
singled, the Mets won, 7-0, Sunday at PNC Park to again move within a game of .500.
Chris Capuano
tossed seven scoreless innings in the victory. Even
Willie Harris
and
Scott Hairston
came through as pinch-hitters. Harris' two-out single was the first of six straight hits by the Mets in what became a four-run eighth. Hairston delivered a solo homer in the ninth, along with
Jose Reyes
. "It felt great," Hairston said about Harris' single. "I was the first one off that bench once he got that pinch-hit, knowing how hard that is to do."
Monday's news reports:
• Bay initially figured, the way things were going for him, that his
sacrifice fly would be taken off the board
because of
Angel Pagan's
gaffe missing second base while retreating to first base. But the run counted, breaking a scoreless tie. And Bay now has a two-game hitting streak. "It's not a 3-for-4 with two bombs or anything, but I feel better," Bay said. "I feel like I'm building instead of fighting. Like I've said before, what's done is done. Despite all the things that I haven't done, we're still playing pretty good baseball." Read game stories from the 7-0 win in the
Post
,
Times
,
Record
,
Newsday
,
Journal
,
Daily News
and
Star-Ledger
.
• Pirates manager
Clint Hurdle
, who was ejected,
did not think Pagan made a catch
on
Lyle Overbay
to open the bottom of the seventh.
• Hairston had been standing in the bullpen tracking pitches as rotation members did their between-starts work in order to stay sharp. Then, in his first plate appearance in 10 days, he homered.
Terry Collins
said he would try to get Hairston into Monday's lineup against left-hander
Paul Maholm
, but he was reluctant to sit Bay or Pagan, who has had success against the Pirates southpaw. Read more in the
Star-Ledger
.
• The Mets are trying to get a Saturday scoring decision reversed and
Daniel Murphy
charged with an error on a groundball by
Andrew McCutchen
, which would change two earned runs to unearned against
R.A. Dickey
. Those moves are rarely successful unless a rule is interpreted incorrectly. "I think everybody in here worries about their numbers," Dickey told
Anthony Rieber
in Newsday
. "I don't have any problem saying I wish my ERA was this and my record was this." Dickey's ERA would drop from 3.98 to 3.76 minus two earned runs. An MLB official told Rieber a screener would have to agree the decision was "clearly erroneous," then a committee would have to unanimously agree that it needed to be changed. In this case, it was a judgment call -- a poor judgment. But erroneous is a pretty high standard.
• Capuano's performance continued a
solid string of starting pitching
by the Mets. Read more in the
Post
.
• The Pirates, down their top three catchers because of injury, acquired
Mike McKenry
from the Boston Red Sox on Sunday night for a player to be named or cash,
according to the Pittsburgh Tribune-Review
. The team designated
Wyatt Toregas
for assignment. McKenry was hitting .280 with three homers for Triple-A Pawtucket.
Chris Snyder
(back),
Ryan Doumit
(ankle) and
Jason Jaramillo
(elbow) all are out.
BIRTHDAY:
It doesn't appear to be a popular date for birthdays or memorable moments for the Mets. The new book
162-0
by Mets official scorer
Howie Karpin
-- a great
Father's Day gift
for a Mets fan -- cites a 1971 game against the Giants in which current Yankees announcer
Ken Singleton
beat the Giants with a walk-off sacrifice fly, ending a 5½-hour rain-soaked marathon, as the Mets best win on this date.
-Mark Simon
June, 12, 2011
6/12/11
4:18
PM ET
Recap
|
Box score
|
Photos
WHAT IT MEANS: Jason Bay
broke up
Kevin Correia's
early perfect-game bid with a two-out single in the fifth. Bay then delivered a sacrifice fly two innings later for his first RBI this month, which scored
Daniel Murphy
with the game's opening run. After a four-run eighth that included six straight two-out hits, the Mets beat the Pirates, 7-0, at PNC Park on Sunday afternoon.
OOPS:
The seventh inning actually ended on Bay's fly ball.
Angel Pagan
, who began the play at first base, had rounded second base while the ball was in the air. While retreating to first base after the catch, Pagan failed to retouch second base and was ruled out, for the inning's final out. By rule, the run counted.
Jay Payton
was involved in a near-identical gaffe for the Mets on April 24, 2002. On
Vance Wilson's
fly ball to right field against the St. Louis Cardinals, Payton also never touched second while returning to his original base.
The Pirates, bidding to reach .500 in the month of June for the first time since 1999, instead slipped two games under breakeven.
EAGLE EYES:
Pirates manager
Clint Hurdle
was ejected in the bottom of the seventh with the score 1-0 after umpires ruled Pagan made a leaping catch at the wall in center field to retire
Lyle Overbay
. Replays suggested the baseball may have grazed the wall and ricocheted back into Pagan's glove. Hurdle actually was tossed by two umpires --
Jerry Layne
and then
Bob Davidson
-- within seconds of each other.
As an aside, someone with the Pirates must have thought Overbay's shot cleared the wall, because fireworks were discharged, as is the case after homers.
CAPPER:
Unlike Correia,
Chris Capuano
did not have no-hit drama in his outing. Capuano allowed a two-out single to
Andrew McCutchen
in the first inning. But Capuano ended up with the scoreless effort. He blanked the Pirates for seven innings, allowing three hits, two walks and a hit batter while striking out five.
Capuano used double-play balls to escape situations in consecutive innings -- in the third after plunking
Jose Tabata
, and in the fourth after walking McCutchen and Overbay.
MULTI-THREAT: Jose Reyes
had his major league-leading 33
rd
multi-hit game, which included a ninth-inning solo homer. The performance came in his 62
nd
game of the season. According to the Elias Sports Bureau, the last major leaguer to finish a season having played at least 100 games, and with a multi-hit game in more than half of those games, was
Joe Medwick
in 1937 with the St. Louis Cardinals (80 multi-hit games in 156 games).
Ichiro Suzuki
finished at exactly half in 2009 -- 73 times in 146 games.
TURNER CLASSIC:
After a day off to get a breather,
Justin Turner
returned to third base and the No. 2 hole and contributed an RBI double in the eighth as the Mets took a 2-0 lead.
IN A PINCH: Carlos Beltran
had a two-run single and Pagan had an RBI single in what became a four-run eighth. Beltran was replaced as a pinch-runner by
Jason Pridie
-- the second time in the series Pridie has subbed for Beltran late to limit wear and tear on Beltran's knees.
HAIR-RAISING: Scott Hairston
had a pinch-hit homer in the ninth, in his first plate appearance in 10 days. Hairston's other long ball this season came April 14 against Colorado's
Huston Street
.
K-ROD TRACKER: Francisco Rodriguez
did not appear and remained at 25 games finished. He is on pace for 62 games finished, seven over the threshold for his contract to kick in at $17.5 million for 2012.
WHAT'S NEXT: Mike Pelfrey
(3-4, 5.35) opposes left-hander
Paul Maholm
(2-7, 3.39) in Monday's finale to the four-game series.
November, 14, 2010
11/14/10
1:06
PM ET
Clint Hurdle
is being hired by the Pittsburgh Pirates as manager before the Mets' process goes any further, SI.com reported. That further solidifies ESPNNewYork.com's
Saturday story
about
Terry Collins
emerging as the frontrunner for the Mets gig. Sources indicate
Bob Melvin
is the primary alternative for the Mets job.
Just a hunch, but perhaps Melvin ends up as bench coach and
Dave Jauss
ends up in Collins' old role as minor league field coordinator, a position he has held with the Boston Red Sox and Baltimore Orioles. It's also conceivable
Tim Teufel
ends up as first base coach, with
Chip Hale
remaining at third base and
Dan Warthen
as pitching coach.
November, 12, 2010
11/12/10
12:10
PM ET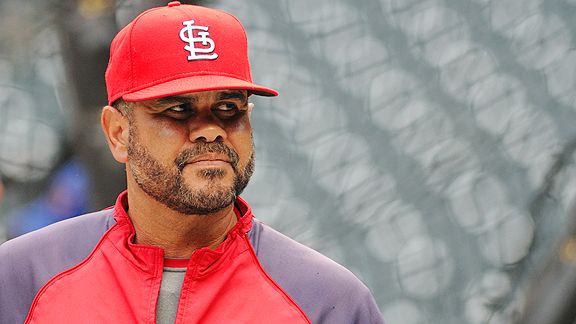 James Escher/Icon SMI
Jose Oquendo has a link to Sandy Alderson via Tony LaRussa.
When
Sandy Alderson
mentioned possibly adding an extra candidate to the managerial mix, a source indicates he may have been referring to
Jose Oquendo
, the longtime St. Louis Cardinals third base coach and an ex-Mets infielder. Oquendo currently is in Puerto Rico, where Alderson will be Saturday. (There is no definite word an interview will occur.)
Also, the frontrunners for the managerial job are becoming clearer.
Terry Collins
,
Clint Hurdle
and
Bob Melvin
all appear likely to get second interviews, and possibly
Chip Hale
as well.
Read the full story
here
.
Here is Oquendo's bio (with a couple of updates) from the Cardinals' media guide:
Oquendo completed his 11th season as the Cardinals' third-base coach, after joining the club's major league staff in 1999 as bench coach. Upon ending his playing career, he was a field instructor in the Cardinals farm system in 1997 before managing the Redbirds' New Jersey affiliate to a 34-41 finish in 1998. Oquendo's professional playing career spanned 17 seasons and included big league duty with the New York Mets (1983-84) and Cardinals (1986-95). Dubbed the "Secret Weapon" during his 10 seasons with the Redbirds, Oquendo established single-season major league records for the highest fielding percentage (.996) and fewest errors by a second baseman (three) in 1990. He also led the league in fielding in 1989 and compiled a .992 fielding average at second base for his career. Oquendo batted .286 for the Cardinals' 1987 pennant-winning club and hit a career-high .291 in 1989 while playing in a league-high 163 games. In 1988, Oquendo became the first National League player since 1918 to play all nine positions in one season. A native of Rio Piedras, Puerto Rico, Oquendo, 47, now makes his home in St. Louis County with his wife, Zenaida, their four children, and granddaughter, Gabriela. He was voted top utility man on the All-Busch Stadium II team in 2005. Oquendo managed the Puerto Rican team in the inaugural World Baseball Classic in 2006 and again in 2009 and was the manager of the victorious World Team during the MLB Futures Game that was played during the 2009 All-Star Week in St. Louis.
November, 10, 2010
11/10/10
5:44
PM ET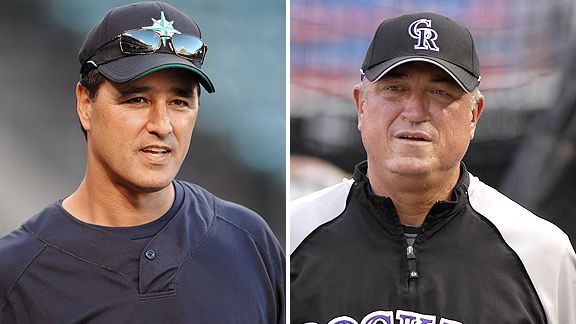 US Presswire
Don Wakamatsu
and
Clint Hurdle
interviewed for the Mets' managerial job on Wednesday at Citi Field. Read the full news story
here
.
For detailed bios, read the candidates' 2010 media guide entries:
DON WAKAMATSU BIO
PERSONAL:
Donald Wakamatsu…resides in North Richmond Hills, Texas, with wife, Laura, sons: Jacob and Lucas, and daughter Jadyn… was the first Asian American to be named manager of a major league club when hired prior to the 2009 season…graduated from Hayward High School (Calif.) in 1981…three-sport prep star, lettering in baseball, basketball and football…earned four varsity letters under College Baseball Hall of Fame coach Jim Brock at Arizona State University (1982-85)…was the Sun Devils starting catcher from 1983-85, batting .314 (223-for-711) with 22 doubles, 3 triples, 18 home runs and 133 RBIs in 196 career games with ASU…played in the 1983 and 1984 College World Series…three-time All-Pac-10 selection (1983-85)… team captain in 1985.
MANAGING/COACHING CAREER:
Was 85-77 in his first season as a big league manager, a major league-best 24-game improvement over 2008…became just the third Mariners manager to post a winning season in his first year, joining Lou Piniella (82-80 in 1993) and Bob Melvin (93-69 in 2003)…he and Piniella are only two Mariners managers with a career winning percentage above .500…oversaw a clubhouse makeover that helped Mariners become just the 13th team since 1901 to post a winning record the year after losing 100+ games…succeeded despite having 16 players combine for 19 stints on the disabled list accounting for 952 missed games…won his first game as manager, 6-1 at Minnesota April 6, 2009…posted a winning record on his first road trip (5-2)…Seattle had a winning record in five (April, June-Sept.) of six months, one year after posting a winning mark in no calendar month…owns a career 215-248 (.464) record in four seasons as a minor league manager in the Arizona and Los Angeles Angels organizations…made his managerial debut in 1997 with the Diamondbacks entry in the Arizona Rookie League…took over team in July, guiding club to 22-20 record…managed in the Diamondbacks organization at High Desert (A) in the California League in 1998 and at El Paso (AA) in 1999…led High Desert to second-half Southern Division title and named the California League Manager of the Year in 1998…managed future major leaguers Rob Barajas, Junior Spivey, Erubiel Durazo, Brad Penny and John Patterson at El Paso in 1999…moved over to the Angels organization in 2000 and managed at Erie (AA) in the Eastern League.
PLAYING CAREER:
Selected by the Cincinnati Reds in the 11th round of the 1985 June draft…12 seasons as a catcher with seven organizations during his professional playing career from 1985-96…appeared in 18 Major League games with the Chicago White Sox in 1991…batted .226 (7-for-31) with one double…recorded first Major League hit May 22 at California…all nine starts behind the plate came with knuckleballer Charlie Hough on the mound…went to Major League spring training with the Rangers in 1994…combined to bat .330 (115-for-348) in 113 games with Albuquerque (AAA) in 1992-93…missed parts of the 1993 and 1994 seasons with a torn ligament in his right elbow…topped Southern League catchers in fielding percentage at Birmingham in 1989 (.990) and Billings in 1985 (.998)…made his professional debut with Billings in the Pioneer League in 1985.
CLINT HURDLE BIO
RANGERS:
Hurdle was named the team's hitting coach on Nov. 5, 2009…he will be just the Rangers' second hitting coach in the last 16 seasons (1995-2010) and is the only new addition on the club's 2010 staff…made a few weeklong visits to Texas to work out with hitters over the offseason after being hired…also participated in organization's visit to children's hospital in Dallas in December…previously crossed paths with manager Ron Washington in the Mets organization in 1992, when Hurdle was manager at Triple-A Tidewater and Washington was on his coaching staff…spent time as an analyst on the MLB Network in the latter part of the 2009 season.
COLORADO:
Spent over 15 years in the Colorado organization from 1994-2009, serving as a minor league hitting coordinator, major league hitting coach, and ultimately over 7 years as the team's big league manager…Manager: Compiled a 543-625 (.465) record while serving as Rox manager from April 26, 2002 until he was relieved from the post on May 29, 2009…has the most wins of any manager in team history, recording his 500th career win on Aug. 19, 2008 at Los Angeles…in 2007, led the Rockies to the World Series as club captured its first National League pennant in franchise history…that club won 21 of 22 games leading up to the World Series, where Boston executed a 4-game sweep…won 7 straight to begin the postseason, sweeping both NLDS (vs. Philadelphia) and NLCS (vs. Arizona)…his '07 club compiled the highest single-season fielding pct. in major league history (.989), a mark that still stands…in '07, finished in third place (4 first-place votes) in N.L. Manager of the Year voting…served as manager of the National League in the 2008 All-Star Game at Yankee Stadium (July 15, 2008)…was also a coach for the N.L. staff for the 2004 Classic in Houston…team went 6-0 in first 6 games under Hurdle in 2002, T6th-best winning streak following a midseason managerial change in major league history…Hitting Coach: He was a month into his sixth season as Rockies hitting coach when he was named manager on April 26, 2002…in his five-plus seasons tutoring Colorado's hitters, the club compiled the N.L.'s top two averages in a span of 70 years (.294 in 2000 and .292 in 2001) and the league's most base hits since 1930 (1,664 in 2000)…Rockies also established a major league record for total bases (2,748) and extra-base hits (598) in 2001…Colorado hitters posted the league's highest batting average in each of Hurdle's five seasons as hitting coach, leading in on-base percentage three times and slugging percentage on four occasions…Hurdle, who doubled as the club's first-base coach from 1997- 98, remained on the coaching staff under three different managers: Don Baylor, Jim Leyland and Buddy Bell…Minors: Served as minor league hitting coordinator in the Rockies minor league system from 1994-96.
IN THE METS SYSTEM:
Before joining the Rockies, Clint managed in the Mets system for 6 seasons, including his last two years managing their Triple-A affiliate, Tidewater in 1992 and Norfolk in 1993…managed at Double-A in 1990 and 1991…in 1990, Clint led Jackson to a 73-62 overall record, including the league's second half Eastern Division title…directed St. Lucie (A) of the Florida State League to a 153-120 combined record in 1988 and 1989…in '88, his first year as a minor league manager and in his team's first season of existence, he led St. Lucie to the second half East title, followed by playoff victories over Lakeland (2-1), Tampa (2-0) and Osceola (2-0) to claim the FSL Championship…in 1989, his club compiled a 79-55 record, the best mark in the league and won the first and second half Eastern Division titles, only to lose to Charlotte in the playoffs.
PLAYING CAREER:
After the Royals drafted him in the first round at age 17, Hurdle quickly climbed the organizational ladder… made the Triple-A club (Omaha) in his third pro season in 1977, and also earned the American Association Rookie of the Year and All-Star Game MVP…made his major league debut Sept. 18, 1977 and enjoyed a 10-year big league career, which included 5 seasons in Kansas City and tours with Cincinnati, New York-NL, and St. Louis…Baseball Digest and Topps named him to their 1978 All-Rookie squads…in 1980, his best overall season, he batted .294 with 10 homers and 60 RBI on the Royals' AL championship club…during the 1980 World Series against the Phillies, he hit .417 (5-for- 12)…was signed as a free agent by Tidewater (AAA) in 1983 and led the International League in doubles… in December of 1985, the Cardinals selected Clint from the Tides roster in Rule 5 Draft…made 40 starts for the Cards in 1986 at 5 different positions…in 1987, his last year as a player, Clint participated in 97 games with Tidewater and hit .333 in 3 contests with the Mets…spent the majority of his career in the outfield, but also worked at the corner infield spots and behind the plate…hit his final career home run at Minnesota's Metropolitan Stadium in September of 1981.
PERSONAL:
Clinton Merrick (Clint) Hurdle…Clint and his wife, Karla, have a daughter, Madison Reilly (8/7/02) and a son, Christian Merrick (11/15/04)…Clint also has a 24-year-old daughter, Ashley (7/18/85), who graduated from the University of California- Santa Barbara and is currently an Account Executive in group sales with the Golden State Warriors of the NBA…Clint is the Prader-Willi National Spokesperson, an organization that raises awareness for Prader-Willi Syndrome, a complex genetic disorder his daughter Madison was born with…Prader-Willi affects about one in every 12,000 people and is caused by a lack of several genes on one of an individual's two chromosome 15s…was active in numerous charitable efforts while with Colorado…a 1975 graduate of Merritt Island (Fla.) High School, he lettered in baseball, football and basketball…a star quarterback, he signed a letter of intent to attend the University of Miami (Fla.), but chose to sign with Kansas City after the Royals selected him in the first round (ninth overall) of the 1975 June draft…batted .567 his senior year as an All-American prep…appeared as a 20-year-old on the March 20, 1978 cover of Sports Illustrated as a member of the Royals.
November, 8, 2010
11/08/10
5:22
PM ET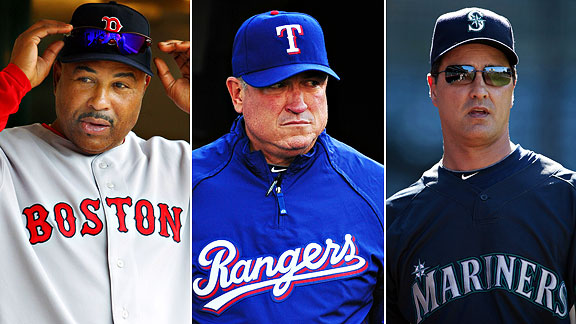 US Presswire
DeMarlo Hale (from l.), Clint Hurdle and Don Wakamatsu
Sandy Alderson
announced that he plans to interview Boston Red Sox bench coach
DeMarlo Hale
on Tuesday and former Colorado Rockies manager
Clint Hurdle
and former Seattle Mariners manager
Don Wakamatsu
on Wednesday at Citi Field.
Read the full story
here
.
November, 5, 2010
11/05/10
4:04
PM ET
Clint Hurdle
is one of the most well-read people Denver Post baseball writer
Troy Renck
knows. And Hurdle, reportedly a finalist in Pittsburgh, definitely appears on the Mets' managerial radar as well. In fact, the New York Post reports an interview with
Sandy Alderson
is expected to occur next week.
Here are some thoughts from Renck on Hurdle's time with the Rockies, during which the skipper went 534-625 from 2002 through the first 46 games of '09. Colorado made the 2007 World Series.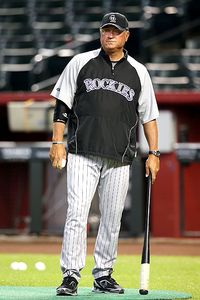 Christian Petersen/Getty Images
Former Rockies manager Clint Hurdle.

Hurdle and former Seattle Mariners manager
Don Wakamatsu
are considered two strong external candidates.
You can check out Renck's Rockies coverage
here
.
What are Clint Hurdle's strengths as a manager? Or what did the players appreciate?
"He's an unbelievable communicator, a huge personality. You know he's there from the moment he arrives at the park. It's impossible to miss in terms of his personality and presence. He's a great teacher of hitting. And a strength of his is just that positive energy. Certainly when they were a young team, going through a youth movement, how to deal with young players and how to keep the glass half-full, he was very good about that when they were in their rebuilding process."
When you say personality, any examples?
"Well, he's as bright as any guy I've ever interviewed in a uniform. He was accepted to Harvard. He had a chance to play college football at Miami. It's understood that he was like the first high school quarterback ever to call his own plays and audible. He's a bright guy. He ran Rockies fantasy camp for years, and he actually ran the Mets camp for part of that time as well. People would go to that camp just to get ripped by him. He's like a roast dinner. He's so funny and biting in that way. Whether it's one-liners or killing a story, I mean he literally could go on stage right now and make people laugh and cry. He's an unbelievable public speaker."