New York Mets:

Craig Anderson
May, 31, 2012
5/31/12
9:30
AM ET
By
Mark Simon
| ESPNNewYork.com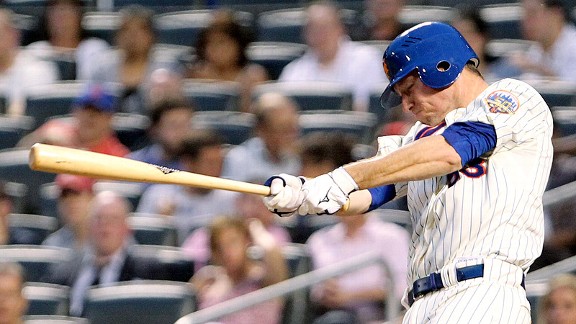 US Presswire/Anthony GruppusoJeremy Hefner displayed some heft at the plate with a home run in Tuesday's win.
The Mets missed an opportunity in the series finale against the Phillies, and wound up losing two of three games. Let's take a look back at some of the notable stats from the matchup, with the help of the Elias Sports Bureau and
Baseball-Reference
.
Stat of the Series
The Mets' win on Tuesday, keyed by home runs from pitcher
Jeremy Hefner
and pinch-hitter
Scott Hairston
, marked the first time that the Mets got a home run out of both a pitcher and another player in the No. 9 spot in the batting order since
July 1 1993
when
Dwight Gooden
and
Chico Walker
each went deep against the Marlins. The Mets did it on one other occasion --
July 7, 1986
against the Reds (
Rick Aguilera
and
Howard Johnson
).
They also got home runs out of two players from the No. 9 spot on August 15, 1962 against the Phillies, with both
Choo Choo Coleman
and
Jim Hickman
doing so as pinch-hitters.
Hefner became the second Mets pitcher to homer in the season of his MLB debut, joining
Paul Wilson
(1996).
The Elias Sports Bureau notes that he's the first pitcher in Mets history to earn his first major league win and hit his first major league home run in the same game.
Ty as in Cobb
Former Met
Ty Wigginton
burned his team by reaching base five times and driving in six runs in the Phillies series-opening win over the Mets on Memorial Day.
Wigginton's six RBIs matched the mark for most RBIs by a former Met against the Mets.
Dave Kingman
is the only player who could say he got six RBI against his former team, doing so for the Cubs against the Mets in 1980 (after his first Mets stint).
Joe Randa
gets an asterisk. He was a Met in name, but not in game in 1998 (in other words, he was traded to the Mets, but was traded away before playing for the Mets). He had six RBIs against the Mets for 2005 Reds.
Three future Mets had six-RBI games against the Mets prior to joining the Mets --
Jerry Morales
,
Tommy Herr
, and
Willie Montanez
.
Right on Q
Omar Quintanilla,
the only player in Mets history whose last name begins with "Q," became
the ninth Mets player to have multiple doubles in his Mets debut
and the second shortstop to do so, joining
Kazuo Matsui
(2004). He joins
Danny Heep
(1983) and
Jason Hardtke
as the only Mets to do it without driving in a run.
Duda Goes Deep
Lucas Duda
, who hadn't homered against a left-handed pitcher in his major league career, hit two on fastballs from
Cliff Lee
and
Raul Valdes
.
Each of the home runs came in a pitch location in which Duda had not previously gotten a hit against a fastball from a lefty in his career -- up-and-in from Lee, and middle-away (but in the strike zone) from Valdes.
Duda is 9-for-25 in at-bats ending with a fastball from a lefty this season. His seven other hits are singles.
Vintage Metric of the Week
Manny Acosta
was let go by the Mets after Monday's loss. Acosta finished with an 11.86 ERA in 22 innings pitched. He was worth -1.9 Wins Above Replacement, by Baseball-Reference.com's measurement.
This is not the worst Pitching WAR season in Mets history. The worst (minimum one inning pitched) belongs to 1962 Mets reliever
Craig Anderson
, whose 5.35 ERA in 131 1/3 innings that season was valued at -2.7 WAR.
January, 4, 2011
1/04/11
1:09
PM ET
By
Mark Simon
| ESPNNewYork.com
Congratulations to
Chris Capuano
, the latest member of the Charlie Brown All-Stars.

Capuano
We mean the Mets, although there's plenty of room for confusion between the two squads.
We're not talking about the current team and we're not necessarily reflecting on Capuano's current status, as he's shown himself to be reasonably decent at times, and has made a respectable comeback from Tommy John surgery.
What we're referring to is the Mets' historic penchant of employing losers. In Capuano's case, that deals with a streak too recent to be forgotten. From 2007 to 2010 (with surgery in-between), the Brewers lost 19 consecutive games in which he was the starting pitcher.
It's a streak that actually started against the Mets, who beat the then-5-0 lefty, 9-1 on May 13, 2007. (
Damion Easley's
first-inning home run was the key hit.) Capuano lost his next three starts, 8-1, 5-1, and 2-1, and the streak was on its way to a historic measure.
The Elias Sports Bureau says the 19 straight starts without a team win matched an all-time worst streak, last accomplished 94 years ago.
Capuano would actually make 26 straight appearances in Brewers defeats, a skid snapped on July 3, 2010, when he closed out a 12-5 win over the Cardinals. Sixteen days later, he'd throw five innings of one-run ball as a starter in a 3-1 win over the Pirates to snap his other schneids -– the 19-game start streak and Capuano's personal 13-game losing streak.
We mentioned that the Mets have a history of associations of this nature, dating back to their origin –- remember that this is a team that lost 120 games in 1962.
They've never had a pitcher appear in 26 straight games that the team lost (the club record, from a check of
Baseball-Reference.com
is
Larry Miller's
23 from 1965 to 1966), but they've had four instances of a pitcher losing
more
than 13 straight decisions.
Craig Anderson
dropped 19 straight decisions in a streak that started in 1962 and didn't end until 1964. In 1963, original Met
Roger Craig
suffered 18 straight losses, 17 of them coming in starts.
Reliever
Skip Lockwood
would challenge those two marks, with 14 straight losses from 1978 to 1979, but that streak would pale comparatively to the granddaddy of Mets losing streaks, set by
Anthony Young
from 1992 to 1993.
Young can scoff at Capuano's troubles. He lost a major league record 27 straight games, 14 as a starter, 13 as a reliever. Young lost when he pitched badly (losses No. 1 through 3, he allowed 14 runs in 17 2/3 innings) and lost when he pitched well (loss No. 26, he had a one-hit shutout with two outs in the eighth inning against the Padres, but got beat, 2-0).
The good news is that there's little chance that Capuano will ever befall the same fate as any of those predecessors. For one, as we mentioned, he seemed to regain his form toward the end of last season.
For another, if he's in position to have another losing streak of that nature, he probably won't last very long in a Mets uniform.
For now, let's just hope he's no
Jerry Cram
.
Who's that, you ask?
Cram has a losing distinction of another nature, uncovered thanks to
BaseballMusings.com's Day-By-Day-Database
. He pitched in 14 games (all in relief) for the Mets from 1974 to 1975. His numbers were respectable -– a 2.30 ERA and 29 hits allowed in 27 1/3 innings. There was just one problem.
In those 14 appearances, whether they be in close games or blowouts, the Mets never won.