New York Mets:

Dale Murphy
January, 3, 2013
1/03/13
8:14
PM ET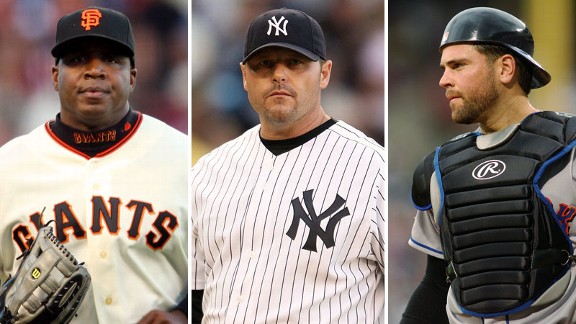 USA TODAY Sports, Getty Images
Barry Bonds, Roger Clemens and Mike Piazza all have been scrutinized by Hall of Fame voters.
Here are the players appearing on my ballot for the Hall of Fame:
1.
Jeff Bagwell
2.
Craig Biggio
3. Jack Morris
4. Dale Murphy
5. Tim Raines
6.
Curt Schilling
7. Lee Smith
The overall voting results will be announced Wednesday at 2 p.m., with a player needing to appear on 75 percent of submitted ballots to be enshrined in Cooperstown and on 5 percent to remain on the ballot for the following year.
I plan to wait a year on
Roger Clemens
,
Barry Bonds
and
Mike Piazza
before placing them on my ballot.
April, 28, 2012
4/28/12
6:44
PM ET
Scott Hairston is back in the lineup Saturday, a day after becoming the 10th Met to hit for the cycle. Terry Collins portrayed it as a reward for recent strong play at the plate.

Still, there was another major factor: Minus Jason Bay and Andres Torres, the outfield alternatives to Hairston for left field were Mike Baxter and Jordany Valdespin. And Collins does not intend to use Valdespin -- a novice -- in the outfield at spacious Coors Field. As it is, Lucas Duda is dealing with a major learning curve because of the high altitude in Denver, which causes the baseballs to carry more than at other ballparks.

Hairston is a .325 hitter with six homers and 15 RBIs in 83 career at-bats at Coors Field.

His production includes a dramatic hit in Game No. 163 of the 2007 season, in a play-in game between San Diego and Colorado. Hairston delivered a two-run homer in the top of the 13th against Jorge Julio, but Trevor Hoffman blew the save and the Rockies instead reached the postseason as the wild-card entrant. Colorado ultimately represented the NL in the World Series.

Torres is due to return Monday in Houston. He completed a rehab assignment Saturday with Triple-A Buffalo.

As for that list of 10 Mets cyclists, the lone one to require extra innings to achieve the feat was Keith Hernandez, in a 19-inning win on July 4, 1985 at Atlanta.

For the record, though, Hernandez notes he actually had achieved the cycle with a 12th-inning single.

And, Hernandez added, he really deserved to have achieved it in regulation. In his second at-bat, Hernandez recalled, he sent a liner to Dale Murphy in center field that the ump ruled a catch with a diving attempt. But Hernandez said the call was incorrect, and the ball was actually sitting behind Murphy.
April, 14, 2011
4/14/11
10:23
PM ET
By
Mark Simon
| ESPNNewYork.com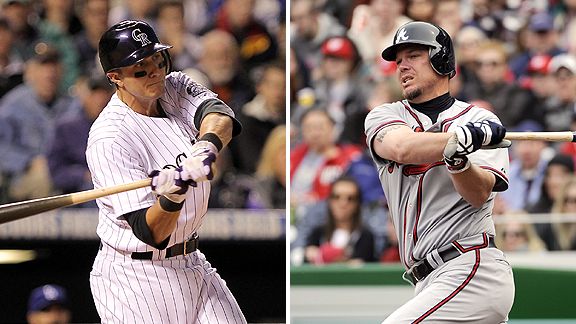 Getty Images
Troy Tulowitzki and Chipper Jones are among those who have caused great pain to Mets fans recently.
Each Thursday, Mark Simon will commemorate the Mets 50th season with stories and notes related to the history of the team.
The standard for all-time great series against the Mets has a new name at the head of the list -- Rockies shortstop
Troy Tulowitzki
, who went 10-for-16 with four home runs and eight runs batted in over the past four games, becoming the first player to hit home runs in each game of a four-game (or longer) series against the Mets.
At the next stop for the Mets, they'll see the former standard-bearer for such greatness,
Chipper Jones
.
Jones set the barometer for all future efforts to be measured against in a three-game series from September 21-23, 1999. With the Braves one game ahead of the Mets for the NL East lead, Jones put on a one-man show, the magnitude so impressive that it basically cinched him the MVP award. He hit home runs in all three games of the series (including a game-winner in the series opener) and drove in seven runs in a three-game sweep.
Mets fans have often been reminded of that performance over the last 12 years (Gary Cohen mentioned it again in Thursday's telecast) that it got us to wondering about others whose Jones-like (or Tulowitzki-esque) efforts may have been forgotten. So we went looking through
Baseball-Reference.com
for others to consider. Here are a few we found:
From the 1960s: Willie Stargell and Dick Allen
Willie Stargell
still holds the record for the most home runs by anyone against the Mets with 60. In 1966, he transitioned from great player to megastar, solidifying that rep with a four-game July series against the Mets in which he went 9-for-15 with three home runs and 10 RBI.
Dick Allen
nearly matched that in 1968, The Year of the Pitcher. In a three-game series, he had four home runs and nine RBI, including a multi-homer game against young Mets flamethrower,
Nolan Ryan
.
From the 1970s, Cesar Cedeno
Before the 1973 Mets became the "Ya Gotta Believe" team that reached the seventh game of the World Series, they struggled through the majority of the regular season.
Among those who took best advantage was Astros outfielder
Cesar Cedeno
, than an exciting young star who some touted as the next
Willie Mays
. In a three-game series in early May, Cedeno was 10-for-18 with six runs scored, netting at least three hits in every game.
Cedeno would come back to hurt the Mets 12 years later, in a different phase of his career as a pinch-hitter extraordinaire with the Cardinals, beating the Mets with an extra-inning home run in a late-season game that had great impact on that year's pennant race.
From the 1980s: Dale Murphy
Before there was Chipper Jones, the Braves megastar was
Dale Murphy
, a power-hitting outfielder who won back-to-back MVPs in 1982 and 1983.
It wasn't so much one series that made Murphy's reputation against the Mets, but multiple ones. Tulowitzki's barrage marked the 65th time that a player homered in at least three straight games against the Mets at any point in his career.
Murphy had the most such streaks-- three of them, including one during a three-game sweep of the Mets in 1987, in which all three games were decided by one run.
Murphy also is remembered in Mets lore for homering off Dwight Gooden to keep his consecutive games streak alive, in a pinch-hitting appearance with a severely injured hand.
From the 1990s, Chipper Jones and Ryne Sandberg
We already mentioned Chipper Jones and thought nothing more needed to be said. But the Elias Sports Bureau gave us one great challenger.
Hall of Famer Ryne Sandberg, in a four-game series against the Mets in June, 1990, went 10-for-18 with four home runs and 10 RBI. He and Tulowitzki are the only ones to have a series against the Mets in which they reached the plateaus of 10 hits, four homers, and eight RBI. But we give Tulowitzki the edge, since the Mets beat Sandberg's Cubs in three of the four games.
From the 2000s, Derek Jeter
We cheat a little bit to include Mets killer
Derek Jeter
on this list of series stingers, the easiest example to cite being the 2000 World Series, in which Jeter won MVP honors by hitting .409 with six runs scored, including a leadoff home run in Game 4 that marked the turning point of the series.
Jeter, by the way, is a smidge away from having the best batting average of anyone against the Mets. His .37987 trails only
Rico Carty's
.380.
But even Jeter would have to be impressed by the player who set the standard for the 2010s, Tulowitzki, who is etching a rep as a Jeter-like player in more ways than one.