New York Mets:

Dale Scott
September, 4, 2012
9/04/12
7:29
AM ET
Collin McHugh
's second major league start lasted only four innings, with McHugh surrendering four runs. The drama, though, came late. With the Mets trailing by a run in the ninth,
Andres Torres
seemingly led off with a double. But at the instruction of injured ex-Met
Carlos Beltran
, the
St. Louis Cardinals
successfully appealed to rookie ump
Dave Rackley
that Torres missed the first-base bag. The Mets, deprived of the baserunner, lost shortly thereafter, 5-4, on Monday afternoon at Busch Stadium.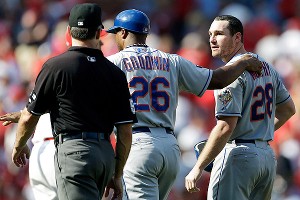 Jeff Roberson/Associated Press
Daniel Murphy jaws at first base ump Dave Rackley after the final out.

Two-run homers by
Kelly Shoppach
and
Daniel Murphy
had clawed the Mets within a run. Despite only 33 at-bats as a Met, Shoppach now has three homers with the club, more than the combined total of
Josh Thole
(one),
Mike Nickeas
(one) and
Rob Johnson
(none). Murphy, meanwhile, produced his first extra-base hit in his past 22 games (18 starts).
Rackley and crew chief
Dale Scott
stood by the call, despite vehement protest from the Mets. The crew noted neither Torres nor first base coach
Tom Goodwin
initially complained about the call.
Rackley told
Terry Collins
he would not have made the ruling had he not been positive it was correct.
"He went over the front corner with his toe and it just kicked dirt up onto the base," Rackley said.
Said Scott after reviewing the video with his crew: "It was exactly what [Rackley] described. His foot went over [the bag], the toes hit the ground, the heel never did [hit the bag]. And did you see where [Rackley] was? He was right there to make the call."
Countered Murphy: "We had access to video. I'm sure you guys did, too. So we know the answer to that."
Now,
Matt Harvey
makes potentially his second-to-last start of 2012 in Game 2 of the series, tonight at 8:15. Harvey, whose innings cap will be reached with two to three more starts, opposes left-hander
Jaime Garcia
(3-6, 4.52 ERA).
Tuesday's news reports:
• Read game recaps in the
St. Louis Post-Dispatch
,
Times
,
Record
,
Star-Ledger
,
Newsday
,
Daily News
and
Post
.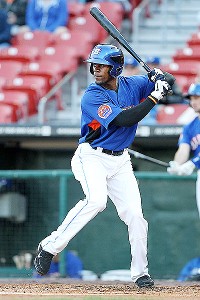 Mike Janes/Associated Press
Fred Lewis, 31, has been rewarded for a solid season at Buffalo with a September call-up.

• With Buffalo's season complete, the Mets have
summoned six additional minor leaguers
to St. Louis:
Jordany Valdespin
, right-handers
Jenrry Mejia
,
Jeurys Familia
and
Elvin Ramirez
, left-hander
Justin Hampson
and outfielder
Fred Lewis
. Buffalo manager
Wally Backman
is
due to join the Mets on Sunday
.
Zach Lutz
, Nickeas and McHugh already had been added -- giving the Mets nine extra players in total.
•
Dillon Gee
joined the Mets in St. Louis. He already has been cleared to begin tossing a baseball following surgery to repair a damaged artery in his pitching shoulder.
•
Andy McCullough
in the Star-Ledger
reviews Harvey's early success, including the influence of former major league pitcher
Don Carman
on the mental side of the rookie's game.
"Sometimes in the minors, it was, 'I have to get this guy out. I have to go seven innings, eight innings, and completely dominate this game in order to get to the big leagues,'" Harvey said, according to
Brian Costa
in the Journal
, while constrasting minor league struggles with major league success. "Whereas here, it's, 'I have to win.'"
Read about Harvey's impending shutdown after two to three more starts in the
Post
.
•
Stephen Strasburg
's
final start of the season
will be Sept. 12 against the Mets at Citi Field.
• Buffalo was rained out at Lehigh Valley on Monday in what is expected to be its final game affiliated with the Mets. Las Vegas has been widely speculated as the Mets' next Triple-A home, but a minor league source said do not rule out Nashville over Las Vegas if the Mets have a choice between those markets. The Brewers currently are affiliated with Nashville and may re-up, though. Meanwhile, Brooklyn sliced its magic number to one with two games remaining to clinch the New York-Penn League's wild card. Like Buffalo, Binghamton and Savannah completed their seasons Monday. St. Lucie opens the Florida State League playoffs tonight at Jupiter. Read the full minor league recap
here
.
TRIVIA:
Who preceded
Tony La Russa
as Cardinals manager?
Monday's answer:
Jason Bay
's first grand slam as a Met came on June 28, 2011 at Detroit. He and Beltran both had slams that day as the Mets snapped a historic streak in which their opponents had hit an MLB-record 18 consecutive unanswered slams.
July, 31, 2012
7/31/12
2:12
AM ET
WHAT IT MEANS:
Scott Hairston
may remain a Met beyond the 4 p.m. ET trade deadline. That's undoubtedly fine with his teammates.
Hairston tied the score with a two-run homer in the eighth against
Sergio Romo
. Then, a half-inning after the Mets blew a two-run lead in the ninth, Hairston went deep again. His tiebreaking solo homer against
Santiago Casilla
in what became a two-run 10
th
lifted the Mets to
an 8-7 win against the Giants
on Monday night at AT&T Park.
It was Hairston's sixth career two-homer game, and his second as a Met. He also homered twice last July 31 in a 3-2 loss at Washington.
A day after
Terry Collins
suggested teams in playoff contention undoubtedly ought to covet Hairston and
Justin Turner
, it was precisely that duo who rallied the Mets.
After Hairston's two-run homer against Romo evened the score at 4, the lightly used Turner followed with his first hit in 11 days -- a pinch-hit RBI double -- as the Mets scored four runs in the eighth to take a 6-4 lead.
The Mets ultimately won for only the third time in 45 games when trailing after seven innings.
HELP WANTED:
Won't you save them
Frank Francisco
?
Asked to protect a two-run lead after a late rally by his teammates,
Bobby Parnell
again failed to close the door in the ninth.
Parnell surrendered a run and was pulled by Collins with the tying run at third base. Rookie
Josh Edgin
then entered the high-pressure situation with one out and coaxed
Nate Schierholtz
into a grounder to first.
However,
Ike Davis
couldn't handle it and the tying run scored. (It was very generously ruled a double, although Davis appeared poised to field it, freeze the runner at third and get an out at first.)
Edgin escaped a loss. Ultimately confronted with the bases loaded, two outs and a full count, he got a called third strike on
Marco Scutaro
on a backdoor cutter to force extra innings.
It officially was the first blown save of Edgin's career, although that's not exactly fair. It actually was a testament to the manager's faith in Edgin that the rookie remained in for the duration of the ninth, since
Manny Acosta
had warmed in the bullpen.
Acosta did protect a two-run lead in the 10
th
, despite issuing two walks and surrendering a run. He notched his ninth career major league save and first since last Sept. 24, with the Mets against the Phillies. Edgin notched his first major league win.
Francisco, by the way, is due to pitch for Double-A Binghamton on Tuesday and Wednesday before the Mets consider activating him from the DL.
E-4:
Filling in for
Daniel Murphy
at second base,
Ronny Cedeño
delivered a two-run double in the fourth inning that staked the Mets to a 2-1 lead. Two innings later, however, Cedeño muffed a would-be inning-ending double-play grounder, allowing the tiebreaking run to score.
Ryan Theriot
followed with a seeing-eye RBI single that chased
Jeremy Hefner
as the Giants took a 4-2 lead in the sixth.
There's little doubt Hefner will continue in the rotation until
Johan Santana
returns from the disabled list. Had Cedeño successfully initiated the double play, rather than muffing
Aubrey Huff's
grounder and having to settle for only the out at second, Hefner would have completed the sixth inning with the score tied at 2.
The worst part: Huff injured himself and had to deliberately limp up the first-base line on his grounder to Cedeño, so any sort of clean play would have resulted in a double play.
Matt Cain
had to pinch-run for Huff.
OUCH: Andres Torres
appeared to jam his right hand/wrist falling to the ground after getting tangled with Giants pitcher
Madison Bumgarner
on an infield single in the fifth inning, during a bang-bang play at first base. Trainer
Ray Ramirez
visited Torres, and the ex-Giant remained in the game at that point. He departed later amid the defensive maneuverings, so it was unclear if the injury was an issue.
Angel Pagan
, for whom Torres was traded, also departed midgame without immediate explanation.
BAY WATCH: Jason Bay
snapped an 0-for-23 drought with a two-out single off the right-field wall in the sixth. Bay ended his hitless streak one shy of matching his career high, produced last season with the Mets.
WELCOME BACK: Mike Baxter
singled against Casilla as a pinch hitter in the 10
th
, in his first major league at-bat since separating his right shoulder on the June 1 catch that preserved Santana's no-hit bid.
NOT AGAIN:
The same umpiring crew that gave the Mets fits in Atlanta again had Collins on the field disputing a call.
In the fourth,
David Wright
singled. Hairston then sent a grounder to third base. Theriot, covering second, dropped Scutaro's throw, but ump
Dale Scott
ruled he held the ball long enough and lost the ball on the transfer -- a debatable call.
That's the inning Cedeño followed with the two-run double, so arguably it could have been a bigger inning.
It was Scott who gave
Jordany Valdespin
credit for a catch in left field, which was then overruled by his crewmates, during a game at Turner Field that opened the second half. A day later in Atlanta,
Dan Warthen
erupted at plate umpire
C.B. Bucknor
over the strike zone afforded Santana. Bucknor again was behind the plate Monday night.
WHAT'S NEXT: Matt Harvey
, coming off a major league debut in Phoenix in which he tossed 5 1/3 scoreless innings, opposes
Tim Lincecum
(4-11, 5.88 ERA) Tuesday at 10:15 p.m. ET.
July, 15, 2012
7/15/12
5:11
PM ET
ATLANTA -- By the time
Dan Warthen
came to the mound to chat with
Johan Santana
on Sunday afternoon at Turner Field, the pitching coach had resolved to get ejected.
In comments echoed by
Josh Thole
, Warthen said Santana indisputably should have had called third strikes on
Paul Janish
and
Michael Bourn
in what became a six-run fifth inning. So the pitching coach went to the mound to visit Santana intentionally trying to get ejected by plate umpire
C.B. Bucknor
.
"I intended to talk to the umpire. Yes," Warthen said after the Mets lost to the Braves, 6-1. "... I didn't intend to be in the game after that. When I left the dugout, I felt that I was leaving. It was time."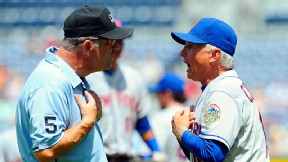 Dale Zanine/US Presswire
Terry Collins takes up the argument with crew chief Dale Scott after pitching coach Dan Warthen was ejected in the fifth inning.

Warthen did not mince words -- suggesting the strike zone was not equivalent for Santana and Braves starter
Ben Sheets
.
"I thought it was a much wider strike zone for Mr. Sheets," Warthen said. "I thought Santana made some good pitches both on Janish and on Bourn, didn't get the calls. They were strikes for the other team and they were not strikes for us. Those are huge pitches, and at that point in time it had been going on, it had been building a little bit. We had enough.
"[Bucknor] asked whether or not I was questioning balls and strikes. And I never really answered him. I had a little quip about that. I'd rather not say what that quip was. He took it as an affirmative and so he ejected me."
Said Thole about Warthen: "He came out pretty calm, but somebody had to go."
Terry Collins
, who came onto the field after Warthen's ejection, took up a conversation with crew chief
Dale Scott
. Collins was not permitted to argue balls and strikes, and said Scott warned him: "You're on thin ice."
To which Collins responded: "I'm just telling you what the perception is."
Warthen said the calls changed what had been a scoreless game. Bourn's ensuing one-out RBI double plated
Matt Diaz
to open the scoring, while advancing Janish -- who ultimately had walked -- to third. At that point, Warthen visited the mound and was ejected.
Martin Prado
followed with a sacrifice fly,
Jason Heyward
had an RBI single and
Freddie Freeman
delivered a three-run homer later in the frame as Atlanta grabbed a 6-0 lead en route to the sweep.
"The inning's over. If Janish is out and Bourn is out, the inning is totally over," Warthen said. "And the pitches he threw to those guys, [Bucknor] called much worse pitches on our guys. To me, and even on the [computerized plotting of balls in strikes] coming in here after the game, they both had them as strikes.
July, 14, 2012
7/14/12
8:29
PM ET
ATLANTA -- After reviewing the play himself, ejected
Terry Collins
said the reversed fifth-inning call that took away a catch from left fielder
Jordany Valdespin
was correct.
Collins added that it also was proper to allow
Martin Prado
to be positioned at second base afterward, since Prado had achieved that base and only scampered back toward first, where
Ike Davis
tagged him, when umpire
Dale Scott
initially -- and incorrectly -- signaled Valdespin had made the catch.
"It was the right call," Collins said.
Scott, also the crew chief, spoke with a pool reporter after the Braves' 8-7 win. He said: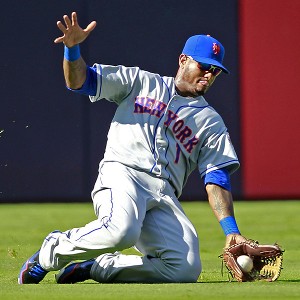 John Bazemore/Associated Press
Jordany Valdespin initially was awarded a catch on Jason Heyward's shot to left field. But after umpires conferred, it was ruled correctly as a single.

"His body was between me and him, so I never had any evidence that he didn't catch the ball. But I never had a good look at it. I called it a catch. Immediately, I saw my partners
Bill Miller
and
Dan Iassogna
coming at me, as we're instructed to do when we have something that's completely different from what happened. We got together as a crew. We definitely had the ball bouncing. That's no catch, and any time that we correct an error like that, we can put the runners wherever we think they should have gone. And that's exactly what we did.
"The runner from first [Prado] had gone to second base. If that call had been called correctly from the get-go, there's no way he's out. It wasn't like [Prado] was holding up or anything anyway. But the point is he gets second, the ... batter [
Jason Heyward
] gets first. Case closed. The play's over. Terry, of course, came out and argued, as he should. That's what he's supposed to do, and he was good about it. He understood. In fact, he said during the argument, 'I know you got the play right, I'm just frustrated.'"
Freddie Freeman
followed with two outs with a tiebreaking two-run double that gave Atlanta a 5-3 lead.
Davis also said the umps ultimately called the play correctly. But he was upset that there was not a similar conference to reverse a call the previous half-inning when Valdespin was ruled out at first by ump
C.B. Bucknor
after bunting -- a decision that similarly was incorrect.
"If you miss a call at first, and he clearly beats it, and you can't reverse that when everyone sees he's safe, it's a weird scenario," Davis said. "I don't know how you reverse calls versus you don't reverse calls. That's the whole replay thing, which I don't want to get into."