New York Mets:

Dan Johnson
July, 10, 2012
7/10/12
8:15
AM ET
Three days until the Mets resume game action Friday in Atlanta ...
Tuesday's news reports:
• San Francisco's
Matt Cain
was announced as the NL's starting pitcher for tonight's All-Star Game by skipper
Tony La Russa
, not
R.A. Dickey
. Instead, Dickey's entrance should coincide with backup catcher
Carlos Ruiz
of the Phillies entering the All-Star Game, according to
Terry Collins
. La Russa
pledged he would use Dickey
, and that it would be during the first half of the game. La Russa selected
Carlos Gonzalez
as the NL's designated hitter, so
David Wright
and
Chipper Jones
will be the reserve third basemen behind San Francisco's
Pablo Sandoval
.
"Well, I'm not going to break down in tears over it," Dickey dryly told New York reporters. "But, at the same time, I'm a competitor. I want to pitch. I want to start. I feel like I had a good-enough first half to be considered. But I'm not the boss. I don't have to necessarily agree with it, but I certainly have to respect it. That's the way it is. I think that might be one of my bigger disappointments because I really felt like it would have been a neat thing for the New York Mets organization and the fan base. Having shared so much of this story with them, I felt like that would have been a neat culmination or apex to the story."
Columnist
John Harper
in the Daily News
faults the silly this-game-counts mantra for the decision to snub Dickey, which was a lost opportunity for MLB to tell -- and market -- the knuckleballer's story. Writes Harper:
But I blame Bud Selig for screwing this up, as well. His insistence on making the All-Star Game count for home-field advantage in the World Series, a ridiculous idea from the start, is surely what sent La Russa into Bill Belichik mode, preparing for his one-game return to baseball as if designing a game plan for a Super Bowl. If the game were still merely a showcase for baseball's best players, with nothing at stake but league pride, I'm convinced La Russa would have given Dickey the start Tuesday night, rather than Matt Cain. It's not as if he doesn't understand the national appeal of Dickey's story, or wouldn't enjoy rewarding the perseverance of a 37-year-old pitcher who endured years as a journeyman before turning himself into a knuckleball star.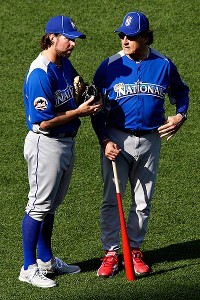 Charlie Riedel/Associated Press
Snubbed R.A. Dickey finally gets to chat with NL skipper Tony La Russa during the team's Monday afternoon workout in Kansas City.

Writes
Kevin Kernan
in the Post
:
Plain and simple, the Mets got hosed. Manager-for-a-day Tony La Russa chose to be a knucklehead by choosing Giants ace Matt Cain over the Mets' R.A. Dickey to start tonight for the National League in the 2012 All-Star Game at Kauffman Stadium. The former Cardinals manager never discussed the situation with Dickey before making the decision. Dickey is tied for the league lead in wins in his storybook season, but La Russa made it an all-Giants battery with Cain throwing to Buster Posey, saying he wanted to "reward Matt Cain for a career of excellence.''
Derek Jeter
told Kernan: "I looked kind of foolish when I faced him at Citi Field. I'm happy he's not starting.''
Brian Costa
in the Journal
looks at the history of catchers handling the knuckleball in the All-Star Game, which is one reason why
Tim Wakefield
went unused when he was selected in 2009 and
Phil Niekro
similarly did not get into the game his final two selections. Writes Costa:
Consider the fate of the last man to catch the pitch in the All-Star Game. In 1986, Red Sox catcher Rich Gedman came off the bench in the eighth inning with Texas Rangers knuckleballer Charlie Hough on the mound. In one humiliating sequence, Gedman allowed a runner to advance to third base on a wild pitch; dropped a third-strike knuckleball to allow the runner to score and the batter to reach first; and then dropped another third strike before tagging the batter out. Another run scored before American League manager Dick Howser mercifully pulled Hough from the game, which the AL barely held on to win, 3-2.
For years after, Gedman refused to even play catch with a teammate who wanted to toy around with a knuckleball. And even today, his nightmarish All-Star appearance remains a sore subject. "I'm sensitive about it, because it's a reminder of the time I failed -- and failed miserably," said Gedman, now the hitting coach for the Class A Salem (Va.) Red Sox. "I did the best I could. It just wasn't very good."
Columnist
David Lennon
in Newsday
polled American League players and asked if they would prefer facing Cain or Dickey. Wrote Lennon:
It was no question. Every one preferred to hit against Cain.
Read more in from
Ken Davidoff
in the Post
as well as in the
Daily News
,
Newsday
,
Times
and
Journal
.
•
Andy McCullough
in the Star-Ledger
looks at Wright's resurgent season, which got off on the wrong foot with a rib-cage injury in spring training, then a broken pinkie that threatened to land him on the disabled list in April. "I don't think I'm as bad as I was last year," Wright told McCullough. "It's tough to say I'm as good as I am this year. It's probably somewhere in between. I have to keep that in perspective. I didn't all of a sudden find some magic potion, and think I can do this for the rest of my career. You've got to take advantage of when you've hit a hot streak. And we've been fortunate enough that in this lineup, this year, I've been able to do that."
Writes
Mike Kerwick
in the Record
in a profile of Wright:
There are plenty of moments that still bring him joy. On June 18, before a 5-0 win over the Orioles, Wright was playing catch on the field with members of Hofstra's softball team. One of the college's pitchers was throwing fastballs. Wright politely requested changeups. And last week, after a night game, the Mets were putting on a postgame fireworks show. Wright grabbed some food and headed for the door. He walked out of the clubhouse to watch the fireworks.
•
Valentino Pascucci
won the Triple-A Home Run Derby on Monday night before a crowd of 17,244 in Buffalo, beating Charlotte's
Dan Johnson
of the Chicago White Sox organization in the finals. Buffalo hosts the Triple-A All-Star Game on Wednesday, with
Matt Harvey
, Pascucci and closer
Fernando Cabrera
due to represent the Bisons/Mets. "He's a big dude and he was bombing them 400 plus over the net," the Patriots'
Rob Gronkowski
, who won the celebrity derby, told
Mike Harrington
in the Buffalo News
about Pascucci. "That was cool to see."
• Brooklyn players
Brandon Nimmo
,
Kevin Plawecki
,
Phillip Evans
and
Paul Sewald
recorded a segment at the Coney Island ballpark showing MTV's
Lenay Dunn
how to play baseball. View a photo
here
.
• Former phenom
Scott Kazmir
is trying to make a comeback with the Sugar Land Skeeters in the independent Atlantic League, in the southpaw's native Texas. Kazmir auditioned for the Mets during spring training but went unsigned. Writes
Joshua Siegel
in the Houston Chronicle
:
The past two years have not been easy on Kazmir as he suffered a drop in his velocity and confidence. In 2010, he saw his ERA balloon to 5.94 and, after one horrific outing in 2011, he found himself pitching in extended spring training and the minors. After going 0-5 for the Angels' Class AAA affiliate and allowing 30 runs in 151D3 innings, the Angels let him go despite owing him $14.5 million. Kazmir said that during his time in the minors it was a coin flip whether he would be able to get the ball over the plate. "I mean when you go out there and you struggle like I did, it's tough to have confidence. It really is," he said. "Today being able to do what I did, it's definitely a step in the right direction."
On Sunday, Kazmir's fastball was in the low 90s and topped out at 95 mph.
• Left-hander
Steven Matz
, the organization's top draft pick in 2009, tossed six scoreless innings, but the bullpen squandered a 6-0 lead in Kingsport's loss. Read the full minor league recap
here
.
• Kerwick
in the Record
reviews the Mets at the midway point.
•
Mike Puma
in the Post
offers grades. Wright gets an A.
Jason Bay
gets a D.
•
Richard Sandomir
in the Times
reviews
devout Mets fan
Jerry Seinfeld
talking about his admiration for
Bud Abbott
and
Lou Costello
and the "Who's on First?" routine. Writes Sandomir:
Seinfeld's fascination with Abbott and Costello began in the 1960s when he started to watch reruns of the comedy team's syndicated TV series. He plucked some of what he admired for his own series: a short routine to open each episode; playing the Abbott-like straight man to the other characters, and emphasizing the physical differences between Kramer's lean physique and Newman's porcine one. And George Costanza's middle name, Louis, paid homage to Costello. Seinfeld said he experienced a "Who's on First?" moment in an episode, "The Package," in which Kramer says the Postal Service will take a write-off if Jerry files a fraudulent claim that his stereo was damaged during delivery.
TRIVIA:
Citi Field will host the 2013 All-Star Game. Where is the 2014 game due to be played?
Monday's answer:
Darryl Strawberry
was the youngest Met ever to have a plate appearance in an All-Star Game. He was 22 years, 120 days old on July 10, 1984 when he went 1-for-2 as the starting right fielder for the NL at Candlestick Park in San Francisco.
May, 13, 2012
5/13/12
7:18
PM ET
BUFFALO 7, CHARLOTTE 6:
When
Josh Edgin
replaced
Fernando Cabrera
in the bottom of the ninth, his task was simple: Get one out and the Bisons' three-game losing streak would be over. Easier said than done, but Edgin ultimately was up to the challenge. Charlotte's
Dan Johnson
popped out to shortstop
Omar Quintanilla
. The Bisons had not made it easy on themselves. With his club down 7-4 entering the bottom of the ninth, Charlotte's
Jim Gallagher
singled to start things off.
Ray Olmedo
then walked. Cabrera rebounded to strike out two, but
Drew Garcia
then ripped a two-run double. Herd manager
Wally Backman
inserted Edgin at that point for his first Triple-A save. Trailing 4-2, the Herd produced a five-run eighth.
Lucas May
opened the inning with a single, and
Fred Lewis
reached with one out on a throwing error that sent May to second.
Vinny Rottino
then provided a double that scored May, at which point the Knights made a pitching change with a 4-3 lead. The change proved ineffective, as the Herd scored four more runs. After
Valentino Pascucci
struck out,
Matt Tuiasosopo
came through with a single that scored Lewis and Rottino for a 5-4 lead.
Josh Satin
and
Dustin Martin
then produced consecutive RBI doubles.
Matt Harvey
got the start for the Herd and did not factor in the decision. He allowed four runs on seven hits and two walks while striking out six in six innings. He threw 91 pitches (63 strikes) and surrendered a solo homer to
Tyler Kuhn
.
Elvin Ramirez
(2-0) relieved Harvey and allowed one hit in two scoreless innings.
Box
BINGHAMTON 7, NEW HAMPSHIRE 6:
The B-Mets belted three homers to match a season high, including a go-ahead blast by
Jefry Marte
in the seventh. The seesaw battle saw Binghamton grab its first lead using a two-out rally against starter
Randy Boone
in the third.
Rylan Sandoval
started the charge with a double and
Pedro Zapata
followed by reaching on third baseman
Mark Sobolewski's
throwing error.
Matt den Dekker
extended his hitting streak to nine games with a two-run double. The Fisher Cats answered the following half-inning. With two outs and a runner on, Sobolewski hammered his league-leading eighth homer to tie the score. After a hit batsman and a single,
Brian Van Kirk
delivered a two-run double. The B-Mets answered with a pair of long balls in the fifth.
Sean Kazmar
ripped a homer and den Dekker tied the score with a shot off the batter's eye. Kazmar's homer was his first since July 2011. New Hampshire took the lead right back with another two-out hit the next half-inning.
Brian Van Kirk
laced a run-scoring single to plate Sobolewski, giving the Fisher Cats a 5-4 advantage. It was the final inning for
Greg Peavey
, who allowed five runs on seven hits over five frames.
Trailing by one with two men aboard in the sixth,
Travis Ozga
delivered. After going hitless in his first 16 at bats against the Fisher Cats in 2012, Ozga dumped an RBI single to right against reliever
Danny Farquhar
to score
Eric Campbell
and knot the game at 5. In the seventh against reliever
Aaron Loup
with two outs,
Juan Lagares
reached on another throwing error by Sobolewski. Marte immediately launched a two-run homer to give Binghamton a 7-5 lead. It was Marte's first home run with the B-Mets. After
Armando Rodriguez
tossed a scoreless sixth and seventh, the Fisher Cats threatened in the eighth by putting two men aboard with one out against
Jeff Kaplan
. After falling behind
Brian Jeroloman
1-0, Kaplan was replaced by
Robert Carson
. Fisher Cats manager
Sal Fasano
countered by pinch-hitting for Jeroloman with
A.J. Jimenez
. Jimenez popped out in foul territory and
Justin Jackson
flied out to end the threat. It did not get any easier for Carson in the ninth after two singles and a wild pitch put runners at second and third with one out.
Mike McDade
cut the deficit to one with a sac fly, but
Brad Glenn
stranded the tying run at second by striking out on three pitches. Rodriguez (2-0) has not allowed a run in more than 13 innings on the hill. Carson collected his first career save. The B-Mets (17-18) enjoy a day off Monday.
Box
SAVANNAH at HICKORY (ppd):
Box
Compiled from team reports
May, 11, 2012
5/11/12
11:48
PM ET
CHARLOTTE 3, BUFFALO 2 (10 innings):
With two outs in the bottom of the 10th,
Jack Egbert
relieved
Josh Edgin
.
Hector Gimenez
singled to score
Greg Golson
, and Charlotte knocked off the Bisons. Edgin had replaced
Dylan Owen
heading into the 10th, and Golson took advantage with a leadoff double. A sacrifice bunt sent Golson to third, giving Gimenez the opportunity to display his late heroics. The Bisons had a chance of their own in the top of the 10th, but could not capitalize.
Lucas May
opened the extra frame with a double, but Knights pitcher
Gregory Infante
was able to retire the next three Bisons batters in order. Down 2-1 entering the top of the ninth,
Valentino Pascucci
opened the frame with a double.
Michael Fisher
pinch ran.
Josh Satin
then ripped a single, scoring Fisher and tying the score. The Knights had opened the scoring with a first-inning
Dan Johnson
single that scored Golson. It took the Bisons seven innings to produce any runs. Trailing 1-0 through six,
Matt Tuiasosopo
produced a double that scored Pascucci. The Knights responded with a run in the eighth.
Garrett Olson
started for the Bisons and produced a quality start, allowing four hits in 6 2/3 innings. Olson had 10 strikeouts and one walk. He received a no-decision. Edgin was charged with the loss.
Box
BINGHAMTON 11, NEW HAMPSHIRE 4:
The B-Mets pounded out 13 hits, including three home runs, and starter
Gonzalez Germen
fired seven innings.
Matt den Dekker
started the attack in a five-run first with a leadoff single off
Deck McGuire
. After a wild pitch moved him to second,
Josh Rodriguez
gave the B-Mets the lead for good with an RBI single.
Raul Reyes
followed with a hit, and
Jefry Marte
doubled Binghamton's lead with a run-scoring single. After McGuire walked
Reese Havens
to load the bases,
Juan Lagares
produced another run with a groundout.
Eric Campbell
ended McGuire's night with a two-run double. The righty recorded only one out, his shortest career outing. By the time
Fernando Hernandez
struck out
Pedro Zapata
to end the frame, the B-Mets held a 5-0 lead. Given a five-run edge, Germen got off to a bumpy start. The right-hander allowed two runs on three hits while walking two in the bottom half. He escaped further damage by inducing
Brad McElroy
to fly out with the bases loaded to end the inning. Den Dekker kicked the lead back to five with a long-overdue homer in the fourth. The center fielder crushed the first pitch he saw from
Matt Daly
to right for a two-run shot. It was Binghamton's first homer since May 3 -- a drought of 67 innings and 277 plate appearances. Rodriguez kept the offense rolling with another homer in the sixth, a three-run shot. Campbell added a solo blast off
Aaron Loup
in the eighth. It was Binghamton's first multi-homer game since it hit three against Portland on April 15. Germen settled down after his spotty first inning, facing the minimum from the second through the sixth. He surrendered one run on three consecutive hits in the seventh before inducing
A.J. Jimenez
to bounce into a fielder's choice to end his night. Germen (1-1) allowed three runs on eight hits and struck out three in seven frames to earn his first Double-A victory.
Edgar Ramirez
took over in the eighth and wrapped up the game, allowing one run on three hits in two innings.
Mike McDade
tagged him for a solo home run. The B-Mets (16-17) look to secure the series win Saturday. Left-hander
Darin Gorski
opposes right-hander
Yohan Pino
.
Box
ST. LUCIE 11, BREVARD COUNTY 2:
Richard Lucas
had three hits and
Danny Muno
,
Robbie Shields
and
Francisco Pena
drove in two runs apiece.
Ryan Fraser
tossed 3 2/3 scoreless, no-hit relief innings.
Box
HICKORY 3, SAVANNAH 1: Tyler Pill
struck out 10 while limiting Hickory to two runs in six innings but suffered the loss.
T.J. Rivera
homered to account for the Gnats' lone run.
Box
Compiled from team reports