New York Mets:

Dan Patrick
September, 20, 2013
9/20/13
7:54
AM ET
NEW YORK
FIRST PITCH:
David Wright
could be back in the lineup tonight for the first time since straining his right hamstring Aug. 2.
But Wright does not put any stock in trying to catch the
Philadelphia Phillies
during the weekend series at Citizens Bank Park.
Charles LeClaire/US PresswireDavid Wright should return to the lineup tonight.
The Mets (68-84) are on track to finish fourth in the NL East for the fifth straight season. They trail the third-place Phillies (71-81) by three games with 10 to play.
If the season ended now, the Mets would be even with the
Milwaukee Brewers
for the seventh pick in the draft. The
San Francisco Giants
, who have the first unprotected pick, are 2½ games better than the Mets.
"In my eyes, third place, fourth place, you're still going home," Wright said. "So, to me, it's not all that important. What's important is that we try to go out there and win each game, to try to play good baseball and finish strong. Because I think there is something to be said -- especially when you have a young team like this -- to finish strong, where you have guys competing for jobs for next year, guys competing for playing time. With the injuries that we've had, with the trades that we've made, it sure has opened up some chances for guys that probably wouldn't have a chance right now."
Wright said he will confer with Terry Collins and trainers before a firm resolution is made on entering the lineup tonight. Collins has indicated he
expects Wright to play in the series opener
.
Daisuke Matsuzaka
(1-3, 6.12 ERA) is due to face left-hander
Cole Hamels
(8-13, 3.48).
As for what Wright has observed about the Mets while watching from the bench in recent weeks, the captain said: "I love the intensity, the enthusiasm that we're playing with. We're making a ton of mistakes. But that's expected with a young group. But the attitude is there. The preparation is there.
"Now, it's just a matter of getting these guys enough at-bats and innings where the execution becomes second nature, where they're not nervous, where they're not a little tight, because they obviously don't have much big-league experience."
Friday's news reports: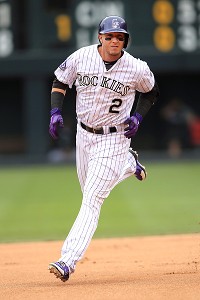 Doug Pensinger/Getty ImagesThe Rockies may be willing to trade Troy Tulowitzki.
• Columnist John Harper
in the Daily News
believes the Mets should make a bid to acquire shortstop
Troy Tulowitzki
from the
Colorado Rockies
. Tulowitzki is owed at least $134 million over the next seven seasons. Writes Harper:
The Rockies aren't desperate to get rid of the contract, but baseball people familiar with their thinking say Colorado believes getting a package for Tulowitzki while reinvesting some of the money it would save could speed up a necessary rebuilding process.
OK, so how about this: Travis d'Arnaud, Dillon Gee, and Rafael Montero for Tulowitzki.
•
Jonathon Niese
suffered a tough-luck loss. The southpaw surrendered two runs in seven innings but was outdueled by fellow left-hander
Madison Bumgarner
as the Giants
won Thursday's rubber game, 2-1
. The Mets went 4-7 on their longest homestand of the season. They scored 2.2 runs per game and hit only .184 with four homers during that 11-game stretch.
Read game recaps in the
Post
,
Daily News
,
Star-Ledger
,
Record
and
MLB.com
.
•
Bobby Parnell
said goodbye to teammates Thursday and indicated to reporters he is
confident he will be ready for spring training
. Parnell underwent surgery to address a herniated disk in his neck on Sept. 10.
• Does
Zack Wheeler
have one or two starts remaining? Collins said that depends on how deep Wheeler pitches in Monday's start at Cincinnati. If the rookie goes seven or eight innings, he
likely is done for the season
.
•
Ruben Tejada
, who suffered a broken fibula in his right leg on Wednesday, is the
best internal option to be the Opening Day shortstop
next season, Collins said. Of course, the manager added, Tejada needs to demonstrate with work that he merits that opportunity. Collins did not discount an external acquisition this offseason to fill the role. Read more in the
Post
,
Star-Ledger
,
Record
and
Newsday
.
• Double-A shortstop Wilfredo Tovar is
due to join the Mets today in Philly
. Collins
foresees a platoon
between the lefty-hitting
Omar Quintanilla
and the righty-hitting Tovar the remainder of the season, although Tovar has been idle for two weeks, so Quintanilla should start tonight against Hamels.
•
Matt Harvey
made a second call-in to The Dan Patrick Show to apologize for his Qualcomm-focused first appearance. Watch
here
.
Critic Bob Raissman
in the Daily News
wrote this dissenting take:
It's strange, even hypocritical, that Patrick or any other sports talkie would find fault with Harvey putting his business responsibility way ahead of answering all questions about his elbow, which he did briefly address.
Read more in the
Post
.
• Tim Rohan
in the Times
notes the Mets appear headed for their fifth straight season finishing in fourth place. Asked if a third-place finish might signal progress, 1960s- and '70s-era Met Ed Kranepool told Rohan: "That's irrelevant to me! Would it make any difference if they were second? It wouldn't make any difference to me. The number that matters is: Are you in the playoffs? I'm 69 years old. I want to see them good again. I don't want to run out of time."
• Read more on Wright's probable return in the
Post
,
Daily News
,
Star-Ledger
,
Record
and
Newsday
.
• Jared Diamond
in the Journal
looks at the Mets' massive turnover between the Opening Day roster and the current team.
•
From the bloggers …
John Delcos at
Mets Report
writes about how the Mets' propensity for striking out defines them. … Mark Berman from
Blogging Mets
believes Collins made some poor decisions in the ninth inning Thursday.
BIRTHDAYS:
Jason Bay
, who was released by the
Seattle Mariners
on Aug. 6, turns 35. … Dave Gallagher is 53.
TWEET OF THE DAY:
they took out Parnell's voicebox by mistake? oh, #METS pic.twitter.com/biaxnfgwEE

— Mets Fan In Therapy" (@MetsFanInPhilly) September 19, 2013
YOU'RE UP: Would you rather a better draft pick or finishing ahead of the Phillies?
September, 19, 2013
9/19/13
7:08
AM ET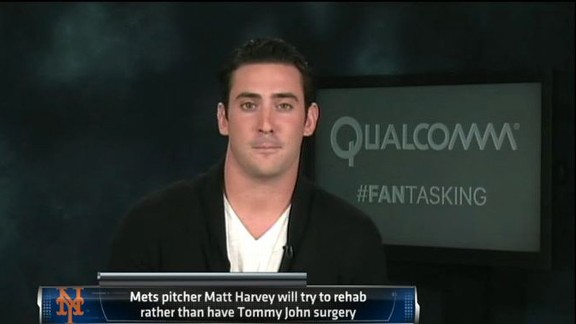 ESPNMatt Harvey appeared on ESPN as a pitchman for Qualcomm. An appearance earlier in the day did not go very well.
NEW YORK
FIRST PITCH:
Ruben Tejada
, quite literally, suffered a bad break.
Given a limited opportunity to prove he merits being the 2014 shortstop, Tejada's audition of sorts is now over. He
suffered a broken fibula in his right leg
colliding with left fielder
Andrew Brown
while catching a pop fly in the top of the ninth during Wednesday's 5-4 come-from-behind win against the
San Francisco Giants
.
Tejada, who turns 24 next month, hit .143 (3-for-21) in seven September starts after returning from a banishment to Triple-A Las Vegas. He finished the season hitting .203 overall in 208 at-bats. Sandy Alderson said it was "like pulling teeth" to get Tejada to do extra work.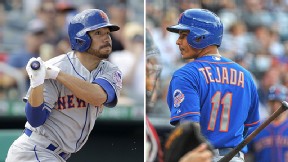 Associated PressWith Ruben Tejada done for the season, Omar Quintanilla is back to being the regular shortstop.
The Mets delayed Tejada's call-up until Sept. 10, which will leave him one day shy of three full years of major league service at season's end. Tejada still will be first-time arbitration-eligible as a Super 2, but his salary -- if the Mets choose to retain him -- should not be that far north of the $500,000 major league minimum in 2014.
By delaying Tejada's free agency until after the 2017 season, the Mets do make Tejada marginally more marketable in a trade.
It would be no great surprise if the Mets' Opening Day shortstop is not currently with the organization, since
Omar Quintanilla
is widely considered in baseball as a backup. All-Star
Jhonny Peralta
, currently serving a 50-game suspension related to Biogenesis, headlines the list of free agents at the position. (
Nelson Cruz
, another All-Star serving a 50-game suspension, also is a pending free agent, if the Mets are not averse to the Biogenesis route for adding outfield bats.)
Meanwhile,
Jonathon Niese
(7-7, 3.88 ERA) opposes fellow southpaw
Madison Bumgarner
(12-9, 2.83) in today's 1:10 p.m. rubber game at Citi Field.
Thursday's news reports:
•
Josh Satin
's two-run single against All-Star
Sergio Romo
capped a four-run ninth as the Mets rallied to beat the Giants. In his major league debut, catcher
Juan Centeno
had two hits, including a run-scoring infield single earlier in the ninth-inning rally. The Mets, who entered the frame trailing 4-1, overcame their largest ninth-inning deficit since June 16. That day, they also had a four-run ninth, and beat the
Chicago Cubs
, 4-3, on
Kirk Nieuwenhuis
' three-run homer.
Read game recaps in the
Post
,
Star-Ledger
and
MLB.com
.
•
Matt Harvey
publicly apologized to The Dan Patrick Show and Qualcomm on Wednesday afternoon, after his appearance that morning irked the host. Companies often pay for athletes to appear on shows, with the understanding the athlete will be given a brief opportunity to promote a product while otherwise answering topical sports questions.
When Harvey appeared with Patrick, he only wanted to talk about the wireless technology company, not his decision to forgo -- at least for now -- Tommy John surgery.
Asked about the scariness of the Tommy John surgery decision, Harvey said: "Every pitcher can relate to what's going on. I did all of those answers yesterday. Maybe at the appropriate time we can talk about that. But obviously today's about Qualcomm."
Asked by an incredulous Patrick if he really did not want to talk about his elbow, Harvey added: "We can set up another call, if you'd like to, about that subject, but today we're honoring and supporting Qualcomm." (Watch on YouTube
here
.)
Presumably after getting some P.R. advice, Harvey did discuss with ESPN his decision to rehab rather than immediately undergo Tommy John surgery. Watch
here
.
Harvey eventually tweeted: "I've had a few rough outings on the mound, that was a rough outing on the radio this morning... Been an exhausting couple of days. Apologies to @DanPatrick and @Qualcomm"
The Daily News reported Harvey fired a publicist earlier this year after an ill-fated Men's Journal article, and that this was his first time doing interviews as a paid spokesman for a company.
Read more in the
Daily News
,
Post
,
Record
and
Newsday
.
•
Billy Wagner
, who had Tommy John surgery while with the Mets, tells Mike Puma
in the Post
that Harvey is delaying the inevitable. "You can get it done now and be done with it, and the rehab is not a hard rehab," Wagner told Puma. "… When I was rehabbing at 80 or 85 percent, I couldn't tell anything was wrong. But as soon as I let it go a little bit, there's a big difference."
• Richard Sandomir
in the Times
writes that Tommy John surgery first is paid by workers' compensation, with the difference covered by the team.
• Terry Collins, appearing on WFAN, cited Harvey's determination as a reason why he may very well avoid Tommy John surgery. Said Collins: "I told one of the coaches today: I would not be afraid to have someone bet me that Matt Harvey will be the Opening Day pitcher, because I think he will be."
Collins expects
David Wright
(hamstring strain) to return from the disabled list this weekend in Philly. The manager also predicted
Wilmer Flores
would open next season in the minors if there is no defined position for him, whereas Brown and Satin could be righty-hitting major league bench pieces in 2014.
As for
Daniel Murphy
, Collins said he again would expect to see him at second base next season -- "not at this moment" at first base next year. The manager did allow, though, for a scenario not currently foreseeable in which
Eric Young Jr.
mans second base and Murphy slides over to first base. "I don't know what the winter is going to hold," Collins said. Of course, that latter scenario would logically involve the departures of
Ike Davis
and
Lucas Duda
.
Collins noted the Mets will need to bring a veteran starting pitching hedge to camp, even if Harvey is OK in a rotation alongside
Zack Wheeler
, Niese and
Dillon Gee
. That veteran would compete with Jacob deGrom and Rafael Montero among others and also serve as a safety net in case of an injury. Asked if it could be a re-signed
Aaron Harang
, Collins said: "We've got to have one of those [veteran-type] guys coming into camp. Who that is I don't know yet."
(Alderson, who not too long ago said he would look to sign a major starting pitcher, did a 180-degree turn Tuesday on that topic.)
Listen to Collins' full interview
here
.
• Read more on Tejada's fractured fibula in the
Star-Ledger
,
Daily News
and
Newsday
.
• Missed Jerry Seinfeld appearing on Tuesday's Mets telecast? You can watch the highlights
here
.
At one point, Seinfeld -- a Mets fan -- mocks the publicity Dr. James Andrews is getting for examining Harvey on Monday in Gulf Breeze, Fla.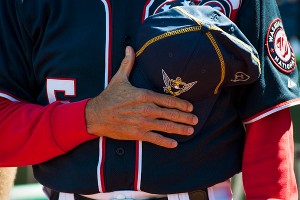 by Katherine Frey/The Washington PostDavey Johnson, as well as his Nats, wore Navy hats pregame only.
"I want to know why these doctors are getting billing now. Who the hell is this guy? He's a big star now --
Dr. Andrews?
" Seinfeld said. "Why do I got to hear about him for? … I mean, do we get free treatment out of this guy for all of these plugs? 'I'm Dr. Andrews. I talked to Matt Harvey. I didn't do a damn thing. Did you hear me on the broadcast? They said my name four times. I'm Dr. Andrews.'"
• Keith Olbermann scolded Major League Baseball and, to a lesser extent, the
Washington Nationals
over wearing "Navy" hats during batting practice, but not in-game after the shooting at the Navy Yard, blocks from the team's ballpark.
The issue is nearly identical to the Mets -- during games on the anniversary of 9/11 -- no longer wearing the caps of New York City first-responder agencies.
MLB has licensing agreements and does not grant in-game waivers for unauthorized caps it cannot market. The Nats did not even bother to ask about wearing the Navy caps in-game this time, Olbermann suggested, because MLB's policy is clearly established and inflexible.
Nats manager Davey Johnson responded about Olbermann (via
@JamesWagnerWP
): "He's not high on my list."
• Wheeler is at 168 2/3 innings between the majors and minors this season, and the Mets likely want to cap the rookie at no more than 180 innings. So Collins said Wednesday it is unresolved whether Wheeler's final start will be Monday in Cincinnati, or he also will appear in the regular-season finale the following Sunday at Citi Field against the
Milwaukee Brewers
as part of a continued six-man rotation.
Mike Piazza
will be inducted into the Mets Hall of Fame that day. Read more in the
Star-Ledger
.
•
Travis d'Arnaud
could return to the lineup today after missing a game. D'Arnaud was struck by a foul ball in the right shoulder off the bat of
Hunter Pence
on Tuesday. D'Arnaud has repeatedly gotten hit in the head of late as well, primarily from backswings.
"It's more than I've ever seen, and it's a little bit concerning," Mets bench coach Bob Geren told Jorge Castillo
in the Star-Ledger
about the beating d'Arnaud is taking.
Geren told Marc Carig
in Newsday
there is a "conundrum" because typically you move closer to the plate when getting hit by too many foul balls and farther away from the plate if you're getting by backswings. And d'Arnaud is a victim of both.
Read more in the
Record
.
•
Justin Turner
(hamstring) is not ready to do baseball activities.
Frank Francisco
(hand) also is not ready to return.
• Howard Megdal
at Capital New York
finds Alderson's unwillingness to speak about the team's 2014 payroll troubling.
•
From the bloggers …
Faith and Fear in Flushing
would like Howie Rose to reunite with Gary Cohen on the season's final day.
BIRTHDAYS:
Left-hander Randall K. Myers turns 51.
TWEET OF THE DAY:
I like when money makes a difference but don't make you different

— Dominic Smith (@TheRealSmith22) September 19, 2013
YOU'RE UP: Does Ruben Tejada deserve to be a part of the 2014 Mets?