New York Mets:

Dave Jauss
October, 14, 2011
10/14/11
4:49
PM ET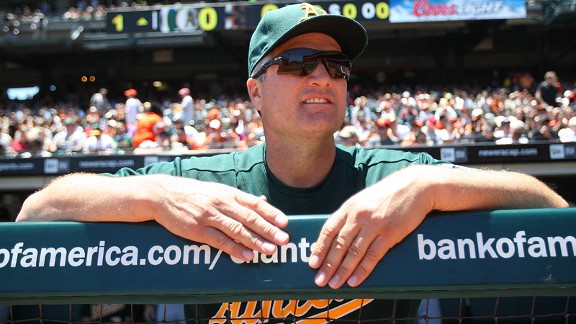 Michael Zagaris/Getty Images
Bob Geren has been chosen as the 2012 bench coach for the Mets.
The Mets have selected former Oakland Athletics manager
Bob Geren
as the team's new bench coach. He was picked over former Washington Nationals manager
Jim Riggleman
, according to a source familiar with the process.
"Bob Geren's experience as a former manager and bench coach will be a great fit for us," manager
Terry Collins
said in a statement. "Adding a former major league catcher like Bob to our staff will be ideal."
Despite only two widely named candidates, the Mets had been due Friday to speak with
Dave Jauss
as well. Jauss actually was
Jerry Manuel's
bench coach for one season and also served in that role for the Baltimore Orioles.
Geren had a 334-376 record as Oakland's manager from 2007 until his dismissal midway through this past season.
Meanwhile, there were no indications the first-base coach job would be imminently filled. A team insider said the Mets will value diversity in that hire. They also presumably would be looking to hire someone with outfield experience to succeed
Mookie Wilson
in instructing that position, since new third base coach
Tim Teufel
has an infield background.
A Mets source confirmed longtime minor league instructor
Kevin Morgan
has interviewed for the first base coaching position. He has an infield background.
February, 21, 2011
2/21/11
1:59
PM ET
Here's the press release on the Mets' minor league appointments:

The New York Mets today announced the appointments of six instructors to the minor league and player development staff: Dave Jauss to the newly created role of Coordinator of Staff Development, Brian Chicklo as Medical Coordinator, Rick Tomlin as Roving Pitching Instructor, Mark Brewer as Short Season Roving Pitching Instructor, Jack Voigt as Outfield/Baserunning Coordinator and Randy Niemann as Rehabilitation Pitching Coordinator.

Jauss, 54, will oversee the development of staff and player preparation in his new position. Last season, Jauss served as the bench coach on the Mets' major league staff.

Chicklo, 39, served as the Triple-A trainer for the past nine seasons. This year will his 12th in the Mets' organization.

Tomlin begins his third season with the Mets. He spent his previous two seasons as the pitching coach for Brooklyn (A) of the New-York Penn League.

Brewer also will act as the pitching coach for the GCL Mets (R) of the Gulf Coast League. Last season, Brewer served as the pitching coach for Binghamton (AA) of the Eastern League.

Voigt, 44, moves to his new role from Buffalo (AAA) of the International League where he was the Bisons hitting coach.

Niemann, 55, enters his 24th season with the Mets' organization. Last season, the Scotia, CA native was the big league club's bullpen coach.

The Mets previously announced the appointment of Dick Scott as the Minor League Field Coordinator. Scott spent last season in the same role with the Houston Astros.

Kevin Morgan (Coordinator of Instruction/Infield Coordinator), Lamar Johnson (hitting coordinator), Bob Natal (catching coordinator), David Pearson (Rehabilitation & Physical Therapy Coordinator), Jason Craig (Strength & Conditioning Coordinator), Ken Coward (Assistant Strength & Conditioning Coordinator) and Rafael Landestoy (International Field Coordinator) all return to their positions from last season.
February, 17, 2011
2/17/11
5:41
PM ET
Popular '86 Met Howard Johnson has opted to leave the organization. The Mets had promised him a job in the organization after not being retained as hitting coach, but that dragged on and HoJo decided not to remain.

Dave Jauss, the other major league coach from Jerry Manuel's staff promised a job but not retained with the big league club, will work as a roving minor league coach.
November, 4, 2010
11/04/10
7:27
PM ET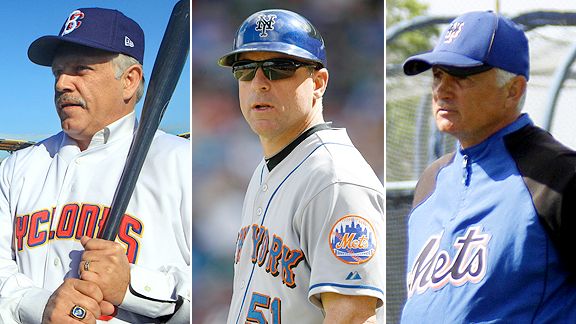 Icon SMI, Getty Images, AP Photo
Wally Backman, Chip Hale and Terry Collins (l to r).
The Mets interviewed
Bob Melvin
and
Dave Jauss
on Thursday.
Sandy Alderson
plans to interview
Chip Hale
,
Wally Backman
and
Terry Collins
this weekend in California. Additionally,
Ken Oberkfell
is expected to interview next week in the Dominican Republic. Full story
here
.
November, 4, 2010
11/04/10
4:03
PM ET
By
Mark Simon
| ESPNNewYork.com
Talk to those who know Mets bench coach Dave Jauss well and they'll tell you he's more ready than you'd think to be the next Mets manager, the position he interviewed for today.

We caught up with two coaches from Jauss's alma mater, Amherst College (he's class of 1980) and both were gushing in their praise of someone who probably will represent the biggest longshot among the candidates for this position.

Jauss is a rarity among managerial candidates in that he never played pro baseball at any level (a trait he shares with former big league skippers Dave Trembley and Carlos Tosca, among others).

He'd also be the first manager we can think of who once held a job as a sports information director (the Massachusetts Collegiate Athletic Conference, a position he held while coaching baseball at Westfield (Mass.) State).

If Jauss ends up being Sandy Alderson's choice, it will be based on the reputation of someone who is smart and very detail-oriented.

"A complete baseball guy," said Bill Thurston, who coached baseball for 44 years at that school, describing Jauss' best quality. Thurston's program produced 23 professional players and 17 students who went on to work in professional baseball administration (most notabley Pirates GM Neal Huntington and Red Sox assistant GM Ben Cherrington). "He's the best baseball man I had in my time at Amherst. He has the intensity, enthusiasm and people skills to become a major league manager. The thing that struck me the most when I visited him (when Jauss managed in the minors in the mid-90s) was how well-respected he was by the players."

Jauss wasn't someone with great athleticism (Thurston ran through his baseball skill sets and labeled every one of them "average"), but he had a knack for finding his way into the right spot.

"I remember he came out for the basketball team, and he was someone with mediocre ability," said Amherst's longtime men's basketball coach David Hixon. "He was someone who was at the 60 percent level athletically. But he was so smart. He got more assists by faking shots than any player I've ever coached. He's someone who just always knew how to find a way to win."
---
Former major league manager Sparky Anderson, who died Thursday, never worked for the Mets, but did have a couple of peripheral connections to the team.

Anderson, during his time with the Reds from 1970 to 1978, went 72-36 managing against the Mets. According to the Elias Sports Bureau, his .667 winning percentage is the best of anyone who managed against the Mets.

Anderson was also the color commentator on CBS Radio's broadcast of the 1986 World Series, working alongside Jack Buck. After the Mets rallied for three runs in the bottom of the 10th inning to win Game 6, Anderson correctly predicted a Mets victory in Game 7.

"They'll come out here looking like they're on stilts," he said.
---
In speaking with Baseball Tonight host Karl Ravech prior to Monday's Game 5 win over the Rangers, Giants general manager Brian Sabean identified the team's turning point of the season as an 18-game stretch from July 5-25, in which the Mets played an integral part.

The Giants went 15-3 in those 18 games, taking three of four games from the Mets in the first series after the All-Star Break. The Mets actually entered that series with a better record than the Giants (48-40 to 47-41), but once the Giants opened that series with back-to-back shutouts (2-0 and 1-0), that was not to be. In fact, that series serves as apt foreshadowing for each team's fate the rest of the way.

Giants manager Bruce Bochy holds a fun distinction for those looking to stump their friends with a Mets-related trivia question related to his 17-game stint in 1982.

Of those whose primary position was catcher, who had at least 50 plate appearances for the Mets, Bochy rates as having the highest batting average -- .306 -- nine points better than Paul Lo Duca and 10 points better than Mike Piazza.

November, 3, 2010
11/03/10
8:41
PM ET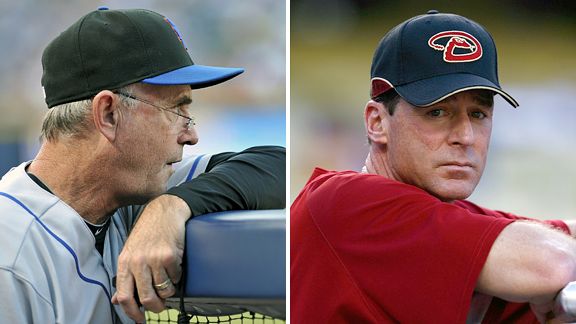 AP Photo/Getty Images
Dave Jauss (left) and Bob Melvin will interview for the Mets' managerial job on Thursday.
The Mets will kick off the managerial interview process Thursday when in-house candidates
Bob Melvin
and
Dave Jauss
are in New York.
Melvin, the former Mariners and Diamondbacks manager, was a scout for the Mets this past season. Jauss served as
Jerry Manuel's
bench coach.
Read the full news story
here
.
Also, read about Jauss' famous father in a
blog entry
from September.
September, 3, 2010
9/03/10
12:37
AM ET
New York Mets bench coach
Dave Jauss
grew up in the Windy City the son of a celebrity.
His father,
Bill Jauss
, was a high-profile sports columnist for The Chicago Tribune and a member of the original sports reporters roundtable show, "The Sports Writers on TV." Filmed in a cigar-smoke-filled room in Chicago, the roundtable began airing in the mid-1980s, ran 13 years and was picked up nationally by SportsChannel. The roundtable also included
Rick Telander
and the late
Ben Bentley
and
Bill Gleason
.
The elder Jauss, now 81, plans to attend Saturday's game between the Mets and Cubs at Wrigley Field.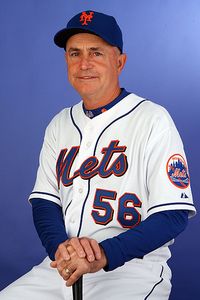 Doug Benc/Getty Images
Mets bench coach Dave Jauss' father, Bill Jauss, was a Chicago columnist who pioneered sports reporters on TV.
"I've had an interesting upbringing living in Chicago and having my dad as kind of a celebrity -- a real good personality in Chicago," Dave Jauss said. "Other than church on Sunday morning, everything else revolved around my dad and covering an event, be it Wrigley Field, be it Comiskey Park, be it Chicago Stadium, be it Notre Dame. It was a shocker my freshman year of college when I went to a football game and I had to pay. I did not know what that meant."
Years before the show began airing on TV, first in Chicago and then nationally, the same scene played out in the Jauss home.
"I say that show started at my house 10 years before, because Bill Gleason or
Joe Mooshil
or somebody and my dad would be sitting around with tons of beers and watching something and arguing about
Woody Hayes
or
Ara Parseghian
doing something," the Mets bench coach said. "And then it all of a sudden morphed into the show.
"I remember when
Gary Hughes
, who is now a senior adviser for [GM
Jim
]
Hendry
with the Cubs, was the scouting director for the Expos. I joined the Expos in '87. I get hired. And that first year we're having spring training, and Gary Hughes told me his scouting meetings for the amateur draft revolved around my dad's show -- that whenever my dad's show was on TV they would not have any conference calls."
Jauss, 53, recalled that the show nearly was the one used on ESPN.
"They talked to my dad and Bill Gleason and said we're thinking about formulating a show -- the one that
Bob Ryan
and all those guys are now doing," he said. "They thought about creating that show off of my dad and Bob Gleason's show. My dad and Gleason said the three things they asked about were: 'Would we have to suit coats and ties?' And they said yes. They shook their heads. 'Would it have to be at a studio, or could it be in that room that had the green card table with newspapers on the ground?' They said, yeah, it would have to be that way [in a studio]. And then they asked about guests. And they said yeah, you'd have to have guests.
"My dad and Bill Gleason said, 'It'll never fly.'"
Bill Jauss still lives in the same home where his son spent his teenage years.
"My mom [
Kenmar
] died about three months ago," Dave Jauss said. "We lived in Rogers Park, four stops away from Wrigley, when I was growing up. And then, just before high school, we moved out to Wilmette, right by Dyche Stadium, right by Northwestern. My dad and my brother still live there."