New York Mets:

Dave Kingman
May, 31, 2012
5/31/12
9:30
AM ET
By
Mark Simon
| ESPNNewYork.com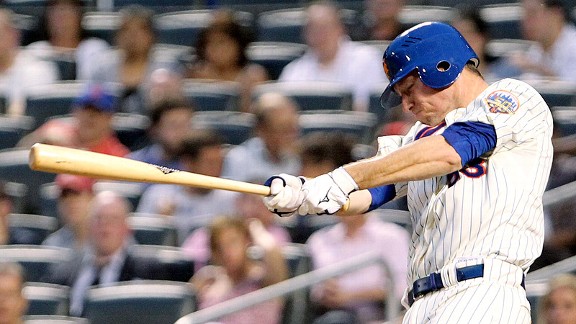 US Presswire/Anthony GruppusoJeremy Hefner displayed some heft at the plate with a home run in Tuesday's win.
The Mets missed an opportunity in the series finale against the Phillies, and wound up losing two of three games. Let's take a look back at some of the notable stats from the matchup, with the help of the Elias Sports Bureau and
Baseball-Reference
.
Stat of the Series
The Mets' win on Tuesday, keyed by home runs from pitcher
Jeremy Hefner
and pinch-hitter
Scott Hairston
, marked the first time that the Mets got a home run out of both a pitcher and another player in the No. 9 spot in the batting order since
July 1 1993
when
Dwight Gooden
and
Chico Walker
each went deep against the Marlins. The Mets did it on one other occasion --
July 7, 1986
against the Reds (
Rick Aguilera
and
Howard Johnson
).
They also got home runs out of two players from the No. 9 spot on August 15, 1962 against the Phillies, with both
Choo Choo Coleman
and
Jim Hickman
doing so as pinch-hitters.
Hefner became the second Mets pitcher to homer in the season of his MLB debut, joining
Paul Wilson
(1996).
The Elias Sports Bureau notes that he's the first pitcher in Mets history to earn his first major league win and hit his first major league home run in the same game.
Ty as in Cobb
Former Met
Ty Wigginton
burned his team by reaching base five times and driving in six runs in the Phillies series-opening win over the Mets on Memorial Day.
Wigginton's six RBIs matched the mark for most RBIs by a former Met against the Mets.
Dave Kingman
is the only player who could say he got six RBI against his former team, doing so for the Cubs against the Mets in 1980 (after his first Mets stint).
Joe Randa
gets an asterisk. He was a Met in name, but not in game in 1998 (in other words, he was traded to the Mets, but was traded away before playing for the Mets). He had six RBIs against the Mets for 2005 Reds.
Three future Mets had six-RBI games against the Mets prior to joining the Mets --
Jerry Morales
,
Tommy Herr
, and
Willie Montanez
.
Right on Q
Omar Quintanilla,
the only player in Mets history whose last name begins with "Q," became
the ninth Mets player to have multiple doubles in his Mets debut
and the second shortstop to do so, joining
Kazuo Matsui
(2004). He joins
Danny Heep
(1983) and
Jason Hardtke
as the only Mets to do it without driving in a run.
Duda Goes Deep
Lucas Duda
, who hadn't homered against a left-handed pitcher in his major league career, hit two on fastballs from
Cliff Lee
and
Raul Valdes
.
Each of the home runs came in a pitch location in which Duda had not previously gotten a hit against a fastball from a lefty in his career -- up-and-in from Lee, and middle-away (but in the strike zone) from Valdes.
Duda is 9-for-25 in at-bats ending with a fastball from a lefty this season. His seven other hits are singles.
Vintage Metric of the Week
Manny Acosta
was let go by the Mets after Monday's loss. Acosta finished with an 11.86 ERA in 22 innings pitched. He was worth -1.9 Wins Above Replacement, by Baseball-Reference.com's measurement.
This is not the worst Pitching WAR season in Mets history. The worst (minimum one inning pitched) belongs to 1962 Mets reliever
Craig Anderson
, whose 5.35 ERA in 131 1/3 innings that season was valued at -2.7 WAR.
June, 22, 2011
6/22/11
9:03
AM ET
Dillon Gee
walked six batters, the most in any game of his professional career, and
suffered his first 2011 loss
as the Mets dropped the series opener to the Athletics, 7-3.
Terry Collins
wondered aloud afterward why Gee only attempted a couple of curveballs, since that was his second or third best pitch. But Gee countered that he could not find the command of his fastball, so throwing the breaking pitch was futile.
Wednesday's news reports:
•
Sandy Alderson
approached
Peter Greenberg
, the agent for
Jose Reyes
, last week and asked to begin trading extension figures for the free-agent-to-be. Greenberg was in Japan and had a chance to meet with his client Monday. After a two-hour chat with Reyes at the shortstop's Long Island home, they advised Alderson
there would be no in-season discussions
. Reyes said he did not want any distractions for his on-field performance. There is a limited exclusive negotiating window after the season, since other teams cannot negotiate with Reyes until the sixth day after the World Series. The Mets actually had donned Reyes-style skullcaps before the game as Collins tried to keep the mood light in the clubhouse. Watch Reyes and Alderson discuss the situation in a video
here
. Read more in the
Star-Ledger
,
Times
,
Daily News
and
Record
.
• Post columnist
Joel Sherman
says
Alderson's inclination to keep Reyes is a positive
to take out of Tuesday's announcement. Writes Sherman:
The belief was that he disdained mega-deals, especially to offensive players who did not have plate patience as a main skill. But as athleticism and defense have grown in importance around the majors, and Reyes' positive connection to the fan base has become more overt, Alderson clearly has become more enamored with Reyes. Still, right now, he would be bidding on Reyes as an MVP front-runner hitting 50 points above his career average. If Reyes retains this, then he almost certainly will reach or exceed Crawford's dollars. So the Mets will wait to see if his health/production falter and take Reyes' price south -- especially because the Wilpon's financial situation remain a major character in any negotiation.
• Newsday columnist
Ken Davidoff
notes what the Mets are offered at the trade deadline for Reyes
must be weighed against the fact they can collect two draft picks
if they keep Reyes for the season and then lose him in free agency. Davidoff also does not buy that the Mets have to keep Reyes for attendance/revenue purposes in the second half. He writes:
As for the fans . . . puh-leeze. If the Mets are eliminated by September, Citi Field will be a ghost town, with or without Reyes. Alderson noted how quickly things can change in the game. How the A's endured a 10-game losing streak and, after beating the Mets, have won six straight and are very much alive. He should remember that in these coming weeks. For as Alderson knows, the best public relations in baseball comes from putting together a winning baseball team. Trading Reyes might prove the best realistic means to that end.
• Daily News columnist
Tim Smith
believes
Reyes is a goner
.
•
Jason Bay
went 3-for-3 and
homered for the first time since May 13
, off Houston's
Bud Norris
. Bay snapped a 104 at-bat homerless drought, the second-longest of his career. He also had gone a career-high 89 at-bats without an extra-base hit. Bay nearly had two long balls, but A's center fielder
Coco Crisp
jumped at the wall and the ball kicked off his glove and back into play. Umpires reviewed the play on video, but that only affirmed Bay's triple.
Collins says Bay may move back up to a prime spot in the order Wednesday. Current cleanup hitter
Daniel Murphy
is only 3-for-his-last-29. Read more in the
Times
,
Star-Ledger
,
Daily News
,
Post
and
Newsday
.
• 2010 first-round pick
Matt Harvey
and fifth-round pick
Matt den Dekker
have been promoted from St. Lucie to Binghamton
.
• Read game stories from the 7-3 loss in the
Star-Ledger
,
Daily News
and
Newsday
.
• With the spotlight on Reyes, Star-Ledger columnist
Jeff Bradley
speaks to another free-agent-to-be
,
Carlos Beltran
, who is more likely a goner at the trading deadline. Beltran obviously was traded during the 2004 season from the Royals to the Astros. His eight homers in 12 postseason games prompted some s------ to offer him a seven-year, $119 million contract as a free agent that offseason. "The difference then was that I didn't have a no-trade," Beltran told Bradley. "The last time, when I was in this position, I knew I'd be traded but I didn't know when or where. I came to the park every day a little bit worried, expecting them to trade me. Now, they have to come to me and let me know what they're doing. It's my decision, and I like it better knowing it's up to me."
• There was a sighting of ex-Met
Dave Kingman
in Stockton, Calif
.
• The Mets continued their regular involvement with the children of victims of 9/11 on Tuesday at Citi Field. Read more in the
Post
.
•
Ike Davis
(ankle) is due to be examined by team doctors Wednesday.
David Wright
(back) goes Thursday.
BIRTHDAYS:
Ex-Mets catcher
Ron Hodges
turns 62. Hodges made his Mets debut in 1973 and had a huge game-winning hit that season in a comeback victory against the Pirates, best known as "The Ball on the Wall Game." It is called that because the key play was a ball that should have been a home run, but instead hit the top of the fence, and the Mets were able to throw out a potential go-ahead run at home plate. ... Mets outfielder
Willie Harris
turns 33. ... Ex-big league pitcher
Esteban Yan
turns 36. Why is he significant to Mets history? Yan homered in his first major league at-bat, against the Mets in 2000. He finished a perfect 2-for-2 in his career.
-Mark Simon
April, 28, 2011
4/28/11
10:15
AM ET
By
Mark Simon
| ESPNNewYork.com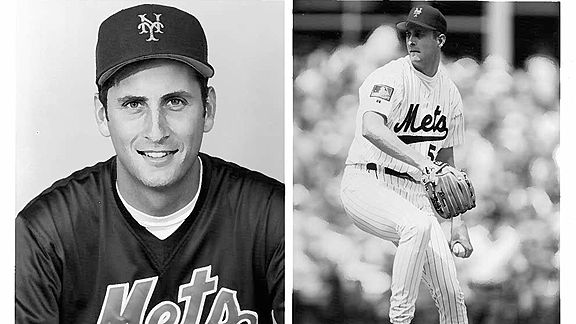 NY Mets
Eric Hillman preceded Chris Young as the tallest pitcher in Mets history.
Each Thursday, Mark Simon will commemorate the Mets' 50th season with stories and notes related to the history of the team.
Chris Young
does not stand alone as the tallest pitcher in Mets history. Before Young came 6-foot-10 left-hander
Eric Hillman
.
Hillman is oft-forgotten in Mets history because, though he stood out in a crowd, his stats weren't impressive. In 49 appearances over three seasons, he was 4-14 with a 4.85 ERA. Hillman had the misfortune of being on the 1993 Mets, who went 59-103 and became known as "The Worst Team Money Could Buy."
Hillman didn't throw hard, with a fastball that was in the mid-80s. So, like Young, he tried to take advantage of pitching at a higher trajectory by developing a sinker and a slurve. He admits: "I couldn't throw the ball by guys, so I tried to trick 'em. Some days were better than others."
Young has had more success in the majors than Hillman did because he was able to find what could get hitters out. Hillman, who later worked as a broadcaster on the Colorado Rockies' postgame show for three years, was impressed by Young's ability to hide the ball well and use his glove and motion to make it hard for hitters to see the ball.
The best moment of Hillman's career was a five-hit shutout of the Dodgers in Los Angeles on July 25, 1993. It was the second start in a two-start stretch in which he pitched 17 scoreless innings. But it became secondary to the story of teammate
Vince Coleman
throwing a firecracker into a crowd.
"That team was an absolute disaster," Hillman said. "I was 26 and I came up to the big leagues, which had been my dream since I was a little kid. And all I saw were players who were more concerned about their jewelry, their cars and their real estate than the outcome of games."
The best days of Hillman's career came in Triple-A, where he went 10-1 for the Mets' Norfolk affiliate in 1994, and in Japan, where he pitched for four seasons and won the Japanese equivalent of the Cy Young in 1996 for the
Bobby Valentine
-managed Chiba Lotte Marines. (Hillman liked Valentine so much he recently asked if he could be his bullpen coach if Valentine returned to the major leagues.) A shoulder injury ended his career after a comeback attempt in the States was unsuccessful. He retired in 2000.
Hillman's favorite on-field moments were meeting Cubs broadcaster
Harry Caray
, who mistook him for teammate
Dave Magadan
, getting "mauled" by then-Reds owner
Marge Schott's
mascot dog,
Schottzie
, and laughing so hard at jokes being told in the dugout that his eyes would regularly water up.
Hillman might have the most unique post-playing career in Mets history. He and his wife
Heather
own
Purepuppy.com
, which develops and sells dog care products, such as shampoos and conditioners, with an emphasis on ingredients that are all natural. Hillman's other passion, besides baseball, is the environment. On the back of one of his baseball cards, it says he aspired to someday become a marine biologist.
"In a world where gas prices are out of control, my wife and I are looking to do our part," Hillman said. "I've pushed very hard for recycling in this area and making businesses more responsible. There is only so much in this world. We need to be able to reuse it."
Hillman, who lives in Denver and turned 45 on Wednesday, is self-deprecating about his career and his height. He noted that the best thing about being 6-foot-10 is being the first to know that someone else is balding. He also jokes that his company's product "is as natural as the tears Mets fans shed every time I pitched."
But he did go on the message board at the popular fan site "Ultimate Mets Database" when a couple of posters criticized his pitching ability.
Hillman even contacted one who claimed that Hillman ignored him when asked for an autograph, and the two spoke at length on the phone. Hillman wants Mets fans to remember him in a positive manner, like one fan he met at Mets Fantasy Camp a few years ago, who thanked him for bringing him into the Mets' dugout as a little kid.
Hillman dealt with some tough times and bad teams during his Mets tenure, but has always been very positive about his time in the major leagues. That positivity has carried over into his post-playing career.
"I always tell my two kids that every day is a good day," Hillman said. "We're on the fun side of the soil here."
Five Things You May Not Know About Tall Mets
With help from Baseball-Reference.com
1--
Hillman is one of 25 players estimated at 6-foot-6 or taller to play for the Mets. Hillman and
Randy Johnson
were the tallest players in major league history until 6-foot-11
Jon Rauch
surpassed them. (Some sources list Rauch as 6-foot-10 as well.)
2--
Of those 25, 22 were pitchers, the winningest of which is 6-foot-7
Mike Pelfrey
, who enters Thursday with 44 major league victories. The only other "tall" Met to win 10 or more games for the team was 6-foot-6
Ed Lynch
, who pitched for them from 1980 to 1986 and won 38 games.
3--
Prior to Hillman, the tallest Met was 6-foot-9 reliever
Terry Bross
, a former center for St. John's, who pitched in eight games in relief in 1991. Bross is currently an agent.
4--
The three Mets position players who stood 6-foot-6 or taller were
Tony Clark
(6-foot-8),
Dave Kingman
(6-foot-6) and
Darryl Strawberry
(6-foot-6). That trio combined for 422 home runs during their respective Mets stints.
5--
The five pitchers in major league history listed at 6-foot-10 or taller are Hillman, Young, Johnson, Rauch and former Royals left-hander
Andy Sisco
. They combined for 394 major league victories, five of which have come for the Mets.
July, 19, 2010
7/19/10
2:24
AM ET
David Wright arrived in Phoenix for the opener of a three-game series with the Arizona Diamondbacks with a stiff and swollen right knee.

Wright was struck on the outside of the knee Sunday by a grounder by San Francisco Giant Pat Burrell in the sixth inning. The shot, which Wright had difficulty seeing, was ruled an infield single.

"I didn't really see it too well off the bat," Wright said. "Really, I was trying to get out of the way of it. It found me. More than anything it's just kind of swollen and sore, but it should be good to go. The ballpark has got the suites that are under the field [like dugouts]. A lot of people were wearing white shirts, and kind of bright. I just didn't see the ball off the bat that well. … I've been hit like that before, so it shouldn't be too big of a deal."

Assistant trainer Mike Herbst and Jerry Manuel checked on Wright after the shot, but the third baseman remained in the game. He did limp around to try to walk it off between pitches.

Wright was involved in the game's most controversial play, in the ninth inning. Playing on the infield grass, Wright fielded a grounder from Freddy Sanchez and threw high with a sidearm fling to Henry Blanco at the plate. Travis Ishikawa was punched out by plate umpire Phil Cuzzi, although even Blanco admitted Ishikawa was safe and the Mets should have suffered their 11th walk-off loss.

"It was a groundball that kind of came up on me at the end," Wright said. "I kind of threw it flatfooted and Hank [Blanco] made a great play. It really kept us in the ballgame, obviously. … I knew I wasn't going to be able to get much on the throw because I got kind of a tricky hop. So really, just flatfooted, I just wanted to try to get it there as quick as possible, just in the vicinity."

Wright went on to praise Blanco -- botched call or not.

"With him, you really don't have to be perfect with your throw. He's very athletic back there," Wright said about Blanco. "He's just a great receiver. I thought that was just a heckuva play and great athleticism on his part to get it and bring it down like that."

Wright earlier delivered a solo homer off Jonathan Sanchez in the fourth inning, his 15th longball of the season. It staked the Mets to a 2-1 lead at the time. The shot put Wright into sole possession of fourth place on the franchise's all-time homer list with 155, moving him past Dave Kingman.

"I've heard stories," Wright said when asked if he had any knowledge of Kingman's career. "… I'll take it as a compliment."

Wright merely was happy the Mets survived for a 4-3 win in 10 innings.

"A win's a win," the third baseman said. "It doesn't matter really how you get there. We were in desperate need of a win. Offensively, we weren't swinging the bats all that well this series. And we got another great pitching performance from Johan [Santana]. It's a shame we couldn't get him a win. At the end of the day, it's a win. Hopefully this will give us a little momentum, because we've been struggling pretty mightily."
April, 16, 2010
4/16/10
11:04
AM ET
By
Mark Simon
| ESPNNewYork.com
If you were to compile a list of the greatest offensive seasons against the New York Mets, Albert Pujols' 2009 should be at or near the very top.

Jerry Manuel might want to adjust whatever his strategy was against Pujols, who hit .469 against the Mets last season, with four home runs and 14 RBIs. And those gaudy numbers came in only nine games.

A player has hit at least .400 with four home runs against the Mets on 27 different occasions. When the Mets were in their infancy, blundering to a 40-120 mark in 1962, three different players reached those two plateaus: Hank Aaron, Stan Musial and the Dodgers' Ron Fairly.

Musial's numbers were scarily similar to Pujols (.468 BA, 4 HR, 15 RBIs), though it took him nearly twice as many games (17) to get there.

More recently, Brandon Phillips (2007 Reds), Carlos Lee (2005 Brewers) and recently retired Rich Aurilia (2001 Giants) were the last three players to reach those numbers for a season.

Rating the best of the best isn't easy. Chipper Jones 1999 (.400 BA, 7 HR, 16 RBIs) deserves points for the impact of the blows he struck. Dave Kingman's nine-game stretch in 1980 (.441 BA, 8 HR, 19 RBIs) is the most powerful. The .509 batting average, with eight home runs and 27 RBIs by Braves outfielder Rico Carty in 1964 is the best all-around combination, though the pitching staff he performed against was less than impressive.

If the Mets pitch to Pujols this season, he'll have a chance to become only the second player to hit .400 with four or more home runs in a season against them twice. The only other? Steve Garvey for the Dodgers in 1978 and 1980.

Pujols' is a .327 career hitter against the Mets, with 19 home runs. One more big swing puts him into another nice group.

The list of those with a .300 career batting average and 20 or more home runs is pretty impressive: Chipper Jones, Gary Sheffield, Joe Torre, Gary Carter, Vladimir Guerrero, Kingman, Bill White and Willie Davis.

The chances of another performance in the 2009 mold this season are high if the Mets elect to take their chances with him in this series. Pujols has a .431 batting average with seven home runs in 51 at-bats against the three pitchers the Mets will throw in this series (Oliver Perez, Johan Santana and John Maine).

But keep this in mind: Pujols may not see a good pitch the whole series. The man hitting behind him, Matt Holliday, went just 8-for-42 against the Mets last season.