New York Mets:

Dave Mlicki
May, 28, 2013
5/28/13
9:30
AM ET
By
Mark Simon
| ESPNNewYork.com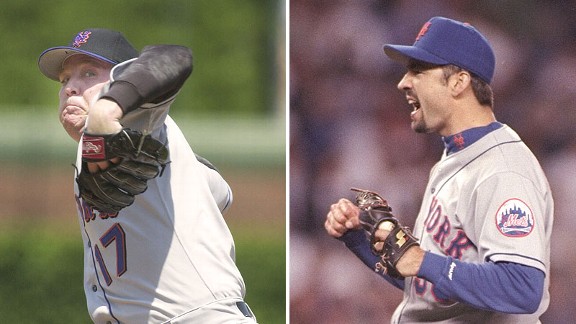 Getty ImagesKevin Appier and Dave Mlicki didn't have great Mets careers, but both were great vs. the Yankees.
In honor of Jonathon Niese's fine work on Monday and
Matt Harvey
pitching on Tuesday, it seems like a good time to look back at the best pitching performances in the Mets-Yankees rivalry.
We'll list the best statistically by Bill James Game Score, a stat that ranks starts on a scale that is usually from 1 to 100 (based on innings, runs, hits, strikeouts, and walks).
Kevin Appier, 2001 -- 79 Game Score (8 IP, 0 R, 4 H, 8 K, 3 BB
An oft-forgotten game in the Subway Series rivalry was Appier's pitching duel with
Mike Mussina
in the Bronx, which went scoreless through nine innings. The Mets would score three in the 10th to beat Mariano Rivers.
Appier retired the first 15 hitters he faced, then halted Yankees scoring chances in the sixth, seventh, and eighth, twice ending those frames by retiring
Derek Jeter
.
Did You Know? Appier and Dave Mlicki (mentioned shortly) are the only two Mets to throw eight scoreless innings in a start against the Yankees.
Shawn Estes, 2002 -- 77 Game Score (7 IP, 0 R, 5 H, 11 K, 1 BB
In terms of pitching-hitting combinations, this was the best against the Yankees in Mets history. In a game that was much hyped because it was viewed as potential vengeance against
Roger Clemens
(for his throwing both pitches and bats at
Mike Piazza
), Estes was viewed as wimping out for failing to drill him with a pitch.
But Estes got his revenge by drilling Clemens—hitting a home run against him. He also dominated the Yankees lineup with his 11-strikeout effort in an 8-0 win.
Did You Know? Estes is one of three Mets starting pitchers to homer in a game in which the Mets pitched a shutout. Pete Falcone (1981, Phillies) and Johan Santana (2010, Reds) are the other two.
Pedro Martinez, 2006 -- 76 Game Score (7 IP, 0 R, 4 H, 8 K, 1 BB)
In a regular season in which so much went right, so much went wrong on this day, though none of it had to do with Martinez.
The Mets ace would leave with a 4-0 lead after seven terrific innings. The bullpen would blow the lead in the ninth inning and lose in extra innings.
Did You Know? Martinez has six regular-season starts and a postseason start with a Game Score of 75 or better against the Yankees, matching Chuck Finley for the most such starts against them in the last 25 seasons.
Oliver Perez, 2008 -- 75 Game Score (7 IP, 1 R, 3 H, 8 K, 0 BB)
The best pitcher for the Mets in the history of this rivalry was Perez, who rose to the challenge with four wins in four starts, all of which were very similar (seven innings or more, two runs or fewer allowed, five hits or fewer allowed).
The best one was his last one, in which he won 3-1, setting down the first 10 hitters of the game and never showing a sign of struggle.
Did You Know? Oliver Perez had a 1.50 ERA as a Met against the Yankees, the best of any of the 11 pitchers to make more than two starts against them.
Masato Yoshii, 1998 -- 75 Game Score (7 IP, 1 R, 2 H, 10 K, 4 BB)
If Mussina-Appier was the best pitcher's duel in the rivalry, Yoshii-
Orlando Hernandez
on Sunday Night Baseball would be runner-up.
Yoshii had his best game as a Met, no-hitting the Yankees for 4 2/3 innings, allowing only a homer to
Scott Brosius
in the seventh.
The Mets would win 2-1 on a
Luis Lopez
game-ending sacrifice fly, though the conclusion was confusing as Brian McRae wandered off first base and was nearly thrown out trying to get back to the bag when it appeared the game was over.
Did You Know? This is the only game in the history of the rivalry in which each team had three hits or fewer.
Dave Mlicki, 1997 -- Game Score 75 (9 IP, 0 R, 9 H, 8 K, 2 BB)
The first game in the Mets-Yankees rivalry was supposed to be a day on which the Yankees' best young pitcher, Andy Pettitte, dominated. But Mlicki stole the show with a nine-hit shutout, one of only two shutouts he would throw in his major league career. It is still the only one thrown by a Mets pitcher against the Yankees.
Did You Know? Current Yankees manager Joe Girardi had the best day of any Yankee, going 3-for-4, but was stranded on the bases each time.
May, 21, 2011
5/21/11
9:38
AM ET
Mike O'Connor
,
Jason Isringhausen
and
Francisco Rodriguez
backed
R.A. Dickey
with three scoreless relief innings as the Mets moved to .500 for the first time since April 9 with a 2-1 victory in the Bronx.
Saturday's news reports:
• Read game stories in the
Times
,
Star-Ledger
,
Newsday
,
Daily News
,
Post
and
Record
.
•
Justin Turner
has an RBI in six straight games, tying the rookie franchise record originally set by
Ron Swoboda
in August 1965. Turner, it turns out, was a 29th-round pick of the Yankees after his junior year of college at Cal State Fullerton. Read a full profile
here
.
The Post's
Joel Sherman
talks to the Yankees'
Damon Oppenheimer
about drafting Turner that year
. Oppenheimer tells Sherman: "You know how he will play and prepare and you will know his determination. He will not beat himself on or off the field. He is a self-starter. You are not going to have to tell him to work. ... I really liked 'Red' Turner. He was a good baseball player. He did not have the standard tools you look for, but you always thought he was a kid who would find his way to the big leagues."
•
Jose Reyes
had the play of the game, diving up the middle to stop
Alex Rodriguez's
grounder and throwing to first base to strand two runners. "That's the difference in the game," Yankees skipper
Joe Girardi
said. Read more in the
Star-Ledger
and the
Post
.
•
Pedro Feliciano
, who signed a two-year, $8 million deal with the Yankees, is trying blood-spinning -- where doctors remove blood, spin it to isolate the platelets, then reinject it into a troublesome spot -- rather than surgery for a partially torn capsule in his left shoulder. You may recall Feliciano vowed to strike out
Ike Davis
as revenge for
Dan Warthen's
defense of
Brian Cashman's
claim the Mets abused Feliciano. Now, Davis (ankle) and Feliciano are missing the series because of injuries. Read more in the
Star-Ledger
.
• The Star-Ledger's
Jeff Bradley
catches up with
Dave Mlicki
, who shut out
Andy Pettitte
and the Yankees on June 16, 1997, in the inaugural interleague game between the teams. Writes Bradley:
From his home in Dublin, Ohio, Mlicki seemed surprised that the Subway Series is no longer such a big deal, "Back in 1997, the atmosphere was World Series-like. For me, I'd never even been in Yankee Stadium. We took a bus from Shea to the game, which was odd, and when we pulled up there was a huge crowd of people screaming at us." Mlicki remembered strolling out to Monument Park before batting practice, reading the plaques, taking it all in.
• Idled
David Wright
(stress fracture in back) hopes to be out the minimum 15 days. He had an imaging test Thursday, and believes doctors are now prepared to map out a plan for his return. "It's tough watching the game in general," Wright told reporters pregame Friday. "I think you grow accustomed to getting up and going through a routine, preparing to play. And when you wake up and you just kind of have that void, it's not the same. It's definitely not enjoyable and not fun. It's frustrating. It's disappointing. I really enjoy the Subway Series. I enjoy participating in that. It's just disappointing waking up knowing that I'm going to watch from the bench." Read more in the
Record
and
Newsday
.
• Record columnist
Bob Klapisch's
take on the Mets reaching .500
:
Since April 21, the Mets have the fourth-best record in the majors, behind only the Braves, Red Sox and Cardinals. This run won't change the Mets' 2011 profile – they're not playoff-bound – but it's nevertheless erased some of the pre-existing notions about Terry Collins and life without some of their stars. Remember, this is a team that doesn't have David Wright and Ike Davis. There's no Johan Santana, and is too poor to even contemplate a monster trade in July. Yet, after a 5-13 start, the Mets are back to .500, which says something about their manager and his fiery, non-corny brand of intensity.
• While
Willie Harris
may be struggling, hitting .205 for the season,
David Waldstein
of the Times
offers one alibi
. Since
Jason Bay
returned from the disabled list, Harris' starts have come against
Livan Hernandez
,
Tim Lincecum
,
Ubaldo Jimenez
and
Josh Johnson
. He also was asked to pinch-hit against
Roy Halladay
. He went 1-for-14 in those five games. "It's not an easy job, but I have to perform," Harris tells Waldstein.
•
Vicent M. Mallozzi
of the Times profiles the creator of the site
nonohitters.com
, which chronicles
50 years of the Mets' failing to produce a no-hitter
. Writes Mallozzi:
[Dirk] Lammers, who grew up in Manalapan, N.J., "rooting for players like Bruce Boisclair," now lives in Sioux Falls, S.D., working as a reporter for The Associated Press. He created nonohitters.com at the suggestion of a friend who remembered that Lammers, a die-hard Tampa Bay Buccaneers fan, ran a site in 2006 called
Pointofnoreturns.com
that discussed and lamented the fact that the Buccaneers had not returned a kickoff for a touchdown since their inaugural season in 1976. Eleven days after Lammers created the site, Tampa Bay's Micheal Spurlock returned a kickoff 90 yards for a touchdown against the Atlanta Falcons. "I thought a site like this would bring the Mets some luck," he said.
• The Times' Waldstein also looks at the success of Saturday starter
Chris Capuano
in preventing steals
. Writes Waldstein:
Capuano is by far the active leader in rate of stolen bases against, according to the Elias Sports Bureau. In 821 career innings, Capuano has allowed only 15 stolen bases, one every 54.7 innings. The next closest is Mark Buehrle with 48 steals against in 2,331 innings, one every 48.6 innings.
• Newsday columnist
Ken Davidoff
contrasts
Bobby Valentine
and
Terry Collins
.
Writes Davidoff
:
They're really quite different. "I think they're totally different," said Jason Isringhausen , the only person at this Subway Series to play for both Bobby Valentine and Terry Collins. Bobby V. probably is the better strategist. Terry C., at least this incarnation of him, might be superior at communicating with his players. Valentine went to Japan with ambitions of elevating Pacific Rim baseball to new heights. "I just went there to manage," Collins said, smiling.
• Daily News columnist
John Harper
notes just how critical continued performances like Friday's from Dickey are for the Mets to succeed.
Writes Harper
:
On the big Yankee Stadium stage Friday night, Dickey found a way to make his signature pitch dance again, going six gutsy innings to pave the way for a 2-1 win in this first Subway Series game of 2011. For Dickey it was his first win since April 3 and he sounded perhaps more relieved than overjoyed in describing the return of an old friend. "Tonight," he said, "that's the [knuckler] I remember from last year."
• The Post's
Fred Kerber
reports Subway Series
tickets can be had at a depressed price
. Writes Kerber:
Using prices listed on StubHub, TicketNetwork, TicketsNow and eBay, the average price to see the Yankees and Mets at the Stadium this weekend is $112.22, down nearly 40 percent from last season's Stadium cost of $186.04.
•
A.J. Burnett
once was a Mets farmhand. Read more in the
Post
.
BIRTHDAY:
Hank Webb
, father of current Florida Marlins reliever
Ryan Webb
, turns 61. Webb went 7-9 in parts of seasons with the team from 1972 to 1976. Webb's most prominent season was '75, when he went 7-6 and pitched his only career shutout. He averaged only 2.97 strikeouts per nine innings that season, second-fewest in franchise history in a season for a Mets starter who threw at least 100 innings (
Ed Lynch
, 2.27 in 1983).
-Mark Simon
May, 21, 2010
5/21/10
11:58
AM ET
By
Mark Simon
| ESPNNewYork.com
Going in to tonight's game against the Yankees, Mets' fan should not be nervous about
Hisanori Takahashi
making his first major league start against the Yankees tonight. Far from it. In fact, those who have followed the history of this Subway Series rivalry know that Takahashi could be just the right person to have a breakthrough effort in Flushing.
The Mets have had unlikely hitting heroes (
Matt Franco's
two-run walk-off single vs
Mariano Rivera
at Shea in 1999 comes to mind), and baserunning stars (think
Steve Bieser
forcing a balk from
David Cone
in a key spot to tie a Yankees-Mets clash in 1997 at Yankee Stadium) in this rivalry. But starting pitching has been an area of high-volume and surprising performance.
Case in point the very first game of Mets-Yankees interleague play on June 16, 1997, when
Dave Mlicki
scattered nine hits in a 6-0 shutout win over
Andy Pettitte
and the defending World Series champions. Mlicki finished his career with Mets 24-30 and his major league career with a 66-80 mark. But he has earned a soft spot in the hearts of fans forever with that performance.
A year later (June 28, 1998), the Mets and Yankees engaged in perhaps their best pitchers duel among their 72 meetings.
Orlando Hernandez
would set the stage for some memorable performances in his Yankees career by striking out nine over eight innings of one-run, two-hit ball.
Hernandez was matched, and almost bettered by unheralded Japanese rookie
Masato Yoshii
, who whiffed 10 in seven innings and only gave up two hits. His shutout bid spoiled by a
Scott Brosius
home run. The Mets would win in bizarre fashion in the bottom of the ninth on
Luis Lopez's
sacrifice fly, one nearly spoiled by
Brian McRae
aimlessly wandering off first base.
Put
Baseball-Reference.com
and the
Bill James Game Score
metric (which awards points based on innings, strikeouts, runs, hits, and walks allowed) to use, and you'll discover the two best Mets' pitching performances belong not to
Al Leiter
,
Pedro Martinez, Tom Glavine
or
Johan Santana
(Santana and Glavine have three of the four-worst…Martinez does have the third-best), but to
Kevin Appier
and
Shawn Estes
.
Appier rates highest with a 79 for eight innings of scoreless baseball in Yankee Stadium on July 7, 2001. This was another great pitchers duel with
Mike Mussina
, though Appier scored higher for surrendering only four hits and striking out eight. The Mets would win, 3-0, in 10 innings when the unthinkable happened --five-straight batters reached base against Mariano Rivera, plating three runs to break the deadlock.
The James system doesn't reward extra points for a pitchers offensive performance, but if it did, Estes would rank highest for his win on June 15, 2002. He finishes with a 77-point score for an 11-strikeout, five-hit , scoreless gem to beat
Roger Clemens
, 8-0.
This game is best remembered for Estes missing Clemens with an attempted brushback pitch (revenge for Clemens' beaning of, and throwing the shard of a bat towards, Mike Piazza), though some forget that Estes also homered off Clemens in that contest. That made Estes both an unlikely pitching standout, and an unlikely offensive one as well. The only other pitcher who compares for what he did with his bat was reliever,
Dae-Sung Koo
(nicknamed "Mister"), for his double, and daring baserunning efforts to score a run against Yankees hurler
Randy Johnson
.
There's one other unlikely star worth mentioning, though his victorious performance rates only 25
th
on the James scale. That would be current Mets reliever
Fernando Nieve
, who gave the Mets 6 2/3 innings of two-run, four-hit ball against the Yankees last June 13
th
.
That win came one day after the dropped popup by
Luis Castillo
that cost the Mets a win, a play that served as symbolic for a hopeless year. If we're going to look for bonus points, Nieve should get many, for the emotional lift he provided the team and its fans in a season otherwise filled with dismal --memories.
--
The most immediate concern for Takahashi today: How to pitch to
Derek Jeter
. The Yankees shortstop may be dealing with some offensive struggles, but the Mets southpaw may be just what's needed to cure those.
No one has a better career batting average against the Mets (minimum 100 AB) than Jeter (.386 avg.), but dig a little deeper and the numbers get even more amazing.
Jeter made outs the first four times he faced a Mets lefty. That foreshadowed absolutely nothing. For his career, Jeter is 46-for-102 with five home runs and 11 walks against Mets' left-handed pitching. That's a .451 batting average, a .504 on-base percentage, and a 1.151 OPS.
Jeter is 4-for-4 with a walk in his last five turns against Mets lefties. The last one to get him out?
Oliver Perez
in 2008.
---
Three follow-ups to our
David Wright piece
from Thursday.
1- Regarding: the 0-for-46 since-the-beaning stat we presented regarding two-strike pitches out of the strike zone. Volume-wise, that's almost entirely against right-handed pitchers (0-for-41), though it's also worth noting that Wright was 5-for-11 from April to August of 2009 win at-bats against two-strike, out-of-the-zone pitches from lefties.
Since returning from being hit in the head, he's 0-for-5 in those circumstances.
2- Wright's bases-loaded double in the first inning statistically rectified another issue with which he'd been dealing. Wright, normally a devastating hitter with the bases loaded, was 1-for-7 with six strikeouts in his previous seven plate appearances vs right-handed pitchers before that hit against
Luis Atilano
.
3- We may have our next target for some video review analysis in
Jose Reyes
. Andrew Davis of ESPN Stats and Info pointed out last night that Reyes has had trouble all season in areas in which he's previously been stellar: with two strikes (a .147 batting average, a more than 100-point drop from the well above-average .252 mark he posted in 2006 and 2007) and against offspeed/breaking pitches (.159 in 2010, after he hit .275 against them as recently as 2008). We'll look closer as the sample-size accumulates.
Our leftover note of the night from Thursday's win, via some Baseball-Reference investigation:
Raul Valdes
became the third Mets reliever to throw at least five innings AND earn a win, after entering the game in the first inning. The other two:
Bill Wakefield
in 1964 and
Cal Koonce
in 1969, which happened to be a pretty good season.