New York Mets:

Dave Racaniello
September, 16, 2014
9/16/14
8:14
AM ET
NEW YORK
FIRST PITCH:
The Mets' tragic number for postseason elimination is down to five. The Amazin's trail the
Pittsburgh Pirates
for the second wild-card spot by eight games with 11 to play.
Even reaching .500 is slipping away. The Mets (72-79) must going 9-2 the rest of the way to avoid a sixth straight losing season. If they again finish below .500, they will match the
Houston Astros
for MLB's longest active streak of losing seasons -- six straight.
Bartolo Colon
(13-12, 4.14 ERA) tries to get the Mets back on track Tuesday. He opposes
Miami Marlins
right-hander
Nathan Eovaldi
(6-11, 4.29) at 7:10 p.m.
Tuesday's news reports:
•
Jacob deGrom
matched a modern-day major league record
by striking out the first eight batters he faced, but
Jeurys Familia
and
Jenrry Mejia
could not hold a lead in the eighth and the
Mets lost to the Marlins, 6-5
, Monday. DeGrom, who had a no-decision, finished with a career-high 13 strikeouts.
Read game recaps in the
Post
,
Daily News
,
Newsday
,
Times
,
Journal
,
Star-Ledger
,
Record
and at
MLB.com
.
•
Matt Harvey
's 2014 throwing program
is in the books
. Harvey put on one final show at Citi Field on Monday afternoon, throwing a simulated game on the main mound. He regularly touched 95 mph despite not quite throwing 100 percent. He used all of his pitches except the slider. Sandy Alderson expects Harvey to be on the same program as other starting pitchers during spring training. Read more in the
Post
,
Star-Ledger
and
Record
.
• Alderson and Terry Collins are due to meet in Atlanta this weekend to discuss Collins' future as well as plan for 2015. Both are
expected to return
.
Writes columnist Ken Davidoff
in the Post
on the topic:
Alderson and Collins have overseen a mostly janitorial period with these Mets (72-79), one during which the Wilpons and Saul Katz have slashed payroll at a record-setting pace. Inaction and inertia have largely defined this time, so much so that it often felt difficult to evaluate these two men given how handcuffed they were by their superiors.
Yet with four years nearly in the books, we finally know Alderson's and Collins' strengths and weaknesses. And therefore the Mets should know how both men need to improve for this franchise to make its much-desired leap to bona fide contention.
For Alderson, it's about filling out the roster and sweeping away the silliness. For Collins, it's about maximizing that roster and embracing Citi Field.
Read columnist David Lennon's take in
Newsday
and more in the
Daily News
.
• The Mets presented Sterling Awards to Steven Matz as the organization's top pitcher and
Dilson Herrera
as the organization's top position player. They also gave out awards during a pregame ceremony for the top performers at each level of the minors.
Long Island's Matz spoke with media Monday afternoon about
flirting with a no-hitter
in Binghamton's Eastern League championship clincher. Arizona Fall League-bound Matt Reynolds said he
understood the September call-up snub
. Alderson said Brandon Nimmo is
a "lot more man"
than a year ago. Kevin Plawecki said batterymate Noah Syndergaard's numbers
did not tell the whole story
at Las Vegas. Plawecki also said his
vertigo has not resurfaced
.
•
Vic Black
was
diagnosed with a mild rotator-cuff strain
in his right shoulder. He will refrain from throwing for five to six days. While he is not officially shut down for the season, Black may not appear again in 2014. Read more in the
Post
and
Newsday
.
•
Jeremy Hefner
"likely" is
headed for a second Tommy John surgery
after an unfavorable visit to Dr. James Andrews.
• Jared Diamond
in the Journal
prints the opening two rounds of the Mets' fantasy-football draft. The
Dillon Gee
/bullpen catcher Dave Racaniello team took Philadelphia's LeSean McCoy first overall. Kansas City's Jamaal Charles went second overall to Harvey and strength coach Jim Malone.
• Harvey was named among New York's most stylish by
Us Weekly
.
•
From the bloggers …
Faith and Fear
reflects on witnessing pitching history.
BIRTHDAYS:
Orel Hershiser turns 56. ...
Desi Relaford
is 41. ... Chris (Animal) Carter is 32.
TWEET OF THE DAY:
Mr. Met has grown his hair out in honor of @Mets NL ROY candidate, Jacob deGrom pic.twitter.com/A3EudrdAvM

— Matt Dunn (@MattDunnSNY) September 15, 2014
YOU'RE UP: Does reaching .500 matter for the Mets?
June, 3, 2014
6/03/14
5:45
AM ET
PHILADELPHIA
FIRST PITCH:
The Mets finally get a change of scenery. After a five-game series in Philly that included consecutive 14-, 14- and 11-inning games, the Mets open a three-game set against the
Chicago Cubs
at Wrigley Field on Tuesday at 8:05 p.m. ET.
Zack Wheeler
, coming off a dominating performance against the
Philadelphia Phillies
in which he allowed one run in 6 1/3 innings and struck out nine, starts the opener for the Mets, who look to reach .500. Wheeler (2-5, 4.31 ERA) opposes right-hander
Jake Arrieta
(1-1, 3.20).
"To go through what we went through, we're tired," Terry Collins said. "I'm not going to make any bones about it. This team is tired. We're going to try to get some guys some days off this week."
Asked if the firing of Dave Hudgens and release of
Jose Valverde
may have spurred the 6-1 week against the
Pittsburgh Pirates
and Phillies, Collins added: "I don't know. I can't answer that. We did something that a lot of places do it, a lot of businesses do it. They made a change they thought was necessary. I don't know what the players thought of it. We haven't necessarily gone crazy, but I think it got people's attention, that's for sure."
Tuesday's news reports:
•
Matt den Dekker
robbed Philadelphia of two runs
-- reaching over the wall to take away a homer from
Ryan Howard
and also throwing out
Reid Brignac
at the plate -- as the
Mets beat the Phillies, 11-2
, Monday at Citizens Bank Park.
Wilmer Flores
finished with a career-high six RBIs
, capped by a ninth-inning grand slam.
Dana Eveland
recorded a pair of big outs
in his first major league game in two years. The Mets (28-29) took four of five from the Phillies to move within a game of .500.
Drew Hallowell/Getty ImagesBartolo Colon pitched into the eighth inning Monday at Philly.
Read game recaps in the
Post
,
Daily News
,
Newsday
,
Star-Ledger
,
Record
,
Times
and at
MLB.com
.
•
David Wright
and
Daniel Murphy
are scheduled to get days off
during the remainder of this road trip, with Wright's potentially coming in the series opener at Wrigley Field.
• Den Dekker batted No. 1 Tuesday and will
get the first chance in the leadoff role
. Beyond that, Collins is not sure who he might try. It could even be
Kirk Nieuwenhuis
, presuming he gets promoted once the Mets shed a relief pitcher and return to a five-man bench. Read more in the
Post
.
•
Juan Lagares
officially
landed on the disabled list
Monday afternoon with a strained intercostal muscle on his right side. Read more in the
Post
,
Daily News
,
Star-Ledger
,
Newsday
and at
MLB.com
.
•
Matt Harvey
remains on track to
throw off a mound Monday
for the first time since undergoing Tommy John surgery on Oct. 22. Read more in
Newsday
.
•
Eric Young Jr.
is due to
test his strained right hamstring
running outdoors Tuesday for the first time since landing on the disabled list. He is not eligible to return until next Tuesday.
•
Gonzalez Germen
(infection)
restarted a rehab assignment
Monday with Class A St. Lucie.
• Mike Vorkunov
in the Star-Ledger
writes that the Mets set the single-day cheesesteak consumption record in the visitors' clubhouse at Citizens Bank Park on April 30 by collectively downing 103 of the Philly delicacies. Of course, bullpen catchers Dave Racaniello and Eric Langill did plenty of the damage. And it came during a rainout in which the Mets spent hours at the ballpark awaiting their flight to Denver. Writes Vorkunov:
Though impressive, perhaps it should not have been surprising. When it comes to eating cheesesteaks, the Mets are the 1961 Yankees, and their bullpen catchers, Dave Racaniello and Eric Langill, are the Mantle and Maris.
Last season, from April 8-10, Langill set the three-game series record by eating 17 cheesesteaks. He broke Racaniello's record of 14 -- which had stood for years.
The cheesesteak-eating competition is not without rules and calls for prior planning. To viably set a record, cheesesteaks can only be eaten after getting to the ballpark until batting practice, from the end of batting practice until the game begins, and for an hour window after the game has concluded. There are moratoriums during batting practice and the game, likely so that players and coaches can proceed with their day jobs.
• Former Mets executive Dave Howard is
out as president of MSG Sports
.
• Although the Mets have settled on
Jenrry Mejia
as the closer, former pitcher
C.J. Nitkowski
writes
at Foxsports.com
that the club has an opportunity to test sabermetric theories by not having a specific ninth-inning arm. Writes Nitkowski:
The Mets have an opportunity here to say to their best relievers, we have no closer, be ready from the sixth or seventh inning on because you could be called upon to get the biggest outs of the game. It is a great way to develop these young arms. Pitching in tight spots late in the game only makes you better as those games test your fortitude. If the Mets put their best young relievers in these games regardless of the inning, the result will be a group of battle-tested arms that will be ready to handle any and all situations.
Expensive closer are great when they are consistent, but so few are. Why force someone into the closer role when you don't really have one? The Mets have some bright young arms both in their bullpen and in their rotation. This is an ideal time to train those relievers differently, both physically and mentally.
• Demoted
Rafael Montero
is due to start for Las Vegas on Tuesday. Noah Syndergaard (forearm) is penciled in to reenter the rotation Thursday for the Triple-A club.
•
Andrew Brown
and Danny Muno had two-run homers and
Miguel Socolovich
earned his first save with two scoreless innings as Las Vegas beat Reno, 6-4. Read the full minor-league recap
here
.
• Anthony DiComo
at MLB.com
previews Thursday's opening round of the draft. The team web site, like ESPN's Keith Law, continues to project the Mets selecting University of Hartford left-hander Sean Newcomb.
• Jared Diamond
in the Journal
calculates where historically the Mets and Phillies playing 57 innings in a series fits.
BIRTHDAYS:
Racaniello, the bullpen catcher, turns 36. ... Las Vegas infielder
Zach Lutz
is 28. ... Ex-catcher Barry Lyons is 54. ... Savannah outfielder Victor Cruzado is 22.
TWEET OF THE DAY:
@AdamRubinESPN as a @Phillies fan I couldn't agree more with this statement

— Christopher McMillin (@ChrisMac1984) June 3, 2014
YOU'RE UP: Who should bat leadoff for the Mets?
July, 15, 2013
7/15/13
12:12
AM ET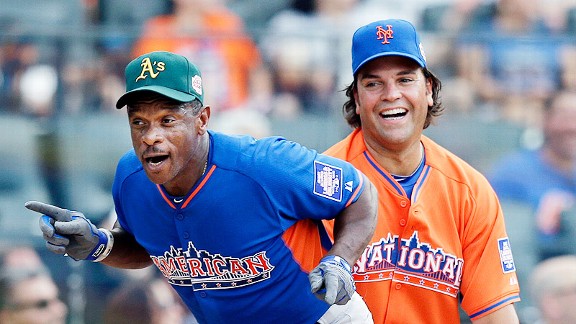 Kathy Willens/Associated PressMike Piazza and Rickey Henderson fool around during Sunday's celebrity softball game at Citi Field, which will be televised by ESPN tonight after the Home Run Derby.
PITTSBURGH
FIRST PITCH:
Barring a shocking turn of events,
Matt Harvey
is expected to be on the dais at a 1:30 p.m. press conference in the Caesars Club at Citi Field today, being introduced as the National League starting pitcher for Tuesday's All-Star Game.
Harvey should become the fifth All-Star pitcher to start in his home ballpark since MLB expanded 52 years ago. He will join
Roger Clemens
(Houston, 2004), Esteban Loiaza (Chicago, 2003),
Pedro Martinez
(Boston, 1999) and Steve Rogers (Montreal, 1982), according to the Elias Sports Bureau.
"I'd be very surprised,"
David Wright
said about anything other than Harvey being named the starter occurring. "I think he's deserving. It sucks that he missed this start [in Pittsburgh], but hopefully he's ready to pitch on Tuesday."
He will be ready. Harvey's
blister issue is resolved
, according to Terry Collins.
Wright takes center stage Monday evening, when he competes on ESPN at 8 p.m. in the Home Run Derby. It is Wright's first time participating in the event since finishing as the runner-up to
Ryan Howard
in Pittsburgh in 2006, in his inaugural All-Star year. That time,
Paul Lo Duca
pitched to Wright. This time, bullpen catcher Dave Racaniello draws the assignment.
"I'd say lefties probably have the better chance, just with the porch," Wright said. "It's probably a little more left-handed friendly down the line."
Meanwhile, since dropping 15 games under .500 on June 17 with a series-opening loss at Atlanta, the Mets have posted a 16-10 record. The positive spurt happens to coincide with
Eric Young Jr.
's arrival.
Still, the Mets (41-50) have dug a deep hole. They are nine games under .500 and own their worst All-Star break record since 2003, when they were 40-53 in Art Howe's first season as manager.
For the optimists, the Mets are 10 games behind the
Cincinnati Reds
for the second wild-card spot and 11 games behind the division-leading
Atlanta Braves
.
"Well, we're disappointed," Collins said. "We're not happy with where we're sitting. We got off to such a good start.
"We've had ups and downs. Heck, we've lost three-fifths of our starting rotation (
Johan Santana
,
Shaun Marcum
and
Jonathon Niese
). We've been scrambling to find guys to replace them. Ike [Davis] had a bad first half. We're hoping he has a tremendous second half, like he did last year. We've lost Lucas [Duda]. We've lost [Justin] Turner. We've had a lot of injuries. We lost our closer.
"Fortunately, we had a guy pick up that (
Bobby Parnell
). We've had to play through a lot, as all teams have. But we're certainly not satisfied with where we are. That's why I'm saying: I'm very proud of the way they've played in the last month. I had one of the guys that's not on our team the other day tell me: 'You know, a lot of teams could have cashed it in in your situation. And your team hasn't.' That's a pat on the back to those guys in that clubhouse."
Said Wright: "You always want to win games, no matter what position you're in. I think it's nice that … we have a little more confidence moving forward into the second half. But there's still a long way to go. But we had a nice month after a couple of pretty bad months. It's nice that we're progressively getting better. So hopefully the best is yet to come and we continue that trend."
Monday's news reports:
•
Jordany Valdespin
reportedly
had a temper tantrum
with dismayed teammates watching after getting demoted Saturday, according to the
Star-Ledger
.
The Post
subsequently reported Valdespin cursed out Collins and demanded to be placed on the disabled list. Given Valdespin's past baggage, who knows if we'll see him again?
•
Mike Piazza
will become the 27th member of the Mets' Hall of Fame
. He will be inducted before a Sept. 29 game against the
Milwaukee Brewers
. Read more in the
Star-Ledger
,
Post
,
Daily News
,
Newsday
and
MLB.com
.
•
Dillon Gee
allowed one unearned run in 6 2/3 innings
and the Mets completed a first-half-closing road trip with a
4-2 win against the Pirates
on Sunday afternoon at PNC Park.
Scott Atchison
returned from the disabled list and stranded two runners inherited from Gee.
Read game recaps in the
Post
,
Daily News
,
Newsday
,
Times
,
Star-Ledger
,
Record
and
MLB.com
.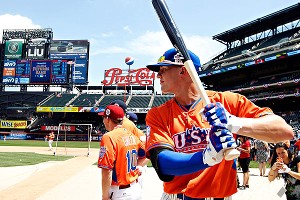 William Perlman/USA TODAY SportsYou could find Brandon Nimmo on Sunday at the Futures Game. He went 0-for-2.
• Noah Syndergaard and Rafael Montero
each tossed scoreless innings
in the Futures Game at Citi Field, with Montero requiring only nine pitches for a 1-2-3 frame. Brandon Nimmo, who
spoke about his season
playing for Savannah pregame, went 0-for-2. See a photo of the Mets' trio of prospects
here
.
Writes columnist John Harper
in the Daily News
about Syndergaard:
He's the new phenom, with [Zack] Wheeler in the big leagues now, showing the same type of stuff that again has scouts drooling.
"There's a lot of buzz about him," was the way GM Sandy Alderson put it on Sunday. "Every call I get [regarding trades] starts with, 'What about Syndergaard?' "
Alderson all but hangs up at that point. Though he doesn't say it, he doesn't argue either when it is suggested that the 20-year old right-hander has become an untouchable.
Indeed, another person in the organization says flatly, "We're not trading Syndergaard."
Read more in the
Times
,
Journal
,
Daily News
,
Ledger
and
Newsday
.
• Wright was booed each plate appearance during all three weekend games in Pittsburgh. The faulty reasoning? He did not originally put
Pedro Alvarez
on the NL's Home Run Derby squad. Alvarez eventually replaced
Carlos Gonzalez
last Thursday. Collins said the
booing was misguided
. Read more in
Newsday
.
•
Josh Satin
reached base twice in four plate appearances, while
Ike Davis
grounded into a double play as a pinch hitter in the ninth. Afterward, Collins was
noncommittal about playing-time distribution
at first base after the All-Star break.
• Read more on Harvey in the
Star-Ledger
.
• Erik Goeddel tossed six scoreless innings and
Pedro Feliciano
inherited and stranded the bases loaded as Binghamton beat Portland, 4-0. Read the full minor league recap
here
.
• Wilmer Flores, who has been selected as the Mets' lone representative in Wednesday's Triple-A All-Star Game in Reno, Nev., only
suffered a "mild" ankle sprain
when he left Saturday game, Paul DePodesta said.
• Anna Benson
appeared on "America's Most Wanted" in the 1990s
. She reportedly was suspected of being linked to an execution-style murder. Read more
in the Daily News
.
• The Post All-Star preview package includes Steve Serby's joint
Q&A with Harvey and Wright
, things to
see around the All-Star Game
, a
look back at the '64 game
in the inaugural year at Shea Stadium, and a fan vote for an
all-time Mets team by position
.
• Jared Diamond
in the Journal
details what goes into readying a stadium for an All-Star Game. Diamond also gives out
midseason Mets awards
.
•
From the bloggers …
Mets Police
takes a look at some tweaks to Citi Field for All-Star Week. … Trading Bobby Parnell or
Marlon Byrd
just creates further holes, writes John Delcos at
Mets Report
.
BIRTHDAYS:
Jerry Manuel-favorite
Fernando Nieve
, currently in Triple-A with Cleveland, turns 31. …
Wilson Delgado
is 41. …
James Baldwin
is 42. … Don Clendenon was born on this date in 1935. He died in 2005.
TWEET OF THE DAY:
@Sarah_Atchison Still not older than Jamie Moyer though. Especially since when Scott made his debut, Jamie already had 18 yrs n the bigs. :)

— Seth Noboa (@STheKid19) July 14, 2013
July, 14, 2013
7/14/13
5:48
AM ET
PITTSBURGH
FIRST PITCH:
The Mets soon will have a chance to recharge their batteries -- well, with the exception of
David Wright
and
Matt Harvey
, who should be plenty busy over the next few days.
Dillon Gee
(6-7, 4.60 ERA) opposes rookie right-hander
Gerrit Cole
(4-2, 3.68) in today's 1:35 p.m. first-half finale at PNC Park as the Mets look to avoid getting swept. All-Star southpaw
Jeff Locke
was
scratched from the start
by the Pirates.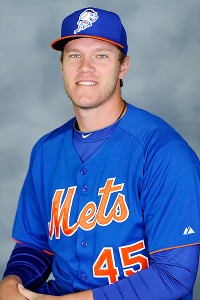 Courtesy of New York MetsNoah Syndergaard is the starter for Team USA in today's Futures Game.
Less than a half-hour after the Mets-Pirates game gets under way, the All-Star events at Citi Field begin with the 2 p.m. Futures Game, which will be televised live on ESPN2.
Mets farmhands Noah Syndergaard (Team USA) and Rafael Montero (World) will start opposite each other on the mound. The squads will be managed by Mookie Wilson and
Edgardo Alfonzo
. 2011 first-round pick Brandon Nimmo will come off the bench for Team USA.
Mets special assistant J.P. Ricciardi,
in a radio interview Saturday
, projected Montero as a No. 4 starter in the majors and raved about Syndergaard's electric fastball and power sinker.
The celebrity softball game featuring
Mike Piazza
,
John Franco
, Darryl Strawberry, Dwight Gooden and
Rickey Henderson
will be played today at Citi Field after the Futures Game. It will be televised by ESPN on Monday, after the 8 p.m. Home Run Derby, at approximately 10:30 p.m.
Sunday's news reports:
• After Saturday's game,
Jordany Valdespin
was
demoted to Triple-A Las Vegas
.
Scott Atchison
will return from the disabled list to give the Mets an extra relief arm for the first-half finale. Valdespin was 2-for-his-last-36. Read more in the
Star-Ledger
and
Post
.
• Despite
Carlos Torres
contributing five solid innings
in his first major league start in three years, the Mets lost to the Pirates, 4-2, Saturday at PNC Park.
Ike Davis
was
unable to make a pair of fielding plays
in Pittsburgh's two-run seventh inning.
Read game recaps in the
Post
,
Daily News
,
Newsday
,
Star-Ledger
,
Record
,
Times
and
MLB.com
.
• Sandy Alderson
told ESPNNewYork.com
he does not foresee the roster "looking substantially different" after the July 31 trade deadline.
Alderson, in a separate interview
in Newsday
, said about
Marlon Byrd
: "We're not looking to move Marlon. Obviously, we have our eye on the future, but we want to be as good as we can be this year as well. Now, if what we can get for the future exceeds the value of the present, we'd have to look at that. But we're not anxious to do it."
Regarding
Bobby Parnell
, the GM added: "We've been looking for a closer for two years. Looks like we've found one. Why would we want to give him away immediately? This is not a guy we're looking to move, either."
Ricciardi, matching Alderson's comments, said the Mets are
not eager to trade
Byrd.
Read more in the
Post
.
• Alderson told Kristie Ackert
in the Daily News
that Harvey skipping Saturday's start primarily was to curtail his innings and was not about the All-Star Game. "He would pitch in the All-Star Game whether he pitched today or not," Alderson told Ackert on Saturday. "That wasn't the reason we made the decision. We made the decision on his projected workload over the course of the season. His blister was a factor."
• John Harper and Anthony McCarron
in the Daily News
catch up with Tom Seaver, Jerry Koosman, Jon Matlack, Gooden, Ron Darling and
Al Leiter
about their first All-Star Game experiences. Ken Davidoff
in the Post
talks with 72-year-old Ron Hunt, the last Met to start an All-Star Game in Queens, back in 1964 at Shea Stadium.
• Seaver will serve as the grand marshal of Tuesday's 1 p.m. All-Star parade, which will travel across 42nd St., beginning at Sixth Ave. and continuing to Third Ave.
• Regarding his first All-Star Game, Harvey tells Kevin Kernan
in the Post
: "This is a huge honor for me, and to be able to put that uniform on is really awesome, especially being there with David. David told me to keep my eyes open, keep my ears open and really just enjoy it. All of this is new, and I'm taking it in stride. But when it comes to
Cliff Lee
and guys who have done it multiple times, it's really something I'm looking forward to. And, hopefully, it's not my last All-Star Game."
• Anthony Rieber
in Newsday
talks with Wright on the eve of another All-Star appearance, while colleague Marc Carig
in Newsday
talks with Harvey about his first-half success.
•
Jeremy Hefner
will start the second-half opener for the Mets against the
Philadelphia Phillies
on Friday at Citi Field.
Zack Wheeler
starts on Saturday, followed by Harvey on Sunday. Gee then gets next Monday's series opener against the
Atlanta Braves
, followed by Torres.
• Terry Collins identifies outfield production as one reason for the Mets' improved team performance,
the Times writes
.
• Wright's
pitcher in Monday's Home Run Derby
is bullpen catcher Dave Racaniello. Read more in the
Star-Ledger
.
•
Justin Turner
began a rehab assignment
for a strained intercostal muscle on his left side on Saturday as the DH in the Gulf Coast League. He is expected to play for Class A St. Lucie on Sunday, signaling a return right after the All-Star break.
•
Jenrry Mejia
, on a rehab assignment, tossed five scoreless innings as Binghamton completed a doubleheader sweep of Portland. Wilmer Flores, who had been due to play in the Triple-A All-Star Game on Wednesday, departed Sunday's Las Vegas game after one inning with a hamstring injury. Anthony Chavez's RBI double in the top of the ninth lifted Brooklyn to a 2-1 win against Connecticut. Read the full minor league recap
here
.
• Ken Belson
in the Times
discusses the benefit to the host team of putting on an All-Star Game. Writes Belson:
The main financial lift for the host club is to use the All-Star Game to help push ticket sales to every other game on the schedule.
"For us, the big plus is you expand your season-ticket base going into that year," said Kevin Uhlich, the senior vice president for business operations for the Kansas City Royals, who were the hosts for the All-Star Game in 2012. "While our play on the field didn't change, our season tickets were up 25 percent because the only way to guarantee All-Star tickets was to buy a ticket plan."
• Jorge Castillo
in the Star-Ledger
discusses
Kirk Nieuwenhuis
' improved performance with the center fielder.
• Cody Derespina
in Newsday
suggests Harvey has pitched better than his 7-2 record indicates.
• Jordan Lauterbach
in Newsday
profiles Brooklyn second baseman LJ Mazzilli, son of Lee Mazzilli.
• Steven Marcus
in Newsday
writes that All-Star venue Citi Field evokes memories of Ebbets Field, as Fred Wilpon intended.
BIRTHDAYS:
White Sox manager/ex-Met Robin Ventura turns 46. He will be one of the AL coaches at Tuesday's All-Star Game, along with Blue Jays manager John Gibbons. The NL coaches also have Mets ties: Collins and Davey Johnson. ... Las Vegas reliever Jack Leathersich is 23.
TWEET OF THE DAY:
RT @SFGiants: July 13, 2013 – Tim Lincecum throws his 1st Career No-Hitter #SFGiants pic.twitter.com/h1qvXpg2SE

— Baseball Tonight (@BBTN) July 14, 2013
YOU'RE UP: Should Terry Collins use Josh Satin at first base on Sunday, even though the Pirates now are using a right-hander?
July, 13, 2013
7/13/13
4:46
PM ET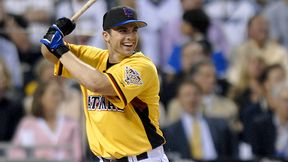 Scott Rovak/US PresswireDavid Wright finished as the runner-up in the 2006 Home Run Derby in Pittsburgh.
PITTSBURGH -- Bullpen catcher Dave Racaniello will throw to
David Wright
in Monday's Home Run Derby at Citi Field.
Racaniello had been slated to throw to Wright in Pittsburgh at the 2006 All-Star Game, but had to bail because of back surgery.
Paul Lo Duca
instead pitched to Wright, who reached the finals before losing to
Ryan Howard
.
The Home Run Derby will be televised live by ESPN at 8 p.m.
April, 30, 2012
4/30/12
1:34
AM ET
Johan Santana
tossed six scoreless innings. Yet the southpaw was saddled with a no-decision because
Todd Helton
belted a grand slam in the eighth off
Tim Byrdak
.
Frank Francisco
blew his first save as a Met by also surrendering a game-tying homer, on a solo shot by
Carlos Gonzalez
in the 10th. But the Mets ultimately prevailed on
Ike Davis'
RBI single in the 11th to
win Sunday's rubber game at Coors Field, 6-5
.
Monday's news reports:
• Santana
remained winless this season
, despite having allowed one run or fewer in all but one of his starts. It marks the first time since his rookie season in 2000 with the Minnesota Twins that Santana has failed to be credited with a victory in any of his opening five starts of a season.
Terry Collins
had a logical explanation for pulling Santana at 90 pitches after six scoreless innings. Santana was working on standard rest for the first time in the regular season since undergoing Sept. 14, 2010 surgery to repair a torn anterior capsule in his left shoulder. Santana also was coming off his highest pitch count since his comeback. He had tossed 105 pitches against the Miami Marlins on Tuesday.
• After completing a rehab assignment Saturday with Triple-A Buffalo,
Andres Torres
is due to be
activated from the disabled list
Monday in Houston. Assistant GM
John Ricco
announced righty-hitting corner infielder
Zach Lutz
would be demoted
over
Jordany Valdespin
to create roster room. The biggest curiosity is the outfield alignment with Torres back. Collins announced pregame that
Kirk Nieuwenhuis
would move to left field, a position he has never played. After the game, and after Nieuwenhuis had a highlight-reel diving catch in left-center to keep Santana's outing scoreless in the fifth,
Collins wavered slightly
. Torres has started 30 major league games in left field. Still, Collins indicated, Nieuwenhuis is more likely than Torres to be in left field on Monday when the Mets face Astros right-hander
Bud Norris
at Minute Maid Park.
Andy McCullough
in the Star-Ledger
suggests the perception among a segment of fans that Torres is an inferior center fielder to Nieuwenhuis is misguided. Writes McCullough:
Torres is the more accomplished fielder. From 2009 to 2011, he ranked seventh among center fielders in Ultimate Zone Rating, an advanced metric that attempts to quantify how many runs a defender saves. During that time period, Torres saved 19.4 runs while with San Francisco. Heading into the season, scouts questioned Nieuwenhuis' ability to handle center field full-time. But he's performed a series of high-wire catches since becoming the team's regular there the second game of the season.
Read more in the
Post
,
Daily News
and
Newsday
.
• In part to build team chemistry, Mets veterans suggested in spring training that players and staff wear western apparel during the trip from Denver to Houston.
R.A. Dickey
had an elaborate sheriff's outfit complete with fake gun, holster and badge.
Daniel Murphy
introduced pink to his cowboy ensemble.
David Wright
,
Mike Nickeas
and bullpen catcher
Dave Racaniello
dressed as the colorful "Three Amigos," complete with sombreros and fake mustaches. Mets players similarly plan a hockey-themed attire day for the May 18-20 interleague series at Toronto, during a trip that continues in Pittsburgh. See dress-up photos
here
.
• Denver Broncos quarterback
Peyton Manning
visited Coors Field on Sunday
. He attended the University of Tennessee along with Dickey and Helton, and is particularly friendly with the Rockies first baseman. Wright, while wearing his sombrero and fake mustache, bumped into Manning while entering the stadium in the morning, which amused the older brother of
Eli
. Read more in
Newsday
.
• Davis
confessed to thinking back
to his season-ending ankle injury in Denver last May 10 as he fielded a 10th-inning popup Sunday. Wright stayed out of the way this time.
•
Ruben Tejada
had
10 hits in the three-game series
and is now hitting .310. The last Met to have 10 hits in a three games series? That was
Edgardo Alfonzo
in 2000, also against Colorado. If Tejada has another three-hit game Monday in Houston, he will match the franchise record for consecutive three-plus-hit games.
Brett Butler
accomplished the feat in four straight games in 1995. Read more in
Newsday
.
• Read game recaps from Sunday's seesaw affair in the
Post
,
Star-Ledger
,
Times
,
Daily News
,
Record
,
Journal
and
Newsday
.
•
Zack Wheeler
-- who had been the victim of a lack of run support -- finally picked up his first Double-A win, and 2008 first-round pick
Reese Havens
returned from injury with a homer in his first 2012 at-bat, as Binghamton beat Erie, 7-1, Sunday. Read the full minor league recap
here
.
• Broadcaster
Howie Rose
, who skipped the weekend series in Denver, was inducted into the Nationals Jewish Sports Hall of Fame and Museum at Commack, Long Island, on Sunday. Wrote
Steven Marcus
in Newsday
:
When he and his friends went to Shea and the Mets won, Rose recalled one of his chums yelling, "Put it in the books!'' It became Rose's signature line. Rose, who lives in Woodbury, also calls Islanders games on TV but is famously known for calling Stephane Matteau's winning goal in the second overtime for the Rangers against the Devils in the Eastern Conference finals during the 1994 run to the Stanley Cup. "I'm amazed 18 years later at how the Matteau call has endured,'' Rose said. "There are very few days when I'm in a public setting where somebody doesn't yell out 'Matteau! Matteau! Matteau!' " Rose, 58, also thanked Marv Albert for being an early mentor.
TRIVIA:
Who did the Mets receive when they traded
Mike Scott
to the Astros on Dec. 10, 1982?
Sunday's answer:
Larry Dierker
won 14 career games against the Mets, the most of any Houston pitcher.
Joe Niekro
and
Don Wilson
rank second on that list with 12 career wins apiece against the Mets.
March, 28, 2012
3/28/12
10:28
AM ET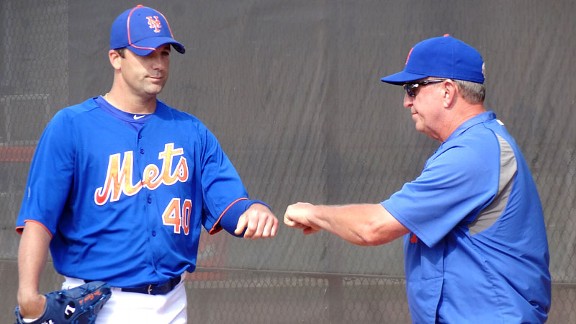 Adam Rubin
Tim Byrdak and Dan Warthen exchange fist bumps after the southpaw's first mound session since surgery to repair a torn meniscus.
Tim Byrdak
may be overly optimistic, but the left-handed reliever said he is "pushing" to be ready for Opening Day.
Byrdak threw off a mound Wednesday for the first time since March 13 surgery to repair torn meniscus cartilage in his left knee and had no apparent issue. He hopes to pitch in a minor league game Friday, assuming he feels OK tomorrow, but it's not clear the organization will let him push that rapidly.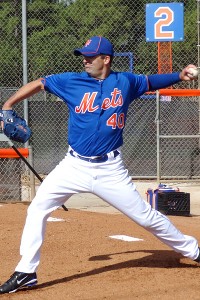 Adam Rubin
Tim Byrdak throws off a mound Wednesday.

If Byrdak does not appear in a Grapefruit League game during the final week of spring training, he only would be required to miss the first four games of the regular season on the disabled list because of backdating rules. The Mets are preparing to take
Daniel Herrera
north as a short-term plug for Byrdak.
Byrdak being ready for the April 5 opener against the Atlanta Braves -- albeit not the likely scenario -- would alleviate the need to clear a third 40-man roster spot. The Mets are expected to need to clear room for backup outfielder
Mike Baxter
and reliever
Miguel Batista
, and potentially another spot if
Andres Torres
(calf) were not ready.
Byrdak was in good spirits during Wednesday's session with bullpen catcher
Dave Racaniello
.
"You ready to be amazed?" the comedic Byrdak asked Racaniello at the outset.
"I'm already amazed a man your age can pitch," Rac shot back.
After throwing a pitch, Byrdak then exclaimed: "Like I've never missed a beat."
"Lot of movement," Byrdak told Rac mid-session.
"Lot of movement," Rac repeated.
"That's not a bad thing to have," Byrdak said.
March, 1, 2012
3/01/12
10:33
AM ET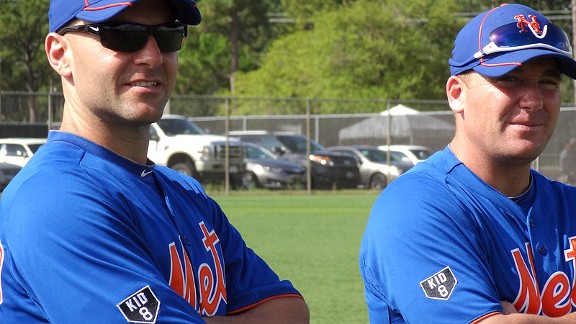 Adam Rubin
Bullpen catchers Dave Racaniello and Eric Langill wear the new patch remembering Gary Carter on their right sleeves. The "KID 8" patch was added to all uniforms, including spring-training jerseys, in time for Thursday's workout.
May, 2, 2011
5/02/11
2:19
AM ET
The chants of "U-S-A" in the visitors clubhouse after the game were partially reflecting the international news. But they also were celebrating an American tradition -- gorging oneself.

Bullpen catcher Dave Racaniello set the official visitors' clubhouse record at Citizens Bank Park with 14 cheese steaks consumed. The previous record had belonged to former major leaguer Dmitri Young.
February, 7, 2011
2/07/11
2:45
PM ET
Think the Sunday night bowling events Terry Collins is organizing for the Mets are going to be laid back? Think again, apparently.

After David Wright took batting practice Monday in Port St. Lucie, the conversation between Collins, bullpen catcher Dave Racaniello and Wright shifted to the start-up bowling league. The trio resolved that the first Sunday should be to gauge people's ability, so that teams can be balanced. They also discussed finding a scorekeeper, so standings and overall pin totals can be kept week-to-week. (Assistant GM John Ricco's name came up as a potential commissioner -- or at least scorekeeper -- but the trio quickly laughed it off, concluding Ricco had plenty on his plate as it is.)

"I love doing stuff like that anyway, whether it's golfing, bowling," Wright said. "I love getting together with the guys and just having a competition like that. I guess we'll find out soon what kind of bowler I am. But if I'm going to participate, I'm going to try to go out there and win."

Bored in Virginia this offseason, Wright has picked up a bowling ball a few times this winter.

"Sometimes there's not a lot to do," the third baseman said. "I've picked up the bowling ball a few times this offseason, especially once I heard we're going to have this league. I don't want to be surprised by anything. So I practiced a little bit and I think I'm ready to go."

Wright originally was coy about what he can bowl, but then offered: "I think it's just the same with my baseball -- just a lot of inconsistencies. Every once in a while I'll creep up around 200. I can also bowl a 120 or 130. Just like baseball, I think it's kind of parallel. I need to find some consistency in baseball, find some consistency in bowling."

Collins offered a similar analysis, saying he's fully capable of hitting 190, but he's just as capable of bowling a 140 or even 110. The 61-year-old Collins acknowledged part of the fluctation is the result of arthritis in his bowling hand that tends to flare up.

Wright said he loves Collins' idea to get the team together for weekly bowling nights.

"I love the fact that he's so energetic, not only about baseball, just about everything in general," Wright said about his manager. "... I think there's a lot to be said for the kind of chemistry you have in the clubhouse, and I think that builds it, so I think it's a tremendous idea."