New York Mets:

David Altchek
April, 7, 2014
Apr 7
5:38
AM ET
NEW YORK
FIRST PITCH:
The Mets spend a day off in Atlanta before opening a three-game series Tuesday against the Braves at Turner Field.
The three-city trip also takes the Mets to Anaheim and Phoenix.
With the Mets departing New York,
Matt Harvey
(elbow) and
Chris Young
(quadriceps) will shift their rehabs to the team's complex in Port St. Lucie, Fla.
Bartolo Colon
starts Tuesday's 7:10 p.m. series opener opposite ex-Met
Aaron Harang
.
The Braves will have a pregame ceremony to recognize the 40th anniversary of Hank Aaron unseating Babe Ruth as MLB's home-run king.
Monday's news reports:
•
Bobby Parnell
has decided to
undergo Tommy John surgery
now rather than first attempt a rehab program. Team doctor David Altchek is scheduled to replace the partially torn medial collateral ligament in Parnell's right elbow on Tuesday at the Hospital for Special Surgery.
Jose Valverde
is now locked in as the closer. Read more in the
Times
,
Post
,
Daily News
,
Newsday
,
Star-Ledger
and at
MLB.com
.
•
Jonathon Niese
took a scoreless effort into the sixth inning in his return from the disabled list, but the southpaw was
charged with the loss
as the
Cincinnati Reds
avoided getting swept with a
2-1 win against the Mets
on Sunday at Citi Field. Reds starter
Alfredo Simon
consecutively struck out
Daniel Murphy
and
David Wright
in the third inning to strand two runners in scoring position.
Travis d'Arnaud
, despite one deep shot to left field,
remained hitless this season
. He is 0-for-15. The Mets went 2-4 on the homestand. They struck out 61 times, the most in the first six games of a season in franchise history.
Read game recaps in the
Post
,
Daily News
,
Journal
,
Newsday
and
Times
.
• Terry Collins affirmed
Lucas Duda
will
start Tuesday in Atlanta
as the team's commitment to him at first base -- aside from
Ike Davis
' start Sunday -- continues.
Columnist Kevin Kernan
in the Post
asserts the Mets ought to make a decision already. Writes Kernan:
That the Mets don't have a final read on Duda and Davis in Year Four of the Sandy Alderson Regime is hard to comprehend. Davis has more than 1,700 plate appearances in the majors, Duda is closing in on 1,300. Make a decision and if that decision is to go with Duda, trade Davis.

"The Mets are afraid they are going to get burned on a Davis trade," a scout said at the game. "They can't think like that. They have to have the courage of their convictions and make a trade."
Read more at
MLB.com
.
• A half-inning after Jeff Walters suffered a blown save,
Zach Lutz
produced a walk-off RBI double as Las Vegas beat Fresno, 6-5, Sunday. Hansel Robles tossed five scoreless innings in his Double-A debut and Binghamton held on to beat Akron, 5-4. Domingo Tapia's wild pitch allowed the lone run to score in St. Lucie's 1-0 loss to Palm Beach. Read the full minor-league recap
here
.
• Jeff Pearlman
at Bleacher Report
recounts his guilt in the 15 years since the publication of a Sports Illustrated article in which he quoted
John Rocker
ranting about a variety of topics, including New York's 7 train.
• Troy Renck
in the Denver Post
applauds Murphy's decision to miss two games to be with his wife and newborn child.
•
From the bloggers ...
With Niese here,
Faith and Fear in Flushing
notes the gang's all here. Well, for the moment.
BIRTHDAYS:
Mets bullpen coach
Ricky Bones
turns 45 ...
Vinny Rottino
is 34.
TWEET OF THE DAY:
Bobby será operado de Tommy John ay yay yay! #Mets

— Vince NY (@vinzska) April 7, 2014
YOU'RE UP: Will Jose Valverde be able to handle the closer's role?
March, 18, 2014
Mar 18
6:11
AM ET
Mark Cunningham/MLB Photos/Getty ImagesWilmer Flores is due to start at shortstop again for the Mets on Tuesday.
PORT ST. LUCIE, Fla.
FIRST PITCH:
Terry Collins plans to use a high percentage of his starting lineup in Tuesday's 1:10 p.m. matchup against the
Detroit Tigers
(SNY).
That should include
David Wright
,
Curtis Granderson
and
Juan Lagares
, who were given Monday off from reporting to the complex. That group had rolled into Port St. Lucie about 2:30 a.m. Monday after spending the weekend playing in Las Vegas against the
Chicago Cubs
.
Daisuke Matsuzaka
opposes left-hander
Kyle Lobstein
.
Wilmer Flores
is scheduled to make his
third 2014 Grapefruit League start at shortstop
.
The Mets then have a full off-day Wednesday. When the Mets reassemble, Collins said he will ratchet up the concentration level for the final stretch of camp.
"We've got Wednesday off and then we're down to 10 days," Collins said. "We're going to tighten things up a little bit."
Tuesday's news reports:
•
Jonathon Niese
now twice has been sent to New York for MRIs this spring training … and both times
received favorable news
.
Team doctor David Altchek diagnosed Niese on Monday with elbow inflammation, but not structural damage. The southpaw was given a cortisone shot and cleared to resume throwing as soon as Wednesday.
While it appears Niese will open the season on the disabled list, that should be more of a strategic maneuver than anything. It would allow the Mets to carry an extra bench player for the first five games. The fifth starter will not be needed until April 6 against the
Cincinnati Reds
, and that is the date Niese would be eligible to return from the disabled list. Read more in the
Post
,
Daily News
,
Journal
,
Star-Ledger
,
Record
,
Newsday
and
MLB.com
.
•
John Lannan
allowed 12 of 20 batters he faced to reach
and the Mets lost to the
Miami Marlins
, 10-7, Monday at Roger Dean Stadium. Read more in the
Star-Ledger
and
MLB.com
.
•
Ike Davis
and
Lucas Duda
continued serving as designated hitters in minor-league games Monday without running the bases. Collins acknowledged "we're
running out of days
" to get both ready for the season. Read more in the
Post
,
Star-Ledger
,
Record
and
Newsday
.
•
Jose Valverde
will have a role in the bullpen, writes Mike Vorkunov in the
Star-Ledger
. Of course, Collins joked, Valverde will have to remember how many outs there are in an inning. He skipped over the first-base line after recording only the second out of an inning Monday.
• ESPN's Buster Olney tweets: "There is a strong sentiment within PHI organization right now that the team would be better off trading shortstop
Jimmy Rollins
ASAP. Jimmy Rollins, of course, cannot be traded without his consent, because he has 10-5 rights."
• Marty Noble
at MLB.com
catches up with ex-Met
Tom Glavine
, who will be enshrined in Cooperstown this summer.
• Ex-Met
Justin Turner
is not a fan of anonymous quotes from Mets officials in the New York media, he tells
Capital New York
. Read more in the
Daily News
.
•
From the bloggers …
Faith and Fear in Flushing
recalls the greatest Opening Day Mets starter of them all and the manager who first gave him the honor. …
Rising Apple
says acquiring a shortstop before Opening Day is imperative.
BIRTHDAYS:
No one to appear in a game for the Mets was born on this date, but Adam Levine, Queen Latifah, Grover Cleveland and Brian Scalabrine celebrate birthdays today.
TWEET OF THE DAY:
Opening day for the Mets is 2 weeks away, and still they have not answered any of the important questions they had entering spring training.

— Kevin Burkhardt (@kevinburkhardt) March 17, 2014
YOU'RE UP: Do you believe Ike Davis and/or Lucas Duda will open the season on the disabled list?
March, 17, 2014
Mar 17
6:29
AM ET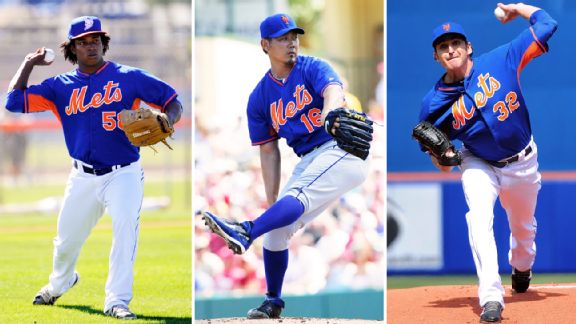 USA TODAY SportsIf Jon Niese misses any significant time, two of three from Jenrry Mejia, Daisuke Matsuzaka and John Lannan should be in the Opening Day rotation.
PORT ST. LUCIE, Fla.
FIRST PITCH:
Jonathon Niese
is scheduled to have an MRI
and be examined by team doctor David Altchek on Monday at the Hospital for Special Surgery in Manhattan.
Niese departed Sunday's game against the
St. Louis Cardinals
after two innings and 35 pitches with elbow discomfort. The southpaw did not believe the injury was severe, but clearly he now is unlikely to make the Opening Day start on March 31 against the
Washington Nationals
at Citi Field.
Terry Collins previously had indicated
Bartolo Colon
is the probable Opening Day starter if Niese is not available, with
Dillon Gee
the other consideration.
If Niese's elbow issue is not severe, the Mets still can place him on the disabled list to open the season and backdate it nine days into spring training.
That means Niese would be eligible to return April 6 against the
Cincinnati Reds
, which happens to be the first day the Mets would need a fifth starter. That also would allow the Mets to carry an extra bench player (
Andrew Brown
or
Wilmer Flores
, perhaps?) or an extra bullpen arm for the first five games of the season.
Daisuke Matsuzaka
was the probable fifth starter before Niese's injury anyway.
If Niese is lost beyond April 6 and the Mets need another starter, the team would need to debate
John Lannan
and
Jenrry Mejia
's candidacies as the fill-in. Lannan otherwise should make the team in relief.
Mets officials previously have told ESPNNewYork.com that they do not want to continue to shift Mejia between starting and relieving. If Mejia is not in the rotation to start the year, team brass will have a serious discussion late in spring training about Mejia's future role -- and then stick with it.
Rafael Montero is not an Opening Day rotation consideration, but will get consideration for a relief role, according to Collins. Still, unless Lannan ends up in the rotation, it is difficult to see where Montero might fit in the pen to start the season. The projected bullpen pre-Niese injury has included
Bobby Parnell
,
Vic Black
,
Jose Valverde
,
Carlos Torres
,
Jeurys Familia
,
Scott Rice
and Lannan.
Meanwhile, the Mets who traveled to Las Vegas were due to land in the early morning hours on Monday. Most of those players likely will be excused from an afternoon game against the
Miami Marlins
at Roger Dean Stadium in Jupiter. Lannan opposes Marlins right-hander
Henderson Alvarez
at 1:05 p.m. (WOR 710 AM).
Monday's news reports:
• Cory Vaughn homered against
Adam Wainwright
and finished with four RBIs as the
Mets beat the Cards, 10-4
, despite losing Niese to injury after 35 pitches.
Ruben Tejada
committed his fourth Grapefruit League error and was hitless in four at-bats, dropping his average to .091 (2-for-22). Read more on Tejada and the game against the Cards in the
Post
and
MLB.com
.
• Mejia and Montero allowed a combined five runs (four earned) in five innings as the Mets lost to the
Chicago Cubs
, 6-3, in Vegas.
Juan Lagares
made a dazzling catch and also threw out a runner at the plate. Flores started his second spring-training game at shortstop, with Collins pledging more action there. Brown belted a two-run homer and
Zach Lutz
contributed his third spring-training homer. Read more on Mejia and the Vegas game in the
Post
,
Star-Ledger
,
Newsday
and
MLB.com
.
• Read more on Niese's injury in the
Post
,
Daily News
,
Times
,
Star-Ledger
,
Record
,
Journal
,
Newsday
and
MLB.com
.
Getty ImagesThe D-backs have a pair of shortstops: Chris Owings and Didi Gregorius.
•
Ike Davis
(calf) went 2-for-6 as a DH but did not run the bases after making contact during a minor-league game Sunday. He did run postgame.
Lucas Duda
(hamstring) had Sunday off. Read more in the
Star-Ledger
.
• Columnist John Harper
in the Daily News
suggests it might make sense to trade some of the Mets' young pitching for offense while they're still prospects and before they get hurt. Of course, Niese's injury potentially means the Mets have less room to deal because they need the pitching depth. Still, Harper notes, the
Arizona Diamondbacks
have two shortstops,
Didi Gregorius
and
Chris Owings
, and now may need a starting pitcher with
Patrick Corbin
apparently headed for Tommy John surgery.
• Matt Ehalt
in the Record
speaks with
Matt den Dekker
about his solid camp. He is hitting .379 (11-for-29) in Grapefruit League play.
• Jared Diamond
in the Journal
notes Las Vegas is a tough place for prospects to pitch. As for whether the 51s will remain the Mets' Triple-A affiliate beyond this season, when the current player-development agreement will have expired, Las Vegas president Don Logan told Mike Vorkunov
in the Star-Ledger
: "I think the geography is going to come into play. If there is a team on the East Coast available it just makes more sense maybe for them. But if you're going to be in the West, this is the best place to be, because we have tons of air access to everywhere in the country."
• How did the Mets celebrate
Curtis Granderson
's 33rd birthday on Friday night in Vegas? Anthony DiComo
at MLB.com
writes:
After a dinner at Andiamo Steakhouse, the Mets gathered around a Sigma Derby machine on the casino floor, where players could wager quarters on fake horses.
"Guys were upset they lost six dollars," Granderson recalled, laughing.
It was a way for the Mets to blow off some steam, enjoying their two-day trip to Vegas for a pair of exhibition games against the Cubs. While some members of the traveling party stuck to relaxing -- David Wright spent much of his free time watching college basketball on television -- many others dabbled in what Vegas had to offer.
BIRTHDAYS:
Lagares turns 25. ... Former Mets catcher
Vance Wilson
is 41.
TWEET OF THE DAY:
A smile is the lighting system of the face, the cooling system of the head and the heating system of the heart. #buenasnoches

— Jose Reyes (@lamelaza_7) March 17, 2014
YOU'RE UP: Which two pitchers should fill the Jon Niese and fifth starter's roles assuming Niese misses a portion of the beginning of the season?
March, 1, 2014
Mar 1
6:30
AM ET
PORT ST. LUCIE, Fla.
FIRST PITCH:
The Mets host the
Miami Marlins
at 1:10 p.m. Saturday (PIX11) as Grapefruit League play continues at Tradition Field.
Fifth-starter candidate
John Lannan
makes his Mets debut, opposite right-hander
Kevin Slowey
.
Vic Black
,
Scott Rice
,
Kyle Farnsworth
,
Josh Edgin
,
Ryan Reid
, John Church,
Steven Matz
and Cory Mazzoni also are scheduled to pitch for the Mets.
Saturday's news reports: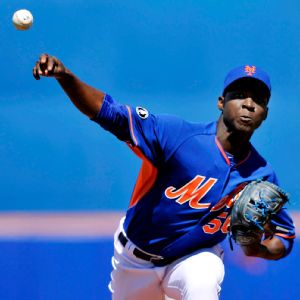 Brad Barr/USA TODAY SportsRafael Montero opened the Grapefruit League schedule with two perfect innings Friday.
• Not shying away from Sandy Alderson's statement in an internal meeting, Terry Collins acknowledged he plans to give each player specific goals that
collectively will get the Mets to 90 wins
. Read more in the
Post
.
In a
positive start for both first basemen
,
Ike Davis
belted a two-run homer and
Lucas Duda
had a broken-bat ground-rule double and was robbed of another hit Friday against the
Washington Nationals
. Pitching prospects
Jacob deGrom
and Rafael Montero
tossed two perfect innings apiece
, although
the Mets lost, 5-4
, in the ninth on a run-scoring triple against
Jeff Walters
.
Chris Young
started in left field and led off and went 1-for-2 with a strikeout in his Mets debut. Ex-Yankee
Curtis Granderson
went 0-for-2.
Wilfredo Tovar
suffered a right-hamstring injury
in the seventh, but downplayed the severity.
On Montero and deGrom, Paul DePodesta told Kristie Ackert
in the Daily News
: "You look at the Cardinals and the Rangers in the last couple of years, they have had to bring their young pitchers up to the bullpen, because that is where there is room for them. We want to be in that type of situation, where we are bringing guys up to the bullpen in the big leagues. Maybe they are starters who will transition back to being starters later, or maybe they won't because they have become so valuable in their role in the bullpen." Read more on Montero and deGrom at
MLB.com
.
Read more on Davis and Duda in the
Times
,
Star-Ledger
,
Record
and
Newsday
.
Read a recap of the Grapefruit League opener in the
Star-Ledger
.
• Columnist Joel Sherman
in the Post
says the Mets remind him of the Harold Ramis-penned movie "Groundhog Day." Writes Sherman:
I was thinking of that film Friday as I entered Mets camp for what was their first spring game, but with a sense already of been there, done that. After all, there was the Flaw Firm of Ruben Tejada, Ike Davis and Lucas Duda in the starting lineup beginning, what is it, Year 4 of "they need to show us what they've got" portion of the program? Quite frankly, none of it has been as amusing as Bill Murray.
Plus there was that never-ending backstory playing out yet again in which the Mets are selling hard that they are better than the perception offered by their competitors, the public, the media and the odds-makers.
Sherman goes on to note that Bovada, the betting site that has the Mets at 73.5 wins this season, has come within 2.5, 0.0, 0.5 and 0.5 of the Mets' actual win total over the past four seasons.
•
David Wright
was voted on Twitter as the #faceofmlb, beating what one Mets staffer labeled "rickroll" candidate
Eric Sogard
of the
Oakland Athletics
in the finals. "Speech!"
Bobby Parnell
shouted in the clubhouse upon seeing Wright enter Friday morning. Wright then jokingly said: "First of all, I'd like to thank my parents for giving me this face."
•
Jonathon Niese
returned to camp Friday after undergoing an MRI in New York and
reiterated he had received good news
from team doctor David Altchek. Niese suggested his concentration on strengthening the rotator cuff in his pitching arm during the offseason prompted him to neglect other shoulder muscles and caused an "imbalance" and weakness. He expects to resume tossing a baseball this weekend, although he will not yet return to the mound. Read more in the
Post
,
Daily News
,
Star-Ledger
,
Record
,
Newsday
and
MLB.com
.
• Parnell, cautiously returning from herniated-disk surgery and briefly slowed by a left quadriceps injury,
plans to throw live batting practice
Saturday for the first time since arriving in camp.
• The Mets are offering $5 tickets that include a Wright T-shirt for their Friday, April 4 game against the
Cincinnati Reds
at Citi Field. Find more details
here
.
• WOR made its radio debut as the Mets' flagship station Friday. "See, you found us. That wasn't so hard, was it?" Howie Rose began the maiden broadcast by saying, Newsday's Neil Best
tweeted
.
• Jared Diamond
in the Journal
writes that the Mets could break MLB's all-time strikeout record this season. After all, the Mets added Granderson and Chris Young to a team that already set a franchise record with 1,384 Ks last season. The MLB record is 1,535, set by the 2013
Houston Astros
. The previous record had been 1,529 by the 2010
Arizona Diamondbacks
.
• The Mets had only one player exceed 502 plate appearances and qualify for the batting title last year:
Daniel Murphy
, with 697. It marked only the 15th time in the majors since 1900 (albeit 12th time since 2003) that a team only had one player with enough plate appearances to qualify, Michael Salfino writes
in the Journal
.
•
From the bloggers …
John Delcos at
Mets Report
suggests Niese's injury raises questions.
BIRTHDAYS:
Former Mets (and Long Island Ducks) catcher Ramon Castro turns 38.
TWEET OF THE DAY:
Yes, Howie did just say "The Islanders are bringing the infield in"... just bear with him, we're almost done for the day. 5-4 Wash in 9th.

— Mets Booth (@MetsBooth) February 28, 2014
YOU'RE UP: Are the Mets setting themselves up to have the season viewed as a failure no matter how successful they are because of all this unrealistic 90-win chatter?
August, 28, 2013
8/28/13
8:32
AM ET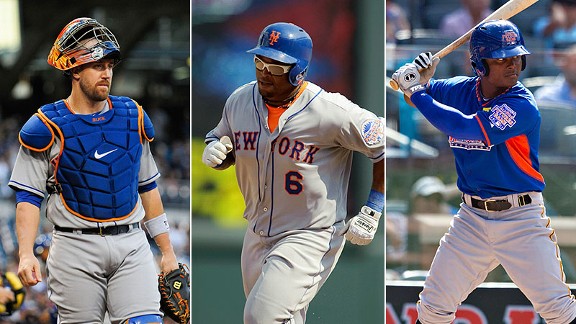 Getty ImagesJohn Buck and Marlon Byrd are now Pirates, while second baseman Dilson Herrera joins the Mets organization.
NEW YORK
FIRST PITCH:
Where have you gone Mets-Phillies rivalry?
From the Mets finally unseating the
Atlanta Braves
in 2006, to the following year's "team-to-beat" proclamation by
Jimmy Rollins
, the NL East seemed to revolve around New York and Philadelphia.
Now? The teams are a collective 24 games under .500 and merely jockeying for third place in the division.
And we're left tonight with
Daisuke Matsuzaka
Night at Citi Field against an eight-games-under-.500
Cole Hamels
(5-13, 3.62 ERA).
Matsuzaka (0-1, 9.00 ERA) makes his second Mets start at 7:10 p.m.
Wednesday's news reports:
• The Mets traded
Marlon Byrd
,
John Buck
and cash to the
Pittsburgh Pirates
for Class A second baseman Dilson Herrera and a player to be named. Herrera, a Futures Game participant from Colombia, will be assigned to low-A Savannah for the remainder of the season.
"Marlon Byrd is an impactful bat with significant numbers against left-handed pitching and John Buck is a strong receiver who works well with a pitching staff," Pirates manager Clint Hurdle
told reporters in Pittsburgh
. "Those were areas we were looking to improve upon and strengthen, and the trade also adds a couple of layers of experience to our club."
Writes ESPN's Keith Law on Herrera:
Playing full time at age 19 in the low-Class A Sally League, Herrera has shown somewhat surprising pop, with a .156 isolated power and 41 extra-base hits in 109 games. He's got a simple, quiet approach, just loading his hands a little higher than he should, with adequate hip rotation for 15-20 homer power at his peak.
He's an above-average runner whose speed hasn't translated into baserunning value, and is presently a fringy defender at second, but should develop into an above-average glove given time and instruction. I'd call him a future everyday second baseman, a solid regular with a chance to be an above-average one.
I'm told by multiple sources that the Mets will receive another player-to-be-named who is a "solid" piece, enough to make this deal even better for New York.
(Insiders can read Law's full trade write-up
here
.)
Writes columnist Dejan Kovacevic
in the Pittsburgh Tribune-Review
:
I got to know Herrera a bit during the All-Star Futures Game in New York last month and loved his backstory: Orlando Covo, the Pirates' lead scout in Colombia, works by day as, of all things, the president of a bank. He moonlights because of a passion for baseball and for the Pirates, who hired him under Latin American scouting director Rene Gayo a half-decade ago.
Colombia is no baseball hotbed, but Covo and Gayo invest disproportionate energy into making it work. In the case of the prized Herrera, Covo pushed so hard that, as the kid told me, "I was wearing a Pirates cap when I was 12."
Herrera's a quality second baseman with a live bat. As [GM Neal] Huntington put it, "The Mets did well" to get him. But the Pirates also did well to have him.
With
Matt Harvey
landing on the DL and the two departures via trade, the Mets promoted Matt den Dekker,
Anthony Recker
and
Robert Carson
from Triple-A Las Vegas. The lefty-hitting Den Dekker and righty-hitting
Andrew Brown
should combine to fill the void left by Byrd's departure -- although den Dekker's starts may
primarily come in center field
, pushing
Juan Lagares
to right field on those days.
Sandy Alderson indicated the Mets' trade activity likely was completed. The GM also reiterated that Terry Collins will be
judged by more criteria
than simply wins and losses.
In a humorous twist, the trade occurred
hours before a Byrd T-shirt promotion
at Citi Field.
With Pittsburgh, Buck will back up
Russell Martin
. Backup catcher
Michael McKenry
underwent season-ending surgery for a torn meniscus. As for Byrd, he particularly will help with outfielder
Starling Marte
out for a few weeks with a sprained ligament in his right hand.
Read columnist Larry Brooks' take on the trade
in the Post
and news stories in the
Pittsburgh Tribune-Review
,
Pittsburgh Post-Gazette
,
Post
,
Daily News
,
Newsday
,
Star-Ledger
,
Record
,
Journal
and
MLB.com
. Read more on Herrera in
Newsday
.
• Columnist Mike Vaccaro
in the Post
suggests the Wilpons must show Mets fans the money this offseason. Writes Vaccaro:
Does Harvey's absence allow another mailed-in offseason?
It had better not. And the men who own the Mets had better be prepared to keep to whatever plans they had about strengthening this team, and not allowing the abyss to run to six full seasons of non-competitive baseball. The tough talk of February had better be able to stay intact by November, regardless of whether Harvey is a part of 2014 or not.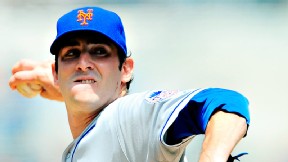 Christopher Hanewinckel/USA TODAY SportsMatt Harvey tweeted that he will be pitching next April 1.
Their credibility was at stake anyway, their show-me fan base eager to see if the Wilpons' claim of financial freedom was legitimate. It should be even more so now. The Mets have crowed about their pitching depth. But even if Harvey pitched to a 0.01 ERA next year, he already knew -- and [Zack] Wheeler learned Monday -- it hardly matters if the Mets offense remains somewhere between inept and impotent.
• Harvey
tweeted he will be pitching next April 1
, but Alderson responded there is no new information on which to base that conclusion. Harvey will get another MRI in two to three weeks, once swelling in his pitching elbow subsides, in order to determine the extent of his UCL tear and whether Tommy John surgery will be required. Read more in the
Post
,
Newsday
and
Record
.
•
Jeremy Hefner
is
due to undergo Tommy John surgery today
. Mets doctor David Altchek is due to perform the procedure at the Hospital for Special Surgery in Manhattan. Hefner will miss most, if not all, of the 2014 season.
•
Jonathon Niese
tossed a three-hit shutout
and also produced a three-run double as the
Mets blanked the Phillies, 5-0
, Tuesday at Citi Field. The teams are again even for third place in the NL East. Read game recaps in the
Post
,
Daily News
,
Star-Ledger
, and
MLB.com
.
•
David Wright
should be hitting in games
-- but probably not fielding -- in Port St. Lucie as soon as Sunday or Monday, Collins said. Read more in the
Post
.
• The Mets named right-handers Chasen Bradford and Hansel Robles, catcher Cam Maron, infielder Aderlin Rodriguez and outfielder Cory Vaughn
to their Arizona Fall League contingent
. Two more pitching spots will be filled later.
• Las Vegas' rally from a four-run deficit in the ninth fell a run short in a 13-12 loss at Colorado Springs. Jeff Walters set a new Binghamton career saves record with No. 37 as the B-Mets beat Bowie, 3-2. Read the full minor league recap
here
.
•
From the bloggers:
Faith and Fear in Flushing
contemplates how rosters turn over and over. … Mark Berman from
Blogging Mets
wonders if the Mets are partly to blame for Harvey's injury.
BIRTHDAYS:
Joel Youngblood turns 62. … Mike Torrez is 67.
TWEET OF THE DAY:
Mets fans I loved every minute of it! Thanks for all the love and support. #mets #livingthedream

— John Buck (@johnbuck44) August 27, 2013
YOU'RE UP: Do you believe Matt Harvey will bypass undergoing Tommy John surgery?
September, 5, 2012
9/05/12
7:39
AM ET
Matt Harvey
surrendered three runs in five innings and
Jeurys Familia
tossed a scoreless frame in his major league debut as the Mets lost to the
St. Louis Cardinals
, 5-1, Tuesday at Busch Stadium.
Now,
R.A. Dickey
bids for his 18th win as the Mets try to avoid a sweep in the series finale. Dickey opposes right-hander
Adam Wainwright
(13-11, 3.90) at 1:45 p.m. ET as the Mets complete a three-city trip.
Wednesday's news reports:
•
David Wright
tells
Jon Heyman
at CBSSports.com
that he is "extremely optimistic" about reaching a long-term extension with the Mets this offseason.
Charles LeClaire/US Presswire
David Wright says he has "not a single complaint" as a Met.

"I've really enjoyed it here," Wright said. "... Although we haven't gotten things completely turned around, we've taken small steps in the right direction and have something to build on. ... There's not a single complaint that I have. [The Mets] drafted me as a kid. They developed me. They've given me an opportunity to make a living playing a game. There's a tremendous amount of mutual respect. They've gone above and beyond. ... My favorite player was
Cal Ripken
. The biggest reason for that was, I like that he stayed."
•
Keith Hernandez
tells
Richard Sandomir
in the Times
that his intention is to report for color-commentary duty for the Oct. 3 season finale in Miami without his signature mustache. Writes Sandomir:
Hernandez's mustache faithfully accompanied him through nearly all of his baseball career, his guest appearances on "Seinfeld" and his singing duet with Mookie Wilson on "Put Down the Duckie" for Sesame Street. Still, he seems about to take it off, after a long season of letting it turn increasingly gray. The color has been fading longer than that but was artificially enhanced with Just for Men gel. He was, of course, a paid company endorser and a star, with Walt Frazier, of several kitschy TV commercials that suggested a better life through dyed facial hair.
In the first and most famous ad, Hernandez and Frazier played the bar-side analysts of a sad sack Mr. Graybeard being rejected by Miss Hottie. Their facial hair was blindingly dark. "No play for Mr. Gray," Frazier said, evoking his penchant for rhyming. In a commercial made in 2008 they confronted another Mr. Graybeard, Emmitt Smith. "Your beard is weird," Hernandez told the retired Dallas Cowboys running back. But Combe Inc., which makes Just for Men, ended the campaign early this year and replaced it with one that stars a tuxedoed baby.
• Familia's major league debut began by striking out
Lance Berkman
with a 97 mph fastball. He then surrendered a single to
Jon Jay
, but immediately erased him by coaxing a double-play grounder from
Matt Carpenter
.
Fred Lewis
, 31, also made his Mets debut. He opened the ninth by grounding out to shortstop against
Trevor Rosenthal
. Read more in the
Star-Ledger
,
Newsday
and
Record
.
• Read game recaps in the
Post
,
Star-Ledger
,
Record
, and
Daily News
.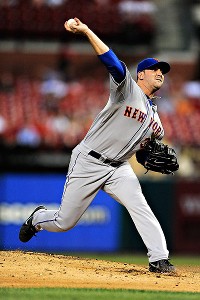 Jeff Curry/Getty Images
Matt Harvey has one or two more starts remaining in 2012.

• Collins said postgame it was not yet resolved whether Harvey would have one or two remaining starts. The five innings logged Tuesday give him 47 1/3 in the majors and 110 with Triple-A Buffalo this season. Read more in
Newsday
.
•
Tim Byrdak
is due to undergo surgery today to repair the torn anterior capsule in his left shoulder. That's the same surgery
Johan Santana
and
Chris Young
previously underwent. Team doctor
David Altchek
will perform the procedure. Byrdak's injury is career threatening, since he turns 39 next month. Byrdak also requires surgery to repair torn meniscus cartilage in his right knee. The other knee required that procedure during spring training.
• The Mets are offering free tickets to up to three children age 12 and under with the purchase of an adult ticket to any September home game. The team announcement:
For "The Kids Go Free" ticket offer available via phone at (718) 507-TIXX and in person at the Citi Field Box Office, fans buying one regularly priced ticket will get up to three complimentary kids tickets. For the ticket offer available online at Mets.com/KidsFree, fans may purchase a Family Four Pack that includes four tickets for the price of two. All tickets must be picked up at Citi Field the day of the game and children must be present. For more information, contact the Mets Ticket Office at (718) 507-TIXX.
• Brooklyn lost to Lowell, 9-1, Tuesday. The Cyclones must win their regular-season finale today, or have Batavia lose at least one game in its doubleheader, in order to claim the New York-Penn League wild card. St. Lucie lost its Florida State League playoff opener, 3-1, at Jupiter in a game interrupted three hours by rain. Read the full minor league recap
here
.
•
Mike Pelfrey
visited his teammates in St. Louis in part to participate in the players' fantasy football draft. Pelfrey, who underwent Tommy John surgery on May 1, is likely to be nontendered in December since he is eligible for arbitration and is making $5.6875 million this season. Players must make at least 80 percent of their previous year's salary if tendered a contract, and rarely receive a salary cut. Still, Collins said he would consider Pelfrey in a bullpen role (presumably if the Mets re-signed Pelfrey for a lower salary after making him a free agent). Read more in the
Post
,
Newsday
,
Times
and
Record
.
TRIVIA:
Which active player has the second-most homers against the Mets, behind
Chipper Jones
?
Tuesday's answer: Technically,
Mike Jorgensen
preceded
Tony La Russa
as Cardinals manager. Jorgensen completed the 1995 season after
Joe Torre
was fired with a 20-27 record in his fifth season at the helm.
May, 30, 2012
5/30/12
6:26
PM ET
Jeremy Hefner may not get another chance to start.

Terry Collins said he will not decide Monday's starter against the Cardinals at Citi Field until at least the weekend. A team source said it was correct to interpret that comment as an indication Miguel Batista is likely the preference rather than Hefner, assuming Batista has a successful rehab start tonight with Double-A Binghamton.

Batista was forced to depart a May 19 start at Toronto after two innings with an oblique/lower-back strain. He is eligible to return from the disabled list Monday, which coincides with when Hefner's next turn otherwise would occur.

• Josh Thole is DHing and batting second for Triple-A Buffalo tonight. Sandy Alderson said he expected Thole would be activated Friday. Collins was less sure that would be the precise date, noting the Mets need to be assured Thole looks sharp at the plate before being activated. Collins insisted he had not been involved in any internal debate yet about whether Mike Nickeas or Rob Johnson might be demoted when Thole is activated.

• Jason Bay's rehab tour from a fractured rib could take him to Buffalo this weekend.

• Phillies ace Roy Halladay (shoulder) sought a second opinion from Mets doctor David Altchek.

• An hour before Wednesday's game, the Mets officially placed Ronny Cedeño on the DL with a left calf strain and promoted Jordany Valdespin.
Despite homering and picking up his first major league win Tuesday,
April, 4, 2012
4/04/12
9:51
AM ET
David Altchek
, the doctor who performed
Johan Santana's
surgery, discusses the procedure and history of anterior capsule surgery exclusively with ESPNNewYork.com. Read the full story
here
.