New York Mets:

David Buchanan
August, 29, 2014
Aug 29
9:41
PM ET
NEW YORK -- Who's the team to beat now?
Phillies left fielder
Grady Sizemore
dropped the would-be final out of the bottom of the seventh inning with the bases loaded, leading to three unearned runs as the Mets beat Philadelphia, 4-1, in Friday's series opener at Citi Field.
The Mets held onto fourth place and kept their 90-win goal --
uhhh
, "reminder" -- mathematically alive.
Jacob deGrom
(7-6) earned a win thanks to Sizemore's miscue.
Dilson Herrera
went 0-for-3 and also committed a fielding error in the ninth inning in his major league debut.
Philadelphia (61-73) would have overtaken the Mets (63-72) for fourth place with a win.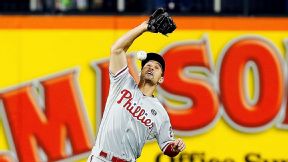 Jim McIsaac/Getty ImagesJacob deGrom was credited with the win once Philadelphia melted down in the seventh on Grady Sizemore's drop in left field.
Instead, after
Justin De Fratus
entered with the bases loaded and two outs in the bottom of the seventh and the score tied at 1, the Phillies imploded.
Juan Lagares
hit a routine fly ball to left field that Sizemore simply dropped. Two runs scored on the play. With runners on the corners, the Mets then pulled off a double-steal.
Eric Campbell
was credited with the first steal of home by a Met since
Jason Pridie
at Houston on May 15, 2011.
The Mets scored three runs in the inning without producing a hit.
The Amazin's improved to 12-5 against the Phillies this season. That's their most wins in a season series versus Philadelphia since going 12-6 in 1989.
Debutant:
Herrera became the youngest active player in the majors at 20 years, 179 days when he debuted Friday.
Facing Phillies right-hander
David Buchanan
, Herrera swung at the first major league pitch he saw and grounded into an inning-ending double play in the second. He then struck out to lead off the fifth. Batting against left-handed reliever
Jake Diekman
with one out and a runner on first in the seventh with the score tied at 1, Herrera lined out to second base.
deLightful:
A day after receiving his NL Rookie of the Month Award for July in a pregame ceremony, deGrom limited the Phillies to an unearned run in the seventh inning. He earned the win thanks to Philadelphia's collapse in the bottom of the frame.
DeGrom retired the first seven Phillies batters, until walking
Cody Asche
in the third. DeGrom also walked
Marlon Byrd
to lead off the fifth. He then surrendered his first hit when Sizemore followed with a single that advanced Byrd to second. However, deGrom preserved a 1-0 lead by striking out
Carlos Ruiz
and Asche and coaxing a fielder's choice from Buchanan.
With that score still intact in the seventh, Byrd had a leadoff single. Sizemore then sent a grounder to first base.
Lucas Duda
opted to attempt the out at second. His throw to
Wilmer Flores
was high and Byrd slid in safely ahead of Flores landing on the bag after a leaping catch. With one out, Asche delivered a game-tying RBI single.
DeGrom departed after the half-inning with his pitch count at 103. His line: 7 IP, 4 H, 1 R, 0 ER, 2 BB, 5 K. He shaved his ERA to 2.94.
Travis d'Arnaud
had staked the Mets to a 1-0 lead with a two-out RBI single in the fourth.
What's next:
Bartolo Colon
has returned from the Dominican Republic, where he attended his mother's funeral Thursday. Colon (12-10, 3.82 ERA) opposes right-hander
Jerome Williams
(2-5, 6.71) on Saturday at 7:10 p.m. The Mets have offered no indication Colon will be traded before Sunday's deadline that would make him eligible for another team's postseason roster.
Saturday is
Curtis Granderson
bobblehead day. Granderson went 0-for-4 with a strikeout in the series opener, dropping his average to .152 (16-for-105) with two extra-base hits in August.
August, 11, 2014
Aug 11
6:03
PM ET
PHILADELPHIA -- The Mets apparently love their cheesesteaks!
With Monday's 5-3 win over the
Philadelphia Phillies
, the Mets completed the Philly portion of their 2014 schedule with an 8-2 record at Citizens Bank Park.
Tom Briglia/Getty ImagesPlaying in Philly was like Christmas for the Mets this season.
That matches the franchise's most wins in a season in The City of Brotherly Love. The Amazin's went 8-1 at Veterans Stadium in 1972. Tom Seaver earned two of those victories.
Niesely done:
Jonathon Niese
labeled himself fortunate for limiting the Phillies to a two-run homer by
Darin Ruf
and no other damage in seven innings. Niese had lost his past four starts.
"I felt good in the beginning, but I just kind of fatigued there early and just wasn't able to pound the zone like I normally could," Niese said. "But I was able to battle through and make a pitch when I needed to. It's kind of weird this year how it is going. I'm winning with my bad stuff and losing with my good stuff. I don't know."
Deep thoughts:
Anthony Recker
said he was not looking for a slider when he crushed a three-run homer in the seventh inning against
Justin De Fratus
and gave the Mets a 5-2 lead.
"Not at all," said Recker, who snapped an 0-for-19 skid. "I was kind of looking for it early in the at-bat. But once he got to 3-2, I was just battling. I was just trying to see something and hit it. That one just happened to be up in the zone, and I was able to put a good part of the bat on it."
As for the game-tying RBI double by
Matt den Dekker
that chased
David Buchanan
earlier in the four-run frame, den Dekker said: "I didn't want to chase a changeup. He was throwing changeups down all day. I tried to see that pitch. And then he got ahead, and he left one over the middle of the plate late. I just tried to put a barrel on it."
Not a pattern:
Terry Collins said he only double-switched No. 7 hitter
Wilmer Flores
out of the game for the final two innings because Flores had made the final out of the top of the eighth, and the manager thought he might need to use
Jeurys Familia
for multiple innings.
Familia ended up recording a four-out save and avoided having to bat as a result.
Collins said he has no intention of regularly inserting
Ruben Tejada
for Flores for defense late in games.
Discount:
The Mets are offering a 30 percent discount on select seats for this week's homestand against the Nationals and Cubs -- because Mets pitchers struck out 30 batters in the series against the Phillies.
August, 11, 2014
Aug 11
3:54
PM ET
PHILADELPHIA -- Backup catcher
Anthony Recker
's hits have been infrequent, but meaningful.
Recker snapped an 0-for-19 drought with a tiebreaking three-run homer against right-handed reliever
Justin De Fratus
in the seventh and the Mets beat the
Philadelphia Phillies
, 5-3, on Monday afternoon.
The Mets (57-62) won three of four games in the wraparound series. They went 8-2 at Citizens Bank Park this season. With one series remaining (Aug. 29-31 in Queens), the Mets are 10-3 against Philadelphia in 2014.
With
Jenrry Mejia
(back/calf/hernia) getting a day off,
Jeurys Familia
handled the final four outs. He surrendered a two-out, pinch-hit RBI double to
Chase Utley
in the ninth before recording the final out. (It originally was ruled a homer before being revised after a replay review.) Familia picked up his third save of the season and fourth of his career.
Recker's last
hit
came July 13. Still, eight of his 11 career homers -- including three of four this year -- have either tied the score or provided a lead. He is batting .187 this season.
The Mets had entered the seventh trailing 2-1, and with only three hits against Phillies rookie right-hander
David Buchanan
.
Buchanan walked
Juan Lagares
to open the frame, then surrendered a game-tying double to
Matt den Dekker
(1-for-3, walk) in the right-center gap.
Jonathon Niese
(6-8) likely would have been out of the game had the No. 8 hitter Recker not delivered the shot to cap the four-run frame.
Kirk Nieuwenhuis
was waiting on deck to hit for the southpaw until the homer.
Instead, Niese handled the seventh and snapped a four-game personal losing streak. He last had earned a victory on June 28 at Pittsburgh. His final line: 7 IP, 5 H, 2 R, 2 ER, 3 BB, 6 K, 1 HR, 1 HBP.
Daniel Murphy
led off the fourth with a double and
David Wright
followed with an RBI single to open the game's scoring. Niese, staked to the 1-0 lead, walked
Carlos Ruiz
and surrendered a two-run homer to
Darin Ruf
in the bottom half as the Phillies took the lead.
Run at your own risk:
Lagares notched his fourth outfield assist. He threw out
Domonic Brown
attempting to score from second base on
Ben Revere
's single to end the seventh and preserve a three-run lead. Lagares produced a franchise-rookie-record 15 outfield assists last season.
What's next:
The Mets return home to face the
Washington Nationals
. Although not yet announced,
Rafael Montero
is expected to be promoted for Tuesday's start in place of
Jacob deGrom
. Montero (0-2, 5.40 ERA) would oppose right-hander
Doug Fister
(11-3, 2.49) at 7:10 p.m.
August, 7, 2014
Aug 7
11:38
PM ET
Getty ImagesThe Mets will face A.J. Burnett, Cole Hamels and Kyle Kendrick in the opening three games of the series, as they did July 28-30 in New York.
METS (54-61, fourth place/NL East) vs. PHILADELPHIA PHILLIES (52-63, fifth place/NL East)
Friday:
RHP
Bartolo Colon
(10-9, 4.12) vs. RHP
A.J. Burnett
(6-11, 4.16), 7:05 p.m. ET
Saturday:
RHP
Dillon Gee
(4-4, 3.73) vs. LHP
Cole Hamels
(6-6, 2.42), 7:05 p.m. ET
Sunday:
RHP
Zack Wheeler
(7-8, 3.48) vs. RHP
Kyle Kendrick
(5-11, 4.74), 1:35 p.m. ET
Monday:
LHP
Jonathon Niese
(5-8, 3.41) vs. RHP
David Buchanan
(6-5, 4.39), 1:05 p.m. ET
Phillies short hops
• After no activity at the non-waiver trade deadline, the Phillies scratched 33-year-old
Roberto Hernandez
from his scheduled start on Thursday. Hernandez (formerly Fausto Carmona) instead was traded to the
Los Angeles Dodgers
for two players to be named from the low minors. Hernandez, owed $1.5 million the remainder of this season, was 6-8 with a 3.87 ERA in 23 appearances (20 starts) for the Phillies.
Evan Habeeb/USA TODAY SportsRoberto Hernandez was traded to the Dodgers on Thursday.
Sean O'Sullivan
was promoted from Triple-A Lehigh Valley, which was playing at Toledo, and made it in time to take the start. The journeyman right-hander surrendered three homers in six innings and departed trailing 5-1, but
Ryan Howard
's grand slam capped a fifth-run eighth as the Phillies rallied to complete a three-game sweep of the
Houston Astros
.
• The Phillies announced Thursday that a Grade 2 strain of the left elbow will prevent
Cliff Lee
from pitching again this season. Lee does not intend to undergo surgery. He received an opinion from Mets doctor David Altchek and has been treated with platelet-rich plasma therapy. Lee essentially is owed $37.5 million next season -- $25 million in salary, plus a $12.5 million buyout of a $27.5 million team option for 2016.
David Buchanan
took Lee's rotation spot.
•
Chase Utley
's homer Wednesday, his 10th of the season, made him the fifth second basemen in major league history to produce double-digit long balls in 11 straight seasons, according to the Elias Sports Bureau.
Jeff Kent
(1997-2008) and Bobby Doerr (1939-51, minus 1945 while serving in World War II) had 12-season streaks. Lou Whitaker (1982-92) and Joe Gordon (1938-50, minus two years of military service) had 11-season streaks.
• Center fielder
Ben Revere
produced his fourth four-hit game of the season Wednesday, matching the major league high. The only Phillie with more four-hit games in a season in the past three decades was
Shane Victorino
, who had five in 2009. After a two-hit game Thursday, Revere is now hitting .385 since June 26.
•
A.J. Burnett
lasted only 1 2/3 innings in his last start. He was ejected for the first time in his major league career after allowing five runs (one earned) against Washington and arguing with plate umpire
Chris Guccione about the strike zone
.
• With his 94th save as a Phillie on Thursday, closer
Jonathan Papelbon
tied Tug McGraw for fifth on the club's all-time list. Papelbon's 87.0 save-conversion percentage is tops in Phillies history among relievers with at least 100 chances.
Jose Mesa
ranks second at 86.8 percent. Papelbon reportedly has cleared waivers, which allows the Phillies to trade him to any team this month.
•
Antonio Bastardo
on Tuesday became the only major league pitcher since 1900 to have two separate games notching at least six outs, with all of the outs recorded via strikeout. His other such appearance came April 8, 2011 at Atlanta.
• Left fielder
Domonic Brown
pinch hit Thursday, but has not started in the past nine games because of a tonsil infection.
•
Grady Sizemore
has hit safely in 15 of 19 starts since joining the Phillies. After going 1-for-3 Thursday, he is hitting .333 (27-for-81) with the club. Sizemore started in center field on Opening Day for the
Boston Red Sox
. He hit .216 with two homers in 185 at-bats before being designated for assignment on June 17. He was released the following day.
• The
Chicago Cubs
reportedly claimed
Cole Hamels
but have no intention of trading for him. Ex-Met
Marlon Byrd
reportedly also was claimed, with the 48-hour period to negotiate a deal expiring Friday.
• The Phillies signed
Tony Gwynn Jr.
to a minor-league contract a week after releasing him from the big-league squad.
May, 29, 2014
May 29
10:02
PM ET
PHILADELPHIA -- Now that's the
Zack Wheeler
that Mets fans have been waiting to see!
Wheeler retired 14 straight batters and took a scoreless effort into the seventh before surrendering a solo homer and departing as the Mets beat the
Philadelphia Phillies
4-1 in the opener to a five-game series at Citizens Bank Park on Thursday night.
After a leadoff single in the first by
Ben Revere
, Wheeler struck out the next five Phillies. He finished with nine K's (three shy of matching his career high, set on Aug. 15, 2013, against the
San Diego Padres
).
Matt Slocum/Associated PressZack Wheeler took a scoreless effort into the seventh inning on Thursday at Citizens Bank Park.
The Mets (25-28) left the Phillies (23-28) with sole possession of last place in the NL East.
The Mets have won their last six games in Philly.
Mets pitchers had tossed 18 straight scoreless innings until
Marlon Byrd
's one-out solo homer in the seventh against Wheeler pulled Philadelphia within 4-1.
Bartolo Colon
and
Jeurys Familia
combined on a shutout Wednesday against the
Pittsburgh Pirates
at Citi Field.
On Thursday,
Scott Rice
,
Vic Black
and
Jenrry Mejia
combined for 2 2/3 innings of scoreless relief. Mejia stuck out the side in the ninth for his fifth save.
Coincidence or not, the Mets are 3-0 since Lamar Johnson took over as hitting coach.
Wheeler allowed only four hits and did not walk a batter. It marked only the third time in 28 career starts he did not walk a batter.
He was struck on the right hip/backside with a line drive off the bat of
Cesar Hernandez
in the second inning, but clearly showed no ill effects the rest of his outing.
Wheeler also went 1-for-3 at the plate as Mets pitchers rebound from a dreadful start to the season. Since an 0-for-64 stretch to begin the year, Mets pitchers are hitting .286 (8-for-28).
About the only blemish for Wheeler? His propensity for high pitch counts continued. He required 108 pitches to navigate 6 1/3 innings.
Wheeler's final line: 6.1 IP, 4 H, 1 R, 1 ER, 0 BB, 9 K.
Loaded question:
The Mets continued to waste bases-loaded chances, which made the game closer than it ought to have been down the stretch.
Ignited by a bunt single from
Lucas Duda
with the Phillies playing an overshift, the Mets loaded the bases against rookie
David Buchanan
with none out in the second. They came away with only one run.
Travis d'Arnaud
, in his first at-bat since returning from the concussion DL, grounded into a run-scoring double play. Wheeler then grounded out.
Chris Young
contributed a two-run homer in the fourth for a 3-0 lead.
The Mets again loaded the bases with one out in the fifth. Buchanan then walked
Curtis Granderson
to force in a run, although Duda struck out and Young flied out.
So the Mets are now hitless in their last 12 chances with the bases loaded. Still, with d'Arnaud's GIDP and Granderson's walk, they have plated two baserunners in their last 13 chances with the bases loaded.
D'Arnaud finished 0-for-4, dropping his season average to .189.
What's next:
Rafael Montero
(0-2, 4.96 ERA) opposes right-hander
A.J. Burnett
(3-4, 3.51) at 7:05 p.m. Friday.
May, 29, 2014
May 29
5:10
PM ET
PHILADELPHIA --
Travis d'Arnaud
is back in the lineup for the first time in 16 days on Thursday night, and Terry Collins noted it's not just him who needs to pick up his production.
"We've got to start getting some offense out of our catching position, for sure," Collins said.
Overall, Mets catchers rank 27th in the majors in average (.217), 24th in on-base percentage (.282) and 26th in slugging percentage (.339). They have driven in 16 runs, better than only the Phillies (14), Royals (13) and Dodgers (11).
D'Arnaud was hitting .196 with three homers and eight RBIs in 102 at-bats before landing on the concussion DL two weeks ago.
D'Arnaud indicated the most difficult thing during his week of concussion symptoms was dealing with noise. He was on the bench with the Mets on Wednesday ahead of Thursday's official activation. D'Arnaud went 1-for-8 with a two-run homer and caught seven innings during his rehab assignment with Double-A Binghamton. His final game for the B-Mets was cut short by rain. The game was suspended in the second inning.
D'Arnaud will switch to a conventional catcher's mask (with separate skull cap) now that he's back. While the mask sits slightly farther away from his face than the hockey-goaltender mask he formerly wore, slightly reducing his peripheral vision, d'Arnaud feels the conventional style is less restrictive. He received his last two concussions while wearing the hockey mask and wants to switch things up anyway.
D'Arnaud's return incidentally gives the Mets a statistical quirk. He joins
Jacob deGrom
and
Matt den Dekker
on the active roster, making the Mets the first team in MLB history with three active players with surnames beginning with a lower-case "D."
According to research by ESPN's Doug Kern, the
Kansas City Royals
had two -- first baseman Luis de los Santos and pitcher Jose de Jesus -- for two Septembers (1988 and '89).
Taking the fifth:
Keith Hernandez steered clear of discussing with reporters on Thursday afternoon fired hitting coach Dave Hudgens' critical comments about the SNY analysts. It was Mex's first time assigned to a game since Hudgens did the media circuit.
Bobby O:
Collins plans to start
Bobby Abreu
on Friday against right-hander
A.J. Burnett
. The manager might have used Abreu in the outfield on Thursday, too -- with
Chris Young
on the bench -- had Phillies starter
David Buchanan
's numbers made it sensible. Although Buchanan is a right-hander, righty batters hit .305 against him in nine Triple-A starts this season (versus .297 for lefty batters).
Collins noted it certainly is easier to play right field at Citizens Bank Park than at Citi Field, which makes prioritizing offense easier. The manager added that he just needs to be careful about overdoing it with Abreu.
"You've just got to be careful about wearing him down," Collins said.
Con'grad'ulations:
Guy Conti, who served as the Mets' bullpen coach during the
Pedro Martinez
era, is back with the big-league club for the three-city road trip. Conti, 72, officially will step in when bench coach Bob Geren takes a brief leave for his son's graduation from Princeton and again when Dan Warthen takes a brief leave for his daughter's high school graduation in Oregon.
Record-setting:
Barring a postponement, this series in Philly will mark the first time in franchise history the Mets play five straight days in one road city.
That prompted Collins to recall his days managing in the Triple-A Pacific Coast League and Hawaii had a team, which spanned from 1961-87. Because of the extensive travel involved, visiting teams would go there for 10 games. Collins laughed that the visiting team would typically win the first two games and then lose the next eight because of the island's distractions.
The same danger presumably does not exist in Philly, although perhaps the Mets will have to avoid overdosing on cheesesteaks.
More seriously, Collins noted that hostilities can start to rage toward the end of a five-game series, especially if one side -- or batter -- is dominating the other side. So stay tuned to see if emotions stay in check come Monday's finale.
The Mets play 25 of their next 33 games on the road.
May, 29, 2014
May 29
9:59
AM ET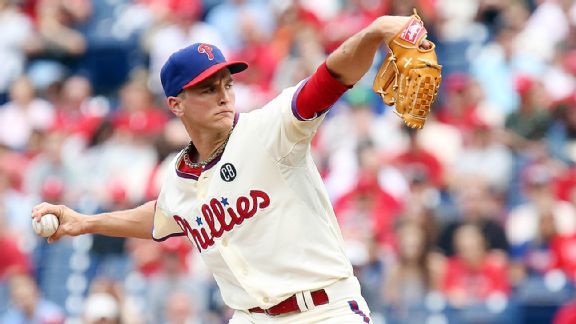 Bill Streicher/USA TODAY SportsDavid Buchanan makes his second major league start Friday against the Mets.
METS (24-28, fourth place/NL East) vs. PHILADELPHIA PHILLIES (23-27, fourth place/NL East)
Thursday:
RHP
Zack Wheeler
(1-5, 4.63) vs. RHP
David Buchanan
(1-0, 3.60), 7:05 p.m. ET
Friday:
RHP
Rafael Montero
(0-2, 4.96) vs. RHP
A.J. Burnett
(3-4, 3.51), 7:05 p.m. ET
Saturday:
RHP
Jacob deGrom
(0-2, 1.83) vs. RHP
Kyle Kendrick
(1-5, 4.04), 3:05 p.m. ET
Sunday:
LHP
Jonathon Niese
(3-3, 2.74) vs. LHP
Cole Hamels
(1-3, 4.43), 1:35 p.m. ET
Monday:
RHP
Bartolo Colon
(4-5, 4.73) vs. RHP
Roberto Hernandez
(2-2, 3.76), 7:05 p.m. ET
Phillies short hops
•
Cliff Lee
landed on the disabled list on May 20 with a flexor-tendon strain in his left elbow.
David Buchanan
replaced Lee in the rotation. Buchanan, 25, allowed two runs in five innings and earned the win against the
Los Angeles Dodgers
in his major-league debut on Saturday, despite getting pulled at 66 pitches. Buchanan, a former seventh-round pick out of Georgia State, averaged 91.5 mph with his fastball in his debut. He was one of the limited options available.
Jonathan Pettibone
, who made two mid-April starts for the Phillies, is out with a labrum tear in his right shoulder. Pettibone has opted for a cortisone injection and rehab over surgery.
• Second baseman
Chase Utley
's .335 average ranks third in the National League, trailing Colorado's
Troy Tulowitzki
(.369) and L.A.'s
Yasiel Puig
(.344). Utley leads NL second basemen in the initial All-Star voting tally. He has 509,390 votes, already considerably ahead of runner-up
Dee Gordon
of the Dodgers (304,258).
Kathy Willens/Associated PressJimmy Rollins is 13 hits shy of matching the Phillies franchise record.
•
Darin Ruf
made his season debut May 21 after opening the year on the disabled list with a left oblique strain. The righty-hitting first baseman/outfielder started Tuesday over
Ryan Howard
against
Colorado Rockies
left-hander
Jorge De La Rosa
. Phillies manager Ryne Sandberg suggested Ruf could continue to cut into Howard's playing time at first base against southpaws, despite Howard earning $25 million a season through 2016.
Howard nonetheless had success against a southpaw on Wednesday. After a four-RBI performance that included a walk-off three-run homer against Rockies left-handed reliever
Boone Logan
, Howard is now three RBIs shy of 1,000 for his career. He should need the fewest games of any active major leaguer to reach that plateau.
Albert Pujols
is the current fastest among active players to 1,000 RBIs, at 1,257 games. Howard has played in 1,227 games.
• Catcher
Carlos Ruiz
's .387 on-base percentage ranks second in the majors among catchers, trailing only Milwaukee's
Jonathan Lucroy
(.397).
•
Kyle Kendrick
on Monday notched his first win since Aug. 6, snapping a streak of 16 straight winless starts. Kendrick tossed 6 2/3 scoreless innings in a 9-0 win against the Rockies.
• Third baseman
Cody Asche
landed on the DL on Sunday with a left hamstring strain.
Cesar Hernandez
(.132, 1 HR, 1 RBI, 38 at-bats) has started six straight games at third base.
• Center fielder
Ben Revere
produced his first major-league homer on Tuesday. It came in his 1,466th at-bat. That was the longest drought to begin a major-league career since Frank Taveras went homerless in his first 1,594 at-bats from 1972-77.
•
Jimmy Rollins
became the 12th active player to appear in 2,000 games on Wednesday. The leader is
Derek Jeter
at 2,646 games. Rollins ranks second in Phillies history, trailing only Hall of Famer Mike Schmidt (2,404). Rollins had been 0-for-15 before a seventh-inning single Wednesday. That single gave him 2,221 career hits. The franchise record is 2,234, by Schmidt. Rollins already owns the franchise record for doubles (464).
• The last time the Mets met the Phillies, Sandberg alleged he lost six pounds after receiving food poisoning from a Shake Shack burger at Citi Field. Like
Lucas Duda
, Sandberg since has made amends with the popular restaurant chain. He posed in a Shake Shack T-shirt tweeted by the company.
May, 29, 2014
May 29
7:24
AM ET
NEW YORK
FIRST PITCH:
Considering the Mets play better on the road than at home, they are in luck. Twenty-five of the Amazin's next 33 games are away from Citi Field, beginning with a swing through Philadelphia, Chicago and San Francisco.
The Mets play a five-game series in Philly because of an April 30 rainout at Citizens Bank Park.
Zack Wheeler
(1-5, 4.63 ERA) opposes rookie right-hander
David Buchanan
(1-0, 3.60) in Thursday's 7:05 p.m. series opener as the Mets attempt to go 3-0 in the Lamar Johnson era. Buchanan allowed two runs in five innings against the
Los Angeles Dodgers
in his major-league debut Saturday.
Sixteen days after being struck on the top of the head with a backswing at Yankee Stadium and receiving a concussion,
Travis d'Arnaud
will be active.
Juan Centeno
has been returned to Triple-A Las Vegas. Centeno hit .238 with two RBIs in six starts.
Thursday's news reports:
•
Bartolo Colon
and
Jeurys Familia
combined on the shutout as the Mets beat the Pirates, 5-0, Wednesday afternoon at Citi Field to complete a 4-5 homestand. Colon notched his 2,000th career strikeout by catching
Ike Davis
looking in the sixth. The 41-year-old Colon threw 121 pitches, his most since logging 128 with the Angels at Tampa Bay on Aug. 18, 2004.
Noah K. Murray/USA TODAY SportsJeurys Familia had a five-out save and a hit Wednesday.
Familia recorded his first major-league hit in addition to a five-out save.
Jenrry Mejia
and Familia produced multi-inning saves on consecutive days against the Pirates. It marked the first time a pair of Mets had produced back-to-back saves of at least five outs apiece since
Roberto Hernandez
and
Aaron Heilman
had consecutive two-inning saves Sept. 26-27, 2005 at Philadelphia, according to the Elias Sports Bureau. Six different Mets have saves his season -- more than any other team.
David Wright
and
Lucas Duda
homered. With Duda uncharacteristically having difficulty scooping balls at first base, Wright also had two errors.
Davis had a quiet return to Citi Field, going 0-7 with a walk and two strikeouts.
Read game recaps in the
Post
,
Daily News
,
Times
,
Journal
,
Star-Ledger
,
Newsday
and at
MLB.com
.
• Read more on Duda in the
Post
and
Daily News
.
• Wright -- who may end up getting hurt by so many Mets road games during the voting period -- ranks third at third base in the initial NL All-Star voting tally released by MLB on Wednesday. Wright (278,840) trails Colorado's
Nolan Arenado
(318,111) and Milwaukee's
Aramis Ramirez
(282,843). Arenado, who is hitting .305 with six homers and 28 RBIs, broke his left middle finger on a headfirst slide into second base last Friday.
No other Mets position player appears in the top five at his position in voting (or top 15 in the outfield). Read more at
MLB.com
.
• The Mets labeled the report that Jeff Wilpon ordered the firing of Dave Hudgens "substantively inaccurate." Substantively, of course, means a considerable amount. In reality, Sandy Alderson, as would be predicted, acknowledged some ownership input in that decision.
"What I try to do is evaluate what's going on on the field and make the appropriate judgments, and that's my responsibility," Alderson told John DeMarzo
in the Post
. "I talk to ownership from time to time. I talk to Fred. I talk to Jeff, and I have a sense of what they're thinking or what their frustrations may be. But, ultimately, I have to make a baseball decision, I guess, and that's what this was."
• Terry Collins says the back end of the bullpen is taking shape with Mejia, Familia and
Vic Black
. Read more in the
Post
,
Star-Ledger
,
Record
and at
MLB.com
.
•
Chris Young
, now hitting .195, has all but lost his starting job with the Mets. He started Thursday after three straight days out of the lineup. "It's my responsibility to swing the bat better and play better," Young told Anthony Rieber
in Newsday
. "I hold myself fully accountable for that. When I do get that opportunity, I do need to take more advantage of it to where I force myself into the lineup everyday like I want to be."
• Columnist Bill Madden
in the Daily News
sums up the Mets' hitting-coach change this way:
Either you can hit or you can't.
• Columnist Kevin Kernan
in the Post
writes:
Yes, the Mets stink, but so do a lot of teams.
The key is for the Mets to stink less.
•
Kirk Nieuwenhuis
had two homers and
Jeff Francoeur
ended up pitching a scoreless inning with a walk and hit batter for El Paso as Las Vegas won, 13-7. Starting pitcher Rainy Lara was injured on a play at the plate and Binghamton split with New Hampshire. Brandon Nimmo reentered the lineup and stole a base a day after leaving a game with a sprained ankle as St. Lucie beat Brevard County, 3-2. Read the full minor-league recap
here
.
• Read more about 50 Cent's awful ceremonial first pitch at Citi Field in the
Post
.
•
Nick Evans
is back in the big leagues for the first time since 2011, when he was a Met. The
Arizona Diamondbacks
promoted the 28-year-old Evans, a Phoenix native, on Thursday. The year after leaving the Mets, Evans missed most of the season with the Pirates in the minors because he shattered bones in his left hand diving to catch a foul ball. Read more in the
Arizona Republic
and at
ArizonaSports.com
.
• Denis Hamill
in the Daily News
writes about Wright's monthly salute to the NYPD.
•
From the bloggers …
Mets Police
seeks your help in crowdsourcing 41 amazin' ideas for the Mets.
BIRTHDAYS:
Long Islander Steven Matz, who has a 1.95 ERA in nine starts for St. Lucie, turns 23. … Binghamton right-hander Tyler Pill is 24.
TWEETS OF THE DAY:
@AdamRubinESPN new hitting coach doing one helluva job

— Joe (@JerseyJoe1329) May 28, 2014
YOU'RE UP: Is playing 25 of the next 33 on the road a good or bad thing for the Mets?