New York Mets:

David Cohen
September, 21, 2012
9/21/12
8:41
AM ET
Jeremy Hefner
was knocked out of Thursday's game without recording an out in what became an eight-run first inning and the Mets were swept in embarrassing fashion
before a sparse crowd
at Citi Field
with a 16-1 defeat
against the
Philadelphia Phillies
. The Mets, who officially were eliminated from postseason contention, got a postgame chewing out from manager
Terry Collins
. He
deferred questions about whether the team had quit
to the players, who denied it.
The Mets now try to avoid last place in the NL East when they play host to the
Miami Marlins
this weekend. The Amazin's enter the weekend a half-game up.
Jon Niese
(11-9, 3.46 ERA) opposes right-hander
Jacob Turner
(1-2, 3.75) at 7:10 tonight.
Friday's news reports: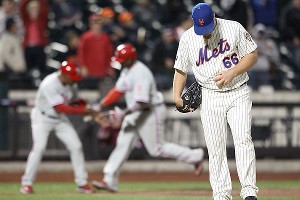 Alex Trautwig/Getty Images
Ryan Howard circles the bases Thursday after homering against Josh Edgin for a second straight day.

• The Mets used 10 pitchers in Thursday's loss, a franchise record for a nine-inning game. Philadelphia had not swept the Mets in a three-game series in Queens since Sept. 14-16, 2007 -- when
Jimmy Rollins
' "team to beat" prognostication began to be achieved. The official attendance was announced at a season-low 20,100 tickets sold, although no more than a few thousand appeared to actually have attended last night's game. The Mets failed to exceed three runs for the 16th straight home game, two shy of matching the 1915 Yankees' major league record.
R.A. Dickey
told
Mike Puma
in the Post
: "If you think we're just a piece away, then you are fooling yourself. We've got to do a lot of things better."
Read game recaps in the
Times
,
Star-Ledger
,
Newsday
,
Daily News
and
Record
.
• Left-hander reliever
Josh Edgin
, who surrendered a homer to
Ryan Howard
for the second straight day, is
being shut down for the season
. That was resolved before Edgin allowed Thursday's ninth-inning grand slam to Howard in the series finale. While his overall innings count is comparable to 2011, Edgin has made 26 more appearances than a year ago. Read more in the
Star-Ledger
.
• Dickey, who is sitting at 18 wins, will
face Miami on Saturday rather than Sunday
. Dickey and pitching coach
Dan Warthen
made the suggestion to Collins. It will allow Dickey to pitch next Thursday's home finale against the
Pittsburgh Pirates
rather than the follow night at Turner Field against the
Atlanta Braves
, against whom the knuckleballer has struggled. Overall, Dickey has three starts remaining. Read more in
Newsday
.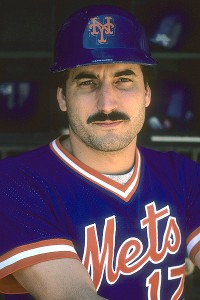 Focus on Sport/Getty Images
Keith Hernandez's mustache is going, going ... almost gone.

•
Keith Hernandez's
signature mustache will be shaved off in an event before next Thursday's home finale. "I can always grow it back," Hernandez told
Neil Best
in Newsday
. "It doesn't take very long if I don't like it. … It just looked noticeable that I'm gray and this is my true color and that's probably one of the reasons why -- just to shave it off and see how it looks. I am completely gray now. I look like
Charley Weaver
on ' Hollywood Squares.'" Schick will sponsor the event and donate money to the Jacqueline Hernandez Adult Day Care Center at Cobble Hill Health Center in Brooklyn. The center is named after Hernandez's mother. Read more in the
Times
and
Daily News
.
•
Adam Loewen
went 2-for-4 with a double and RBI as Canada beat Great Britain, 11-1, in a World Baseball Classic qualifier Thursday in Regensburg, Germany. Check the boxscore
here
.
• The Marlins have some tumult, too.
Bob Nightengale
in USA Today
reported Marlins president
Larry Beinfest
will be fired. Writes Nightengale:
The Marlins are planning to fire president and team architect Larry Beinfest, perhaps as soon as next week, according to two high-ranking executives with knowledge of the move but not permitted to speak publicly because the final decision will be made by owner Jeffrey Loria. Beinfest would be replaced by Dan Jennings, the Marlins assistant general manager and vice president of player personnel.
• Mets general counsel
David Cohen
has a Q&A
at Law.com
. One exchange:
Q: What are some issues that can arise during a game?
Cohen: "Most people probably think that if someone gets hit by a foul ball or if there's a slip and fall, they call the legal department, but that's not what we do. Issues that might arise include unauthorized or 'ambush' marketing going on somewhere in the stadium.
•
Jeurys Familia
will
get late-inning work
down the stretch.
• There was no need for
Frank Francisco
on Thursday night, but he apparently was unavailable anyway with elbow tendinitis. On the closer's body of work this season, Collins said pregame: "I'd have to say for the majority of the year, he pitched pretty good." Writes
Andy McCullough
in the Star-Ledger
:
That is debatable. Francisco, 32, possesses a bloated 5.53 ERA. He's still striking out more than a batter per inning (47 in 42S innings), but he's allowing runners on a base at a greater rate than ever before. His 1.606 walks plus hits per inning is a career-high. But Collins can recall moments of brilliance plucked from the wreckage. He mentioned Francisco's strong, three-batter stint last weekend against the Brewers. "Look at the game in Milwaukee," Collins said. "He was lights out. All three of his pitches were working, and command was there. The next day, he couldn't open and close his hand." Francisco stopped short of calling the season frustrating, but, he said, "it's been tough. Every time I fail, I try to find a way to get up and keep fighting. But it's tough."
• Niese, who aims for his 12
th
win tonight, which would achieve a new career high, largely has had a positive season. Writes
Mike Kerwick
in the Record
:
His ERA almost is a full point lower (3.46) than it was last season (4.40). He has thrown more innings in 2012 (177) than in any other season of his major league career. His WHIP (Walks plus Hits per Innings Pitched) has dipped from 1.41 to 1.18. And yet with only a few starts remaining -- including tonight's against the Miami Marlins -- Niese is not sure how to evaluate his first 28 starts. He is not disappointed. But he is not happy either. "I feel like it was just an OK season," Niese said before the Mets' 16-1 loss to the Phillies on Thursday night at Citi Field. "With the six-man [rotation] at the end of the year, it kind of shortened the innings a little bit. I would have liked to have gotten to the 200-innings mark. Obviously with the mix-up with the rotation, that didn't allow us to do it."
TRIVIA:
In what slot in the batting order has
Jose Reyes
started the most this season?
Thursday's answer: Behind
Chipper Jones
(49), Howard has the most homers against the Mets among active players. Thursday's slam was his 34th career long ball against the Mets.
March, 10, 2011
3/10/11
6:30
AM ET
Terry Collins
heads to Jupiter with a Mets split squad.
Dan Warthen
heads to Viera with the other half. And
Oliver Perez
heads to the bullpen competition.
On to Thursday's news reports:
• I should have had my suspicions raised when I saw an MLB security official pass through the Mets' clubhouse Wednesday. Turns out, the Daily News reports MLB investigators and the NYPD visited Port St. Lucie to
do further investigating
into fired clubhouse manager
Charlie Samuels
, who is being scrutinized over memorabilia and alleged gambling ties, but who has yet to be charged with any crime. Reports the Daily News:
Samuels remains under grand jury investigation for gambling and "basically looting the Mets clubhouse over the years," one of the law-enforcement sources told the Daily News. Investigators in particular wanted to again talk to some of Samuels' pals, including closer Francisco Rodriguez and Mike Piazza, the police sources said. Neither K-Rod nor Piazza, who was traveling through Port St. Lucie with the Italian national team, are targets in the NYPD investigation, the sources said. "These were guys Samuels hung with and were in a position to know what he was up to," they said.
• Post columnist
Joel Sherman
says the Mets are treating
Johan Santana
prudently, trying to ensure a patient rehab means he is
not compromised for 2012 and 2013
, when he is owed a combined $54.5 million, assuming his 2014 option is not exercised. Sherman notes placing
Ruben Tejada
and
Jenrry Mejia
in Triple-A also is partly with an eye toward next season, and a vast departure from the rushing and win-now-even-if-compromises-the-future approach of
Omar Minaya's
tenure as GM. Writes Sherman regarding Santana:
If he returns in July, great. But every time I ask about Santana, I hear as much about 2012 and beyond as 2011. As pitching coach Dan Warthen
said, "If we get 15 starts, we would be lucky. Twelve would be good. It is all a very tough call. I think we will see Johan this year. But the key is a really healthy Johan, especially for 2012."
Of course,
Carlos Beltran
appears to be an exception to that prudent approach. The day after he was declared inactive for four or five days to let left knee tendinitis calm down, Collins noted Beltran was in the cage, declaring improvement. Perhaps it might have been better to actually let the symptoms calm -- although this isn't exactly as egregious as switch-hitting
Jose Reyes
batting from the right side against right-handers because his right oblique made it too uncomfortable to bat lefty.
•
Dan Martin
of the Post looks at
Lucas Duda
-- who played right field for the first time this spring Wednesday -- as well as
Scott Hairston
and the rest of the field of players who
might need to fill in for Beltran
. "Evidently, if Carlos needs time off, I realize it might be me who could fill in while he's out," Hairston tells Martin. "I'm not paying too much attention to that. I've had experience doing everything in the big leagues. I hope he comes back and is healthy since he's a huge part of our lineup, but I'm prepared for whatever happens." ...
Sandy Alderson
indicated earlier this week that he's not resigned to Beltran opening the season on the disabled list. Still, the GM said, a short-term absence might be best plugged with backup outfielders Hairston and
Willie Harris
. Duda and
Fernando Martinez
would be the prospects up for the role. But Duda is a natural first baseman who is now passable in left field, and who had not played right field in a professional game until Wednesday.
•
Andy McCullough
of the Star-Ledger reveals how
Daniel Murphy
has been trying to
keep the nerve-prone Duda calm
. Writes McCullough:
A horrific slump greeted his [major league] arrival. Duda collected one hit in his first 37 at-bats. The talent of opposing pitchers, like Atlanta's Tim Hudson and Philadelphia's Roy Halladay, stunned him. He felt lost and unable to time anything. "I was getting beat," Duda said. "I was late. I was ahead of balls." During the slump, Duda received a text message from Daniel Murphy, who hit .313 as a late-season call-up in 2008. He offered empathy. He told Duda to relax. "When we get called up, we're scared to death," Murphy said. "Because A, it's more people than we'd ever thought we'd play in front of. And B, we're not entirely sure we belong here yet."
•
Brian Costa
of The Wall Street Journal looks further into
what missing Beltran would mean
.
•
Raul Gonzalez
, an outfielder on the 2002 and '03 Mets, has been selected to be
Miguel Cabrera's
companion, according to Foxsports.com. Gonzalez will be around Cabrera to serve as a support system and
prevent further alcohol abuse
.
•
Luis Castillo
will get plenty of upcoming at-bats to prove he should be the second baseman. Rule 5 pick
Brad Emaus
is the preferred front-office choice but is off to an extremely slow start at the plate as well as in the field that could ultimately put his selection in jeopardy. Murphy will be on the roster in some capacity. "I'm getting more at-bats now, so I'm happy," Castillo
tells Martin
. "If I keep doing what I'm doing, I think everything will work out."
Regardless, Daily News columnist
John Harper
notes
no one has quite distinguished himself
in the second-base competition, with Murphy probably playing the best, although he has yet to get a double-play chance at the position in a Grapefruit League game. Harper says one front-office person was at such a loss about who was leading, they suggested maybe Harris, who has manned the position in 208 major league games. Apparently,
Luis Hernandez
might force himself into the race as well. Harper also suggests Collins was upset with Castillo's energy level earlier in camp. Writes Harper:
Castillo, the incumbent of sorts, has annoyed Terry Collins by moping around in apparent protest of being forced to compete for the job, to the point where the manager called him into his office a couple of days ago to tell him he better start working harder if he wanted any shot at all. Castillo didn't even take pregame ground balls one day last week when he was in the lineup as the DH, as Collins has had to juggle playing time to get looks at all four second-base candidates. And that didn't sit well with the new manager, who is not going to tolerate the laissez-faire attitude that permeated the clubhouse in recent years.
•
David Lennon
in Newsday looks at
Perez moving to the bullpen
. He cites awful relief statistics in Perez's career, although in fairness that was skewed by last season, when he was barely used in the second half and got lit up during sporadic appearances. Writes Lennon:
If history is any indication, the prognosis is not very good. Perez has made 11 relief appearances during his career and posted an 8.36 ERA in that role. Opposing hitters have batted .339 against Perez, who has allowed 19 hits and 14 walks in 14 innings in relief. The only glimmer of hope is the fact that Perez has held left-handed hitters to a .226 average, with a 2.98 walk-to-strikeout ratio. But asking him to duplicate that success out of the bullpen, in high-pressure situations, seems like a tall order.
•
David Waldstein
of The New York Times notes that prospect
Reese Havens
surely would be in camp now, and perhaps
winning the second-base competition
, if persistent injuries hadn't slowed his career. Havens had offseason surgery to remove an inch of a rib, which should address oblique trouble that tormented him in 2010. Havens was taken 22nd overall in the 2008 draft, when the Mets had three picks in the top 33 and took
Ike Davis
18th overall. "All I know is that he plays 10 games a year, and hits 10 home runs," Davis tells Waldstein about Havens, who is a gifted hitter.
• The New York Times looks at
inconsistent statements from the Mets
, who say they're trying to sell 20 to 25 percent of the team because of the uncertainty of the pending $1 billion lawsuit. Yet, the Times notes, the Mets were quietly seeking investors months before the suit was filed in December. Write authors
Richard Sandomir
and
Ken Belson
:
In an interview this week, David Cohen, the chief counsel for the Mets, maintained that the size of the lawsuit was what really motivated the hunt for a partner, not any financial pressures. And while the Mets' owners were looking for buyers in the days before Picard filed his suit on Dec. 7, going public with their search prompted more potential bidders to step forward. "The decision to seek minority investors was not related to any intermittent fluctuations in revenue," Cohen said. "You operate a baseball team, you expect the ticket sales to go up and down based on team performance." Announcing that the team was seeking investors was "deemed a more effective way to reach a broader number of interested investors." But when asked what the owners would do with the money they might make from a sale, Cohen said it would be put into running the team, not pay the owners dividends or be set aside for a possible settlement. "The purpose is to make a positive contribution to the team's resources," Cohen said.
BIRTHDAYS:
John Cangelosi
, who played for 62 games for the '94 Mets, was born in Brooklyn on this date in 1963. ...
Ken MacKenzie
, a Mets reliever in 1962 and '63, was born in 1934. ... Right-hander
Wayne Twitchell
, who made 33 appearances (two starts) for the '79 Mets, was born in 1948.