New York Mets:

David Dahl
June, 4, 2012
6/04/12
5:45
AM ET
They're the first-place New York Mets. Well, at least co-owners of the division lead with the Washington Nationals and Miami Marlins. (See the standings
here
.)
The Mets ran their scoreless streak to 25 innings, all against St. Louis, before
Elvin Ramirez
allowed an eighth-inning run in his major league debut. The Amazin's nonetheless
beat the Cardinals, 6-1
, to improve to 31-23.
Kirk Nieuwenhuis
produced a career-high three RBIs, including a two-run homer.
The Mets, incidentally, have the two longest scoreless streaks in the majors this season -- 28 (May 25-28) and now 25 innings. Texas and Toronto each had 23-inning streaks.
As for the Mets being in first place,
Terry Collins
said: "Well, I wasn't aware of that. I do know that they should be very proud of where they are. They've played very hard. They've come through in big games. The one thing that makes them: They've never hung their heads. After a bad game, after a tough loss where somebody may come back and beat you late in the game, they get up, they come in, take their showers, go back to their apartments and come back the next day ready to play. And that's one of the things that, I think, makes these guys special. They just don't get down about stuff."
Monday's news reports:
• Political commentator
Bill Maher
, the host of HBO's "Real Time," acknowledged Sunday at Citi Field that he has
purchased a minority stake in the Mets
. Maher, 56, declined to specify the share he purchased as part of
Fred Wilpon
and family's sale of stakes totaling $240 million. He joked to reporters pregame: "I had my money in Lehman Brothers in 2008, so this looked pretty good."
Writes
J.P. Pelzman
in the Record
:
Maher won't be making any decisions for the team, nor does he want to. "I have enough stress in my real job," said Maher, wearing a Mets cap. "I don't need to worry about this." Maher, a graduate of Pascack Hills High School, said he has been a Mets fan "my whole life," adding that he "vividly" remembers the 1969 World Series champions. He also said he watched the historic Game 6 of the 1986 World Series at the famed comedy club in Los Angeles, The Improv, with fellow comic Jerry Seinfeld. He was asked why Seinfeld, also a Mets fan, hasn't bought a share of the team. "Why he didn't, I have no idea," Maher said, smiling. "He's sure got more money than I do."
Read more in the
Post
,
Daily News
,
Times
,
Newsday
and
Star-Ledger
.
•
Jon Niese
experienced a rapid heartbeat
during Sunday night's game. It was the same issue that forced Niese from a game last June 25 at Texas. The southpaw said his heartbeat had normalized before the game's completion. He underwent extensive testing after last year's episode and doctors could not detect anything alarming, he said.
• Flanked by former teammates from the Mets and St. John's as well as his family,
John Franco
became the
26th inductee to the Mets Hall of Fame
in a pregame ceremony. During his speech, Franco spoke about his affinity for the Mets growing up. He suggested the 2012 Mets have a vibe like the 2000 edition that reached the World Series. Read more in the
Post
,
Newsday
and
Star-Ledger
.
• Read game recaps in the
Times
,
Record
,
Post
,
Star-Ledger
,
Daily News
and
Newsday
.
• Mets fans apparently are a minority in New York State by a wide margin. A
Quinnipiac University poll
found 60 percent of state residents support the Yankees, with 22 percent supporting the Mets, 5 percent the Red Sox, and 2 percent for the Phillies.
Broken down by region: In New York City, the Yankees have a 62-21 edge over the Mets. The Yankees' edge drops to 56-38 in the city's suburbs. Upstate, the Yankees lead 59-22. Other teams account for the remainder.
The poll was conducted from May 22-28 and surveyed 1,705 New York State adults. It has a margin of error of +/- 2.4 percentage points.
• With
Johan Santana
requiring extra rest, the Mets revamped their rotation for the upcoming week.
Dillon Gee
now pitches on standard rest opposite Cardinals right-hander
Kyle Lohse
in Monday's matinee series finale.
Chris Young
, returning from the same surgery Santana underwent on the anterior capsule of the pitching shoulder, starts Tuesday's series opener in Washington.
R.A. Dickey
tentatively starts on short rest for the third time in his Mets career on Wednesday, although that it not set in stone yet. Dickey first wants to see how he feels during a between-starts bullpen session today. If Dickey is uncomfortable,
Jeremy Hefner
will take Wednesday's start. Either way, the hope is that Santana can start Thursday in D.C., with Niese going Friday at Yankee Stadium. Santana also will throw a bullpen session today, after which he will have a better gauge whether he requires more than one extra day rest.
Miguel Batista
, meanwhile, will be activated from the DL on Tuesday and be available in case Young has a short start in his first major league game since May 1, 2011.
Read more on the rotation juggling in the
Post
,
Daily News
,
Star-Ledger
,
Newsday
and
Record
.
•
Steve Serby
in the Post
has a Q&A with Santana. The exchange included:
Q: When you said after the game, "Yeah, baby, believe it!" was there anything special about that?
A: I always say that. It's my thing with my fans and teammates.
•
Ruben Tejada
(quadriceps) will begin a rehab assignment today with Triple-A Buffalo.
Wally Backman
indicated Tejada is scripted for five innings apiece Monday and Tuesday, seven innings Wednesday and a full game Thursday with the Bisons. Collins expects Tejada to be activated from the DL for Friday's game in the Bronx.
Jason Bay
is due to play the field Monday with Class A St. Lucie after
DHing in a pair of rehab games
with the Florida State League club the past two days. Bay may be back for the midweek series in Washington. Collins added that it's logical for Bay to DH in American League parks, which the Mets visit this weekend to face the Yankees and then immediately thereafter at Tampa Bay. Read more in
Newsday
.
•
Mike Baxter
, who had the no-hitter-saving catch for Santana, officially landed on the DL with a displaced collarbone and fractured rib cartilage Sunday. The Mets promoted corner infielder
Josh Satin
from Buffalo. The Mets also brought left-hander
Robert Carson
to New York, but
Ramon Ramirez
-- who injured a hamstring en route to the Santana postgame celebration -- remains active at least until a doctor's exam today.
• In light of Ramirez's injury,
Jared Diamond
in the Journal
looked at celebration-induced baseball injuries. Writes Diamond:
Pitcher Jake Peavy broke his rib celebrating after the Padres clinched the National League West in 2005 and missed the playoffs. Former utility man Denny Hocking broke his nose after hitting a walk-off home run when his teammates pounded his head and smacked the bill of his helmet into his face. Marlins outfielder Chris Coghlan tore his meniscus while attempting to smash his teammate with a shaving-cream pie. Those injuries seem insignificant compared to what happened to Angels designated hitter Kendrys Morales. In May 2010, Morales tried to jump onto home plate to celebrate hitting a dramatic walk-off grand slam. He landed unnaturally and severely fractured his leg, missing nearly two full seasons as a result.
•
Matt Harvey
did not surrender a run, but the highly touted prospect lasted only four innings in Buffalo's 5-3 win against Toledo because he walked five and his pitch count reached 84.
Matt Tuiasosopo
belted a grand slam and
Brad Emaus
added a solo homer in the Bisons' win. Read Sunday's full minor league recap
here
.
• The three-day MLB draft begins Monday night with the first and supplemental rounds. The Mets pick 12th overall. They also will pick at No. 35 on the first night as one of two selections attained for losing
Jose Reyes
as a free agent to the Marlins. The Mets have been linked to Alabama high school outfielder
David Dahl
, Louisiana high school shortstop
Gavin Cecchini
and Texas A&M right-hander
Michael Wacha
. There may be an outside chance the Mets select California high school shortstop
Tanner Rahier
.
• Former Mets GM
Jim Duquette
is due to donate a kidney to his daughter
Lindsey
during a transplant Monday. Lindsey suffers from the kidney disease FSGS (Focal Segmental Glomerulosclerosis) and has been on constant dialysis. Read more in the
Post
and
Daily News
.
• Serby gives his take on the Amazin's
in the Post
.
Tim Smith
gives his take
in the Daily News
.
• Two fans who allegedly ran onto the field celebrating Santana's no-hitter Friday each were charged with two misdemeanors and released after being held for 38 hours. The penalty will include a Citi Field ban. Read more in the
Post
,
Times
,
Journal
and
Newsday
.
TRIVIA:
Wyoming high school outfielder
Brandon Nimmo
was selected by the Mets with their first draft pick last June. Whom did the organization select with its second pick?
Sunday's answer: Bay was a member of the St. Lucie Mets as an actual minor leaguer in 2002. He was acquired that spring training in a trade that sent
Lou Collier
to the Montreal Expos. Bay then was dealt that July to San Diego along with
Bobby Jones
for right-handers
Steve Reed
and
Jason Middlebrook
.
June, 3, 2012
6/03/12
6:50
AM ET
R.A. Dickey
followed
Johan Santana's
no-hitter
with the Mets' second straight shutout
and the Amazin's moved seven games over .500 for the first time since July 15, 2010 with a
5-0 win against the Cardinals
on Saturday at Citi Field.
Mets pitchers produced back-to-back complete-game shutouts for the first time since Dickey and Santana also combined on the feat on Aug. 12 and 13, 2010. Dickey upped his scoreless streak to 17 1/3 innings. The knuckleballer did not have a three-ball count until he faced the final batter of the game,
Carlos Beltran
. The ex-Met ultimately flied out. Dickey picked up his eighth win, matching Philadelphia's
Cole Hamels
and St. Louis'
Lance Lynn
-- whom Dickey opposed Saturday -- for the NL lead.
David Wright
capped the scoring with a solo homer in the eighth. It was Wright's 734th run scored as a Met, pulling him within one of matching
Jose Reyes'
franchise record.
In tonight's ESPN-televised game at 8:05,
Jon Niese
(3-2, 4.55 ERA) opposes Cardinals right-hander
Jake Westbrook
(4-4, 3.69). The Mets will induct
John Franco
into the team's Hall of Fame in a pregame ceremony. He will be the 26th person enshrined.
Sunday's news reports:
• Coming off his historic no-hitter in which he logged a career-high 134 pitches,
Santana is expected to pitch on extra rest in his next outing, likely against the Yankees on Friday in the Bronx. As a result, the Mets have abandoned their plan to give
Chris Young
two more minor league starts. Young is expected to jump into the major league rotation as soon as Tuesday in D.C.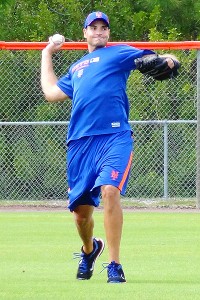 Adam Rubin
Chris Young should make his season debut with the Mets in D.C.

Young is returning from May 16, 2011 surgery to repair a torn anterior capsule in his pitching shoulder -- the same procedure Santana underwent the previous September. Young has made four minor league appearances, most recently with Triple-A Buffalo on Thursday. He limited Columbus to two hits and three walks in six scoreless innings while throwing 87 pitches. None of Young's minor league starts came on standard rest.
• Read more Santana day-after reaction in the
Times
,
Newsday
,
Post
,
Daily News
and
Record
.
• The Hall of Fame is calling for Santana game-used items,
Tom Pedulla
writes in
Newsday
. "It is one of those events everybody is talking about," Hall spokesman
Barry Horn
told Pedulla. "In the 50th anniversary of the team, certainly interest is heightened. ... We have game-used baseballs from every no-hitter since 1940, so we requested that. We don't need to have everything, but we would certainly welcome one of them to document the moment."
•
Terry Collins
has yet to announce his upcoming rotation, but
Miguel Batista
is eligible to return from the DL on Monday and seems like a fit for the series finale against the Cardinals. That was
Jeremy Hefner's
actual day anyway, so he is an option. Or
Dillon Gee
can pitch on standard rest that day since he last pitched Wednesday, with Batista potentially going in D.C. along with Young.
•
Mike Baxter
suffered a displaced right collarbone
as well as fractured rib cartilage in the collision with the wall on the no-hitter-saving catch on
Yadier Molina
's seventh-inning shot. The no-hitter was costly for reliever
Ramon Ramirez
as well. Ramirez strained a hamstring running in from the bullpen during the postgame celebration, Collins
said. The manager estimated Baxter would miss six weeks. Baxter said he did not suffer a concussion. Baxter's left shoulder had the initial jolt and that arm went numb, but it was his right side that ultimately suffered the brunt of the damage. "That'll tell you how hard he hit it," Collins said, referring to the wall. Read more in the
Post
,
Star-Ledger
,
Daily News
,
Record
and
Newsday
.
• Columnist
Joel Sherman
in the Post
is prepared to push aside
Dwight Gooden's
no-hitter with the Yankees for Santana's feat as the most notable he has observed. Writes Sherman:
Because this is baseball, we knew all of this and, thus, we were there in the dugout agonizing with Collins on Friday night. We knew these two main storylines were now at war: Was it worth jeopardizing Santana's health by pushing his pitch count higher, higher, higher than it had ever been, even pre-surgery, all to make the toothache go away forever? Collins, his humanity and honesty on full display, admitted the next day there were parts of him hoping the Cardinals would get a hit, part of him regretting a decision he said "went against everything I stand for."
•
Jay Horwitz
, the Mets' PR man since 1980, told columnist
John Harper
in the Daily News
: "Even I'm a little bit overwhelmed by the reaction. It's almost that 'Now-I-can-die-in-peace' type of thing.''
• Columnist
Bob Klapsich
in the Record
wrote:
One major league executive who watched the no-hitter on TV said, "I actually felt sorry for Terry because he knew the consequences. I'd bet you a million bucks he was rooting for a base hit after the seventh inning."
• The Mets did not announce corresponding moves after Saturday's game for Baxter and Ramirez heading to the DL, but
Pedro Beato
is expected to join the Mets as soon as today, the day he is eligible to be activated. Beato, who developed a shoulder issue during spring training, has made eight relief appearances between St. Lucie and Buffalo, including tossing two scoreless innings Saturday for the Triple-A club. The Mets would have to make a 40-man roster move since Beato did not count while on the 60-day DL.
•
Jason Bay
went 0-for-3 with two strikeouts while serving as the DH in a rehab game for Class A St. Lucie on Saturday. He should be close to rejoining the Mets. The organization preferred Bay rehab with Buffalo, but Bay opted for the Florida locale.
Ruben Tejada
(quadriceps) had been scheduled to run Saturday and should test the balky muscle circling the bases today.
• St. Lucie ended up sweeping a doubleheader from the Tampa Yankees to clinch its division's first-half title in the Florida State League. St. Lucie owns a 43-12 record. The clincher came in Game 1 behind six scoreless innings from
Angel Cuan
, but the nightcap had the dramatics. With the score tied in the bottom of the final frame,
Cory Vaughn
walked, moved to second when
Blake Forysthe
was hit by a pitch and scored on a subsequent error. For Binghamton,
Robert Carson
notched his second Eastern League save. With Buffalo,
Fernando Cabrera
surrendered a game-winning homer at Toledo. Read Saturday's full minor league recap
here
.
• Wright reiterated Saturday what he said the previous day that was lost in the no-hitter hoopla: He does
not want to negotiate a contract extension in-season
. The third baseman said he had resolved with his agents not to negotiate in-season even before the year started. Wright's side informed the front office Thursday of the policy, he said. Wright said his 2006 in-season extension was a distraction. "We let the front office know ... just so everybody is on the same page and we can just focus on baseball," Wright said. "And that's it. It's just not necessary. With the good vibes that are going on right now and just the 'good' surrounding this club, I just feel somewhat selfish in the middle of the season to be talking about myself, talking about me, when we should be talking about we."
• Read Saturday game recaps in the
Record
,
Times
,
Post
,
Daily News
,
Star-Ledger
and
Newsday
.
• Beltran had high praise for Santana before Saturday's game. The ex-Met did not grouse above being deprived of an extra-base hit by an incorrect foul call Friday by ump
Adrian Johnson
. "What can I say? I think it was meant to happen," Beltran said, according to
David Lennon
in
Newsday
. "That's the only way I can put it. Honestly, I'm happy for Johan because he's a good man and he really has battled, last year and this year. He's a competitor and he loves to win. I love to win also, but sometimes God rewards people for how hard they work. He has really gone through a lot and now he's getting good results."
• The St. Louis Post-Dispatch put an asterisk on its sports front next to "NO-HITTER." View
here
.
• Right-hander
Chris Schwinden
, who was placed on waivers Thursday to clear a 40-man roster spot for
Elvin Ramirez
, was claimed by Toronto. In parts of two seasons at the major league level, Schwinden was 0-3 with a 6.98 ERA in seven appearances (six starts).
•
Fernando Martinez
, who was claimed off waivers from the Mets during the offseason, was promoted Saturday and made his Houston Astros debut. Martinez went 1-for-5 with two RBIs and three strikeouts. His subpar route and diving attempt on
Brandon Phillips'
shot to right field did allow the Reds to take a 10-9 lead en route to a 12-9 win. The promotion coincided with
Travis Buck
landing on the DL. Martinez, 23, was hitting .319 with eight homers and 38 RBIs in 188 at-bats at Triple-A Oklahoma City. Read more in
the Houston Chronicle
.
• The MLB draft begins Monday. The Mets pick 12th. Baseball America projects the Mets will take
David Dahl
, a high school outfielder from Birmingham, Ala. Texas A&M right-hander
Michael Wacha
and Louisiana high school shortstop
Gavin Cecchini
are projected as the primary alternatives. The Mets will get extra picks at No. 35 and No. 71 overall for losing Reyes to the Marlins, before their own second-round pick at No. 75. Dahl and Cecchini worked out Friday at Citi Field for
Paul DePodesta
,
Sandy Alderson
and other Mets honchos,
Brian Costa
of the Journal tweeted.
•
Omar Minaya
weighed in on Santana's no-hitter in the
Daily News
.
• Columnist
George Vecsey
in the Times
notes not every devout Mets fan saw Santana's no-no. Writes Vecsey:
Every fan had long been aware that no Met had ever pitched a no-hitter. In true biblical wandering, the fans consoled themselves by muttering, "Someday it will happen," yet some of them inevitably took their eye off the ball. I know one Mets fan who on Friday night went to watch his daughter in a school play. Never saw a pitch of their 8,020th game. That will teach him to be a good dad. Another Mets fan left a despondent monotone message on my answering machine at 11:30 p.m. Friday: "I go out for a good time and this is how God punishes me. It just isn't fair." That guy has not sounded so disconsolate since the Mets traded Lenny Dykstra and Roger McDowell for some mope in 1989. His message then was: "It stinks. It just stinks." Of course, it stinks. You're a Mets fan. It's part of the deal.
• The web site
nonohitters.com
, which chronicled the Mets' no-hit futility, is now irrelevant. Site founder
Dirk Lammers
told
Brian Costello
in the Post
he may turn over the domain name to a Padres fan. "It's not like the thing was profitable," Lammers told Costello. "It's not going to hurt me financially. If I made 12 cents on Google ads, that was a good day. It wasn't going to make me rich. I will miss it. It was a fun thing." With the site overwhelmed with traffic Friday, many who clicked on the web page in the wake of Santana's feat got a message that read: "Error establishing a database connection." Read more in the
Journal
.
TRIVIA:
Bay appeared for Class A St. Lucie on Saturday to begin a rehab assignment. What year did he play for that club as an actual minor leaguer?
Saturday's answer: The San Diego Padres are the lone major league team without a no-hitter.
NBA
NHL
COLLEGE BASKETBALL
MLB
MLS