New York Mets:

David Newman
March, 25, 2013
3/25/13
4:30
PM ET
Mets executive vice president for business Dave Howard is leaving the ballclub. He will become president of MSG Sports, the company announced. He will begin work April 9.
The Mets indicated that team executives Paul Asencio, Leigh Castergine and David Newman will now join Mike Landeen in reporting to Jeff Wilpon to absorb Howard's role for the near future. Wilpon also will pick up some of Howard's duties.
Here is the full release from MSG Sports:
Hank Ratner, president and chief executive officer of The Madison Square Garden Company, today announced that distinguished sports executive, Dave Howard, has joined the company as president, MSG Sports, effective April 9. In this role, Mr. Howard will be responsible for running the business operations of the New York Knicks, New York Rangers, New York Liberty and Hartford Whale, as well as the management of the company's Sports Properties unit.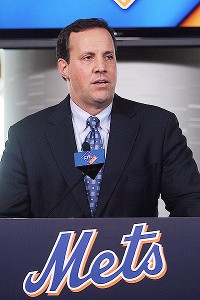 Rick Maiman/Bloomberg News/Getty Images
Mets executive VP Dave Howard is departing for MSG Sports.


"Dave has been one of New York's premier sports executives for over two decades, and we are pleased he will be joining our Company to lead our sports business," said Mr. Ratner. "MSG Sports represents some of the most popular and enduring brands in the world, and we're confident Dave's vision and management skills will ensure we continue to earn the passionate loyalty of generations of fans, while developing strategic growth opportunities that help drive our business."

As president of MSG Sports, Mr. Howard will have a wide range of responsibilities tied to the successful operations of the sports division, including optimizing the core businesses, while creating and driving new revenue streams, and enhancing the value of the MSG Sports brand. In addition to managing the strategic plan, budgets and forecasting for the businesses, he will oversee the marketing and game presentations of the Knicks, Rangers and Liberty, as well as the sale of their season and individual game tickets, suites and Madison Club memberships. He will help direct integrated sales, including establishing strategic sponsorships through the development of new inventory packages that drive increased marketing partnerships. Mr. Howard will manage the Sports Properties division, including the presentation of sporting events such college and high school basketball, boxing and tennis, along with the development of new growth opportunities.

"I am honored to be joining The Madison Square Garden Company, and particularly thrilled to have the privilege of leading MSG Sports," said Mr. Howard. "There are very few organizations anywhere with the strength of MSG's sports brands, and I look forward to utilizing my experience to ensure we build on MSG's position as one of the world's leading sports organizations. I would also like to thank the Mets' ownership and organization for what has been an amazing professional experience in Flushing."

Mr. Howard joins MSG Sports following more than two decades at the New York Mets organization and Major League Baseball. Most recently, he served as executive vice president of business operations for the Mets, where he oversaw all business departments, including ticket sales & services, corporate sales & partnerships, marketing &communications, broadcasting, media relations, venue services, ballpark operations, guest experience and security. In addition, he was responsible for the team's Florida training facility and the St. Lucie Mets and Brooklyn Cyclones minor league business operations. During his 20 years with the Mets organization, Mr. Howard held a number of significant roles, including as the team's general counsel, corporate secretary, vice president of business affairs and senior vice president of business and legal affairs. He played a key role in moving the Mets from Shea Stadium to Citi Field, where he was also instrumental in attracting other premier events, including top concerts and college lacrosse, as well as the first-ever major soccer matches. Prior to joining the Mets, Mr. Howard was an associate counsel in the office of the commissioner's office at Major League Baseball, and an associate at the firm of Davis Polk & Wardwell. He began his career as a law clerk for the Honorable George C. Pratt at the U.S. Court of Appeals for the Second Circuit.

Mr. Howard graduated cum laude from Fordham University of Law and received his bachelor's degree in Economics from Dartmouth College, where he graduated magna cum laude. He has served on a number of community and charitable boards, including: The Bridge Church of the Nazarene, Rockville Centre Little League; Baseball Chapel, Inc; Molly College Board of Trustees; CCFA-Long Island Chapter Advisory Board; Tufts University Athletics Board of Advisors. Mr. Howard, his wife, Nancy, and their children make their home on Long Island.
April, 17, 2012
4/17/12
9:33
AM ET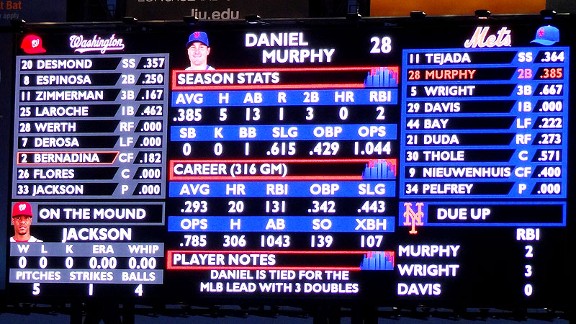 Adam Rubin
A look at the new-look Citi Field scoreboard, which has added OPS and WHIP to among its stats.
Considering the advanced metrics available these days, OPS and WHIP hardly are high-tech statistics by sabermetric standards.
Yet their introduction to the Citi Field scoreboard this season is a first step in what may be a transformation to the in-game viewing experience in Flushing.
In Year 4 of their new ballpark, the Mets have decided to go beyond the basic statistics that have been staples for decades on their scoreboards at Shea Stadium and now Citi Field -- average, home runs, RBI, win-loss record, ERA.
Trying to more closely replicate the experience of watching on TV with a laptop or iPad opened to MLB.com's Gameday (or ESPN.com's equivalent), the Mets debuted slightly more advanced statistics on their scoreboard during the season-opening homestand.
The organization was partly influenced by other teams as well. The Mets studied screen grabs from other stadium scoreboards and particularly borrowed from the existing in-stadium experiences at Chase Field (home of the Arizona Diamondbacks), Coors Field (Colorado Rockies) and Turner Field (Atlanta Braves).
OPS merely is the sum of on-base and slugging percentage. WHIP is merely walks plus hits divided by innings pitched.
"There's a lot there. It's easily digestible," said Mets VP
David Newman
, referring to the data available via computer. "Now it's how you make it translate well in-park and make it easy to read. The goal was, if someone is coming to the park, how do you provide more content than they would otherwise have? Certainly this is a big step from the stat presentation last year."
Vince Gennaro
, president of the Society for American Baseball Research, is all for enhancing the in-stadium statistical experience.
"I've discussions with team execs on this very topic," Gennaro wrote via email. "I think there is somewhat of a limitation as to what you can execute on the scoreboard, given the space constraints. I do think OPS and WHIP are excellent starting points. For a pitcher, his groundball/flyball ratio (or groundball rate) is very informative, as is his K-rate and BB-rate. We tend to see K's and BB's as counting stats on scoreboards instead of rate stats (i.e., per 9 IP).
"The other way to execute in-stadium stats is thru a dedicated portal accessible thru free wifi, while a fan is in the ballpark. Many of the fans interested in such stats will have a cell phone or smartphone, so there is a lot of information that can be conveyed to these fans while using the main scoreboard to 'entertain' fans. Ideally, a combination of both -- some advanced stats on the scoreboard, supplemented by an in-stadium portal with additional advanced stats -- seems to be ideal.
"The Diamondbacks have a
portal called Digital D-backs
. I'm not sure to what degree they deliver advanced stats, but I really like the concept of communicating more info to fans who are in attendance. The TV viewing experience has become highly informative. We need to 'up the ante' for fans that come to the ballpark so that teams can compete, with their own telecasts, for live attendance."
Added
Bill Nowlin
, vice president of SABR: "Vince's point is a great one -- serving the people at the park with the option of a menu of statistics. In theory, I guess there'd be no reason the same feed couldn't be offered to people watching the game [on TV] as an option that could enrich their viewing experience, as a supplement to what the telecasters were saying."
An informal survey of MLB teams found a mixture of the traditional and the new.
The Yankees have included OPS and WHIP on their supplemental stats board -- just to the left of the main board -- since the new Yankee Stadium opened in 2009, the same year as Citi Field.
At PNC Park, the Pittsburgh Pirates show the vertical and horizontal break on pitches.
At Miller Park in Milwaukee, a team spokesman said, on-base percentage and slugging percentage remains "as fancy as we get."
Chase Field in Arizona, one of the models for the Mets' new adaptations, has displayed OPS and WHIP since installing a new board in 2008.
"We have shown some more not-so-common stats such as range factor, but that is only on occasion, and generally only for players that have exceptional range factor," Diamondbacks director of media relations
Casey Wilcox
wrote via email. "We did mention that
Gerardo Parra
was rated as the No. 1 left fielder by Fan Graphs last season."
Said
Adam Lane
, director of entertainment and productions for the Cincinnati Reds: "We have been displaying WHIP the past six seasons. In the last two years we have added OPS and OBP to our displays. A lot of this is based on suggestions from our stats coordinator,
Rich Linville
, and requests from our baseball operations department. We have heard from fans that they enjoy the extra stats while at the game."
Are the Mets slow-walking fans into a new generation of stats such as wOBA, OPS+, BABIP and xFIP? Is there a danger in making things too convoluted or busy, like a thoroughbred racing board that contains all of the exacta odds?
"You gauge fan reaction," Newman said. "The big question: What is understandable and what is digestible for hardcore fans and people just coming for the first time, so it's not intimidating."
"In-depth" appears Tuesdays during the regular season