New York Mets:

David Wilson
May, 31, 2012
5/31/12
8:37
AM ET
After completing a stretch of 20 games in 20 days with a
10-6 loss to the Phillies
on Wednesday, the Mets take a day off. They then regroup for a four-game series against
Carlos Beltran
,
Adam Wainwright
and the St. Louis Cardinals at Citi Field.
Thursday's news reports:
•
Lucas Duda
produced a pair of homers -- the first two long balls of his major league career against southpaws -- but the
bullpen was charged with eight runs
as
Bobby Parnell
and
Ramon Ramirez
served up homers. Read game recaps in the
Record
,
Post
,
Daily News
,
Times
,
Star-Ledger
and
Newsday
.
• Chief operating officer
Jeff Wilpon
echoed
Sandy Alderson's
comments from the previous day with respect to expressing hope
David Wright
eventually will be signed long term
. Still, Wilpon added, with Wright under the team's control through 2013, "there's no gun to anybody's head" in terms of a rush to act quickly. Read more in
Newsday
, the
Times
,
Daily News
and
Record
.
• Columnist
Ken Davidof
f
in the Post
offers this opinion on a Wright extension, writing:
Since Wright's old Virginia pal Ryan Zimmerman signed a six-year, $100-million extension (from 2014-19) with Washington in spring training, what's the proper price for Wright, who turns 30 in December, once the two sides exchange figures later this season? How about six years and $115 million, with a vesting option for a seventh year? If Wright turns that down, then exercise his 2013 option, and sure, listen to what teams have in mind concerning a trade. If a blockbuster offer comes in -- one that would improve the Mets in 2013 and beyond more than retaining Wright -- pull the trigger.
Assuming that doesn't happen, it would make sense to try again with a long-term offer to Wright in June or July of 2013, then listen once again to trade offers if he declines. And if he enters free agency, the Mets would have to compete for Wright's services against other clubs, and they should bow out if the bidding gets too high.
• Top prospect
Zack Wheeler
, who pitches for Binghamton today at Reading,
earned high praise from a scout
who watched his most recent outing.
• Duda now has a team-leading seven homers. Read more in the
Post
and
Star-Ledger
.
•
Ronny Cedeño
landed on the disabled list
before Wednesday's game with a strained left calf.
Jordany Valdespin
was promoted from Buffalo. Valdespin struck out as a pinch hitter, dropping his major league average to .095 (2-for-21). Read more in the
Post
,
Newsday
and
Daily News
.
•
Miguel Batista
allowed five runs (four earned) on four hits and four walks in seven innings for Double-A Binghamton against Reading
in a rehab start
. A team official indicated before that outing that Batista was likely the preference over
Jeremy Hefner
for Monday's start against St. Louis. But it's possible that outing could cause reconsideration. Read more in
Newsday
.
• Making his first Triple-A start since undergoing Tommy John surgery on May 16, 2011,
Jenrry Mejia
limited Columbus to two runs and two hits in six innings.
Josh Edgin
and
Elvin Ramirez
then combined for four scoreless relief innings and
Josh Satin
scored the winning run on a wild pitch as Buffalo prevailed, 3-2, in 10 innings. In Class A action,
Wilmer Flores
homered for St. Lucie -- his 10th long ball of the season -- and
Aderlin Rodriguez
went deep twice for Savannah. Read Wednesday's full minor league recap
here
.
•
Josh Thole
(concussion) planned to DH for Buffalo on Wednesday to begin a brief rehab assignment, but a
delay in formal approval
from the players' union prevented him from starting the game. Thole eventually entered and grounded out in the eighth inning. He is due to catch
Chris Young's
10:35 a.m. game today, which will be televised by MLB Network. Alderson has said Thole likely will be activated from the disabled list Friday, potentially setting up the Mets having to decide whether to continue carrying
Mike Nickeas
or
Rob Johnson
as the righty complement.
• Former GM
Jim Duquette
plans to donate a kidney
to his 8-year-old daughter
Lindsey
.
• New York Giants first-round pick
David Wilson
threw out the ceremonial first pitch
Wednesday -- a wild one past Wright, a Virginia Tech fan who has befriended the former Hokie. Several Giants signees watched batting practice from the field, including former Rutgers fullback
Joe Martinek
, who wore an old-school
Keith Hernandez
jersey. Read more in
Newsday
.
• Charities sponsored by
Johan Santana
and the Mets
combined to donate $20,000
to the charity Tuesday's Children in order to assist the Spanish-speaking families of victims of 9/11 as well as first responders.
•
Brian Costa
in the Journal
discusses how team officials try to negotiate with fans to gets the milestone homers back as a keepsakes for players. Writes Costa:
The fan who caught the first home run ball at the Miami Marlins' new ballpark last month was offered a bat autographed by star third baseman Hanley Ramirez. He demanded season tickets. The Marlins scoffed and told him to keep the ball. The Mets did the same thing in 2010 when a fan in Baltimore caught the ball Chris Carter hit for his first home run. The fan, evidently a memorabilia collector, asked for about 40 balls signed by various players.
•
Jack Curran
, who coached
Mike Baxter
at Archbishop Molloy,
tells the Daily News
: "Keep an eye on this young man. I believe the more he learns the pitchers, the better he's going to hit. And the work ethic that I remember is still there. He called me the other day and I said, 'Where are you?' He said, 'I'm on the Long Island Expressway, on my way to the ballpark.' I looked at the clock. It was 12:30. For a 7 o'clock game."
•
Michael Salfino
in the Journal
shows that Santana has enjoyed more success coming back from shoulder surgery than peers who also lost a year due to procedures.
TRIVIA:
Who batted immediately before Wainwright's curveball to Beltran ended Game 7 of the 2006 NLCS?
Wednesday's answer:
Paul Wilson
, on Sept. 20, 1996, was the only Mets pitcher until
Jeremy Hefner
to homer in his first major league season.
Jerry Koosman
(1968) and
Walt Terrell
(1983) homered during their rookie years, but had debuted the previous seasons.
May, 30, 2012
5/30/12
5:45
AM ET
Jeremy Hefner
became the first Met to deliver his
first homer and earn his first major league win
in the same game and the
Mets beat the Phillies, 6-3
, Tuesday at Citi Field.
Cliff Lee
and
Dillon Gee
now face off in tonight's 7:10 p.m. rubber game -- the finale of a 20-games-in-20-days stretch for the Mets. Before the series finale, the NFL Giants' 2012 draft class, including first-round pick
David Wilson
from Virginia Tech, will
visit Citi Field
and be recognized on the field.
Wednesday's news reports:
•
Sandy Alderson
said
he will engage the agents
for
David Wright
in-season about the possibility of retaining the third baseman long term. The Mets have a $16 million option on Wright for 2013 -- really a net of $15 million, since there otherwise is a $1 million buyout. So Wright is not in danger of imminently becoming a free agent regardless. Read more at
CBSSports.com
and in the
Star-Ledger
,
Post
,
Daily News
and
Record
.
•
Justin Turner
, speaking with reporters for the first time since suffering Monday's right-ankle sprain, said he
felt fortunate the injury was not more serious
. Turner was wearing a boot. He also had crutches, but was not using them. Turner officially landed on the DL on Tuesday as part of a
flurry of roster moves
. The Mets also designated reliever
Manny Acosta
for assignment. They promoted
Omar Quintanilla
to start at shortstop as well as right-hander
Chris Schwinden
.
• Quintanilla matched a career high with three hits and also scored twice in his Mets debut, while
Scott Hairston
delivered the knockout blow to Phillies starter
Joe Blanton
with a pinch-hit two-run homer.
Frank Francisco
converted his 14th save, tying him for the National League lead. Read game recaps in the
Post
,
Star-Ledger
,
Record
,
Times
,
Daily News
,
Newsday
and
Philadelphia Inquirer
.
•
Josh Thole
, nearing a
return to the Mets from a concussion
, is slated to DH for Triple-A Buffalo tonight and catch
Chris Young
on Thursday morning with the Bisons. Thole then is expected to be activated Friday. The Mets could ever-so-briefly carry three bona fide catchers, but eventually they likely will have to make a choice of whom to retain at the major league level between
Rob Johnson
and
Mike Nickeas
. Either can be demoted without being exposed to waivers.
• The news is not as positive for
Ruben Tejada
(quadriceps) as is the case with Thole. Alderson said the shortstop, who was
examined by team doctors Tuesday
in Manhattan, will remain in New York getting treatment at least through Friday. Meanwhile,
Jason Bay
is only DHing in Port St. Lucie. The organization is taking it slowly with Bay (fractured rib) and has not yet allowed him to play the outfield,
Terry Collins
said.
•
Miguel Batista's
intended rehab start Tuesday with Double-A Binghamton was rained out at Reading. That outing is now scheduled for Wednesday, pushing top prospect
Zack Wheeler
back another day in the rotation to Thursday with the B-Mets. Batista (oblique/lower-back strain) is eligible to be activated from the DL Monday, which happens to be the next time Hefner's turn comes up. But given Hefner's generally positive performance Wednesday, it may be more logical to instead return Batista to the bullpen at that point.
• Read an injury recap in the
Times
.
• Columnist
Ken Davidoff
in the Post
sizes up the NL East this way, writing:
The Phillies, five-time defending champions, endured a rough day, placing future Hall of Famer Roy Halladay on the 15-disabled list with a strain of his right latissimus dorsi. They take pride in shrugging off injuries, and manager Charlie Manuel noted his teams always post a better record in the second half. In nine full seasons, only the 2001 Indians defied that trend. Nevertheless, the Phillies will be particularly challenged with Halladay, Ryan Howard and Chase Utley all on the disabled list. The Mets probably have the least talent among the five NL East teams, and that's why most industry folks don't see them sustaining this run. The Nationals and Braves join the Phillies in being riddled by injuries, though, and remember, the extra wild card opens up this pennant race like none before. Fairy-tale nights occur for every team, good and bad. Fairy-tale seasons are far more rare.
• Here's columnist
Tim Smith's
take
in the Daily News
.
• Hairston now has a team-high six homers, including one in each of his past three games. Read more in the
Post
.
•
Matt Harvey
allowed one run and three hits in six innings in Buffalo's 3-1 win against Columbus.
Pedro Beato
pitched a scoreless relief inning as his rehab assignment nears a conclusion. Beato is eligible to be activated from the 60-day DL on Sunday. Read Tuesday's full minor league recap
here
.
•
R.A. Dickey
was
named NL Player of the Week on Tuesday
. He limited the Pirates and Padres to a combined one run in 14 1/3 innings while posting a pair of wins. Dickey had tweeted earlier in the day that dental concerns were on his mind, too. "Got my first cavity in 37 years," the knuckleballer wrote. "Need a root canal in it to boot. Too much red velvet cake."
Andrew Keh
in the Times
covered a pregame Q&A that Dickey had with fans who paid to attend at Citi Field.
• The Yankees love their ex-Mets. The Bombers just claimed
Ryota Igarashi
off waivers from the Blue Jays
and assigned him to Triple-A. Read more in the
Record
.
• Former Mets pitching coach
Rick Peterson
discussed the intricate data-based system
the organization developed in 2004 to offer insights into opponent tendencies.
• The Phillies have major health issues.
Roy Halladay
was diagnosed with a right shoulder strain and joined
Ryan Howard
and
Chase Utley
on the disabled list. Read more
in The Philadelphia Inquirer
,
Times
and
Post
.
• Columnist
Bob Klapisch
in the Record
chronicles reliever
Jack Egbert's
three-year journey back to the majors, which included the Rutherford, NJ., native undergoing Tommy John surgery and at least contemplating retirement. Writes Klapisch:
He spent the summer of 2010 with a cast on his arm, thinking about Plan B, which he'd never really considered. "I had a year left at (Rutgers) in criminal justice," Egbert said. "But honestly, I didn't know what I was going to do." Family and friends urged him to hang in there. Everyone meant well, but what else could they say to a baseball lifer who was on the bullet train to 30, with a bad arm and no job? Egbert could've hooked on with an independent team like the Newark Bears or New Jersey Jackals. But he knew that was the equivalent of buying a Power Ball ticket at 11:59 -- good luck waiting for the fates to be generous. The rehab took a full year, but, incredibly, the Mets called before spring training a few months ago.
• The Mets have out-homered opponents 8-7 in long balls that only would have been out with the new Citi Field dimensions. "It's not a band box," hitting coach
Dave Hudgens
told
Brian Costa
in the Journal
about the stadium's revised configuration. "It's not Cincinnati. It's not Philadelphia. It's not Yankee Stadium. It's still a legitimate baseball field. You have to hit the ball good to get it out of here. Guys aren't going to hit jam shots to right field like at Yankee Stadium. That's just not going to happen."
TRIVIA:
Besides Hefner, who was the only Mets pitcher to homer in his debut season in the majors? (Hint: Think 1996.)
Tuesday's answer: Ex-Mets
Brian Schneider
and
Ty Wigginton
played in Monday's game for the Phillies.
May, 30, 2012
5/30/12
12:38
AM ET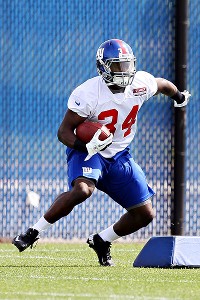 Jim McIsaac/Getty Images
Giants first-round pick David Wilson and the rest of the NFL team's draft class will be at Citi Field on Wednesday.

The newest class of New York Giants will be out in full force at Citi Field on Wednesday.
First-round pick
David Wilson
, a running back from Virginia Tech, and the rest of the Giants' 2012 draft class will be recognized on the field pregame before the Mets' series finale against the Philadelphia Phillies.
David Wright
is a huge Virginia Tech football fan, and has discussed texting with Wilson since the draft.
May, 2, 2012
5/02/12
2:49
AM ET
Jon Niese
surrendered a two-run homer to
Jed Lowrie
and three-run homer to
Chris Snyder
over the first two innings and the
Mets lost to Houston, 6-3
, Tuesday night. Heading into this afternoon's
Chris Schwinden
versus
Wandy Rodriguez
matchup, Houston already has secured its first series win since a season-opening series against the Colorado Rockies. The Astros since had lost six straight series.
Kirk Nieuwenhuis
could become the
second National League Rookie of the Month winner
in franchise history, joining
Justin Turner
, when the April award is announced today.
Wednesday's news reports:
•
Terry Collins
had no regrets about lifting Niese
for pinch hitter
Lucas Duda
in the top of the fourth with the Mets having clawed within three runs and a pair of Mets on base. Duda struck out, ending the threat, and Collins was forced to turn to
Miguel Batista
. Read game recaps in the
Times
,
Post
,
Record
,
Star-Ledger
,
Daily News
and
Newsday
.
•
David Wright's
.389 average in April matched the fifth-best in franchise history for that month, trailing only
John Milner
(.488 in 1976),
Ed Kranepool
(.418, 1965),
Cleon Jones
(.410, 1969) and
Derek Bell
(.400, 2000). Wright finished the month trailing only
Matt Kemp's
.417 average with the Los Angeles Dodgers in the National League this season. Wright achieved the gaudy production despite suffering a broken right pinkie on a headfirst slide back into first base on April 9.
Brian Costa
in the Journal
examines Wright's surge. Wright tells him about the finger fracture, which only cost the third baseman only three games: "When it first happened, I thought there would be no chance that I'd be able to play as quickly as I did." Wright said.
Wright's success coincides with him reducing his pronounced leg kick and lowering his hands. He also appears closer to the plate than at any time since he was beaned by San Francisco's
Matt Cain
on Aug. 15, 2009. Writes Costa:
In April, Wright hit more than 30 percent of his batted balls for line drives, which would represent a career high and a 12 percent jump from 2011. If the season ended Tuesday, Wright would finish with both the lowest strikeout rate of his career (15.7 percent) and the highest walk rate (18 percent). The fact that nearly 45 percent of his batted balls have fallen in for hits -- the fourth-highest rate in the majors -- suggests some regression is likely. But the overall picture that emerges is of a hitter driving the ball with more authority and being more selective. The two are not unrelated. "One of the biggest things, I think, is just the mindset of, I don't have to go up there and expand the strike zone," Wright said.
Andy McCullough
in the Star-Ledger
cites similar stats in discussing Wright and suggesting this level of production is likely not fully sustainable. Yet McCullough also writes on the positive side:
Wright is striking out less and walking more, a sign of what he believes is proper timing at the plate. From 2009-11, he struck out 22.9 percent of the time, walked 11.2 percent and made contact with a strike 62.9 percent of the time. In April? He struck out a career-low 15.7 percent and walked a career-high 18 percent. Wright credited his uptick in walks to his position in the lineup. The trio of hitters behind him -- Jason Bay, Lucas Duda and Ike Davis -- began the season slowly. Wright believes he's often been pitched around. "When Ike gets going," he said, "ultimately, that will cut down on my walks."
• With
Mike Nickeas
suffering from the flu
and remaining back at the team hotel on Tuesday night, the Mets were considering bringing
Vinny Rottino
or
Lucas May
to Houston. Duda also was out of the starting lineup for a second straight day. Ultimately, though, the Mets opted to
stand pat with the current active roster
rather than summon help from Buffalo, team officials said postgame. Collins said it is possible Duda will return to the lineup for Wednesday's matinee. Read more in the
Post
,
Record
and
Star-Ledger
.
• Wright, a Virginia Tech football fan whose brother
Daniel
is a junior at the school, applauded the Giants' selection of Hokies running back
David Wilson
with their first pick in the NFL draft, according to
Roger Rubin
in the Daily News
. "We exchanged a few texts," Wright told Rubin. "I was talking with one of the Virginia Tech coaches on the phone and asked for his number. I wanted to say congratulations. He sounded pretty excited about the situation."
Writes Rubin:
Wright's brother Daniel is a junior at Tech and "he started telling me all about the guy, so I've been paying attention," Wright said. "He told me about this football player who wore a jacket and tie to every class, did backflips when people asked him and was known on campus for other feats of strength. He was a legend for that stuff before he even became one for football."
• Schwinden was charged with six runs (five earned) in four innings in his first major league start this season, Friday at Colorado. Now he's charged with helping the Mets avoid getting swept in Houston. "Everybody keeps telling me it's the ballpark," Schwinden told
Mike Kerwick
in the Record
about his Coors Field struggles last weekend. "It's tough. It's one bad game and you can't base it off of one game, so I'm going [Wednesday] and [will] go after hitters and be aggressive and make the right pitches and execute them."
•
Cory Vaughn
and
Richard Lucas
had four RBIs apiece as St. Lucie improved to 21-4 on the season with a 15-6 win against Jupiter on Tuesday.
D.J. Carrasco
, working the second of back-to-back days on a rehab assignment, pitched a scoreless inning. Read the full minor league recap
here
.
TRIVIA:
Art Howe
, a part-time broadcaster for the Astros, visited the Mets clubhouse at Minute Maid Park on Tuesday. In Howe's first year as Mets manager, who were his hitting and pitching coaches?
Tuesday's answer:
Charlie Manuel
placed best in 2011 Manager of the Year balloting. Manuel finished fourth in the National League. Atlanta's
Fredi Gonzalez
finished one slot behind Manuel.
NBA
NHL
COLLEGE BASKETBALL
MLB
MLS