New York Mets:

Dick Rusteck
June, 17, 2013
6/17/13
12:15
PM ET
By
Mark Simon
| ESPNNewYork.com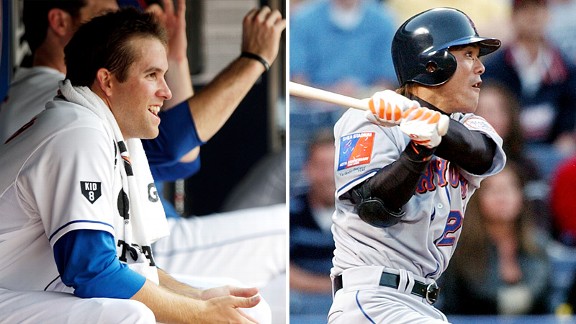 AP PhotoCollin McHugh and Kazuo Matsui had two of the best Mets debuts.
With Zack Wheeler making his Mets debut on Tuesday, let's rank the best opening acts in Mets history. We'll go 11-deep for no particular reason other than that is the number that caught our eye.
1.) Kaz Matsui (April 6, 2004 vs. Braves)
Matsui made a first impression so good that he could never live up to the subsequent hype -- three hits, two walks and a home run leading off the Opening Day win over the
Atlanta Braves
. Matsui was expected to be a star, but could never duplicate his debut work.
Did You Know? The last player prior to Matsui to get at least three hits and two walks in his major league debut was John Paciorek, who did so against the Mets in 1963. It would be Paciorek's only game in the majors.
2.) Dick Rusteck (June 10, 1966 vs. Reds)
The only Mets pitcher to throw a shutout in his major league debut beat the Reds' ace, Jim Maloney, in a swift two hours, six minutes. Rusteck struck out only four, but dominated. He did not face a runner in scoring position the entire night.
Did You Know? Rusteck made only seven more appearances and two more major league starts. That win would be the only one of his major league career.
3.) Collin McHugh (Aug. 23, 2012 vs. Rockies)
Against what was a lineup comprised mostly of minor leaguers, McHugh dominated, allowing two hits and striking out nine in seven scoreless innings.
He'd get a no-decision because the Mets couldn't score against five Rockies pitchers.
Did you know? McHugh is one of only five pitchers to allow no runs and two hits or fewer, with at least nine strikeouts, in a debut in the modern era, a list that begins with Hall of Famer Juan Marichal (1960).
4.) Matt Harvey (July 26, 2012 vs. Diamondbacks)
This one wasn't that long ago, so it should be fresh in the memory bank:
Harvey piled up the pitch count early, limiting him to 5 1/3 scoreless innings, but he was very impressive, both on the mound (with 11 strikeouts) and at the plate (with a pair of base hits in a 3-1 win over the
Arizona Diamondbacks
).
Did You Know? The Elias Sports Bureau tells us that Harvey is the first pitcher in the modern era (since 1900) to strike out 11 hitters and record two hits in his major league debut.
5.) Dillon Gee (Sept. 7, 2010 vs. Nationals)
Gee opened his career with five no-hit innings before surrendering a homer to Mets scourge
Willie Harris
leading off the sixth. It would be the only run he would allow in seven two-hit frames in a 4-1 win
Did You Know? Gee's five wins against the Nationals are his most against any major league team.
6.) Nick Evans (May 24, 2008 vs. Rockies)
Evans was not a heralded prospect, but made a quick impression with a three-double debut in a 9-2 win over the Rockies at Coors Field. But Evans wasn't able to replicate that success in other places and was never able to maintain a permanent role with the team.
Did You Know? Elias tells us that Nick Evans is the second player in major league history to hit three doubles in his first major league game. The other is Ben Grieve.
7.) Lenny Dykstra (May 3, 1985 vs. Reds)
The Mets put Dykstra in his ideal place, the leadoff spot, for his major league debut, and though Mario Soto struck him out to open the game, Dykstra avenged that in his second at-bat with a home run. Dykstra would go 2-for-5 with two RBIs in a 9-4 win and would help solidify the leadoff spot for the next several seasons.
Did You Know? The Mets went 37-16 when Dykstra started that season, then went 66-32 when he started in the 1986 regular season. In all, the Mets had a .607 winning percentage (238-154) in his 392 starts.
8.) Gary Gentry (April 10, 1969 vs. Expos)
Gentry came within one out of a shutout in his first start against the expansion Expos. He'd settle for a 4-2 win, the first of many productive moments in a championship season, one in which he would start games in both the NLCS and World Series.
Did You Know? The win was a big deal for the Mets in this regard: It made them 2-1, marking only the second time in eight years that they had a winning record through three games.
9.) Jason Isringhausen (July 17, 1995 vs. Cubs)
As one-third of the hyped Generation K combo along with
Bill Pulsipher
and
Paul Wilson
, Isringhausen wowed for seven innings against a tough Cubs lineup, allowing only two runs and two hits in seven sharp innings. Isringhausen got a no-decision, but the Mets would win by scoring five runs in the ninth inning.
Did You Know? Other prominent Mets to debut against the Cubs include Ed Kranepool (0-for-1 in 1962), Jesse Orosco (1979) and Ike Davis (2-for-4 in 2010).
10.) Masato Yoshii (April 5, 1998 vs. Pirates)
Yoshii, brought over from Japan in the offseason, threw seven scoreless innings of three-hit ball against the Pirates in his Mets debut. That improved the Mets to 4-1 to start the season.
Did You Know? Yoshii did not allow an earned run in his second start, either. He is the only Mets pitcher to open his career with consecutive appearances of six innings or more and no earned runs allowed.
11.) Dave Schneck (July 14, 1972 vs. Padres)
The Mets had some level of expectations for Schneck, who hit 34 home runs in the minors in 1971 and 24 more in 1972. He'd become the first and only Met to hit cleanup in his debut, and he didn't disappoint as the day's right fielder, hitting a two-run homer to give the Mets a sixth-inning lead. Tom Seaver made it hold up for a 3-2 win.
Did You Know? Schneck couldn't make the initial success last. His .199 career batting average is the second-lowest ever by a Mets position player (minimum 400 at-bats), trailing only Al Weis' .191.
August, 23, 2012
8/23/12
7:07
PM ET
By
Mark Simon, ESPN Stats & Information
Getty Images/Jason SzenesMatt Harvey was a bright spot in a very grim series for the Mets.
The Mets have scored two runs or fewer in six straight games for the first time since 1982.
They've lost eight straight to the Rockies at home, tied for the fifth-longest losing streak they've had against a team in their home ballpark (the longest since dropping 10 straight to the 1991-92 Braves).
They lost a 1-0 game to the Rockies for the first time in club history, after winning the first 27 times they held the Rockies to one run or fewer.
That's enough about that sort of thing.
Let's focus this series recap on the team's starting pitching performances and related news.
Tough-luck Collin McHugh
It was a historic debut performance for
Collin McHugh
who Elias tells us became the fourth pitcher since 1900 to go at least seven innings, allow no runs and two hits or fewer, and strike out nine in his major-league debut.
The other three are Elmer Myers (1915 Athletics against the Washington Senators), Hall-of-Famer Juan Marichal (1960 Giants against the Phillies), and
Steve Woodard
(1997 Brewers against the Blue Jays in a 1-0 win over
Roger Clemens
).
Elias also notes that the Mets are also the first team in baseball's modern era (since 1900) to have two pitchers strike out at least nine hitters in their major-league debut.
Matt Harvey
whiffed 11 Diamondbacks a few weeks ago.
Harvey Happenings
Matt Harvey struck out nine in six innings in Wednesday's no-decision, giving him 43 strikeouts in his first six career appearances.
That's the most of any pitcher in Mets history in his first six appearances, surpassing Nolan Ryan's 42 (Ryan had one relief appearance within that).
Harvey also had his second career multi-hit game, joining
Brian Bannister
as the only pitchers in Mets history with a pair of multi-hit games in their first six career games.
Really Awesome and nothing to show for it
The fine work of
R.A. Dickey
went to waste in Monday's 3-1 loss. Dickey allowed one run in seven innings, but got a no-decision.
Dickey now has an NL-best 13 starts this season in which he's pitched at least seven innings and allowed one run or fewer, the most by a Met since Frank Viola had 14 in 1990. The Mets record is 18 by Dwight Gooden in 1985, one more than Tom Seaver's 17 in 1971.
Dickey currently stands at 181 strikeouts. The last Mets righty with that many was
Pedro Martinez
(208 in 2005). Only four Mets righties have reached 200 strikeouts in a season -- Seaver (9 times),
David Cone
(4), Gooden (4) and Martinez (1).
Closing the book on Santana's season
Johan Santana
finished the season with a 4.85 ERA, which will likely rank as the worst ever for a single-season by a left-handed pitcher who made at least 20 starts for the Mets. Lower the minimum to 15 starts and it drops to fourth-worst, with
Pete Schourek's
5.96 ERA in 1993 leading the way.
Santana finished the season with nine losses, his third straight season with exactly that many defeats (keeping in mind that he skipped 2011). Santana and Ron Darling are the only pitchers in Mets history with three seasons of exactly nine defeats.
Santana also ends the season as the first pitcher to throw a no-hitter in Mets history (you didn't think we'd leave that out, did you?)
September, 13, 2010
9/13/10
10:30
AM ET
By
Mark Simon
| ESPNNewYork.com
Where did
Dillon Gee's
big league debut rank among others in Mets history?
Let's go through a simple exercise to figure that out.
Baseball-Reference.com
charts pitching performance using Bill James' metric, Game Score.
Game Score is a rating, usually on a scale of 100 (though occasionally, it can exceed 100 or fall below 0) that rewards a pitcher for getting outs (with a bonus for strikeouts) and punishes pitchers for allowing baserunners. A score of 90+ would typically be a shutout with a high number of strikeouts and a low baserunner total.
Gee's line (7 IP, 1 R, 2 H, 4 K, 3 BB) rated a 70, and tied in this metric for third-best Game Score in Mets history. Let's run through the other four in the top five.
1. Dick Rusteck, June 10, 1966 vs Reds
,
Dick Rusteck
is the standard-setter and rightfully so. He's the only Mets pitcher to throw a shutout in his major league debut, his being a four-hitter against a lineup that rated in the upper half of the National League and featured a young
Pete Rose
and
Tony Perez
. Rusteck didn't allow a Red to reach beyond first base, and for bonus points, he beat
Jim Maloney
, who had 12 wins in his first 16 decisions against the Mets.
Sadly the baseball story did not get any better for Rusteck, a promising 23-year-old southpaw at the time. Though his pro career lasted until 1977, injuries set in, and he never won another big league game.
2. Masato Yoshii, April 5, 1998 vs Pirates
It's a little unfair to call this a big league debut for Yoshii, since he'd pitched 10 years in Japan prior to his first major league appearance, and his experience showed. This was one of a host of games that
Masato Yoshii
, a bit inconsistent in his Mets career, handled with total aplomb.
Yoshi's game score rated a 77 and the only reason it's not higher than Rusteck's is because Yoshii didn't go the distance. Overall, he was nearly flawless, allowing just three hits and one walk while striking out seven in stopping the Pirates, 7-0.
T3.
Rick Anderson, June 9, 1986 vs Phillies
Used as a fill-in after spending nine seasons in the minor leagues,
Rick Anderson
made the best of his big league moment, allowing just one run and four hits in seven innings against the Phillies, with a pitching line almost the same as Gee's.
Anderson would be deprived of a win due to lack of support from the Mets bats and bullpen as Jesse Orosco coughed up the lead in a rare, 3-2 loss for the eventual World Champions. Anderson would go on to win a pair of games during stints with the team later that season, including one on a torn-up Shea Stadium field the day after the Mets clinched the NL East.
Anderson is a baseball success story, though he only won four major league games. He's currently a very highly-regarded pitching coach for the AL Central-leading Minnesota Twins.
5. Jason Isringhausen, July 17, 1995 at Cubs
Jason Isringhausen
and Gee share two common threads. They're the two pitchers on this list who made that debut on the road. And they're the only two pitchers to debut by allowing two hits or fewer in seven innings or more.
Isringhausen laid the groundwork for some high hopes for the future, ones that materialized for teams other than the Mets, by allowing only two runs and two hits in seven innings at Wrigley Field, retiring both the first and last 10 hitters to face him.
Isringhausen was 9-2 with a 2.81 ERA in that first Mets season, leading many to think that he could be a future Mets ace. The expectation isn't quite that high for Dillon Gee, though if he pitches in his second start tonight, like he did in his first, he might raise the hopes of Mets fans just a little bit for 2011.