February, 24, 2015
Feb 24
8:36
PM ET
PORT ST. LUCIE, Fla. -- Second baseman
Dilson Herrera
should be ticketed for Triple-A Las Vegas to open the season, where he likely will form a double-play combination with Matt Reynolds. Still, Herrera left more than a favorable impression with the Mets after receiving an Aug. 29 call-up to the majors, which coincided with
Daniel Murphy
landing on the disabled list with a right-calf strain.
At 20 years, 179 days old, Herrera became the youngest Met to debut since
Ruben Tejada
and
Jenrry Mejia
on April 7, 2010.
Herrera went on to hit .220 with three homers and 11 RBIs in 59 at-bats, albeit with 17 strikeouts.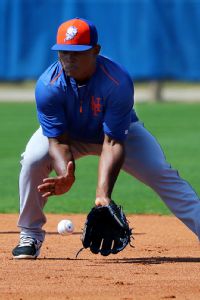 Adam RubinDilson Herrera fields a grounder Tuesday at Mets camp.
He was promoted directly from Double-A Binghamton over Reynolds or another Triple-A candidate in part because Herrera needed to be added to the 40-man roster during the winter anyway. Reynolds, a second-round pick in 2012 out of the University of Arkansas, is in big-league camp this spring training, but as a non-roster invite.
Herrera could be the successor to Murphy, who will earn $8 million this season and then become a free agent. The Mets showed no inclination to extend Murphy and appear content letting him walk next offseason. That is, barring a July 31 trade if the Mets unexpectedly fade from the race.
Herrera actually had already boarded the bus bound for Richmond, Virginia, after the B-Mets completed a homestand last August when Double-A manager
Pedro Lopez
pulled him off and delivered the news of the two-level promotion.
"He called me to the office and he said, 'You did a good job here. You're going to the big leagues tomorrow,'" Herrera recalled. "I said, 'Wow.' I was crying."
Herrera had hit .340 with 10 homers and 48 RBIs in 241 at-bats after a midseason promotion to Double-A, but nonetheless was not expecting the news he received. He had joined the Mets organization along with
Vic Black
in the Aug. 27, 2013 trade with the
Pittsburgh Pirates
for
Marlon Byrd
and
John Buck
.
"I was surprised. Wow. A big surprise for me," Herrera said about the promotion.
Lopez said Herrera wasn't the only one in the room surprised by the call-up straight to the majors.
"Myself too," Lopez said. "I had just got him a month and a half, or maybe two months prior to that. Just watching him go in tears, it was pretty special."
Herrera's first call went to his parents in his native Colombia. He became the first Colombian player for the Mets and 14
th
in major league history. He also became the first position player in Mets history to begin in Class A and rise all the way to the majors the same season.
"They were surprised, too," Herrera said about his parents. "They didn't believe it. My dad was thinking it was early to make the big leagues."
His parents did not get to watch him in person in the big leagues during the final month of last season, but Herrera hopes they will make it to a major league stadium this year. Neither is employed right now, but they are busy training Herrera's younger brother Jose, an 11-year-old catcher and third baseman.
Herrera said one of his spring-training goals is to improve his defense -- particularly double-play turns. During his minor-league career, he has played in 267 games at second base, 59 games at third base and 27 games at shortstop.
"I've got to be better," Herrera said about his fielding.
Herrera said the highlight of his time in the majors was his debut against the
Philadelphia Phillies
, and specifically his first at-bat. That's the case even though Phillies starter
David Buchanan
coaxed him to ground into a double play.
Herrera could not recall the name of the opposing pitcher.
"It was exciting," Herrera said.