New York Mets:

Dirk Lammers
June, 3, 2012
6/03/12
6:50
AM ET
R.A. Dickey
followed
Johan Santana's
no-hitter
with the Mets' second straight shutout
and the Amazin's moved seven games over .500 for the first time since July 15, 2010 with a
5-0 win against the Cardinals
on Saturday at Citi Field.
Mets pitchers produced back-to-back complete-game shutouts for the first time since Dickey and Santana also combined on the feat on Aug. 12 and 13, 2010. Dickey upped his scoreless streak to 17 1/3 innings. The knuckleballer did not have a three-ball count until he faced the final batter of the game,
Carlos Beltran
. The ex-Met ultimately flied out. Dickey picked up his eighth win, matching Philadelphia's
Cole Hamels
and St. Louis'
Lance Lynn
-- whom Dickey opposed Saturday -- for the NL lead.
David Wright
capped the scoring with a solo homer in the eighth. It was Wright's 734th run scored as a Met, pulling him within one of matching
Jose Reyes'
franchise record.
In tonight's ESPN-televised game at 8:05,
Jon Niese
(3-2, 4.55 ERA) opposes Cardinals right-hander
Jake Westbrook
(4-4, 3.69). The Mets will induct
John Franco
into the team's Hall of Fame in a pregame ceremony. He will be the 26th person enshrined.
Sunday's news reports:
• Coming off his historic no-hitter in which he logged a career-high 134 pitches,
Santana is expected to pitch on extra rest in his next outing, likely against the Yankees on Friday in the Bronx. As a result, the Mets have abandoned their plan to give
Chris Young
two more minor league starts. Young is expected to jump into the major league rotation as soon as Tuesday in D.C.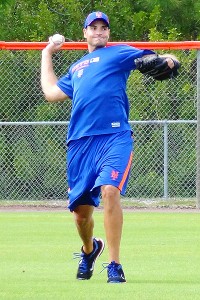 Adam Rubin
Chris Young should make his season debut with the Mets in D.C.

Young is returning from May 16, 2011 surgery to repair a torn anterior capsule in his pitching shoulder -- the same procedure Santana underwent the previous September. Young has made four minor league appearances, most recently with Triple-A Buffalo on Thursday. He limited Columbus to two hits and three walks in six scoreless innings while throwing 87 pitches. None of Young's minor league starts came on standard rest.
• Read more Santana day-after reaction in the
Times
,
Newsday
,
Post
,
Daily News
and
Record
.
• The Hall of Fame is calling for Santana game-used items,
Tom Pedulla
writes in
Newsday
. "It is one of those events everybody is talking about," Hall spokesman
Barry Horn
told Pedulla. "In the 50th anniversary of the team, certainly interest is heightened. ... We have game-used baseballs from every no-hitter since 1940, so we requested that. We don't need to have everything, but we would certainly welcome one of them to document the moment."
•
Terry Collins
has yet to announce his upcoming rotation, but
Miguel Batista
is eligible to return from the DL on Monday and seems like a fit for the series finale against the Cardinals. That was
Jeremy Hefner's
actual day anyway, so he is an option. Or
Dillon Gee
can pitch on standard rest that day since he last pitched Wednesday, with Batista potentially going in D.C. along with Young.
•
Mike Baxter
suffered a displaced right collarbone
as well as fractured rib cartilage in the collision with the wall on the no-hitter-saving catch on
Yadier Molina
's seventh-inning shot. The no-hitter was costly for reliever
Ramon Ramirez
as well. Ramirez strained a hamstring running in from the bullpen during the postgame celebration, Collins
said. The manager estimated Baxter would miss six weeks. Baxter said he did not suffer a concussion. Baxter's left shoulder had the initial jolt and that arm went numb, but it was his right side that ultimately suffered the brunt of the damage. "That'll tell you how hard he hit it," Collins said, referring to the wall. Read more in the
Post
,
Star-Ledger
,
Daily News
,
Record
and
Newsday
.
• Columnist
Joel Sherman
in the Post
is prepared to push aside
Dwight Gooden's
no-hitter with the Yankees for Santana's feat as the most notable he has observed. Writes Sherman:
Because this is baseball, we knew all of this and, thus, we were there in the dugout agonizing with Collins on Friday night. We knew these two main storylines were now at war: Was it worth jeopardizing Santana's health by pushing his pitch count higher, higher, higher than it had ever been, even pre-surgery, all to make the toothache go away forever? Collins, his humanity and honesty on full display, admitted the next day there were parts of him hoping the Cardinals would get a hit, part of him regretting a decision he said "went against everything I stand for."
•
Jay Horwitz
, the Mets' PR man since 1980, told columnist
John Harper
in the Daily News
: "Even I'm a little bit overwhelmed by the reaction. It's almost that 'Now-I-can-die-in-peace' type of thing.''
• Columnist
Bob Klapsich
in the Record
wrote:
One major league executive who watched the no-hitter on TV said, "I actually felt sorry for Terry because he knew the consequences. I'd bet you a million bucks he was rooting for a base hit after the seventh inning."
• The Mets did not announce corresponding moves after Saturday's game for Baxter and Ramirez heading to the DL, but
Pedro Beato
is expected to join the Mets as soon as today, the day he is eligible to be activated. Beato, who developed a shoulder issue during spring training, has made eight relief appearances between St. Lucie and Buffalo, including tossing two scoreless innings Saturday for the Triple-A club. The Mets would have to make a 40-man roster move since Beato did not count while on the 60-day DL.
•
Jason Bay
went 0-for-3 with two strikeouts while serving as the DH in a rehab game for Class A St. Lucie on Saturday. He should be close to rejoining the Mets. The organization preferred Bay rehab with Buffalo, but Bay opted for the Florida locale.
Ruben Tejada
(quadriceps) had been scheduled to run Saturday and should test the balky muscle circling the bases today.
• St. Lucie ended up sweeping a doubleheader from the Tampa Yankees to clinch its division's first-half title in the Florida State League. St. Lucie owns a 43-12 record. The clincher came in Game 1 behind six scoreless innings from
Angel Cuan
, but the nightcap had the dramatics. With the score tied in the bottom of the final frame,
Cory Vaughn
walked, moved to second when
Blake Forysthe
was hit by a pitch and scored on a subsequent error. For Binghamton,
Robert Carson
notched his second Eastern League save. With Buffalo,
Fernando Cabrera
surrendered a game-winning homer at Toledo. Read Saturday's full minor league recap
here
.
• Wright reiterated Saturday what he said the previous day that was lost in the no-hitter hoopla: He does
not want to negotiate a contract extension in-season
. The third baseman said he had resolved with his agents not to negotiate in-season even before the year started. Wright's side informed the front office Thursday of the policy, he said. Wright said his 2006 in-season extension was a distraction. "We let the front office know ... just so everybody is on the same page and we can just focus on baseball," Wright said. "And that's it. It's just not necessary. With the good vibes that are going on right now and just the 'good' surrounding this club, I just feel somewhat selfish in the middle of the season to be talking about myself, talking about me, when we should be talking about we."
• Read Saturday game recaps in the
Record
,
Times
,
Post
,
Daily News
,
Star-Ledger
and
Newsday
.
• Beltran had high praise for Santana before Saturday's game. The ex-Met did not grouse above being deprived of an extra-base hit by an incorrect foul call Friday by ump
Adrian Johnson
. "What can I say? I think it was meant to happen," Beltran said, according to
David Lennon
in
Newsday
. "That's the only way I can put it. Honestly, I'm happy for Johan because he's a good man and he really has battled, last year and this year. He's a competitor and he loves to win. I love to win also, but sometimes God rewards people for how hard they work. He has really gone through a lot and now he's getting good results."
• The St. Louis Post-Dispatch put an asterisk on its sports front next to "NO-HITTER." View
here
.
• Right-hander
Chris Schwinden
, who was placed on waivers Thursday to clear a 40-man roster spot for
Elvin Ramirez
, was claimed by Toronto. In parts of two seasons at the major league level, Schwinden was 0-3 with a 6.98 ERA in seven appearances (six starts).
•
Fernando Martinez
, who was claimed off waivers from the Mets during the offseason, was promoted Saturday and made his Houston Astros debut. Martinez went 1-for-5 with two RBIs and three strikeouts. His subpar route and diving attempt on
Brandon Phillips'
shot to right field did allow the Reds to take a 10-9 lead en route to a 12-9 win. The promotion coincided with
Travis Buck
landing on the DL. Martinez, 23, was hitting .319 with eight homers and 38 RBIs in 188 at-bats at Triple-A Oklahoma City. Read more in
the Houston Chronicle
.
• The MLB draft begins Monday. The Mets pick 12th. Baseball America projects the Mets will take
David Dahl
, a high school outfielder from Birmingham, Ala. Texas A&M right-hander
Michael Wacha
and Louisiana high school shortstop
Gavin Cecchini
are projected as the primary alternatives. The Mets will get extra picks at No. 35 and No. 71 overall for losing Reyes to the Marlins, before their own second-round pick at No. 75. Dahl and Cecchini worked out Friday at Citi Field for
Paul DePodesta
,
Sandy Alderson
and other Mets honchos,
Brian Costa
of the Journal tweeted.
•
Omar Minaya
weighed in on Santana's no-hitter in the
Daily News
.
• Columnist
George Vecsey
in the Times
notes not every devout Mets fan saw Santana's no-no. Writes Vecsey:
Every fan had long been aware that no Met had ever pitched a no-hitter. In true biblical wandering, the fans consoled themselves by muttering, "Someday it will happen," yet some of them inevitably took their eye off the ball. I know one Mets fan who on Friday night went to watch his daughter in a school play. Never saw a pitch of their 8,020th game. That will teach him to be a good dad. Another Mets fan left a despondent monotone message on my answering machine at 11:30 p.m. Friday: "I go out for a good time and this is how God punishes me. It just isn't fair." That guy has not sounded so disconsolate since the Mets traded Lenny Dykstra and Roger McDowell for some mope in 1989. His message then was: "It stinks. It just stinks." Of course, it stinks. You're a Mets fan. It's part of the deal.
• The web site
nonohitters.com
, which chronicled the Mets' no-hit futility, is now irrelevant. Site founder
Dirk Lammers
told
Brian Costello
in the Post
he may turn over the domain name to a Padres fan. "It's not like the thing was profitable," Lammers told Costello. "It's not going to hurt me financially. If I made 12 cents on Google ads, that was a good day. It wasn't going to make me rich. I will miss it. It was a fun thing." With the site overwhelmed with traffic Friday, many who clicked on the web page in the wake of Santana's feat got a message that read: "Error establishing a database connection." Read more in the
Journal
.
TRIVIA:
Bay appeared for Class A St. Lucie on Saturday to begin a rehab assignment. What year did he play for that club as an actual minor leaguer?
Saturday's answer: The San Diego Padres are the lone major league team without a no-hitter.
May, 11, 2012
5/11/12
6:04
AM ET
After sweeping the Phillies, then an off-day in Miami that apparently included
Tim Byrdak
and
Bobby Parnell
going fishing
, the Mets open a weekend series at
Jose Reyes'
new home, month-old Marlins Park. The Marlins have won eight of their past nine, despite ex-Met
Heath Bell's
struggles leading to him being deposed from the closer role. Read the series preview
here
.
Friday's news reports:
• Tonight's game will be the 8,000th in the regular season in franchise history. And, barring the highly, highly improbable from
Johan Santana
, it will be the 8,000th game without a no-hitter in franchise history.
Tom Seaver
came closest. He carried a no-hit bid for 8 2/3 innings at Wrigley Field on Sept. 24, 1975 against the Chicago Cubs -- although the Mets never scored in that 11-inning loss anyway. Seaver, in 1969, also had a perfect game against the Cubs for 8 1/3 innings at Shea Stadium. The only other major league club without a no-hitter is the San Diego Padres, who launched in 1969, seven years after the Amazin's.
Brian Costa
in the Journal
takes a deeper look. He speaks with
Dirk Lammers
, who started the web site
nonohitters.com
in 2008 to track the Mets' futility. "I thought when I started it, they were probably on the verge of it," Lammers told Costa. "I did not expect it to go five years. But of course, I don't think the team expected it to go 50." Costa reports there have been 252 no-hitters in the majors since 1876 -- and 131 since the Mets debuted in 1962.
Seven pitchers
who have represented the Mets have gone on to throw one elsewhere, most recently former first-round pick
Philip Humber
with the Chicago White Sox on April 12. The Mets have 35 one-hitters.
Regarding his near-miss in '69, Seaver tells Costa: "My wife was in tears. I said, 'What are you crying for? I just pitched a one-hit shutout. I didn't walk anybody. I struck out 10. Come on.' She said, 'You lost your perfect game.'" The Journal notes the next milestone will be 8,945 games without a no-hitter, which is the longest drought in MLB history, by the Phillies from 1906 to 1964.
•
Chris Young
tossed five scoreless innings for Class A St. Lucie in his
first official minor league game since undergoing surgery
to repair a torn anterior capsule in his right shoulder last May 16. Young will make a handful of minor league starts before likely taking over the rotation spot currently occupied by
Miguel Batista
. Young has the first of two contract outs on June 1 if he remains in the minors at that point, so that date logically should be close to when Young arrives in the majors.
Ronny Cedeno
went 0-for-4 in that same Florida State League game at Brevard County while playing a full game at shortstop.
Terry Collins
originally expected Cedeno to be activated for Friday's start against
Mark Buehrle
in Miami, but the manager amended that remark on Wednesday to suggest that he would like to see Cedeno succeed against higher-level minor league pitching before activating him from the DL. Cedeno has been out since an April 20 cameo because of a muscle strain on his left side. Collins has stated Cedeno will be the regular shortstop while
Ruben Tejada
is on the DL. The manager added that
Jordany Valdespin
is likely to head to Triple-A Buffalo when Cedeno is activated.
•
Zack Wheeler
picked up a win in his return from the disabled list with Double-A Binghamton, while
Domingo Tapia
and
Marcos Camarena
combined to take a no-hit bid with low-A Savannah into the seventh inning. Read Thursday's full minor league recap
here
.
•
Ike Davis
, whose average remains at .179, has shown signs of breaking out of the season-long funk. He launched a lengthy three-run homer against
Jose Contreras
in the eighth inning on Wednesday. "I'm a good baseball player," Davis
told the Daily News
. "I know I am. If I thought this was the best I could do, then I would tell you that: 'This is the best I can do.' And then this wouldn't be as frustrating. ... This is obviously not the way I wanted the year to go, but you have to have perspective: I'm alive. I'm healthy. I'm here."
GM
Sandy Alderson
tells
Andrew Keh
in the Times
regarding Davis: "I'm sure he's not happy with the first month-plus of the season, and certainly we have expected more. But, at the same time, we know it's in there. We've just had to be a little bit patient." Writes Keh:
Dave Hudgens, the team's hitting coach, has seen Davis become more serious while he has tackled his recent shortcomings. The slump, Hudgens said, like any other, has been the product of a confluence of factors, each one exacerbating the next. Davis possesses a swing with a considerable amount of preparatory movement and, more than most of his teammates, he relies on rhythm. According to Hudgens, Davis has been allowing his body to rush out ahead of his hands. As his struggles have continued, he has become prone to chasing pitches out of the strike zone. Hudgens said that in recent days, the two had changed the position of Davis' hands, moving them slightly higher, and that he had encouraged Davis to slow down and focus on driving balls to the middle of the field.
•
Anthony Rieber
in Newsday
looks at the high rate of left-handed starting pitching the Mets have seen. Buehrle on Friday will be the 15th southpaw the Mets have faced in 32 games. The Mets -- who have a lefty-heavy lineup -- are 6-8 against southpaw starters and 12-5 against righty starters so far this season. "We've seen a stretch that usually doesn't happen," Davis told Rieber. "I think it helps. The more you see them, the more you're comfortable with them. That's it, really. The more you see them, the better chance you have of recognizing pitches and stuff."
•
Mike Puma
in the Post
cites reasons for the Mets being five games over .500 for the first time in two years. Writes Puma:
The Mets already have 11 comeback victories in 2012 -- their highest total in franchise history after 31 games. That statistic is a testament to the bad bullpens they have faced -- see the Phillies and Diamondbacks -- and the fact their own relievers haven't been nearly as bad as the numbers suggest. Though the Mets' 4.42 bullpen ERA ranks 14th in the NL, that number is skewed by a brutal weekend at Colorado in which team relievers allowed 16 earned runs over two games. Overall, the Mets' bullpen has been respectable, with Jon Rauch, Bobby Parnell and Tim Byrdak leading the charge. And they've been much better at home. They have a winning record in all three of their homestands this season -- something they did just three times all of last season.
•
Mike Kerwick
in the Record
notes the improbable success is coming minus starters, from
Mike Pelfrey
to
Jason Bay
,
Josh Thole
and
Ruben Tejada
."It's human nature to feel bad for these guys," Collins told Kerwick. "First of all, [they're] terrific people. You hate to see them out of your lineup. They're great teammates, both of them [Tejada and Thole]. But in our game, you've got to move forward. They're not here, so you've got to make sure the guys that are here play in those spots, help the club win. … We can't sit back and say, 'We'll just wait for those guys to come back. That doesn't happen up here.'"
TRIVIA:
Against which pitcher did Reyes have his first hit as a Marlin at Citi Field?
Thursday's answer: There have been 26 inside-the-park homers in franchise history. Two Mets have a pair --
Darryl Strawberry
(off
Bruce Sutter
in 1984 and
Jose Rijo
in 1989) and
Angel Pagan
(off
Pedro Martinez
in 2009 and
Livan Hernandez
in 2010).
May, 21, 2011
5/21/11
9:38
AM ET
Mike O'Connor
,
Jason Isringhausen
and
Francisco Rodriguez
backed
R.A. Dickey
with three scoreless relief innings as the Mets moved to .500 for the first time since April 9 with a 2-1 victory in the Bronx.
Saturday's news reports:
• Read game stories in the
Times
,
Star-Ledger
,
Newsday
,
Daily News
,
Post
and
Record
.
•
Justin Turner
has an RBI in six straight games, tying the rookie franchise record originally set by
Ron Swoboda
in August 1965. Turner, it turns out, was a 29th-round pick of the Yankees after his junior year of college at Cal State Fullerton. Read a full profile
here
.
The Post's
Joel Sherman
talks to the Yankees'
Damon Oppenheimer
about drafting Turner that year
. Oppenheimer tells Sherman: "You know how he will play and prepare and you will know his determination. He will not beat himself on or off the field. He is a self-starter. You are not going to have to tell him to work. ... I really liked 'Red' Turner. He was a good baseball player. He did not have the standard tools you look for, but you always thought he was a kid who would find his way to the big leagues."
•
Jose Reyes
had the play of the game, diving up the middle to stop
Alex Rodriguez's
grounder and throwing to first base to strand two runners. "That's the difference in the game," Yankees skipper
Joe Girardi
said. Read more in the
Star-Ledger
and the
Post
.
•
Pedro Feliciano
, who signed a two-year, $8 million deal with the Yankees, is trying blood-spinning -- where doctors remove blood, spin it to isolate the platelets, then reinject it into a troublesome spot -- rather than surgery for a partially torn capsule in his left shoulder. You may recall Feliciano vowed to strike out
Ike Davis
as revenge for
Dan Warthen's
defense of
Brian Cashman's
claim the Mets abused Feliciano. Now, Davis (ankle) and Feliciano are missing the series because of injuries. Read more in the
Star-Ledger
.
• The Star-Ledger's
Jeff Bradley
catches up with
Dave Mlicki
, who shut out
Andy Pettitte
and the Yankees on June 16, 1997, in the inaugural interleague game between the teams. Writes Bradley:
From his home in Dublin, Ohio, Mlicki seemed surprised that the Subway Series is no longer such a big deal, "Back in 1997, the atmosphere was World Series-like. For me, I'd never even been in Yankee Stadium. We took a bus from Shea to the game, which was odd, and when we pulled up there was a huge crowd of people screaming at us." Mlicki remembered strolling out to Monument Park before batting practice, reading the plaques, taking it all in.
• Idled
David Wright
(stress fracture in back) hopes to be out the minimum 15 days. He had an imaging test Thursday, and believes doctors are now prepared to map out a plan for his return. "It's tough watching the game in general," Wright told reporters pregame Friday. "I think you grow accustomed to getting up and going through a routine, preparing to play. And when you wake up and you just kind of have that void, it's not the same. It's definitely not enjoyable and not fun. It's frustrating. It's disappointing. I really enjoy the Subway Series. I enjoy participating in that. It's just disappointing waking up knowing that I'm going to watch from the bench." Read more in the
Record
and
Newsday
.
• Record columnist
Bob Klapisch's
take on the Mets reaching .500
:
Since April 21, the Mets have the fourth-best record in the majors, behind only the Braves, Red Sox and Cardinals. This run won't change the Mets' 2011 profile – they're not playoff-bound – but it's nevertheless erased some of the pre-existing notions about Terry Collins and life without some of their stars. Remember, this is a team that doesn't have David Wright and Ike Davis. There's no Johan Santana, and is too poor to even contemplate a monster trade in July. Yet, after a 5-13 start, the Mets are back to .500, which says something about their manager and his fiery, non-corny brand of intensity.
• While
Willie Harris
may be struggling, hitting .205 for the season,
David Waldstein
of the Times
offers one alibi
. Since
Jason Bay
returned from the disabled list, Harris' starts have come against
Livan Hernandez
,
Tim Lincecum
,
Ubaldo Jimenez
and
Josh Johnson
. He also was asked to pinch-hit against
Roy Halladay
. He went 1-for-14 in those five games. "It's not an easy job, but I have to perform," Harris tells Waldstein.
•
Vicent M. Mallozzi
of the Times profiles the creator of the site
nonohitters.com
, which chronicles
50 years of the Mets' failing to produce a no-hitter
. Writes Mallozzi:
[Dirk] Lammers, who grew up in Manalapan, N.J., "rooting for players like Bruce Boisclair," now lives in Sioux Falls, S.D., working as a reporter for The Associated Press. He created nonohitters.com at the suggestion of a friend who remembered that Lammers, a die-hard Tampa Bay Buccaneers fan, ran a site in 2006 called
Pointofnoreturns.com
that discussed and lamented the fact that the Buccaneers had not returned a kickoff for a touchdown since their inaugural season in 1976. Eleven days after Lammers created the site, Tampa Bay's Micheal Spurlock returned a kickoff 90 yards for a touchdown against the Atlanta Falcons. "I thought a site like this would bring the Mets some luck," he said.
• The Times' Waldstein also looks at the success of Saturday starter
Chris Capuano
in preventing steals
. Writes Waldstein:
Capuano is by far the active leader in rate of stolen bases against, according to the Elias Sports Bureau. In 821 career innings, Capuano has allowed only 15 stolen bases, one every 54.7 innings. The next closest is Mark Buehrle with 48 steals against in 2,331 innings, one every 48.6 innings.
• Newsday columnist
Ken Davidoff
contrasts
Bobby Valentine
and
Terry Collins
.
Writes Davidoff
:
They're really quite different. "I think they're totally different," said Jason Isringhausen , the only person at this Subway Series to play for both Bobby Valentine and Terry Collins. Bobby V. probably is the better strategist. Terry C., at least this incarnation of him, might be superior at communicating with his players. Valentine went to Japan with ambitions of elevating Pacific Rim baseball to new heights. "I just went there to manage," Collins said, smiling.
• Daily News columnist
John Harper
notes just how critical continued performances like Friday's from Dickey are for the Mets to succeed.
Writes Harper
:
On the big Yankee Stadium stage Friday night, Dickey found a way to make his signature pitch dance again, going six gutsy innings to pave the way for a 2-1 win in this first Subway Series game of 2011. For Dickey it was his first win since April 3 and he sounded perhaps more relieved than overjoyed in describing the return of an old friend. "Tonight," he said, "that's the [knuckler] I remember from last year."
• The Post's
Fred Kerber
reports Subway Series
tickets can be had at a depressed price
. Writes Kerber:
Using prices listed on StubHub, TicketNetwork, TicketsNow and eBay, the average price to see the Yankees and Mets at the Stadium this weekend is $112.22, down nearly 40 percent from last season's Stadium cost of $186.04.
•
A.J. Burnett
once was a Mets farmhand. Read more in the
Post
.
BIRTHDAY:
Hank Webb
, father of current Florida Marlins reliever
Ryan Webb
, turns 61. Webb went 7-9 in parts of seasons with the team from 1972 to 1976. Webb's most prominent season was '75, when he went 7-6 and pitched his only career shutout. He averaged only 2.97 strikeouts per nine innings that season, second-fewest in franchise history in a season for a Mets starter who threw at least 100 innings (
Ed Lynch
, 2.27 in 1983).
-Mark Simon